With the help of EmbedPress, you can embed Google Slides to WordPress, using just a URL.
Google Slides is a presentation program and it is a part of a free, web-based software office suite provided by Google along with its Google Drive service. It helps users to create, edit and upload presentations online while collaborating with other users in real-time.
You can embed Google Slides in WordPress, but it is not simple to embed by using standard methods. EmbedPress is a different and unique plugin. With EmbedPress, you don't need to entangle around with embed codes. All you need is the URL of the presentation that you have published on Google slides.
Here's how to embed any Google Slides into your WordPress site, using the EmbedPress plugin and a URL.
Step #1. Install The EmbedPress Plugin #
EmbedPress is a very helpful plugin that increases and improves the embed capabilities of WordPress. Install EmbedPress in your WordPress site and it will become far more powerful.
Click here to find EmbedPress on WordPress.org.
Step #2. Set Up Your Google Slides #
Before you can embed your Google Slides into WordPress, you need to make sure that it is published and visible to others to see.
Go to the Google Slides account.
You can either create or upload your presentation you want to embed.
Click on the File option, and choose "Publish to the Web" in the dropdown.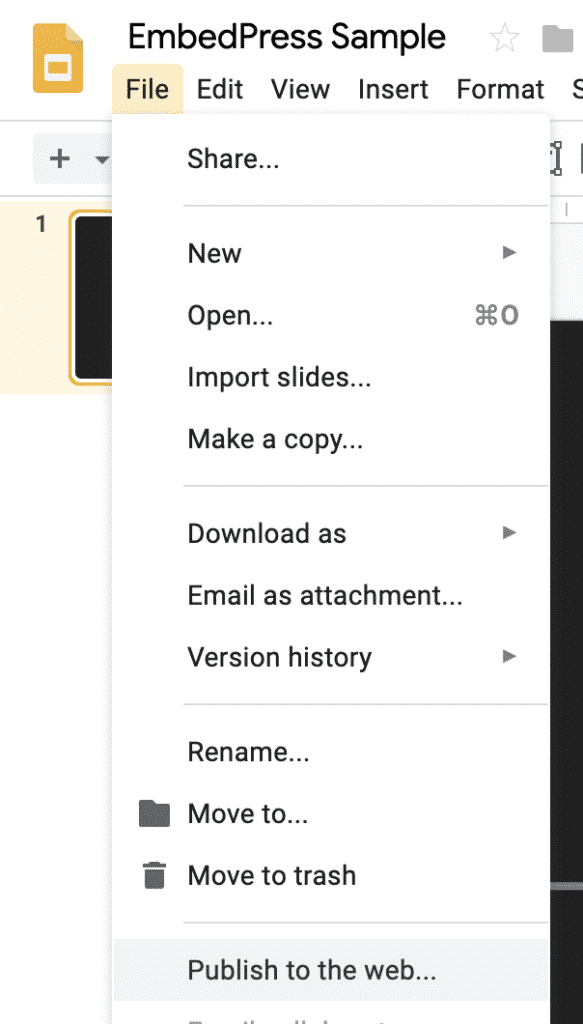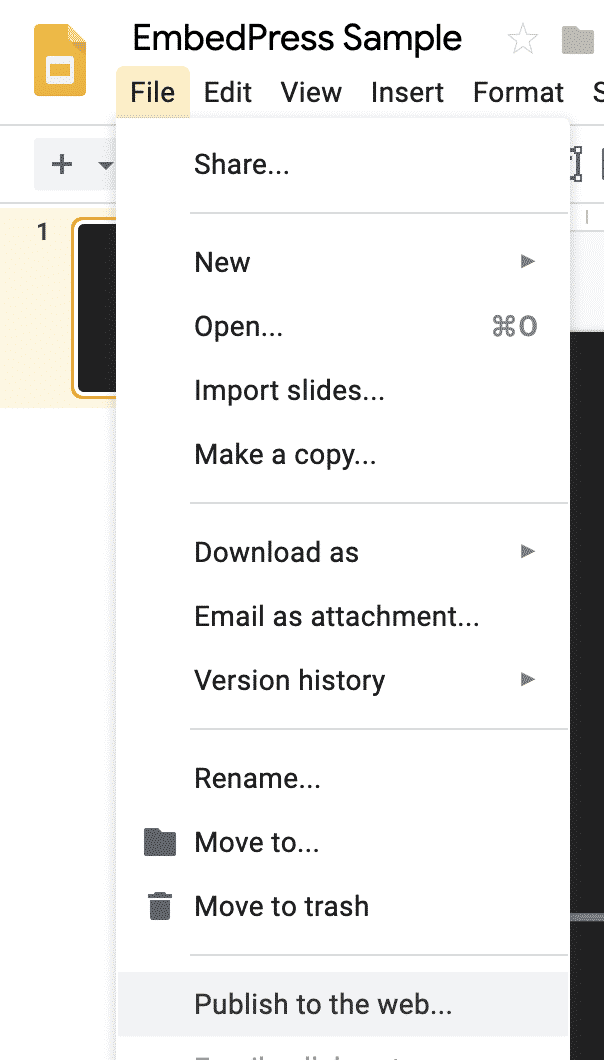 Click the yellow "Publish" button, as shown in the image: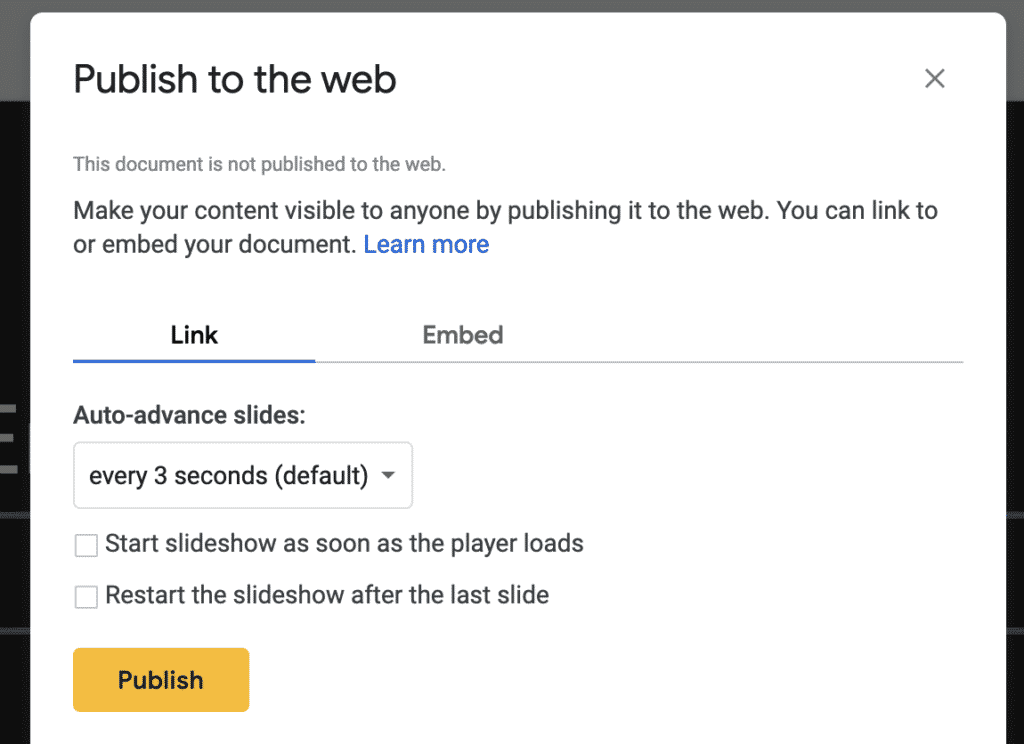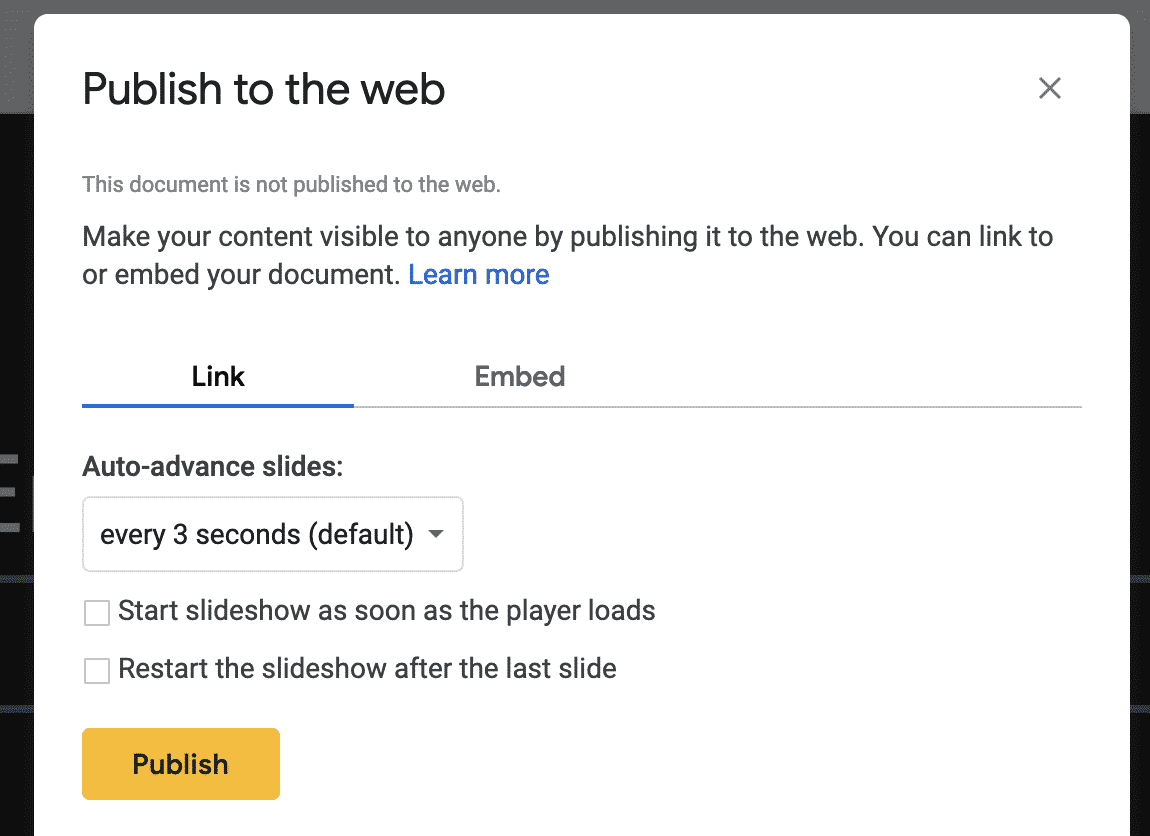 Click on "OK" button in the dialog box that appears after clicking on the publish button.
Google will now give you a URL for the document. Copy this URL. You can use this link to embed it in your WordPress site.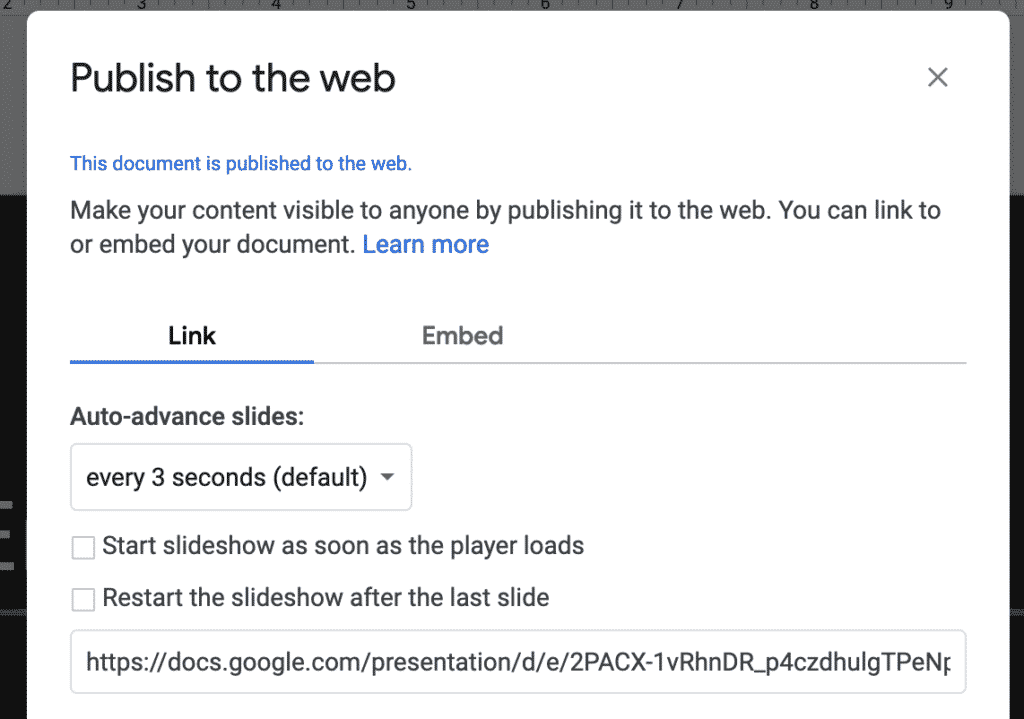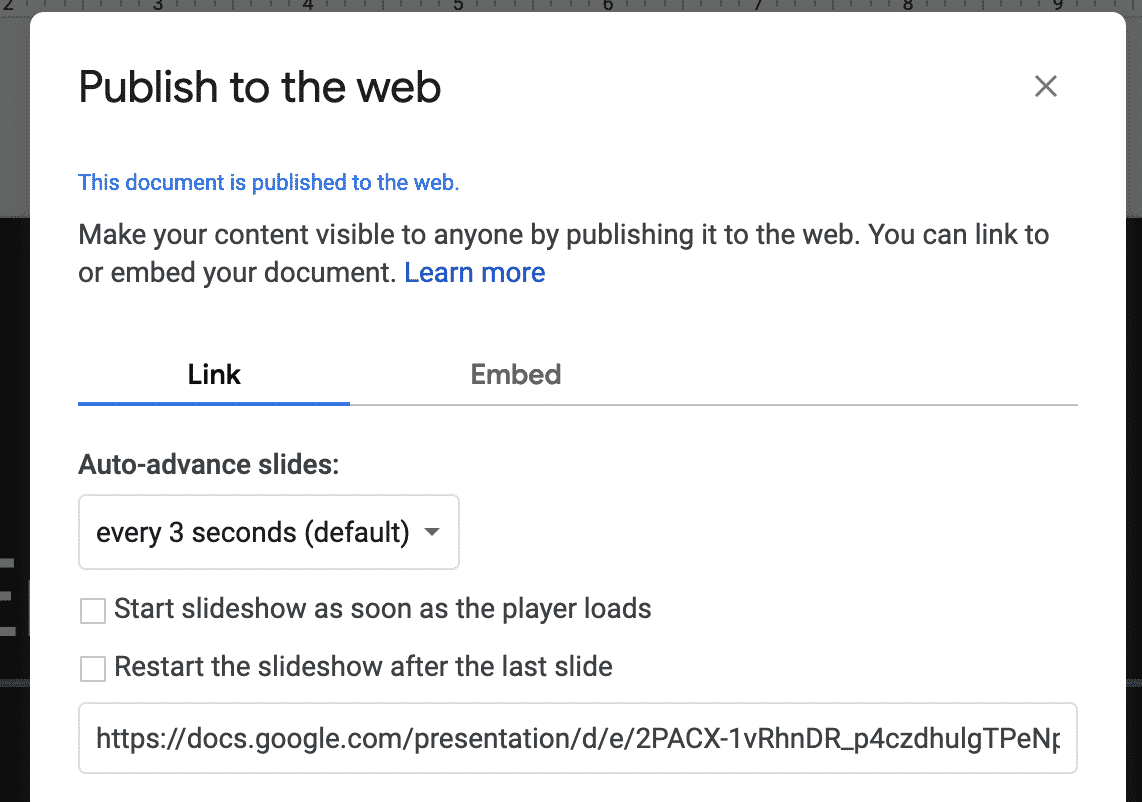 Before you go any further, let's check that your URL can be embedded on other sites …
Paste the URL into a different browser where you aren't logged into Google. Can you still see the presentation? If you can't, then the Google Sheets file hasn't been correctly published to the web.
Step #3. Embed Google Slides & Publish in WordPress #
Now you have the Google Slides URL, you can add it to WordPress.
Go to your WordPress site.
Edit a post or page.
Click the + icon in the editing area.
Search for the "Google Slides" block in the "EmbedPress" area: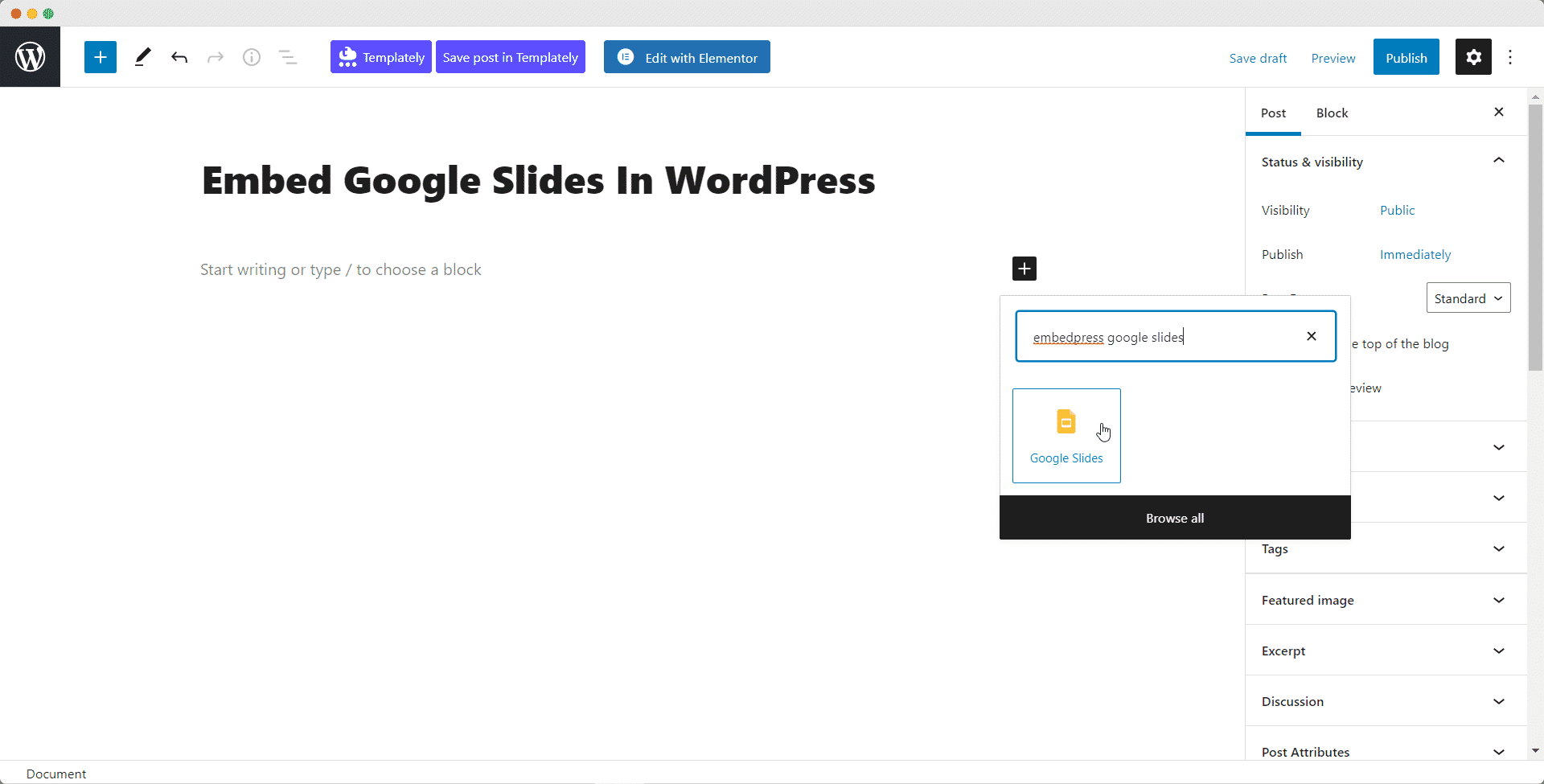 Enter the URL for your Google Slides presentation: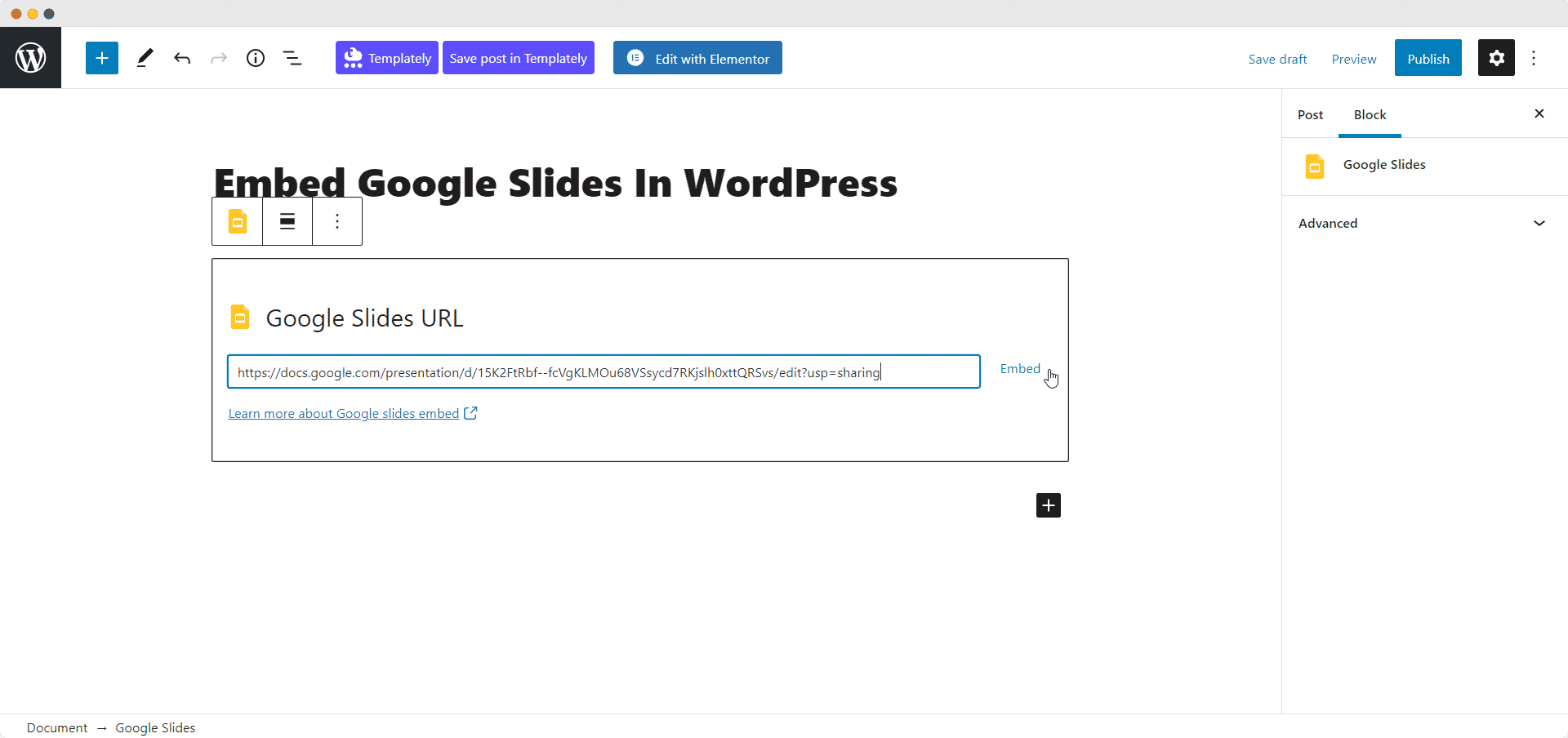 Click the "Embed" button and you'll now see your Google Slides embed: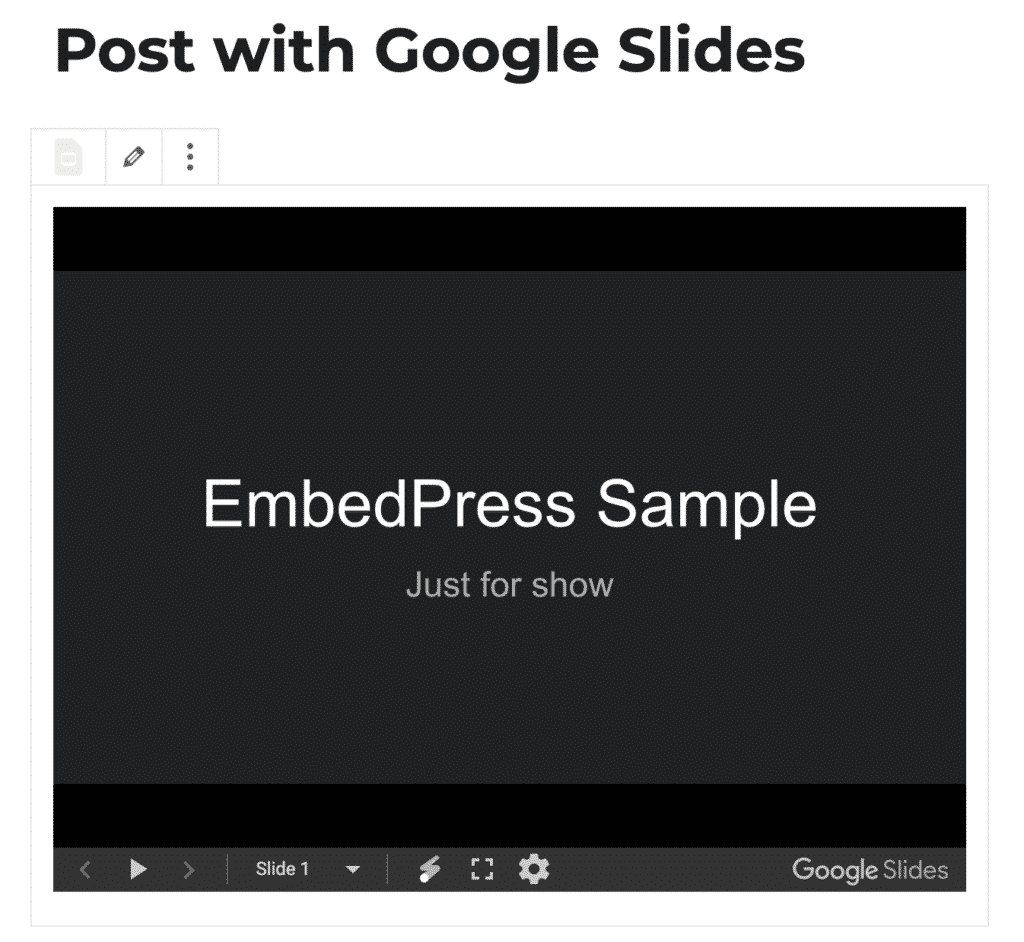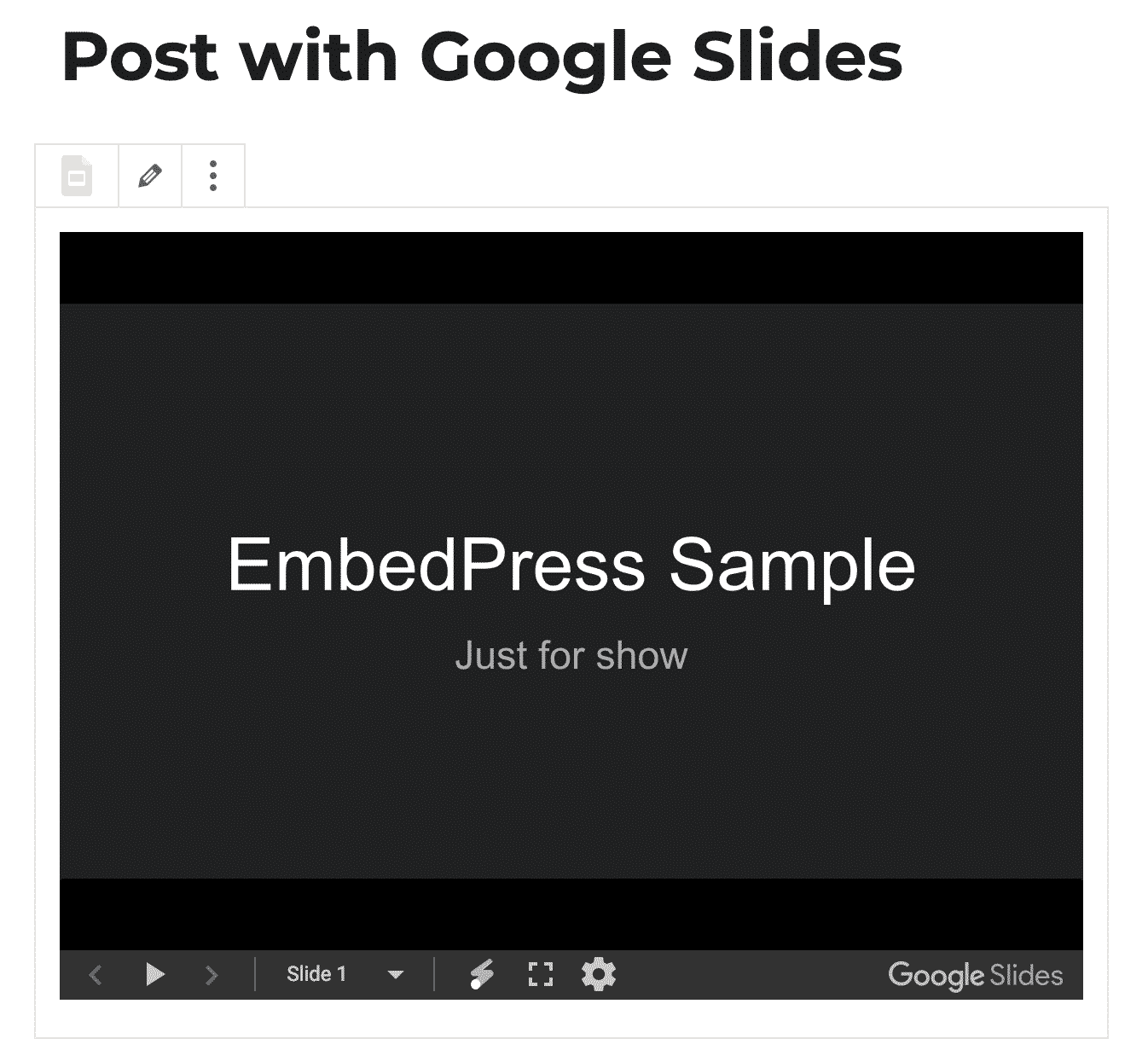 Publish your WordPress content, and your Google sheet will be embedded, as in the image below: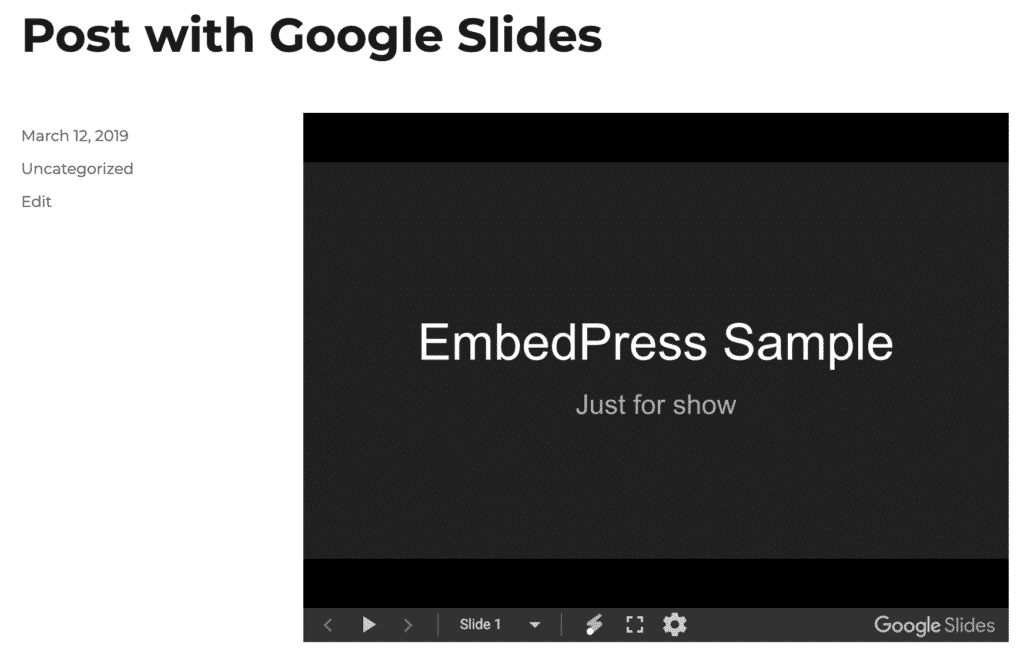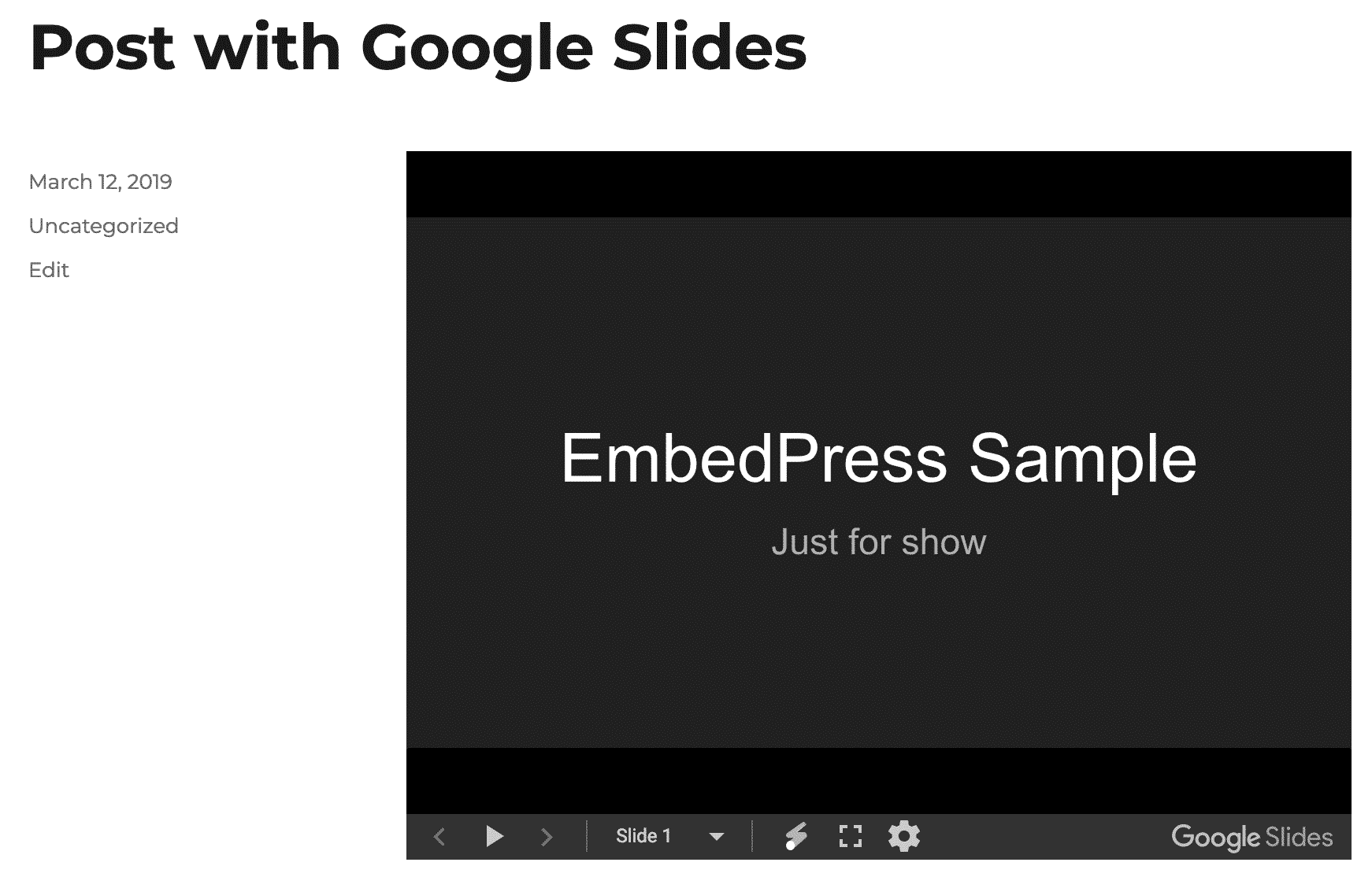 Step #4. Edit Your Google Slides Embed #
You can now change the Google slide embed URL, in addition to that, you can also modify the width and height of the embed according to your needs.
While editing your WordPress content, you can also edit your embed, thanks to EmbedPress.
Hover over the embed, and a pencil icon will appear. This icon will show "Edit URL" if you hover over it.
Click the pencil and you will be able to edit your embed: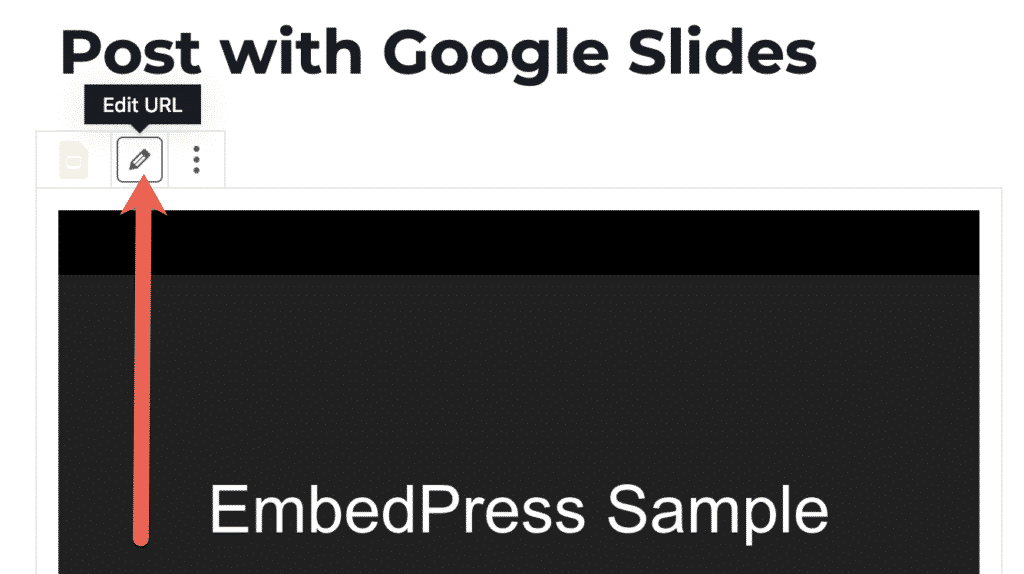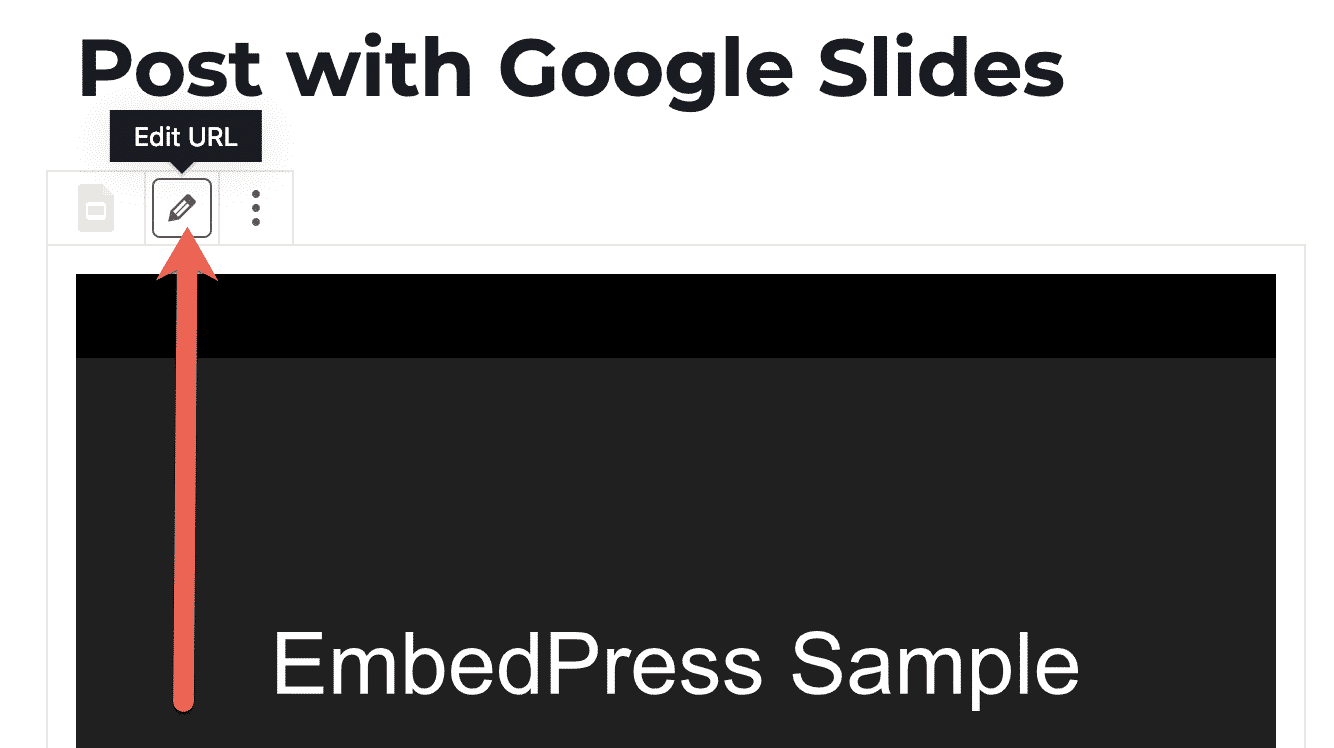 How to Embed Google Slides In Elementor With EmbedPress #
You can use EmbedPress with Elementor to embed Google Slides in your WordPress website. Follow these steps to embed any Google Slides on your website using the Elementor Editor.
Step 1: Select The EmbedPress Element #
First, create a new page from your WordPress dashboard by navigating to Pages→ Add New and then click on the blue 'Edit With Elementor' button. Then search for the 'EmbedPress ' element from under the 'ELEMENTS' tab in Elementor Editor.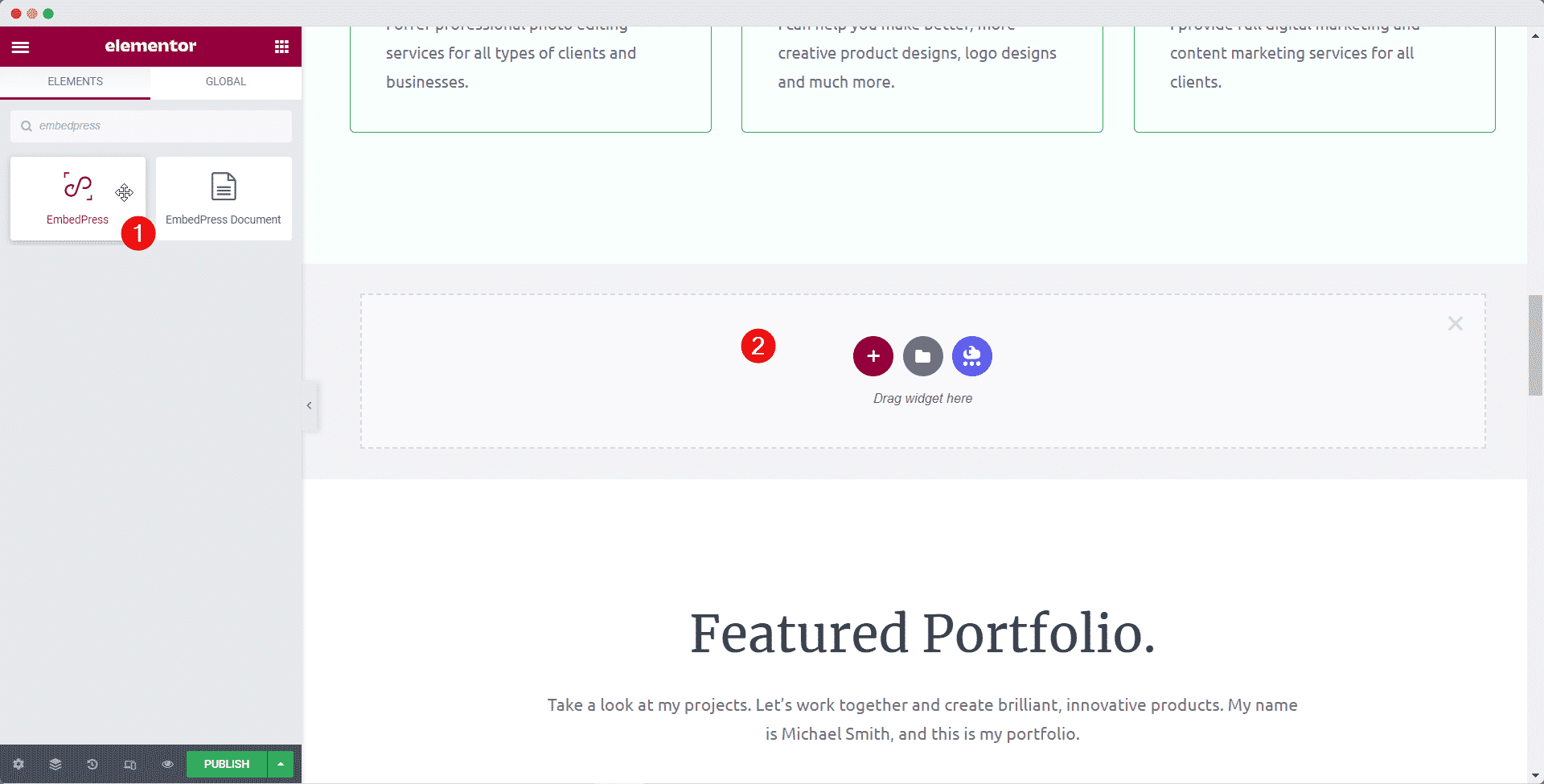 Step 2: Enter The URL In Elementor #
Now click on the 'Content' tab in Elementor Editor and enter the URL of your Google Slides embed in the 'Embedded Link' section as shown below.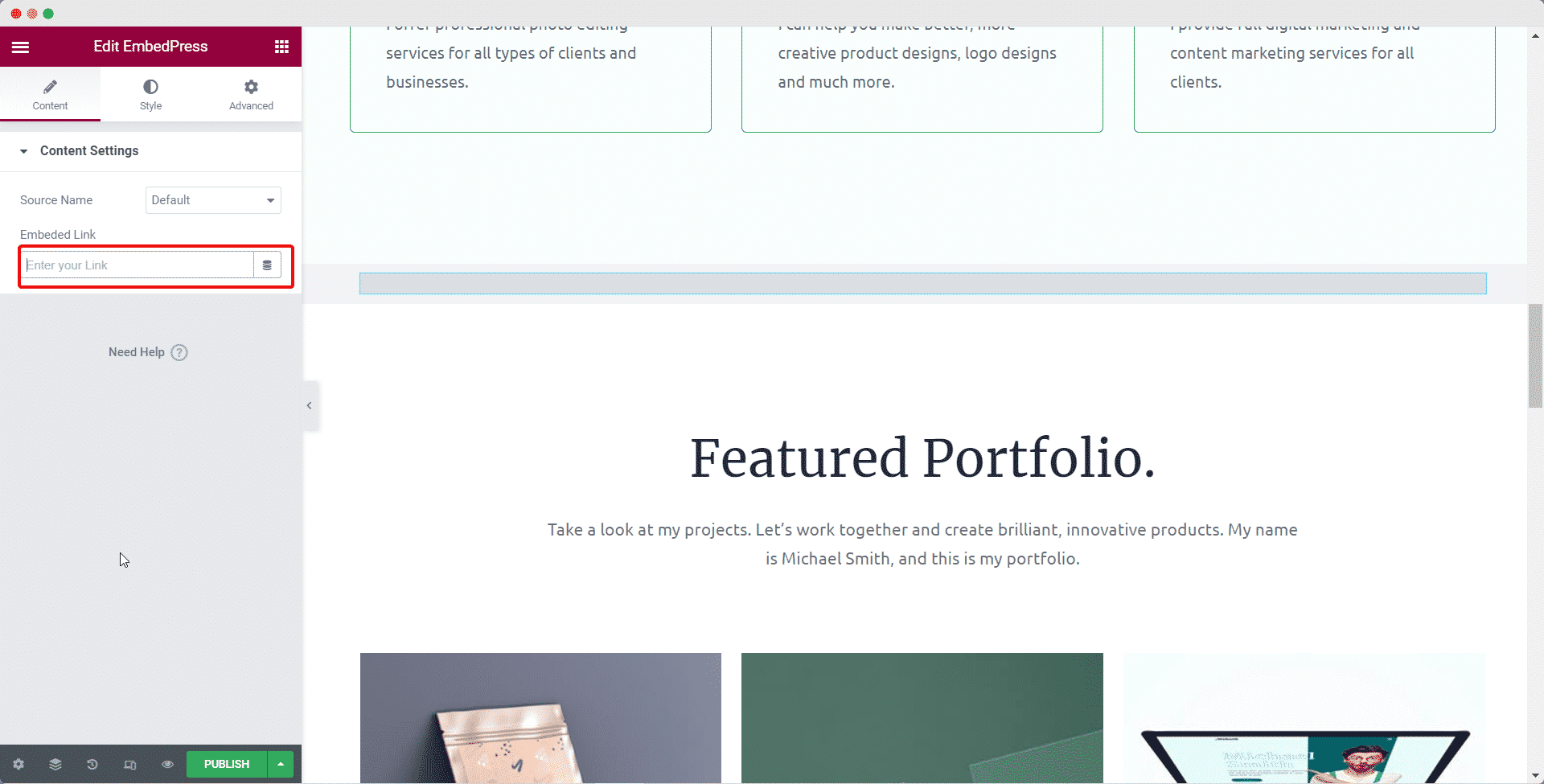 Your Google Slides will be automatically embedded in Elementor.
You can also embed Google Slides in Elementor by using the 'EmbedPress Document' widget in Elementor. Find out more about this widget and how to use it in this step-by-step tutorial.
How To Embed Google Slides In Classic Editor #
Open up your preferred posts or page's on WordPress Classic Editor.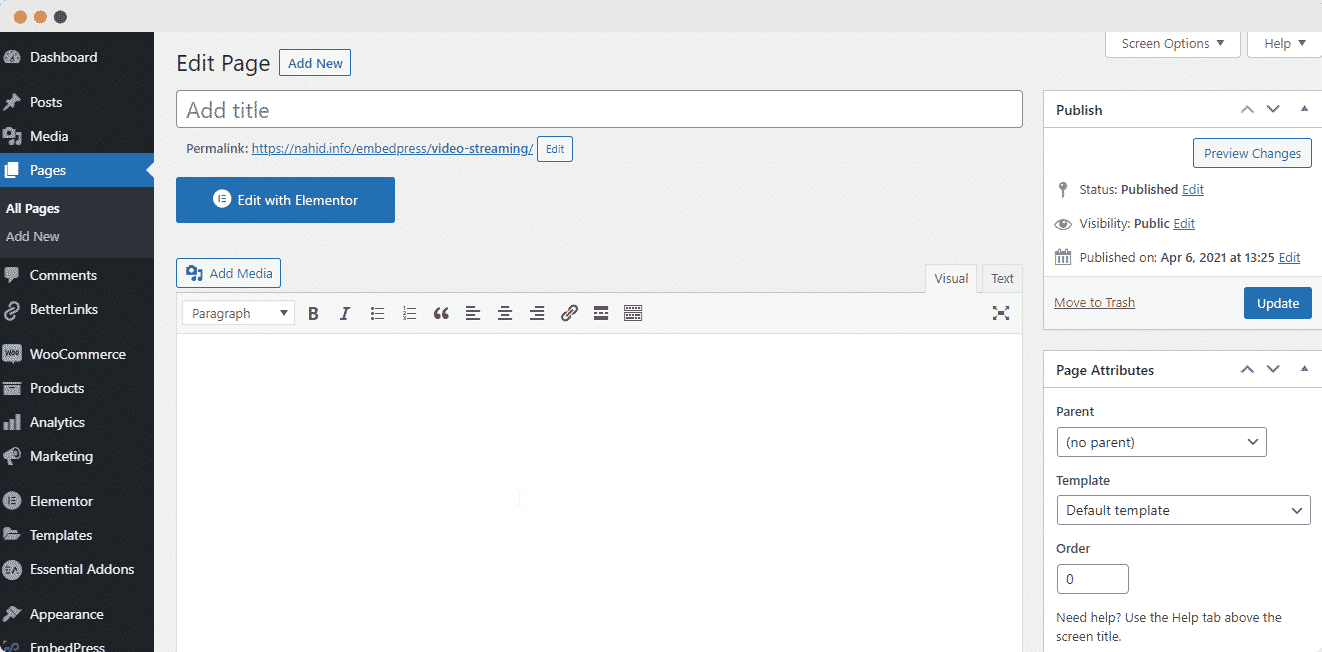 Add your Google Slides URL into the content area, with the "Visual" tab enabled. You will see a purple background with a "Loading your embed" message. And within a few moments, your URL will automatically be transformed into an embed of your Google Slides.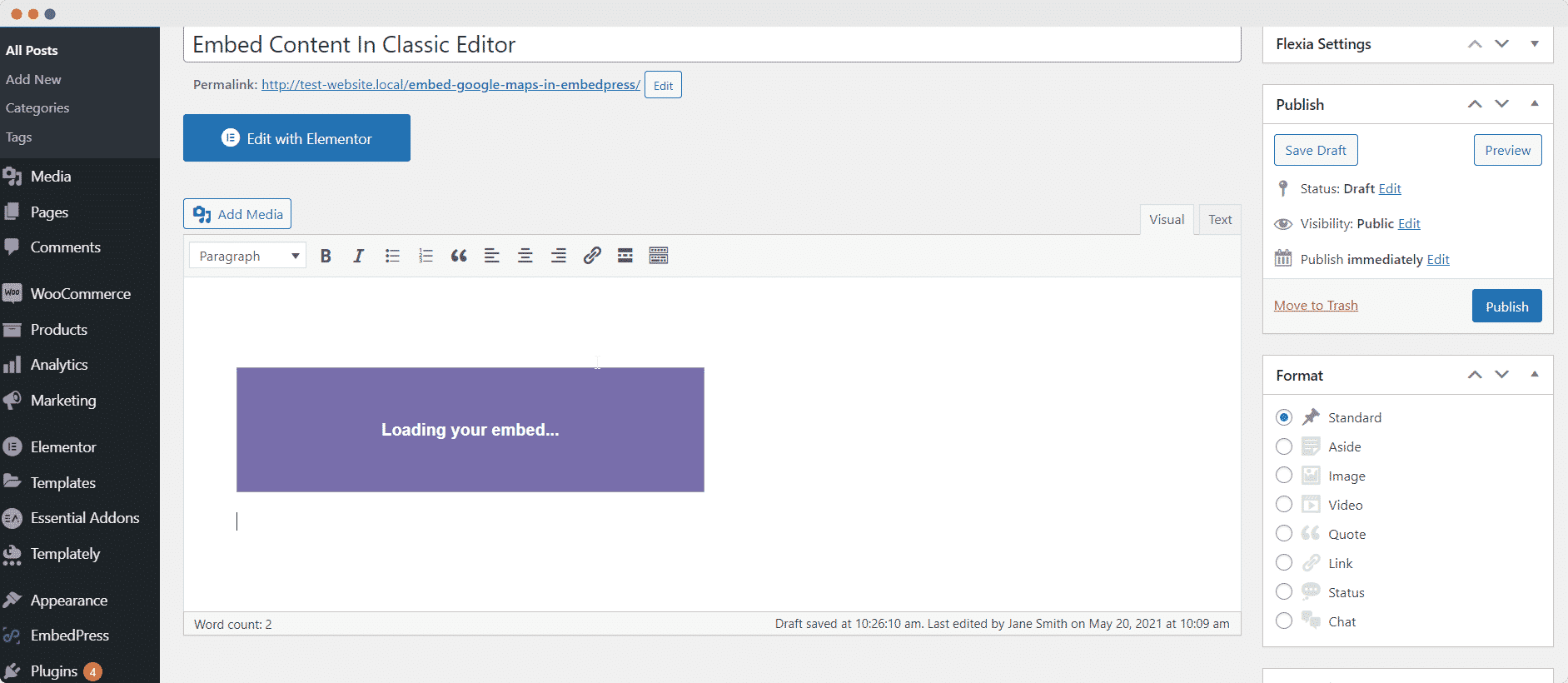 If you are facing problems and require further assistance, feel free to contact our support or join our Facebook Community to get in touch with WordPress experts and content creators like yourself.