EmbedPress provides many interactive, free, and premium features for your Dailymotion video embed to enable you to easily take your embedding experience to the next level. 
Follow the steps below to quickly and effortlessly configure the advanced configurations for your Dailymotion video embeds on any of your preferred WordPress editors – Gutenberg, Elementor, Classic Editor, or others using EmbedPress shortcodes. 
Step 1: Go To EmbedPress 'Dailymotion' Tab #
First, go to your EmbedPress plugin interface from the WordPress dashboard. Click on the 'Platforms' tab and select the 'Dailymotion' option from the drop-down menu, as shown below. 
Step 2: Configure Dailymotion Settings  #
EmbedPress provides you with many free and PRO features to easily enhance the functionalities of your Dailymotion video embeds.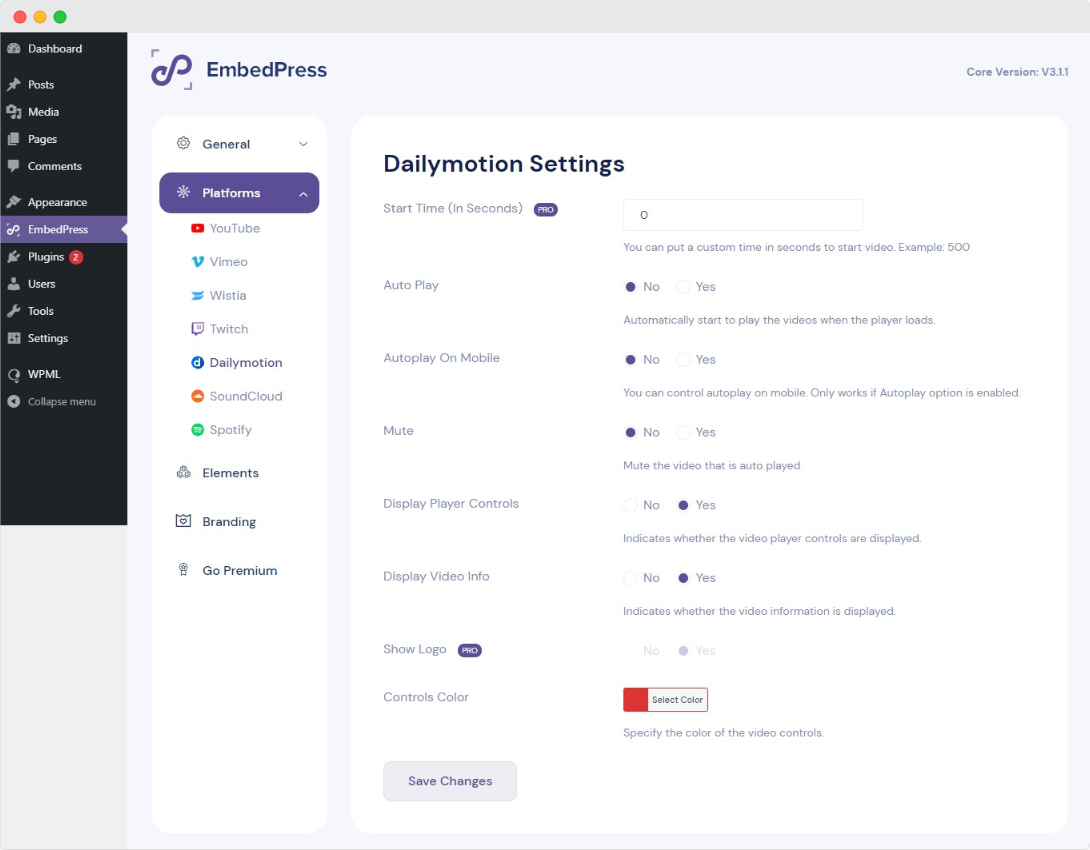 Configure the settings depending on your needs to customize the Dailymotion videos:
Start Time (In Seconds):

Customize the time at which the video will start playing by enabling this premium feature with

EmbedPress PRO

. 

Auto Play:

Choose whether you want the Dailymotion video embed to automatically start playing when the embed loads.

Auto Play On Mobile:

Enable auto-play features for mobile devices separately, according to your needs.

Mute:

Mute the video if you have enabled auto-play features. 

Display Player Controls:

Indicate whether the video player controls are displayed.

Display Video Info:

Indicate whether video information will be displayed.

Show Logo:

You can choose to show logos with this premium feature from

EmbedPress PRO

.

Controls Color:

Choose any color you like for the controls of the Dailymotion videos to match your WordPress website. 
With that, you can easily configure settings for Dailymotion video embeds with EmbedPress to enable many interactive and engaging features, with just a few clicks.
If you are facing problems and require further assistance, feel free to contact our support or join our Facebook Community to get in touch with WordPress experts and content creators like yourself.