EmbedPress PRO comes with a premium feature 'Artist Follower Widget', for your Spotify music or audio embeds. It enables you to embed a 'Follow Button' for any artist when you embed a single track, album, or personalized playlist on any of your preferred WordPress editors – Gutenberg Editor, Classic Editor, or Elementor Editor.
How To Embed Spotify Artist Follower Widget? #
Here's how to embed Spotify artist follower widget into your WordPress site, using this EmbedPress plugin following some simple easy steps.
Step 1: Install EmbedPress PRO & Activate The License #
To enable the premium feature 'Artist Follower Widget', you need to install the EmbedPress PRO and activate the license. You can read this tutorial to learn how to install the PRO version of EmbedPress and activate your license.
Step 2: Configure The Follower Widget Settings #
Next, go to your EmbedPress plugin interface from the WordPress dashboard. Click on the 'Spotify' option from the 'Platform' drop-down menu, as shown below.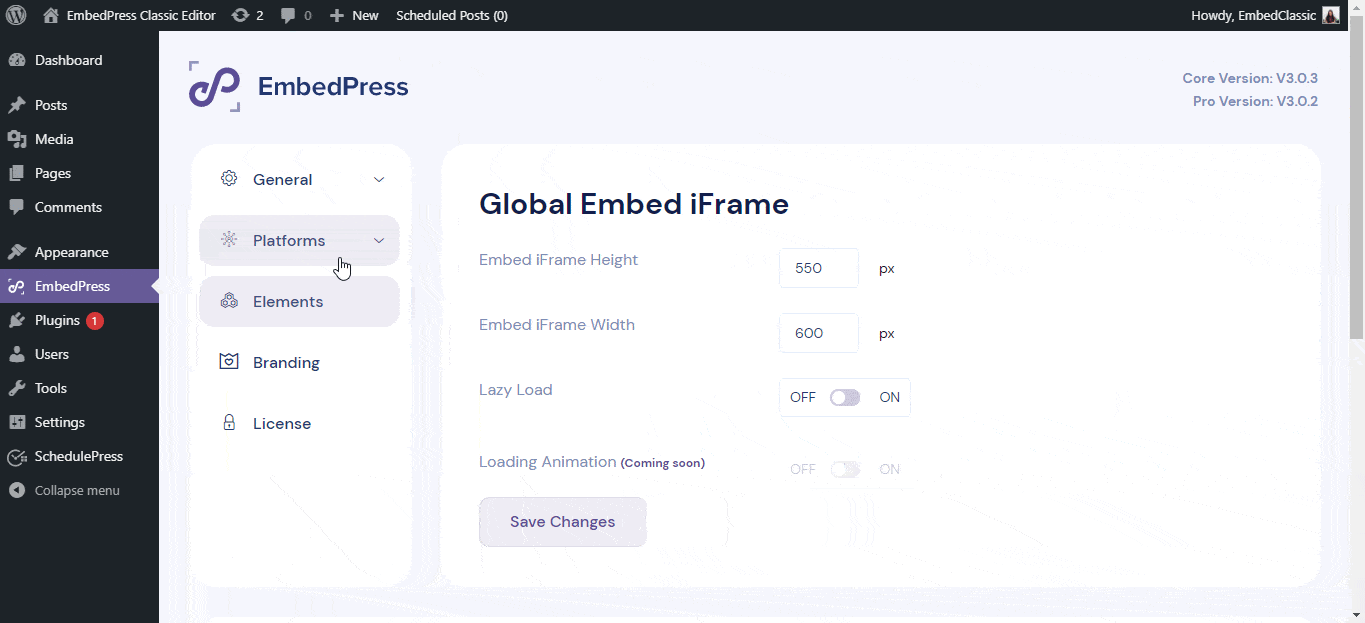 Afterward, configure the 'Artist Follower Widget' settings and modify it the way you need with absolute ease. You can enable a theme for the embedded widget background, choose a layout for the follow button and show the artist's detailed follower statistics.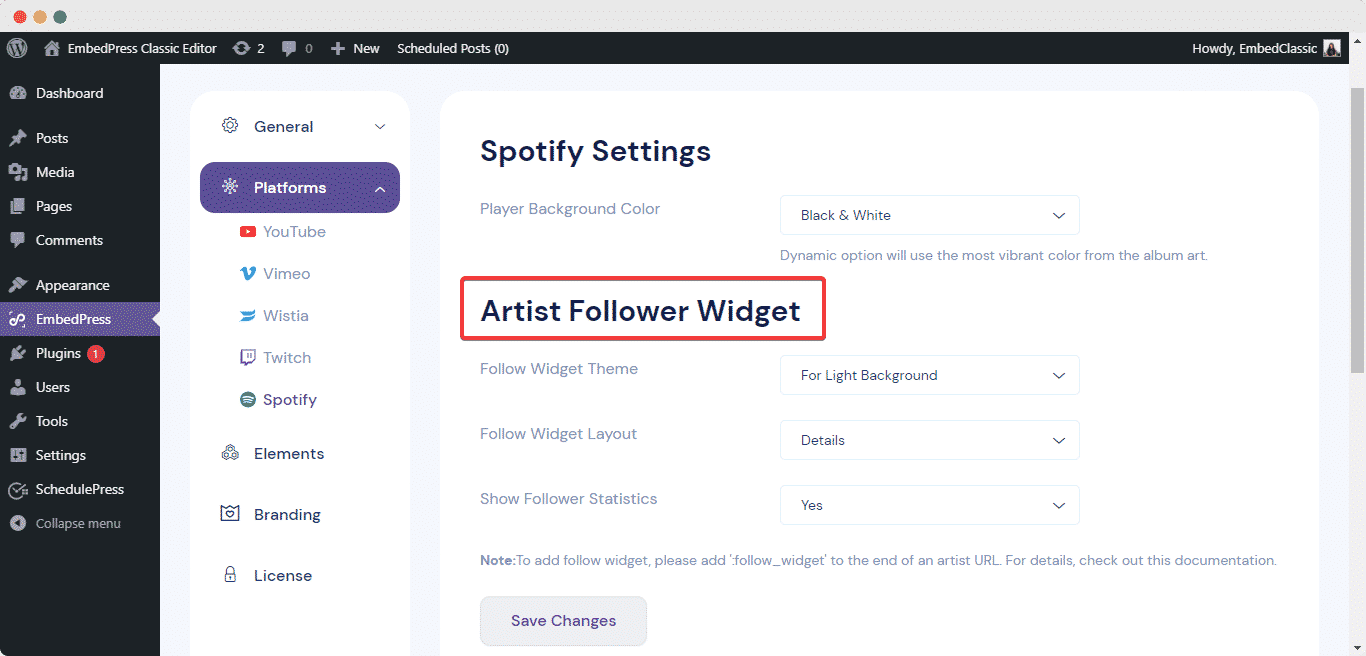 Step 3: Embed The Widget In WordPress #
You can easily embed Spotify 'Artist follower widget' in your WordPress website on any editor with the audio URL you have copied. To learn how to collect audio (single tracks, albums, and playlists) URLs, check out this documentation. 
To embed this widget, you have to add the code ':follow_widget' after your Spotify audio URL as shown below.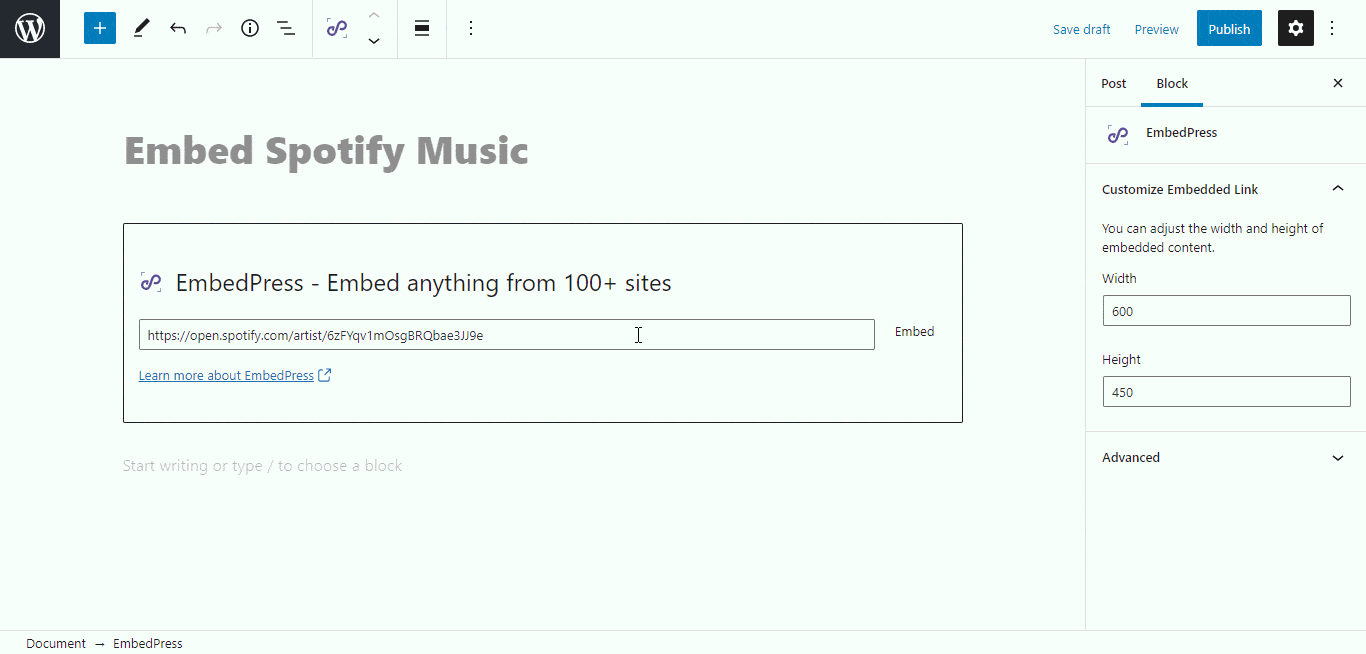 Note: There should be no space between your original URL and this code. 
With these simple steps, you can embed Spotify Artist Follower Widget instantly into your WordPress website with EmbedPress using any of Gutenberg Editor, Classic Editor, or Elementor Editor. 
If you are facing problems and require further assistance, feel free to contact our support or join our Facebook Community to get in touch with WordPress experts and content creators like yourself.