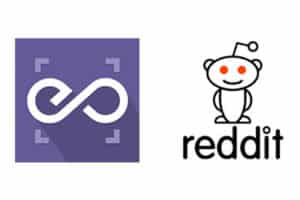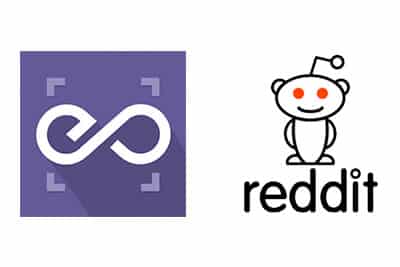 With the help of EmbedPress, you can embed Reddit post to WordPress, using just a URL.
Reddit is a social news collection, web content rating website where users can exchange their views on current topics and news. Users can submit text posts, direct links or images in various subreddits topics like news, science, gaming, movies, music, books etc.
You can embed Reddit post in WordPress, but it is not simple to embed by using conventional methods. EmbedPress is a different and unique plugin. With EmbedPress, you don't need to entangle around with embed codes. All you need is the URL of Reddit post you want to embed.
Here's how to embed any Reddit post into your WordPress site, using the EmbedPress plugin and a URL.
Step #1 Install The EmbedPress Plugin #
EmbedPress is a very helpful plugin that increases and improves the capabilities of WordPress. Install EmbedPress in your WordPress site and it will become far more powerful and efficient. Click here to find EmbedPress on WordPress.org.
Step #2 Get The Reddit Post URL #
Before you can embed the post into WordPress, you need to get the URL of the post.
Go to Reddit homepage.
Sign in with your Reddit account.

Select the post you want to embed on your WordPress site.
Click on share icon, a box will appear and copy the link from it.
Step #3 Embed Reddit Post & Publish On Your WordPress Site #
Now you have the URL, you can use it to embed your post in WordPress.
Open your WordPress site.
Edit a post or page.
Add your Reddit post URL into the content area, with the "Visual" tab enabled.

A purple background with a "Loading your embed …" message will be Visible for a few seconds.
The URL will automatically be changed into an embed of Reddit.

Publish your WordPress content, and post will be embedded for visitors to see, as in the image below:

Your embed will be fully responsive.
Step #4 Edit Your Reddit Post Embeds #
While modifying your WordPress content, you can also edit your embed, thanks to EmbedPress.
Hover over the embed and a purple button will come up.
Click the pencil icon and a pop-up screen will appear with more options.

You can now change the Reddit post embed URL, in addition to that you can also modify the width and height of the embed.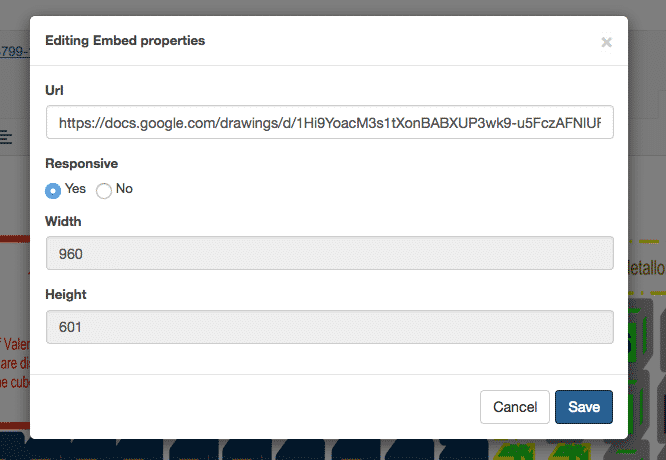 How To Embed Reddit Posts In Gutenberg With EmbedPress #
Now you have the Reddit post URL, you can add it to WordPress.
Step #1. Add EmbedPress Block In Gutenberg #
Go to your WordPress site and edit a post or page in Gutenberg editor. Click on the '+' icon and select 'EmbedPress'.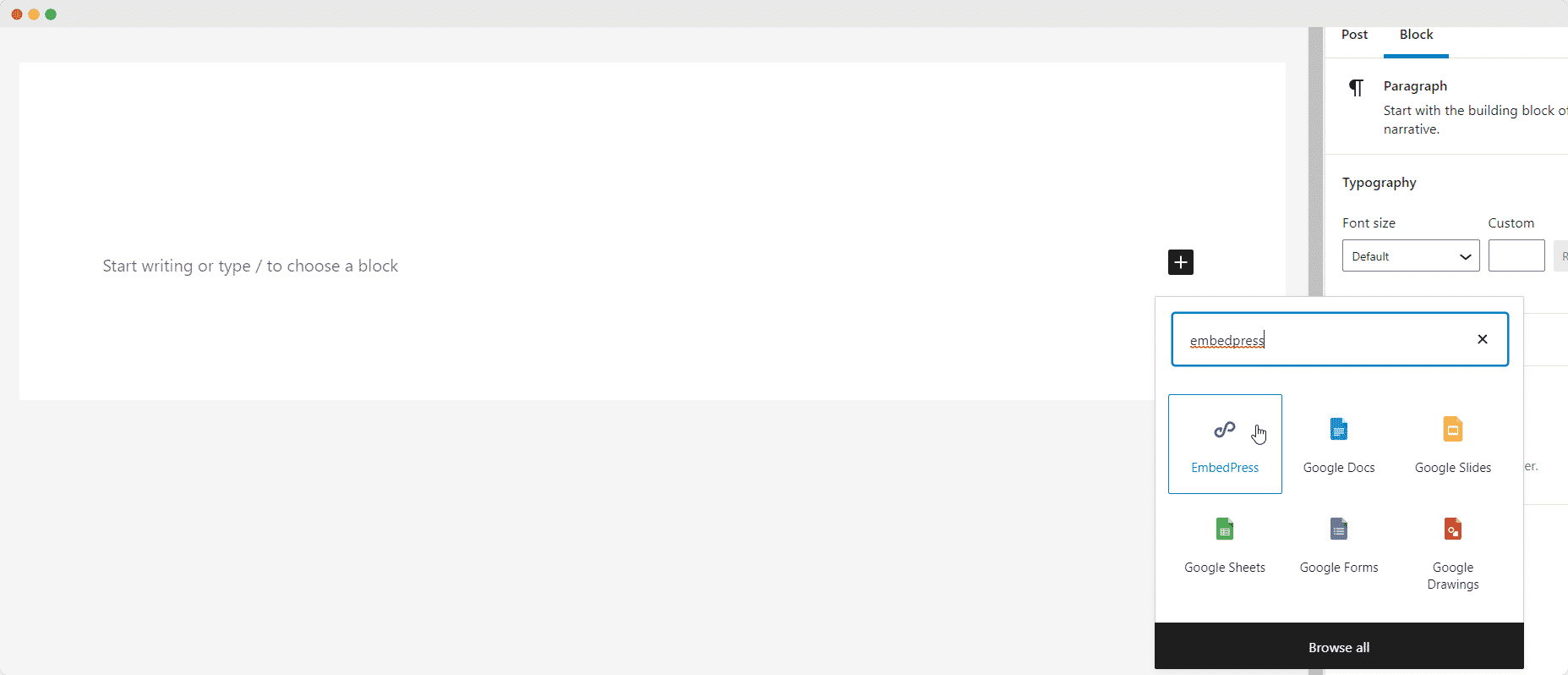 Now enter your Reddit post url in the link as shown below.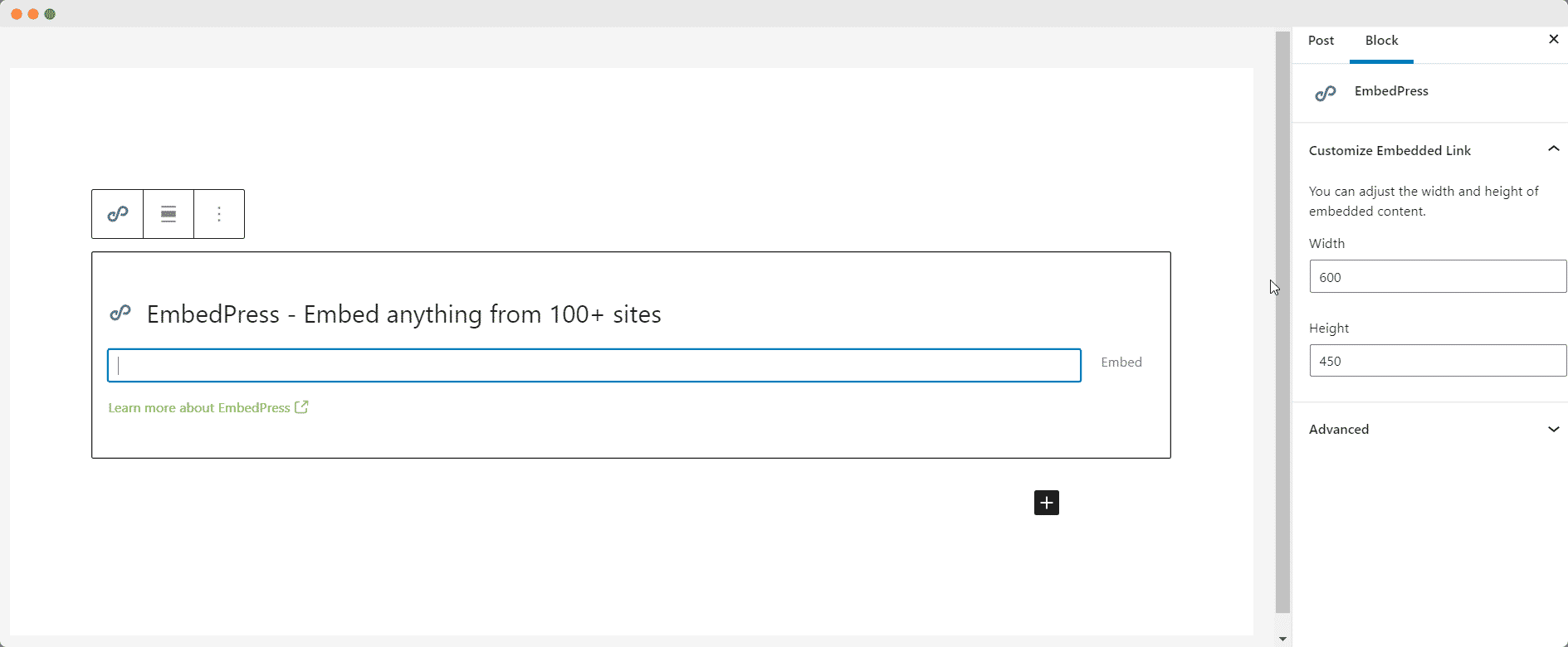 EmbedPress will automatically convert your URL into a Reddit post embed.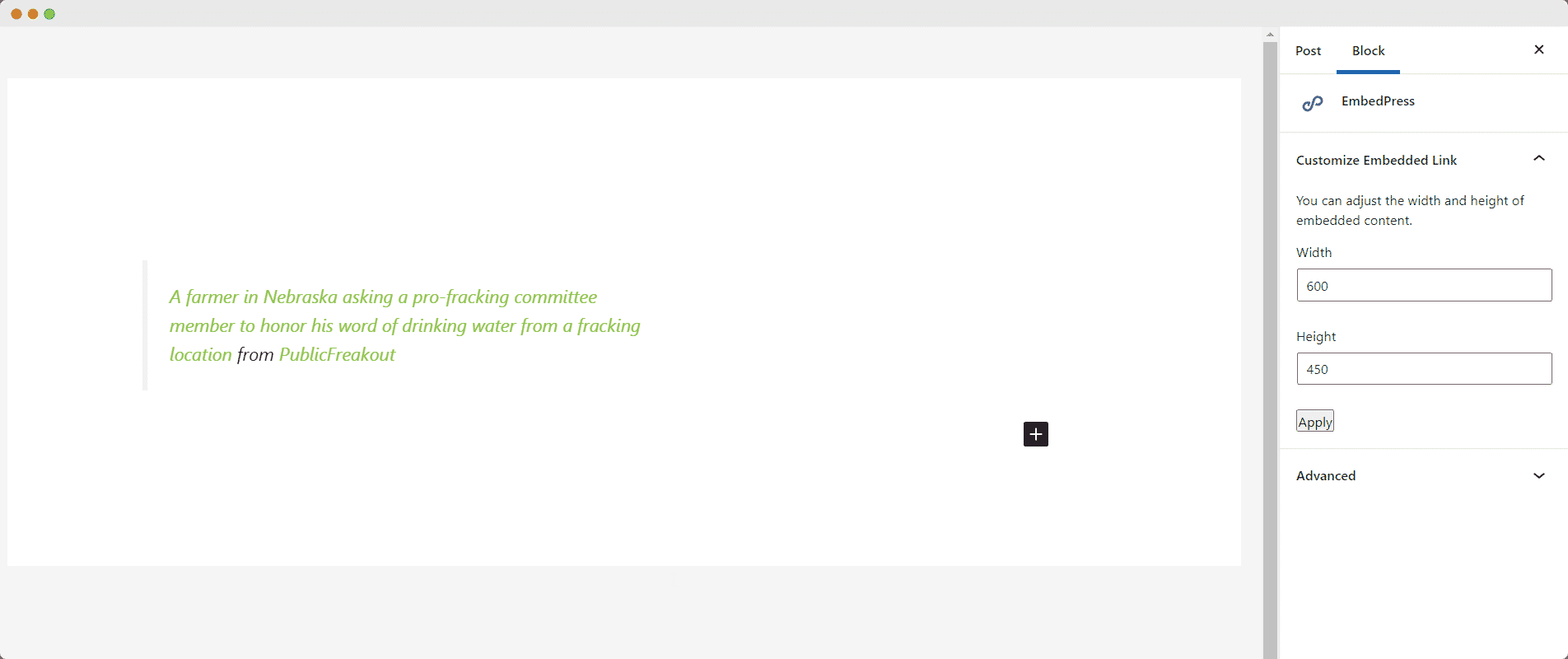 Step #2. Edit your Reddit Embeds #
While editing your WordPress content, you can also edit your embed, thanks to EmbedPress. Click on the embed in Gutenberg and check the options in the left sidebar. You can now change the embed URL, plus you can also control the maximum width and height of the embed.

How to Embed Reddit Post In Elementor With EmbedPress #
You can use EmbedPress with Elementor to embed Reddit posts in your WordPress website. Follow these steps to embed anyReddit posts on your website using the Elementor Editor.
Step 1: Select The EmbedPress Element #
First, create a new page from your WordPress dashboard by navigating to Pages→ Add New and then click on the blue 'Edit With Elementor' button. Then search for the 'EmbedPress ' element from under the 'ELEMENTS' tab in Elementor Editor.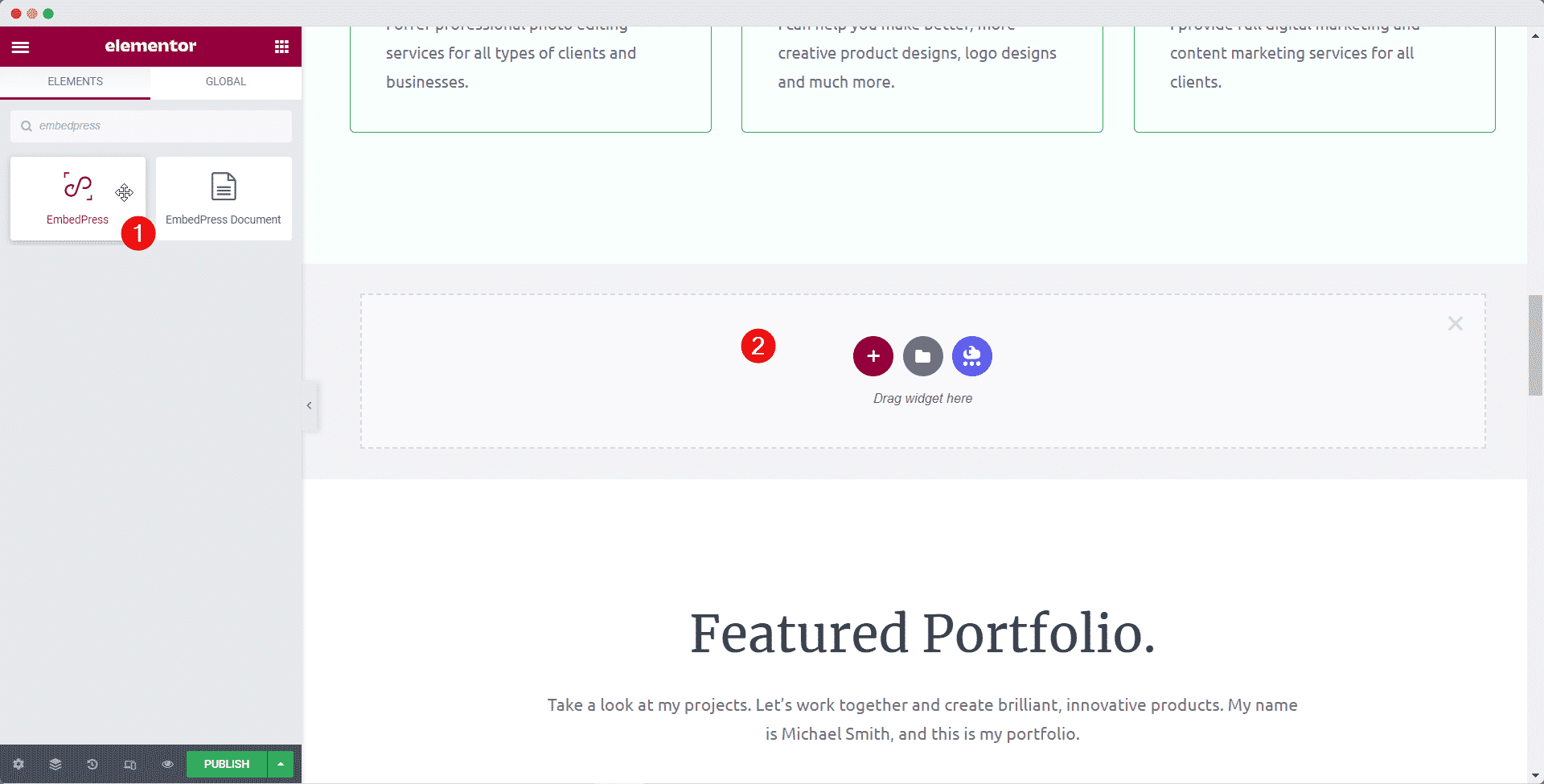 Step 2: Enter The URL In Elementor #
Now click on the 'Content' tab in Elementor Editor and enter the URL of your Reddit posts embed in the 'Embedded Link' section as shown below.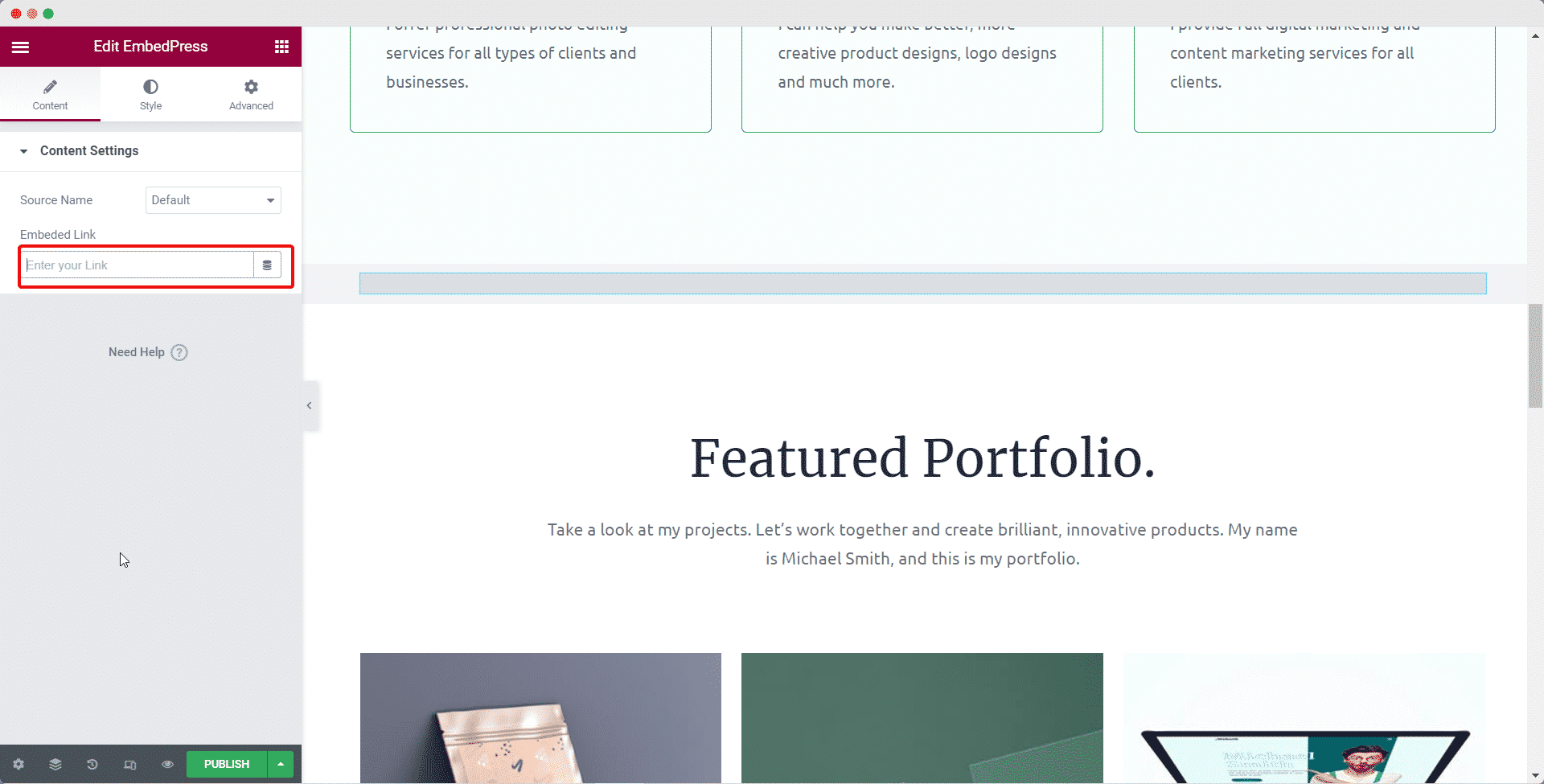 Your Reddit posts will be automatically embedded in Elementor.
If you are facing problems and require further assistance, feel free to contact our support or join our Facebook Community to get in touch with WordPress experts and content creators like yourself.