With EmbedPress, you can add Google Docs to WordPress, using just a URL.
Google Docs is an enormously popular service that has replaced Microsoft Office for many companies. Using Google Docs can bring your documents to life with live writing and editing tools.
Google Docs embeds are possible, but they're not easy to use via normal methods. EmbedPress is different. With EmbedPress, you don't have to mess around with the embed code. All you need is the Google Docs URL.
Here's how to embed any Google Docs into your WordPress site, using the EmbedPress plugin.
Step #1. Install the EmbedPress plugin #
EmbedPress is a very helpful plugin that expands and improves on WordPress' capabilities. Install EmbedPress and your WordPress site will have far more powerful media options. Click here to find EmbedPress on WordPress.org.
Step #2. Set up your Google Docs #
Before you can embed your Google Docs into WordPress, you need to make sure that it is published and visible for the public.
Log in to Google Docs and access the document you want to publish.
Go to "File", then "Publish to the web".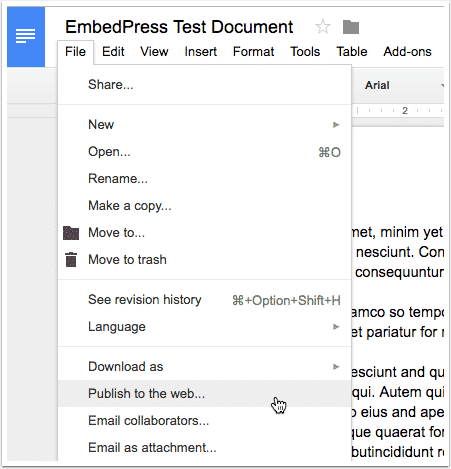 Click the blue "Publish" button, as in the image below: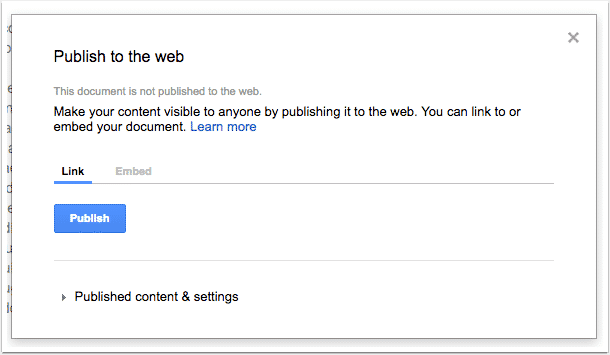 Next, click "OK" on the next screen:

Google will now give you a URL for the document. Copy this URL.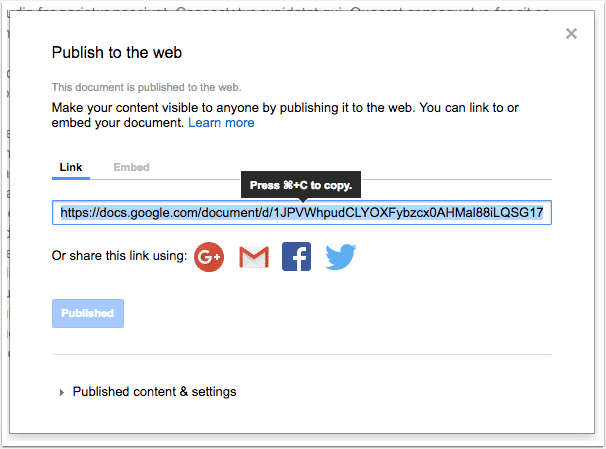 Before you go any further, let's check that your URL can be embedded on other sites:
Your URL should end in /pubhtml
Paste the URL into a different browser where you aren't logged into Google. Can you still see the doc? If you can't, then the Google Doc hasn't been correctly published to the web.
Step #3. Publish your WordPress Google Docs embed #
Now you have the Google Docs URL, you can add it to WordPress.
Go to your WordPress site.
Edit a post or page.
Click the + icon in the top-left corner of editing area.


Search for the "Google Docs" block in the "EmbedPress" area: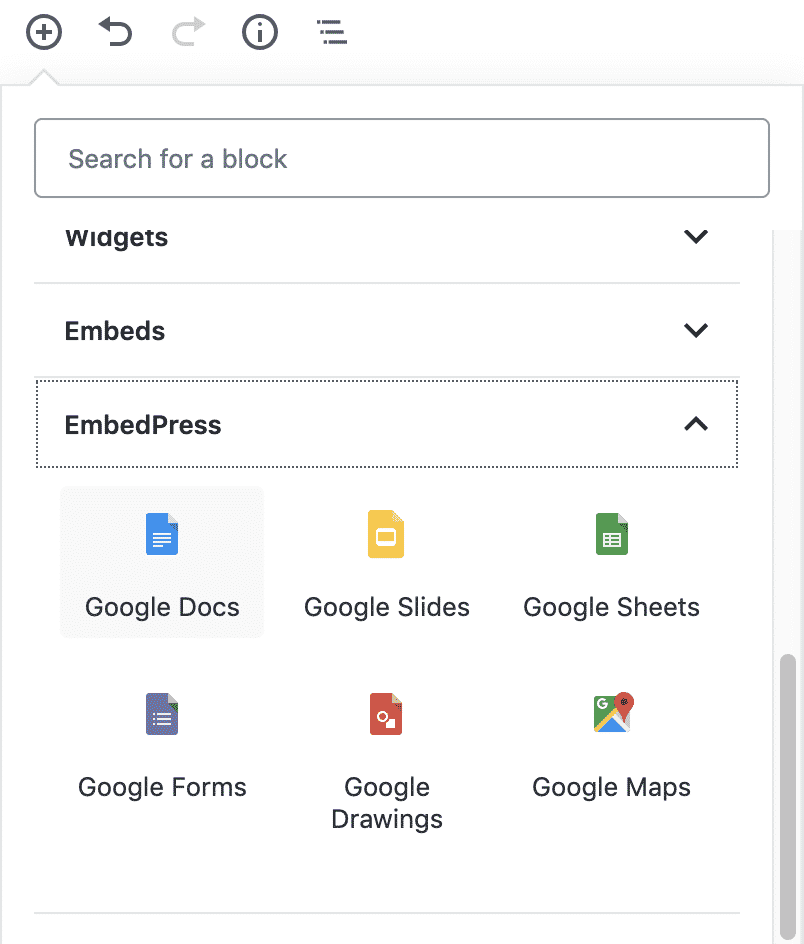 Enter the URL for your Google Doc: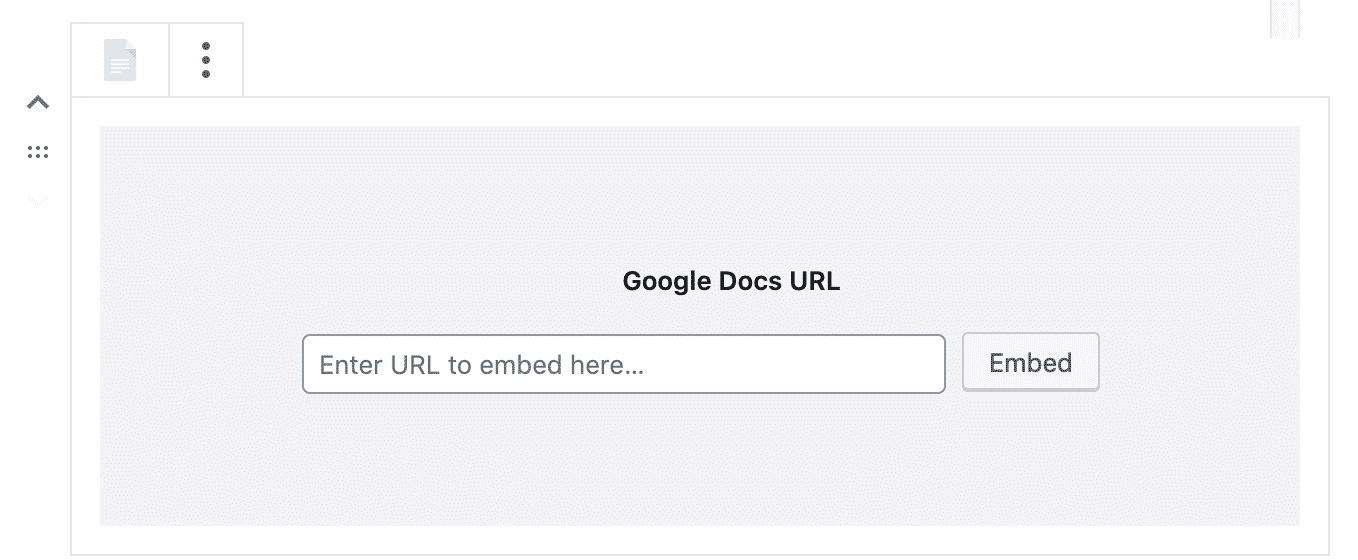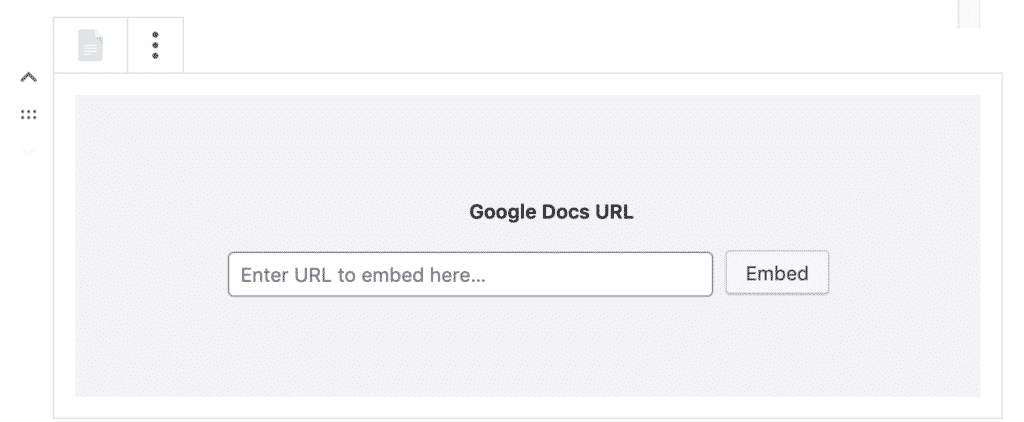 Click the "Embed" button and you'll now see your Google Docs embed: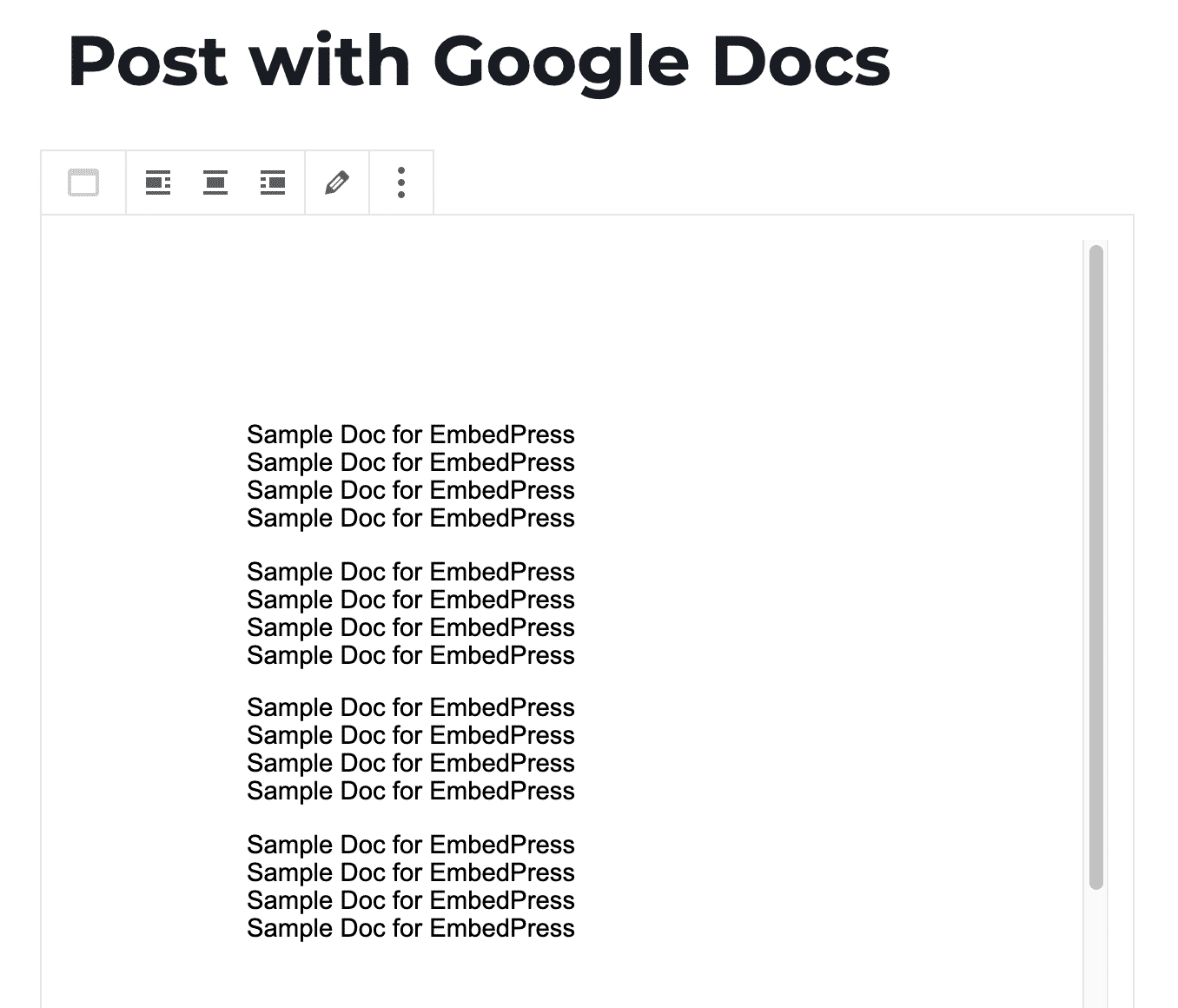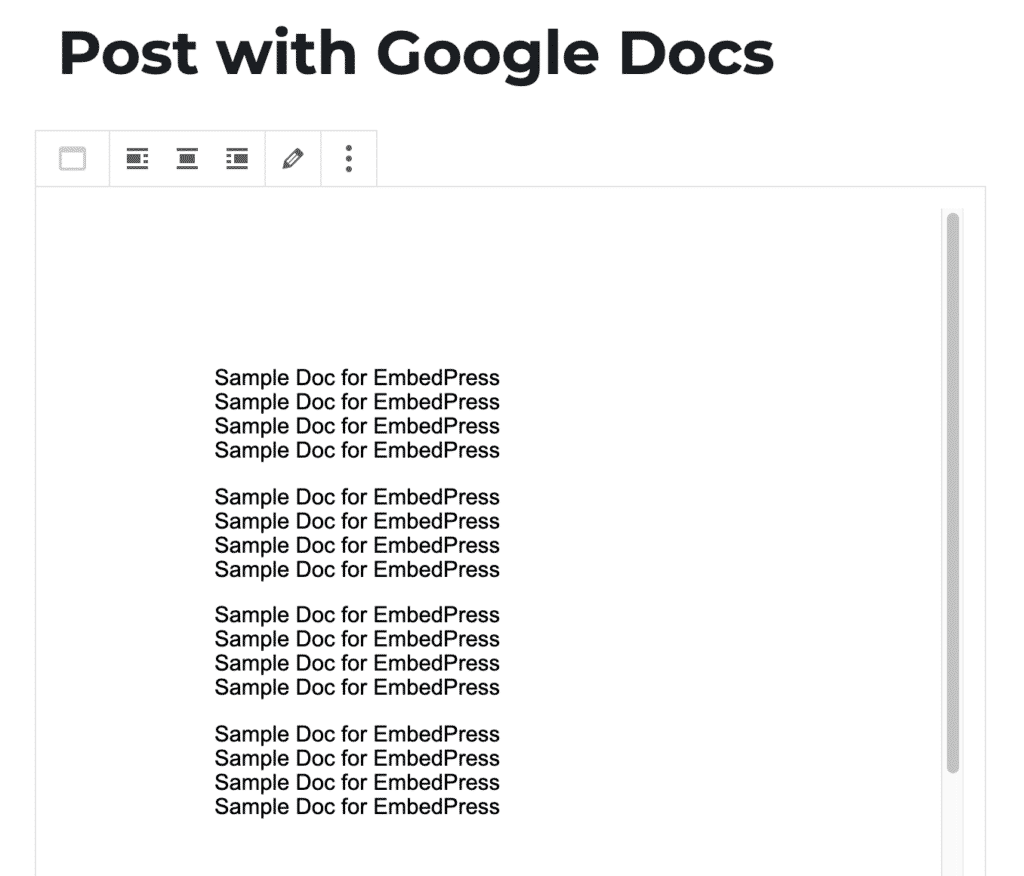 Publish your WordPress content, and your Google doc will be embedded, as in the image below: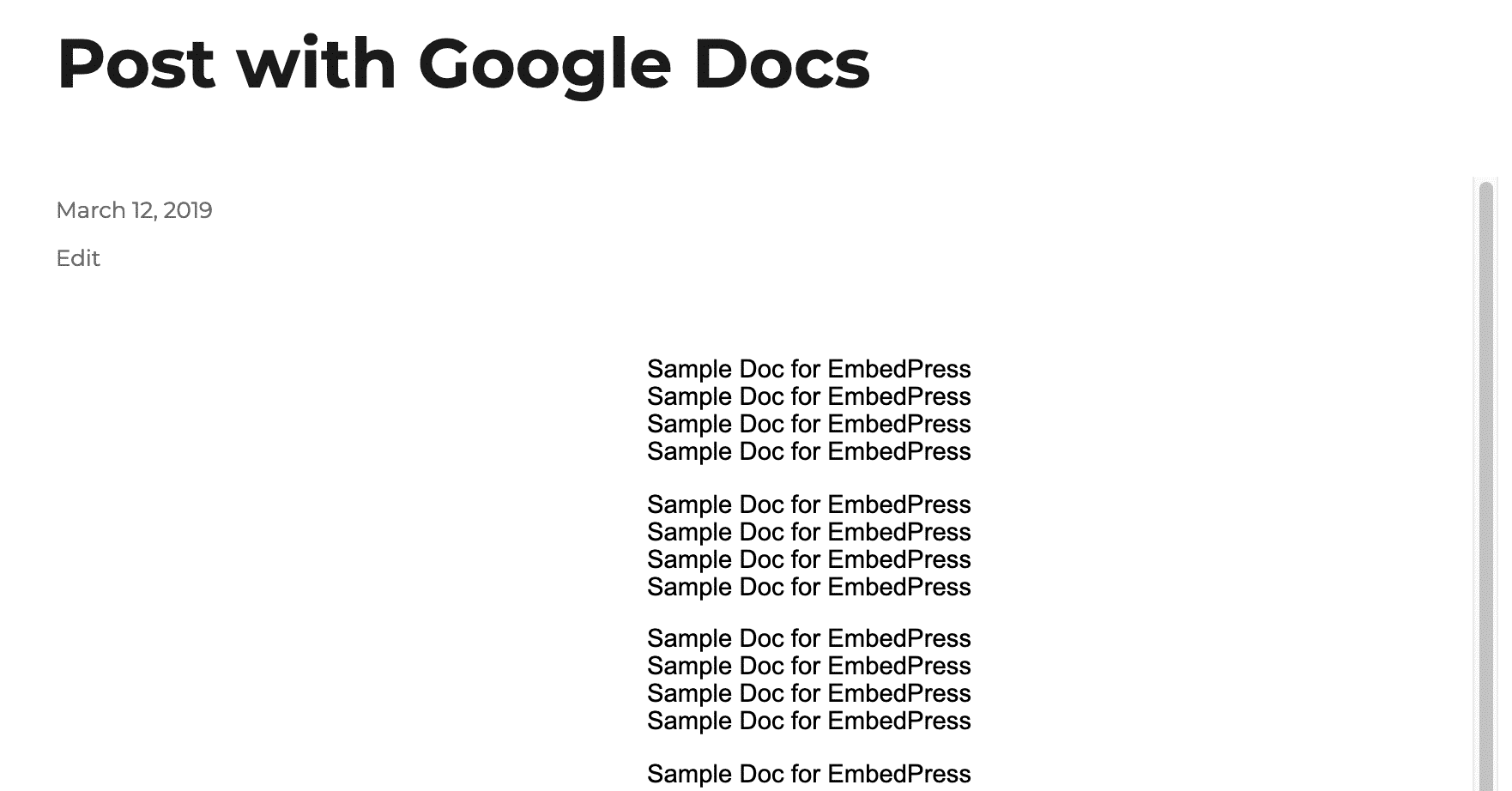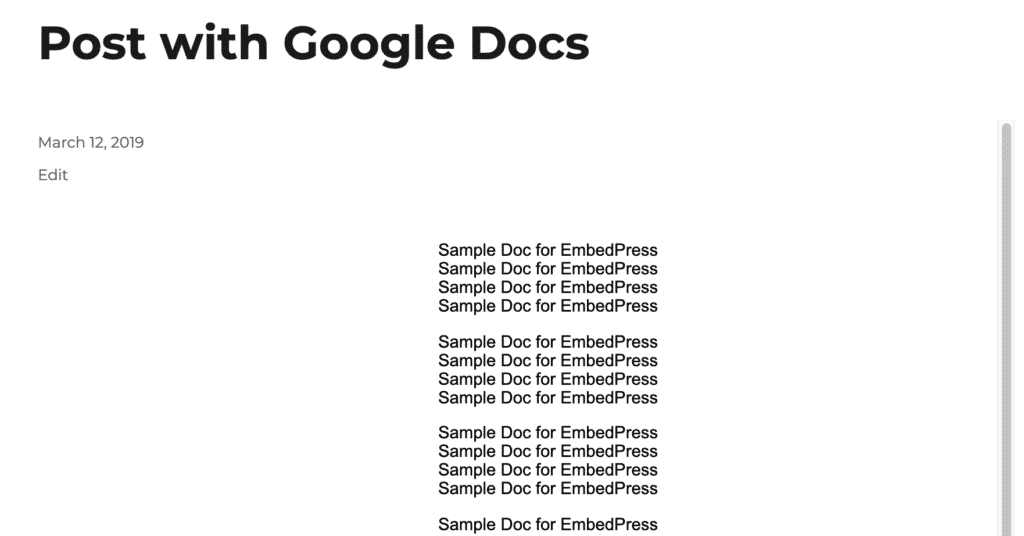 Step #4. Edit your WordPress Google Docs embed #
While editing your WordPress content, you can also edit your embed, thanks to EmbedPress.
Hover over the embed, and an pencil icon will appear. This icon will show "Edit URL" if you hover over it.
Click the pencil and you will be able to edit your embed: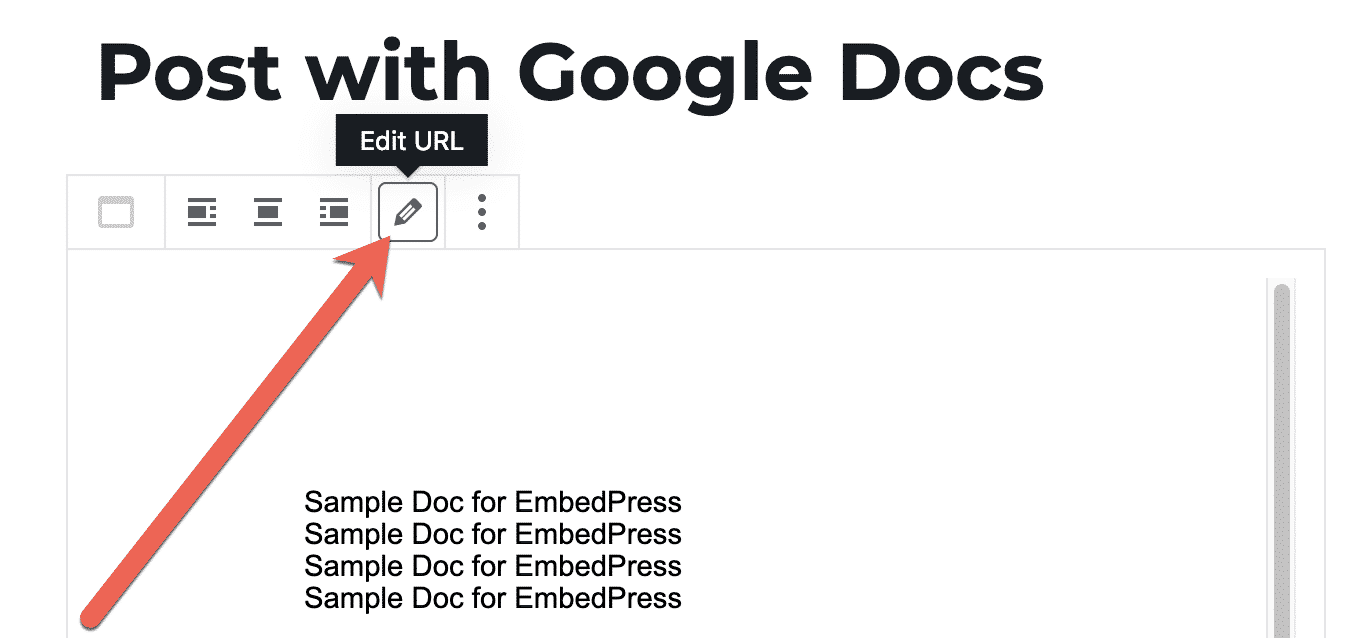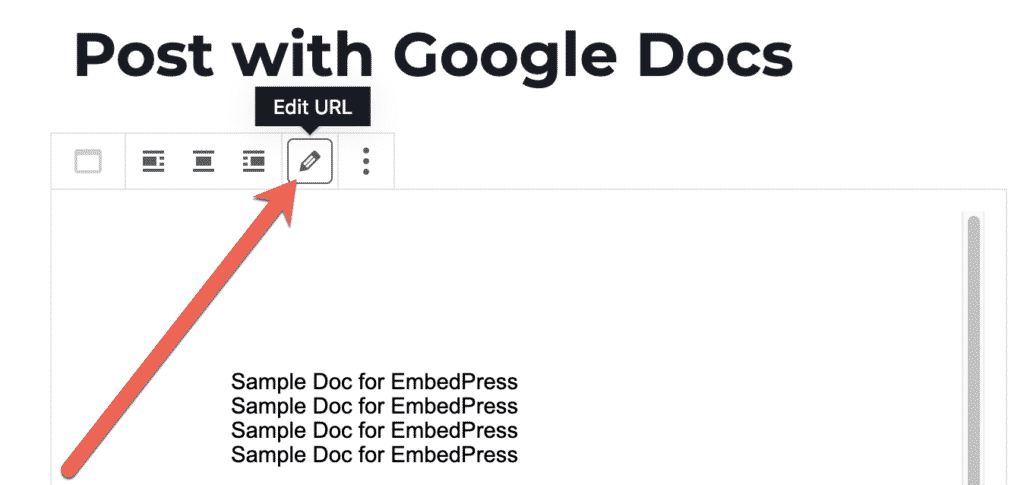 More Google embed options #