When you know what versatile things to embed, you can easily turn your WordPress website into a fun and interactive place for site visitors. Besides the obvious use of your WordPress website as an online presence for your agency or portfolio, there are several funny things you can embed. Today, we will share a list of amazing fun things to embed on your website within one click.  
When we heard about creating a website, the first thing that popped into our heads was lots of codes. Frankly speaking, creating a website from scratch is not a cup of tea. You will need advanced coding skills or expertise that may cost you a fortune. Fortunately, WordPress users don't have to deal with these kinds of hassles. You can create your own website without being tech-savvy on the WordPress platform. Moreover, you can renovate your website appearance with stunning things to embed without custom coding.
Let's take a glance at the benefits you are going to get with interactive things to embed on your WordPress website:
🚀 Boost Website Engagement
While you are in charge of website maintenance, an important metric to take care of is bounce rate. The higher visitors stay on your website the lower the bounce rate. And when you will embed funny and interactive content on your website, that will keep visitors on your site and increase engagement. Thus you can easily increase engagement rate with funny things to embed. 
🔎 Improve Website SEO Rank
Usually, the SEO ranking of websites depends on how useful the site is for visitors along with other 200+ factors. When you will start to embed things on your WordPress website, it will help you to increase external links, backlinks, link juice, and the list goes on. These will help you to rank your website higher in search engines. 
🎯 Easily Redirect Niche To Destination
Website is one of the best mediums to reach your niche customers, skyrocket sales, get new viewers or customers, and so on. Suppose your prime target is to increase followers on Instagram, YouTube, Twitch, etc. If you embed these things into your website, then you can easily pursue your target audience. Otherwise, only writing texts or creating CTA won't trigger new audiences to take action.
Embedding Content Is Easier Than Ever With Gutenberg
Just a few days ago, you had to retrieve the embed code of posts and then embed them into your website. Thanks to WordPress default editor, Gutenberg. It comes with a ready Embed block, with the help of it you can easily embed any content instantly. From social media posts to other source links, you can embed almost everything without coding. Gutenberg's built-in block 'Embed' will help you find any fun things to embed in your WordPress website without any coding.
With WordPress' previous default editor, Classic editor, you can't directly embed any content without custom HTML coding. But these hassles are totally gone with Gutenberg block editor.
More Ways To Embed In Popular Editors With EmbedPress
Apart from Gutenberg's default embed block, there is another stunning way to embed multiple content. And that is using the most popular embed plugin, EmbedPress. With this stunning plugin, you can embed 150+ resources without any custom code. 
Moreover, EmbedPress provides unlimited customization and controlling options over things to embed. So you can easily tweak and turn all options and give your website the attractive personalized look that you want. 
The most popular website builder, Elementor is seamlessly compatible with EmebdPress. You can easily embed funny things with one single widget. Even Classic editor users can also embed countless things using EmbedPress. If you are using Oxygen, Beaver, Divi, or another popular builder, you can use the EmbedPress shortcode feature for things to embed.

10+ Fun Things To Embed In Your WordPress Website Within One Click
There are immense versatile things to embed in your WordPress website if you know the right resources. Here we have hand-picked the most interesting and funny things to embed guidelines that will help you to make your website more interactive and boost engagement. 
1. Embed Tables, Graphs & Charts
Regardless of the type of WordPress website you maintain, representing your data, numbers, and graphs interactively will make your website more appealing and engaging to the visitor. Suppose you want to share a live view of your growth graph. All you have to do is create infographics or graphs from Flourish, Datawrapper, etc, and then embed these things with one click. Moreover, if you have any ready table data to share, then those things can be integrated with EmbedPress smoothly.
2. Embed Popular Social Media Platforms
Nowadays, from personal life to professional life, social media plays an important role. Moreover, organizations use social media as the best employer branding tool. You can also start your own business through social media. And you can embed any social media of your choice easily into your WordPress website. With EmbedPress embedding plugins, things to embed list is more exciting and versatile, jest is here: 
🚀 Facebook: You can embed single profile or page posts, group posts, Facebook live streams, fcommerce posts, playlists, etc.
🚀 Instagram: Things to embed from Instagram to your website is posts, reels, hashtags, image slider, etc
🚀 Twitter: Tweets, posts, profiles, etc can easily embed to your WordPress website. 
Apart from these, LinkedIn, Pinterest, etc other popular platforms can also embed without coding.
3. Embed PDFs, Documents, etc
Usually, you will find a call to action on a website that redirects to download PDFs or doc.x files. Think how engaging the thing will be if you could provide the option to review PDF, Google docs, Microsoft Words files directly from your website and download them as well! These are other interesting things to embed on your website.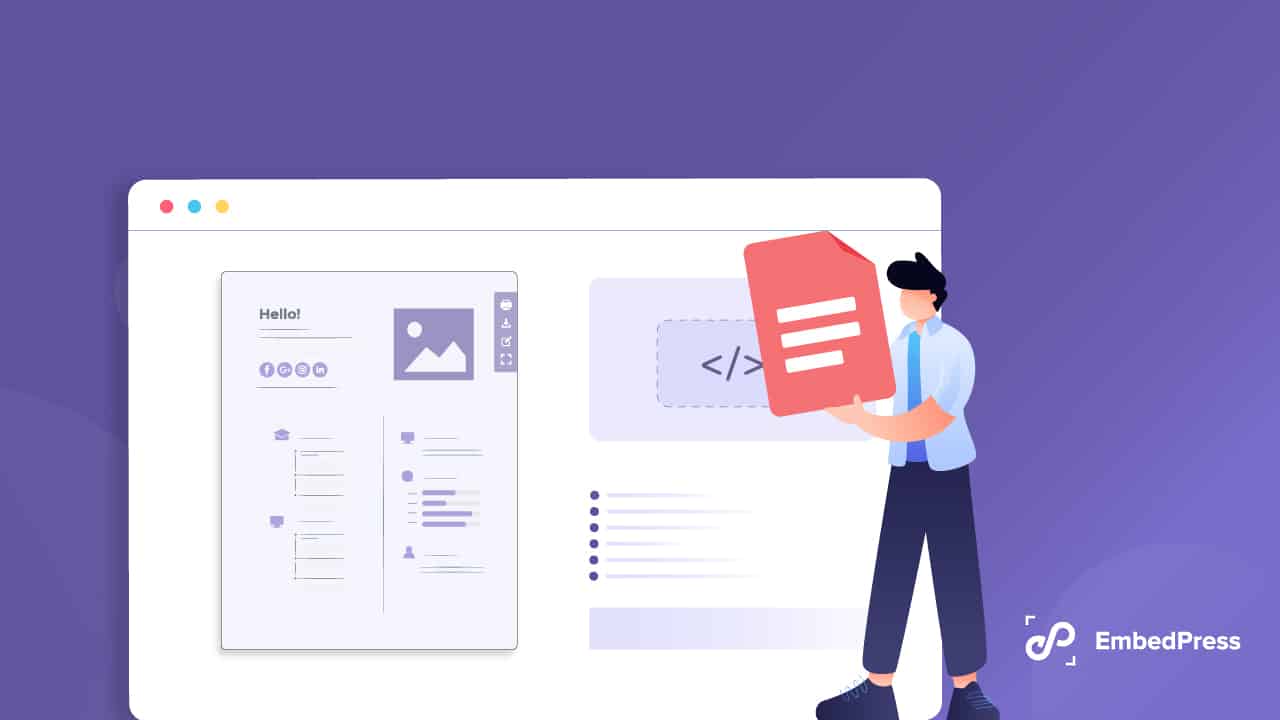 4. Embed Twitch & Other Gaming Platforms
If you are a gamer or regularly available on live streaming platforms then fun things to embed on your WordPress website are profile, playlists, live streamings, etc. The most popular gaming platform Twitch can easily embed through EmbedPress to your website. You can also add additional customization and align with your website appearance. 
5. Embed Event Calendars
Whenever you need to manage bookings, schedules, and tickets through your website, you can easily embed them into your website to share information about upcoming events. Event calendars are another fun things to embed on your website.
🌟 With EmbedPress, you can embed EventOn, Google Calendar, Meetup, etc popular platforms at ease.
6. Embed Google Maps
You can easily improve the user experience of your WordPress website by embedding maps to the Contact page or About page. This is another interesting thing to embed. So that your users won't have to separately look for destined destinations through a map. Staying on your website they can find out the locations. It will improve your website engagement as well. 
7. Embed YouTube Videos & Others
Planning to increase YouTube viewers? Then one of the good approaches is to embed YouTube videos, channels, playlists, etc on your website. In WordPress, you can easily embed YouTube, Vimeo, and other video sources. Videos make your website more interactive and improve your site's user experience. 
8. Embed Playlists, Music, & Podcasts
Songs and music can give your website an artistic vibe. It is another interesting thing to embed on your website. Apart from entertaining your site visitors, singers, and composers can promote their music, playlists, etc. SoundCloud, Boom Play, and other platforms can easily be embedded on your website. 
9. Embed Downloadable Files
Attachments shouldn't cause problems for your users. By embedding files directly on your website, it will be easy for them to download them. They will appreciate it. If you just want to embed one or two files, the default Gutenberg File block should be enough. But it can only link to files stored in your media library.
10. Embed Forms, Polls & Quizzes
The era of boring lifeless forms is already gone! You can add forms, polls, or quizzes to give your website a more fun vibe. Especially to increase your potential customer base and more marketing campaigns, these will be a super help. Polldaddy, Crowdranking polls, etc are popular platforms for creating quizzes and polls. 
11. Embed Satisfied Clients Reviews
89% Would be customers who rely on present customer bases reviews and ratings. If you want to build credibility, then good things to embed are your customer reviews. If you already have an account on Yelp, Google Business, Yellow Page, or other popular sites, you can easily embed those platforms into your website and improve credibility. 
12. Directly Live Stream From Your Website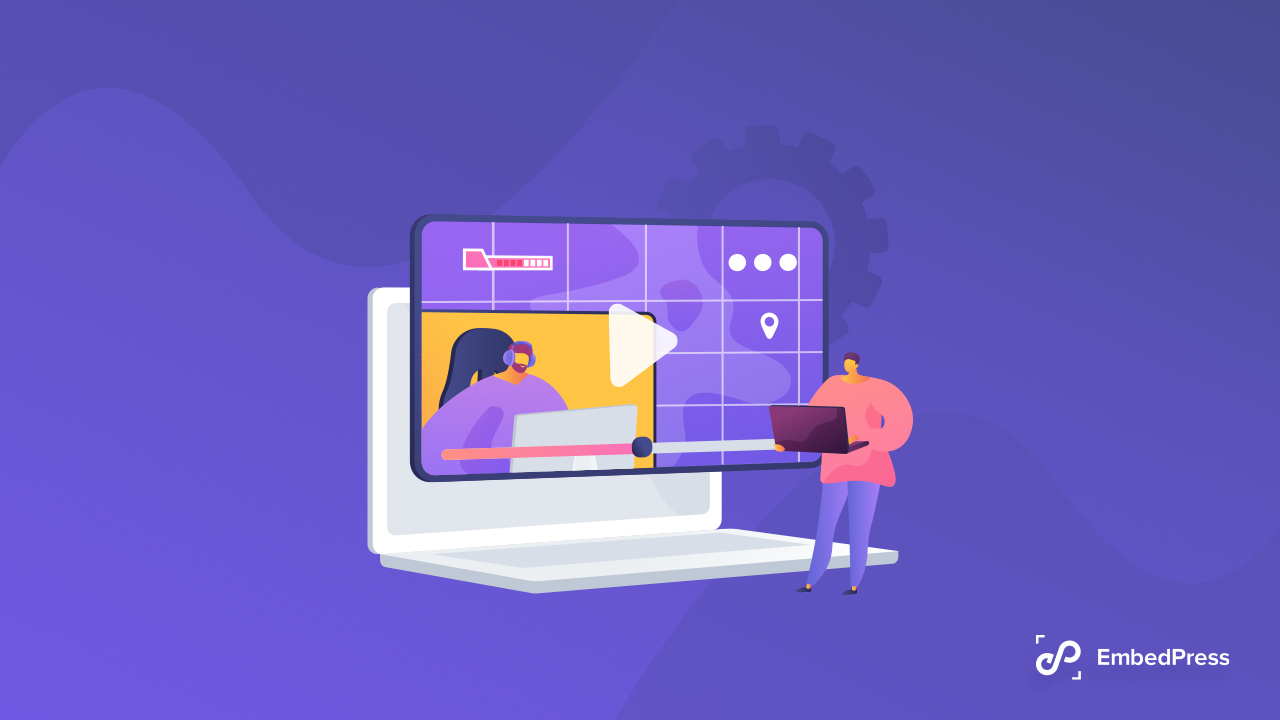 Due to the advanced technology, now you can start live stream from any device and any platform. These are fun things to embed on your WordPress website. So that you will get a lot of coverage on your live streaming. Not only social media live streams, but you can also embed live streams from any source of your choice. You can also communicate with viewers through websites easily.
Embed Everything Instantly In WordPress
These are just the starter pack things to embed on your WordPress website. There are so many interesting things to embed. All you need is the right embedding plugin and a list of interesting things. Hopefully, you got the list of fun things to embed in your website. To keep abreast of the latest blogs and tips about embedding, subscribe to our blog.