When you live stream on Twitch on a regular basis, you're probably interested in embedding Twitch stream on your WordPress website. This will allow your website visitors to watch your Twitch stream and do direct live chatting with them. In this post, we are going to walk you through the easiest to embed Twitch stream on your website without coding.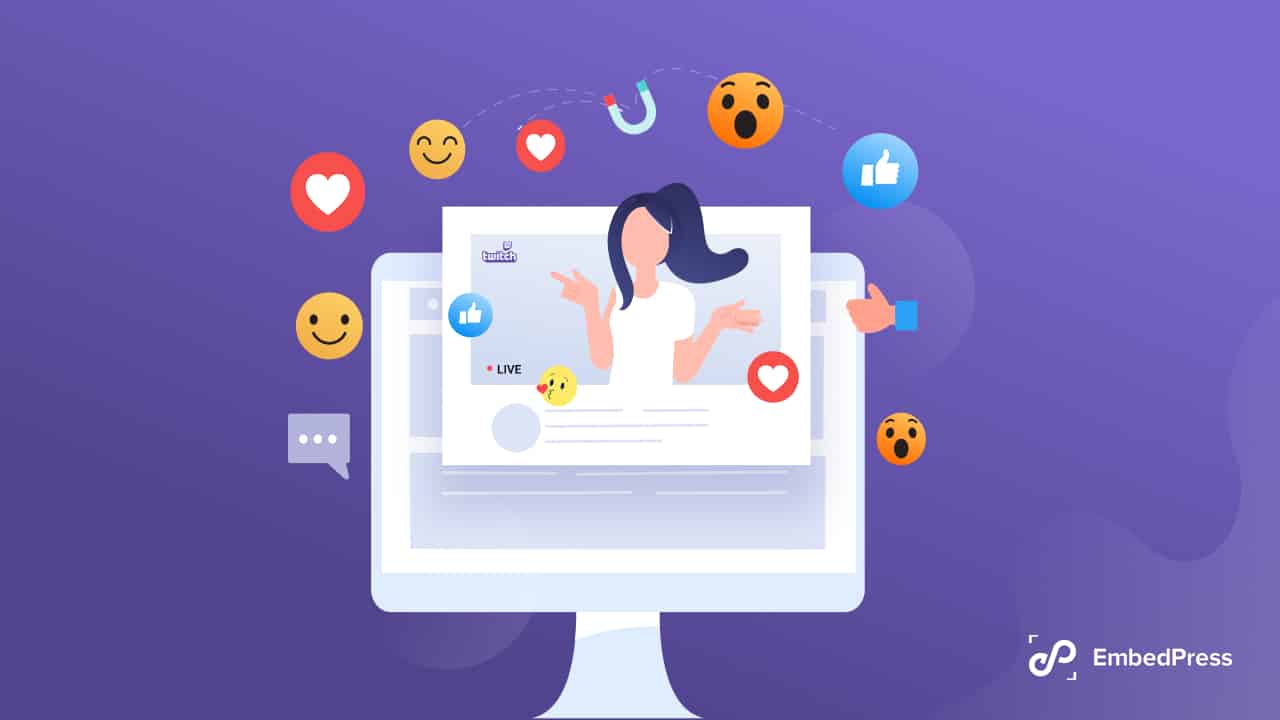 Twitch is one of the popular live-streaming platforms. Over 2 Million unique streamers use Twitch every month. The practice of having a website and broadcasting the live stream on the website is very common among streaming services. Start reading this article if you are planning to embed your Twitch stream on WordPress.  
🤔 Who Else Should Embed Twitch Besides Gamers❓
Twitch streams bring to mind the idea of gaming live streams most of the time. As most of the popular live streaming channels of Twitch belong to gamers. But there are immense possibilities you can do with your Twitch stream account. In this section, we will discuss what other types of Twitch channels you can create, as well as the benefits of embedding Twitch streams.
As Twitch is mostly popular as a live stream platform, you can broadcast your beauty videos if you are a makeup blogger, your fashion business, and many more. In addition, arrange live music parties, you can broadcast your cooking recipe, lifestyle vlogs, arrange virtual meet-ups, and much more. The use of Twitch makes live streaming possible for every type of activity.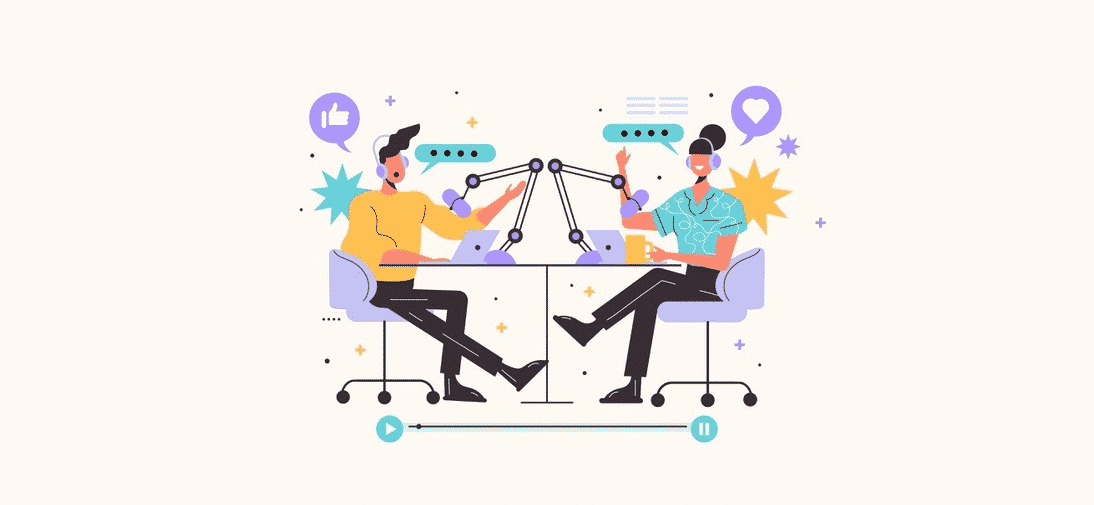 The most common question that can hit your head is why to go for Twitch live streams rather than other live streaming platforms. Let's find out more about the benefits you will get by embedding Twitch streams in your WordPress website. 
✅ Ability To Add Overlays & Do Live Chatting
While you are broadcasting your live streaming channel, you may need to add your channel logo, additional texts, banner, and so on. With Twitch stream, you can easily add overlays in your live streaming. Moreover, your viewers can directly interact with you in live streaming, with live chatting. While your viewers may not watch your streaming through your Twitch platform, they will still be able to chat with you in real-time through your WordPress website. 
✅ Provides Ease of Finding Your Live Stream
Twitch is a massive live streaming platform with thousands of streams going on at any given moment. There are 127,000+ live broadcasts going on Twitch every day by the statistics of Backlinko. So it's not possible to find out your live streaming easily if your channel is not popular. When you embed Twitch on your WordPress website, your viewers can easily enjoy live streams from there. 
✅ Automate You Live Streaming Process
Each time you go live on Twitch, you must copy and paste the URL of your live stream into your website and other order platforms. Moreover, it's a hassle to notify your viewers manually every time you start live streaming on Twitch.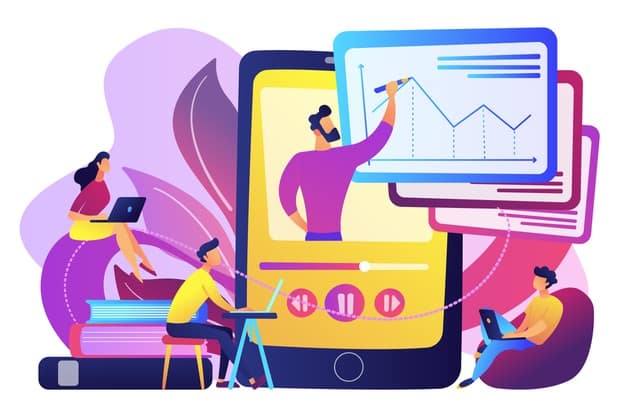 You can easily avoid all the hassle of managing live streaming when you embed Twitch on WordPress website. By integrating relatable plugins, you can alert your website visitors with a notification when you go live in Twitch. Also, you can take down the notification after your live stream ends and display alternative content on your live stream page. This way you can easily automate live streaming and increase the traffic on both WordPress website and Twitch channels.
Popular Ways To Embed Twitch Stream On WordPress
Nowadays, live streaming platforms are one of the most popular things online. Therefore, there are multiple ways to embed live streaming platforms. Based on popularity, here is mentioning the top easy to embed Twitch and other streaming platforms. 
1️⃣ Embed Twitch Stream By Custom Coding
Hopefully, you already know the superpower of coding. You can do everything with your website with coding, even embedding live streaming platforms as well. That will give you the flexibility to appear on Twitch or other streaming platforms as you want. 
But, if you don't have enough coding knowledge then embedding the simplest platform can be difficult. Moreover, if you are on a tight budget then hiring experts may cost you a fortune. So embedding Twitch streams by custom coding isn't beginner-friendly. 
2️⃣ Use WordPress Plugins To Embed Twitch Stream
If you are embedding platforms all by yourself and have no coding experience, WordPress plugins will always be your savior. In the WordPress repository, you will find multiple plugins to help you in embedding.  
Among WordPress embedding plugins, EmbedPress is the most popular embed plugin. With this stunning plugin, you can easily embed Twitch streams, hold live streaming parties, and many more. All you have to do is copy the URL from Twitch and paste it into your website.

Apart from embedding Twitch streams, EmbedPress has a huge library of 150+ sources that can be easily embedded. So you can easily embed videos, images, PDF, and many more from other sources. 
Complete Guideline: Embed Twitch Stream On WordPress Using EmbedPress
Before starting to follow this guideline make sure you have installed and activated EmbedPress on your WordPress website. Whether your website pages are built with Elementor, Gutenberg, or Classic Editor, you can embed Twitch streams with WordPress websites using EmbedPress. Let's take a look at how to embed Twitch streams on your WordPress website quickly and completely.
Setting Up Twitch In EmbedPress
With EmbedPress, it's easy to embed your Twitch profiles, or the profiles of others and videos as well. If you don't have your account on Twitch, then you can easily create a Twitch account from their website.  
Now it's time to configure Twitch settings from the EmbedPress dashboard. This stunning WordPress plugin has a built-in settings panel for Twitch. From the EmbedPress 'General' section, you can set streaming start times, color schemes, chat visibility, mute options, fullscreen buttons, and more. Once you save the settings, they will automatically be applied to every embedded Twitch stream on your WordPress website.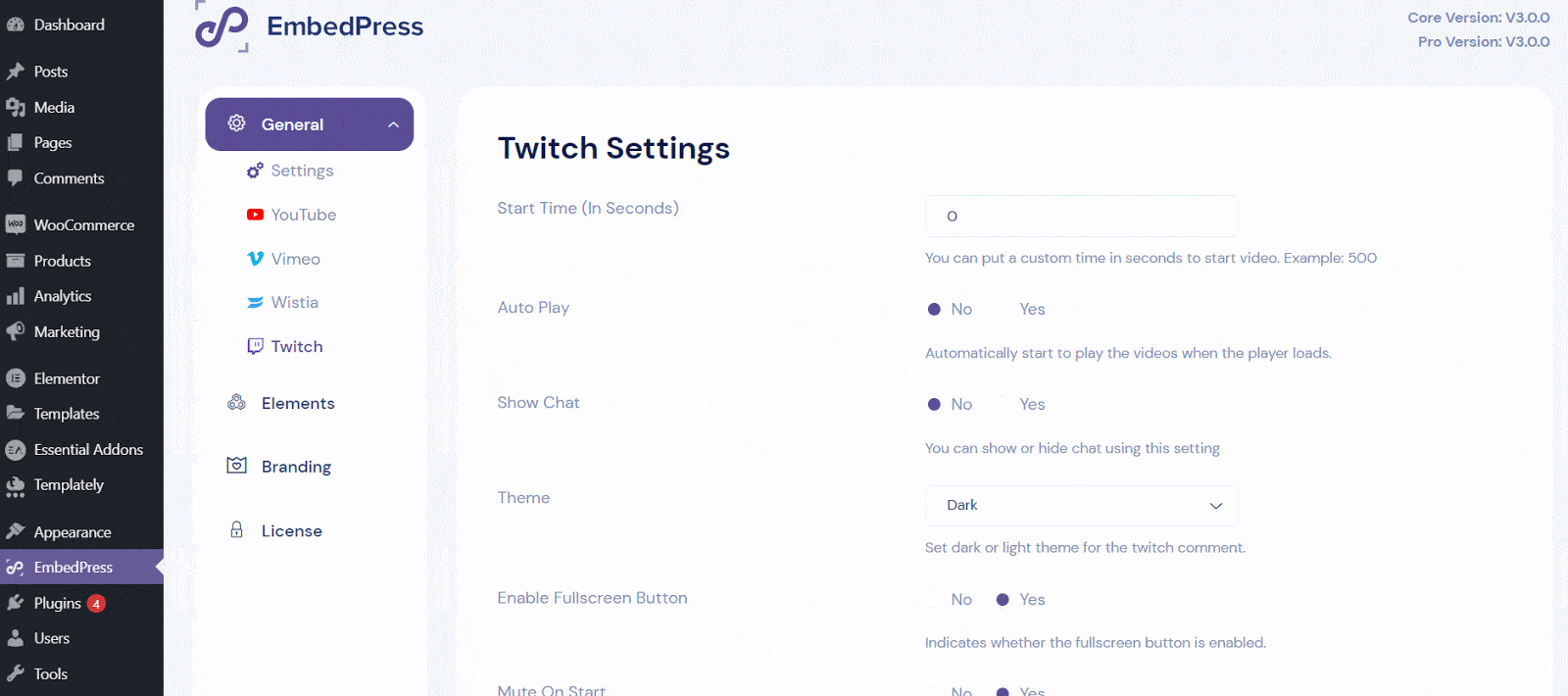 ⭐ Preview Twitch Stream With Gutenberg Editor Instantly
Gutenberg is the present built-in block editor in WordPress. If your WordPress website pages are created with Gutenberg, then follow the below steps. 
Step 1: Get Your Twitch Streams URL
First, go to the Twitch website and copy your URL. You can either copy the profile link or a specific video link, EmbedPress will help you to embed both types of URLs.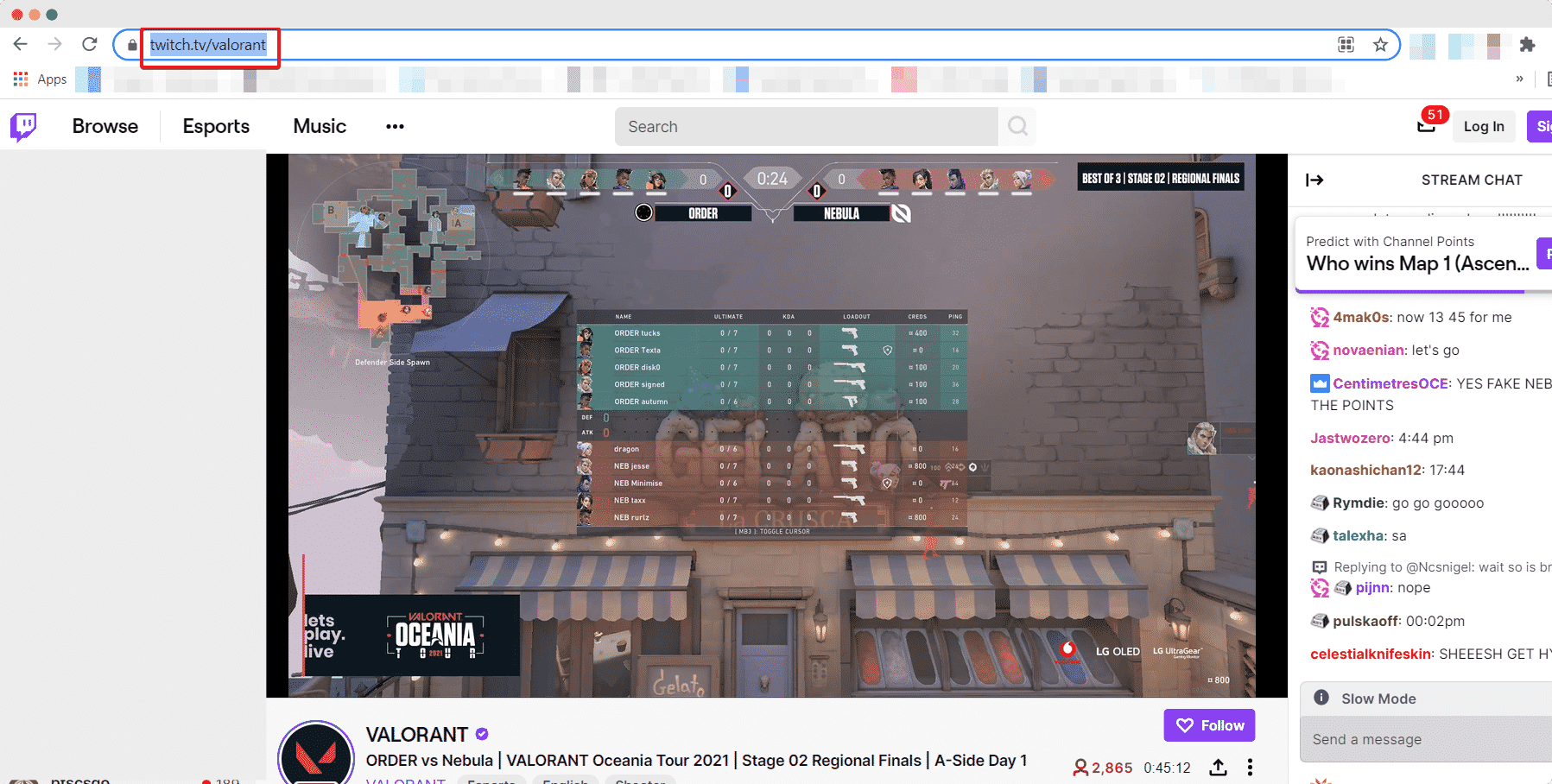 Step 2: Embed & Publish Your Content
Now open the webpage where you want to embed Twitch stream. Click the '+' from the top bar of the page and search for EmbedPress there. Then drag and drop the plugin on your web page.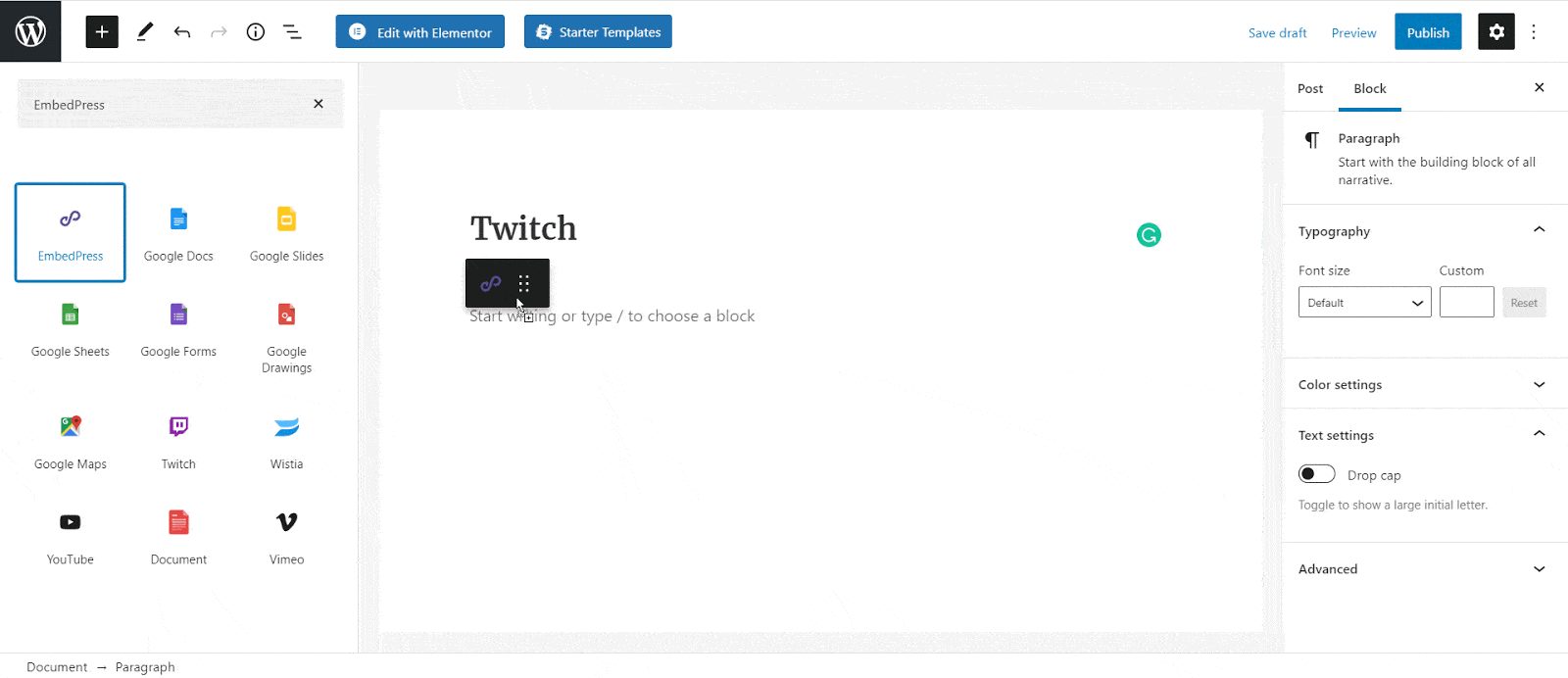 In the plugin block, there is an input field to insert the URL you want to embed. Paste your copied URL there and instantly the channel or video will be embedded into your WordPress website.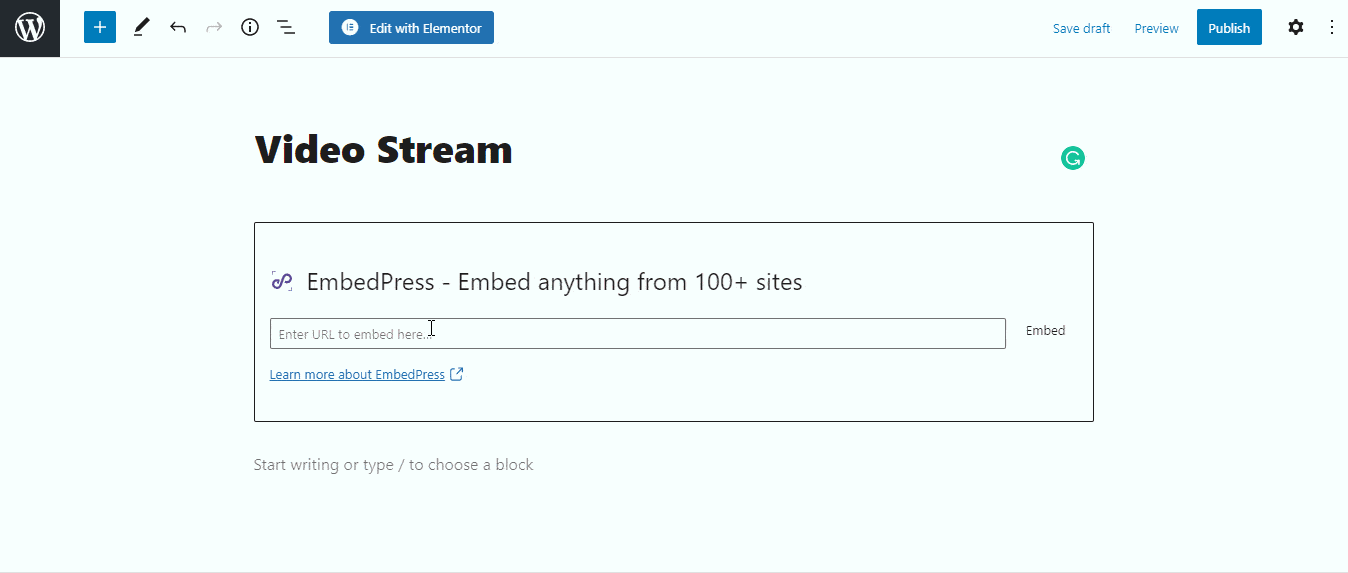 The video will be streamed while keeping the settings you made in the EmbedPress dashboard. When you are done, click on 'Publish' button and check out how the Twitch stream will appear on your WordPress website.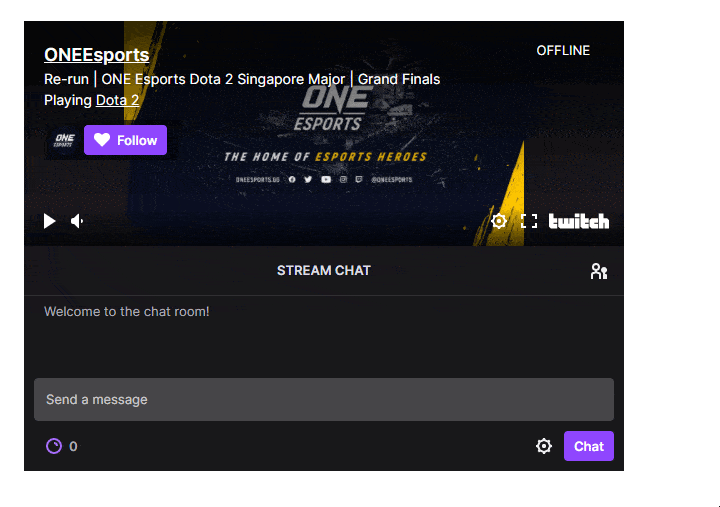 ⭐ Use Elementor Page Builder To Embed Twitch Stream
At present Elementor is the most powerful and popular website builder in WordPress. Without coding, you can easily complete creating an entire site with Elementor as well as can see every change in real-time. Go through the guideline to embed Twitch stream in Elementor builder. 
Step 1: Navigate To Elementor Elementor
First, install and activate Elementor website builder from your dashboard. Then open the web page where you are going to embed Twitch stream. On the top of your page, you will find the button 'Edit with Elementor' button. Click it to start editing with Elementor.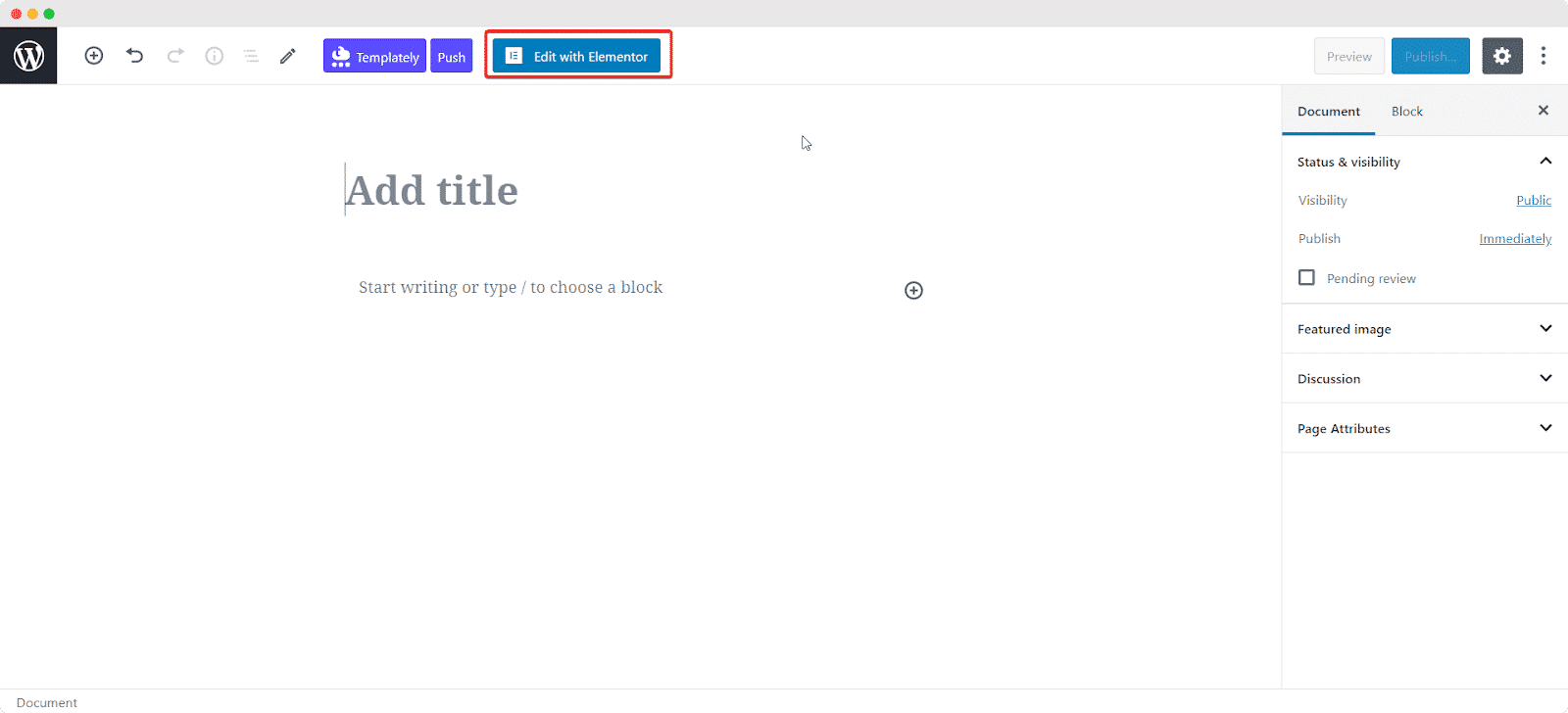 Step 2: Embed Twitch Using Elementor Widget
Now search for 'EmbedPress' widget on the widget panel and drag and drop that on your webpage. The widget will be immediately added to. your page.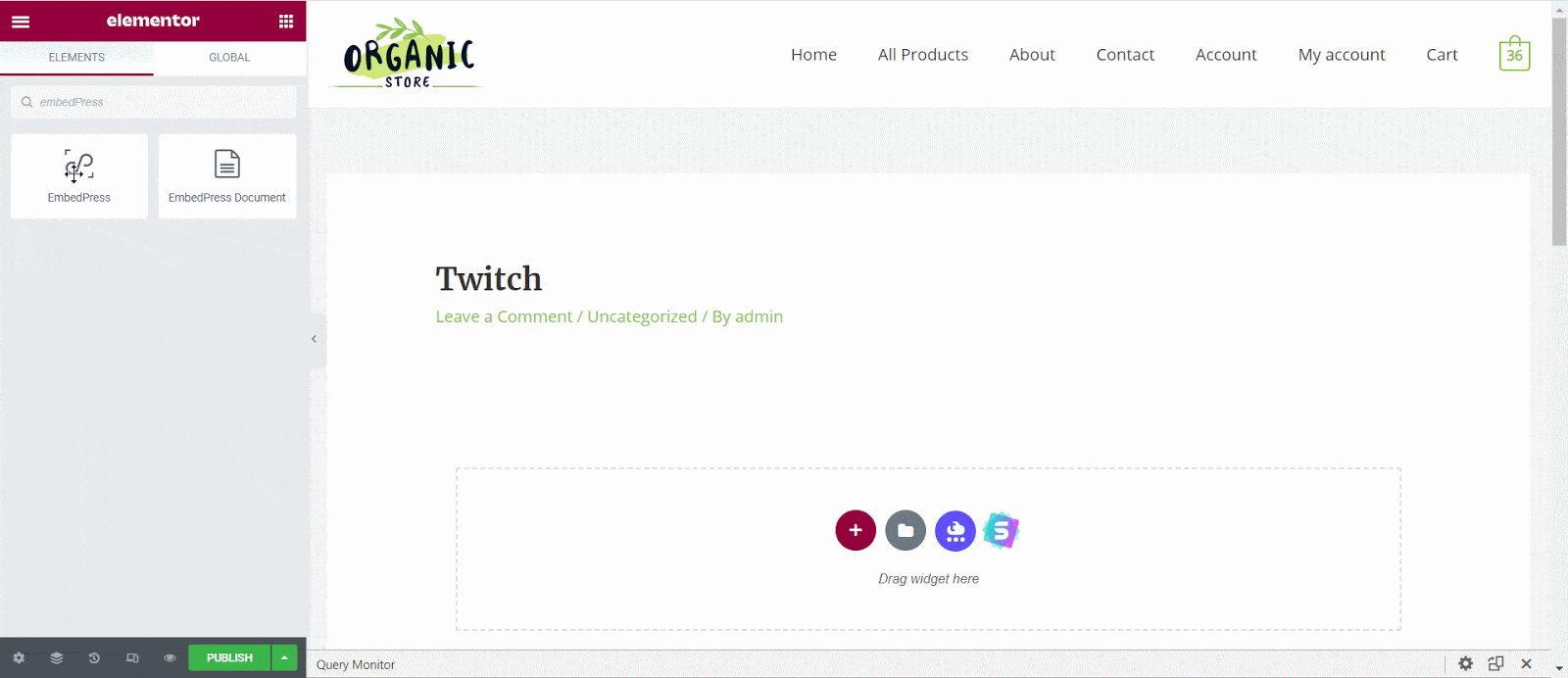 Now paste the previously copied Twitch streaming URL in the Embed Link field. Then the streaming video will be automatically embedded. Once you have finished creating your web page, click 'Publish'.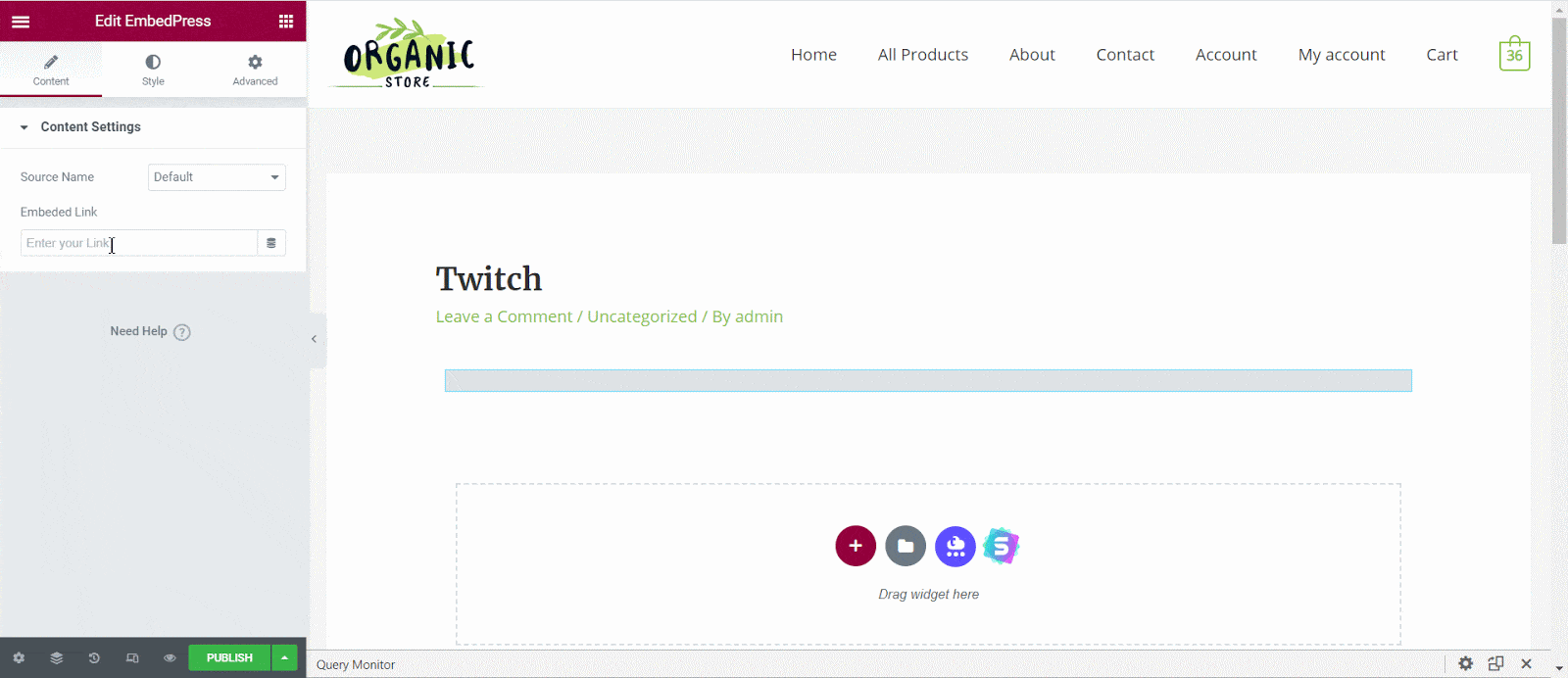 ⭐ Embed & Preview Twitch With Classic Editor
Classic Editor was previously the built-in editor of WordPress. If you are still using Classic editor, then you can fluently embed Twitch stream in your WordPress website in no time. 
Step 1: Navigate To The Page Where You Want To Embed The Stream
Open your WordPress dashboard and open the web page where you will embed your Twitch streaming. You can also get started with a completely new page as well.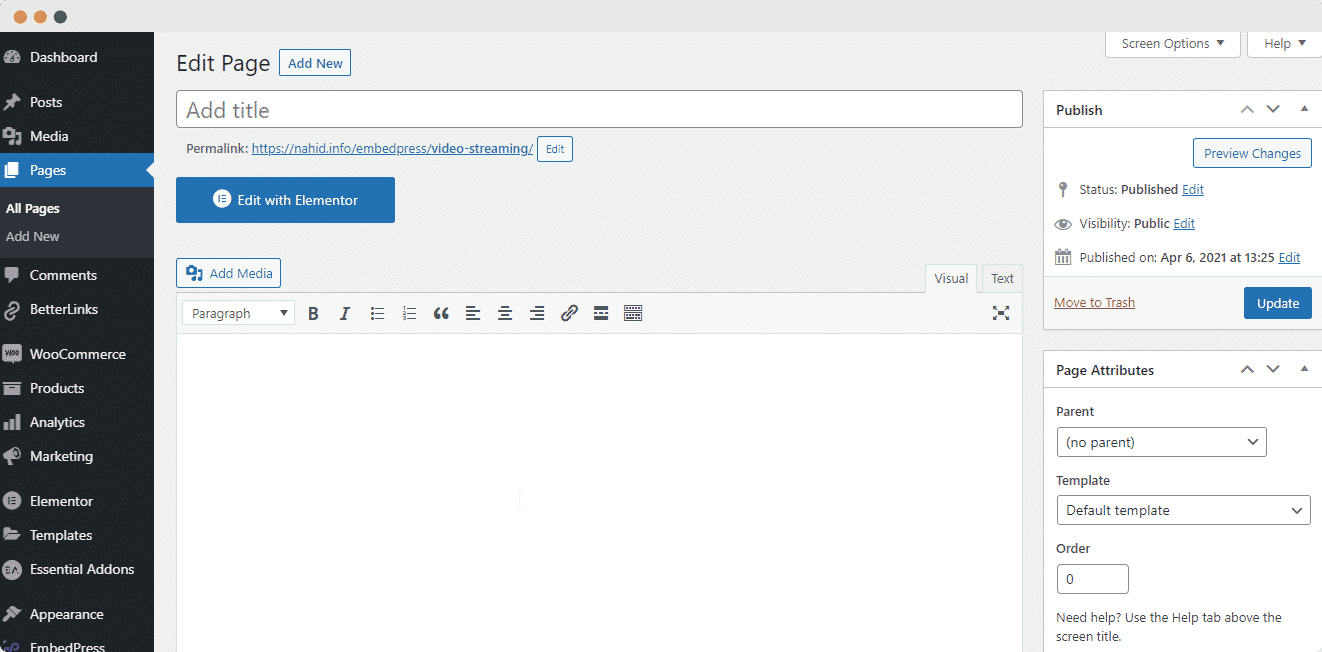 Step 2: Embed Twitch In Classic Editor
Now copy the Twitch channel or video URL and paste it on the Classic editor's Visual panel. EmbedPress will automatically embed your Twitch content on your website immediately. After finishing editing, publish your website and start sharing your Twitch stream with everyone. 
Get Started With Live Streaming
While you are using EmbedPress, you can embed Twitch or other popular live streaming sites instantly using Elementor, Gutenberg, and Classic Editor. If you get stuck while embedding on your WordPress website, then feel free to contact our dedicated support team.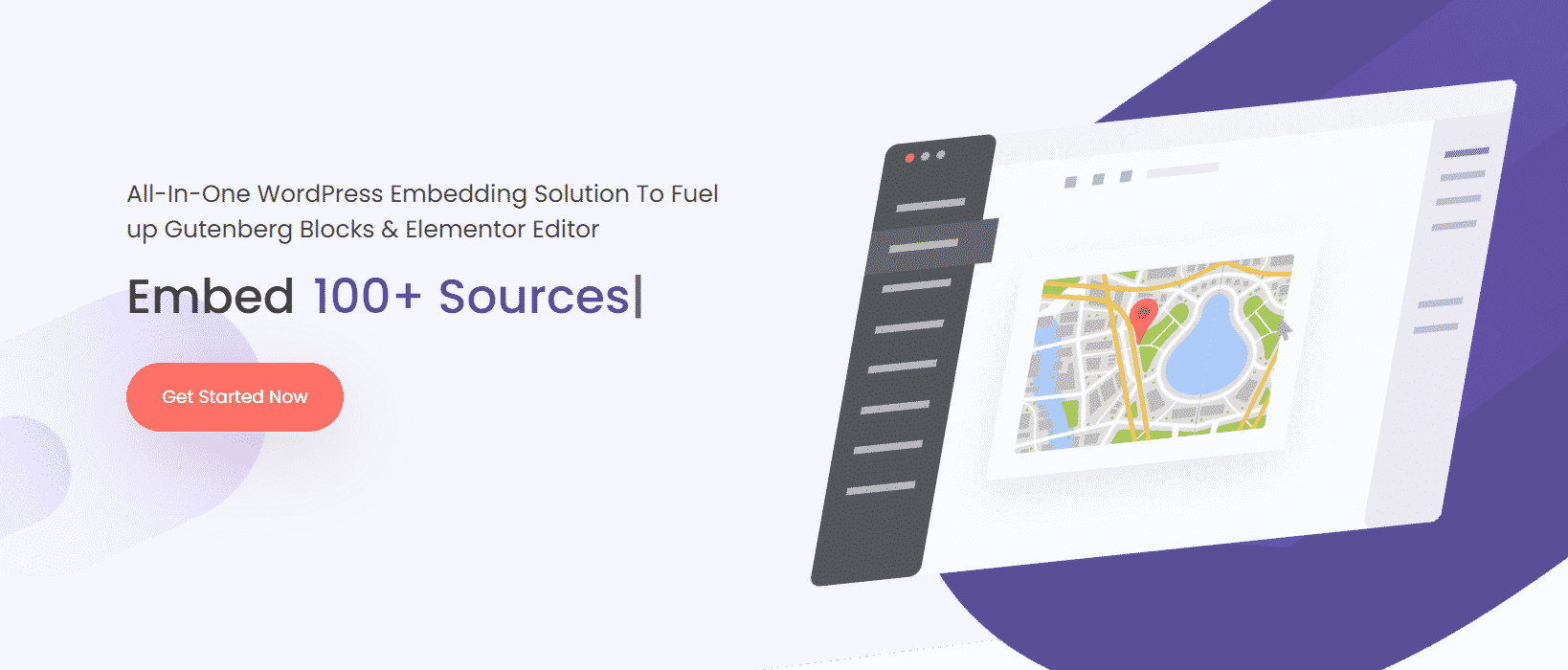 As you can see, you won't need to be tech-savvy to embed live streaming platforms like Twitch with the EmbedPress plugin. Start streaming live from your WordPress website now. We would like to hear your thoughts on this tutorial, so feel free to leave a comment or join our Facebook Community. And to get the latest updates, subscribe to our blog today.