Embedding content in your WordPress may seem easier but when it comes to embed any type of content in Gutenberg, a one-stop solution is always desirable. Of course, you could use an iframe to embed any content you want but it comes with fewer customization options. Are you wondering what kind of options you might be missing out on? Let's dive in and learn about things that can come to your use.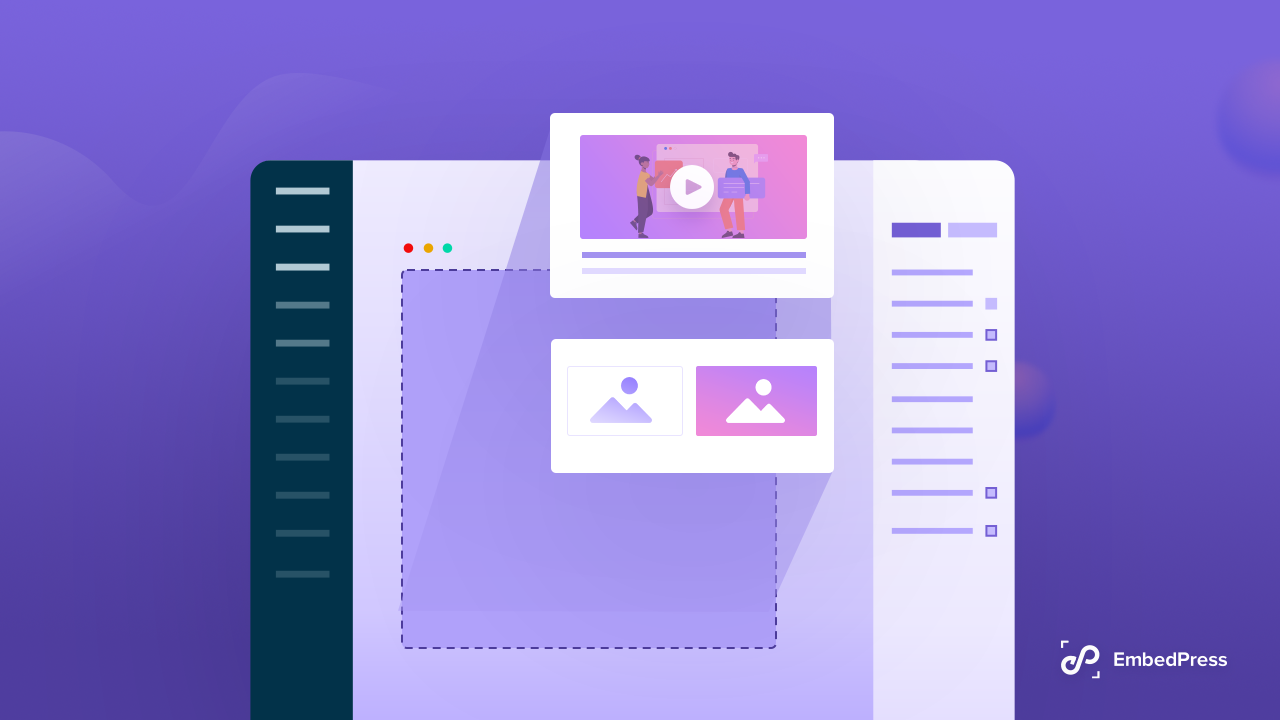 If you are using WordPress, you are in luck, because the Gutenberg block editor comes with amazing features and blocks that can easily help you embed anything. For example, you will find individual blocks to embed YouTube videos, Google content, or even social media content. But if you are looking for a complete solution, EmbedPress is the ultimate WordPress plugin you are looking for.
Embed Any Content With One Gutenberg Solution
Using EmbedPress you can embed any content you want to embed. All you need to do is retrieve the content URL and paste it into the block and you are good to go. Even if you have Google content like Google Docs, PDF, Google maps, and so on, you can embed it all using this solution. Let's explore what kind of content you can embed using EmbedPress.

Embed Google Drive Content Using EmbedPress
Google Docs, Sheets, Slides, Forms, Drawings, Maps, and other Google Drive features are included in the overall suite. And if you can put it on your website, you'll be able to immediately attract more potential customers. Embedding any of this Google Drive information on your website can help you amaze visitors by displaying dynamic content. WordPress users, writers, online business owners, and anybody else who uses Google Drive knows how important it is to share their Google Drive content with customers.
So that they feel more involved and conversions increase. Users of WordPress can simply embed Google Drive material on their site with only a few clicks and no code. You don't need to put forth any extra effort; simply copy the link and paste it into your favorite Gutenberg editor.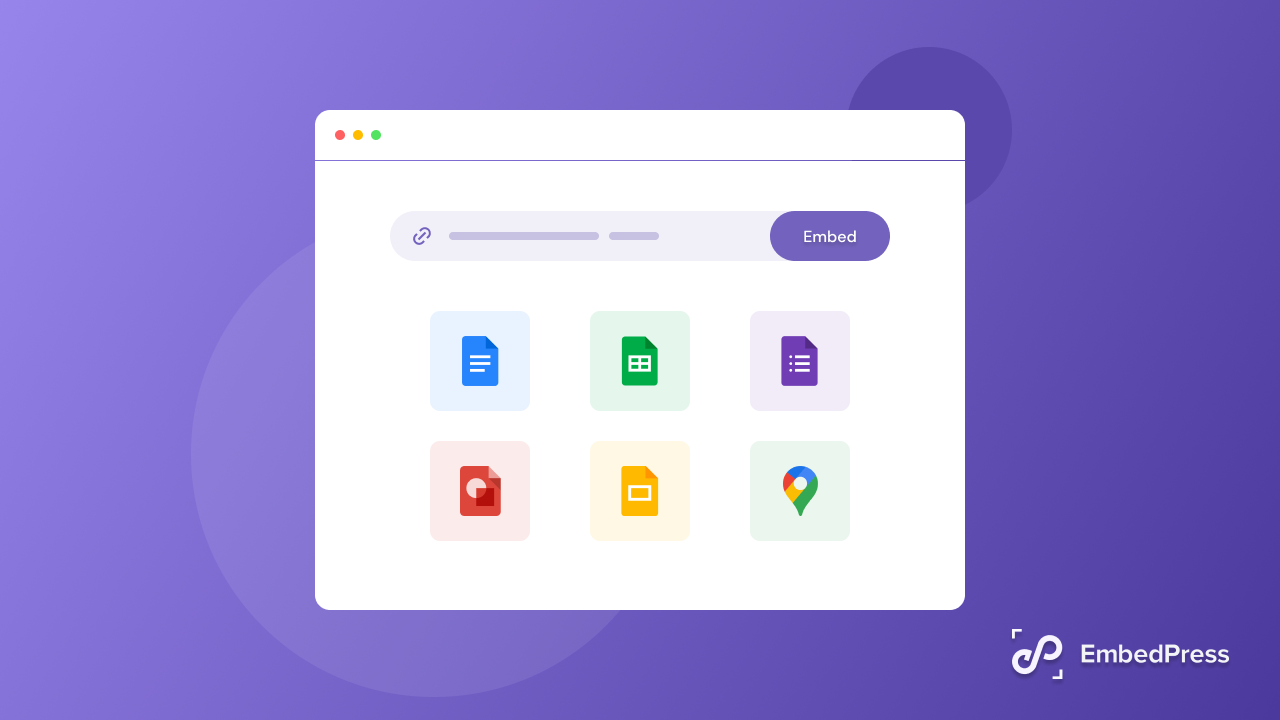 Embed Video Content In WordPress Gutenberg Editor
You can embed any type of video content in Gutenberg using EmbedPress. YouTube, for example, is the world's most popular video-sharing platform and one of the most popular social media platforms. EmbedPress is striving to enhance your WordPress storytelling experience and push it to new heights, resulting in increased website interaction. As a result, it provides the quickest and most straightforward techniques for embedding YouTube videos in WordPress.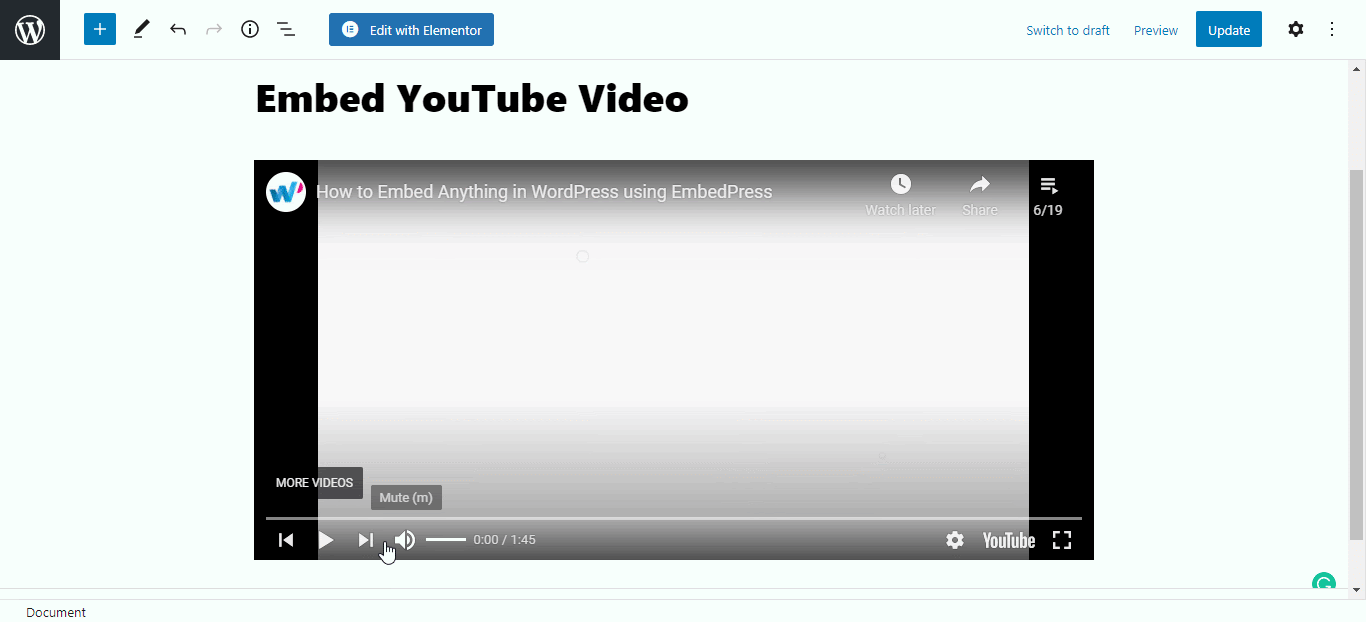 DailyMotion is known for being the home of all kinds of videos. It's a video-sharing site based in France that is principally owned by Vivendi and has a number of other partnerships. Dailymotion has over 300 million monthly users and is available in 183 languages throughout the world. There are fascinating, popular video music, news, sports, and much more to be found. You can anytime embed DailyMotion Videos quickly in your Gutenberg Editor by using the EmbedPress block without codes.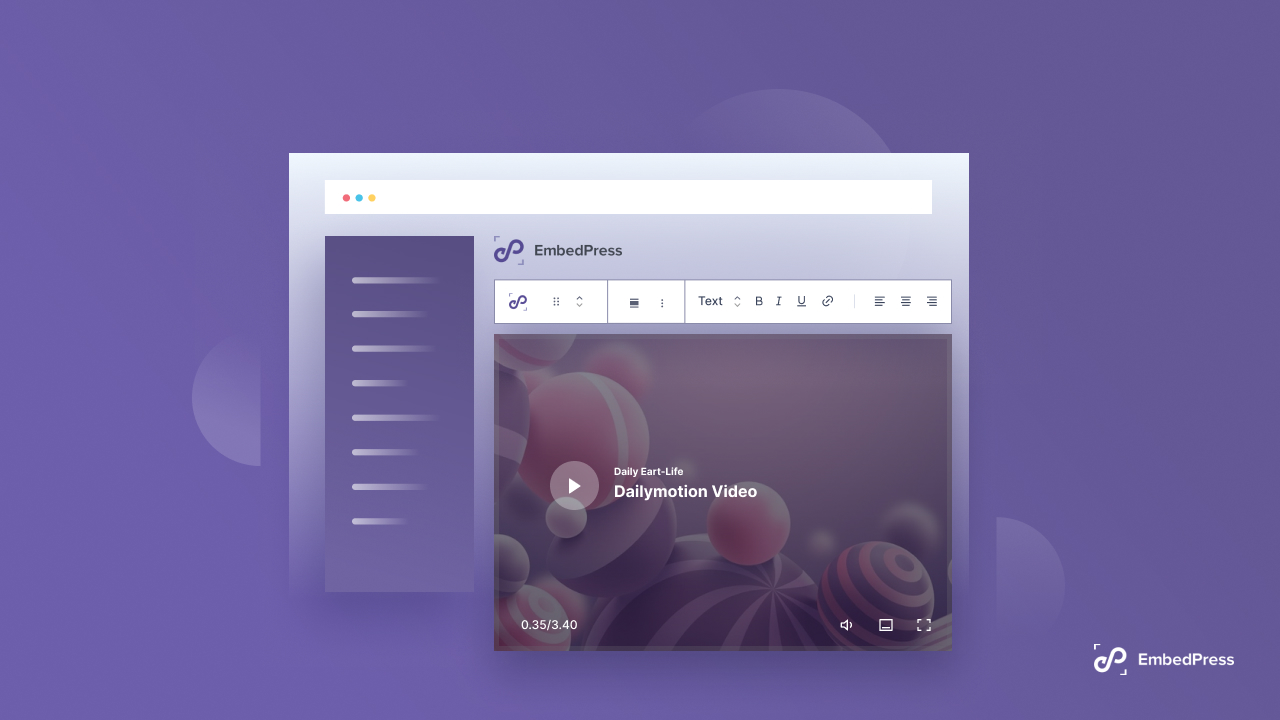 Embedding Loom videos on your websites is the ideal method to engage with everyone in this post-pandemic world, where people prefer the protection of their homes. You can effortlessly record video, audio, browser windows, GIFs, and full screens using Loom. Using asynchronous videos, it allows you to collaborate without being constrained by time zones or hectic schedules. It also allows you to share educational Loom videos via emails, text messages, or calendar attachments for improved communication.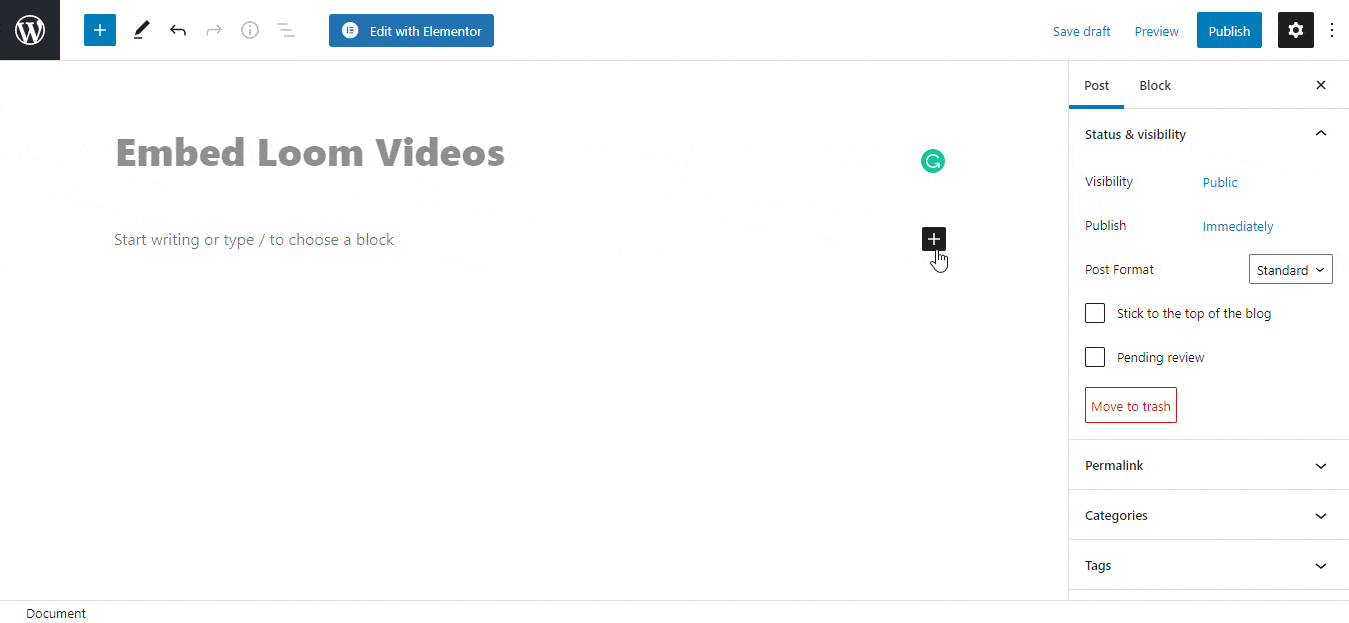 TikTok's short video format content is sweeping the internet. Every big business, sportsman, and celebrity has a TikTok account, and fans like viewing their videos as well as creating their own. TikTok is now being used by people to give their ideas on intriguing topics. Embedding videos or adding content in WordPress is now easier with EmbedPress. You may embed from over 100 different sources without having to know how to code. Embedding TikTok videos in WordPress with the Gutenberg editor is simple with EmbedPress.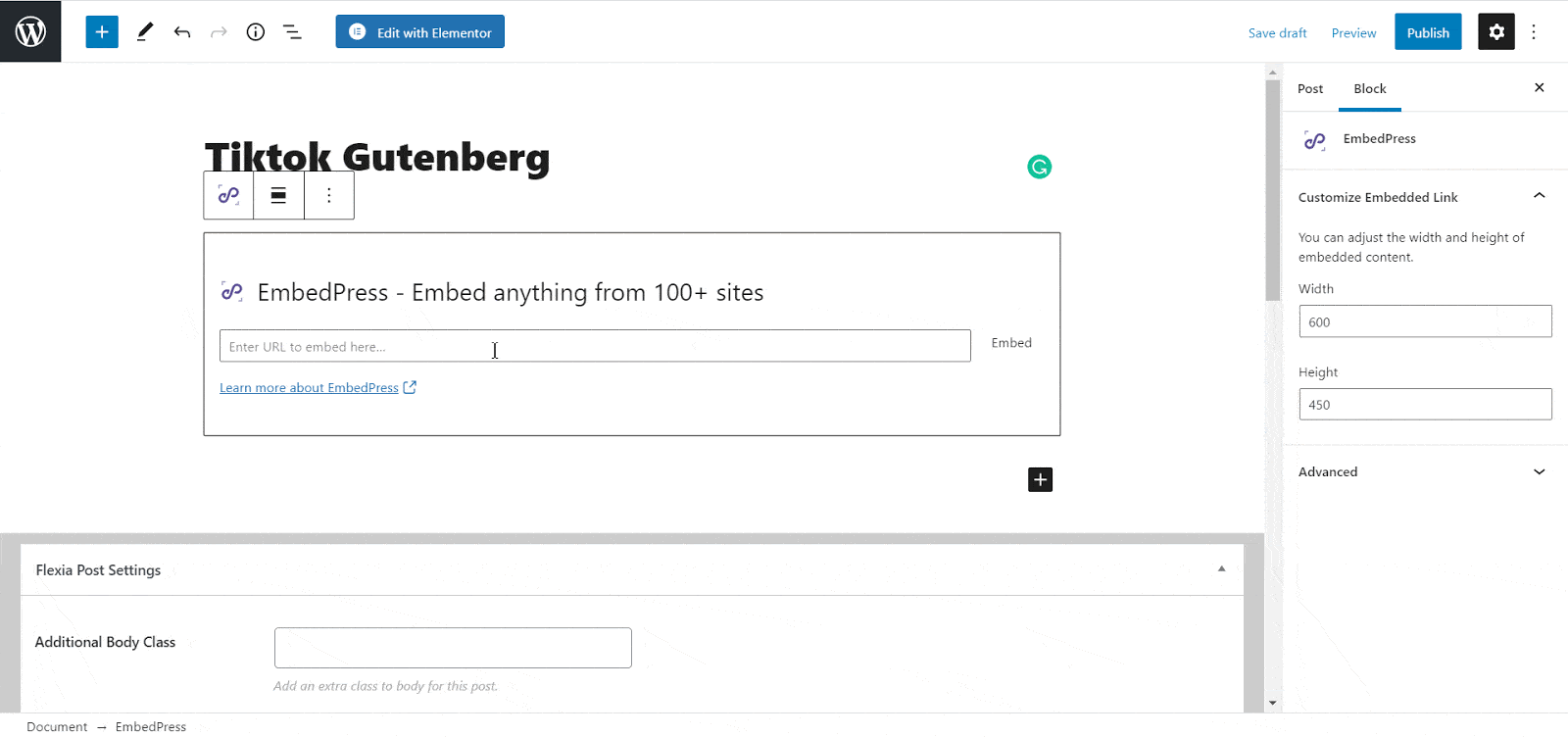 Embed Streaming Videos In WordPress Using EmbedPress Block
Nowadays streaming videos are trending all over the internet. Did you know 80% of site visitors prefer watching stream videos over reading a blog? In the case of Facebook, YouTube, or Twitch streaming videos, you can embed all using EmbedPress in your Gutenberg block editor.
If you are running an online business page on Facebook and regularly do live streams to attract more customers, you can embed these videos in your website using EmbedPress in Gutenberg block editor. Visitors can directly discuss and react to the video by embedding a Facebook live stream on your website. Your viewers will be more likely to buy the things if they can quickly find the information they need. EmbedPress makes it even easier to embed this kind of streaming video content in WordPress.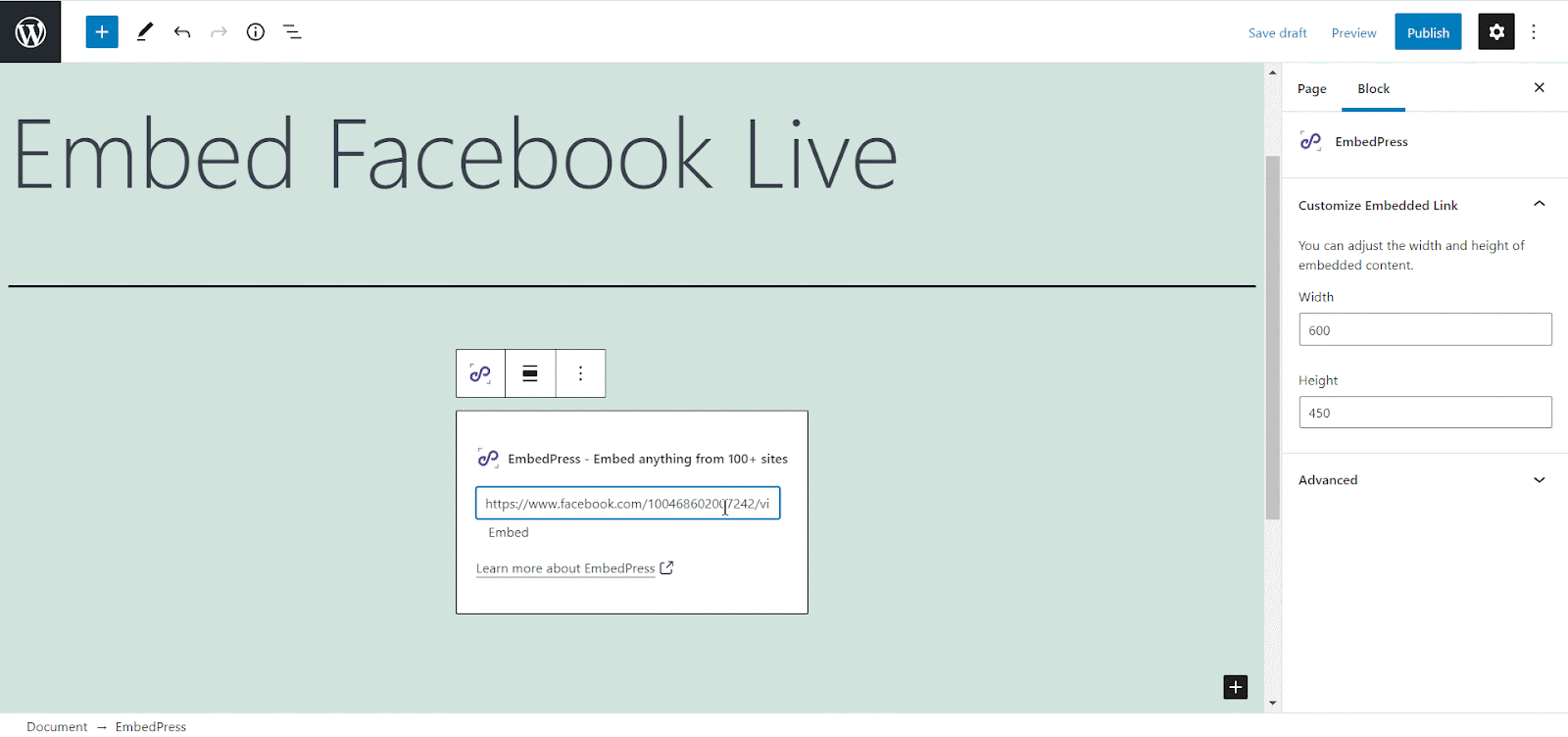 Twitch is a well-known live-streaming network. Twitch is used by over 2 million new streamers every month. Among streaming providers, having a website and broadcasting the live stream on the website is fairly frequent. Because Twitch is primarily a live streaming platform, you may use it to broadcast your beauty videos, your fashion business, and more.
You may also host live concerts and events, broadcast your cooking recipes, create lifestyle vlogs, organize virtual meet-ups, and much more. Twitch allows for live streaming of virtually any activity. EmbedPress allows you to embed Twitch videos easily without touching any coding. You can create an interactive website by embedding Twitch streaming videos easily.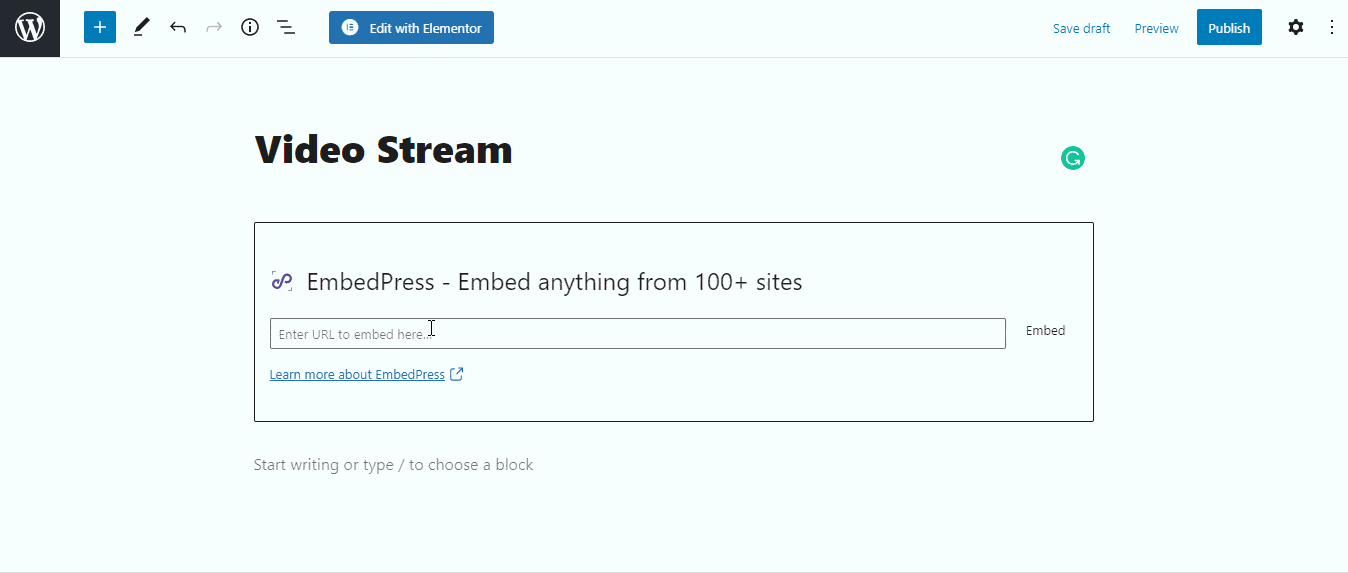 Besides these video platforms, you can also embed content by Wistia and Vimeo. With a lot more advanced features, you can make your content presentation even more attractive to your website visitors. All you need to do is, install EmbedPress in your WordPress and enable all the content options from the settings. You need to 'Toggle' the elements and then the designated blocks will be activated in your Gutenberg block editor.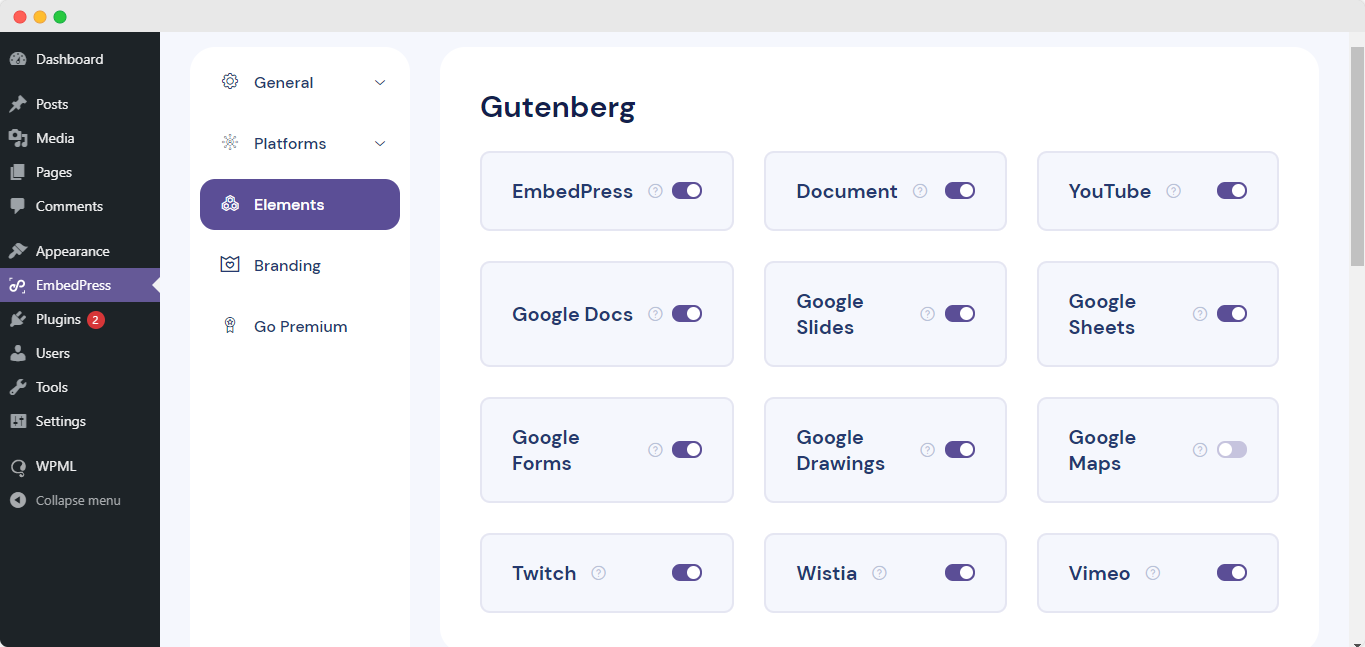 Embed Audio Platforms In Gutenberg Block Editor
With this ultimate one-stop solution, EmbedPress, you can also embed audio platforms and contents in your Gutenberg block editor. For example, you can embed content from Spotify and SoundCloud with lots of useful buttons like 'buy', 'share' 'download' etc and make your website more user-friendly. In SoundCloud, you can also see 'user names,' 'play count,' and 'artworks' options that will instantly make your content more user-friendly.
On the other hand, EmbedPress brings you an amazing feature to embed Spotify music called 'Artist Follower Widget'. It allows you to quickly encourage visitors to Spotify to follow any artist, or even yourself if you have an account.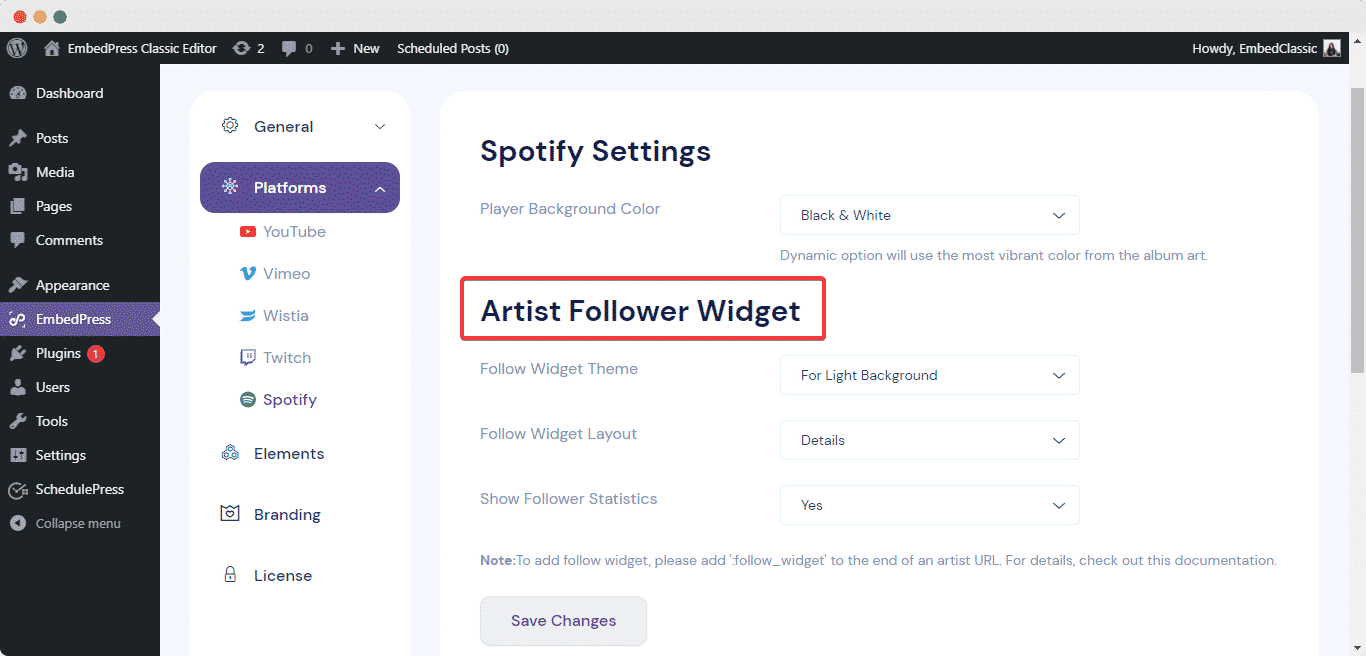 How To Use EmbedPress To Embed Any Content In Gutenberg Block Editor
If you have already decided to try EmbedPress for your WordPress website, install and activate the EmbedPress plugin in your WordPress and open a new page in the Gutenberg block editor. You need to follow the simple instructions to embed any type of content using EmbedPress. If we want to embed a Twitch stream in our page, first we will retrieve the stream URL and copy it.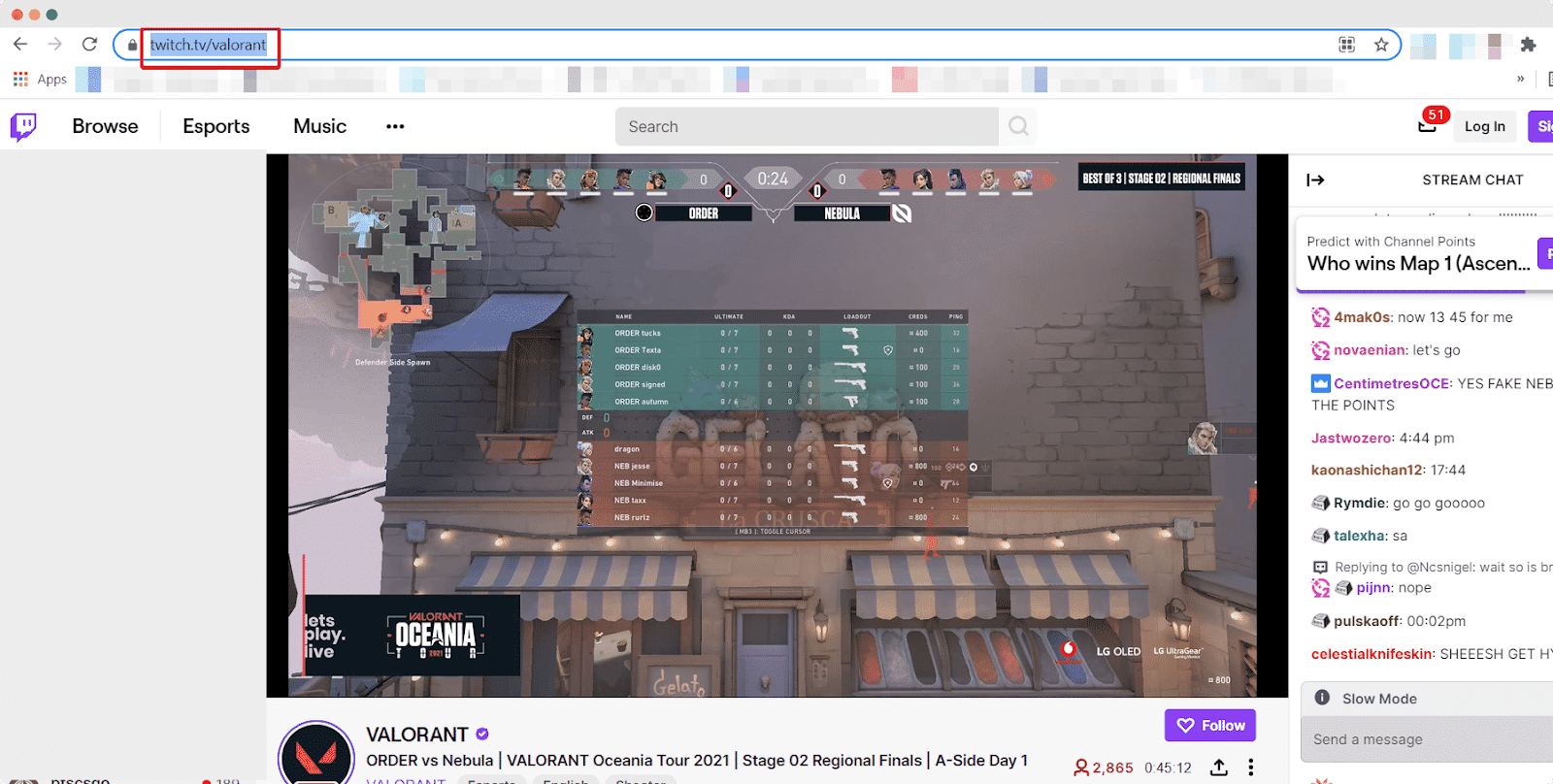 Now we will go to the Gutenberg page we have created and click on the '+' sign to add blocks. We will search for EmbedPress and drag and drop the block.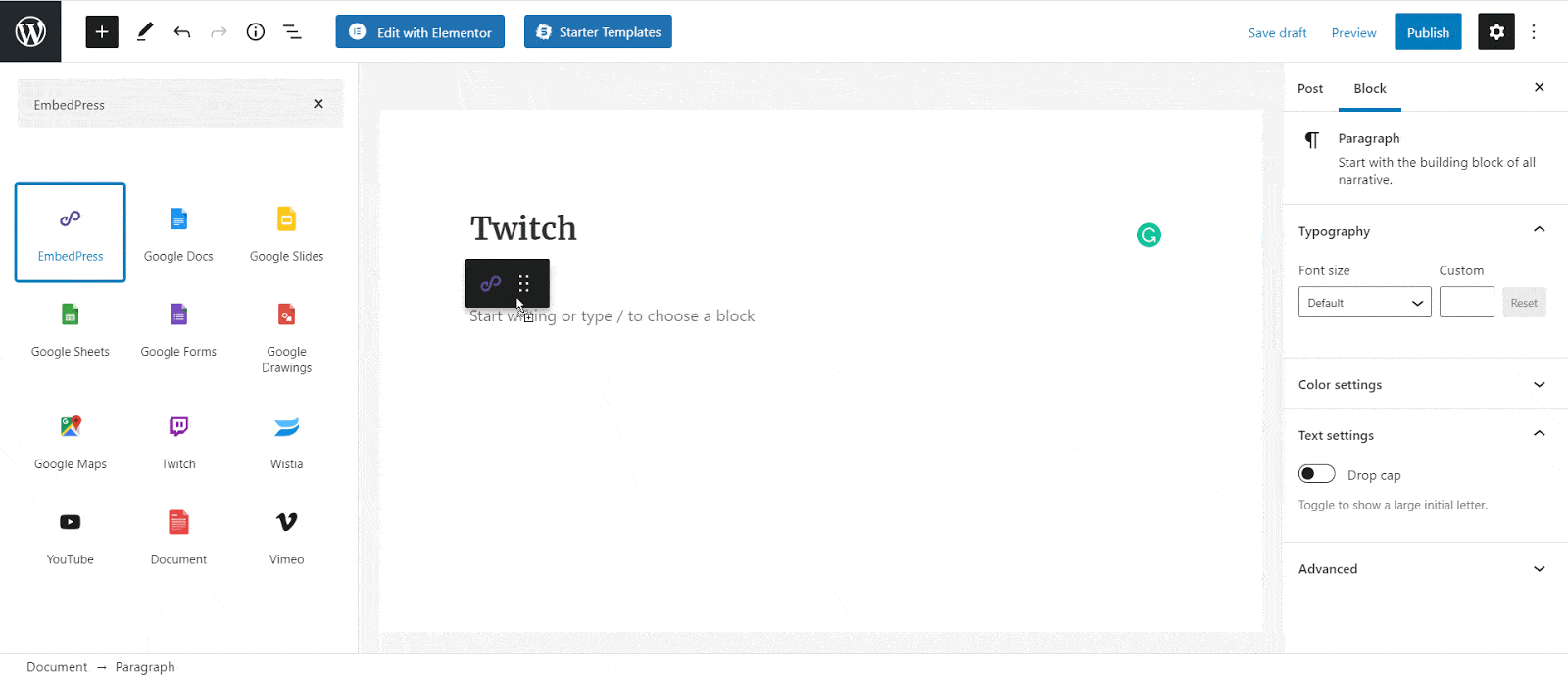 There is an input area in the plugin block where you can paste the URL you want to incorporate. Paste the URL that you have retrieved into the box to embed the channel or video into your WordPress site.
​​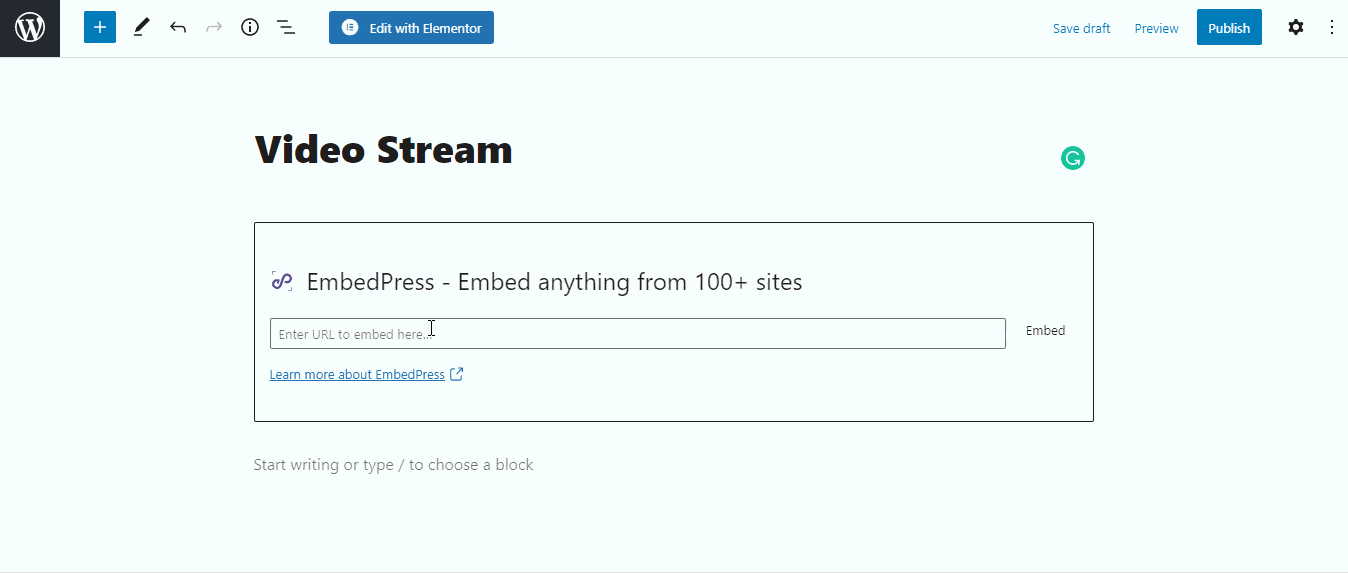 This is how you can embed any content you want. Make embedding on the Gutenberg editor easier than ever with an amazing EmbedPress block, and boost your engagement rates and conversion rates with only a few clicks with the greatest embedding solution for WordPress.
Let us know about your experience, we would love to hear from you. Leave a comment below with your thoughts or suggestions. Join our Facebook group to communicate or subscribe to our blog for more useful tutorials, the latest news, and updates.