If we say, you can now embed DailyMotion videos without codes in WordPress, how does it sound? Yes, EmbedPress – the best embedding solution for WordPress lets you do that just within a few clicks. Take a look below for more details.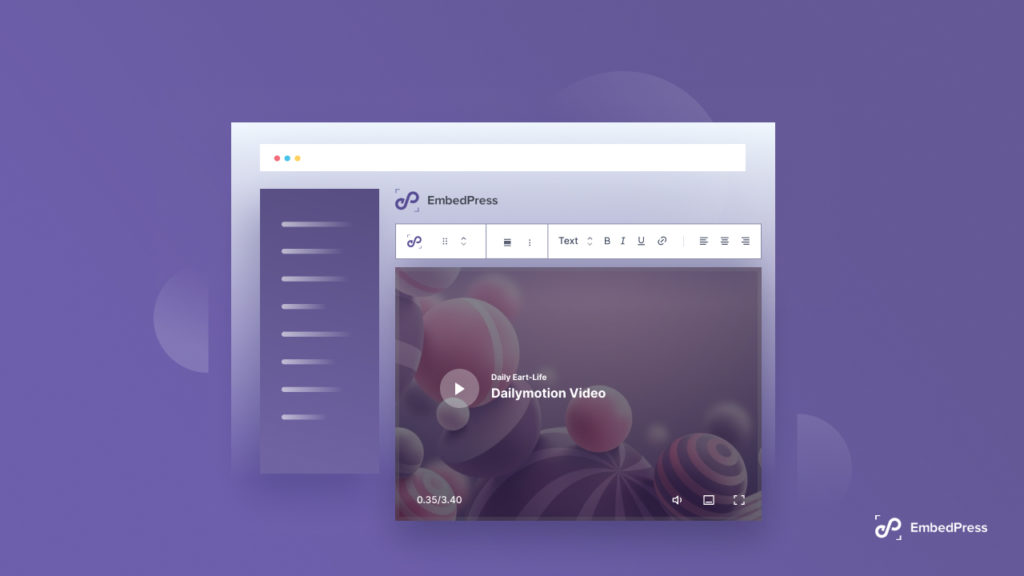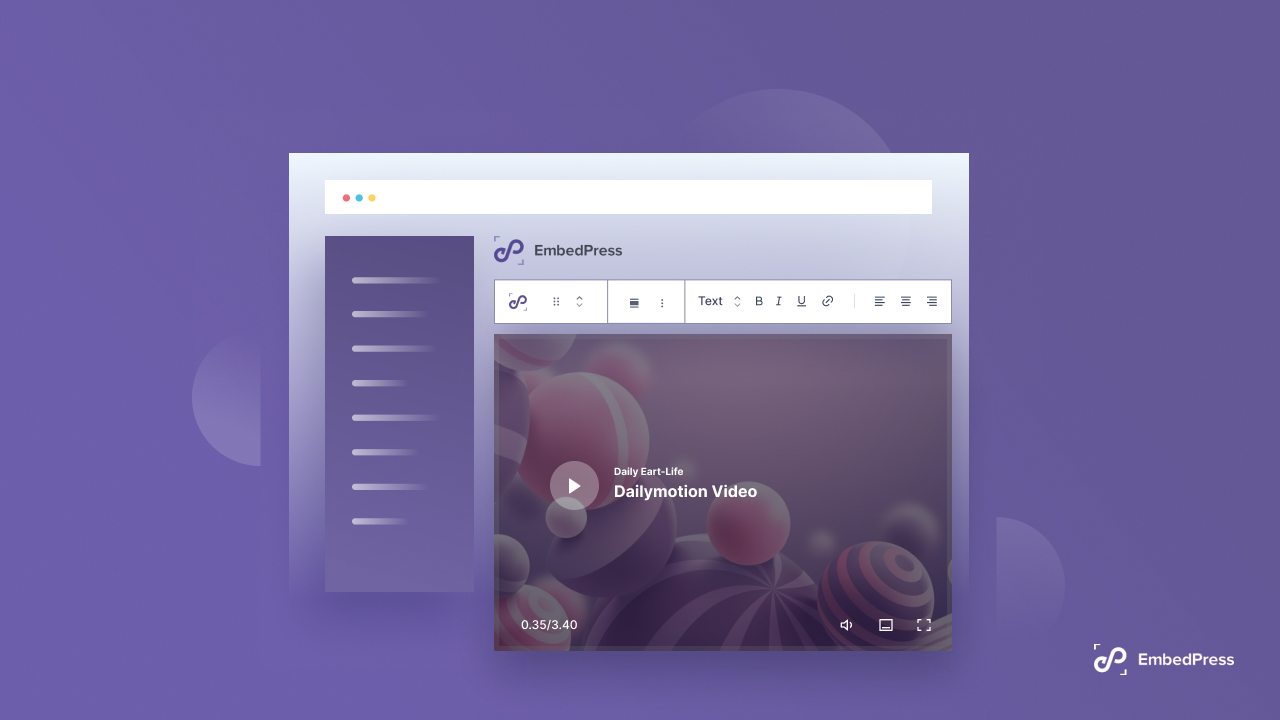 EmbedPress has been revamped completely with a new user interface and has become more advanced than before. You can now embed anything from more than 100+ resources in your favorite editors like Gutenberg Editor, Classic Editor, Elementor Editor, or others adding simple shortcodes. And for embedding DailyMotion videos on your preferred editor this belongs to the same, simple process using EmbedPress.
As DailyMotion is known as the home for any kinds of videos that matter. It's a French video-sharing platform that is primarily owned by Vivendi and has other partners. Dailymotion is available worldwide in 183 languages and has more than 300 million monthly users. You can find exciting, popular video songs, news, sports, and even more. This is an open platform for getting any genre videos all in one place.
So if you're owning a music website, entertainment site, news site, or others can easily now embed DailyMotion videos on WordPress using EmbedPress. You can then easily grab the attention of your website visitors right away and increase site engagements and conversions effortlessly. Now let's follow some simple steps, and embed DailyMotion videos on your WordPress site and start engaging the audience right away.
Complete Guide: Embed DailyMotion Videos On WordPress & Customize With A Few Steps
Before starting anything make sure you have activated this EmbedPress Plugin on your WordPress site. And if you are already activated with EmbedPress, you are fully ready to embed anything including DailyMotion Videos.
Check out all the simple steps to embed DailyMotion Videos in any of your WordPress favorite editors below:
Embed DailyMotion Videos Effortlessly In Gutenberg Editor
You can anytime embed DailyMotion Videos quickly in your Gutenberg Editor by using the EmbedPress block without codes. Just need to follow some simple steps. Get all the detail:
Step 1: Insert EmbedPress Block On Gutenberg Editor
You just have to copy the link of your DailyMotion Videos, album, or playlist and insert it in the Gutenberg editor by clicking on the '+' icon and selecting 'EmbedPress'.
Step 2: Embed DailyMotion Videos On Your WordPress Site
All you need to do is to paste the link of your desired link on your EmbedPress block and hit the 'Embed' button. That's it! It will automatically fetch and display your feed outstandingly without any coding.
Step 3: Anytime Edit DailyMotion Videos Content
If you want you can edit your DailyMotion Videos content width, height to adjust it with your website layout. To do this just click on the EmbedPress 'Block' on your Gutenberg editor and start customizing it as per your preferences.
Embed DailyMotion Videos In WordPress Classic Editor
Similarly for Classic Editor, you can easily make it happen by following some simple steps. Take a look at below:
Step 1: Embed DailyMotion Videos In Classic Editor
First, you have to get the exact link of your DailyMotion Videos that you want to embed and insert it on the editorial panel.
It will then automatically fetch and embed DailyMotion Videos in WordPress just with a click.
Step 2: Edit Embedded DailyMotion Video File
Moreover, if you feel the need to edit your DailyMotion Videos content, you can quickly do this by hovering over the mouse on your video. It will then showcase a purple popup window at the top of the video with a pencil icon.
Just click on the pencil icon and start customizing the look of your embedded DailyMotion Videos content the way you want.
Embed DailyMotion Videos Instantly In Elementor
If you want to start embedding your desired DailyMotion Videos in WordPress most popular page builder Elementor, you have to follow some steps that are mentioned below:
Step 1: Insert EmbedPress Widget In Elementor Editor
You have to find out the EmbedPress widget from the Elementor 'Search' panel. Afterward, drag & drop the EmbedPress element on the desired section.

Step 2: Embed DailyMotion Videos With One Click
Now copy the link and insert it on the 'Embedded Link' panel. Later, it will automatically track and publish your content just the way it belongs to. If you want to get more details, check out this detailed doc here to embed DailyMotion Videos on WordPress.
Step 3: Style Your Embedded DailyMotion Videos In Elementor
If you want to style your DailyMotion Videos section in Elementor, you can easily do that with the EmbedPress widget 'Style' tab and make the changes according to your need.
Bonus Tip: Embed Anything In Any WordPress Page Builders With EmbedPress Shortcodes
EmbedPress also allows you to embed anything on WordPress in other popular WordPage page builders like Beaver, Divi, etc with shortcodes.
All you need to do is to get your desired link to the DailyMotion video and navigate to EmbedPress → General from your dashboard. Then use the drop-down menu and click on the 'shortcode' option, as shown below. Just paste your URL there and click on the 'Generate' button.
EmbedPress will then automatically generate a shortcode against that URL. Just click on the copy button and you will be ready to embed your desired links on any of your favorite WordPress page builders. Follow this EmbedPress shortcodes documentation to get more detail.
Embed DailyMotion Videos With EmbedPress Today!
To share musical, news, or any other entertaining videos of DailyMotion platform easily with EmbedPress. And you don't have to add any codes to do that in WordPress. Besides this, you can embed YoutTube, Vimeo, Wistia, and a lot more on your WordPress website with a few clicks.
So let's explore this powerful embedding solution EmbedPress for WordPress and share your opinion by commenting below. You can even join our Facebook community for all the latest updates about EmbedPress and more in detail.