If you want to know how to embed PDF files in WordPress sites, we have got you covered. EmbedPress, a powerful WordPress plugin that lets you embed PDFs practically anywhere on your website, has been created to provide you with the simplest solution. Let's find out how to embed PDF files in WordPress websites without having to code.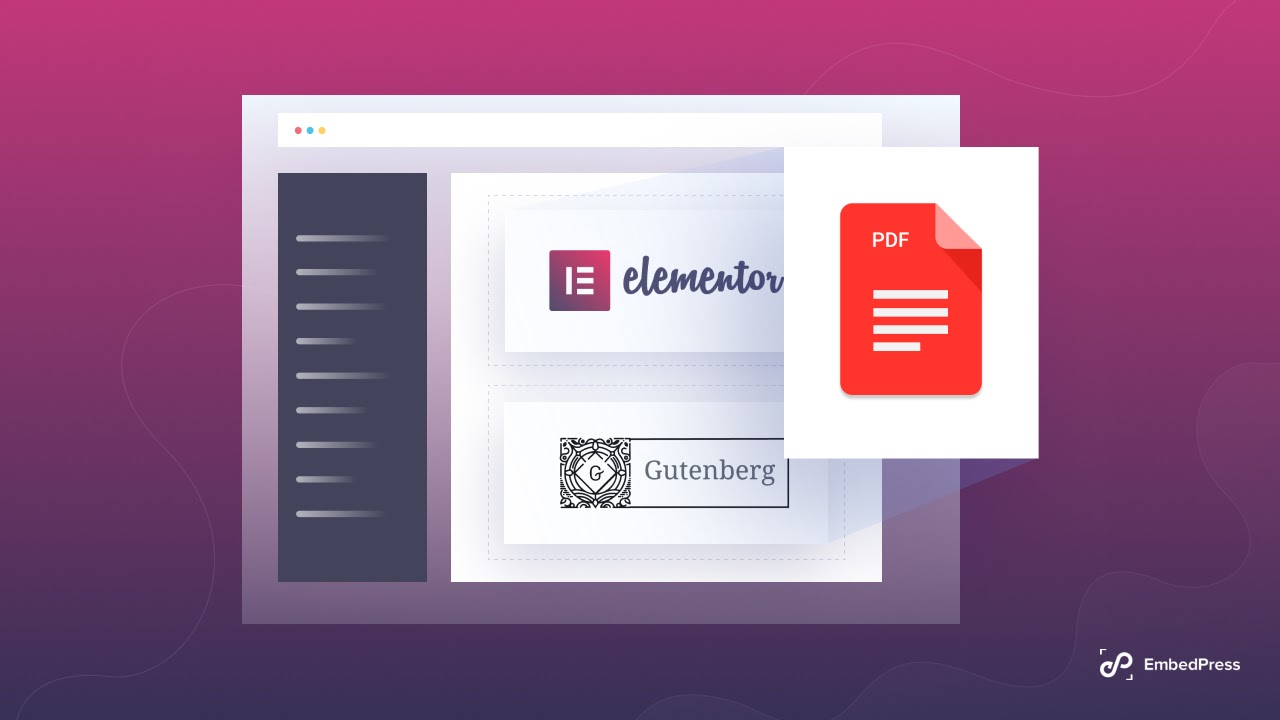 With this embedding solution, you can easily embed any kind of document besides PDFs. If you are looking forward to a simple and straightforward embedding journey ahead, you are in for a treat. 
Why Do You Need To Embed Pdf Files In WordPress Websites?
Reports, data, and other administrative papers are commonly found in PDF formats. It's possible that embedding PDF files in WordPress websites will take up a lot of your time. Suppose you're planning to post a study paper on your WordPress site and all of your research data is contained in your PDF file. Because statistics show that readers' attention spans are shortening over time, and they want to see rapid verification of anything you present, embedding this file inside your content will enhance engagement and lower bounce rate.
As a result, you may need to embed a PDF file for a variety of reasons. You may also encounter a variety of problems when embedding a PDF file too. Problems related to formatting, spacing, or editing content back and forth. To solve all kinds of problems at once, and embedding solution can come to your great use. 
EmbedPress: The Easiest WordPress Embedding Solution
No matter how many different types of content you embed using EmbedPress, you must remember that in order to please your audience, you must beautify your WordPress website display. Your audience has the option of returning to your competitor's website if the display does not appear appealing.  As a result, your website's first impression is essential for your website's performance. 
You can use EmbedPress with ease if you use Elementor or Gutenberg. Let's have a look at how it works with these page builders.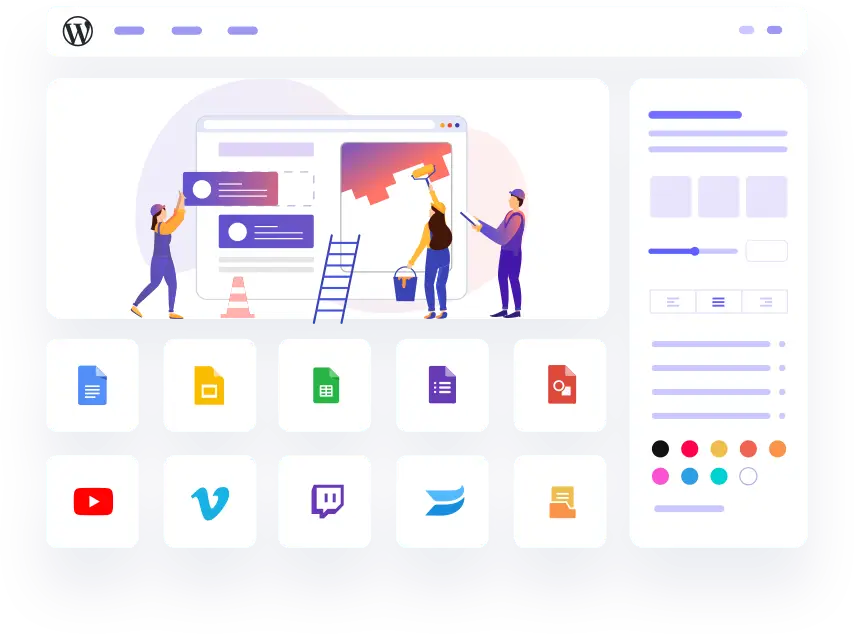 Set Up EmbedPress In 3 Easy Steps
To make your WordPress site powerful with varieties of content, install and activate the EmbedPress plugin following some simple steps. You can easily start using this amazing plugin to embed any content including PDF files. 
Step 1: Navigate To WordPress Repository
Open your WordPress dashboard and go to the 'Plugin' option from the left sidebar. 
Step 2: Search For 'EmbedPress' Plugin
Click on the 'Add New' option and a new window will be open. From the search box, type 'EmbedPress' and search for the plugin by WPDeveloper. 
Step 3: Install & Activate EmbedPress Plugin
Now go to your WordPress website and install and activate the EmbedPress plugin. This plugin is now ready to use on your website.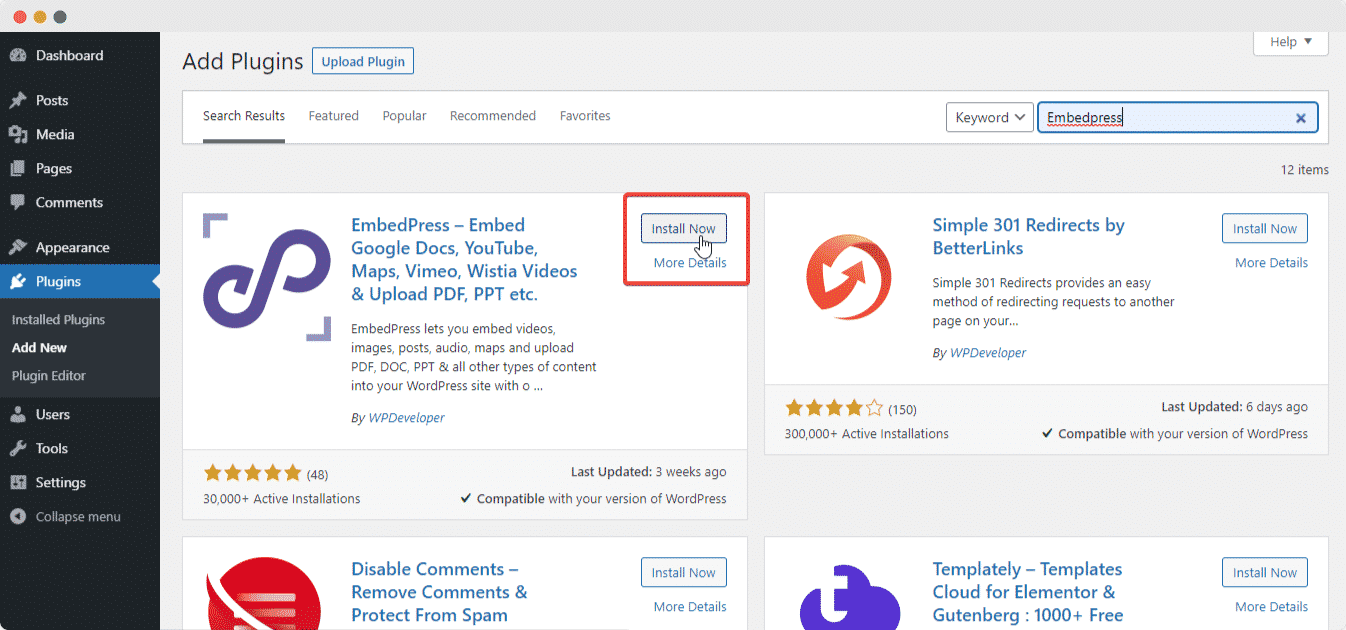 You can get the plugin from WordPress.org and install it on your website if you like.
How To Embed PDF Files Using EmbedPress
EmbedPress, an amazing WordPress plugin, that can help you embed a PDF file to your website. You can embed PDF files in either Gutenberg or Elementor, regardless of whatever editor you use to generate and manage your website content. Let's have a look at how to embed PDF files in WordPress sites.
How To Embed PDF Files In Gutenberg Block Editor
To know how to embed pdf files in Gutenberg, you must first create a page or post in the block editor. To successfully embed PDF files, follow the step-by-step instructions.
Step 1: Choose EmbedPress Document Block 
To begin, open your Gutenberg editor and use the search box to look for documents. From the list of options, choose 'EmbedPress Document Block.'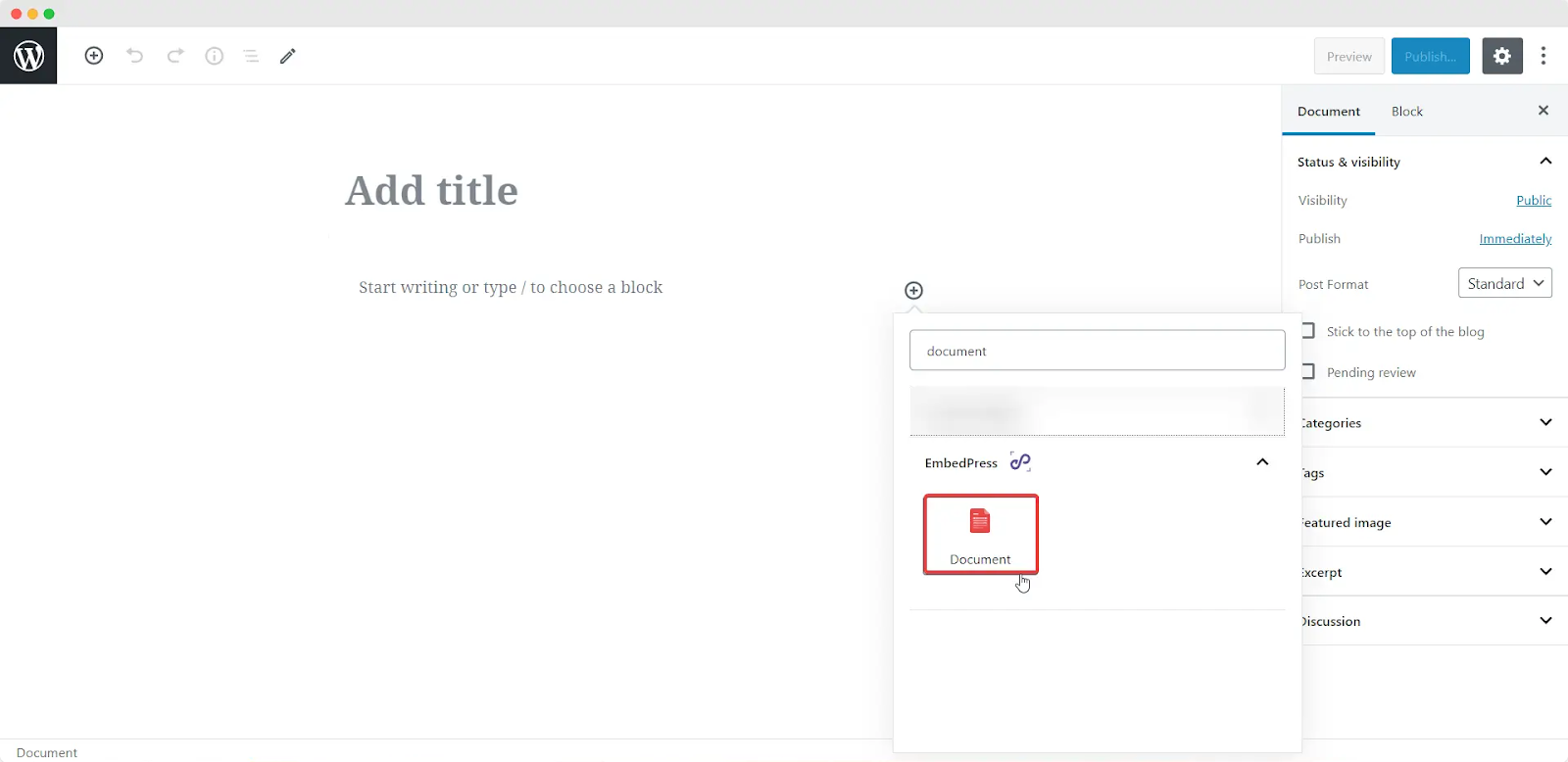 Step 2: Upload Your PDF Document
The next step is to select the PDF document that you wish to include in your website. Select 'Upload' and then the document you want to upload.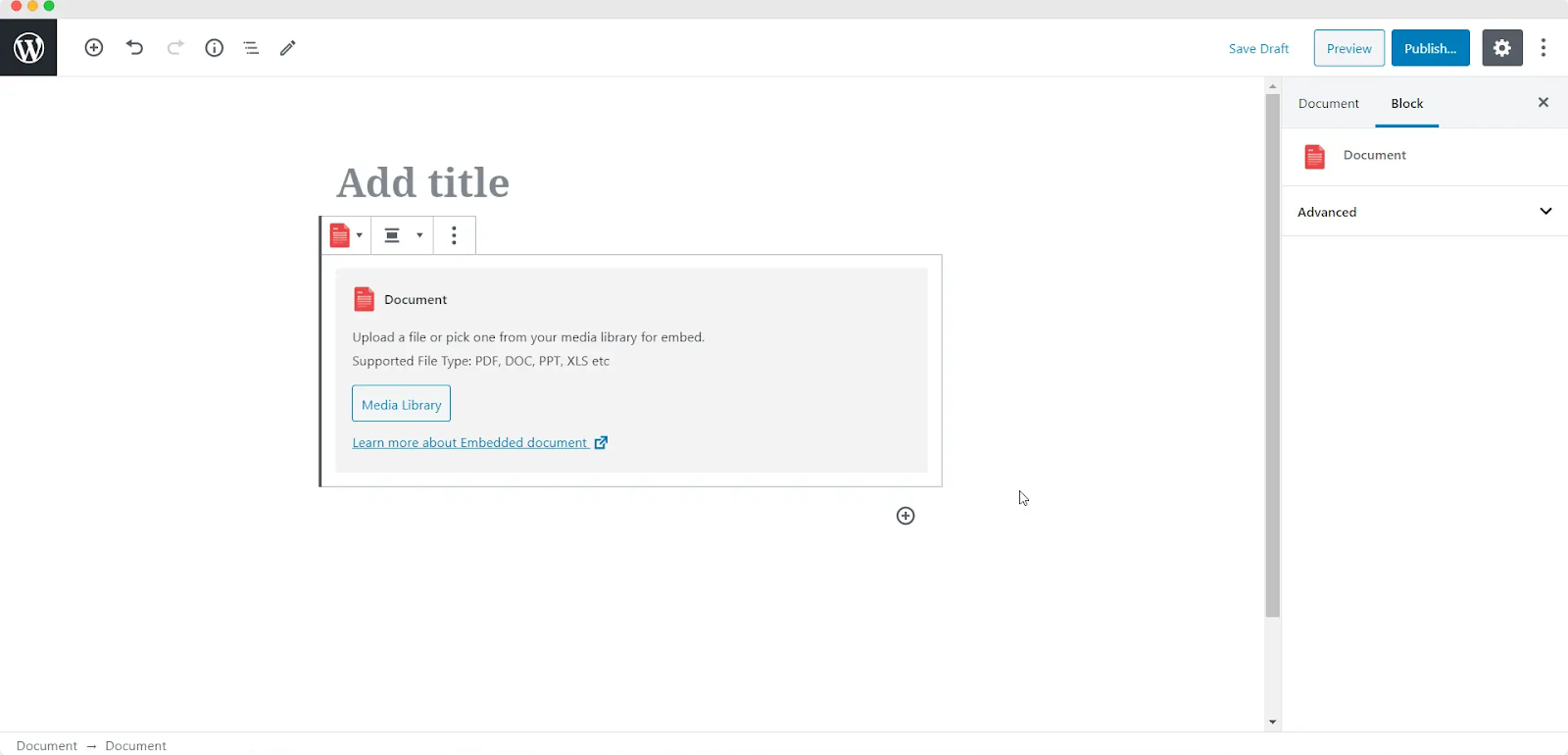 How To Embed PDF Files In Elementor Page Builder
If you've ever used Elementor, you know how much fun it is to be able to customize the content of your website. EmbedPress is a plugin that allows you to embed PDF files in Elementor with a variety of customization options. Let's look at how you may embed PDF files in Elementor easily.
Step 1: Search For 'EmbedPress Document' Element
To begin, go to your Elementor editor and look for the element called "EmbedPress Document". You can drag and drop the block anywhere on your page.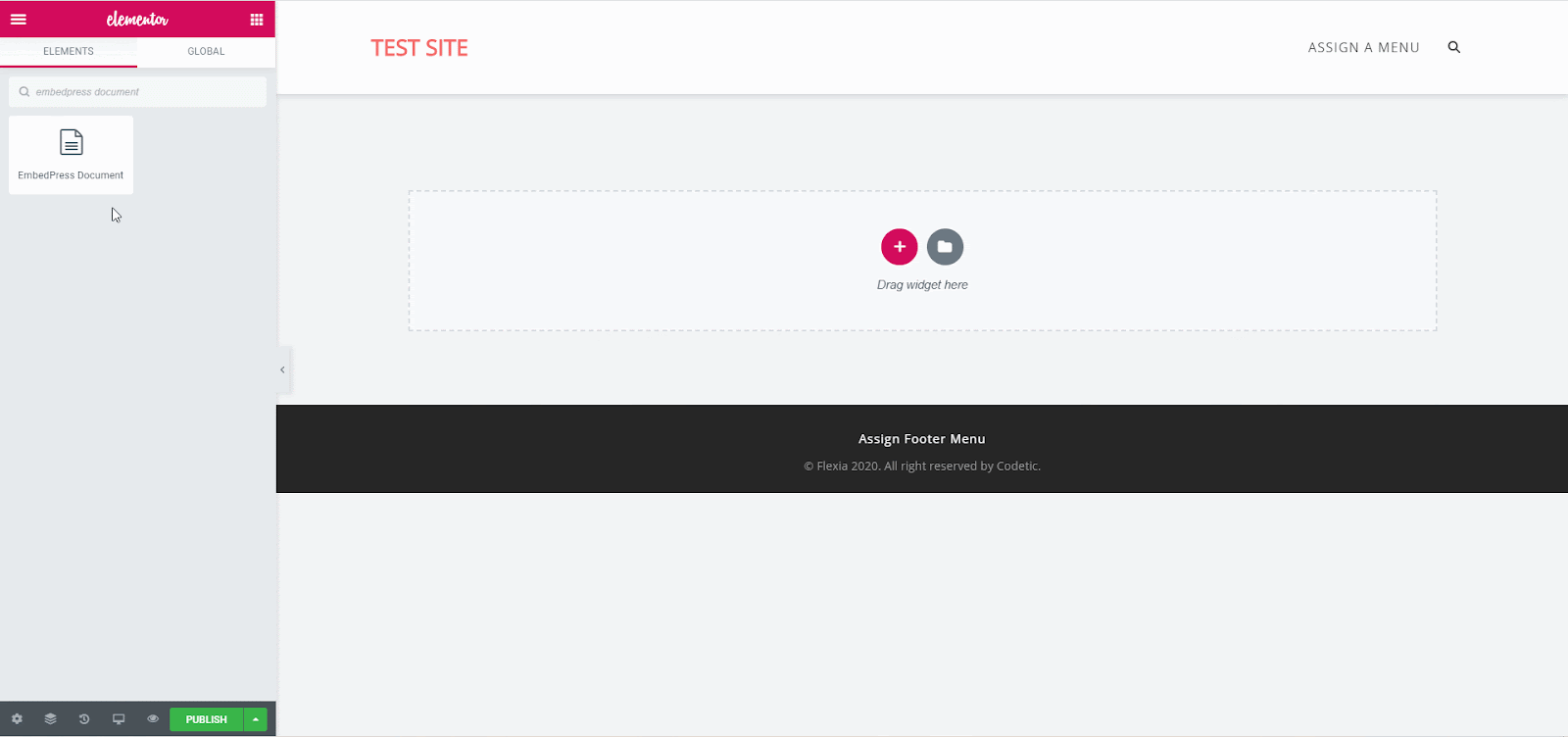 Step 2: Upload Your PDF Document
Then, under the 'Content' tab, select a content type. Select 'File' to upload your PDF document. Now upload the file that will be automatically embedded in your WordPress website.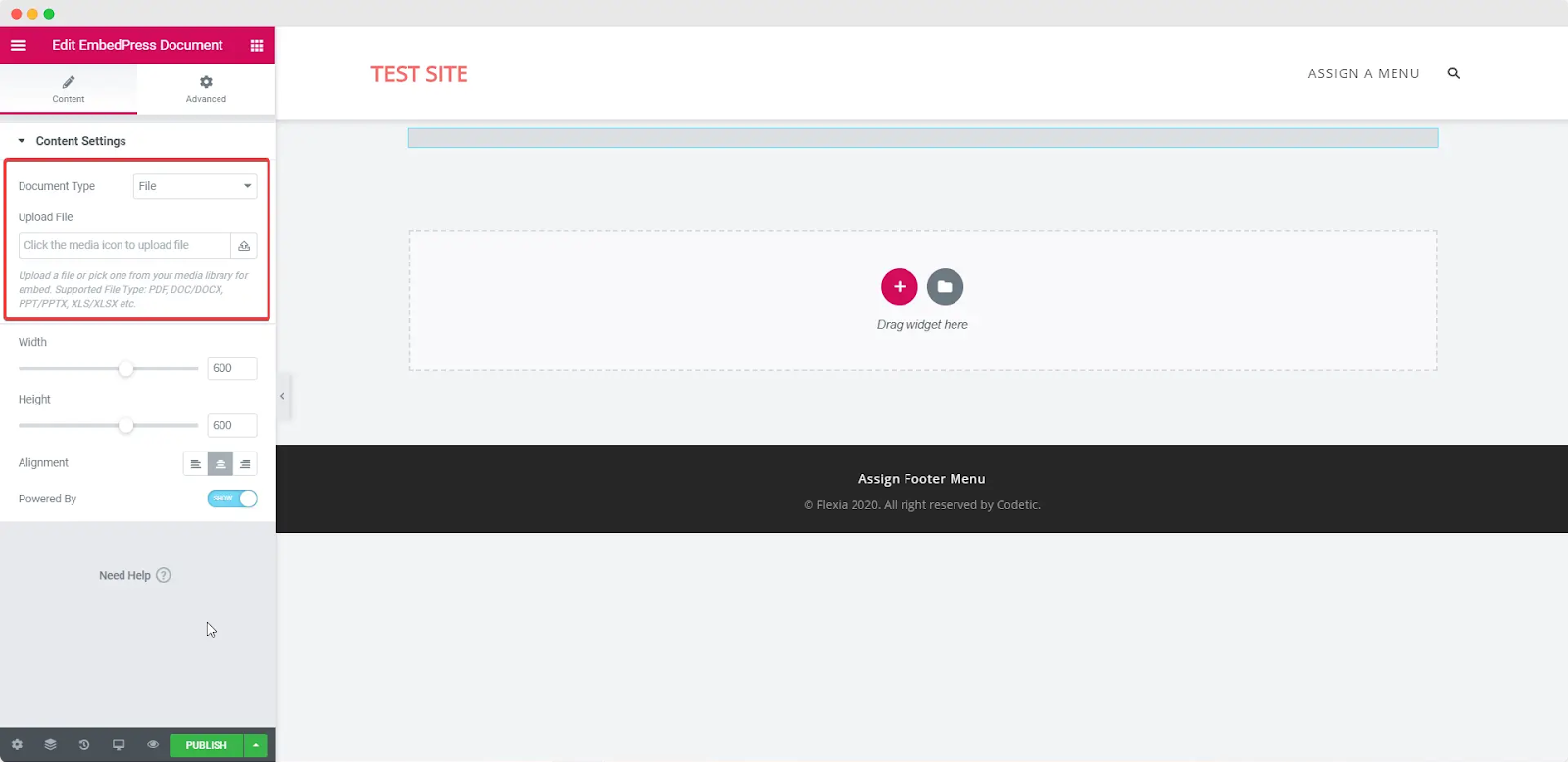 You can also make changes to your content at this point. After you've finished customizing, click 'Publish' to see a preview of all the changes you've made. This is how easily you can embed pdf files in Elementor.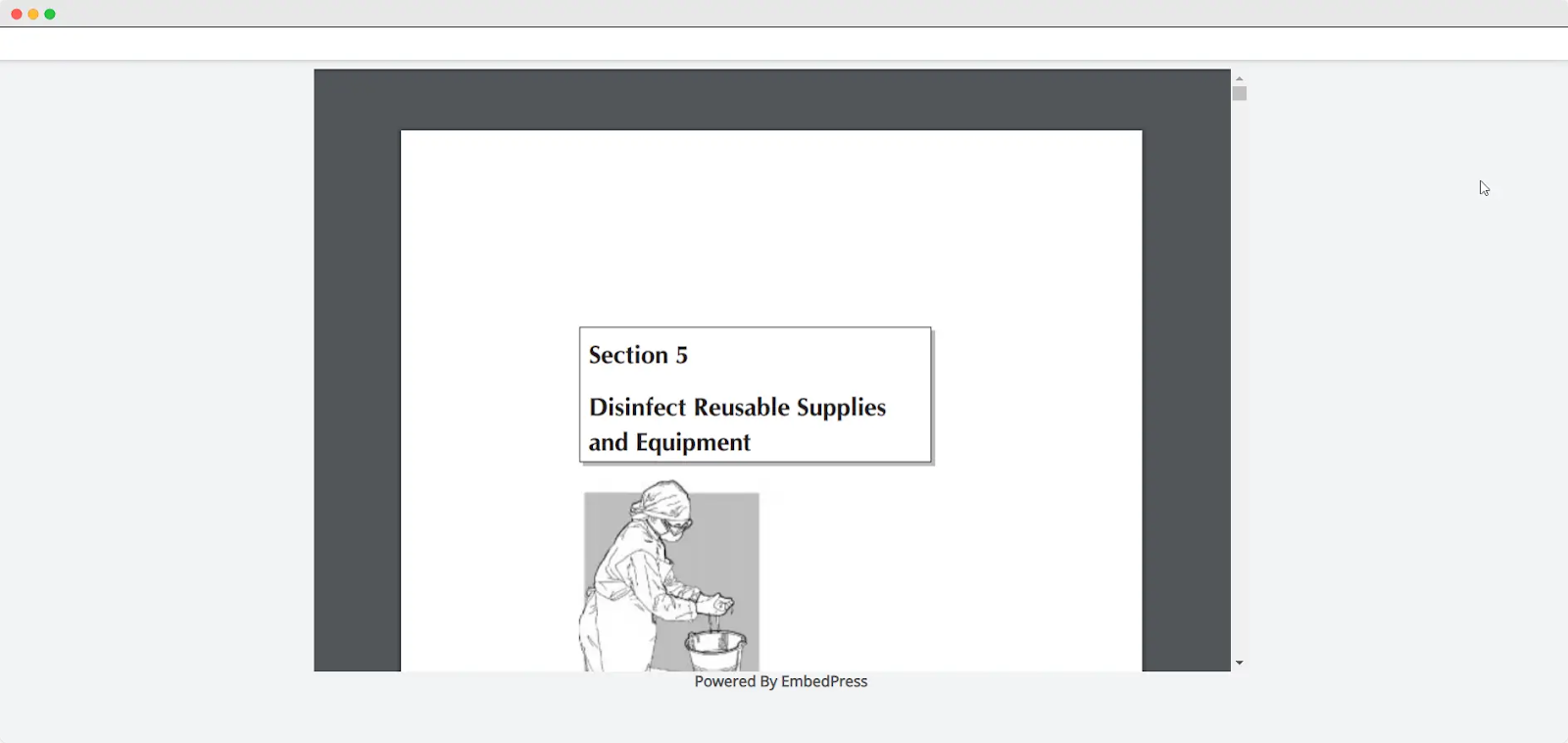 Embed PDF Files Effortlessly With EmbedPress 
To embed pdf files in Elementor or block editor, you can install the EmbedPress plugin to make embedding easier than ever. We would suggest you include aesthetically appealing content when styling your website to improve the user experience. EmbedPress has removed the restrictions on embedding content, giving you the most flexibility.
If you've decided to use EmbedPress, please tell us about your experience. Leave a comment below with your thoughts or suggestions. Join our Facebook group to communicate with us. Subscribe to our blog for more useful tutorials.