Want to embed PDF files in your WordPress sites with ease? We have got you covered. The ultimate embedding solution for WordPress, EmbedPress, brings you the simplest solution. This powerful plugin lets you embed PDFs practically anywhere on your website with exclusive Gutenberg blocks and Elementor widgets, and that too without any codes.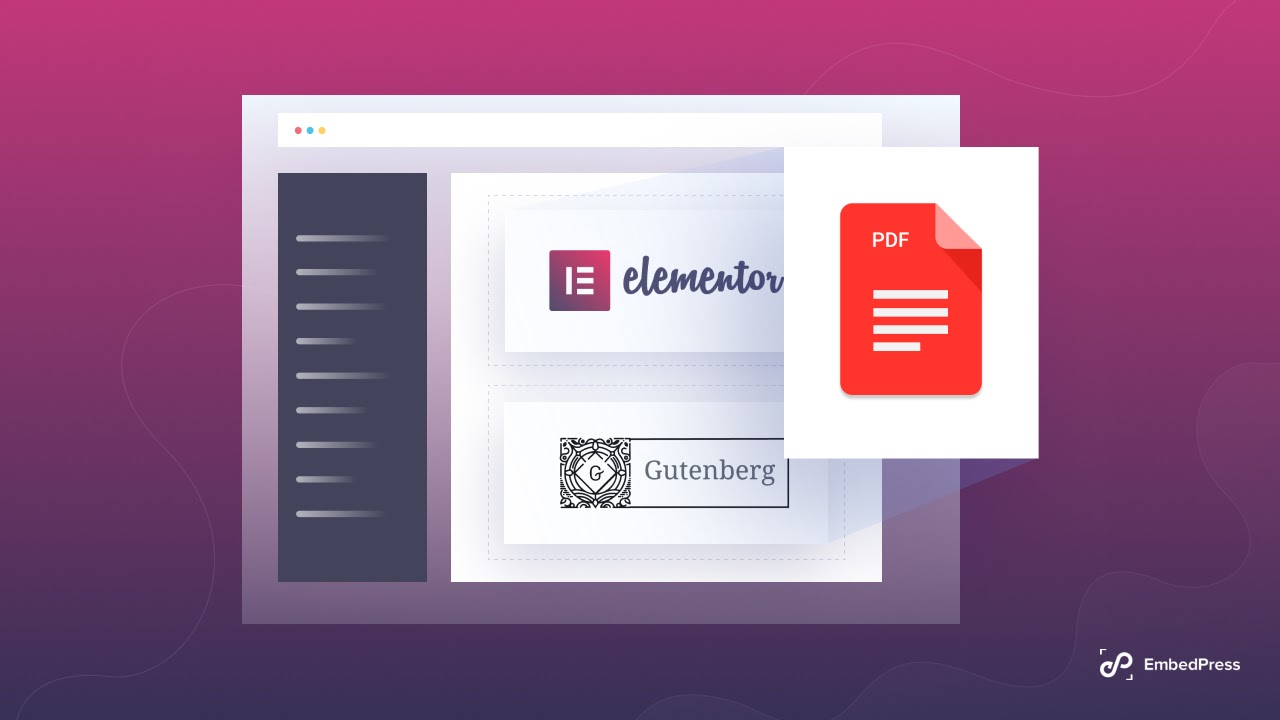 With this embedding solution, you can easily embed any content from more than 100 content sources including documents of any format. In this blog, we will also take a quick look at how to embed any document using EmbedPress but more on that later. 
If you are looking forward to a simple and straightforward PDF embedding journey ahead, you are in for a treat. Let's dive in and find out how you can embed PDF documents in WordPress with just a few clicks. 
Why Do You Need To Embed Pdf Files In WordPress Websites?
Most administrative papers, such as data reports and formal documentations, are commonly found in the PDF formats – because of it's easy shareability. Information stays intact and does not get altered during the process of transfer. 
Moreover, statistics show that readers' attention spans are shortening over time, and they want to see rapid verification of anything you present. And so, instead of typing line after lines of detailed information onto your websites, you can simply embed PDF files inside your web content and instantly enhance engagement among your audience and lower bounce rates.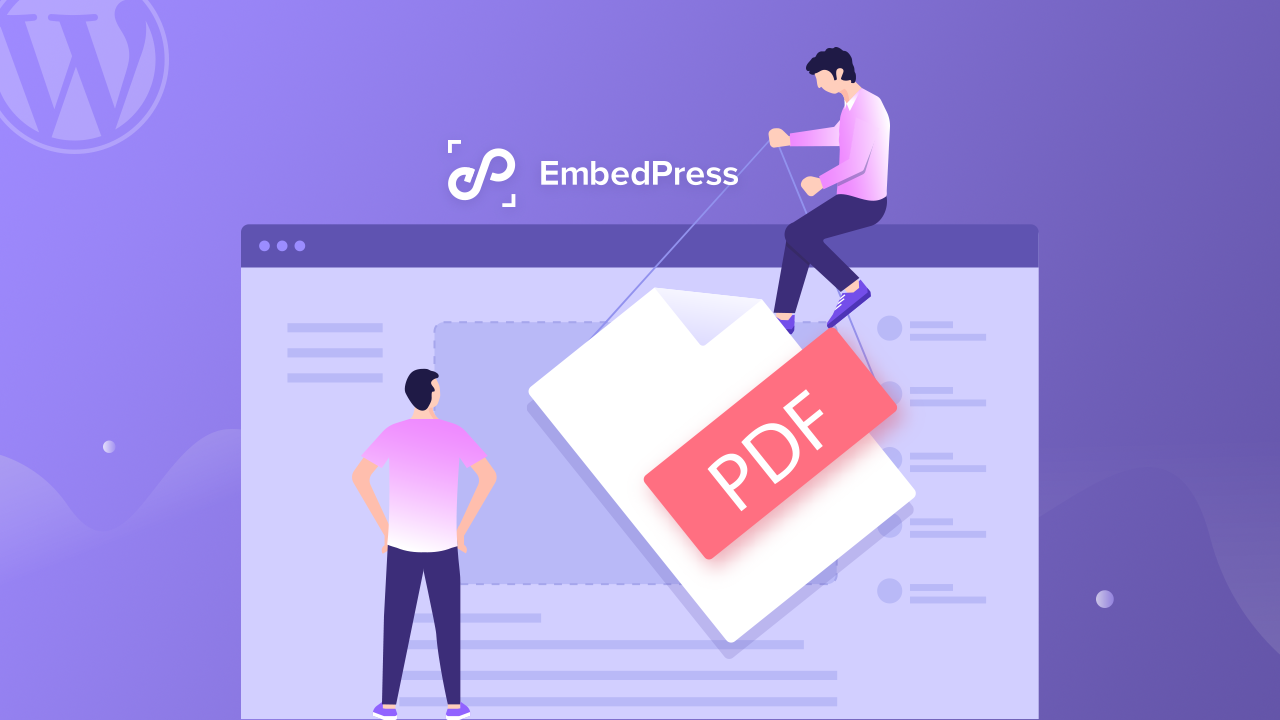 However, with the traditional embedding methods and strategies, it's possible that embedding lengthy and informative PDF files in your WordPress websites may take up a lot of your time. To solve all kinds of problems at once, EmbedPress brings you the easiest embedding solution to embed fully functional and responsive PDF files and put your documents to great use.
EmbedPress: The Easiest WordPress Embedding Solution
By embedding different multimedia content using EmbedPress, you can easily beautify your WordPress content and make your website more engaging. Your site audience will be hooked to the eye-catching and attention grabbing content instantly. And as a result, your website's performance will improve and engagement along with conversion will both skyrocket. 
You can use EmbedPress with ease if you use Elementor editor, Gutenberg block editor or Classic editor due to their 100% compatibility. You can also use EmbedPress' powerful shortcode feature to quite easily embed content into other WordPress page builders too. Let's have a look at how it works.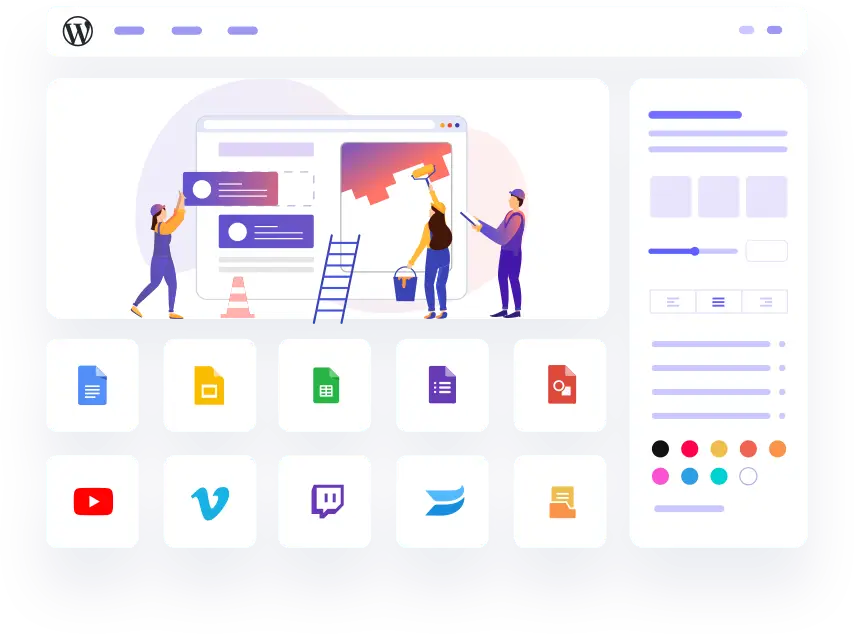 Set Up EmbedPress In 3 Easy Steps
To make your WordPress site powerful with varieties of content, install and activate the EmbedPress plugin following some simple steps. You can easily start using this amazing plugin to embed any content including PDF files. 
Step 1: Navigate To WordPress Repository
Open your WordPress dashboard and go to the 'Plugin' option from the left sidebar. 
Step 2: Search For 'EmbedPress' Plugin
Click on the 'Add New' option and you will be instantly redirected to a new window. From the search box, type 'EmbedPress' and search for the powerful embedding plugin that is brought to you by WPDeveloper. 
Step 3: Install & Activate EmbedPress Plugin
Now go to your WordPress website and install and activate the EmbedPress plugin. This plugin is now ready to use on your website.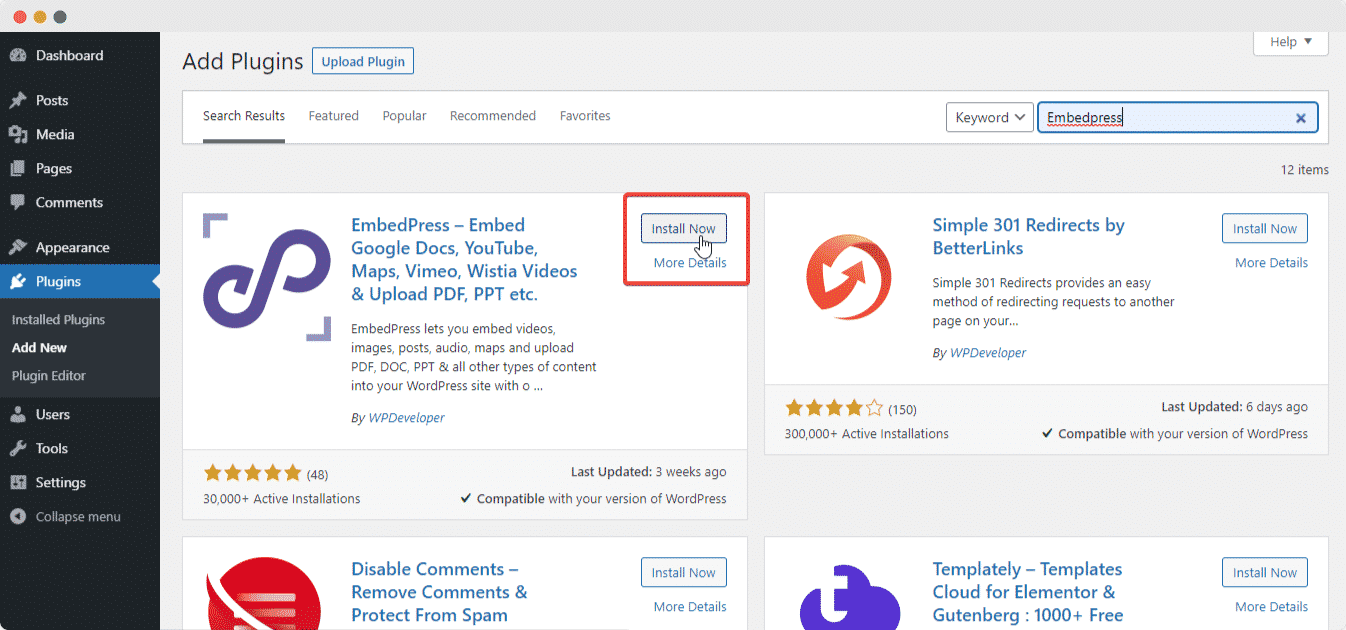 You can also get the plugin straight from WordPress.org and install it on your website if you like.
How To Embed PDF Files Using EmbedPress
Now that we have a clearer idea of the WordPress plugin EmbedPress, it's time to learn how to effortlessly embed PDF files to your website. And as mentioned earlier, you can embed PDF files in Gutenberg with an exclusive new block or on the Elementor editor using a dedicated widget, brought to you by EmbedPress.
How To Embed PDF Files In Gutenberg Block Editor
To know how to embed PDF files in Gutenberg, you must first create a page or post in WordPress' default block editor. Then, follow the step-by-step instructions given below to successfully embed PDF files.
Step 1: Choose EmbedPress PDF Block 
To begin, open your Gutenberg editor and use the search box to look for 'PDF' or 'EmbedPress'. From the list of block options, choose 'EmbedPress PDF Block', as shown below.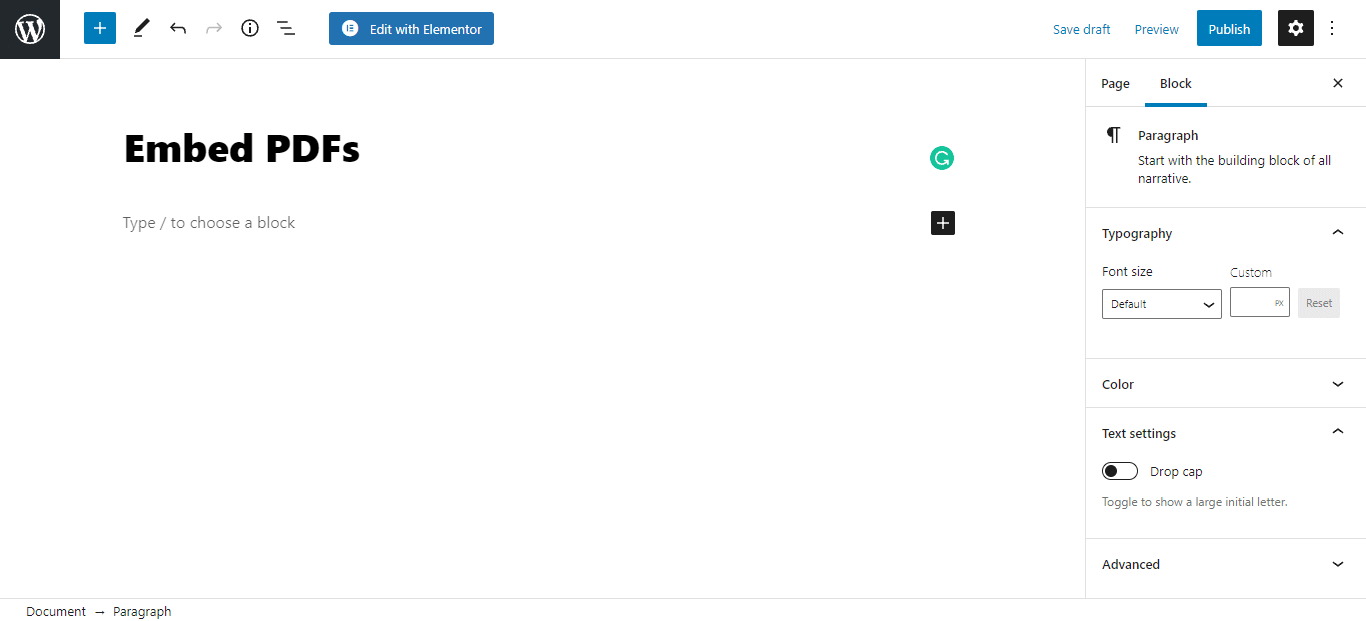 Step 2: Upload Your PDF Document
The next step is to upload the PDF document that you wish to include in your website. Simply click on the 'Media Library' button and choose the PDF that you want to embed on WordPress. EmbedPress will automatically upload the embedded PDF or document file into your post or page.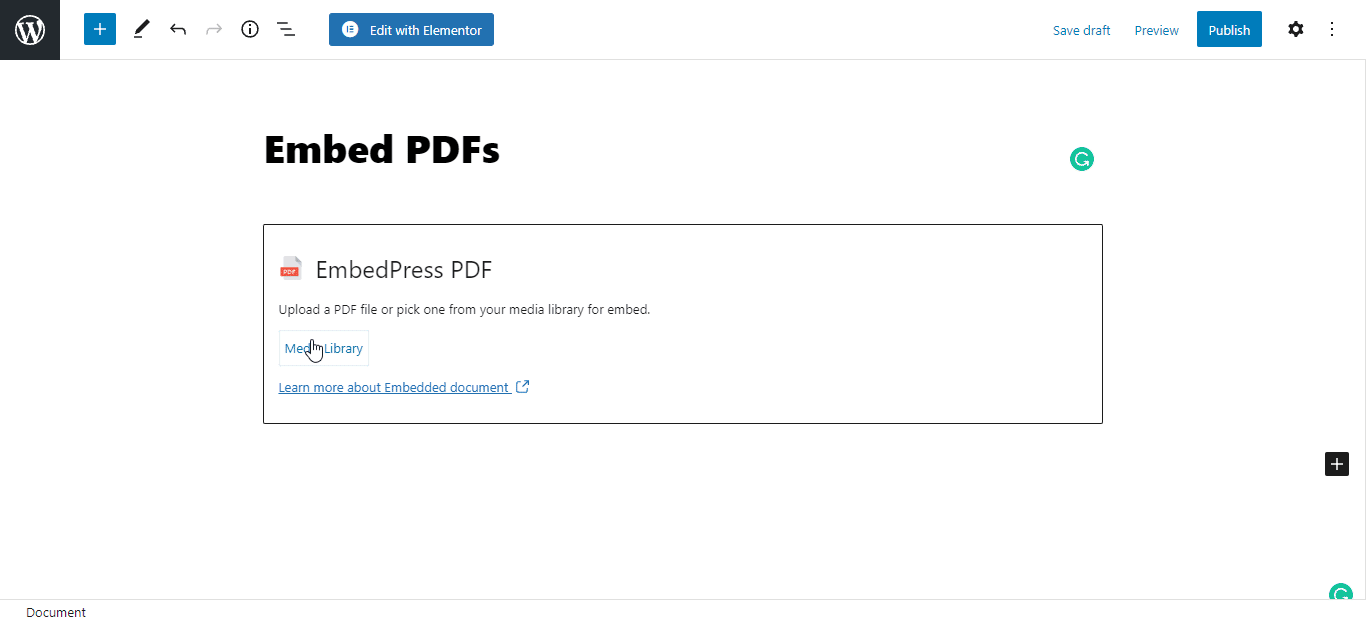 Step 3: Edit & Publish Your PDF 
Once you have embedded the PDF file onto your website, you can also add some customization and choose how you want to showcase your embedded PDF or document.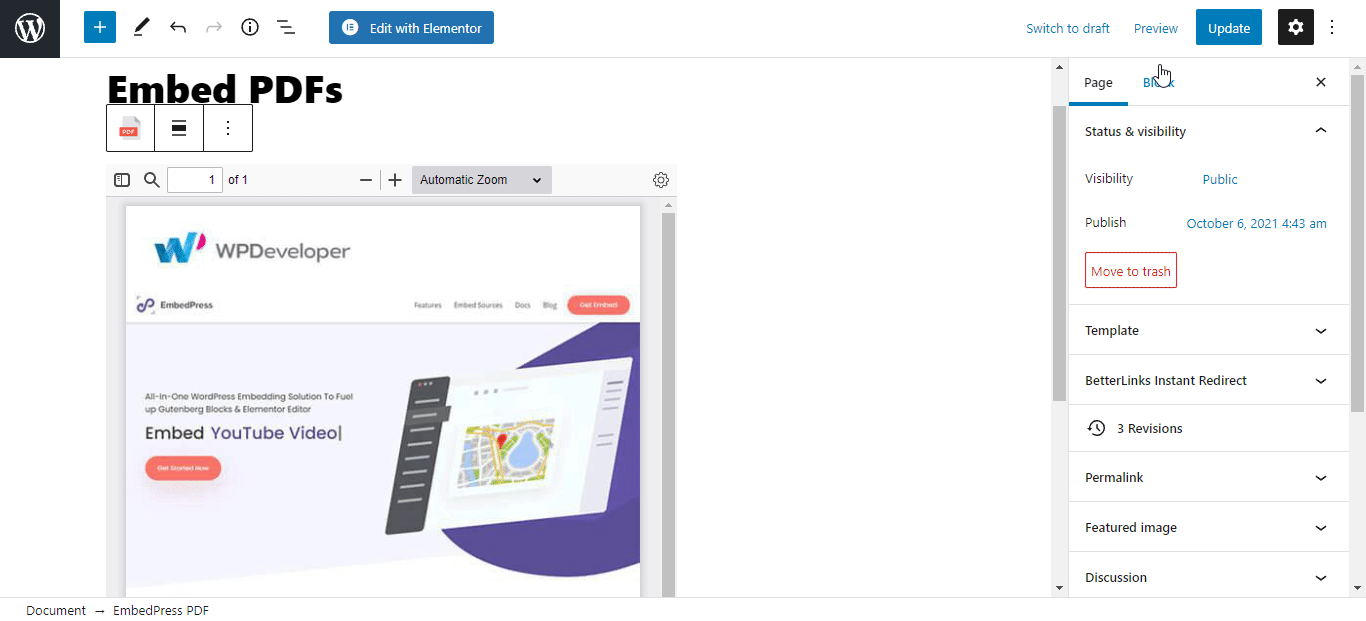 You can easily adjust the width and height of your PDF from the options under the Block tab on your right-hand side. You can also toggle to hide the 'Powered By EmbedPress' text if you want.
How To Embed PDF Files In Elementor Page Builder
If you've ever used Elementor, you know how much fun it is to be able to customize the content of your website. EmbedPress is a plugin that allows you to embed PDF files in Elementor with a variety of customization options. Let's look at how you may embed PDF files in Elementor easily.
Step 1: Search For 'EmbedPress Document' Element
To begin, go to your Elementor editor and look for the element called "EmbedPress Document". You can drag and drop the block anywhere on your page.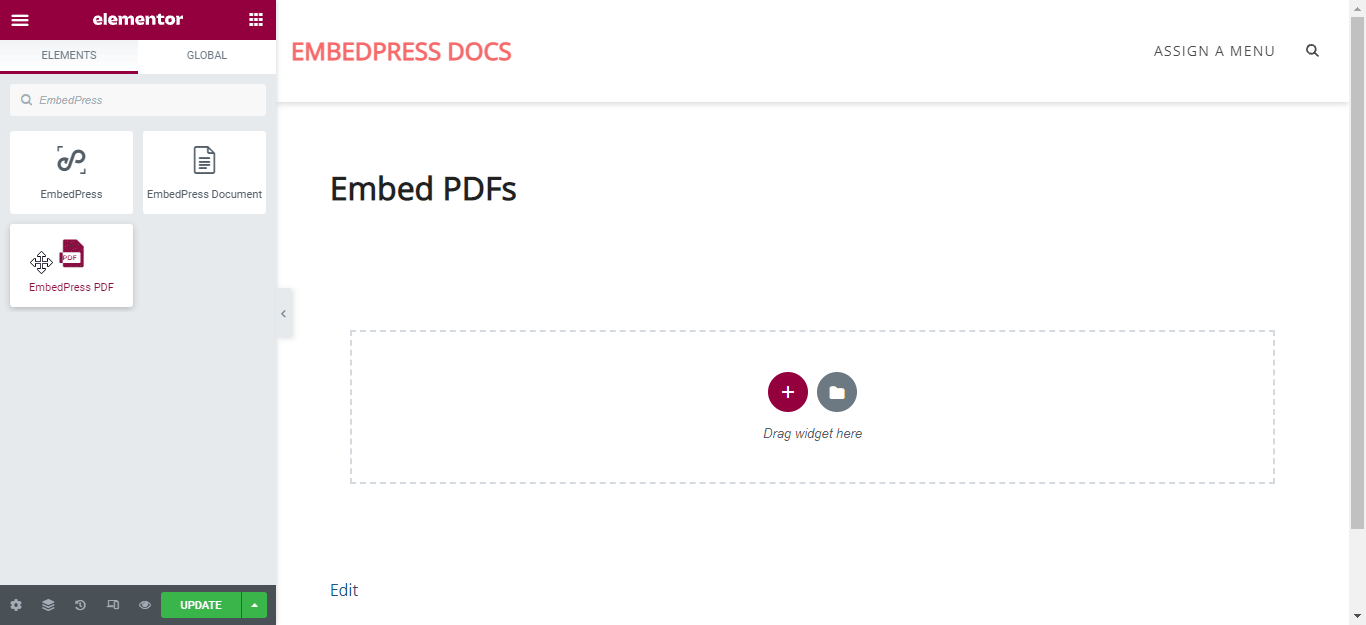 Step 2: Upload Your PDF Document
Then, under the 'Content' tab, select a content type. To upload PDF files from your device, simply choose the content type to be 'File'. Then, select the file you want to upload and it will be automatically embedded in your WordPress website.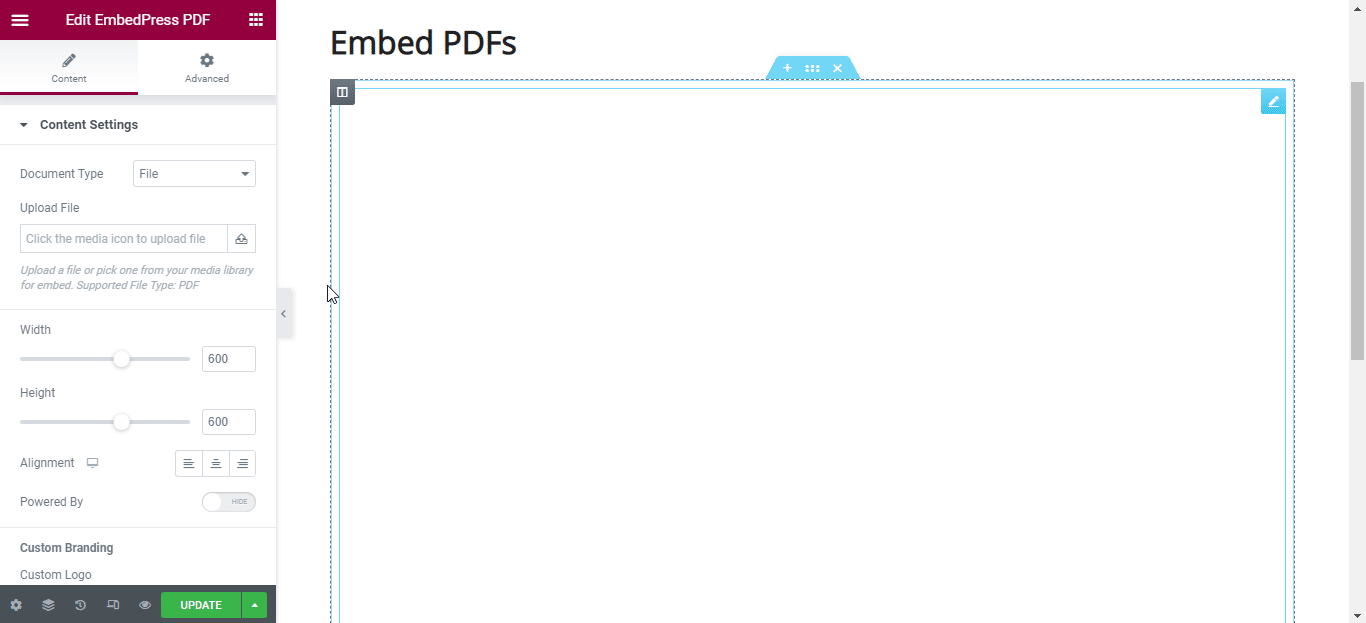 You can also make changes to your content at this point. After you've finished customizing, click 'Publish' to see a preview of all the changes you've made. This is how easily you can embed pdf files in Elementor. 
Step 3: Edit & Publish Your PDF
You can also make changes to your content at this point. After you've finished customizing, click 'Publish' to see a preview of all the changes you've made. Just like before, you can adjust the dimensions of your PDF file, and even choose the alignment from the Elementor Editor. You can also toggle to hide or show the 'Powered By EmbedPress' text.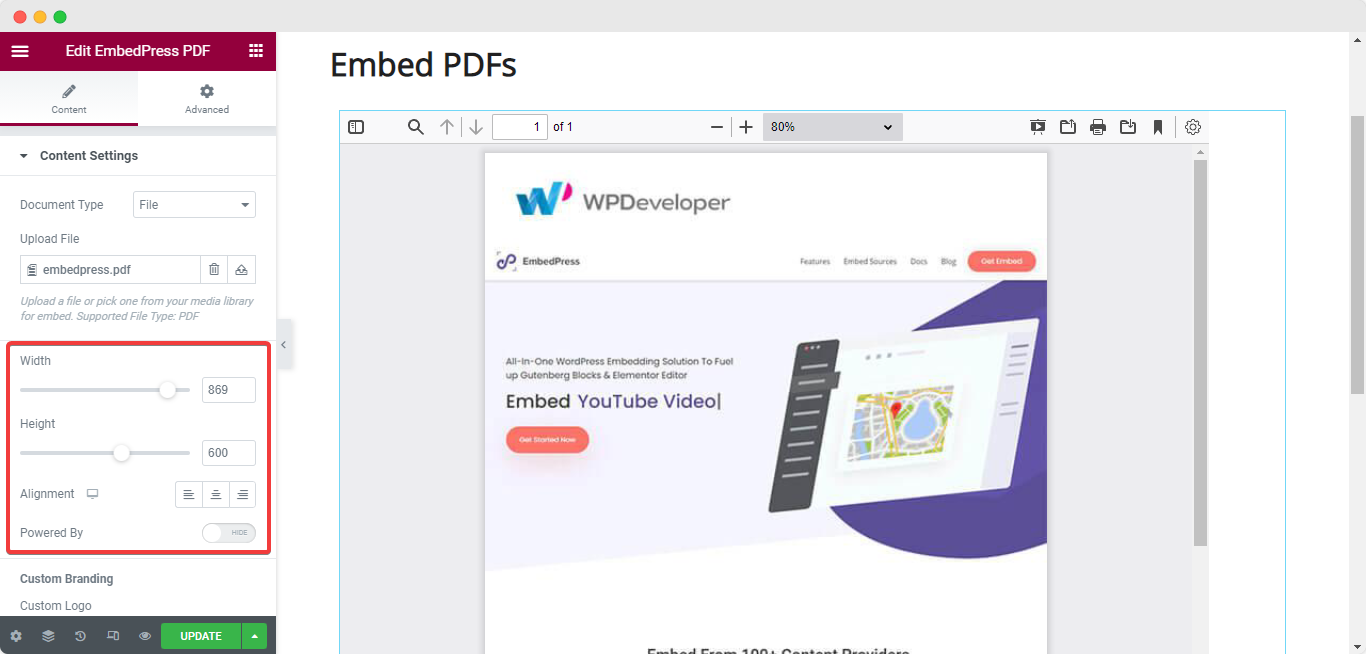 And that's it. You can easily embed a fully customizable, 100% functional and completely responsive PDF file onto your WordPress website with just a few clicks.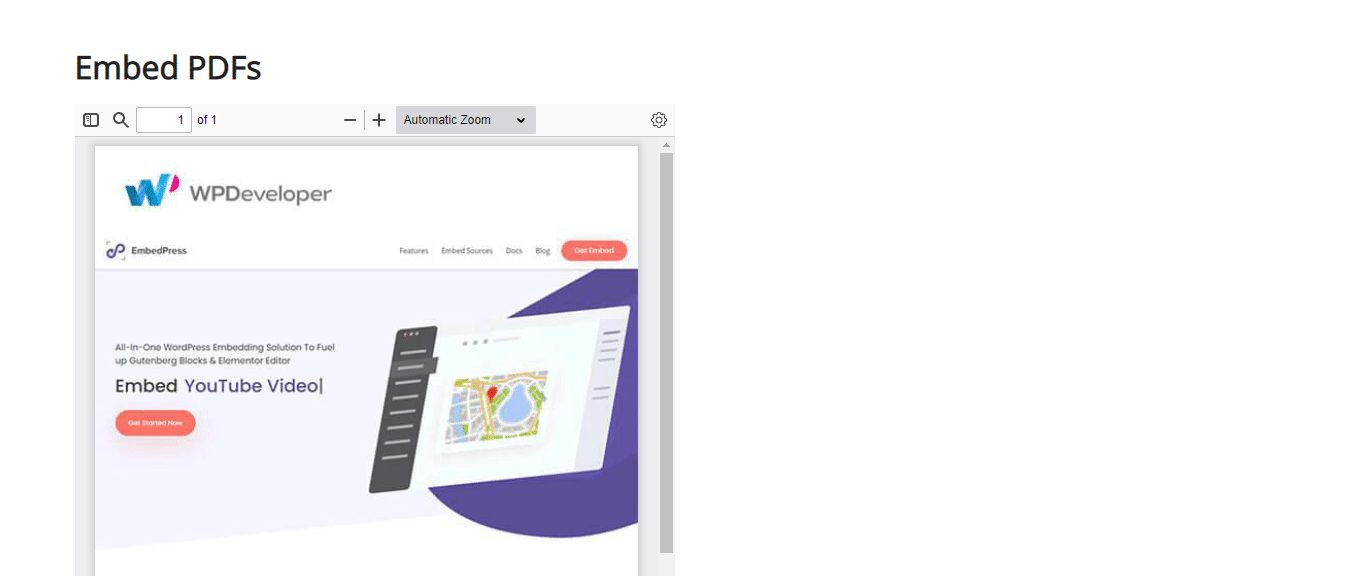 But that's not all. There's more to embedding PDF files onto your websites using EmbedPress. You can also add branding to your PDF documents using a custom logo and CTA. 
How To Add Custom Branding To Your PDF Embeds? 
EmbedPress also comes with the advanced feature to embed custom branding for your embedded documents and PDF and customize them further to match your website or business brand. Check out this documentation to learn the entire procedure in detail.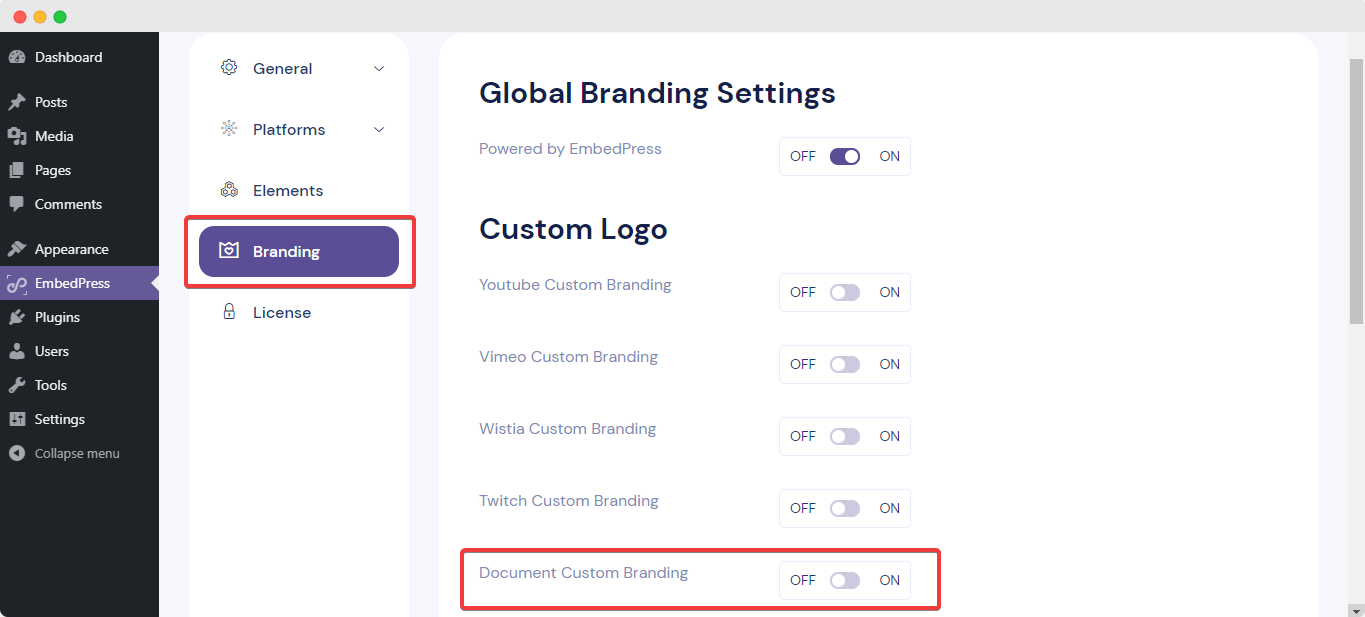 All you have to do is navigate to the 'Branding' tab on your EmbedPress user interface from your WordPress dashboard, and click to enable the toggle button for 'Document Custom Branding' as shown above. 
Here, you can upload your brand's custom logo and then add any of your desired links to it to act as a call to action button. And with this, you can instantly get your website visitors to explore through your content further and get your brand more recognized with just embedded PDF files on your website.  
Bonus: Embed Documents In Any Format Using EmbedPress
And finally, as mentioned earlier, EmbedPress also provides a dedicated Document Block for Gutenberg and a Document widget for Elementor to enable you to embed any type of documents you want website: PDF, DOC/DOCX, PPT/PPTX, XLS/XLSX, etc.
The steps to embed Document Block in your Gutenberg editor are the same as mentioned above for the PDF block. This time, you will only have to search for 'Document' to insert the block onto your editor, as shown below.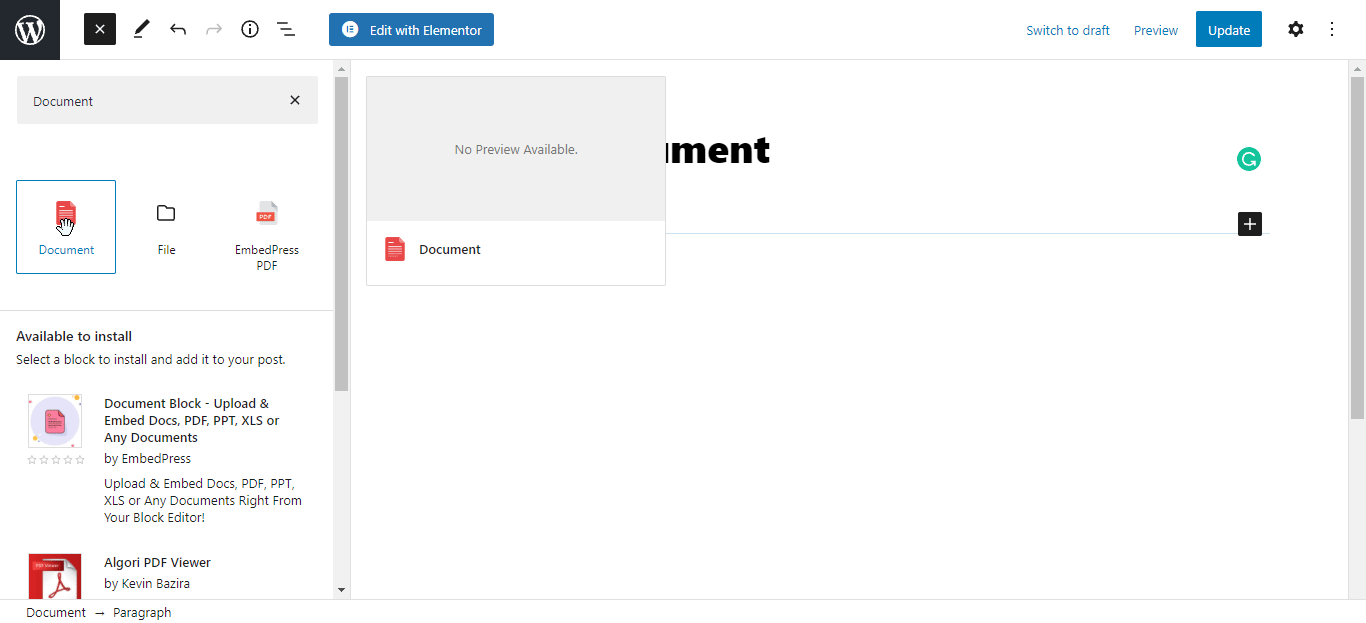 Similarly, you need to follow the same steps mentioned above to embed the 'EmbedPress Document' widget in the Elementor editor.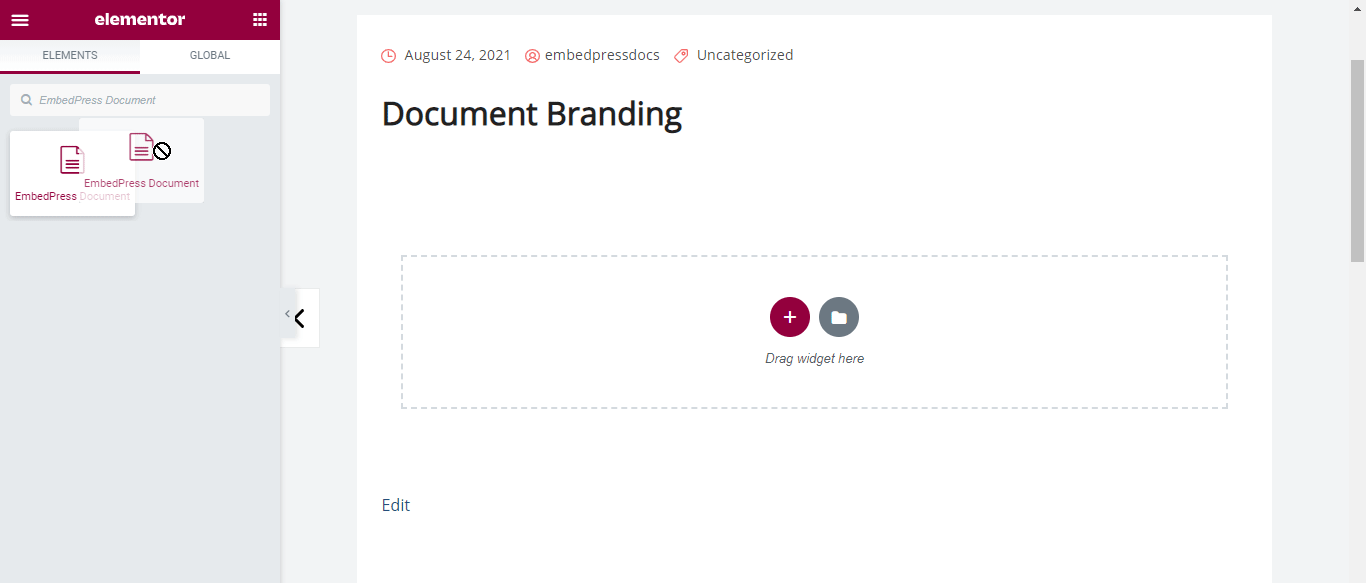 Next, upload your required document and customize it as necessary. Once you have finished, simply publish the content and EmbedPress will embed a fully responsive document to your WordPress website, as shown below.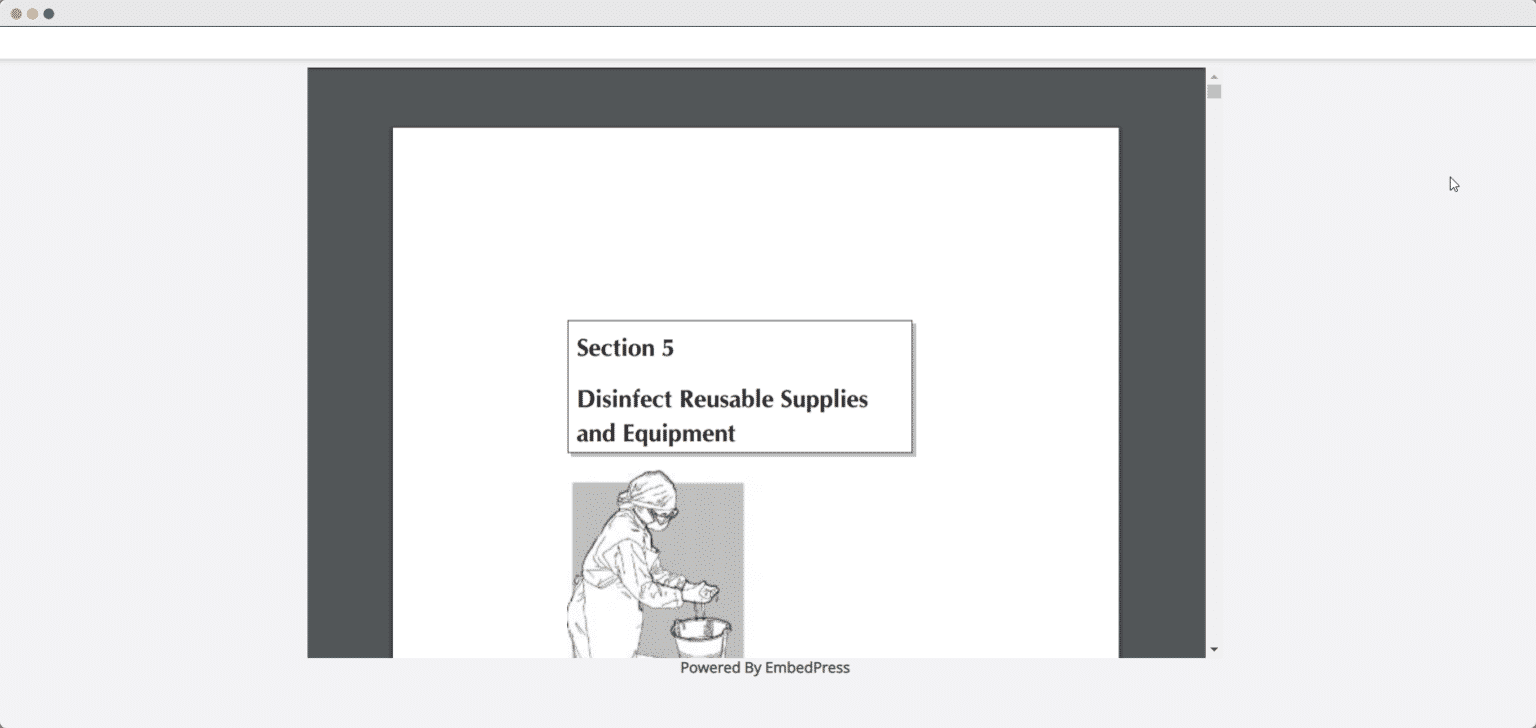 Embed PDF Files Effortlessly With EmbedPress 
To embed pdf files in Elementor or block editor, you can install the EmbedPress plugin to make embedding easier than ever. We would suggest you include aesthetically appealing content when styling your website to improve the user experience. EmbedPress has removed the restrictions on embedding content, giving you the most flexibility.
If you've decided to use EmbedPress, please tell us about your experience. Leave a comment below with your thoughts or suggestions. Join our Facebook group to communicate with us. Subscribe to our blog for more useful tutorials.