Were you recently having trouble embedding Meetup events on your WordPress websites? Well, you will not, anymore. We are very excited to let you know, less than a month after our previous EmbedPress update, we now bring you EmbedPress 3.1.0 – with seamless Meetup event embeds and more advanced features to take your storytelling to the next level.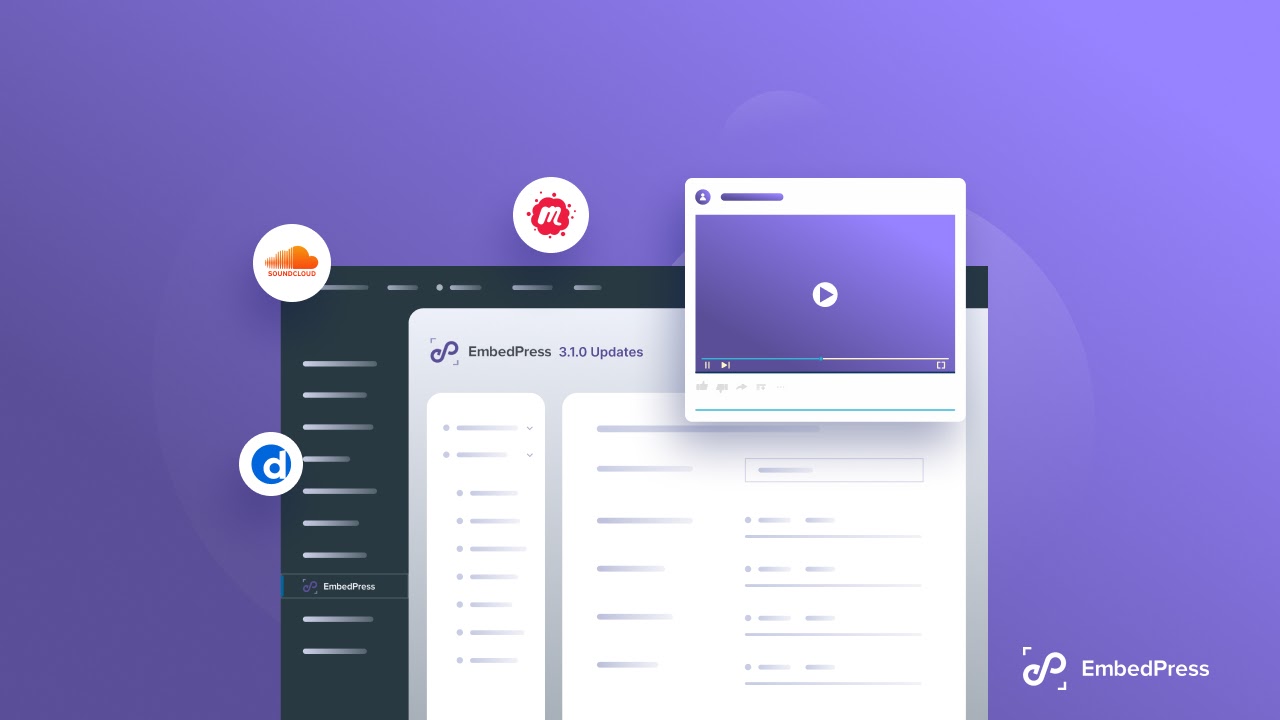 EmbedPress comes with over 100 multimedia content sources and enables you to make your WordPress websites more interactive and engaging than ever before. Not only that, it brings you advanced shortcodes feature to help you embed in any WordPress page builders or editors you want, along with a super simple and user-friendly interface. 
With our latest update, EmbedPress 3.1.0 aims to enhance your embedding experience with:
🤝 Hassle-free Meetup event embeds
🎵 Advanced SoundCloud audio embedding features
🎞️ Interactive features with DailyMotion video embeds
🎯 Full compatibility with WordPress 5.8, and more
You'll find everything you need to skyrocket your website engagement and ranking. Let's dive in and take a closer look at the EmbedPress 3.1.0 updates.
Seamlessly Embed Meetup.com Events In Any WordPress Page Builders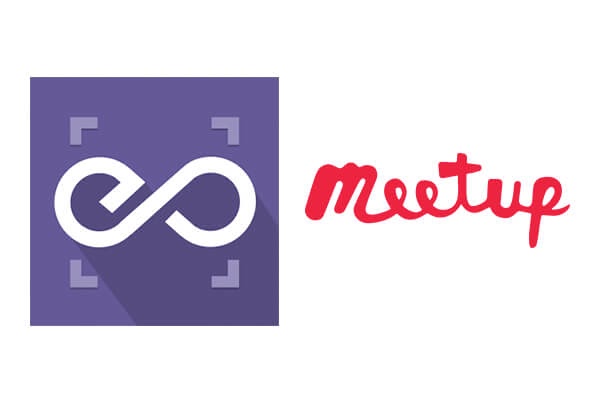 First off, we have seamless meetup event embeds in WordPress websites from EmbedPress 3.1.0 on all your preferred editors and page builders. Meetup event embeds are not easy to create and often result in errors. However, unlike other plugins, EmbedPress is here to ensure that you can easily embed meetup.com events on your websites and instantly share them with the world using just a few clicks and no extra coding.  
You might be thinking 'but wait, EmbedPress used to allow users to embed meetup events earlier too' and you would be totally correct. But we are here to tell you that we have updated EmbedPress 3.1.0 in a way to make your meetup event embeds hassle-free. Not only that, now the meetup event embeds will be more informative, and more visually attractive with EmbedPress.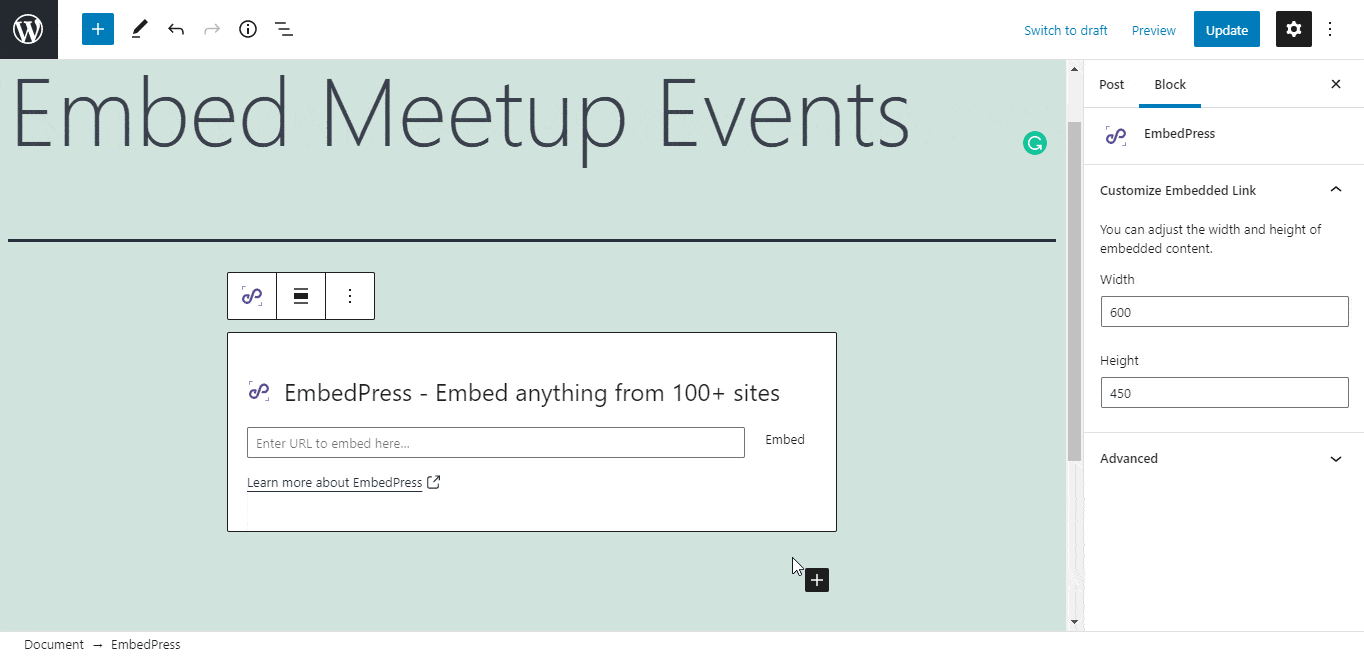 Earlier in the day, when you used to embed meetup events on your WordPress websites, it would look something like the image shown above. The embedding process was simple and could be easily customized, but we wanted to bring you more improvements. 
With the most recent EmbedPress 3.1.0 updates, we ensure that you will not face any issues or errors with embedding meetup events. Moreover, now your WordPress meetup event embeds mirror the outlook of the event pages on meetup.com websites. Take a look below.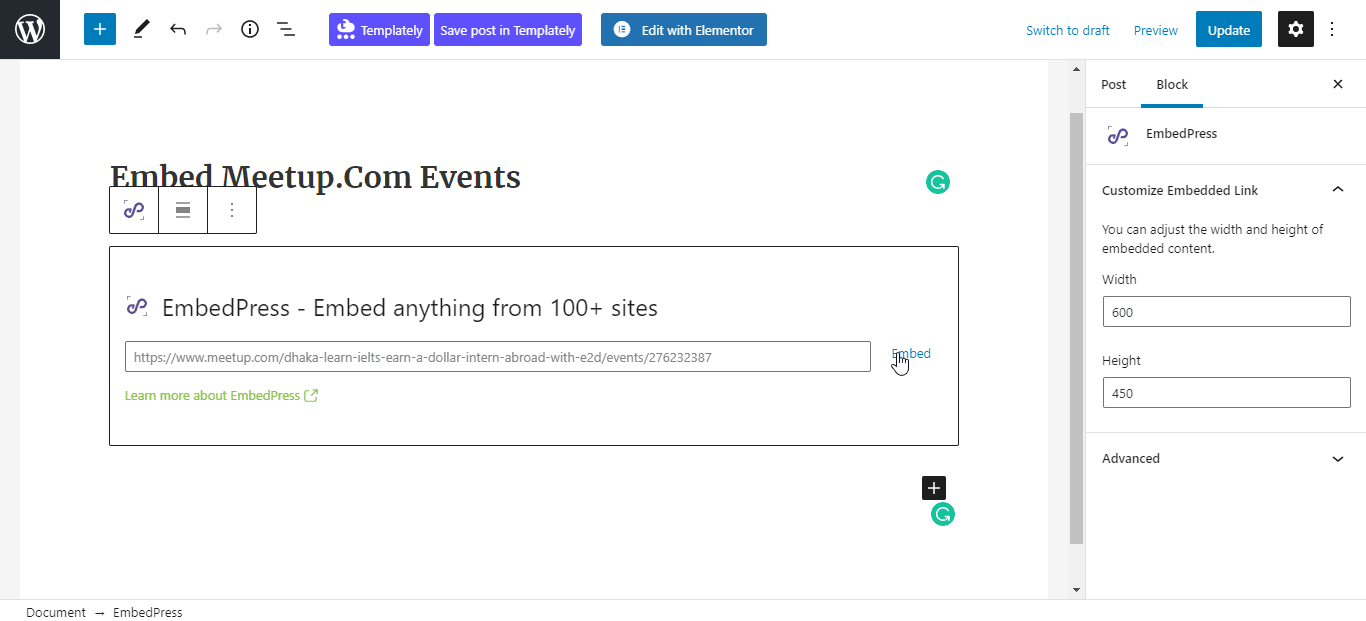 To help you understand the difference, we have embedded the same event in Gutenberg editor on both these instances. You can easily see how much of an improvement EmbedPress 3.1.0 brings you. You not only get an embed of the full event page, your website visitors will get all the necessary details, information, links, and more directly from your WordPress website interface. And you still get the options to customize your meetup.com event embeds however you want just as you did previously. 
Moreover, you can embed meetup.com events on any WordPress editors you want now. EmbedPress gives you seamless integrations with Gutenberg, Elementor, and Classic Editor – all you need is the URL of the event you want to embed. But recently, we have introduced EmbedPress shortcodes with our previous update that enables you to embed multimedia content on any of your other preferred WordPress page builders with ease. To learn more, check out this documentation. 
Enable Interactive Features For Your SoundCloud Music Embeds
Next up on our list of updates, we bring you advanced free and PRO features that you can easily configure when you embed SoundCloud music on your WordPress websites. SoundCloud is one of the world's most popular audio distribution platforms, with millions of people using it to publish, share, record, and promote their original audio files.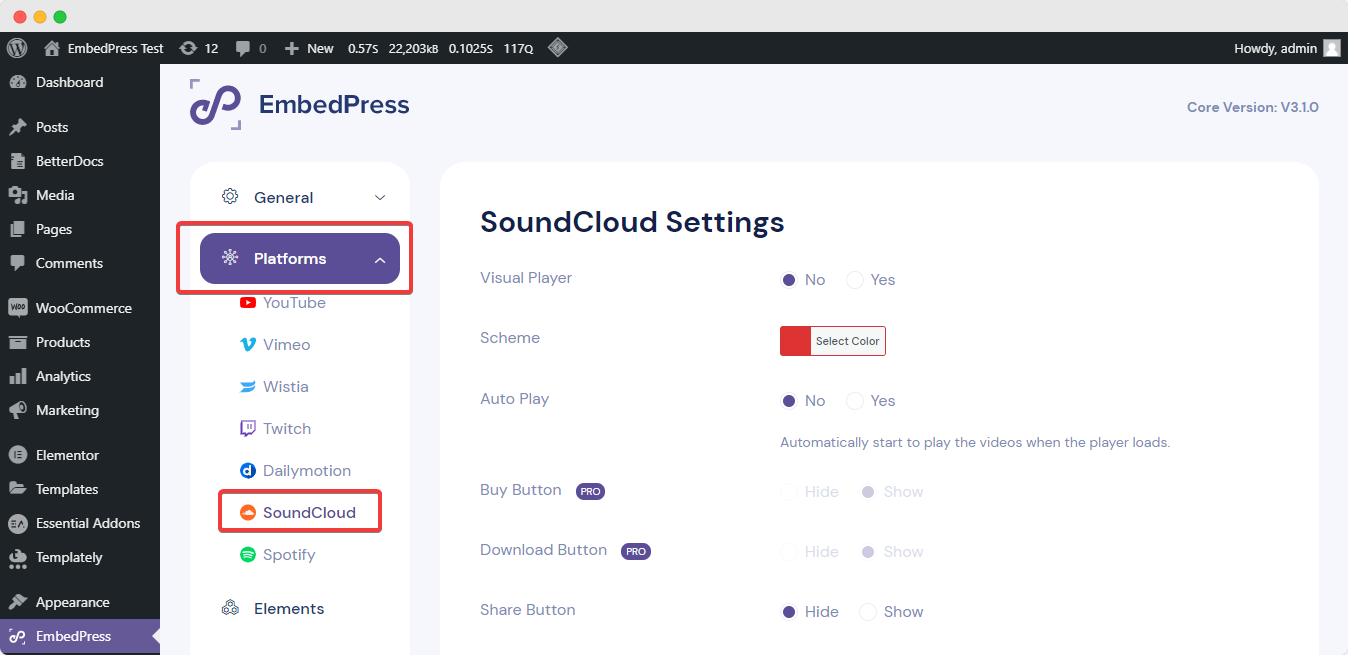 EmbedPress 3.1.0  aims to boost your user experience more than ever before and so it brings you new and advanced features to help you embed SoundCloud music. You'll find these features on the EmbedPress settings panel under the 'Platforms' tab on your WordPress dashboard. Now, you can instantly make your SoundCloud music embeds to be more interactive and engaging.
Some of these free and PRO features for SoundCloud music embeds include: 
⭐ Premium 'Buy Button'
⭐ Premium 'Download Button'
⭐ Option to show username
⭐ Autoplay music feature
⭐ Play count options, and much more.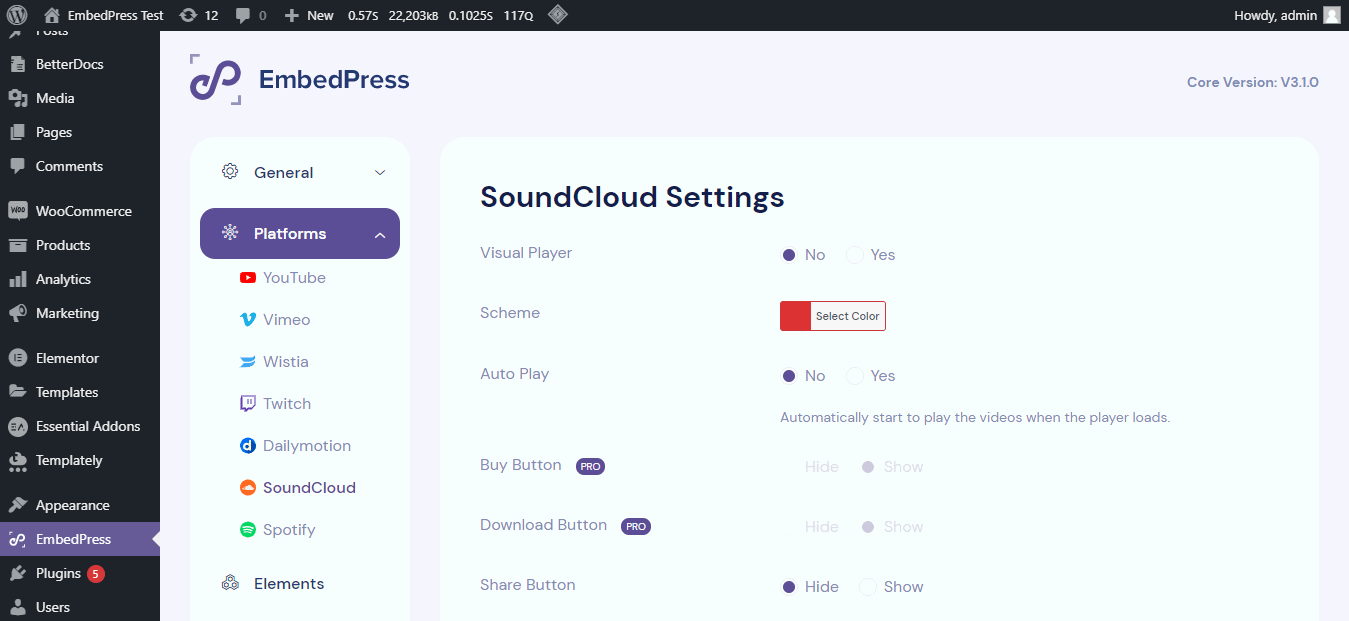 Easily Configure Advanced Features When You Embed DailyMotion Videos
Just like music, video embeds can instantly skyrocket engagement on your WordPress websites because it demands users' attention. EmbedPress 3.1.0 is here to help you not only embed DailyMotion videos but enhance the embed's functionalities with many interactive, advanced features as well. 
Similar to the SoundCloud features mentioned above, you will now find a new option on the EmbedPress settings panel to enhance DailyMotion video embeds under the 'Platforms' tab. We have tried to bring you several new free and premium features that you can effortlessly configure when you embed Dailymotion videos.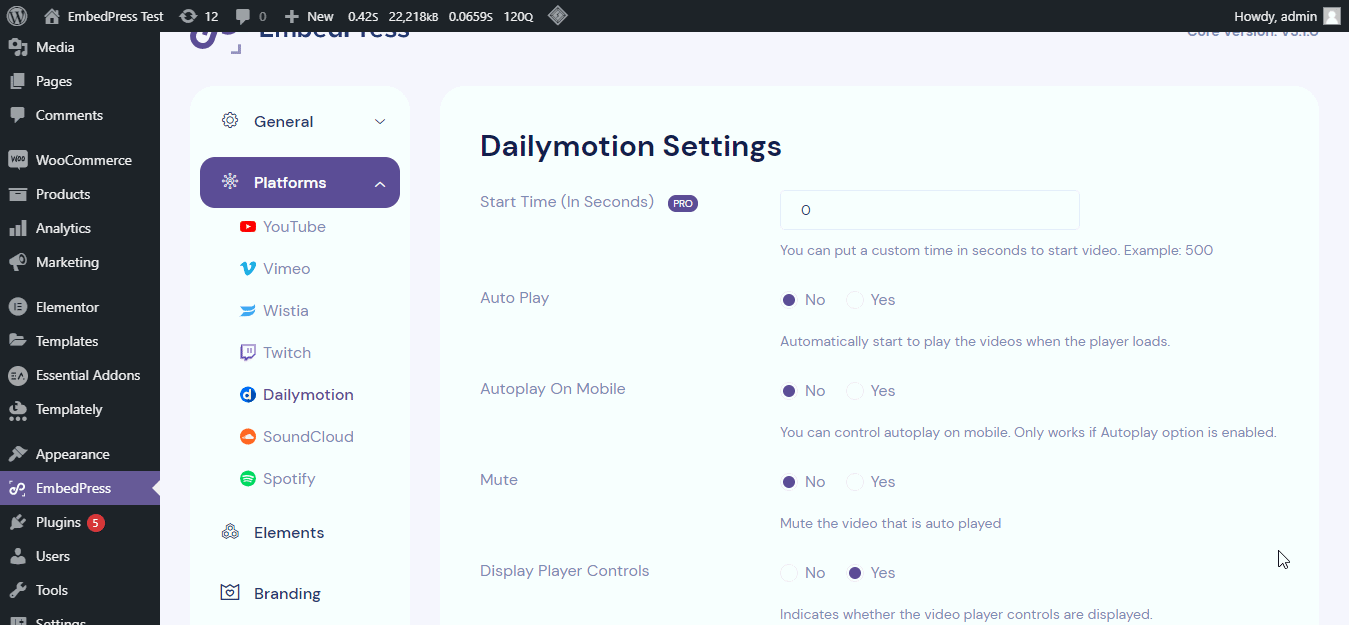 Quickly update to EmbedPress 3.1.0, and you will get: 
⭐ A premium option to show logo
⭐ A feature to decide when your video will begin
⭐ Autoplay compatibility for mobile devices
⭐ Display options for video information
⭐ Display feature for player controls, and more. 
While these features will enhance the embeds, do not forget that when you embed Dailymotion videos using EmbedPress you can also customize them easily. To learn more, do check out our documentation for more information. 
We also want to mention that EmbedPress is now fully compatible with WordPress 5.8. Other important updates with EmbedPress 3.1.0 include minor bug fixes and clearly mentioning which features are free and PRO on Elementor editors to ensure you get the ultimate, smooth embedding experience. 
Bonus: A Quick Look Back At Previous Updates From EmbedPress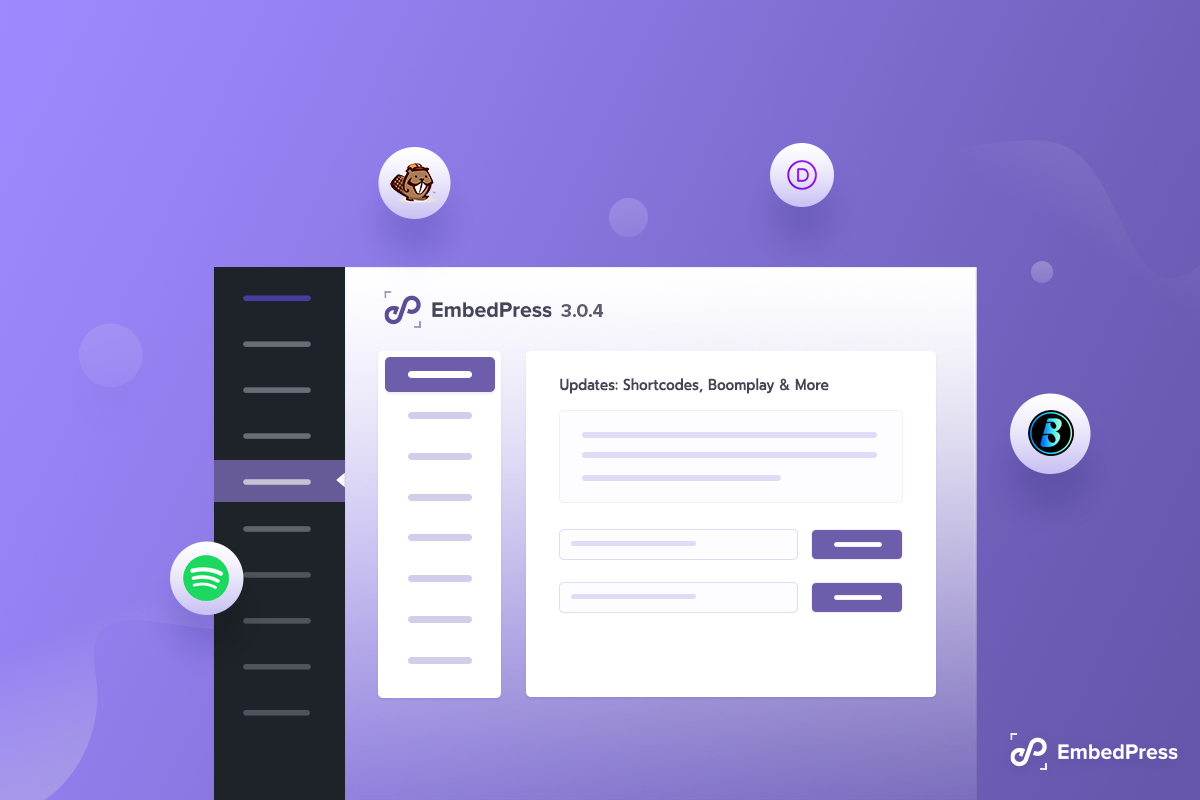 With every update of EmbedPress, we aim to broaden our horizons and help you create more engaging and interactive stories on your WordPress websites and blogs. We would like to take this opportunity to tell you about some of our more recent, previous updates. 
We had revamped our entire user interface to help you with navigation, introduced 100+ newer content sources like Boomplay, and brought you advanced features for Spotify embeds. 
But most importantly, we have introduced EmbedPress shortcodes with our update version 3.0.4 to help all WordPress users embed multimedia content with absolute ease, regardless of the editor they use. 
Take a look at our previous blog at a glance to learn more about what other amazing features you will get when you upgrade to the latest version of EmbedPress.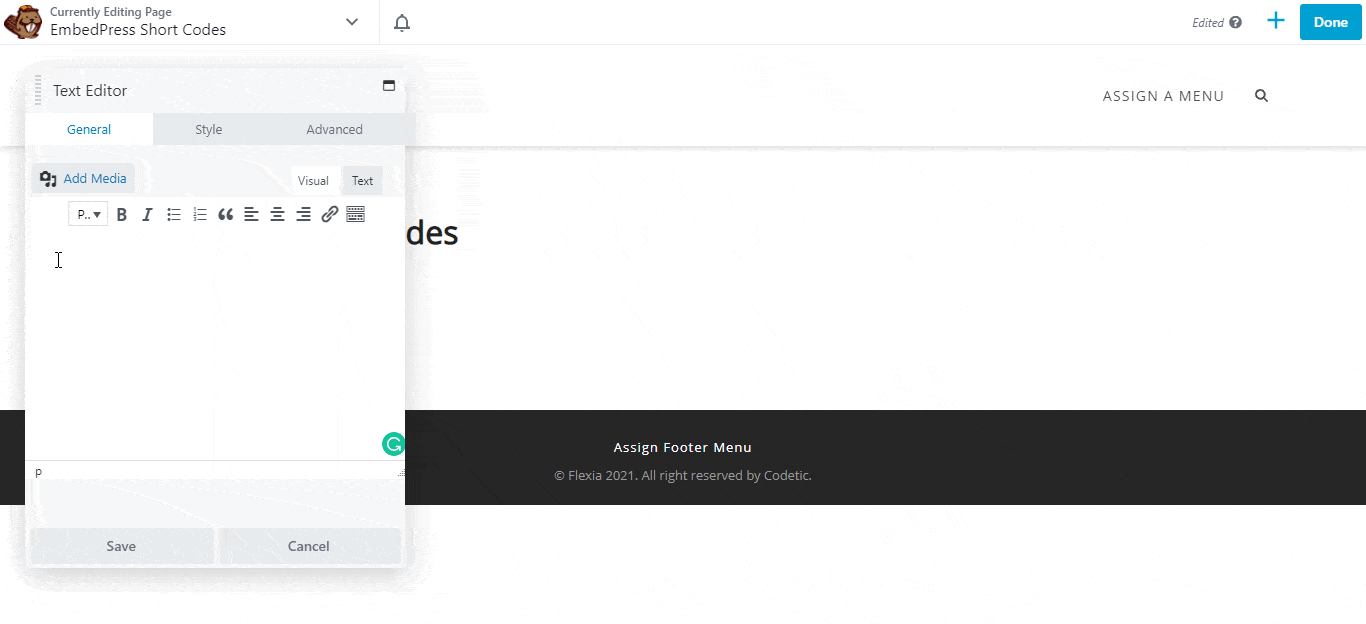 Skyrocket User Engagement By Upgrading To EmbedPress 3.1.0 
Don't wait! Update to EmbedPress 3.1.0 now and join us in creating unique and highly interactive content that will drive your WordPress website to new heights of engagement. Get any of our premium subscription plans to get access to all advanced features instantly. 
If you have any suggestions, please let us know in the comments below or reach out to our support team. We are eagerly waiting to hear from you. For more updates, tutorials, and tips and tricks on how to boost your storytelling, subscribe to our blog or join our friendly Facebook Community.