Are you looking for an easy solution to embed PDF files in WordPress with a single click? The simplest way to do this is by using EmbedPress, the most popular WordPress embedding solution trusted by more than 70,000 users. And now with the most recent release of EmbedPress v3.5.2, you can add tons of customization to your embedded PDF files to make your website more engaging.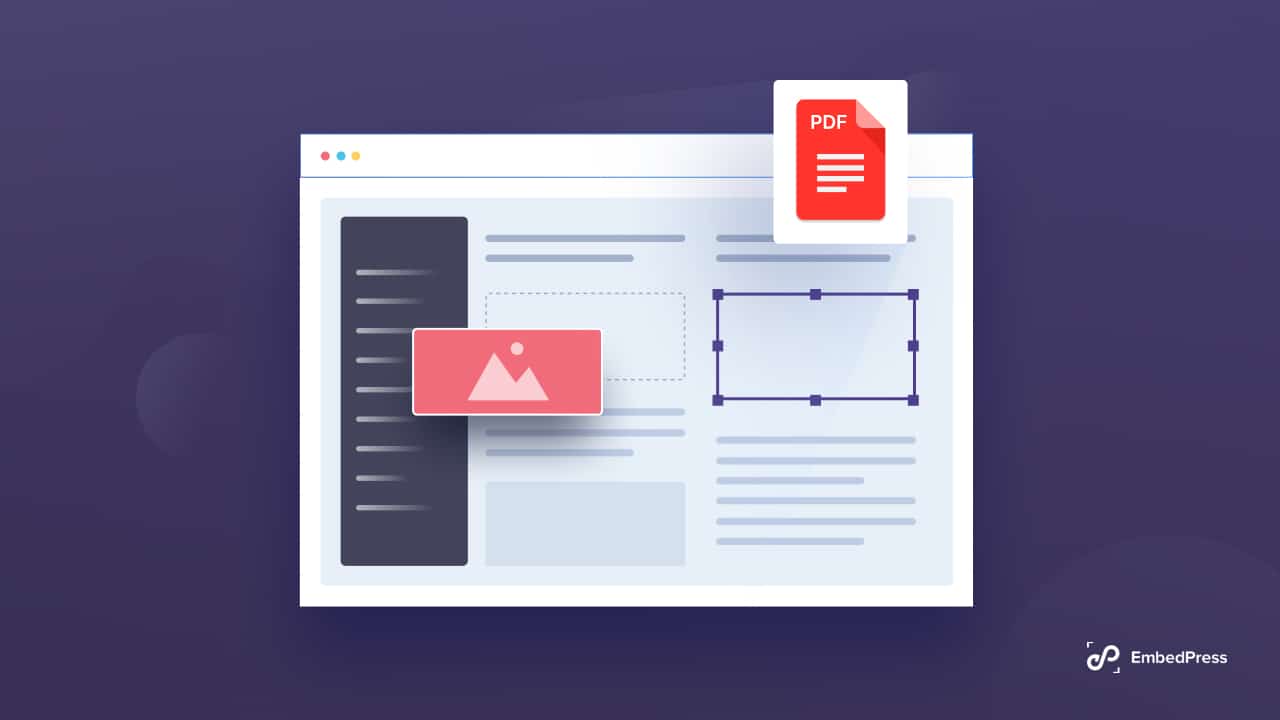 Common Issues You Could Face While Embedding PDF Files
Whenever you are embedding PDF files with or without code, there are some common issues you could face. With some simple tweaking, you can easily rectify these issues.
When your embedded PDF files are very low you could face an IISS error. This is a front-end issue, all you have to do is just increase the file size and you are good to go.
Secondly, there is a browser issue. Sometimes if you choose a different browser, your embedded files will be successfully displayed.
There is another issue while embedding PDF files embedding iFrame. Your HTML files need to be encoded with it to be in a safe spot. Otherwise, you could face some browser issues.
Why Should You Embed Pdf Files In WordPress Using EmbedPress?
EmbedPress comes with many additional features to make your embedded PDF files more engaging to your customers. Let's go through them one by one
📣 Easy Drag & Drop PDF Widget: With the EmbedPress widget, you can easily embed PDF files in WordPress with a single click. All you have to do is activate the EmbedPress plugin and drag and drop the widget. Inside the widget, you can embed any PDF files or documents you want.
✨ One Click Upload Any PDF Or Document: When you have dragged the EmbedPress widget, your work is almost half done. Now pick your preferred document or PDF file and simply paste the link or upload the file inside the widget. Afterward, your PDF file will be successfully embedded.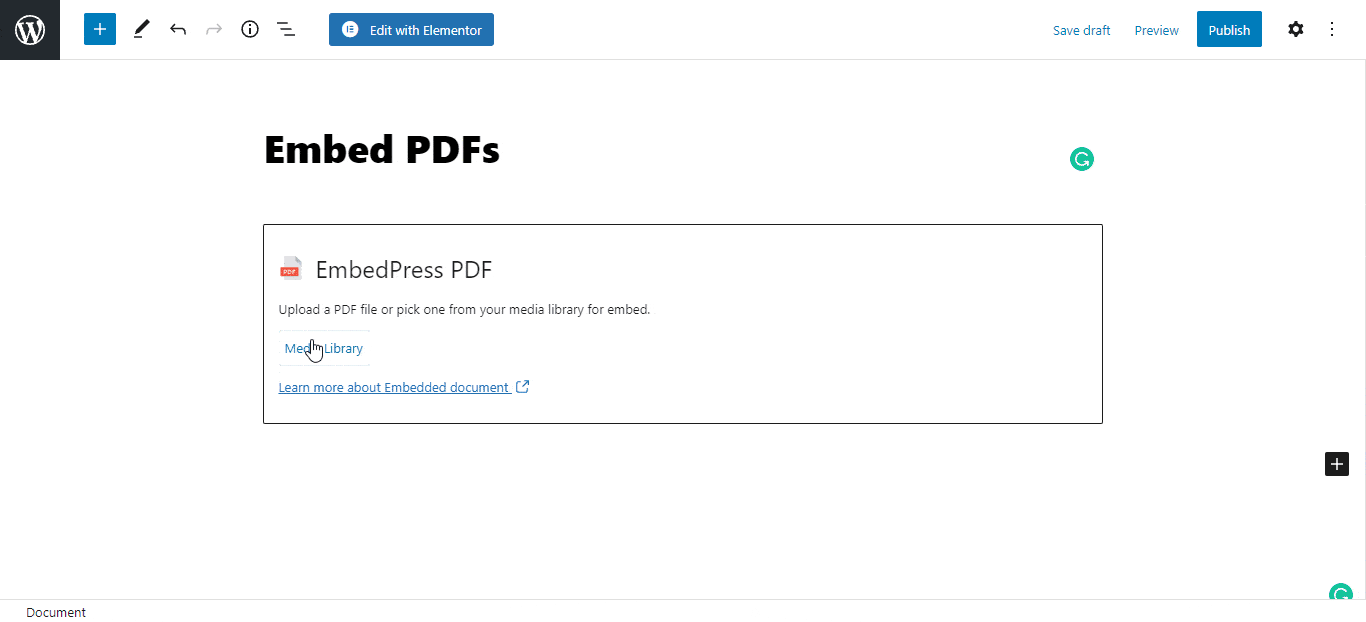 💎 Adjust Width & Height The Way You Want: To properly place and align your embedded files, you can easily customize the width and height of your uploaded pdf. You can do all these changes simply from any editing page without any coding. 
🛎️ Endless Customization From PDF Control Settings (PRO): EmbedPress v3.5.2 just introduced a fantastic feature where you can add many options to your PDF files. You can enable Presentation mode, Print/Download option, Copy Text, Rotation, and much more.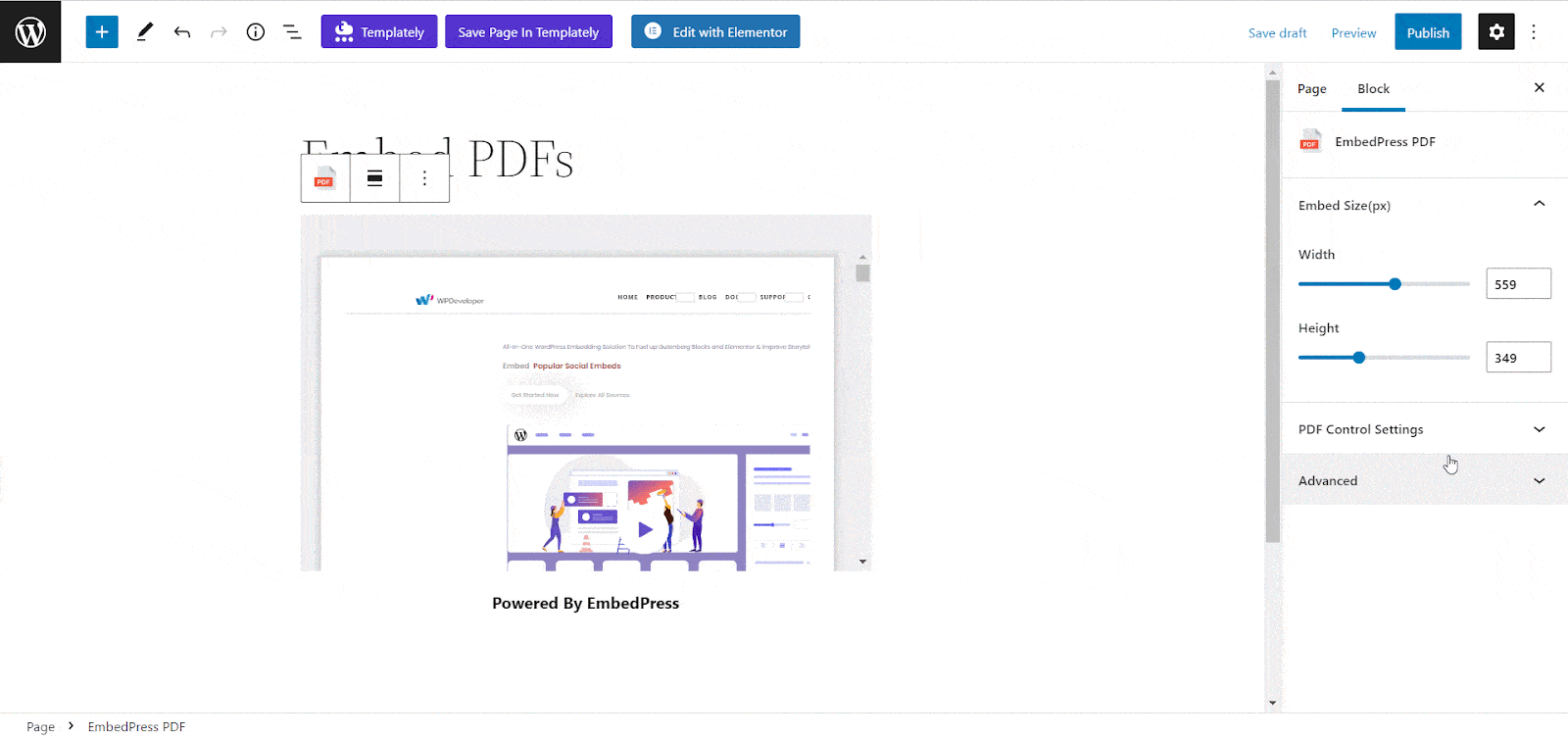 Embed PDF Files In WordPress: Step-By-Step Guide
You can now easily embed documents and PDFs into your WordPress website with a single click thanks to EmbedPress. The ultimate embedding solution includes a fully responsive EmbedPress PDF block for Gutenberg editor, an EmbedPress PDF widget for Elementor page builder, and the ability to simply paste the Shortcode directly with Classic editor (or any other page builder and editor of your choice).
Effortlessly Embed PDF In Gutenberg
To embed documents and PDFs of any file type in your WordPress website using the Gutenberg editor, follow the simple guides outlined below.
To begin, go to your WordPress dashboard and create a new post or page, then click the '+' icon at the top of the page or anywhere in your content area of the Gutenberg editor. Look for 'PDF' or 'EmbedPress,' and then select the EmbedPress PDF block, as shown below.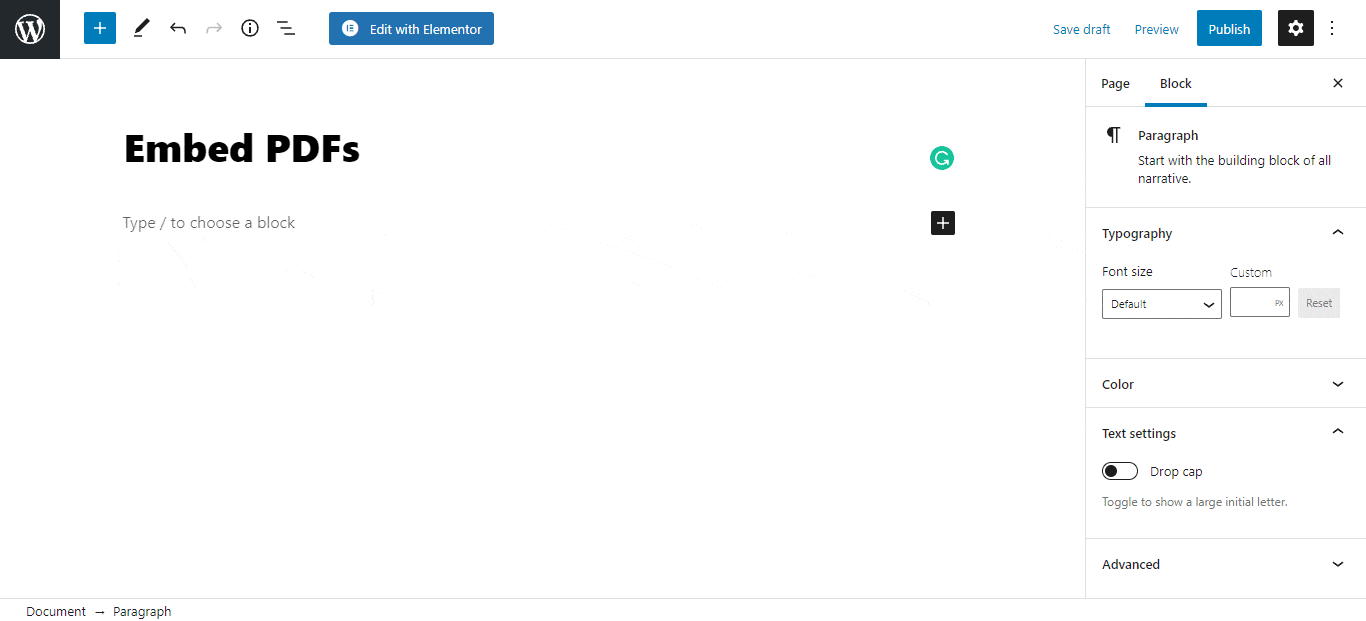 To embed your PDF or documents on WordPress, simply click the 'Media Library' button and select the PDF that you want to embed. EmbedPress will upload the embedded PDF or document file into your post or page automatically.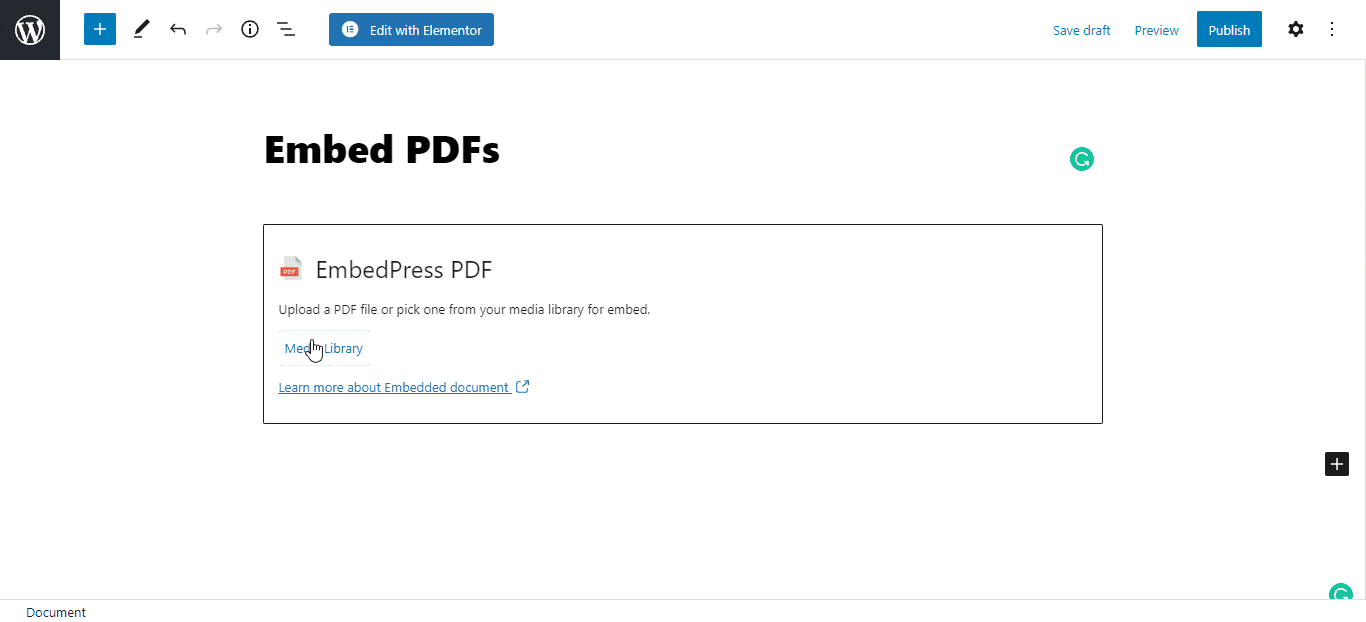 You can add some customization and determine how to display your embedded PDF or document. You can change the width and height of your PDF by using the options in the Block tab on the right-hand side. You can also choose to hide the 'Powered by EmbedPress' text.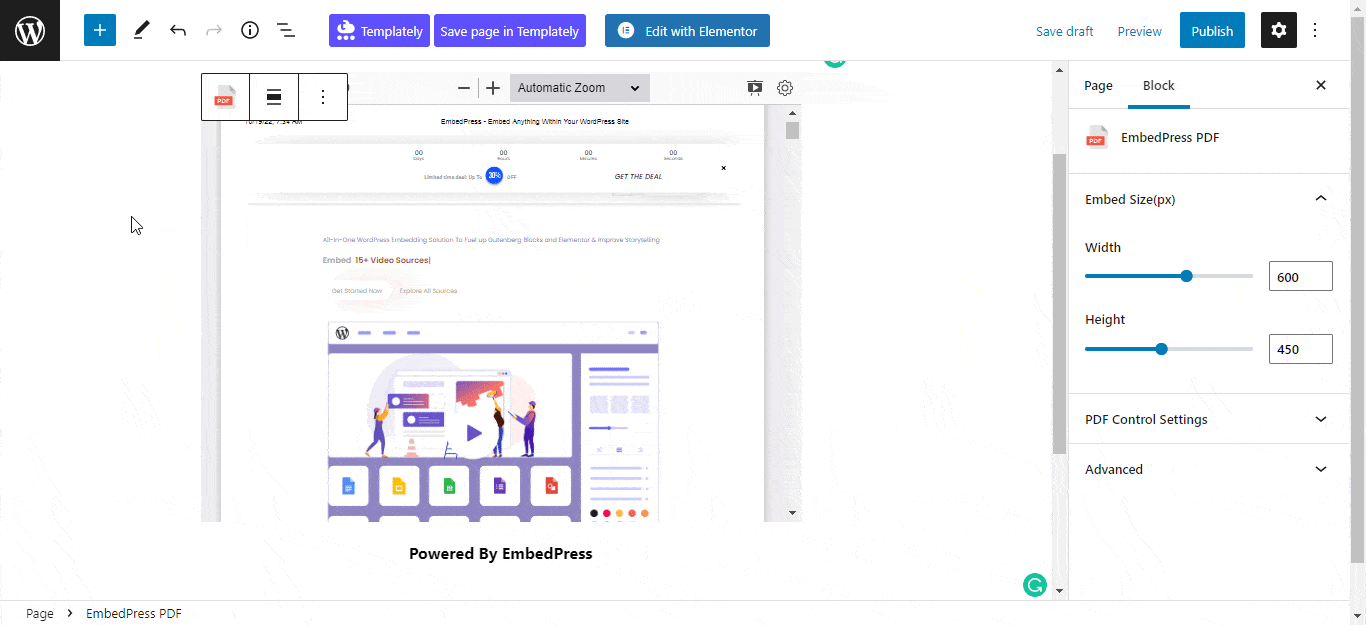 You can now enable the toolbar option with the proper placement under 'PDF Control Settings.' You can also enable Presentation mode, Print/Download, Copy Text, Rotation, and many other features.
Note: To get the Print/Download and Presentation features, you must install EmbedPress Pro.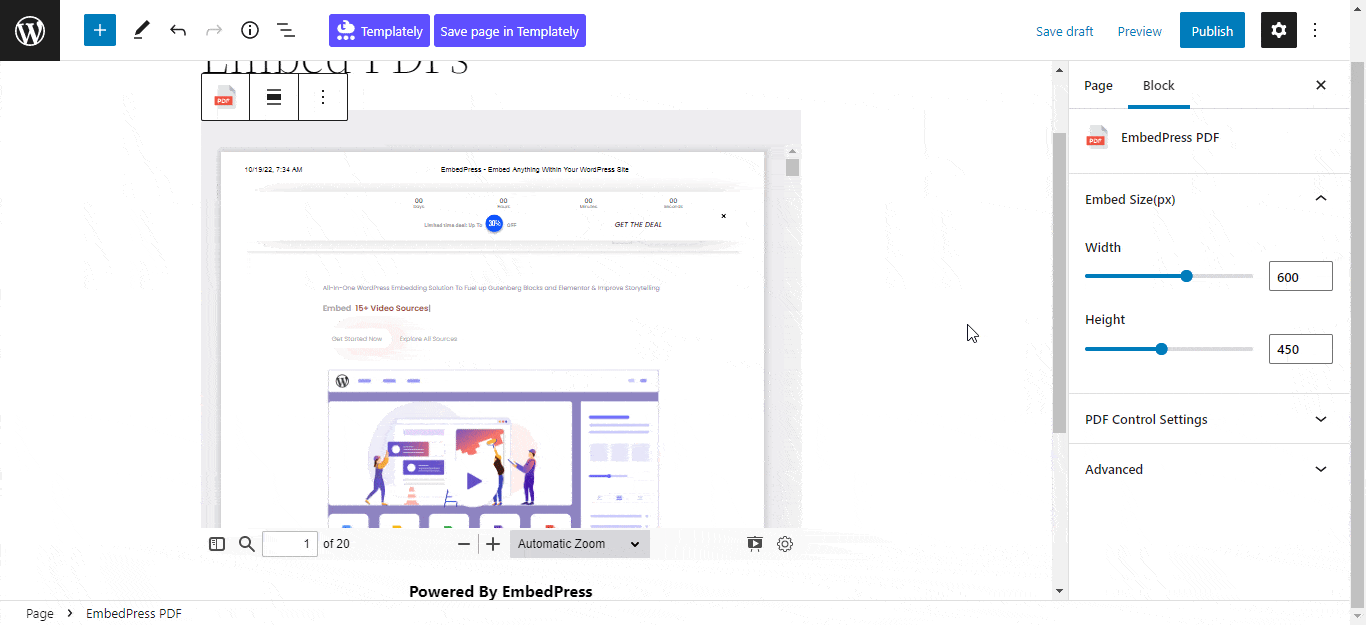 Embed PDF Files In Elementor Page Builder
By following the detailed steps below, you can use EmbedPress with Elementor to embed documents and PDFs of any type on your WordPress website.
To start, navigate to Pages→ Add New in your WordPress dashboard and click on the blue 'Edit With Elementor' button.
Then, in the editor's side panel, look for the 'EmbedPress PDF' or 'EmbedPress Document' element under the 'Elements' tab. Next, drag and drop this element wherever you want to embed your PDF or document on your page.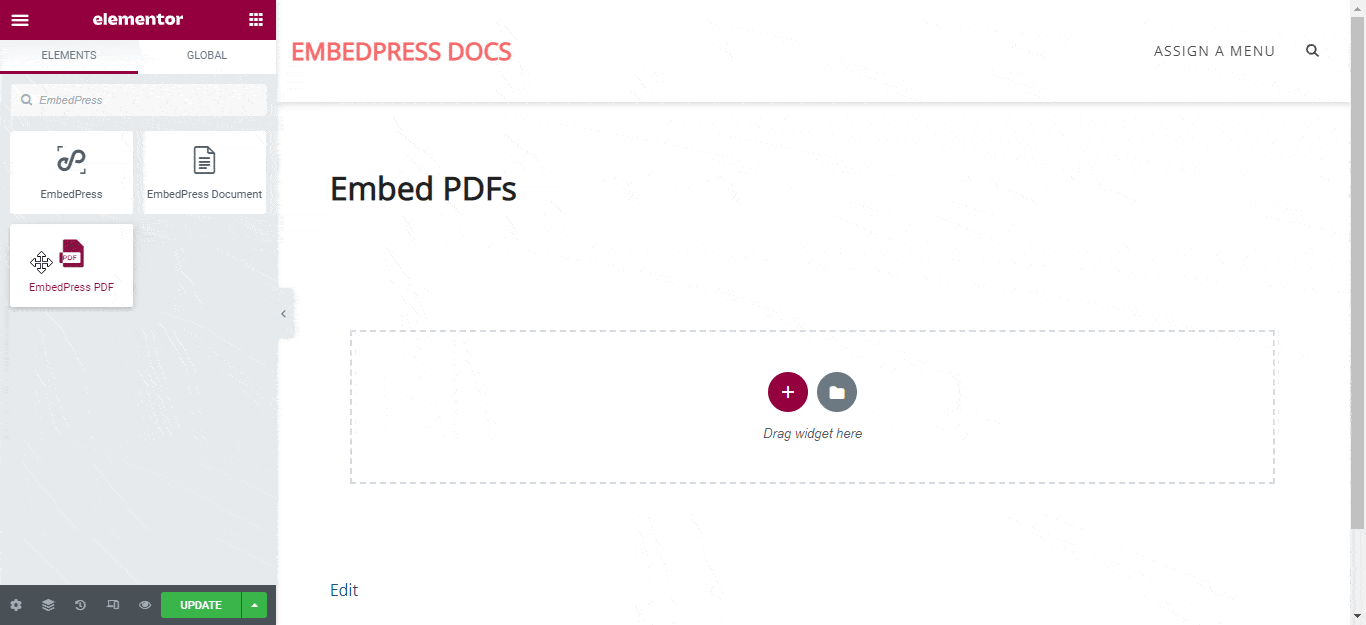 Then, from the 'Content' tab on the side panel, select the Document type from the 'Content Settings' section and then click on the media icon under the 'Upload File' section to upload your PDF or document. The PDF will be automatically embedded into your website by EmbedPress.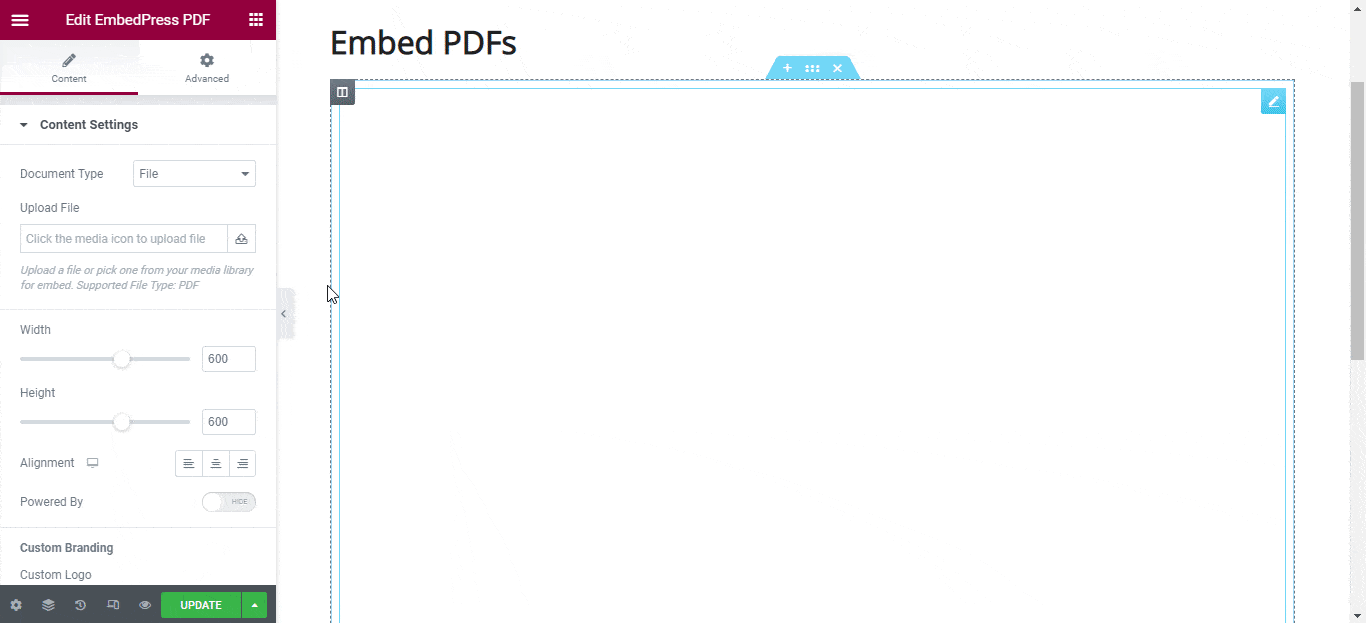 The Elementor Editor allows you to change the width and height of your PDF or document, as well as the alignment. You can also toggle the 'Powered By EmbedPress' text to hide or show it.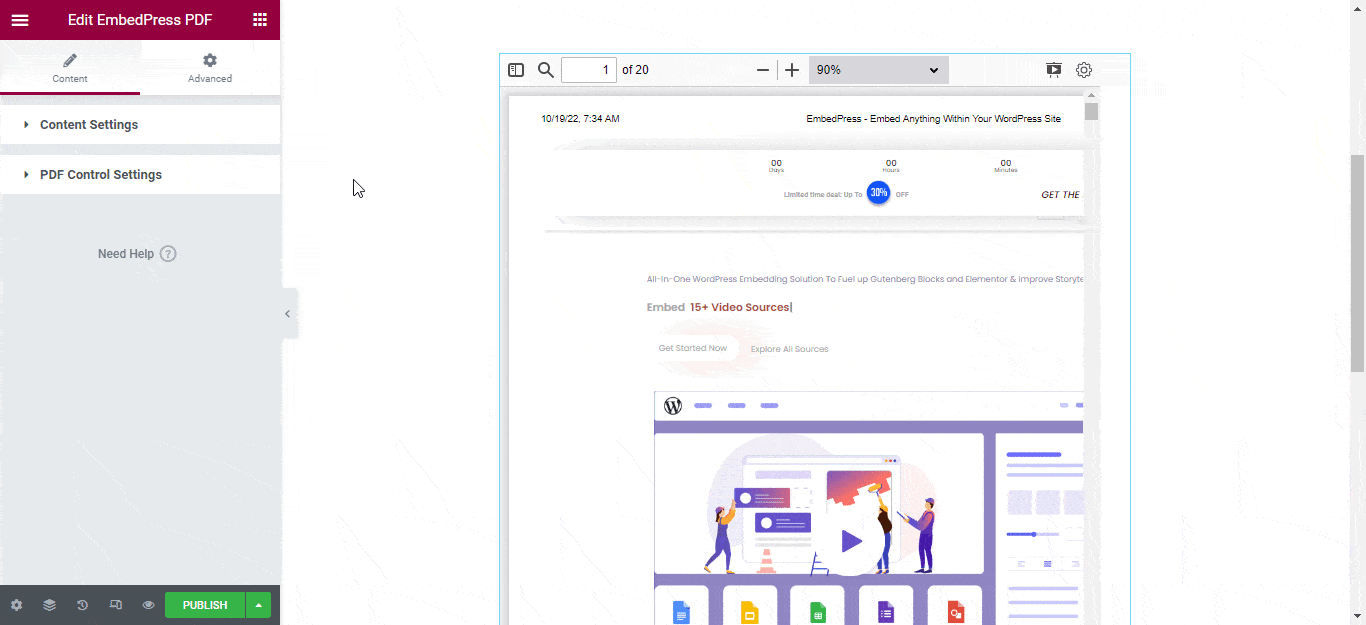 You can now enable the toolbar option with the proper placement under 'PDF Control Settings.' You can also enable Presentation mode, Print/Download, Copy Text, Rotation, and many other features.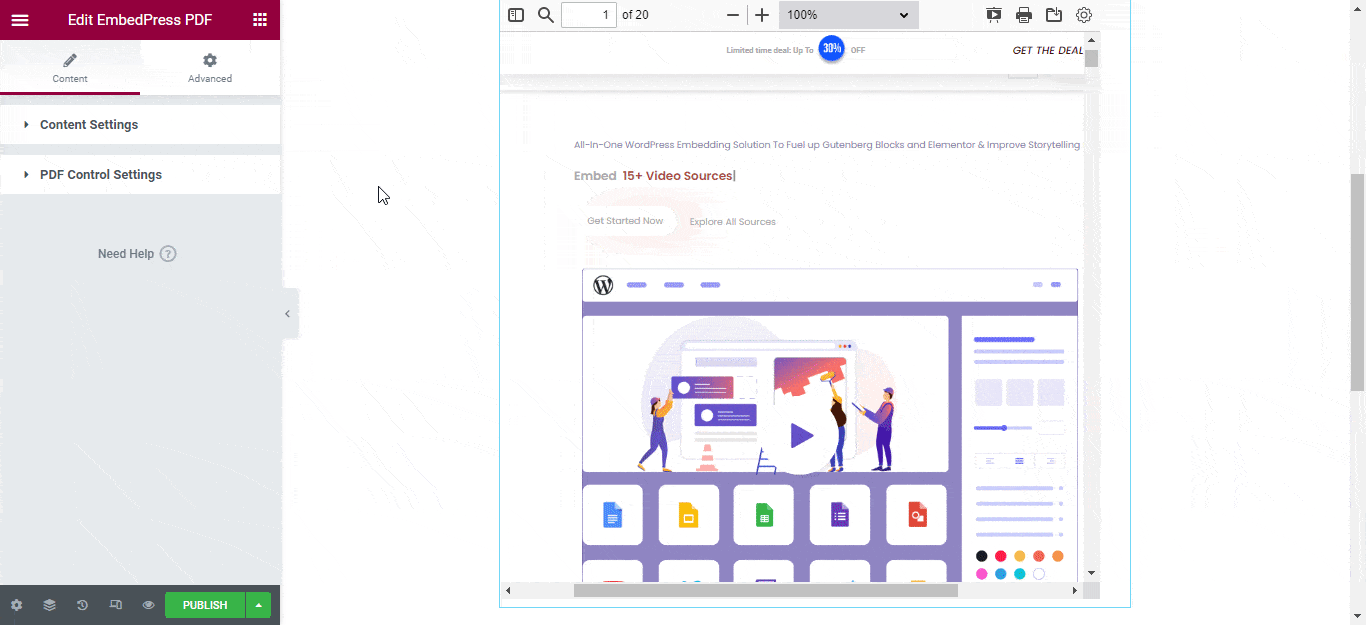 This is how you can easily embed PDF files in WordPress and Elementor editor without any complex process
One-Click PDF Embed In Classic Editor
You can easily embed PDFs in Classic Editor, Beaver Builder, Divi, Oxygen Builder, and all other popular page builders by using the EmbedPress plugin's exclusive Shortcode feature.
If you want to embed a PDF in Classic editor, you must first upload the PDF. Go to Media→ Add New from your WordPress dashboard. Then upload your PDF there; it will be uploaded instantly. Make sure the PDF is less than 300 MB in size.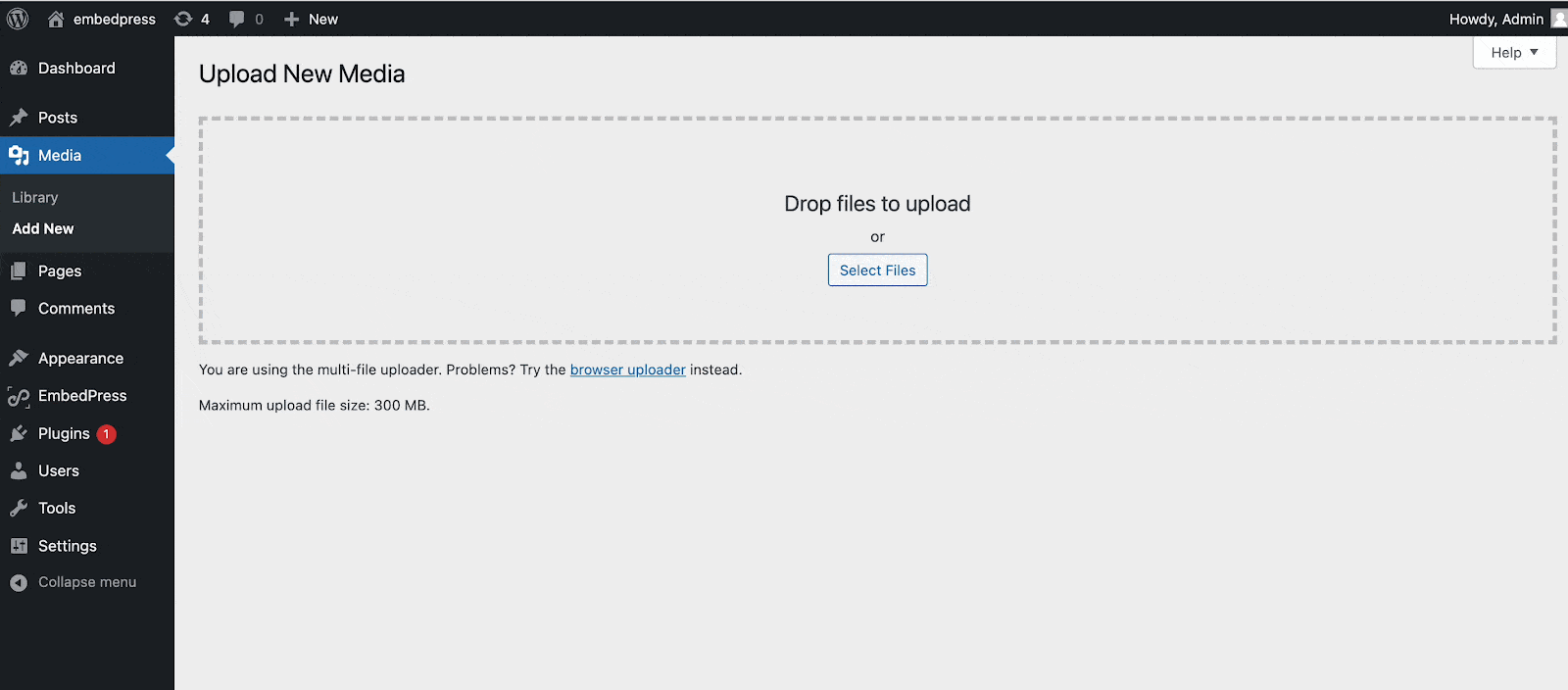 You now must obtain the PDF URL. After uploading the PDF, you will be able to copy the URL by clicking 'Copy URL To Clipboard.' Alternatively, from the Media tab, navigate to 'Library' and seamlessly copy the PDF URL.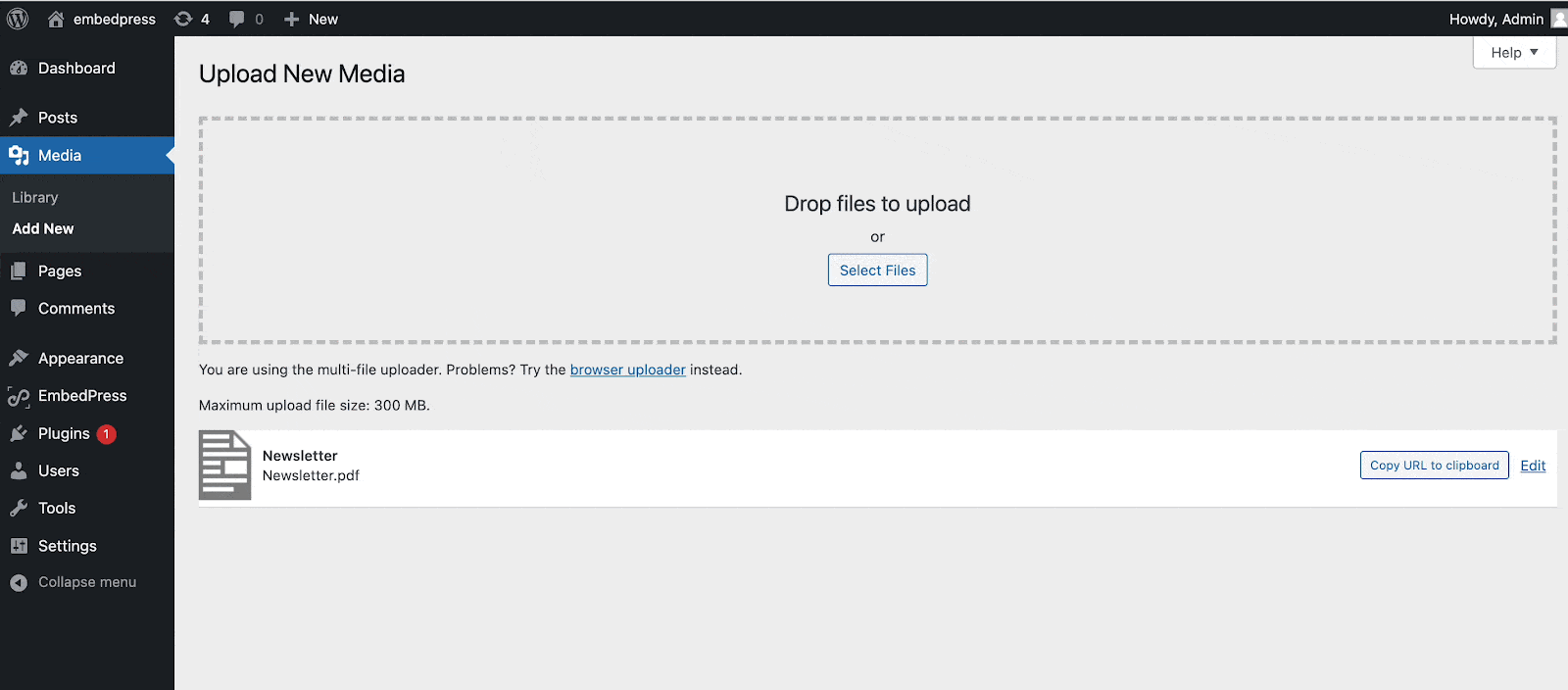 Now go to the EmbedPress tab. From there go to the General Shortcode from there. Paste your URL into the input box and press the 'Generate' button. The shortcode will then be generated instantly. To copy the shortcode, click the Copy icon.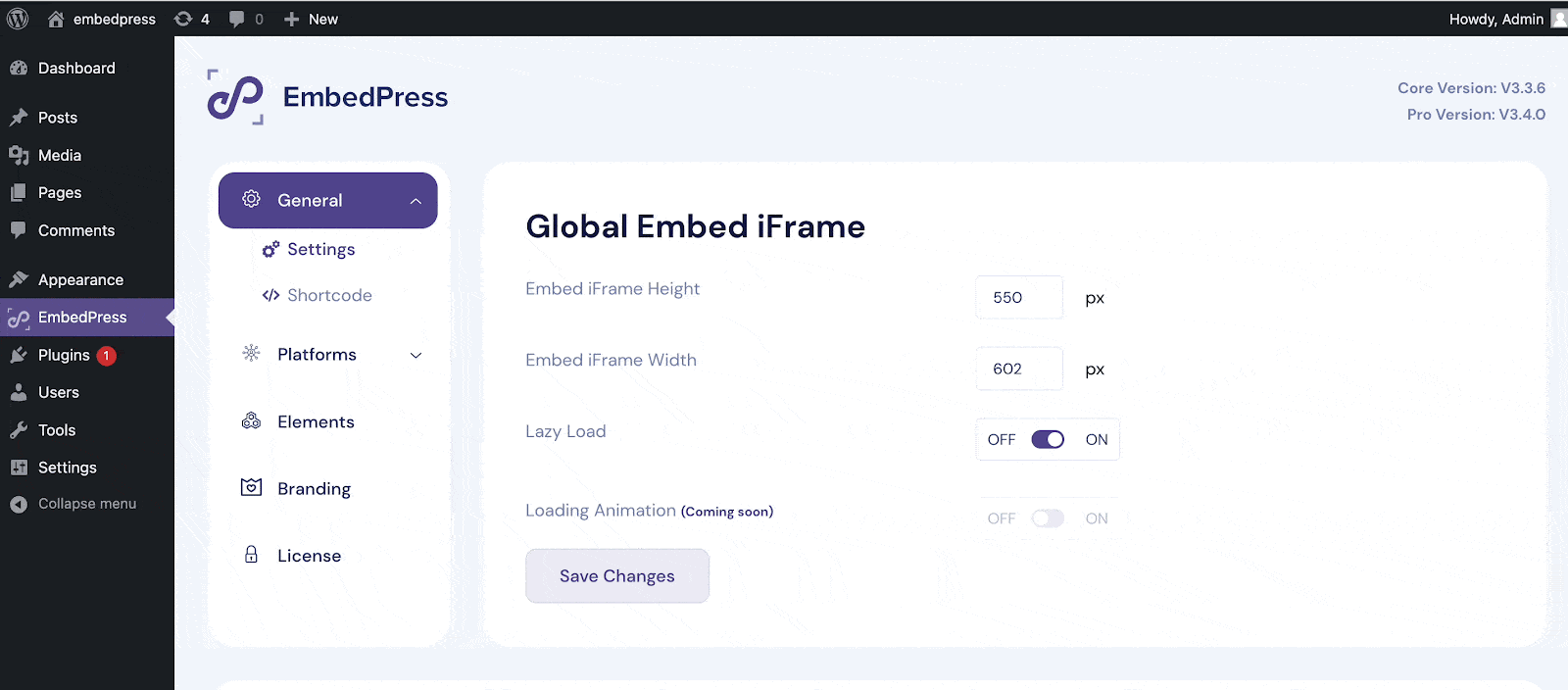 To embed PDF shortcode in Classic editor, open a new page or post on the Editor. Then embed the PDF shortcode there and publish the page. The PDF will be instantly embedded. This is how easily you can embed PDFs in Classic Editor, Divi, and other page builders.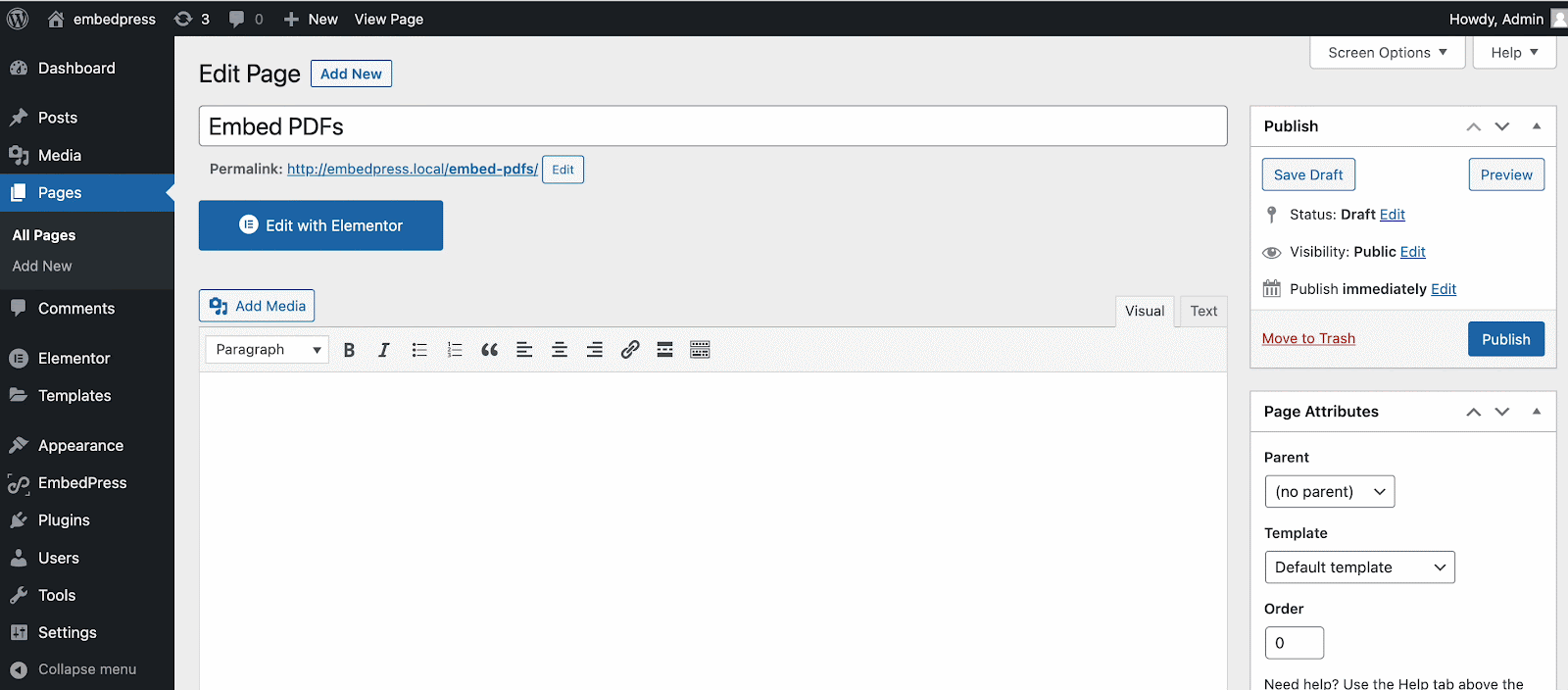 More Outstanding Features From EmbedPress
EmbedPress is a one-stop solution for embedding anything on your WordPress site. It could be a map, a high-quality image, a video, a podcast, GIPHY gifs, charts, or Google Drive documents. After installing EmbedPress, you will have the easiest way to simply paste the URL and embed whatever you want to showcase on your website.
Embed A YouTube Subscribe Button In WordPress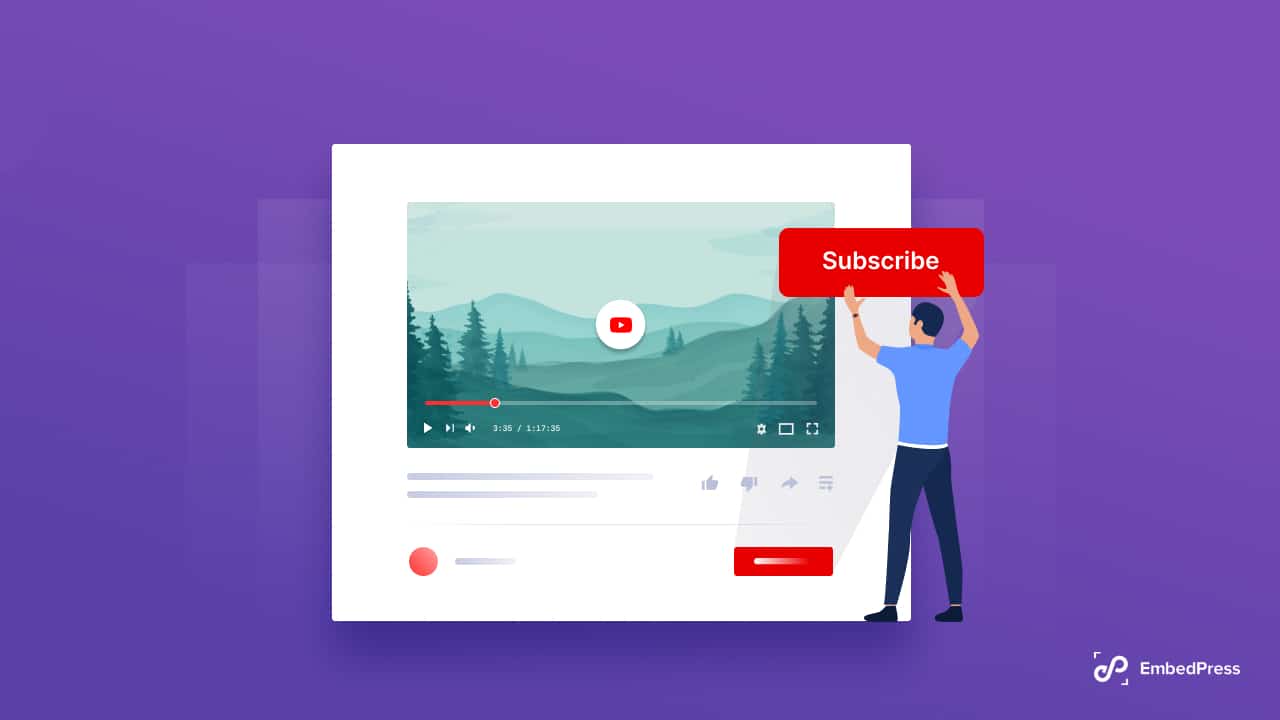 Given the fact that YouTube is the second most popular search engine, growing your YouTube channel could appear more difficult due to increased competition. Don't worry, there is a simple solution that can assist you in increasing the number of viewers and subscribers to your YouTube channel. You can embed a YouTube subscribe button on your website, allowing visitors to subscribe to your YouTube channel without leaving your site.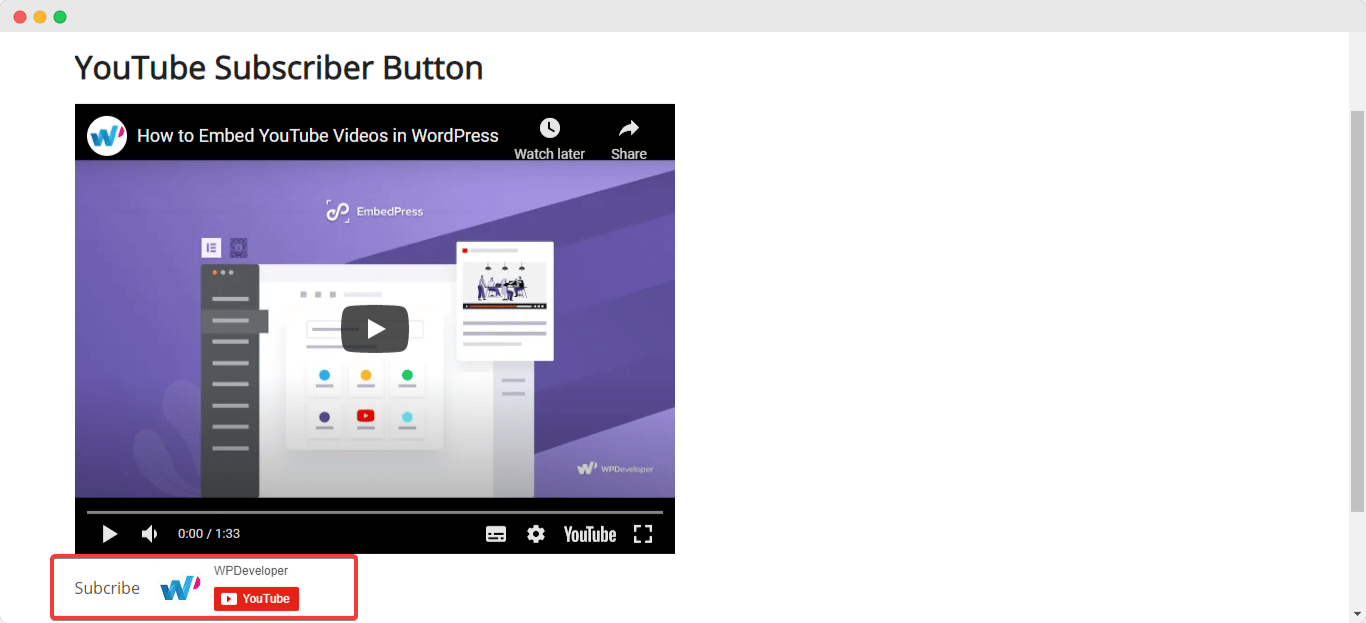 Easily Embed Twitch Live Stream With EmbedPress
If you regularly live stream on Twitch, you're probably interested in embedding a Twitch stream on your WordPress website. Follow this blog where you can easily embed a Twitch live stream on your website without coding with EmbedPress.
Want to find out more about what you can do with EmbedPress? Check out our list of 10 fun things you can embed in WordPress here.
Make Your Content Embedding Smoother With EmbedPress
Install the EmbedPress plugin to make embedding PDF files in Elementor, block editor, or Classic editor easier than ever. To improve the user experience, we recommend that you include visually appealing content when tailoring your website. EmbedPress has removed all restrictions on embedding content, giving you complete freedom.
If you have liked this blog, then subscribe to our blog page for more similar content and join our super-friendly Facebook community to get updated with upcoming releases.