Are you looking for more flexibility in embedding YouTube Channel and PDF files on your website? From now on, with the latest EmbedPress v3.5.2 update, you can now get more improved Youtube channel and PDF embeds for WordPress! Let's dive in and see what's new.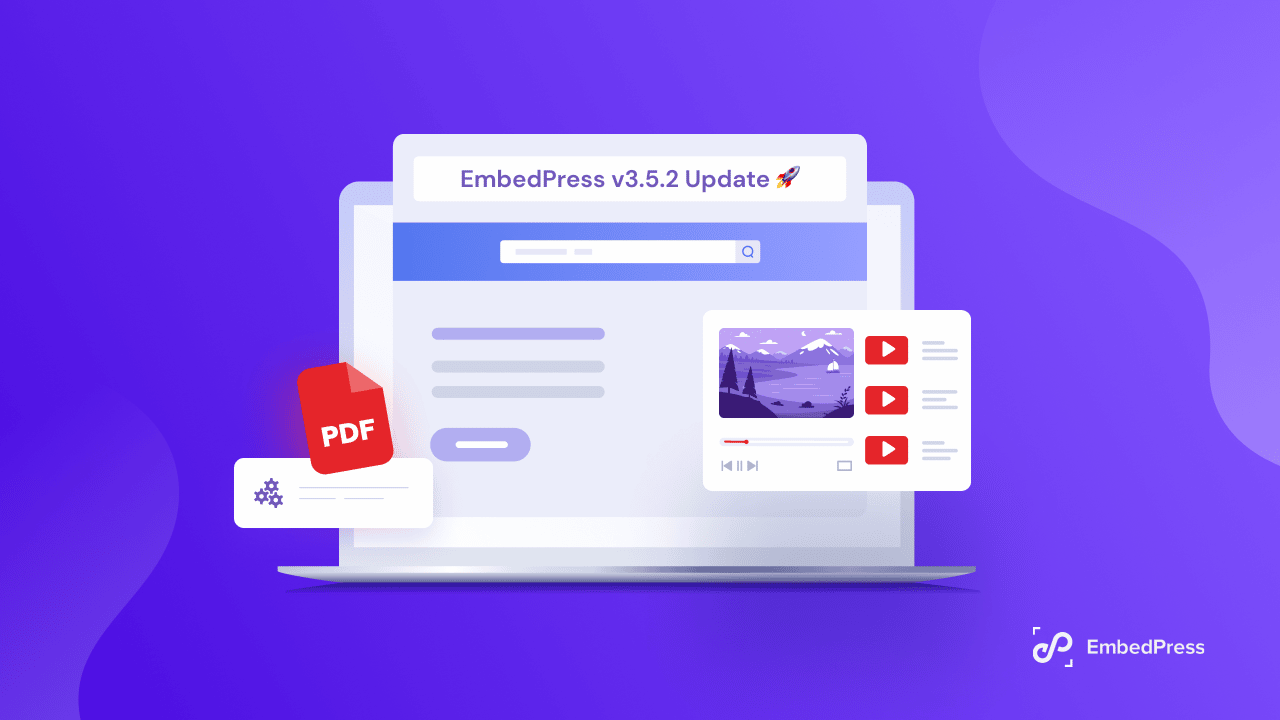 💡 What's New With EmbedPress v3.5.2 Update
EmbedPress comes with an amazing embedding solution to enhance your storytelling and make interactive content without a single line of code. So far, EmbedPress has more than 150+ embedding sources for creating the most engaging content on your website.
With all the love we get from our users for helping them add any content on their website with versatile sources, we feel bound to improve the functionality and add more control over the embeds. That is why with EmbedPress v3.5.2 update, we came up with the following updates: 
📺 New Controls For YouTube Channel Embed
You can now arrange your YouTube Channel video in columns
You will be able to adjust the gap between the videos
Add pagination to enhance your user experience
📁 More Flexibility On PDF Embeds For WordPress
Display Toolbar for enhancing control options
Let your visitors print or download your PDF embeds
Enable or disable the text copying option
Enable the Presentation Mode on your PDF embeds
Let your users Rotate the PDF file
Showcase your Document Properties
🎬 Easily Add Pagination & Columns On YouTube Channel Embeds
Embedding YouTube channels offers amazing advantages for any content creator. You can easily reduce your bounce rate, enhance your user engagement, and even increase your subscriber count. Since releasing EmbedPress v3.5.0, you can embed Youtube channel on your website with just a single click. Now you have even more freedom while you are embedding any YouTube channel to your website, by adding advanced pagination, columns and more to your Youtube channel embeds. 
⚙️ How To Add Pagination & Columns To Your Youtube Channel?
Now, let's have a look at how to seamlessly embed YouTube channel on website and apply the new functionalities to enhance your user experience with the newly updated EmbedPress.
Open the page where you want to embed the YouTube channel. Hit the '+' icon and find the 'EmbedPress' block. Now, paste your Youtube channel URL there and hit the 'Embed' button. Instantly your Youtube channel will be embedded on your website.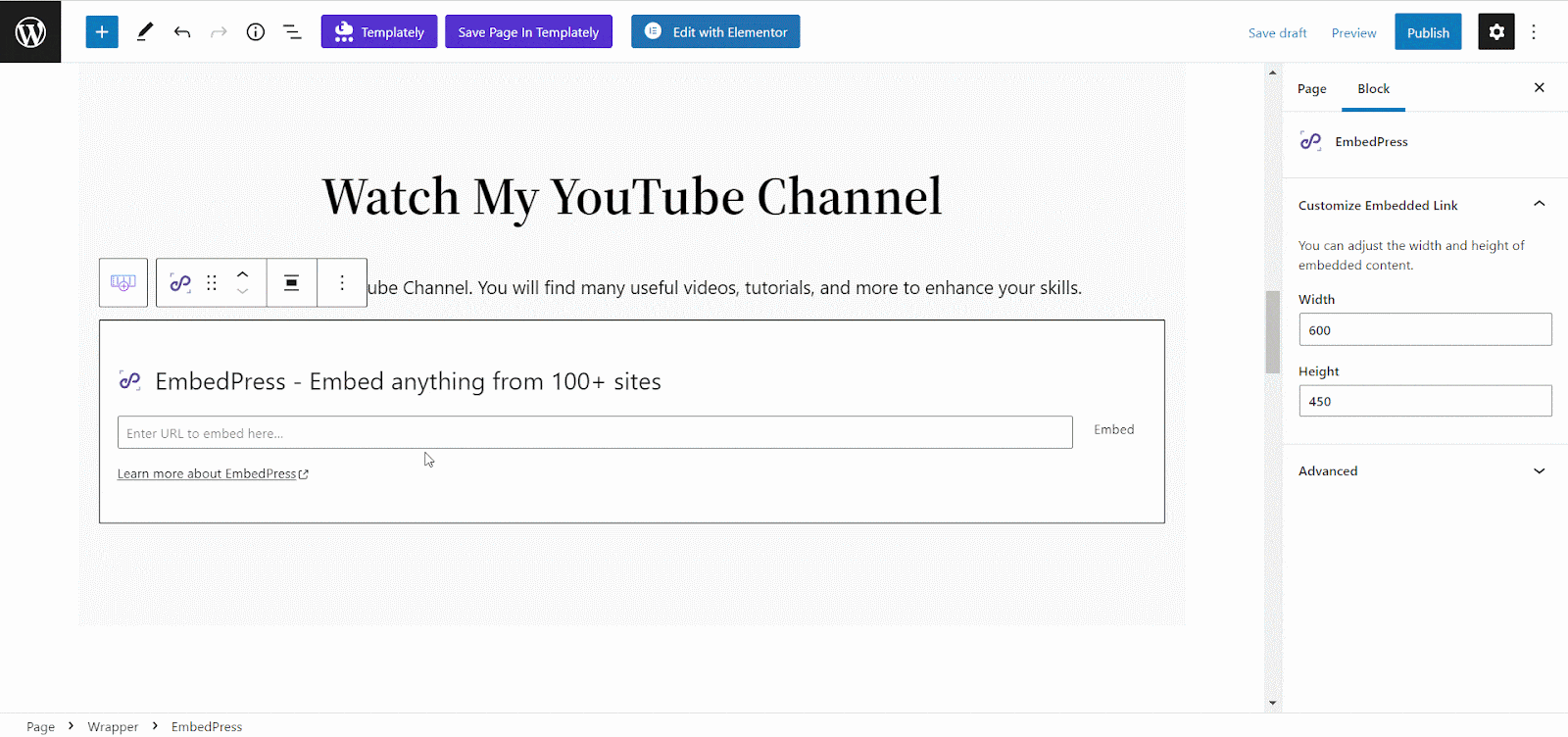 Now, adjust the dimensions of your YouTube channel embed, and set how many videos you want to display on a single page from the side panel of the editor.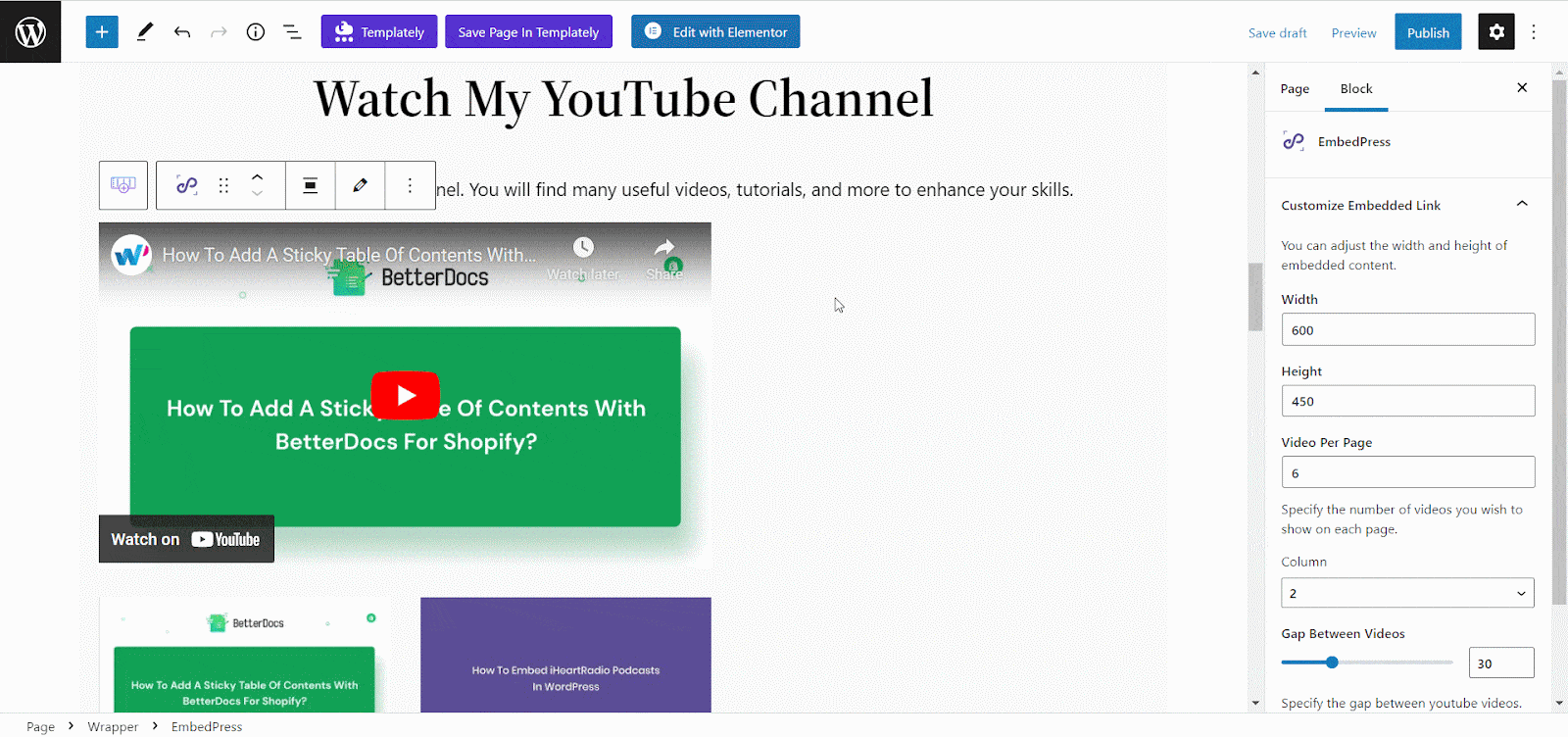 Now, with the brand new feature, select the columns and adjust the gap between videos to sync the embed with your web page. Then, toggle on or off the 'Pagination' option to show or hide the new pagination feature on your WordPress website.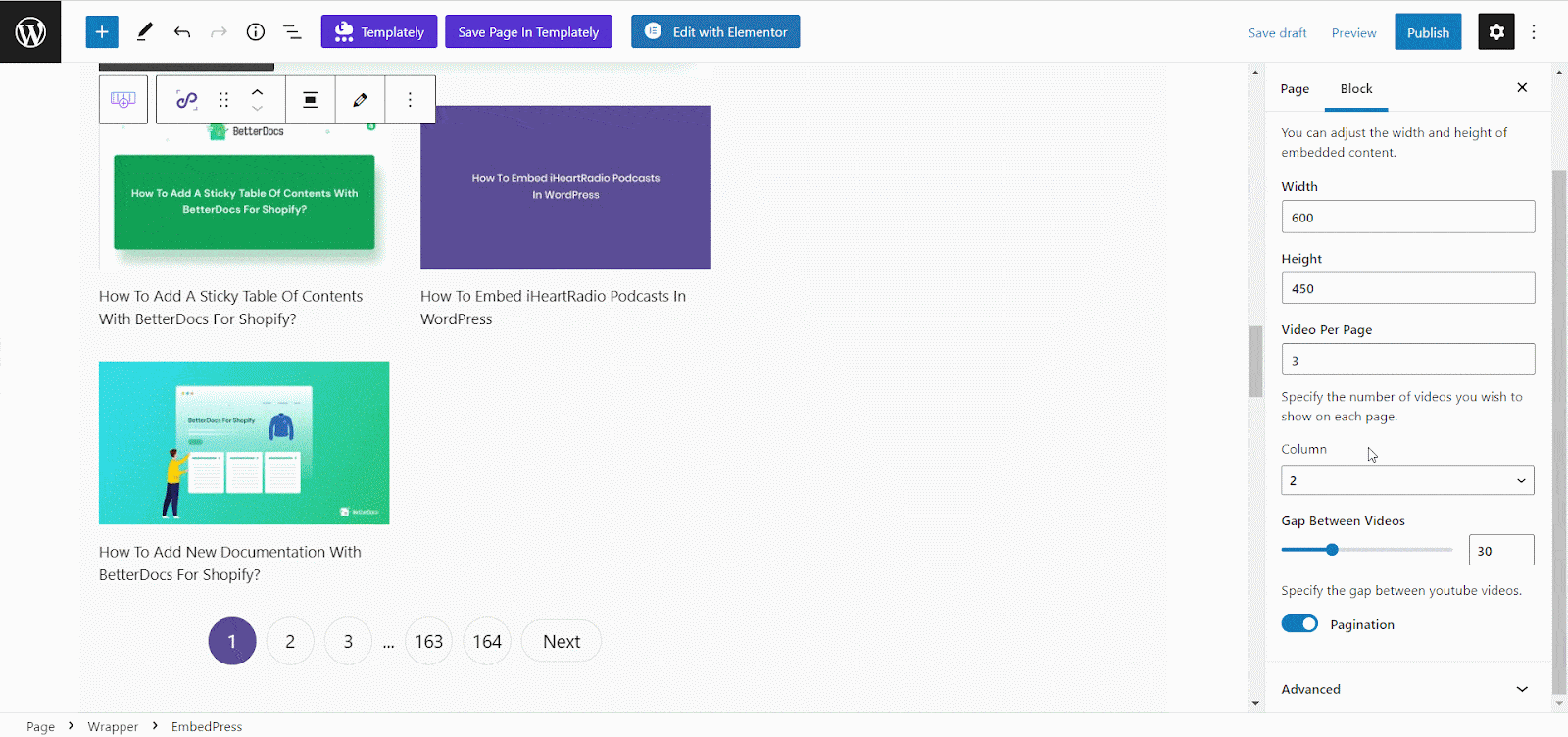 Now, click on the 'Publish/Update' button to make the changes live on your website. From now on, you can enhance the user experience of your website by using these new features. Check out this documentation to learn how to embed YouTube channel on website with other editors. See how organized the YouTube channel embeds look now.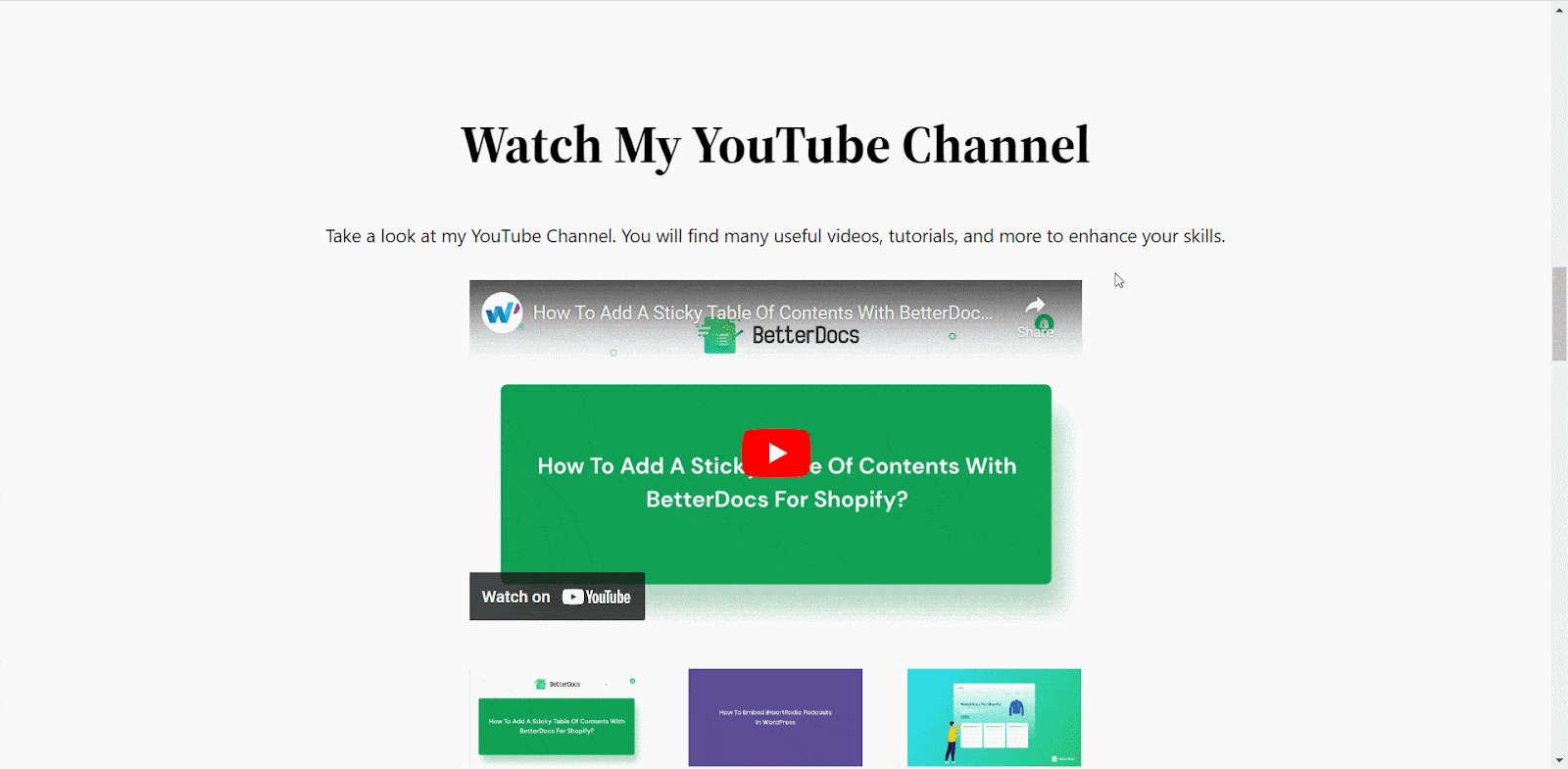 📁 Display Toolbar With Exclusive Features On Your PDF Embeds
Similar to YouTube embedding, with EmbedPress's new update, you can take more control over your PDF embeds and enhance the user experience. Previously, a user could adjust the aspect ratio of the PDF embeds on their website, however, with new updates they can even do more.
⚙️ How To Display Toolbar For PDF Embeds In WordPress?
Now, let's apply the new functionality and see how cooler the PDF embeds become after embedding on a website.
Open a page in the default WordPress editor, and click on the '+' icon. Find the 'EmbedPress PDF' block and insert it on your website. Now, hit the 'Media Library' button and select the PDF which will be automatically uploaded to your website.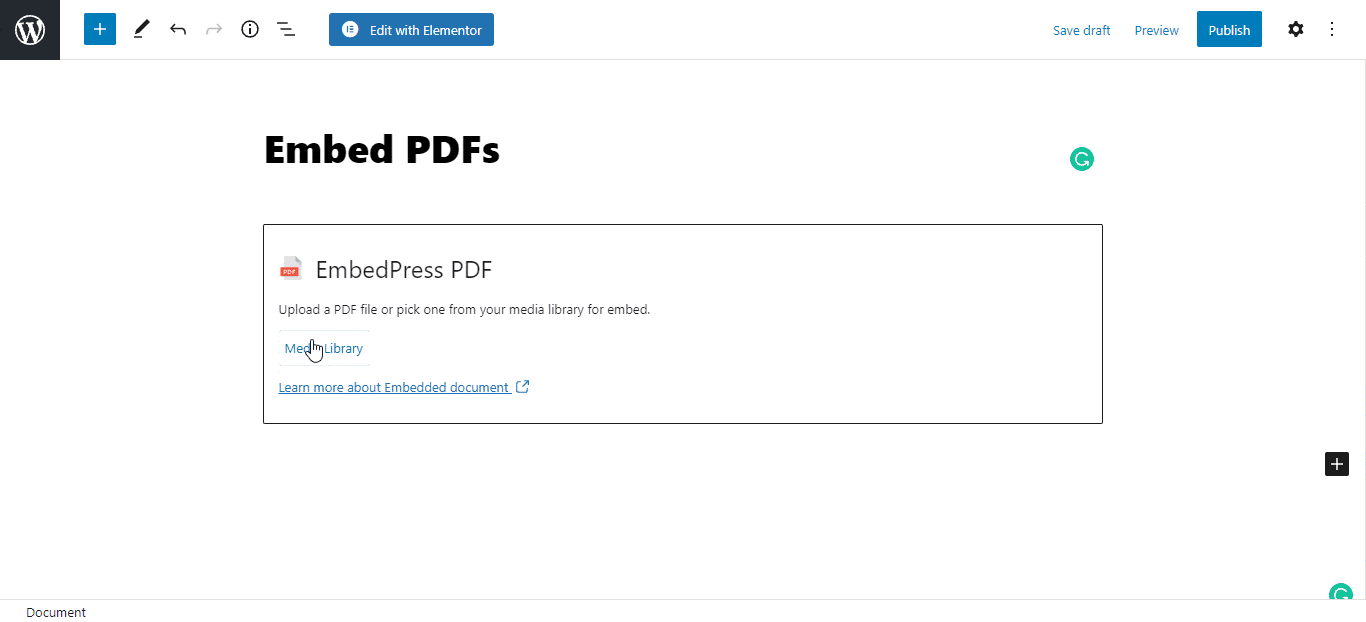 Now, adjust the embed size from the side panel by reducing or increasing the Width and Height. These functionalities were previously available on EmbedPress.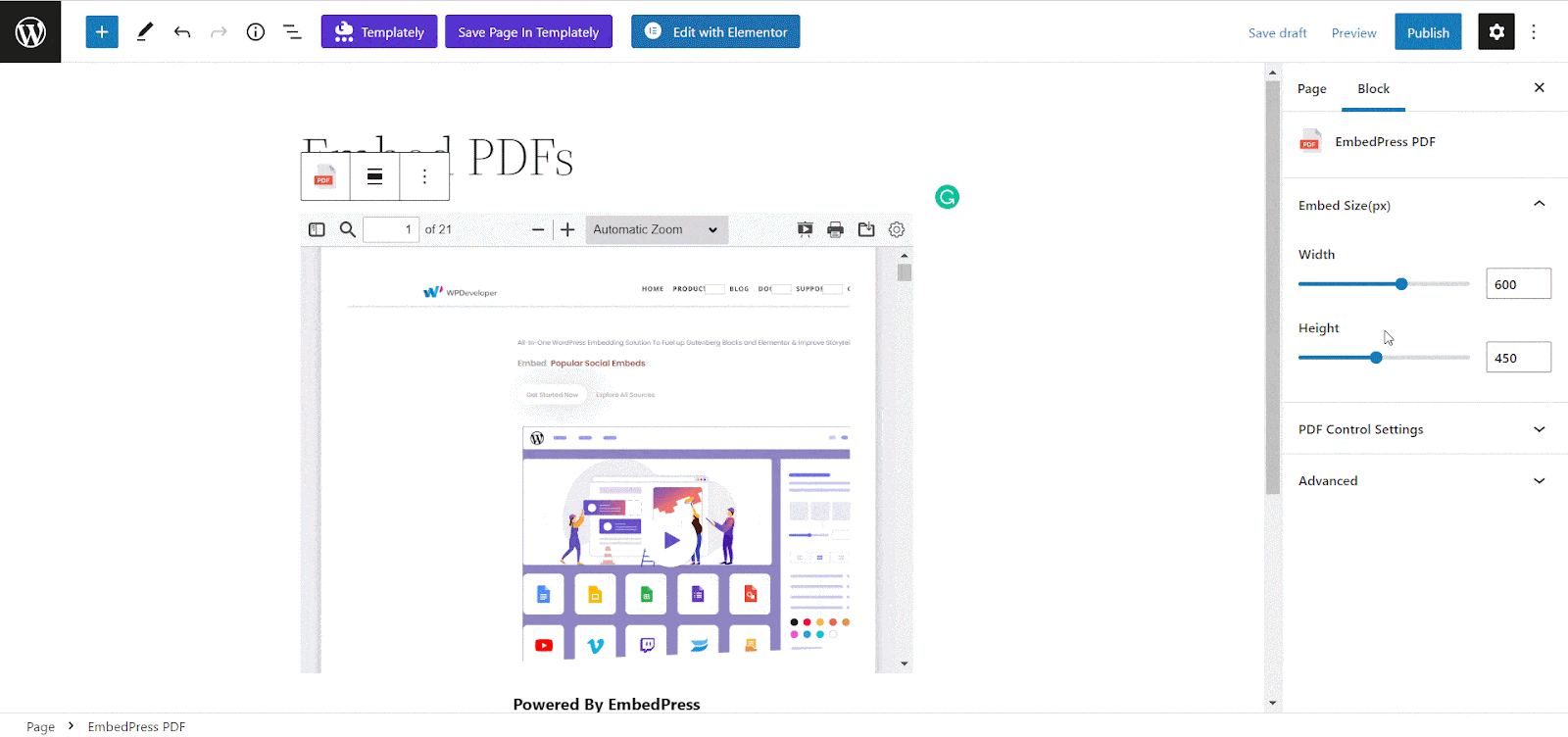 Now, from the newly added 'PDF Control Settings' option, you can enable the toolbar option and place it on the top or button of the embed. Besides, you can enable Presentation mode, Print/Download, Copy Text, Rotation, Properties, and Powered By options from there.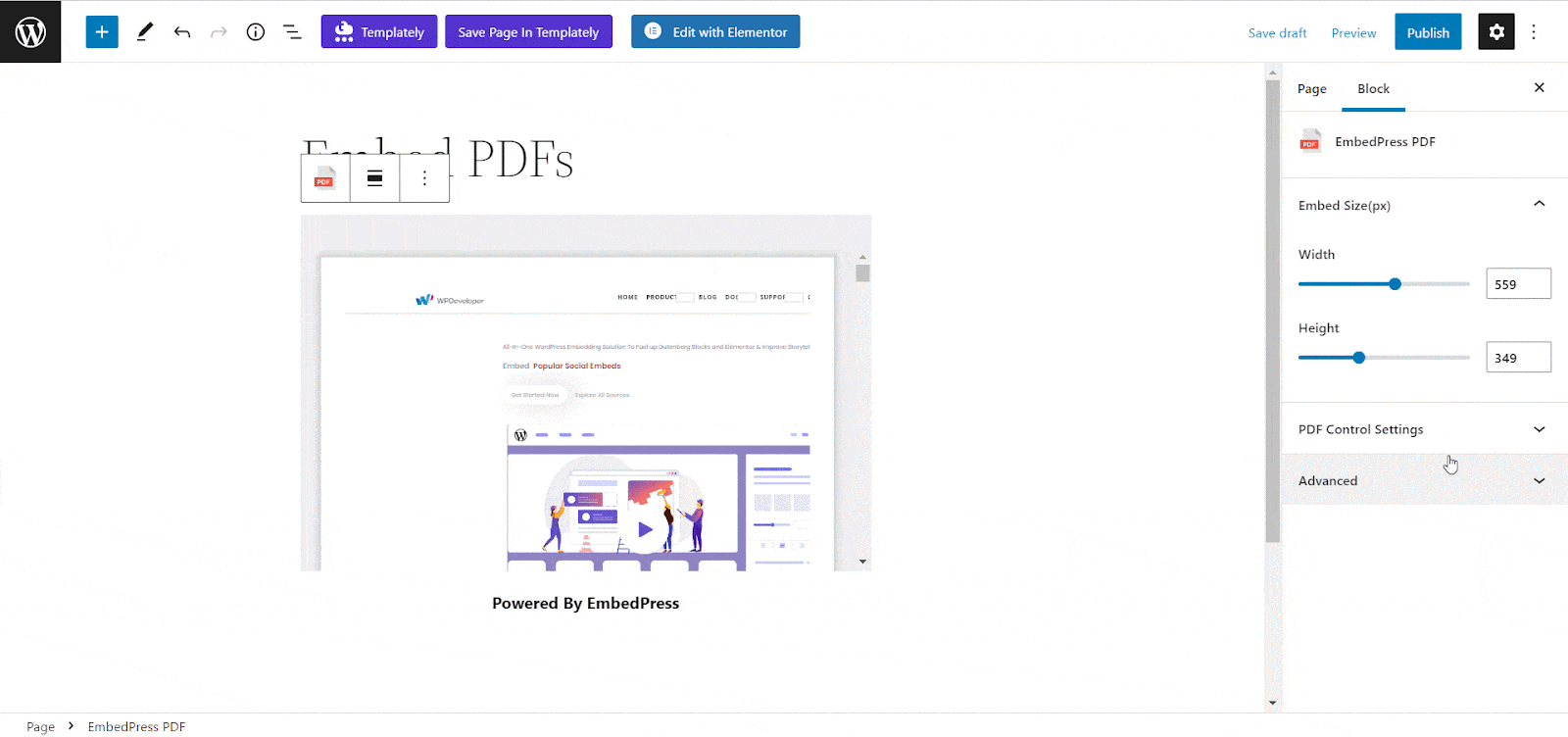 Now, click on the 'Publish/Update' button to bring the PDF to embed live on your website. You can also check out this documentation to learn to embed and control your PDF embed on your website with other editors. Check out the newly added features on a live website: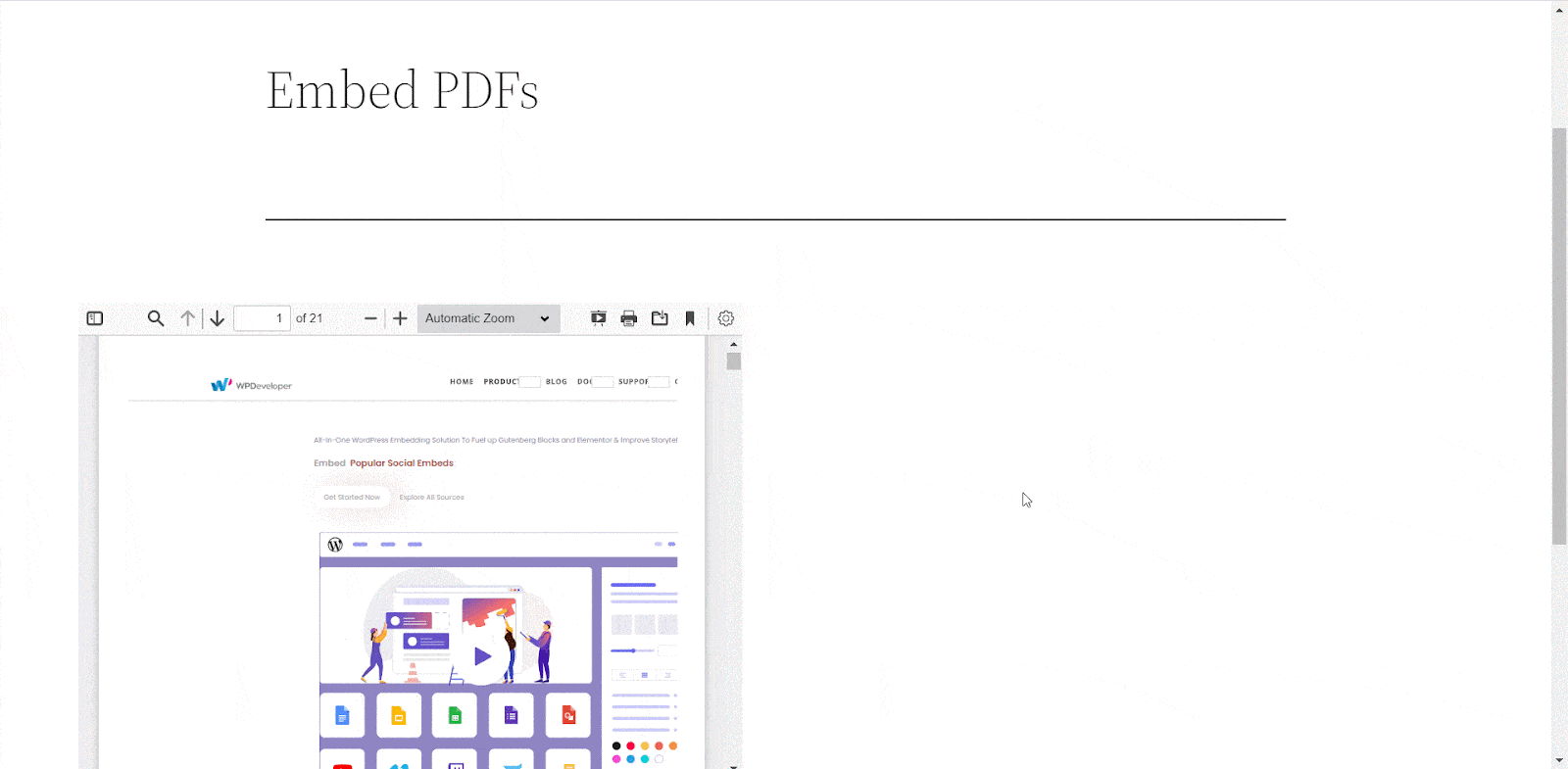 ⚡ Enhance Your User Engagement & Experience By Updating To EmbedPress v3.5.2
The new EmbedPress v.3.5.2 brings more flexibility over PDF and YouTube Channel embedding. From now on you can enjoy controlling your PDF and YouTube channel embeds and providing a better user experience to your visitors. So, don't wait anymore, update EmbedPress to the latest version or install or activate EmbedPress on your website if you haven't yet. 

Have you found this blog useful? If you do then please subscribe to our blog for tutorials, updates, guides, and more. Also, don't forget or join our friendly Facebook community.