Facebook is the largest social media platform on the internet, and people frequently use it as a personal interaction platform. If you want to display social engagements with photos to make your WordPress website more lively, choosing to embed Facebook albums can help.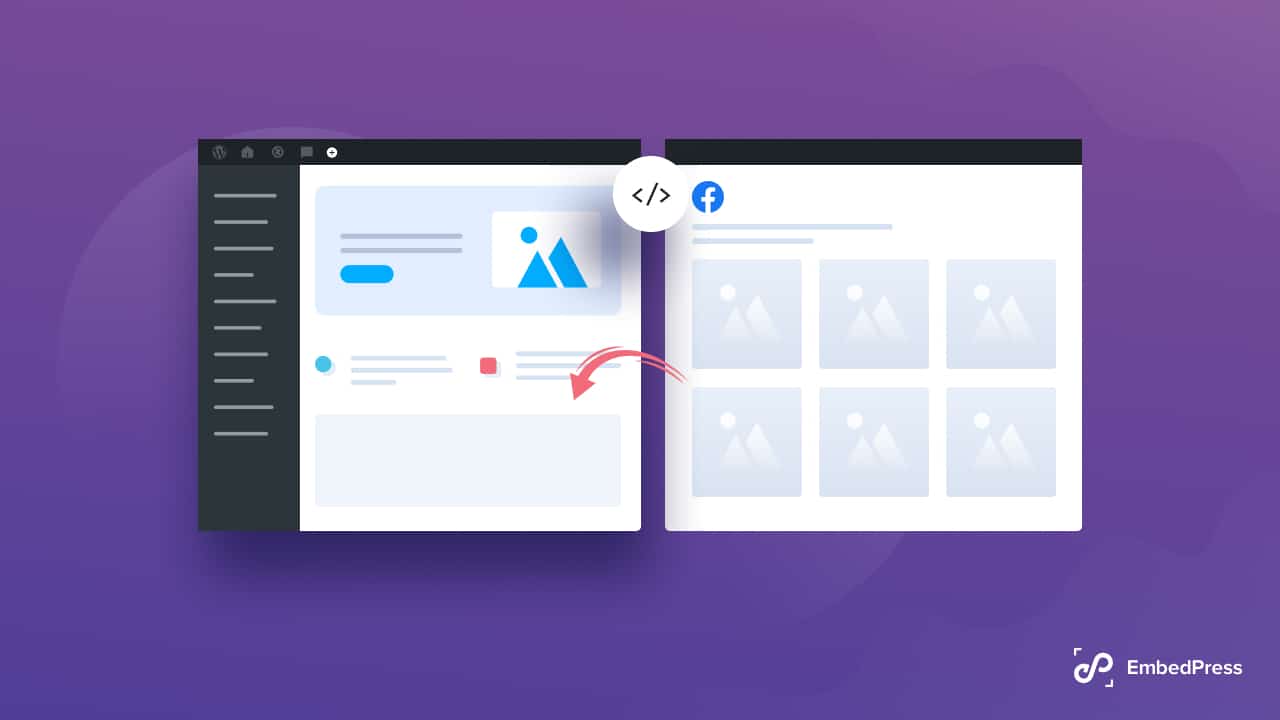 When you run a business through websites and a Facebook business profile, you can embed Facebook feeds to showcase your company, lifestyle, events, and business activities. Now, are you wondering how to embed Facebook albums on websites? Just keep reading.
🤔 Embed Facebook Albums: How Does It Benefit Your Website?
Images are crucial in capturing your audience's and customers' attention on web platforms. They are more effective than text in drawing site visitors. Due to a large amount of visual content, Facebook posts have become the most important way for marketers to reach new customers.
You might want to customize and embed Facebook photos on websites for a number of reasons. Let's look at some of those.
🌟 When you embed Facebook albums on WordPress websites, you can make people more interested in your words. Photo albums are easy for people to look at and interact with without leaving your website. Thus, your website engagement will grow faster.
🌟 Once you embed Facebook feeds on your website, it will also help promote your Facebook page. Your website visitors may click through to your Facebook page to see more photos, which can help increase your page likes and followers.
🌟 When you embed Facebook albums on websites, you can host the photos on Facebook's servers instead of your own. This saves your server's space and reduces the bandwidth you use.
🌟 You can save the time and effort that would have been spent creating and uploading photos to your website by choosing to embed Facebook photos on the website.
🌟 It helps streamline your content management process when you embed Facebook albums on WordPress websites. Instead of managing photos in two separate places, you can manage them all in one place.
🌟 Facebook has many ways to manage and show off photo albums, such as tagging people and adding captions. You can use these features by putting links to your Facebook photo albums on your website without making them yourself.
So, now you know how embedding your Facebook photo albums can be a good way to increase engagement, promote your Facebook page, save time, make content management easier, and use Facebook's features.
💡 Ways To Embed Facebook Albums In WordPress
Embedding Facebook photo albums was formerly a built-in feature of WordPress. Earlier, you could embed Facebook feeds like YouTube videos in WordPress by simply copying and pasting the URL.
But Facebook and Instagram frequently modified their application programming interfaces (APIs). So, WordPress has stopped supporting the oEmbed feature for Facebook and Instagram. However, using a plugin like EmbedPress, there is a way to fix Facebook oEmbed in WordPress.
However, you will have two ways to embed Facebook albums in WordPress. Let's discuss them.
Method 1: Using A Custom Code
Facebook albums provide the ready embed code for its users. You can easily copy the code and paste it into your website content. The benefit of using embed code is that you don't have to use an extra plugin. But you need to know about HTML coding to embed Facebook albums.
Method 2: Using A WordPress Embed Plugin
Another way to embed sources into your WordPress website is by using embedding plugins. There are many WordPress plugins available to embed multiple contents. And among all the embedding plugins, EmbedPress is now the most popular plugin available in WordPress, with 70,000+ users.
🎉 EmbedPress: The All-In-One Embedding Plugin To Embed Facebook Albums In WordPress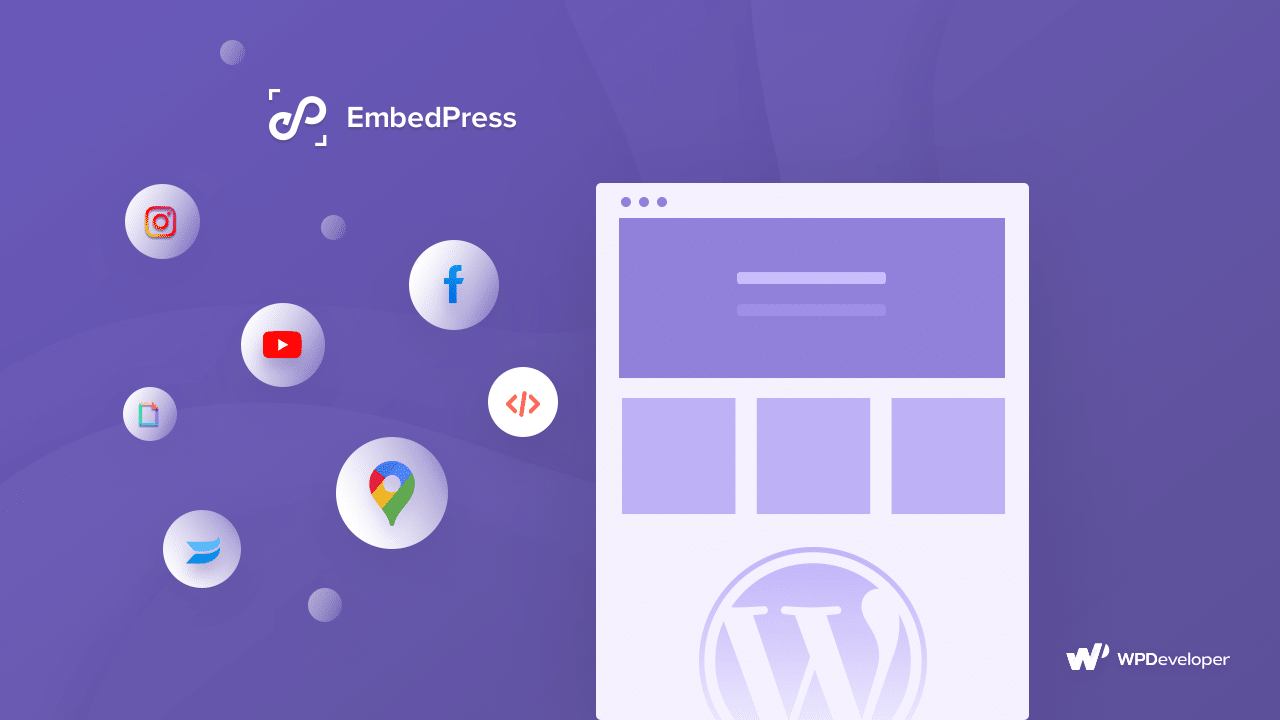 From images, videos to PDF, and live streaming sites, you can embed 150+ sources seamlessly with EmbedPress. Let's find out why you should choose EmbedPress to embed Facebook albums:
⭐ To embed Facebook albums on websites, EmbedPress brings the ultimate ease, which takes less than a minute. You can easily embed Facebook albums in one click.
⭐ Along with the option to embed Facebook feeds, you can embed a complete album with EmbedPress. This way, your site visitors can easily check out your other videos without leaving your site. It will help you to reduce the bounce rate as well.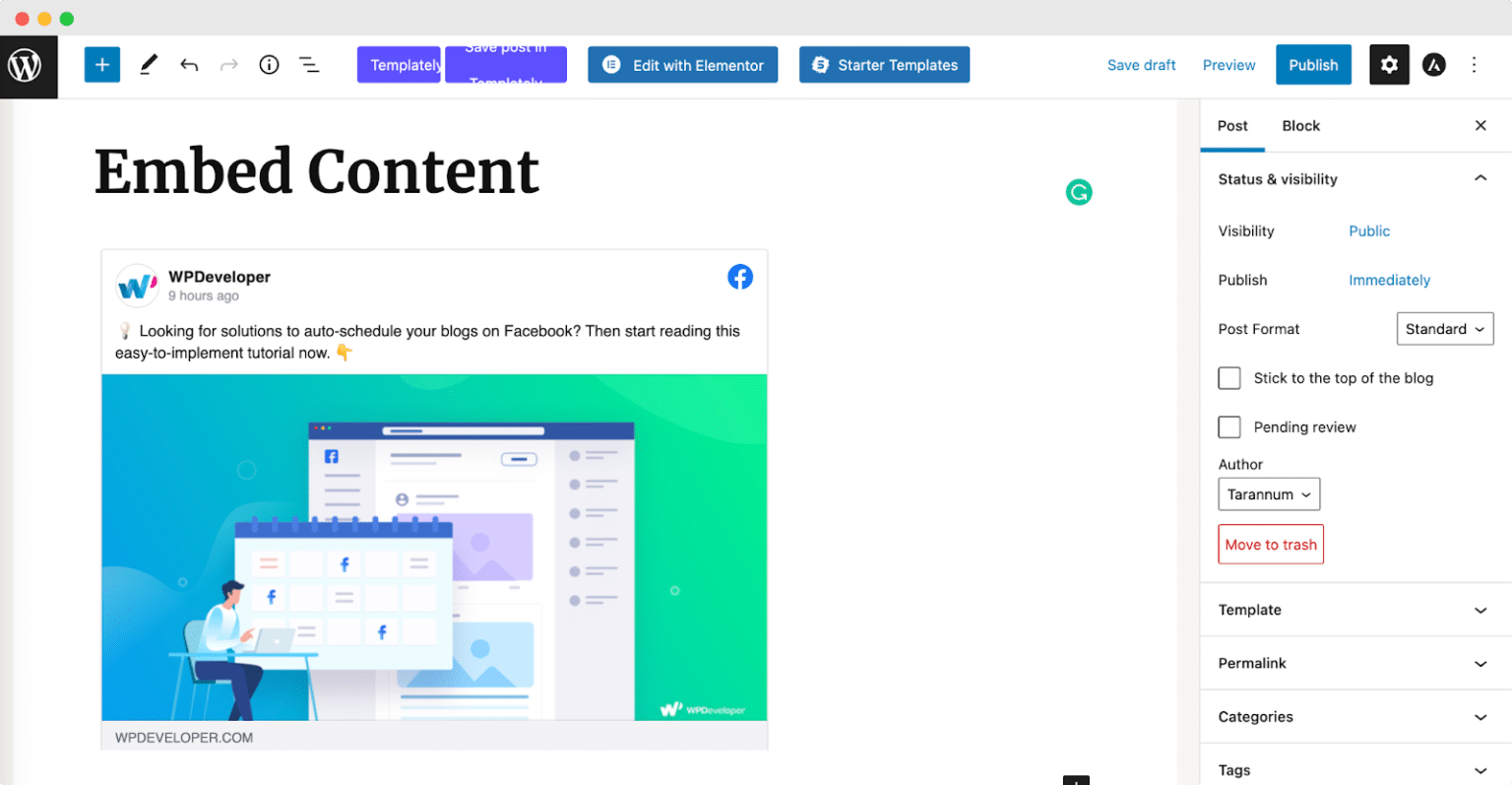 ⭐ It does not matter if your WordPress site is built with Gutenberg, Elementor, or Classic Editor. You can easily embed Facebook live streams in any of these editors. As a bonus, you can embed your Facebook live stream using shortcodes using other page builders like Divi or Beaver Builder.
⭐ Another exclusive feature of the EmbedPress WordPress embedding plugin is that you can represent your embedded content in multiple languages. EmbedPress is now seamlessly compatible with WPML. So you can easily translate your site into the required languages.
♾️ How To Embed Facebook Albums In Gutenberg Editor
If you want to embed Facebook albums on WordPress websites using the Gutenberg editor, it will take a few seconds. Here's how you can do that.
First, you must ensure you have the EmbedPress plugin installed and activated on your WordPress website.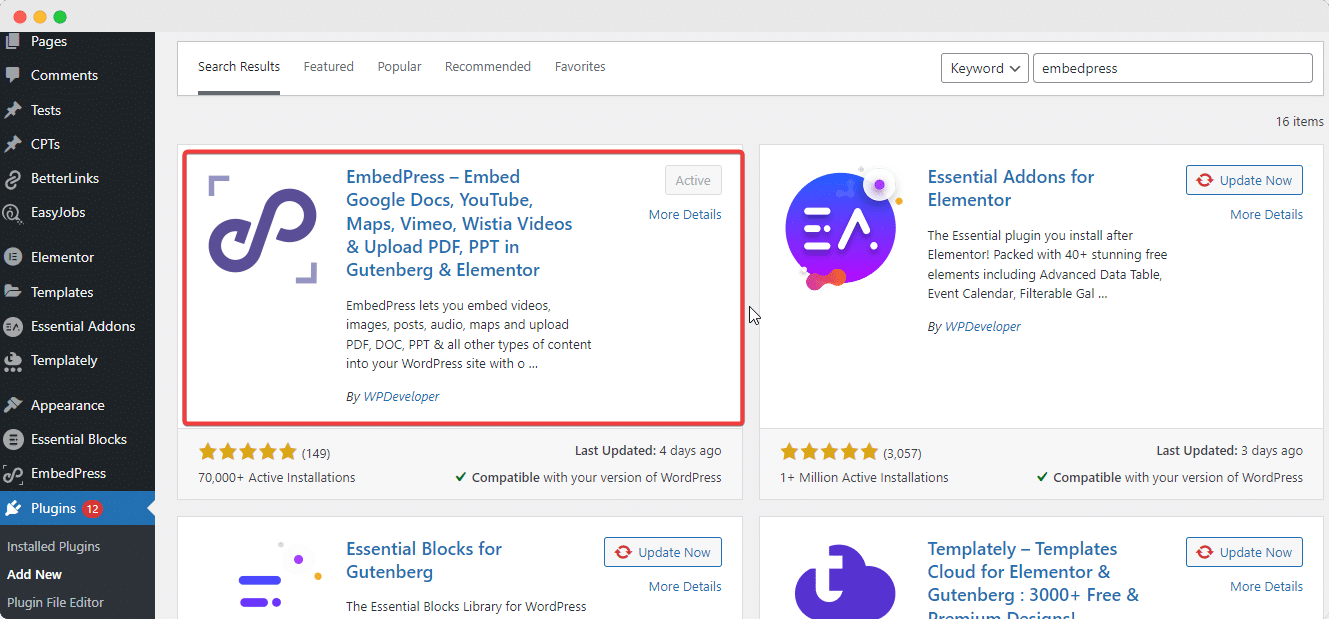 Now, from your WordPress dashboard, open the page where you want to embed Facebook photo albums. Click the '+' icon to add blocks and search for EmbedPress. Click on the EmbedPress block to insert it on the page.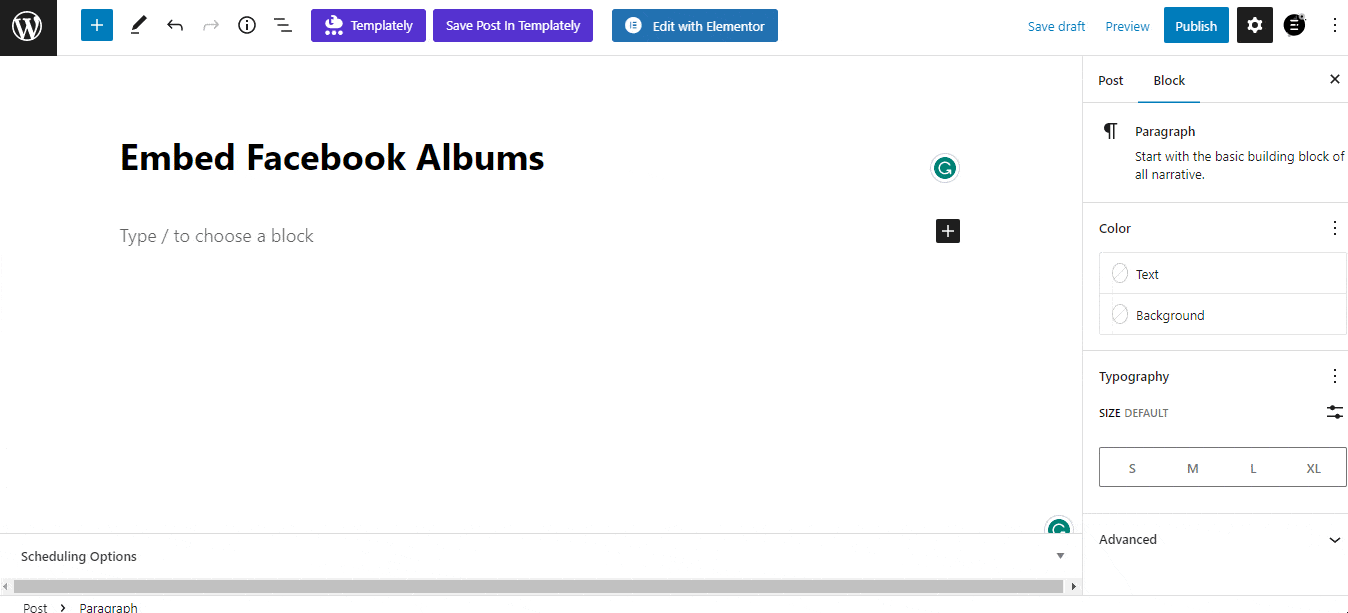 Afterward, copy your Facebook album URL, paste the collected link on the input field, and click on the 'Embed' button beside the URL field. The album will be successfully embedded using Gutenberg.
You can also style your embedded source from the right panel and publish the page. This is how easily you can embed Facebook photos in the Gutenberg editor.
♾️ Embed Facebook Albums In Elementor
Elementor is the most popular drag & drop website builder with five million+ active users. You can easily embed Facebook albums on websites using the Elementor website builder.
First, install and activate the Elementor plugin in the dashboard. Now that you have Elementor installed, open a page or post from the WordPress dashboard and hit the 'Edit with Elementor' button on the top of your WordPress page.
Then it will take you to the Elementor edit panel. Search for the 'EmbedPress' widget on the widget panel, then drag and drop the widget or click on your page.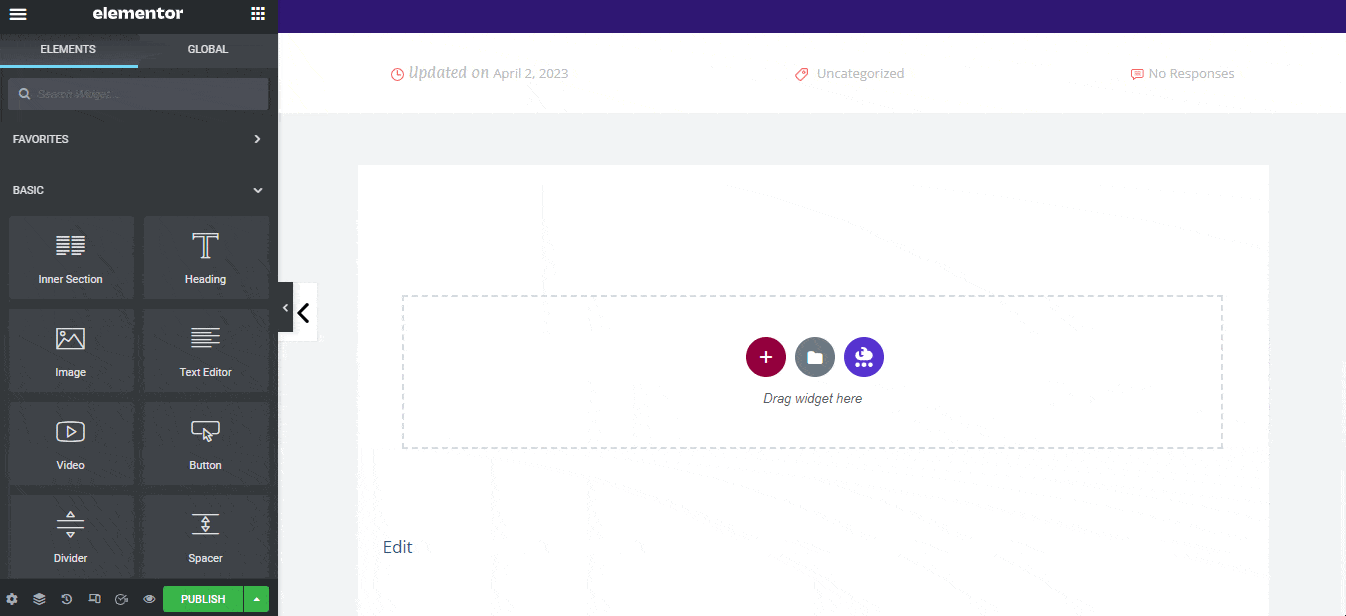 Next, copy and paste the Facebook album URL you just collected into the input field of the 'Content Settings.' It will automatically fetch and embed your Facebook photo album into Elementor Editor.
You can edit your Facebook album embeds in a more visually appealing way based on the design of your website. Simply click on the 'Style' tab. You can change the 'Aspect Ratio' of your embedded content. Tweak and turn all options available in background colors and 'CSS Filters' to fit them more neatly into your website.
💡 5 Tips to Grow Engagement On Your WordPress Website
Your WordPress website's success depends entirely on the traffic you get daily and, more importantly, on your ability to keep them engaged on your website.
Therefore, you must develop website user engagement strategies to boost visitors' growth rate on your WordPress site. The following are tips to help you drive user engagement on your website.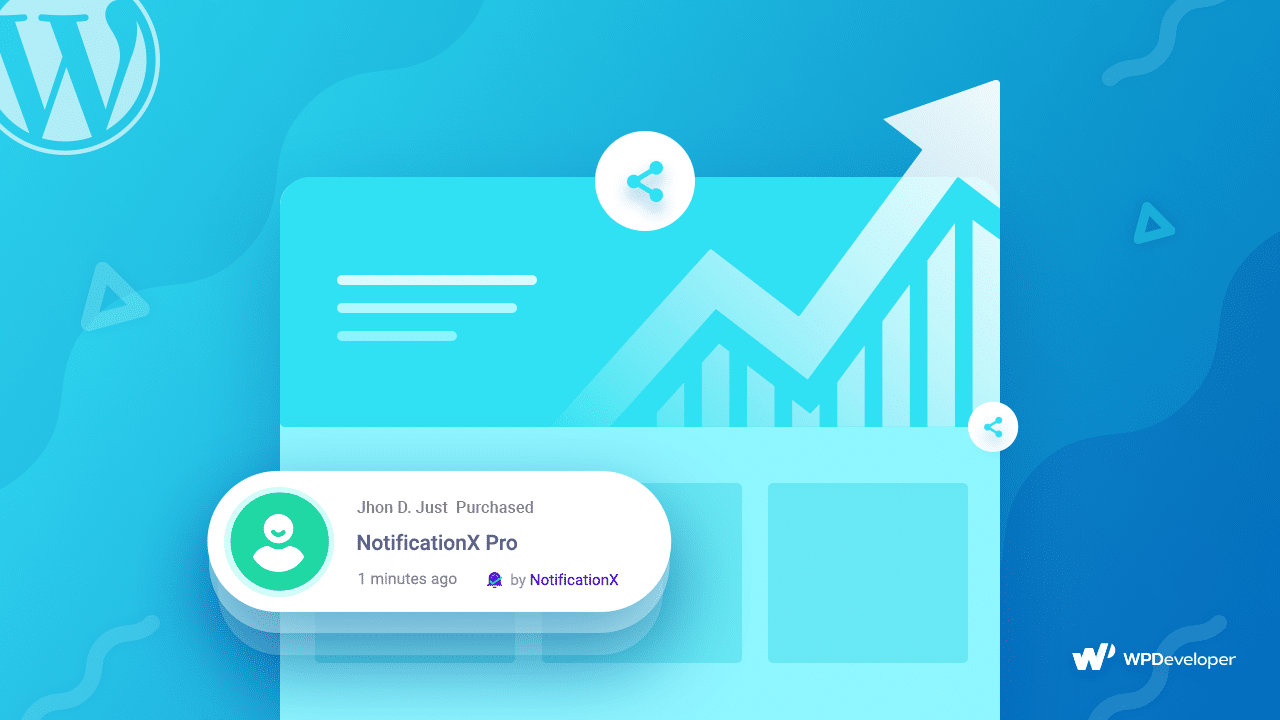 🌟 Prioritize Your Target Audience
Understanding your target audience is the most crucial step towards ensuring you have high engagement on your site. When designing and implementing the goals of your WordPress site, ensure you consider your target audience's needs and preferences.
For example, when creating SEO-friendly content for your site and choosing keywords, you should research and think about what your target audience likes and make sure you include them in your content and keyword choices. If your WordPress site targets older people, the tone of the content you create for them should greatly differ from that you would use for the youth.
🌟 Focus On Regular Feedback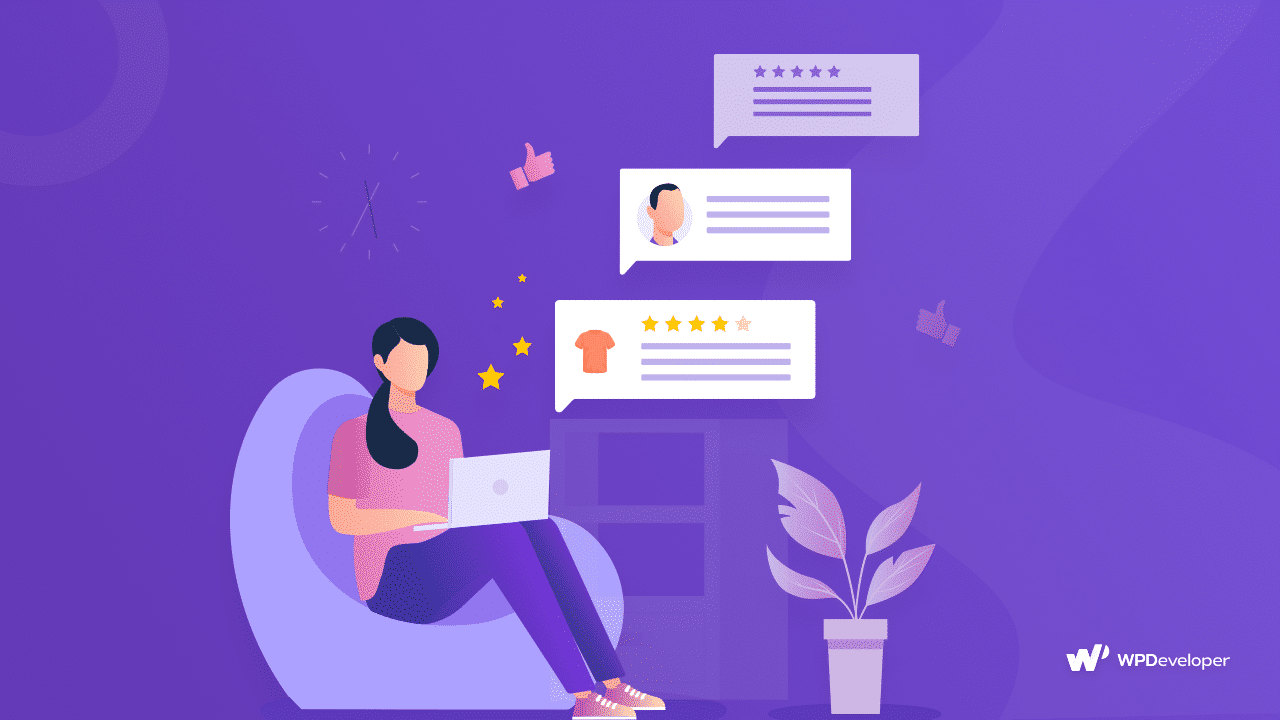 You must actively engage with your website users as an online WordPress site owner. It can be discouraging if you post a question or comment on your website and fail to give feedback when users respond to your question or comment.
Visitors to your site would love it when you give prompt feedback on their responses or comments. Also, brace yourself accordingly because not every visitor to your website can be friendly or kind. Handle such individuals courteously.
🌟 Make Internal Links And Navigation Simple
When designing your WordPress site, ensure the navigation is straightforward for users to follow the links. For example, if you create an internal link to a specific product and link it to a webpage demonstrating how to use it, you should direct the visitors to such blog posts that develop interest among them.
Plus, you must link the relevant posts and websites. Also, check and update the links regularly to avoid broken links.
🌟 Enhance The User Experience
Website speed is essential to drive user engagement on your WordPress site. If, for instance, the webpages of your site are loading slowly, you can be guaranteed that a visitor will hardly come back to your site again.
Therefore, ensure your site gives visitors an excellent experience to keep them engaged. Select the best web host provider to provide you with WordPress hosting services that meet the user's experience expectations.
🌟 Measure The Performance of Your Website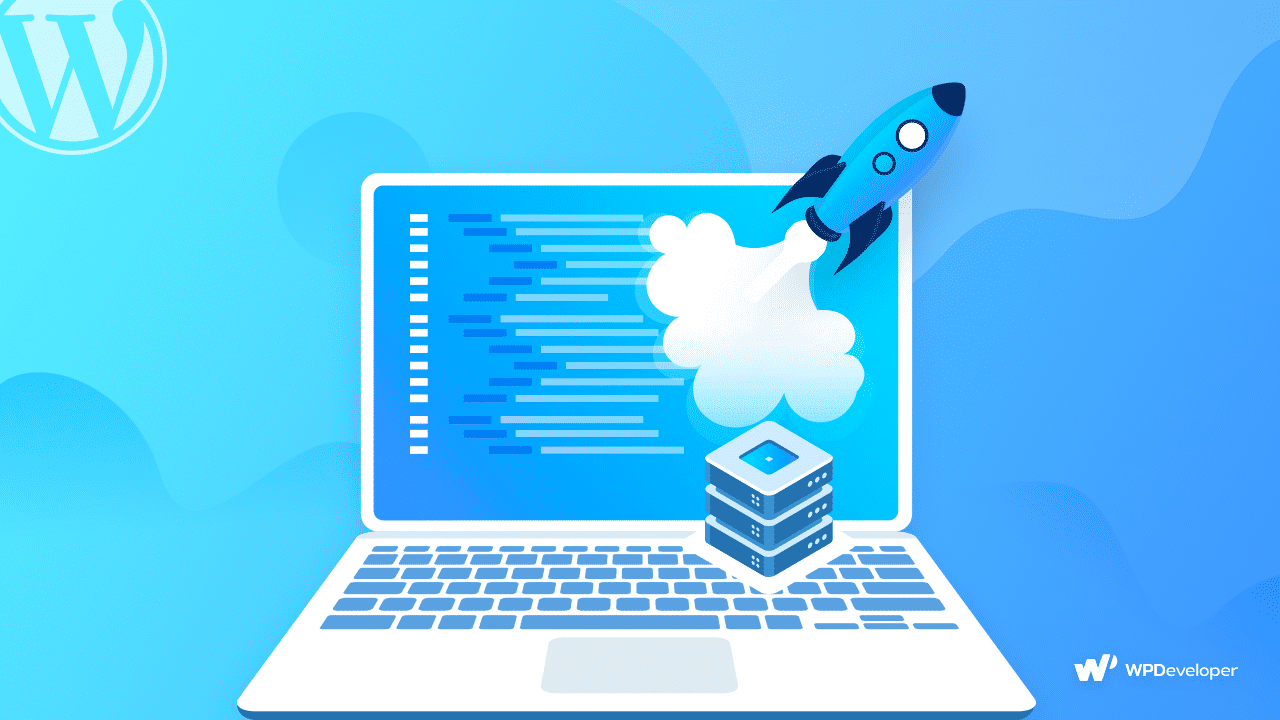 Ensure you measure the performance of your WordPress site with the help of tools like Google Analytics. Such tools will help you to know how many users visit your website. Through such information, you will be able to see the bounce rate, if any, and also understand what the users of your site prefer to be engaged with, enabling you to strategically create relevant content for your audience.
🎉 Embed Facebook Albums On Your Website Today!
Facebook page photo albums are brilliant and add a social dynamic to your website. Your website's visitors will appreciate looking at the latest photos from your Facebook page.
You let your brand's personality shine when you embed Facebook photo albums on your website. Visitors will feel like they're getting a more genuine view of your company and its history.
So, without further ado, keep your visitors coming more than ever by embedding Facebook albums on your website. For that, EmbedPress is your go-to tool.
If you have found this blog helpful, share your opinion with our Facebook community. You can subscribe to our blogs for valuable tutorials, guides, knowledge, tips, and the latest WordPress updates.