Wondering how you could rewrite your profile's Instagram bio to instantly catch everyone's attention and generate more engagement? Then this post is for you. Discover helpful advice, see examples of engaging Instagram bios that work, and find out how to further improve your profile to maximize your Instagram marketing efforts in the sections that follow!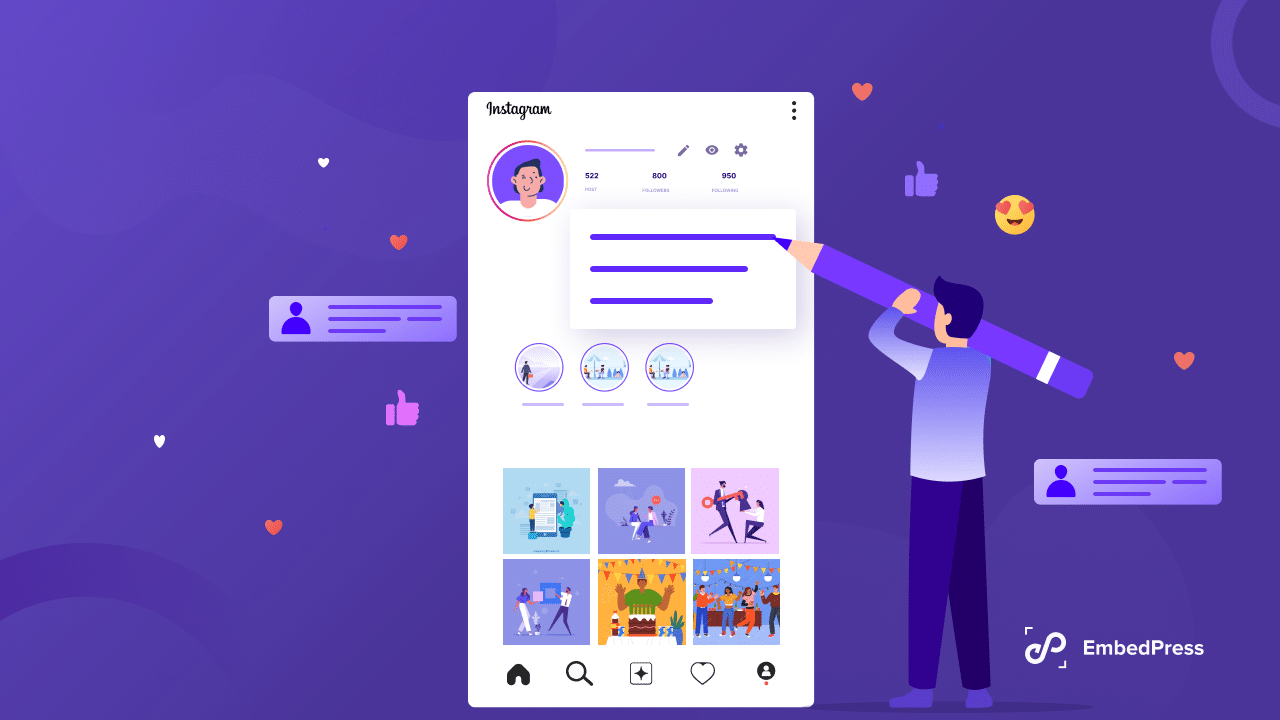 What Exactly Is An Instagram Bio: Understanding The Basics
If you have your own Instagram account or Instagram business profile, or if you have ever explored others' profiles, you must have seen interesting and thought-provoking texts, links, and emojis mentioned at the top of their profiles, right below their names and follower counts. That text space is called an Instagram bio.
With a 150-character limit, an Instagram bio is a brief introduction to you or your company that is visible to other users beneath your profile picture. The first interaction you have with your audience usually happens through your bio.
In your Instagram bio, you can easily keep:
✏️ A 150-character summary of you and your firm that could include your contact information or other pertinent information.
✏️ To make a unique, legible bio that jumps out, you may also add emojis, hashtags, and (with a little extra work) even line breaks.
✏️ Add external links or web pages. You can add your personal website URL, online store URL, other social profile URL, or any kind of links in shortened form.
✏️ A display name that you can change independently of your handle (e.g., @johndoe and John Doe).
✏️ If you are eligible to obtain, show your Instagram verification badge.
10 Creative Instagram Bio Examples To Generate More Engagement
Let's dive into some popular Instagram bio examples from which you can take inspiration and generate more engagement for your account. We have categorized Instagram bios depending on the industry. Check them out.
Instagram Bios Of Fashion/ Apparel
Instagram has become one of the most popular platforms for the fashion and apparel industries. That's why all top stores and companies try to maintain their Instagram profiles and write their Instagram bios creatively. Let's check out our top picks.
1. Shein Fashion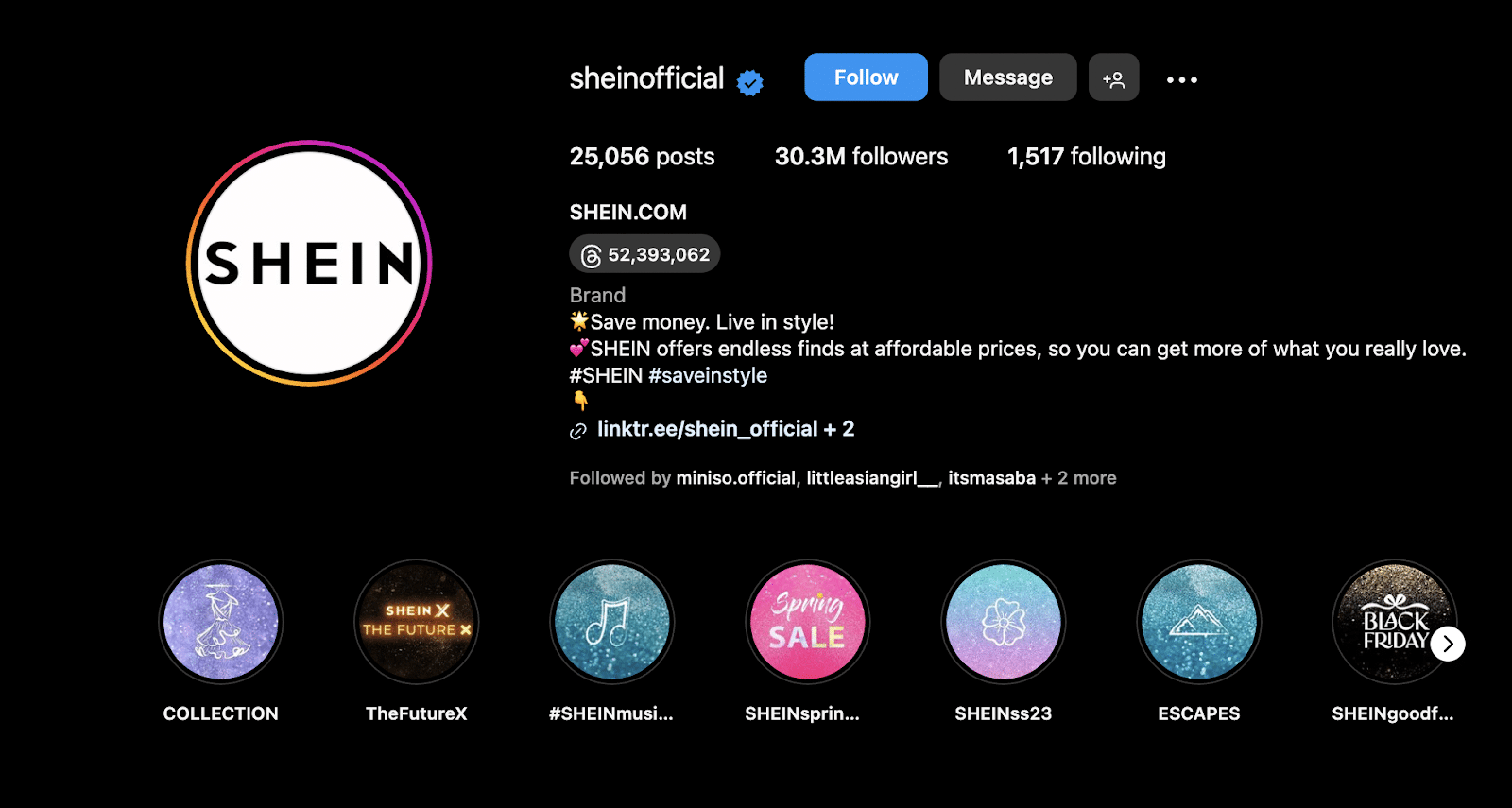 Shein tries to hint at their buyer persona by sharing a motto. They have also emphasized their official hashtag and console store link. They also use emojis to grab attention.
2. Johnny Cupcakes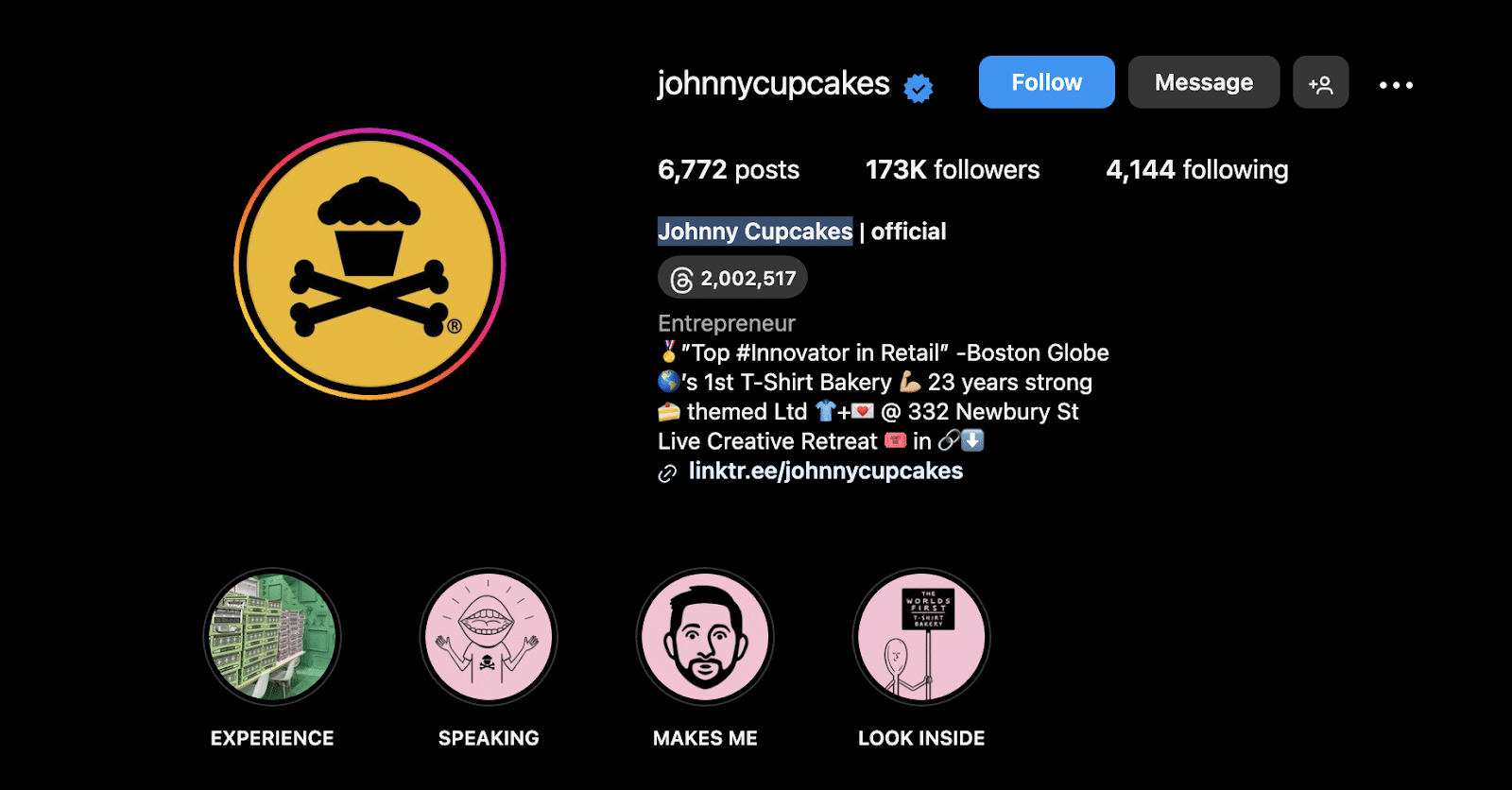 Fans of Johnny Cupcakes get a glimpse into the founder, Johnny Earle's daily life. This Instagram bio strikes the ideal balance between professionalism and fun, thanks to social proof in the form of a shoutout from The Boston Globe and a ton of emojis.
Jewelry Instagram Bios
If you have your own jewelry brand and are planning to reach potential customers on Instagram, then you can decorate your profile with the following jewelry store's Instagram bios. Let's take a look at them.
3. Tiffany & Co.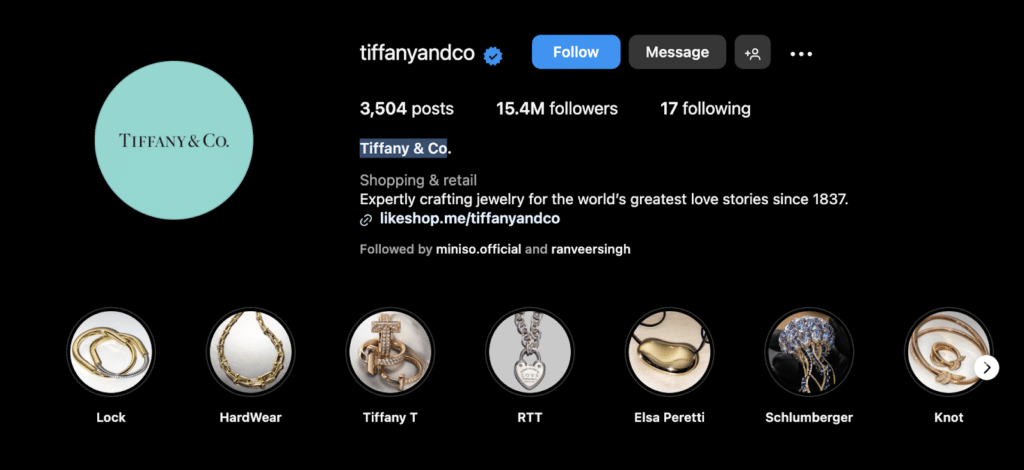 When you have a name like Tiffany & Co., you don't need any introduction but even then, the company added a short yet simple Instagram bio to their profile. They mention their product category extensively, focusing on their long reign in the jewelry business, and their online store link is attached – applying the right touch of credibility with creativity. 
Beauty And Skincare Instagram Bios
In 2023, the world of beauty, makeup, and skincare is taking Instagram by storm. And they are setting themselves apart with interesting Instagram personas. You can check out the popular beauty and skincare Instagram bios from here.
4. ​​Colourpop Cosmetics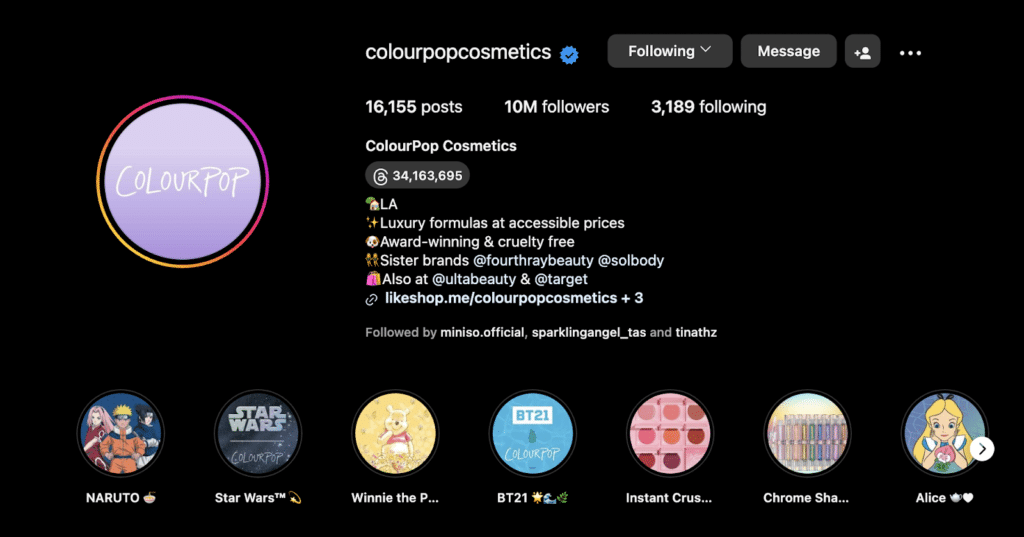 In its Instagram bio, ColourPop Cosmetics reminds consumers that none of its products are tested on animals – targeting to please conscious customers and setting themselves apart. Additionally, it informs customers where the brand is located, how it is exclusive yet affordable, and also a winner of prestigious awards.
And within the 150-character limit, ColourPop also includes information about its stores' physical locations and sister-concerns too.
5. Sephora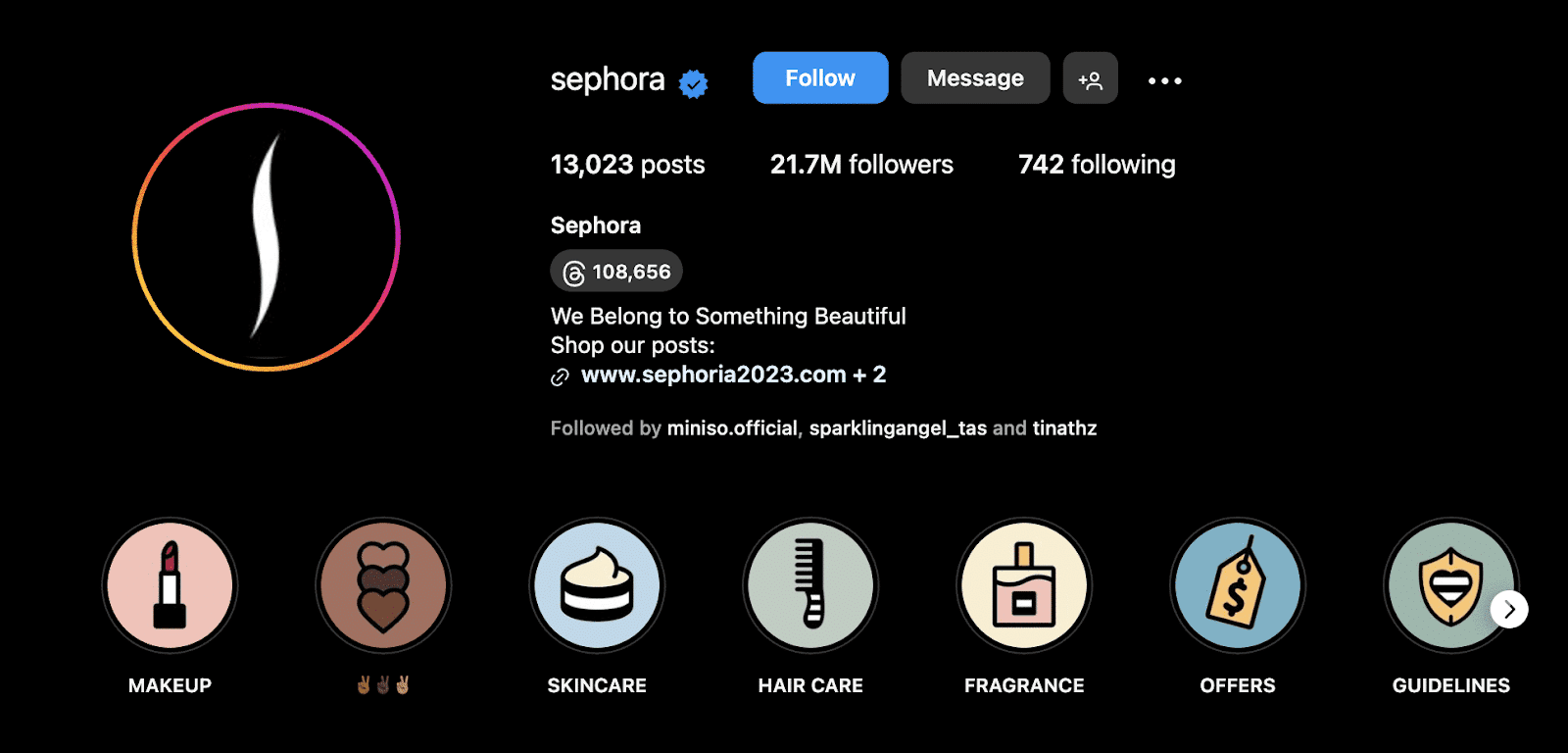 Sephora is another beauty and skincare brand that sells a variety of products. And they try to give an inclusivity vibe in their Instagram bio. Also, they have provided 3 links to their different online stores, along wit their other social media handle for Threads.
Technology/ Electronics Instagram Bios
To get the attention of potential customers, you must decorate your technology and electric stores' Instagram profiles stunningly while keeping their sleek image. Hopefully, these examples will inspire you.
6. Xiaomi Global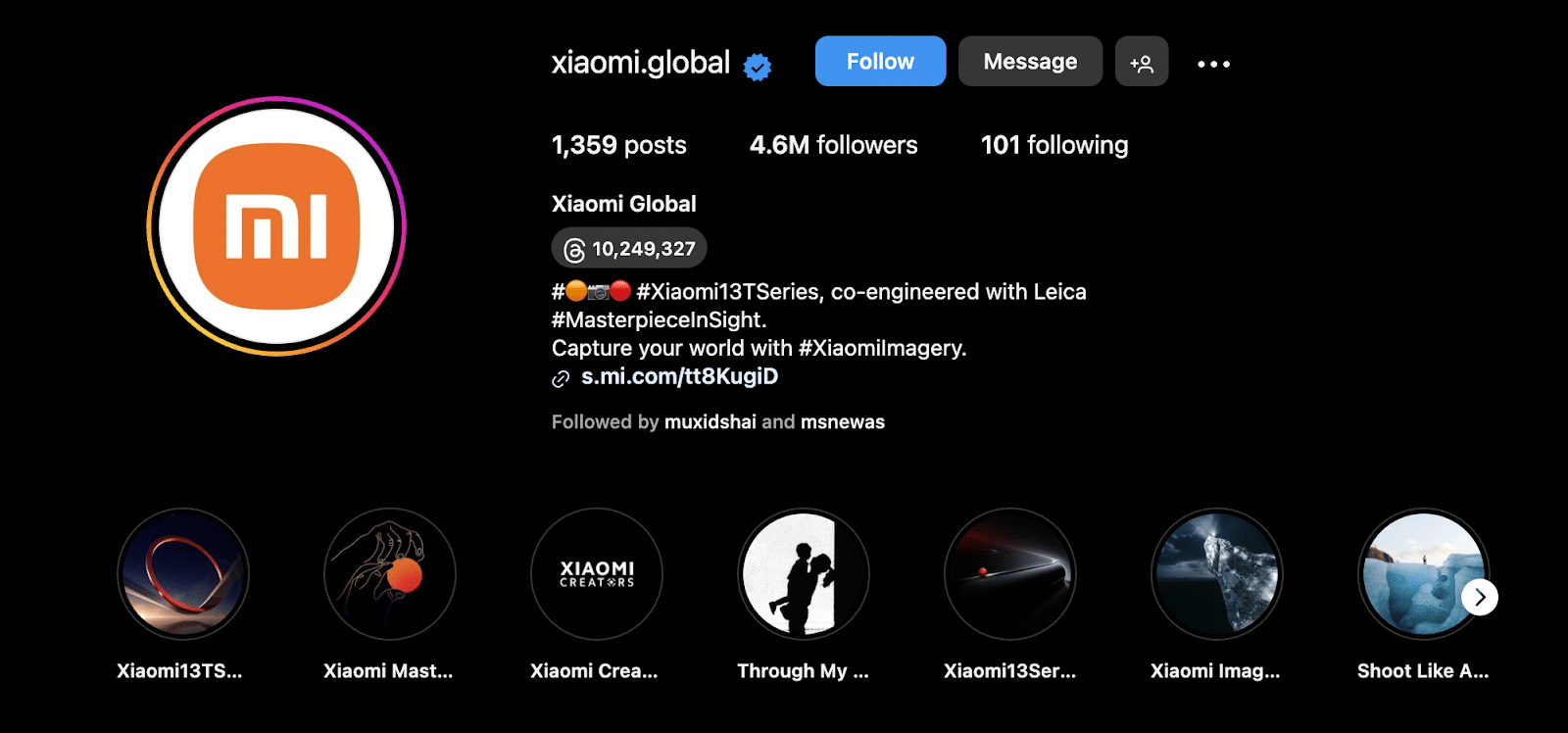 Xiaomi includes its most trending hashtag in its Instagram bio, along with the ongoing photo competition campaign hashtag. It implies that they regularly update their Instagram bio. Also, they added the online store visit link.
7. WordPress

WordPress is the number 1 website building platform. They try to put words that have an impact on their Instagram bio. Also, they provide links to their website's news portal so that everyone can get the latest updates seamlessly.
Influencer Instagram Bios
You may say that influencers are the rules of the Instagram platform. They have had so many impacts. Here are some Instagram influencer bio examples to check out.
8. Super Car Blonde

Super Car Blondie is a popular influencer who reviews all the exclusive cars around the world. She decorated her Instagram bio with her motives and vision and invited everyone to her video channel. She has also showcased her website URLs.
Food And Beverage Instagram Bios
Nowadays, the food industry is booming, and platforms like Instagram are giving space to individual artists. You can follow these Instagram bio inspirations to revamp your profile.
9. Tasty UK Branch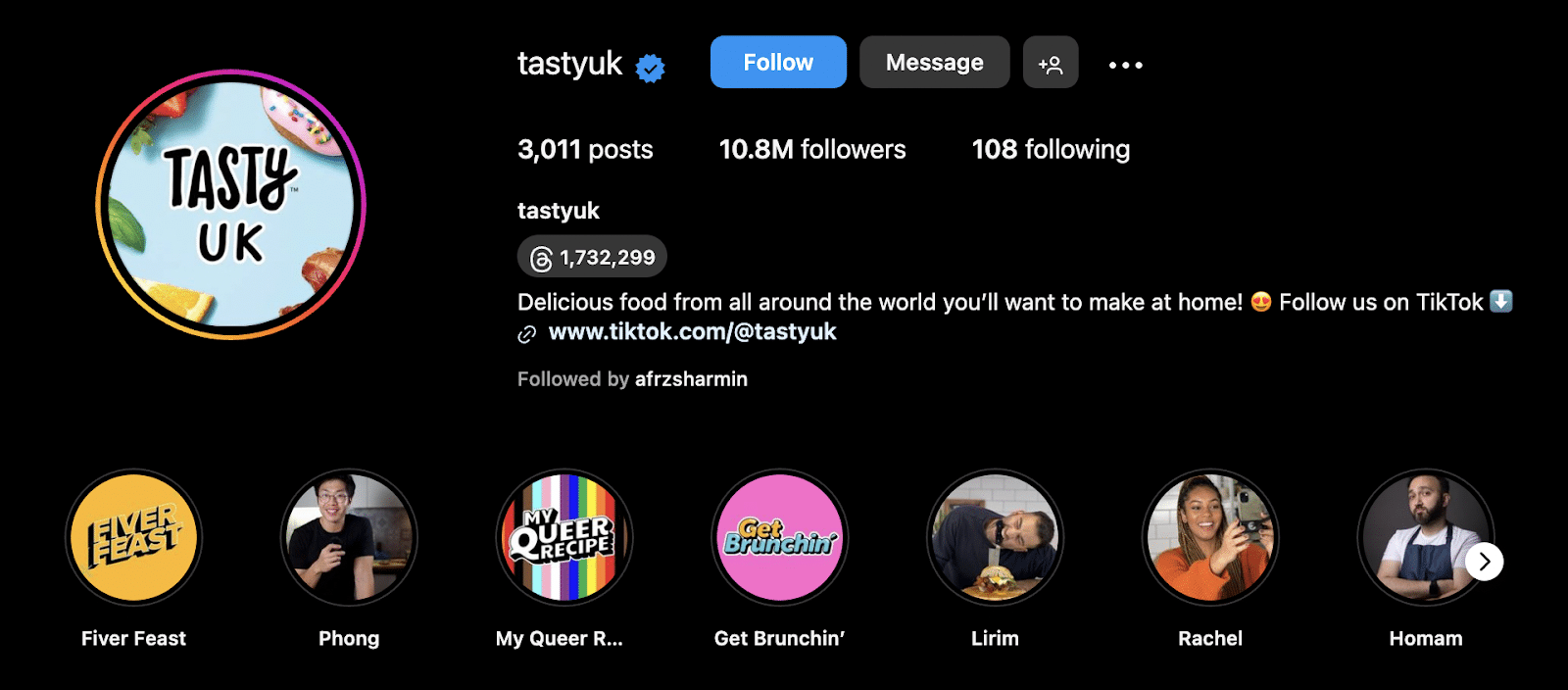 The Tasty UK branch has decorated its Instagram bio with a sweet line that catches the attention of every foodie. They have also used emojis and cross-promoted their other social media profiles deliberately.
10. Ugly Drinks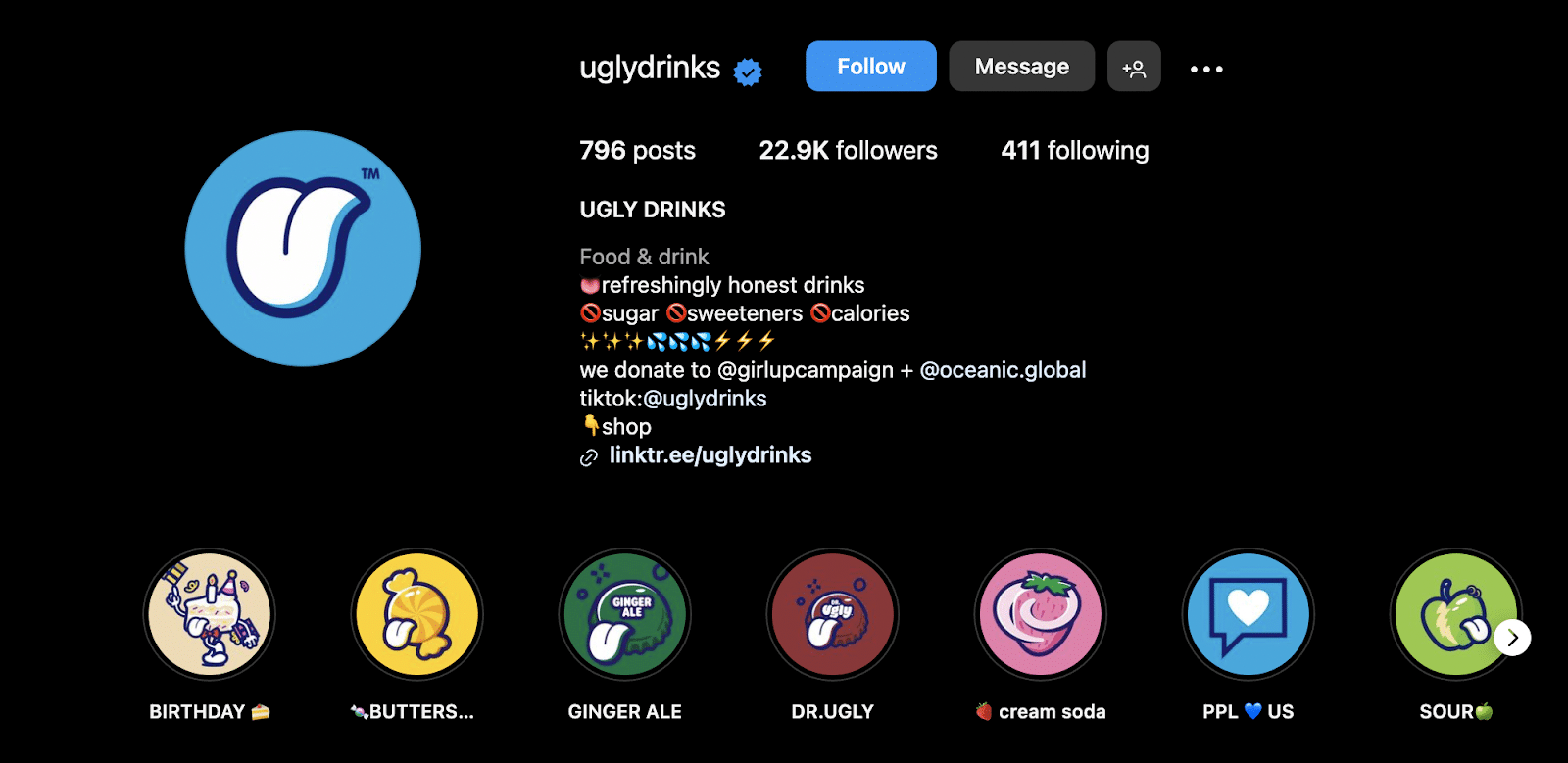 The Instagram bio of Ugly Drinks uses a simple list format, matches the brand's fun tone, and makes a nod to the charities it supports. It advertises the company's TikTok account and contains a Linktree URL.
Portfolio Instagram Bios
Apart from the mentioned industries, if you are looking for inspiration to revamp your personal profile's Instagram bio, then check out these cool ones. They will give you hints on how to rewrite your Instagram bio creatively.
11. Giga Tamarashvili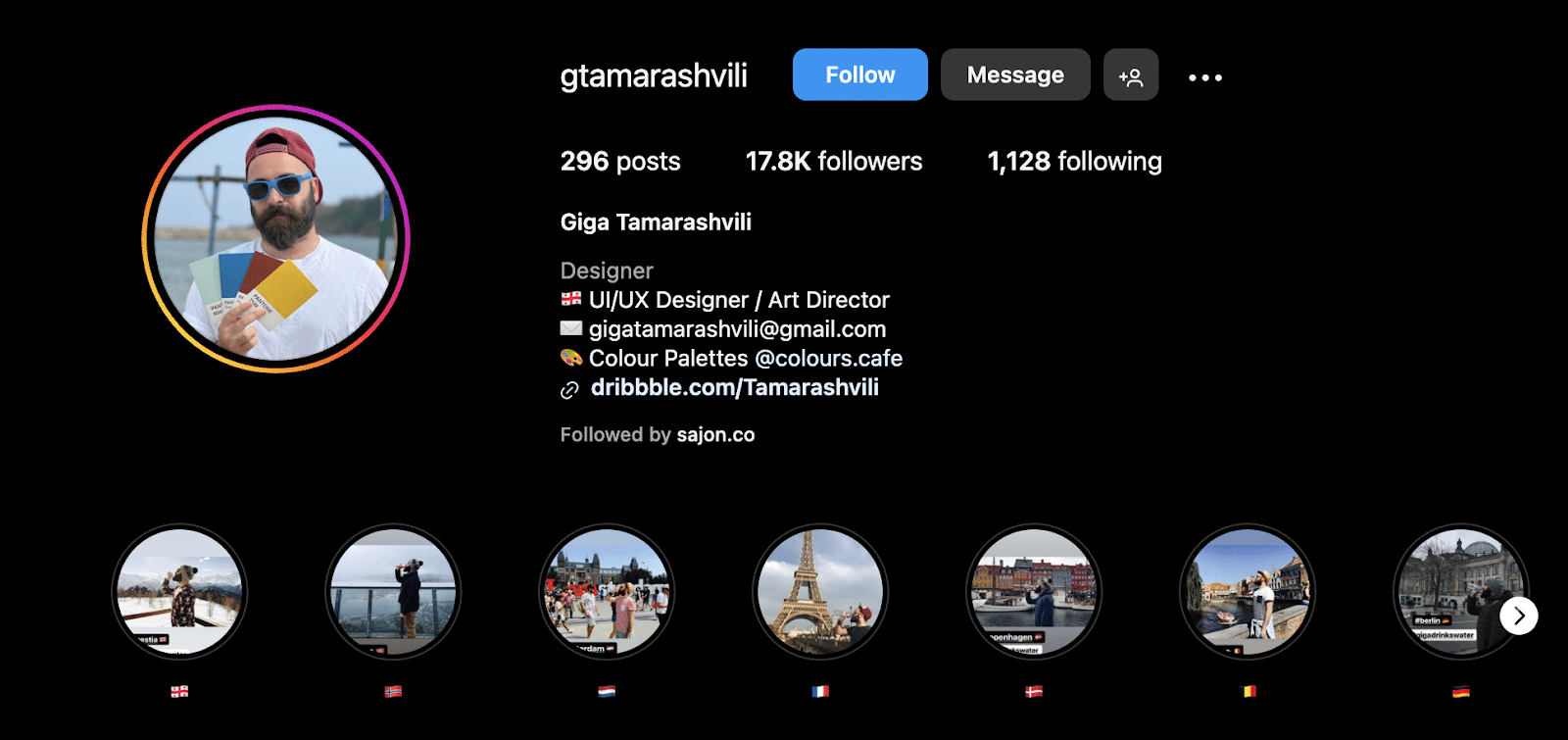 Giga Tamarashvili is a renowned UX and UI designer. He has focused his origins and passion on one line. Also, he cross-promotes his other Instagram handle. You can easily find his Dribbble portfolio and contact email from the Instagram bio.
Best Instagram Bio Ideas Combined In One Place
You should now have some ideas for your profile's Instagram bio. After analyzing all the popular Instagram profiles, we have created a list of popular ideas for an Instagram bio that you can easily use.
Cool Instagram Bio Ideas
The best things come from living outside of your comfort zone
Here's my story for the history books
I'm a cupcake in search of her stud muffin
A day in the life of me: Eat avocado toast, post Instagram videos, read Instagram comments
In a world where you can be anyone, be yourself
I am BIG on sharing my wonderful life
Nope, not just another Instagram influencer
No, this isn't a dream. This is my reality.
What should I put here?
Welcome to my world
Instagram Bios Emoji
Welcome to my 👑dom
👇 Check out my latest blog post 👇
🐦: (Twitter handle) 👻: (Snapchat handle) 🎥: (YouTube handle)
Traveller ✈️ Book Lover 📖 Obsessed with tacos 🌮
We love all animals 🐶 and donate a percentage of sales to marine life 🐠
Cancer survivor 🎗️
Personal Trainer 💪 Dancer 💃 Meditator 🧘
Currently hanging out in 🇵🇹
❤️ Lover, not a fighter, spreading ✌️all over the 🌎
Entrepreneur ➕ Globetrotter ➕ Motivational Speaker
Best Instagram Bio To Get Followers
Follow Me To Greatness
Follow me and I'll follow back
Don't know what to do? You can start by hitting that follow button.
Follow my [adjective] story
Click the follow button to be part of my [adjective] journey
Want to know my story? Press the follow button.
I'm on my journey. Join me by following along.
Follow me, then follow the link below!
My story will inspire you, so be sure to hit that follow button
Follow me to get a behind-the-scenes look at my life
Follow along to witness history in the making
💡 Tips: How To Display Instagram Bio In Website?
If you have updated your Instagram bio, then why keep it on Instagram only? You can embed your Instagram profile with other popular social platforms like Facebook, LinkedIn, TikTok, etc. And if you have your own website, you can easily embed and display your Instagram bio rather than just the link. Sharing the pro tips only with you: Using EmbedPress WordPress plugin. 🎉
Yes, you heard it right. If your website is WordPress-built, then you can easily display your Instagram bio in one click without a single line of code. Moreover, you can display your Instagram posts, live streams, and much more with EmbedPress.
Get Started With EmbedPress Now
Uplift Your Instagram Profile Appearance Seamlessly ✨
Your Instagram bio can be written in various ways, and the best part is that it's temporary. Make it humorous this month, inspirational next month, or seasonally appropriate. The possibilities with these 150 characters are limitless if you use your imagination. If you found this blog useful and want to read these kinds of cool hacks and tips, then subscribe to our blog and keep yourself updated.