Want to start your streaming journey? It can be the perfect way to engage your website audience while keeping up with the latest trends. However, regardless of whether you're a gamer, musician, or content creator, knowing how to start streaming can seem overwhelming at first. But fear not; we've got you covered with the ultimate guide for beginners!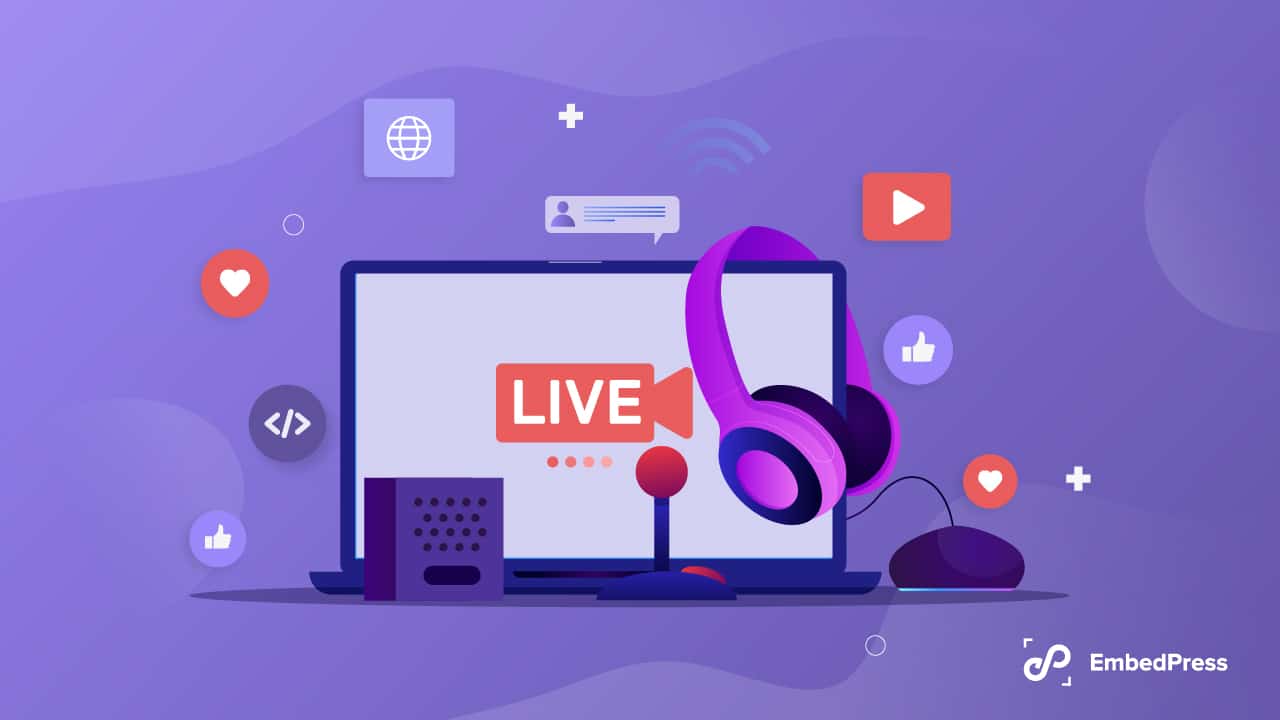 Live Streaming: The Explosive Rise of Online Engagement!
Have you ever heard of live streaming? It's a pretty cool concept that's taking the world by storm. Basically, it lets you broadcast live video content to your audience over the internet in real-time. And the best part? Your viewers can interact with you at the moment and feel a sense of engagement and connection that other forms of media or content-sharing just can't match.
Live streaming has also been rapidly growing in popularity, especially in the marketing world. Businesses have used it to increase engagement, build brand trust, and generate leads.
We've got some eye-opening statistics with 96% of people saying they've watched a live-streaming explainer video to learn more about a product or service. And 79% said a brand's video had convinced them to buy something. The data clearly shows why video streaming has become an increasingly powerful tool in recent years. The streaming industry is estimated to reach a staggering $124.6 billion by 2025. And so, it's evident that more and more people are turning to live streaming as their preferred medium for entertainment and communication.
Twitch is the biggest platform for live streaming worldwide, with over 9.3 billion hours watched. But did you know that Facebook, YouTube, Instagram, Twitter, and others also facilitate live video too? People of all ages are watching and creating live streams, and we believe it's a trend that's not going away anytime soon.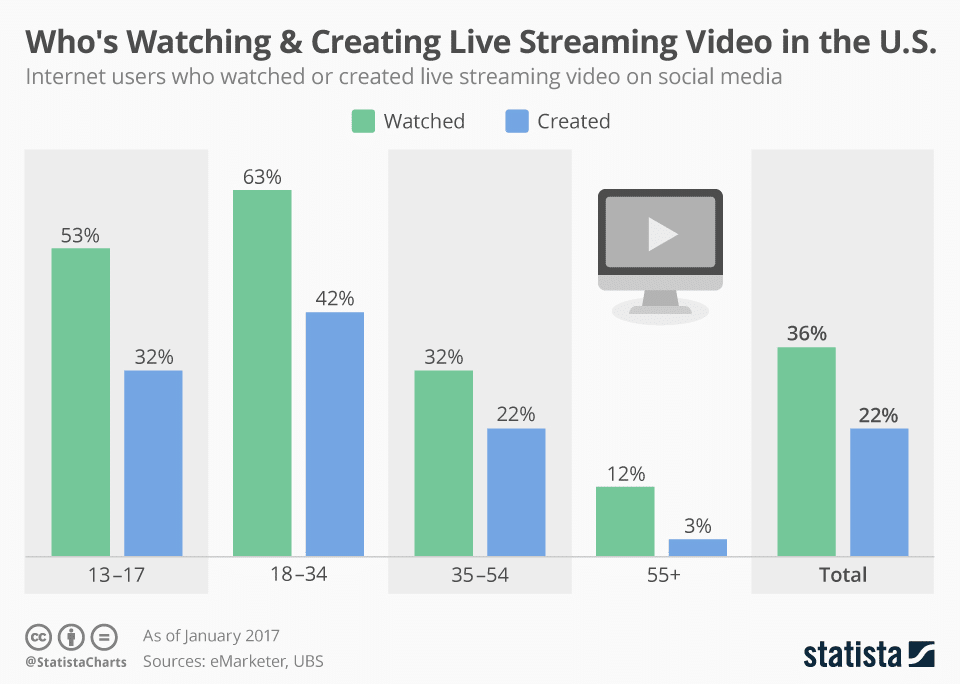 Source: Statista
Live streaming is all about creating an authentic connection with your audience in real-time. It's unlike recorded videos, where the connection can feel one-sided, where viewers cannot communicate their thoughts or form a discussion with other watchers. And the human element of live streaming makes it even more relatable and authentic. Anything can happen at any time, and viewers appreciate the realness.
So, if you're still wondering whether to start streaming, the answer is simple – just give it a try and watch wonders taking place! With the changes happening on social media platforms and the industry's fast growth, there's never been a better time to jump in.
And whether you're interested in YouTube video streaming, Twitch streaming, or any other kind of live streaming, the benefits are clear. And we've brought a step-by-step guideline just for you. So why not give it a shot and see where it takes you?
Live Streaming For Beginners: Essential Tips to Get Started!
So, how to start streaming? Well, it's easier than you might think. Platforms like YouTube Live, Twitch, and Facebook Live make it simple for anyone to start streaming today. So, why not start it today? You never know where it could take you! Let's dive in and talk about some essential tips for beginners on how to start streaming!
The first thing you'll need is a reliable internet connection. While this might seem like a very basic step, it's crucial for streaming videos because your live stream may suffer from lag, buffering, or even dropouts without a strong and stable connection. Next, you'll need a device to stream from; laptops and desktops are recommended here. Make sure the device you choose is powerful enough to handle live streaming.
You'll also need a webcam or camera to capture your video and a microphone to capture your audio. If you're streaming from a computer, you may also need a capture card to connect your camera to your computer.
Once you have your hardware and software in place, it's time to start thinking about engagement. One of the best ways to increase engagement and reach a wider audience is by embedding your live streams to your WordPress website. But how do you do it?
Well, the easiest way is by using a plugin like EmbedPress. EmbedPress is an embedding master in WordPress, allowing you to embed content from 150+ sources!
How To Start Streaming: Step-By-Step Guide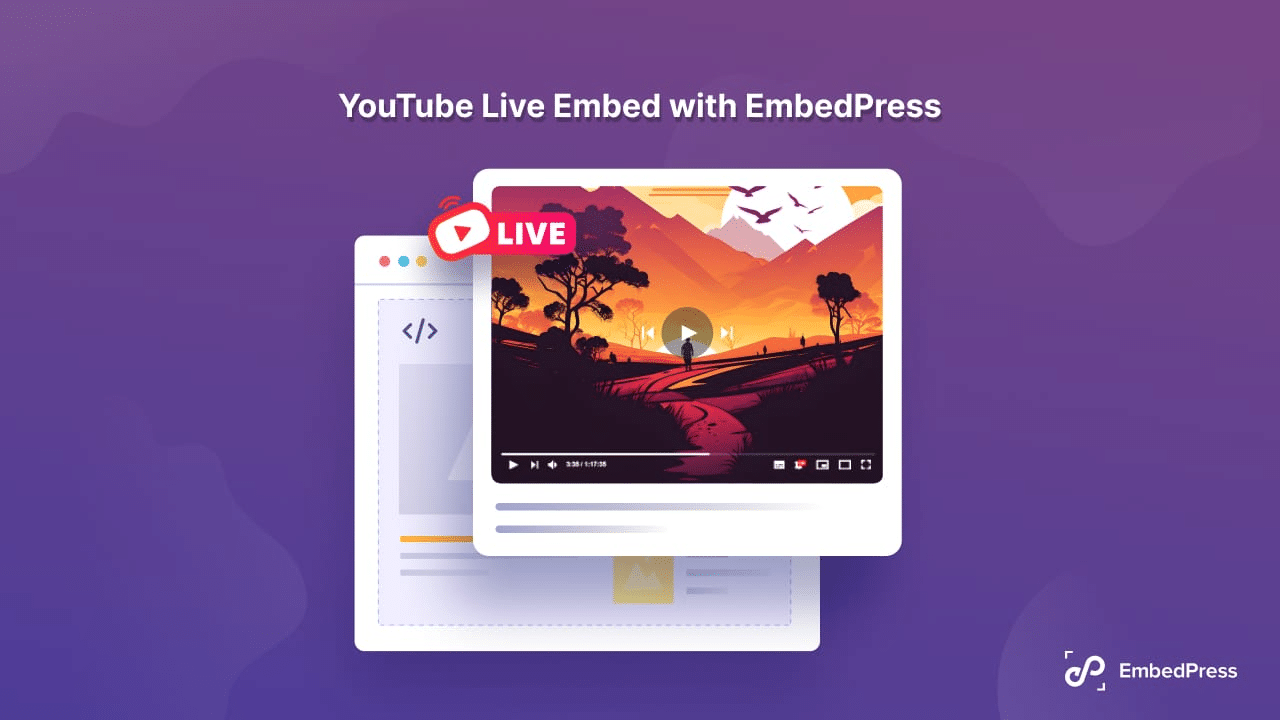 As a live streamer, you have a variety of popular live-streaming platforms to choose from when streaming your videos. For this tutorial, we'll focus on YouTube as the live streaming platform and guide you through embedding your YouTube live stream onto your WordPress site. Follow our step-by-step guidelines to easily incorporate your live stream and share your content with your website visitors.
Step 1: Install And Activate EmbedPress
From your WordPress dashboard, go to 'Plugins' → 'Add New'. Then search for 'EmbedPress' Click on the 'Install' and 'Active' buttons to install and activate it correspondingly.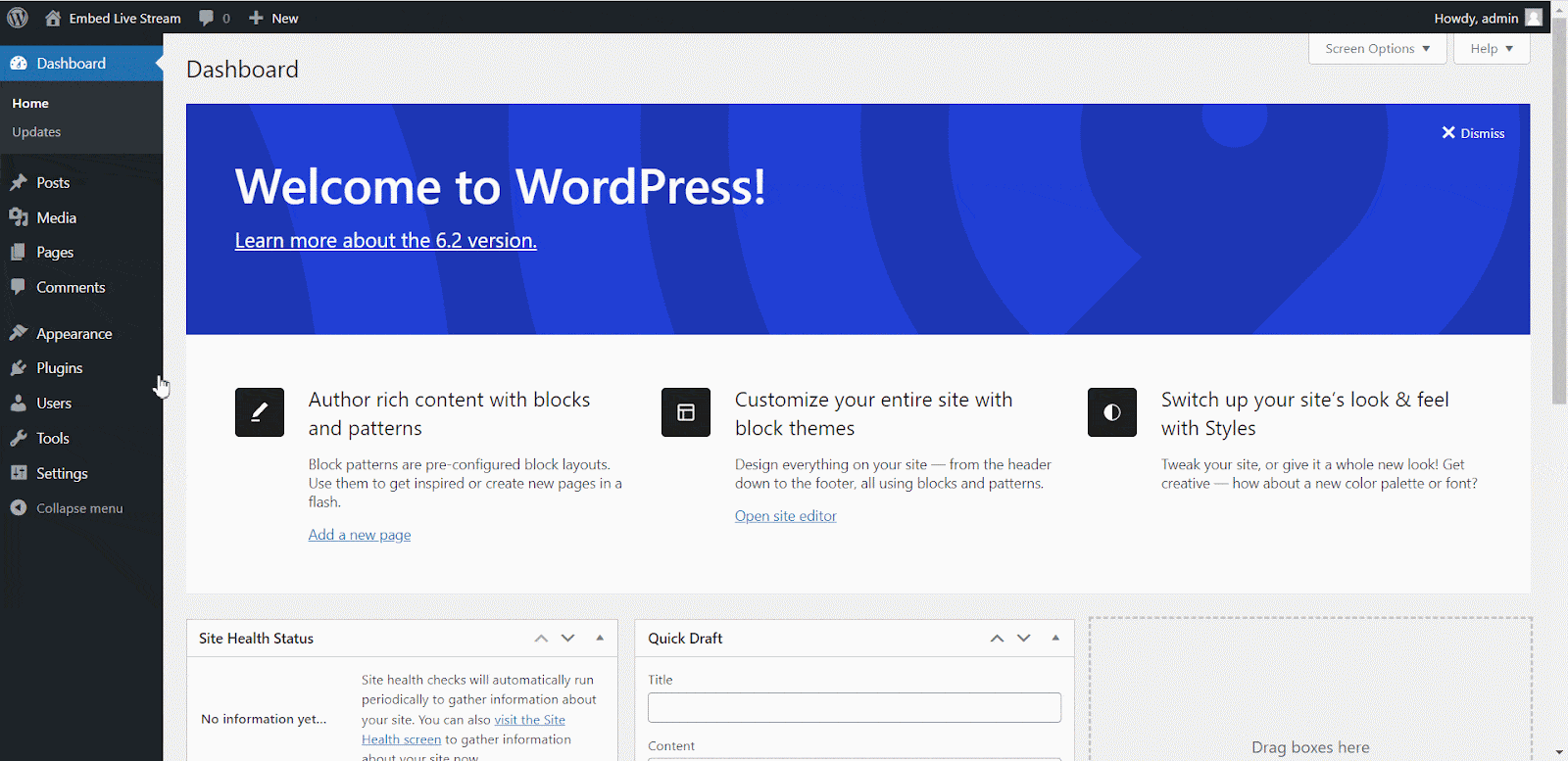 Step 2: Add The EmbedPress Block In Your Gutenberg Editor
First, go to the web page you want to embed your YouTube video. Then search for the EmbedPress block and add it to the side.
Step 3: Embed The YouTube Live By Copy-pasting The URL
Now copy the URL of your YouTube live stream. Then paste it into the EmbedPress block and click on the 'Embed' option. And you're done.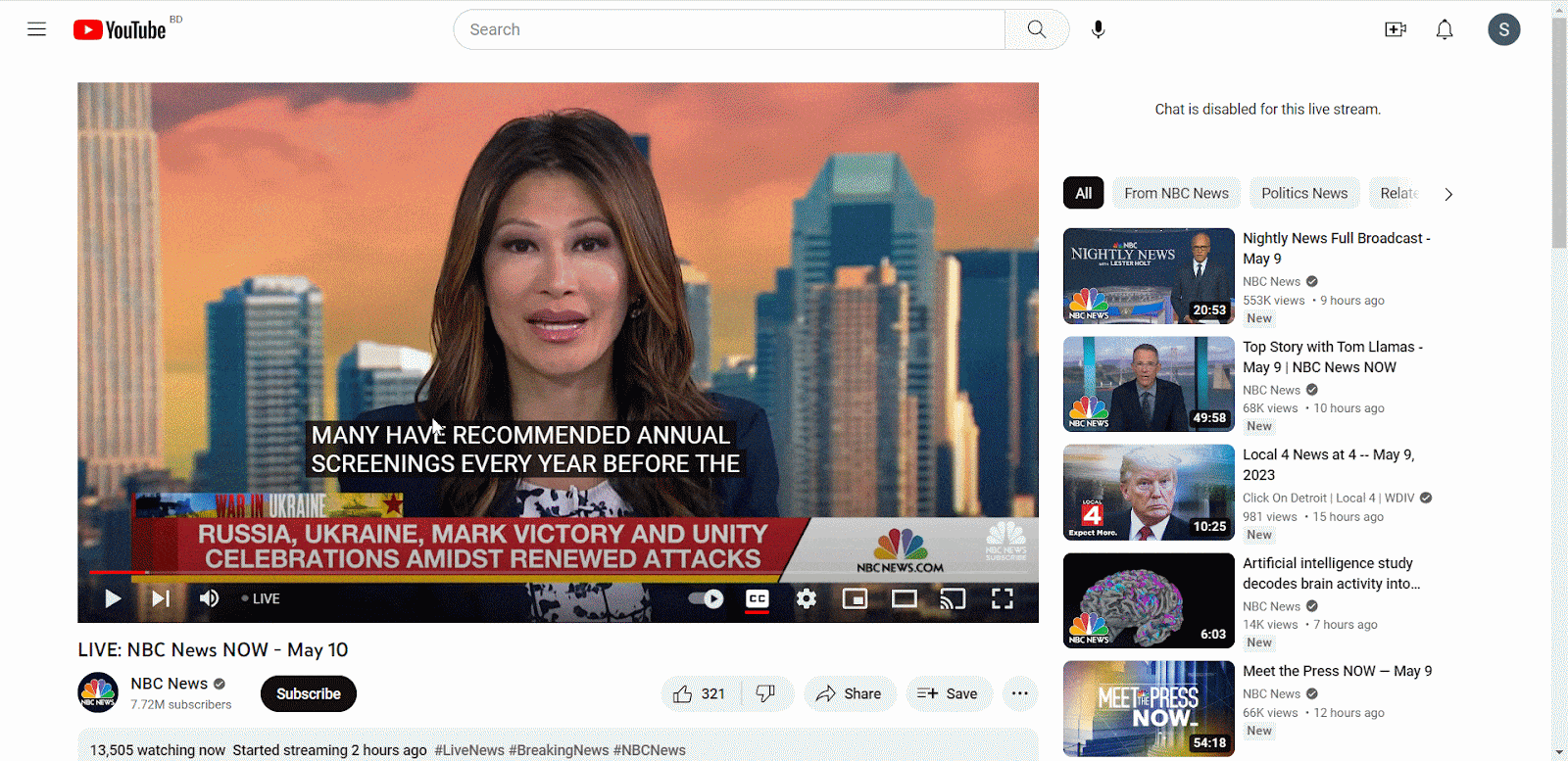 This is how easily you can embed your live streaming to your WordPress site. Once you've added your source, you can customize the appearance of your embedded stream using the right panel before publishing the page. It's that easy!
You'll be glad to know that it's not just limited to YouTube. You can also easily embed Facebook Live and Twitch streams onto your WordPress site. All you have to do is copy and paste the code.
But if you're particularly interested in YouTube live streaming, EmbedPress has some exciting news for you. With their latest update, EmbedPress v3.7.1, you can now embed YouTube live streams directly from your channel onto your website. Plus, with their new channel handler feature, you can constantly display the most recent live streams on your site.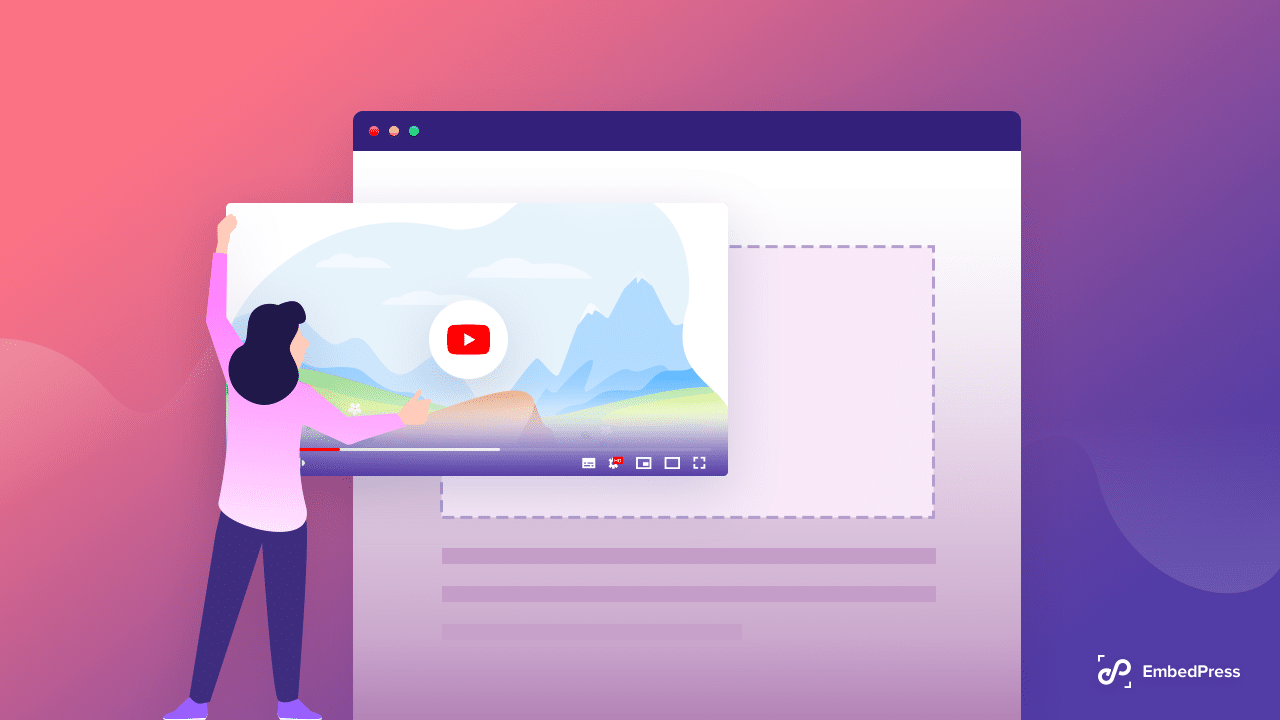 When it comes to YouTube live embeds, EmbedPress makes it easy to display live chat on your website. This means that your website visitors can engage in real-time conversations with other live-stream viewers. With this feature, you can enhance the interactive experience for your audience and bring them closer to the action.
You can also embed your YouTube Channel Playlist to your website. In addition to customization options for your embedded video content, EmbedPress also lets you add a subscription button directly to your embedded YouTube video. This means your visitors can now subscribe to your channel without leaving your site! So why wait? Start exploring the plugin and discover even more amazing features!
We welcome you to join our Facebook community and share your feedback or recommendations by leaving a comment below. Additionally, don't forget to subscribe to our blog to stay tuned with us. We hope you enjoy it!
Recommended Reading