If your website is built with WordPress and you want to make live-streaming on WordPress sites to engage with your target audience with ease, then you are in the right place. Take a look at this blog to get a complete guide to live-streaming in WordPress 2023.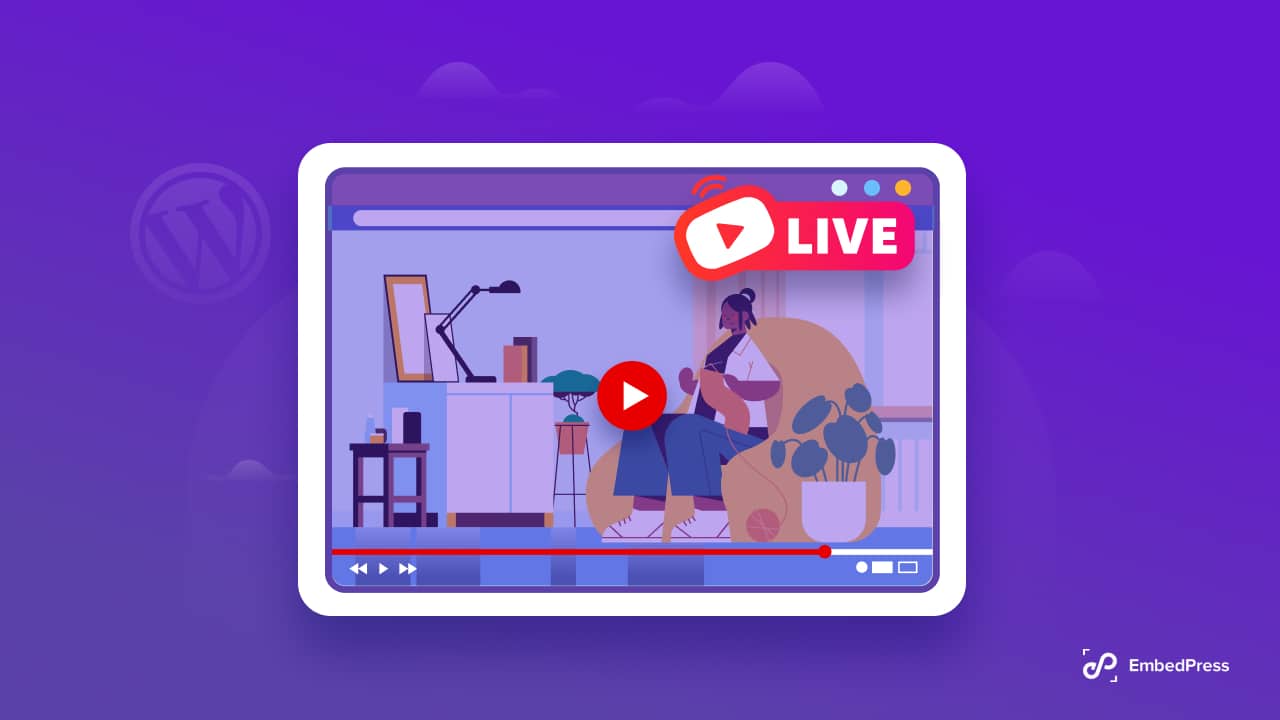 Impacts Of Live Streaming In This Digital Era
Live streaming is now one of the most trending contents over creating any pre-recorded video. The basic difference between pre-recorded videos and live-streaming is that the former is appropriately planned, cut, and modified. Whereas live streaming is all about going live and engaging the audience in real-time, it is completely raw and uncensored.
Moreover, live-streaming is all about connecting with your target audience in real time where they can interact with you through comments and reactions. For this reason, businesses are now more focused on creating quality full live-streaming content. This will easily help promote their business online and boost engagement with sales.

Statistics research stated that "In the year of 2019 the United States was 126.7 million and more than 150 million by the end of 2020. The audience for live video content is expected to increase to 164.6 million viewers by 2024."
Some more statistics have highlighted below:
📈 "As of February 2021, Twitch was the most popular platform to watch live streams on in the United States." 
📈 "In 2021, the social video app TikTok had approximately 86.9 million users in the United States. This figure is projected to increase by around eight percent year-over-year, reaching 94 million users in 2022."
📈 "According to a survey conducted in 2021, 37 percent of monthly Livestream viewers in the United States watched live streams of breaking news. Comedy live streams were ranked second with a 31 percent watch rate among U.S. Livestream audiences.
Best WordPress Live Streaming Plugins In 2023
While you have a WordPress website, it becomes easy to embed live streams from any platform you want. Here we have listed down the top 3 best WordPress live streaming plugins to help you choose from:
1. EmbedPress

EmbedPress is now the most popular WordPress embedding solution WordPress with over 70,000+ active users. It helps you live stream, PDFs, videos, playlists, and many more by embedding 150+ sources with ease. You can embed your live stream on WordPress from Twitch, YouTube, or Facebook. It requires less than a minute if you consider using this powerful embedding solution. EmbedPress is completely compatible with Classic Editor, Block Editor, and Elementor or can easily be used in any WordPress Editor using shortcodes.
2. WPStream

WpStream is another WordPress live-streaming plugin that helps embed content with full security. Using shortcodes, you can also customize your content appearance and add more features. It supports live-streaming on WordPress, pay-per-view, and broadcasting video-on-demand. You can use their monthly subscription plan and choose any of them that goes best for you.
3. Embed Plus

There is another WordPress live streaming plugin Embed Plus that is only suitable for YouTube streamers. You can easily embed YouTube galleries into YouTube live-streaming using this solution.
Easy Guide To Live Streaming On WordPress [2023]
As you have already got a clear idea about WordPress live-streaming plugins, now you will get a complete guide to using EmbedPress and seamlessly embedding any live-streaming videos on WordPress.
EmbedPress allows you to embed Streamable videos, Twitch streams, UStream videos, Facebook Live, and YouTube live streams. Let's dive in to find out how to embed any one kind of streaming video using the EmbedPress plugin.
How To Embed Live Streaming In Gutenberg? 
If you want to embed live streaming videos on a WordPress website, you can easily do that by following some simple steps below. Moreover, EmbedPress can help you embed more than 150+ source content anytime in your favorite page builders like Classic editor, Gutenberg or Elementor, DIVI, or any other using shortcodes.
Step 1: Install EmbedPress On Your WordPress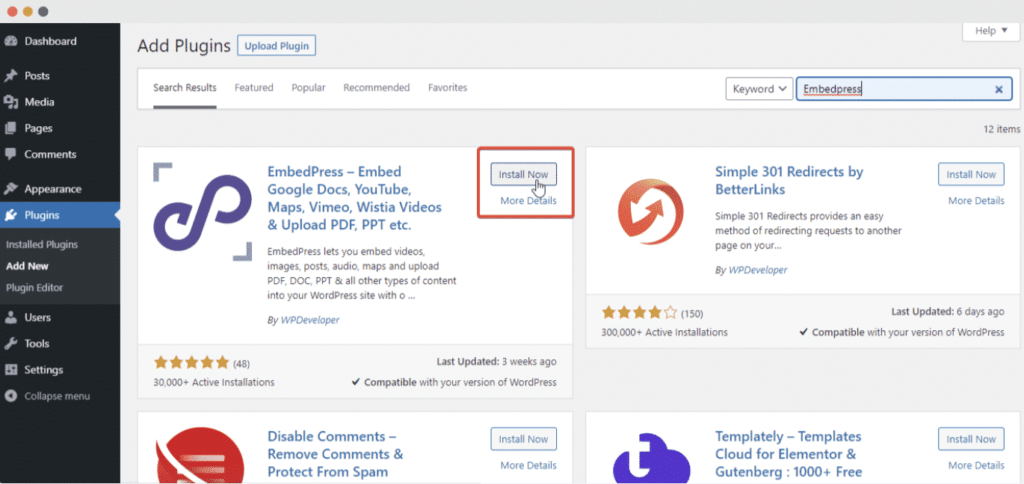 For live streaming on WordPress, make sure to install and activate EmbedPress before you get started. Go to your WordPress plugin directory and search for the EmbedPress plugin. When you have successfully installed the plugin, you are now ready to embed live streaming.
Step 2: Search For EmbedPress Block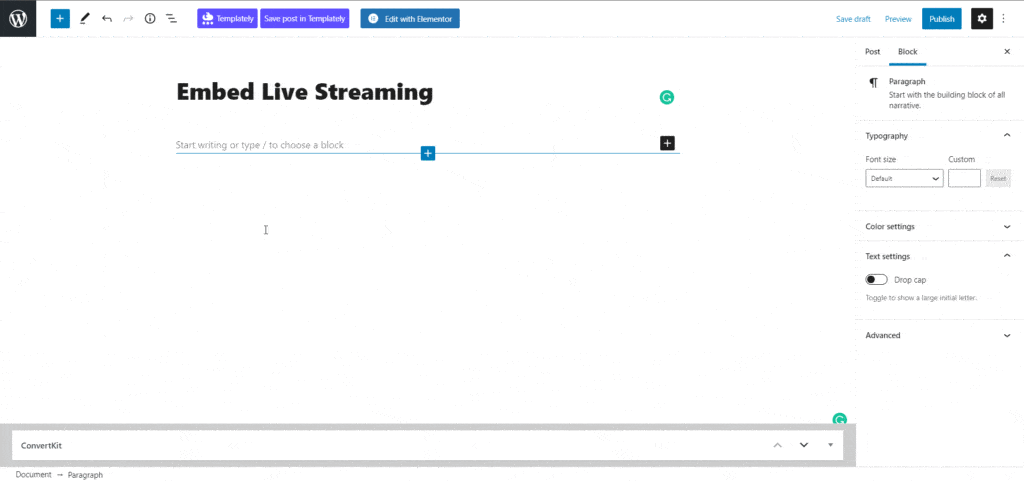 Open the page where you want to embed a YouTube live stream on the WordPress dashboard. To add
blocks, click the '+' icon and search for EmbedPress. To add the EmbedPress block to the page, click on it.
Step 3: Retrieve The Live Stream Video Link And Paste It
After that, copy the URL of your YouTube live video and paste it into the input form, then click the 'Embed' option next to the URL field. Gutenberg will be used to successfully embed the content.
You can also use the right panel to design your embedded source before publishing the page. This is how simple it is to use the Gutenberg editor to incorporate YouTube live feeds.
How To Embed Live Streaming On WordPress Using Elementor?
Elementor is a famous website builder among WordPress users to seamlessly create any type of website with a lot more customization. Let's embed a YouTube live stream video in Elementor to make your website more interactive. 
Step 1: Search For EmbedPress Element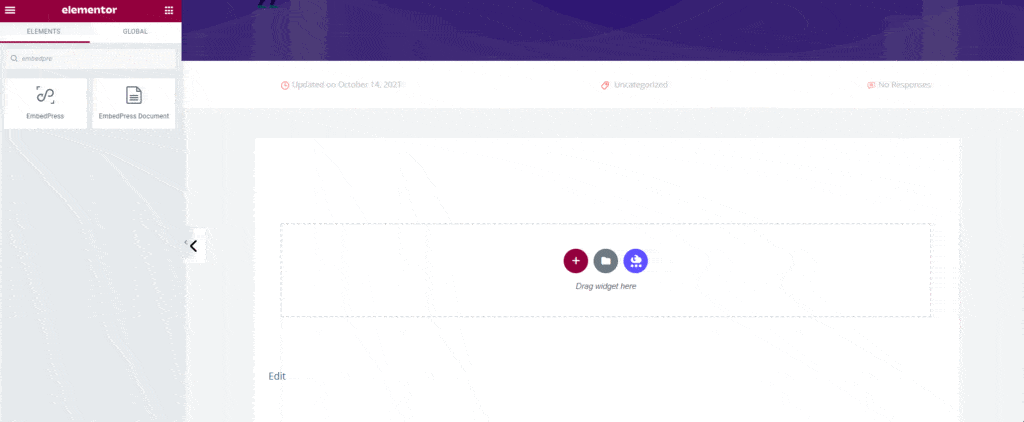 From the top of your page, click the 'Edit with Elementor' button. It will open the Elementor editing interface for you. From the left panel, look for the 'EmbedPress' element and drag and drop it onto your page.
Step 2: Paste The Retrieved Live Stream Video URL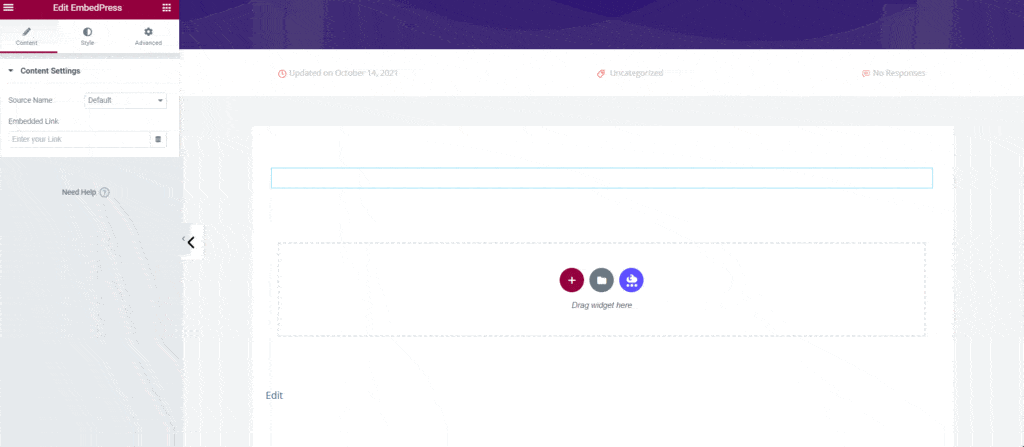 Copy and paste the URL of the YouTube live stream you just obtained into the 'Content Settings' input field. It will then fetch and insert your live feed into Elementor Editor instantly.
Step 3: Customize The Live Stream Video Appearance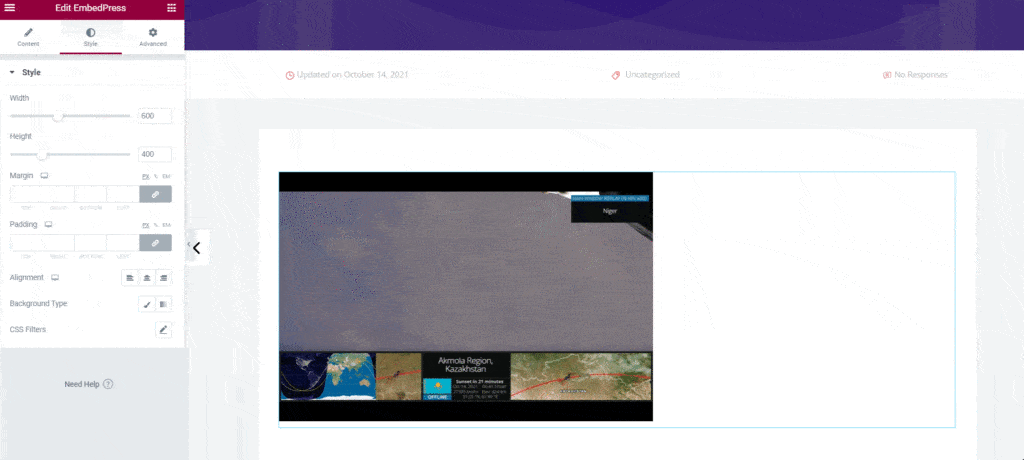 EmbedPress allows you to alter your YouTube live stream to make it more visually appealing based on the design of your website. Simply select the 'Style' tab from the drop-down menu. Your embedded content's 'Aspect Ratio' can be changed.
How To Embed Live Streaming Using Classic Editor?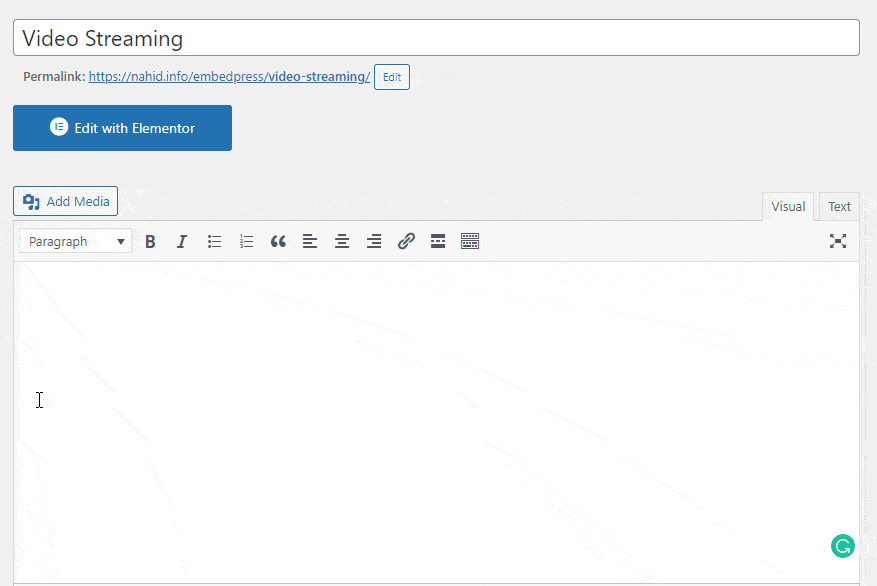 If you use the Classic Editor, EmbedPress makes it simple to embed live-streaming videos with only one click. To do so, use Classic Editor to create a new page and paste the content URL in the visual mode. On the page, you can see a live preview of the embedded content.
Embed Live Stream In WordPress Using iFrame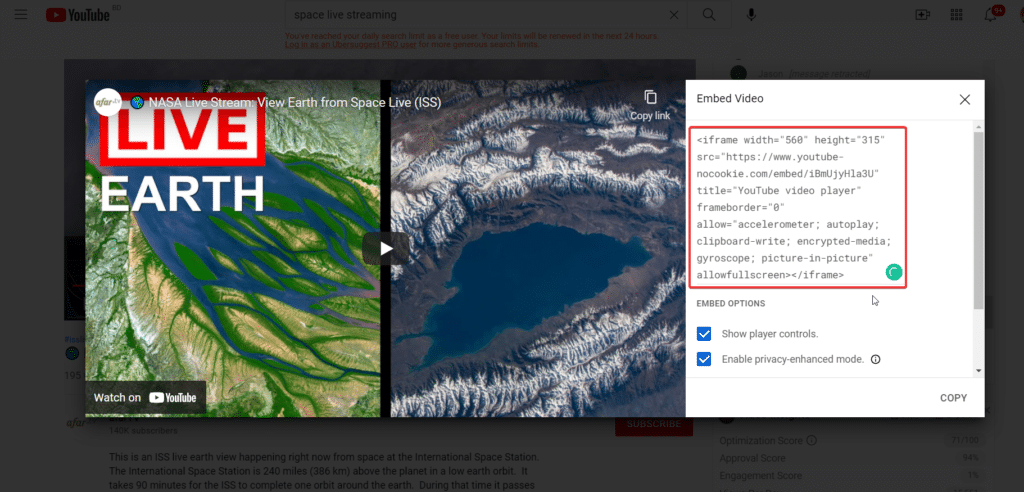 In case you want to embed your YouTube live streaming without using a plugin, you can use iFrame codes to embed it. To use iFrame code, you must have an idea about HTML coding and its use.
Now It's Your Turn To Explore!
So this is how easily you can showcase live streaming on WordPress using the best WordPress embedding solution EmbedPress. You don't have to add any codes, simply following some simple steps you can easily embed live stream content on WordPress and escalate your website engagement right away.
You can now join our Facebook community and let us know if you have any recommendations or if the tutorial was helpful to you by commenting below. Also, subscribe to our blog to stay up to date on the latest embedding sources, tutorials, and other information. Enjoy!
Read More Trending Blogs Now!