Want to know how to easily embed Tumblr feed, posts, and blog content in your WordPress website and use it to skyrocket engagement rates? If so, you have come to the right place. In this blog post, we will guide you through the easiest ways you can embed interactive and entertaining Tumblr feed posts to your site using EmbedPress – the ultimate embedding solution for WordPress.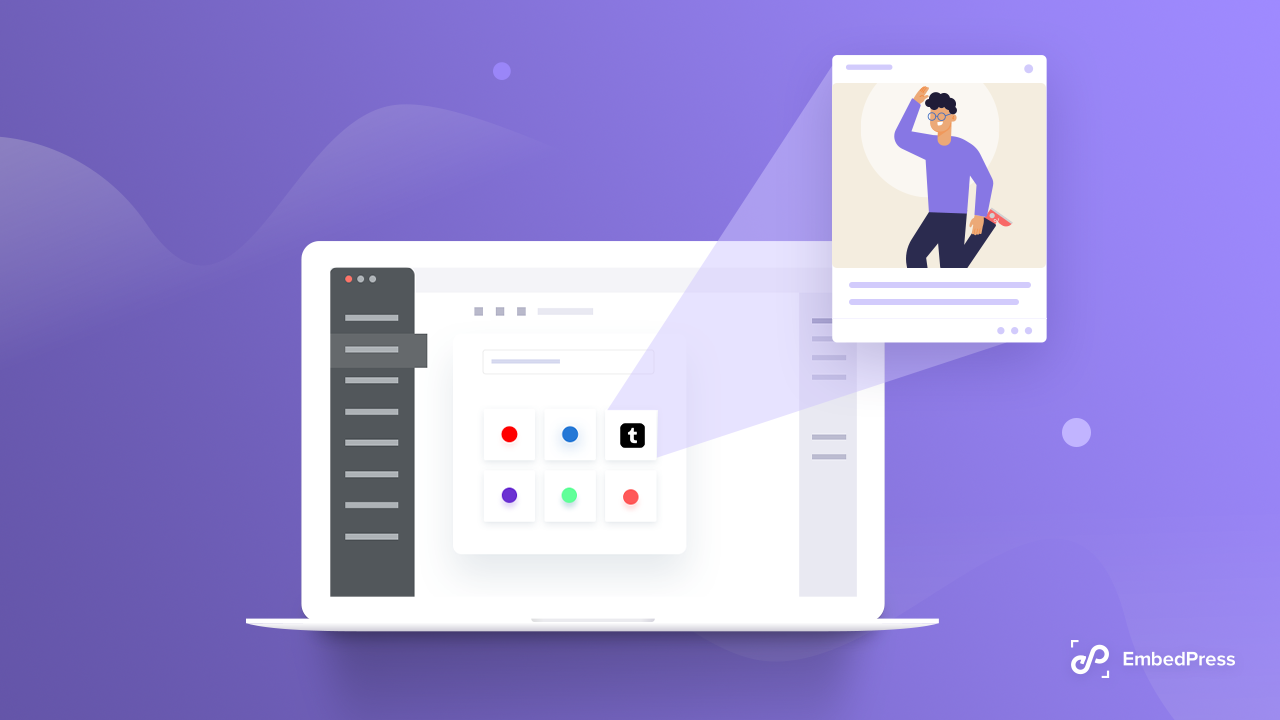 With more than 500 million short blogs, Tumblr is a global microblogging and social sharing platform, currently owned by Automattic. Text posts, audio and video contents, GIFs, memes, and much more – there are simply no limitations to the type of content that you can create on Tumblr. You can also design and decorate your personal blog pages and showcase your creativity. 
Embedding entertaining content from Tumblr into your WordPress website will boost traffic and engagement rates immensely, pushing your site to high SEO scores. Let's dive in and learn how you can quickly and effortlessly embed Tumblr posts in your site, without the need for any coding and using just a URL.
Complete Guideline: Embed Tumblr Feed In WordPress With EmbedPress
While there are many ways to import content from your Tumblr blogs to your WordPress website, these processes are usually quite lengthy and complicated. So, EmbedPress brings you the quickest and simplest methods you can use to embed Tumblr posts or feed in WordPress. With a few easy steps, you can easily make your website more interactive and attention-grabbing – all you need is the URL of the Tumblr post that you want to embed.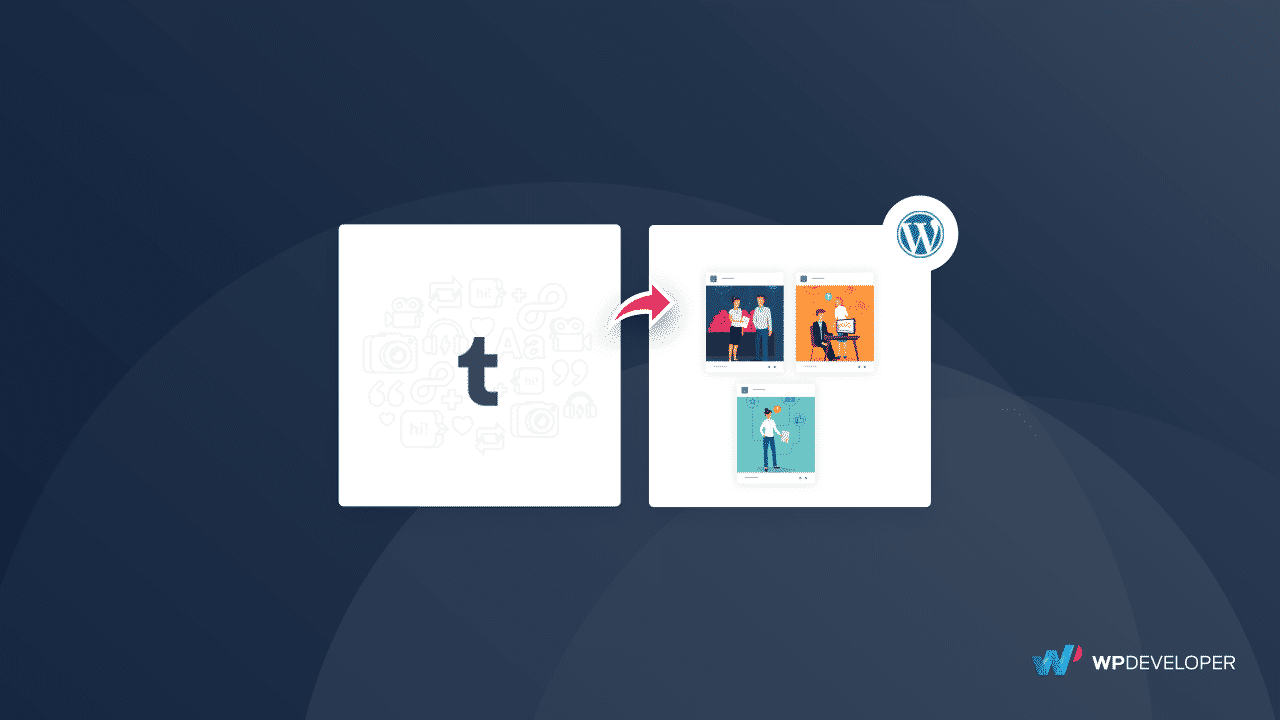 Regardless of which page builder or editor you prefer for your website, – Gutenberg, Elementor, Beaver Builder, or more – EmbedPress has an easy solution for you. In this blog, we will walk you through the step-by-step guideline on how to instantly increase engagement by embedding entertaining Tumblr content using EmbedPress. Interested to learn more? Let's dive in and start embedding.
Note: You need to have the EmbedPress plugin installed and activated in your WordPress website to be able to embed Tumblr to it. Take a quick look at this documentation to find out how. 
Get Started With Tumblr & Collect Content URLs
Before you can start embedding the Tumblr feed to your WordPress website, you need to connect to the micro-blogging platform first. You can easily create your own account and signup using login credentials but this is optional and can be avoided if you already have the link to the post you want to embed.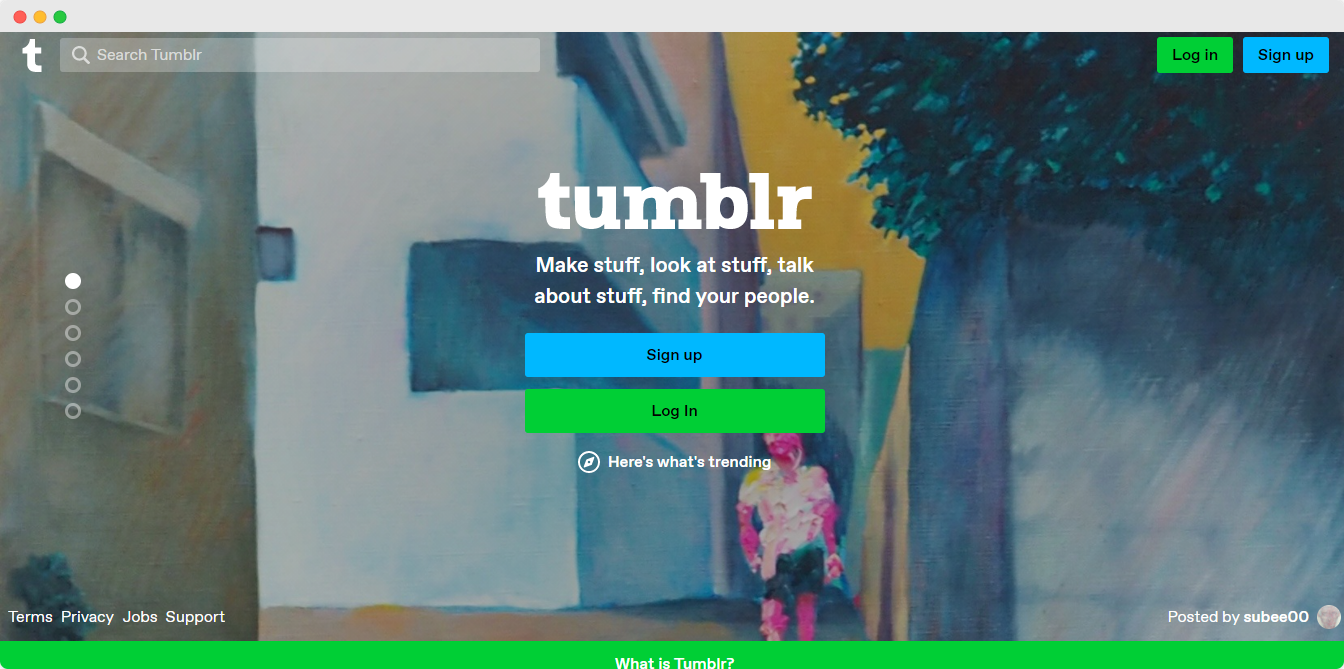 As mentioned earlier, EmbedPress enables you to embed any content in WordPress using just a URL. Therefore, after connecting to Tumblr, your next step will be to collect the post URL of the Tumblr content that you want to embed in your website. 
You can easily retrieve the URL for any of your own posts or browse through the platform dashboard to select any public posts that you like. There are two easy ways in which to collect the post link. First, you can simply copy the URL from the search bar of the browser directly. Or, you can click on the three dots or '…' symbol on the post and select 'Copy Link' from the drop-down menu, as shown below.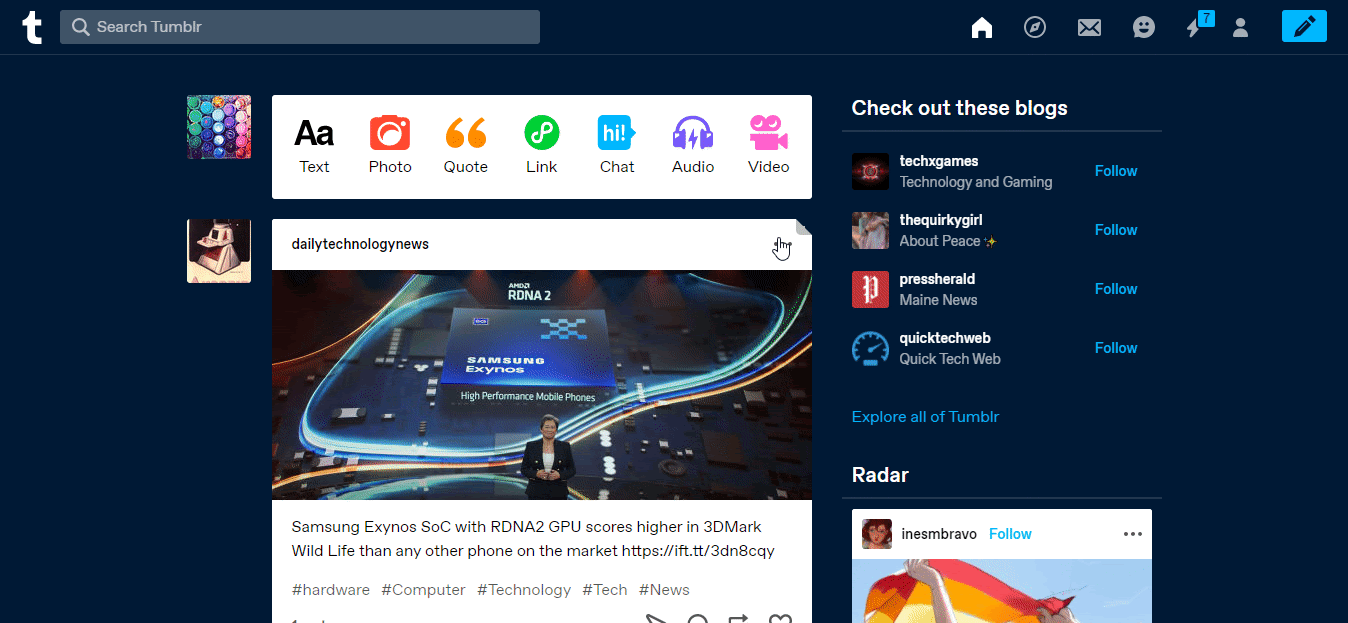 Once you have the URL copied, you are ready to embed Tumblr posts to your WordPress website effortlessly. Afterward, head over to your WordPress dashboard and open the page where you want to embed the Tumblr feed. Then follow the complete steps and instructions given below. 
How To Use Gutenberg To Embed Tumblr Blog Posts?
EmbedPress aims to enhance your storytelling on WordPress by enabling you to embed any creative and interactive content with ease. Therefore, it brings you a built-in EmbedPress block for Gutenberg Block Editor, the default editor for WordPress in 2021. With the EmbedPress block for Gutenberg, you can instantly embed any content on WordPress with a couple of clicks.
Step 1: Use The EmbedPress Block For Gutenberg With Ease
If you prefer working in this easy-to-use, built-in editor for your websites, follow the simple and easy steps below to quickly embed Tumblr posts without breaking a sweat.
Once you are on the page where you want to embed the content, click on the '+' icon on your post content area in the Gutenberg editor and select 'EmbedPress' to add the block. You can also insert the EmbedPress block from the 'Add Block' button at the top of the page.
Step 2: Quickly Embed Tumblr Contents With A Few Clicks
Afterward, paste the collected Tumblr post's URL on the input field of the block and click on the 'Embed' button. The Tumblr post will be automatically added to the WordPress website.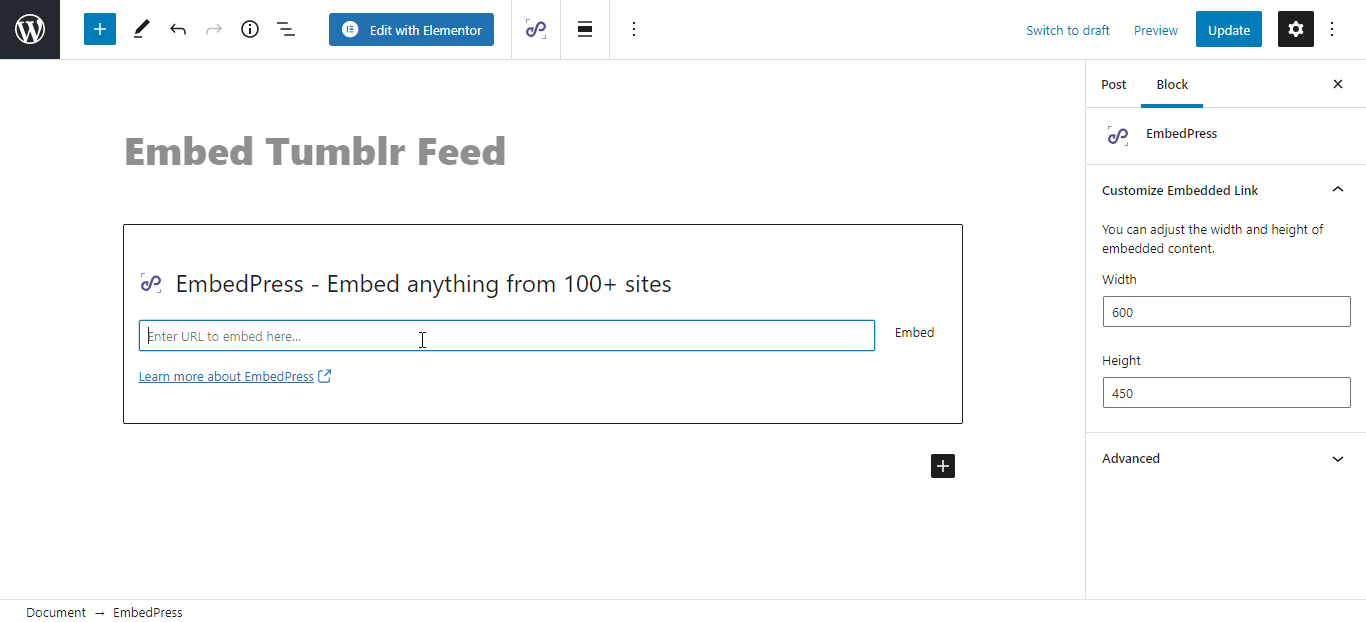 Next, all you need to do is publish the website page to easily showcase your creativity to your website users' and increase your website engagement rates instantly. Then, preview the content to check out the final outcome.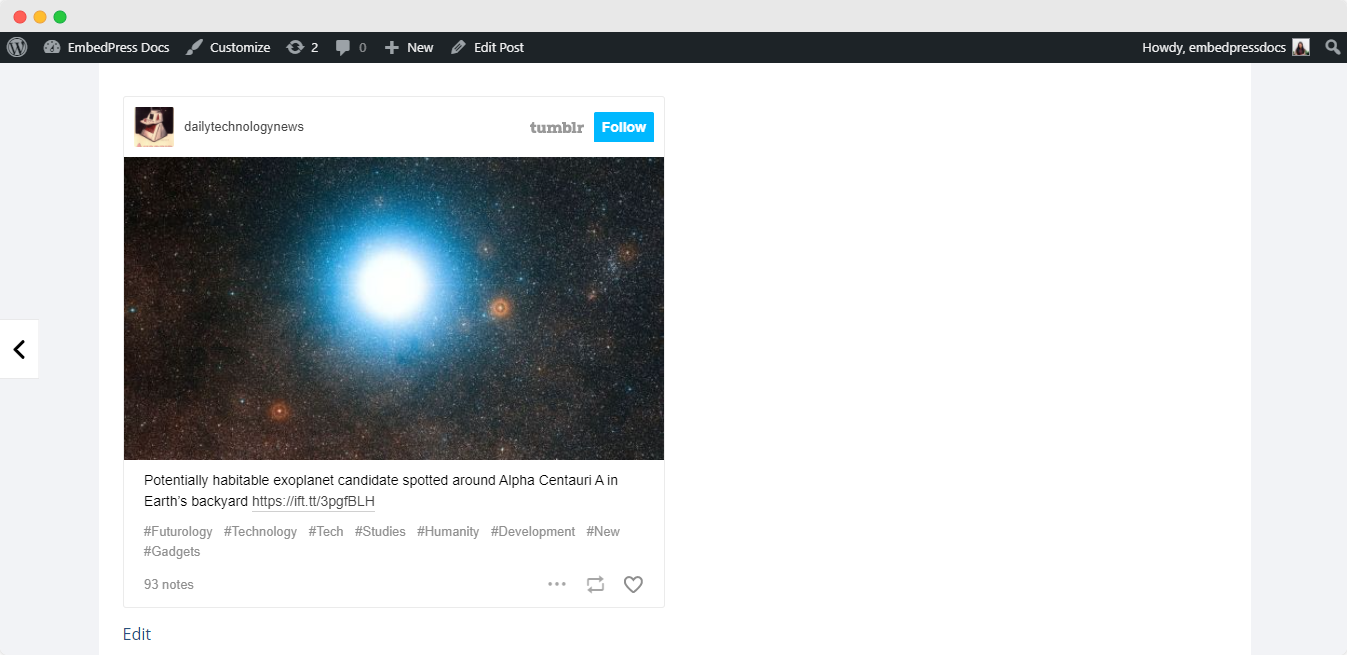 Embed Tumblr Feed In Classic Editor In Less Than A Minute
One of the most popular editors used on WordPress is Classic Editor and is fully maintained by the WordPress team and it is one of the earliest editors supported by EmbedPress. If you are a Classic Editor user, you can easily embed Tumblr posts with just one click in less than a minute. Here's how: 
Step 1: Copy & Paste Tumblr Blog URL In Classic Editor
Open a new web page or an old one where you want to add your Tumblr feed. Paste the URL directly onto the 'content area' of your Classic editor interface, the content will immediately load on the editor interface in no time. There is no need for extra widgets or extensions – it is that simple.  
Afterward, 'publish' the website content and it will be available in preview for any web visitor to see. This way you can easily grab your users' interest and get them to read through your website contents and increase your website SEO scores quickly. 
Step 2: Easy Edit Options From The Editor Interface
Customization of the embedded Tumblr post is just as easy to do as it is to embed the content. You can effortlessly modify the size and width of the embedded content by clicking on the 'Edit icon'.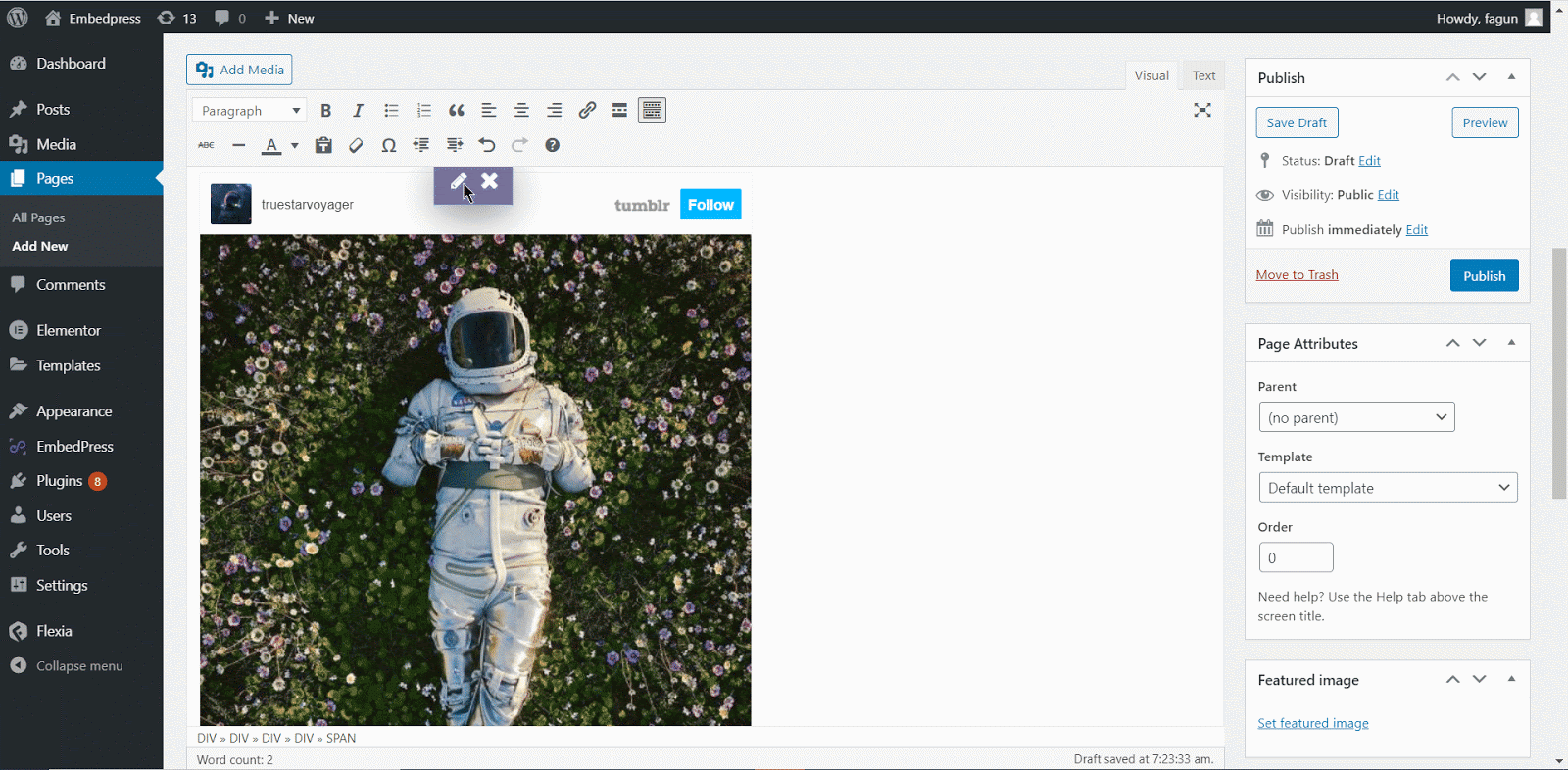 Simply move your mouse pointer over the Tumblr post embed on the Classic Editor interface, and a purple button will show up at the top. Click the pencil icon, and a pop-up window will be visible with more options.
How To Easily Embed Tumblr Feed In Elementor Editor?
Elementor is one of WordPress's most popular page builders with an easy-to-use, drag and drop interface. EmbedPress also comes with its own widgets for the Elementor user to quickly embed multimedia content on WordPress with just a few clicks. 
Below, we have added a breakdown of the steps you need to earn how to use the EmbedPress widget for Elementor to embed Tumblr posts quickly and effortlessly.  
Step 1: Use The Drag & Drop EmbedPress Widget
To embed Tumblr posts using the Elementor editor, first, click on the 'Edit with Elementor' button on your website page. It will take you to the Elementor editing panel. Once on the editor, search for the EmbedPress element on the widget side-panel and then drag & drop the widget onto the editor interface, as shown below.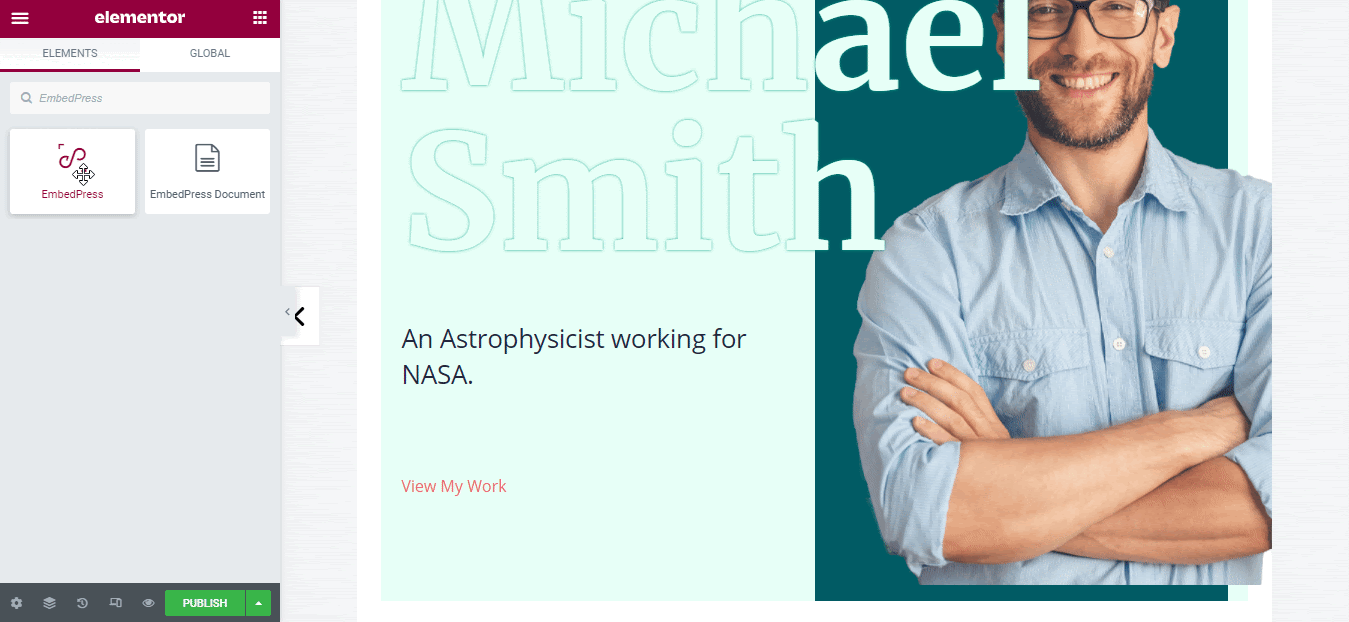 Step 2: Insert The Content URL Using Just A Click
Similar to how you embedded the Tumblr post in Gutenberg, all you need here is the URL of the post as well. If you already have the desired post link, you can paste the link onto the 'Content Settings' input field as shown below. Your embedded Tumblr blog post will automatically be uploaded onto your Elementor editor. Publish your post or page, and your website users will be able to see the embedded content. 
Step 3: Style Your Embedded Tumblr Content In Few Steps
EmbedPress helps you showcase your creativity through multimedia posts. Therefore, it allows you to edit the embedded Tumblr posts in Elementor editor to present your content in a more visually appealing way based on the design of your website.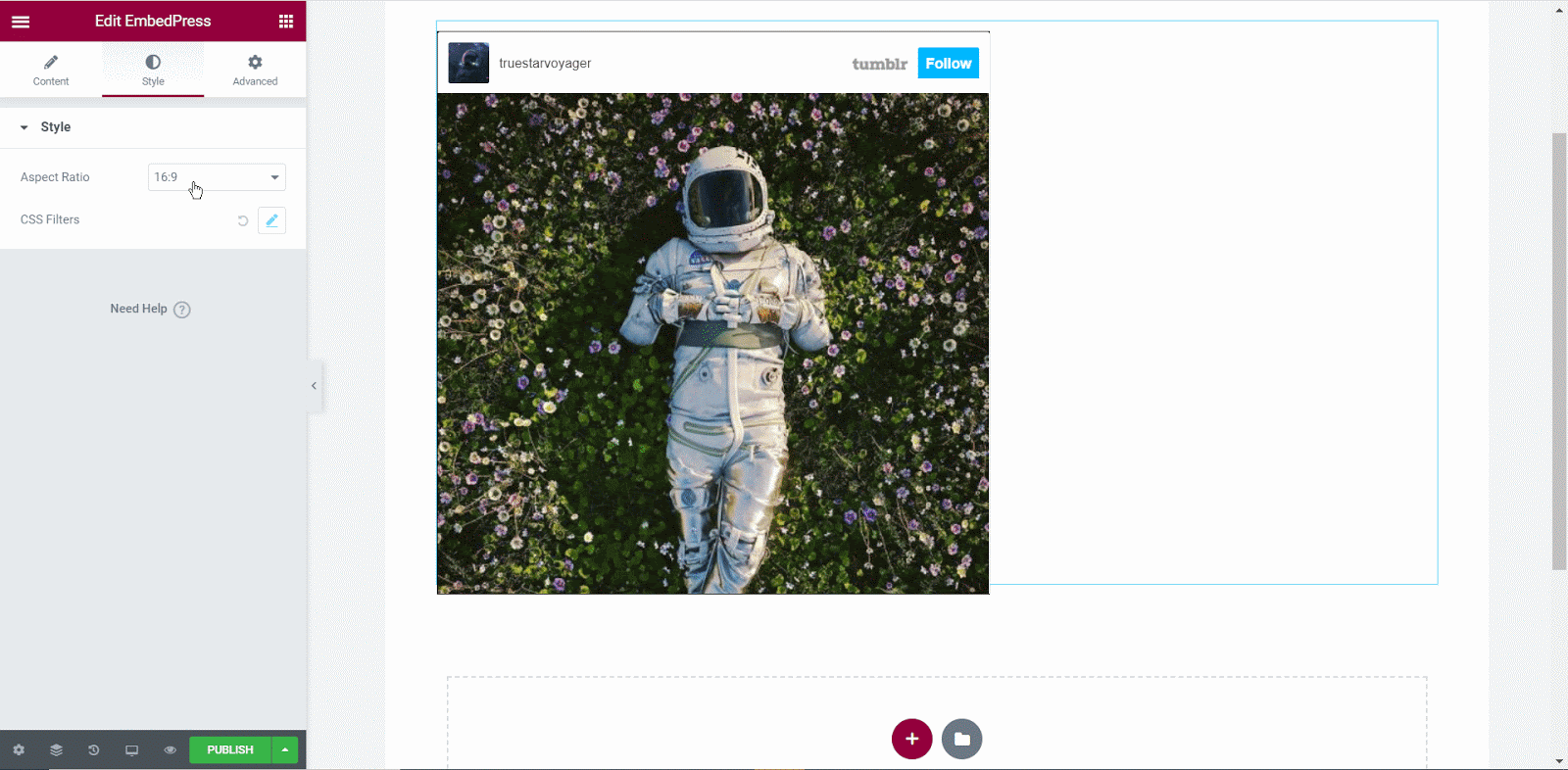 Simply click on the 'Style' tab on the Elementor side panel as shown. Here, you can change the 'Aspect Ratio' of your embedded content, tweak and turn all options available in 'CSS Filters' to fit it more neatly into your website, and much more.
How To Embed Tumblr Posts In Any WordPress Page Builder?
While the editors mentioned above have been compatible with EmbedPress for some time now, it was not possible to embed in other editors such as Beaver Builder and Divi. However, the team behind EmbedPress understands that there are many WordPress users who prefer to work with these page builders. 
With its latest updates, EmbedPress comes with an advanced feature that lets you generate shortcodes to add your Tumblr feed in any WordPress page builder. This feature enables WordPress users to generate codes that you can use to embed Tumblr posts and other multimedia contents into any of your preferred editors.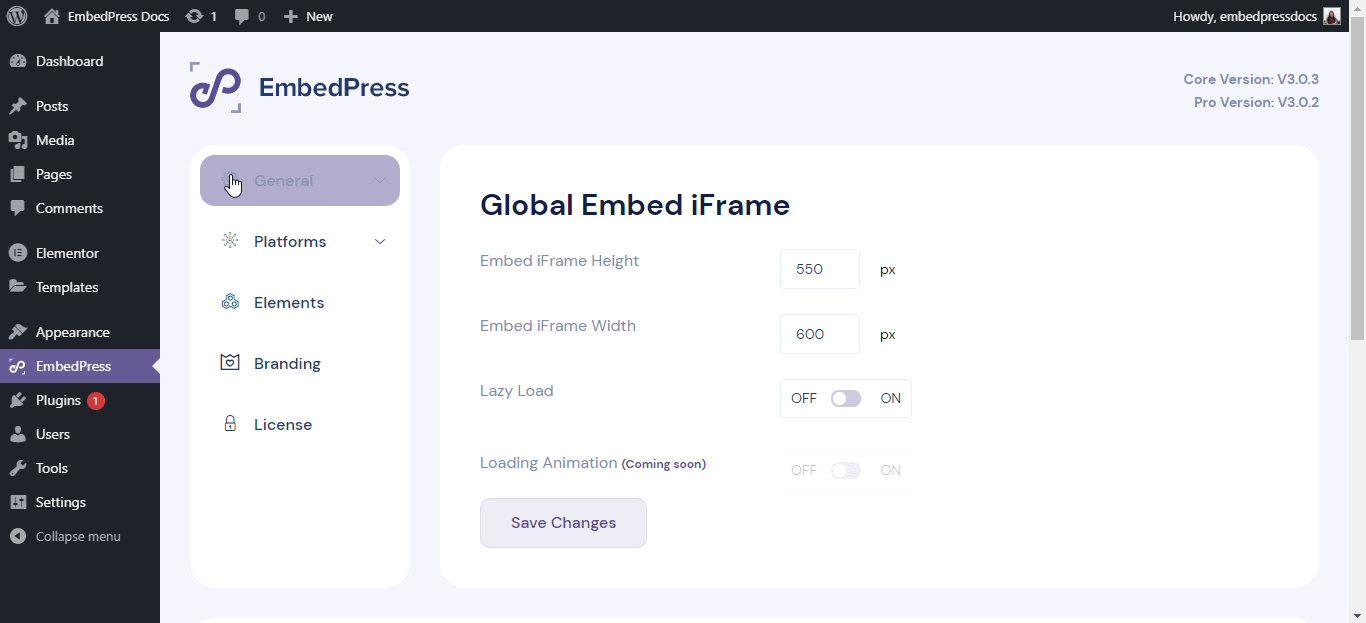 Note: You do not need to generate shortcodes to embed them in Gutenberg, Elementor, and Classic editor. 
Step 1: Generate EmbedPress Shortcodes With One Click
While 'adding shortcodes' might sound a little complicated to anyone with little to no knowledge of coding, with EmbedPress you have nothing to worry about. It is super easy to generate shortcodes with this easy embedding solution for WordPress.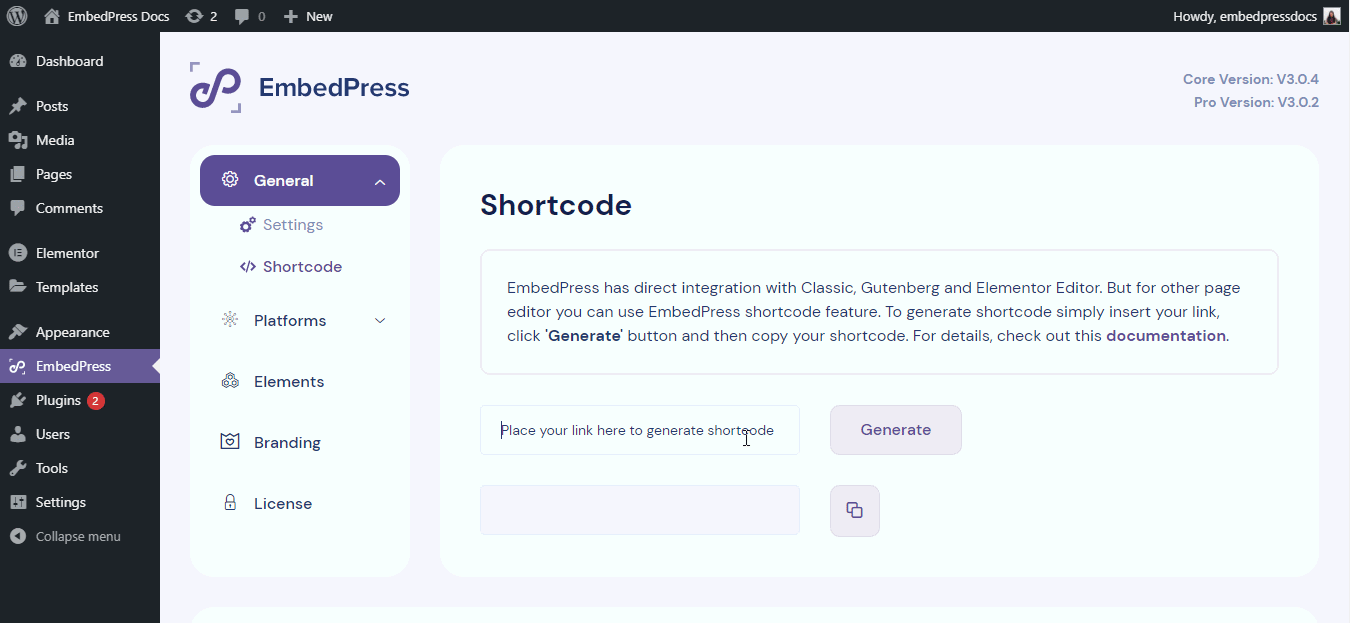 All you need to do is copy the post URL following the steps mentioned earlier in this blog post and paste it in the input field of the shortcodes tab of the plugin interface, as shown below. The EmbedPress plugin will instantly generate the shortcodes you need. 
Step 2: Embed Tumblr Posts In Any Page Builder
You can use similar steps to the ones given below to quickly embed in all your favorite editors, like Beaver Builder, and Divi, hassle-free. 
To insert the shortcode and embed Tumblr posts in Beaver Builder, you only need to paste the collected EmbedPress shortcode into the text editor of the editor and hit save. Once you publish the post, the shortcode will automatically be transformed into the embed of your desired Tumblr content instantly. To learn more in detail about how to easily embed using shortcodes in any WordPress editor, take a quick look at this documentation.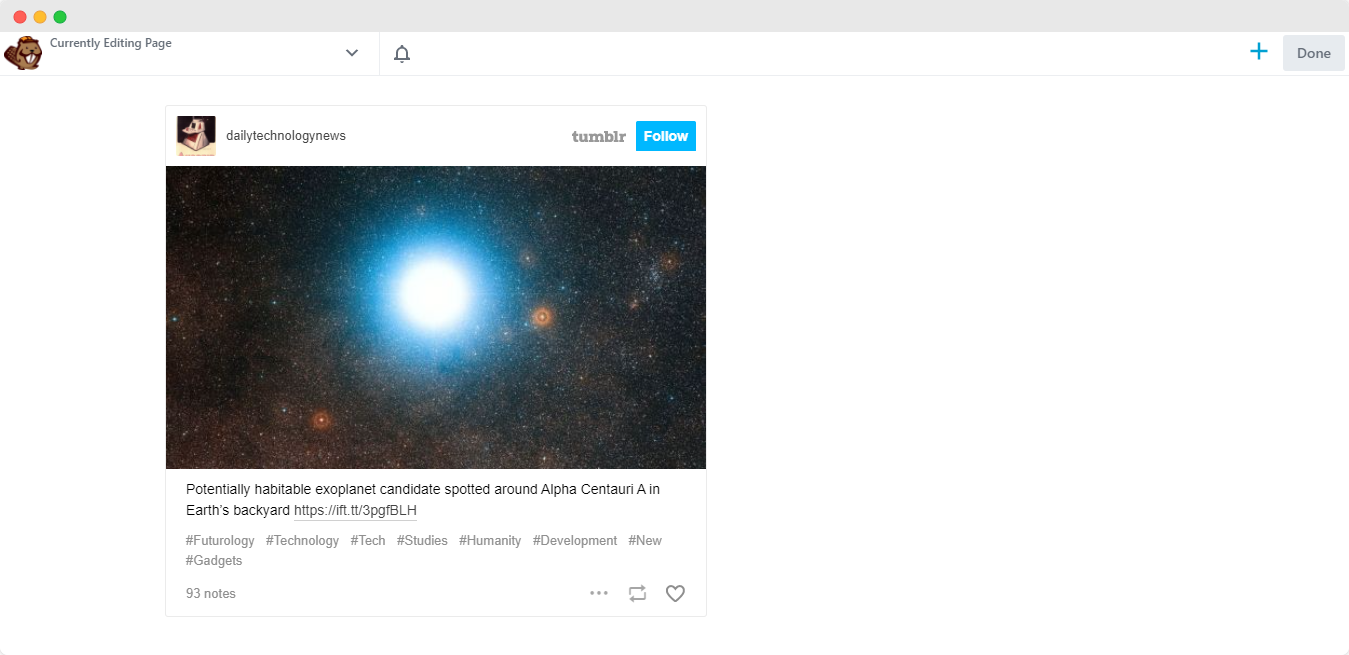 When you connect and embed Tumblr posts on your WordPress website, you can effortlessly share your story more interactively with the world. EmbedPress will help you skyrocket your website engagement, and that too, using just a URL and without the use of any codes. 
Give it a try, and let us know about your experience by commenting below. Subscribe to our blogs and join our Facebook Community to get all the latest updates and news from EmbedPress.