Do you want to discover the secrets to transforming your podcast or music blog effortlessly? Get ready to unleash your site's full potential through engaging audio files. This blog will guide you through an easy way to take your podcast or music blog to a new height by embedding audio files in WordPress.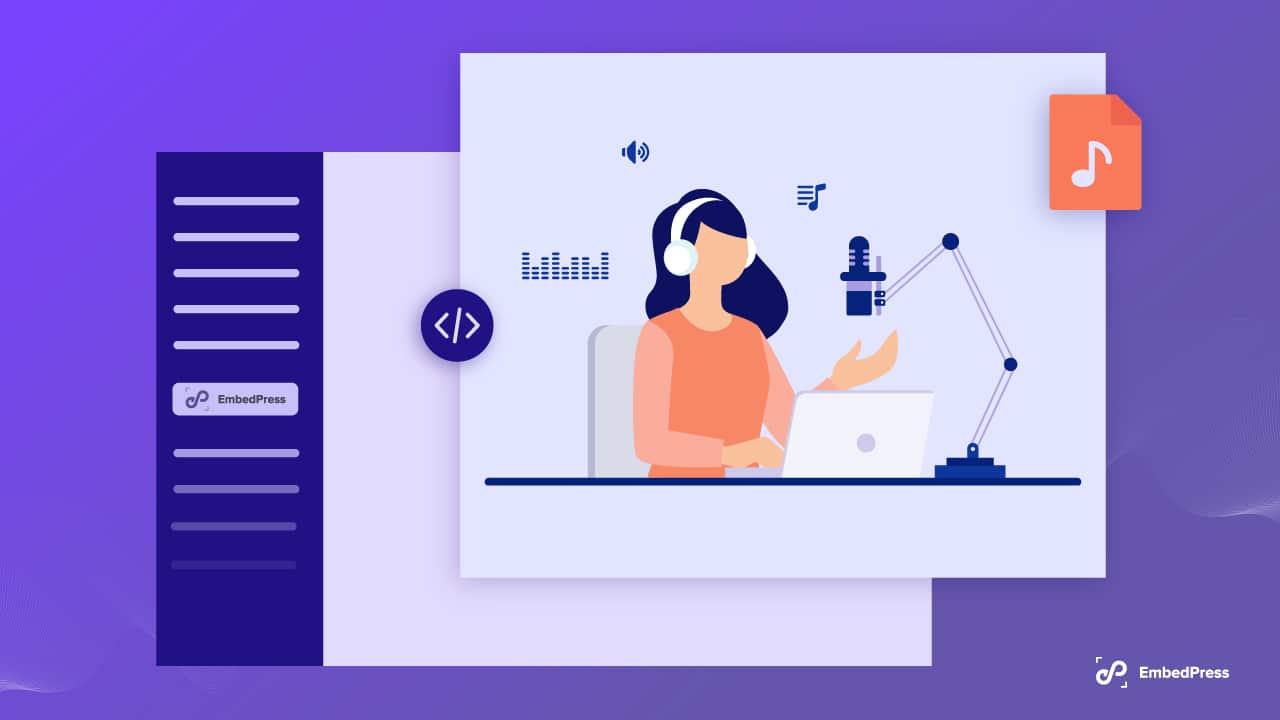 Sonic Symphony: Enhancing Your Podcast Or Music Blog With Embedded Audio
There are many advantages to adding audio files to your podcast or music blog. It enables you to enhance your narrative skills in the first place, giving your audience a multidimensional experience. Whether you use sound effects to improve storytelling, background music to establish the tone, or excerpts of interviews or performances, embedded audio elevates your material and gives it life in a way that written words alone cannot.
Additionally, embedding audio files gives you the chance to interact with your audience more deeply. You may establish a closer bond with your audience and make a lasting impression by submerging them in a rich auditory experience. Embedded audio gives you the ability to harness the power of music and spoken word to evoke feelings and start discussions.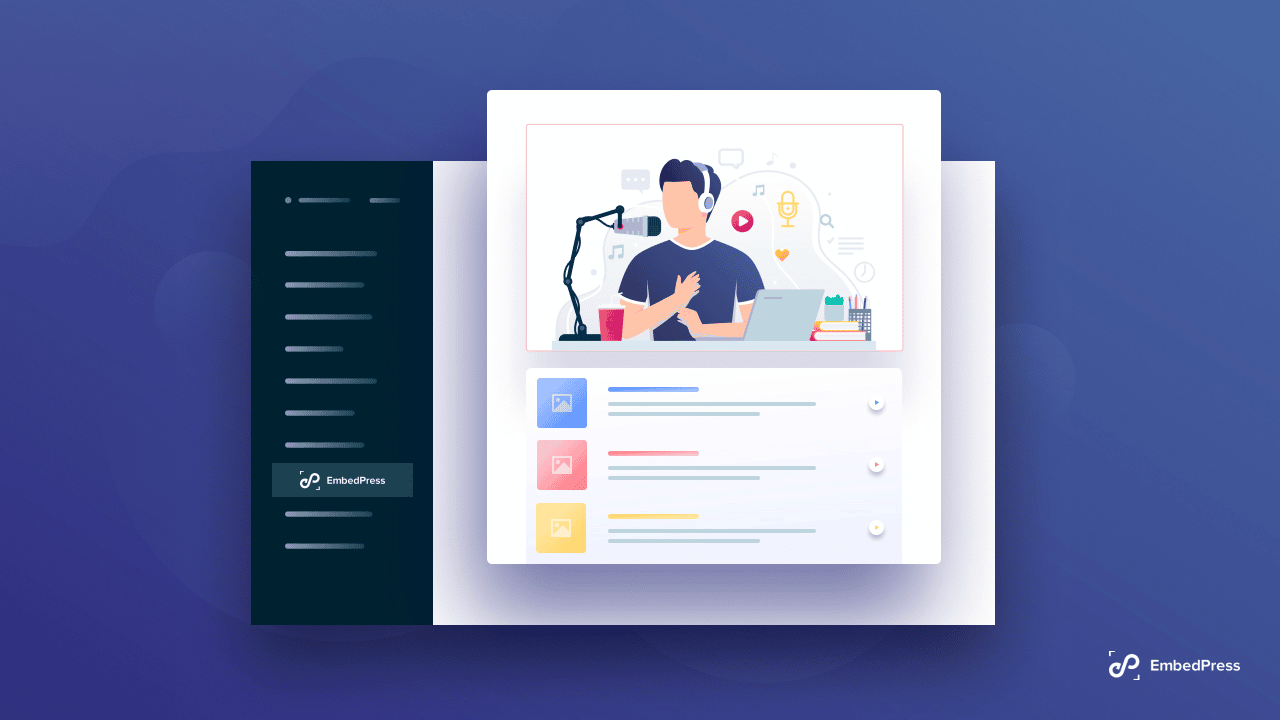 Embedding audio files into your platform is a game-changer, regardless of whether you are an experienced podcaster or an avid music blogger. Your content's quality is improved, and its virality and shareability are also increased. You can make shareable excerpts or teaser clips that tempt your audience to listen by simply embedding audio files, which will subsequently increase your audience and draw in new followers.
Unlock The Melody: A Guide To Embedding Audio Files In WordPress Sites
Now that you understand the significance of embedding audio files into your WordPress site, you might be wondering how to add those to your podcasting website. Look no further than EmbedPress, the feature-rich WordPress embedding plugin that offers a seamless embedding solution. This amazing plugin allows embedding audio files from popular platforms such as YouTube, Spreaker, Huffduffer, Spotify, NRK Radio, and more.
Regardless of the platform you use for podcasting or hosting your music audio files, EmbedPress has got you covered. By following an easy, step-by-step guide, you can effortlessly embed audio files in WordPress with the help of this powerful embedding plugin. For tutorial purposes, let's take a look at how to embed an audio file from 'Spreaker' using EmbedPress.
Step 1: Collect Your Speaker Podcast URL
To collect the Spreaker podcast URL, simply navigate to the Speaker website. Once there, you have the option to either create your own podcasts or explore the extensive collection of existing podcasts.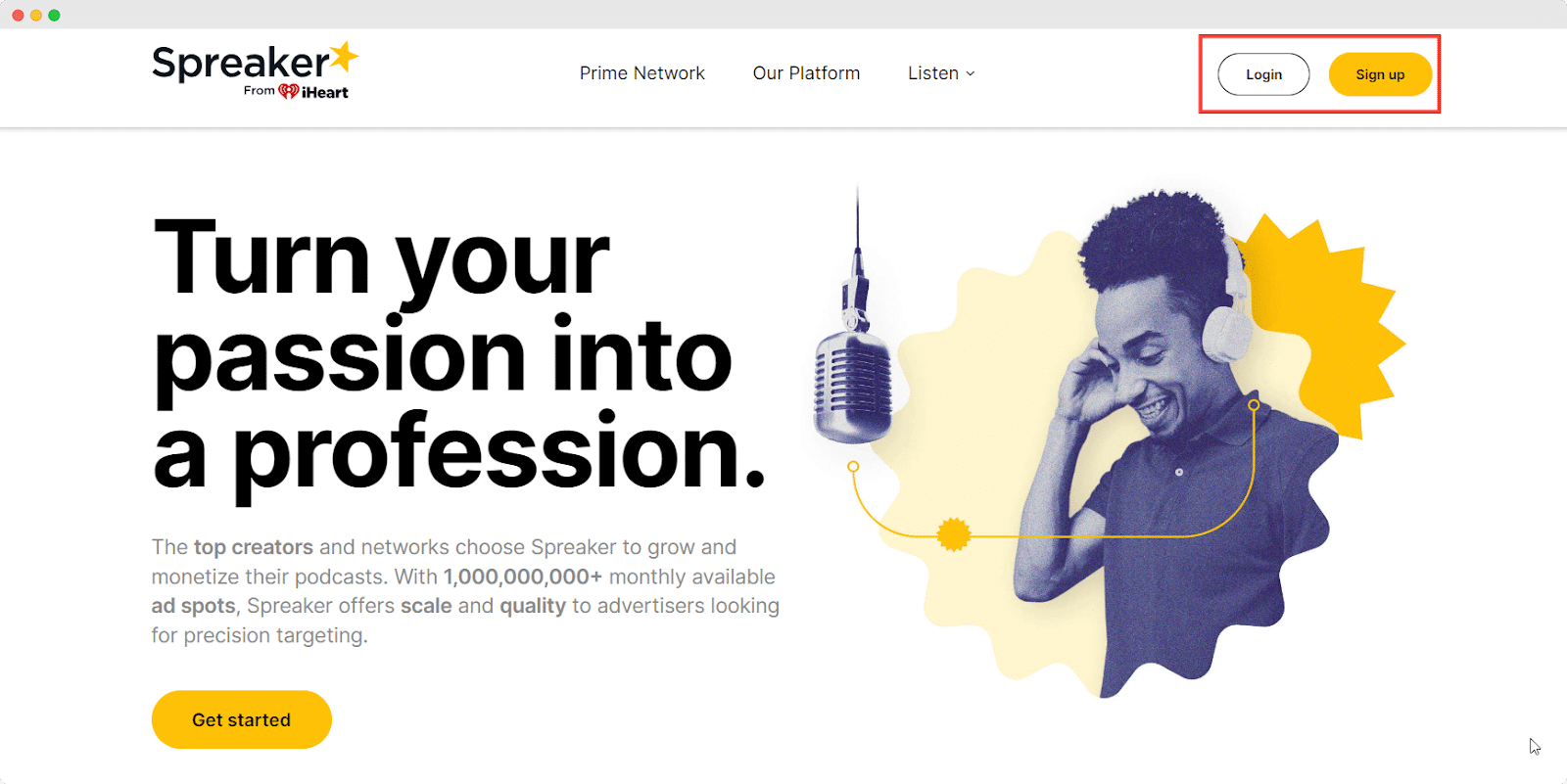 Now, To embed a podcast in your website, choose the desired podcast and copy its URL from the address bar. Alternatively, you can click the 'Share' button and obtain the link from the displayed pop-up, as shown below.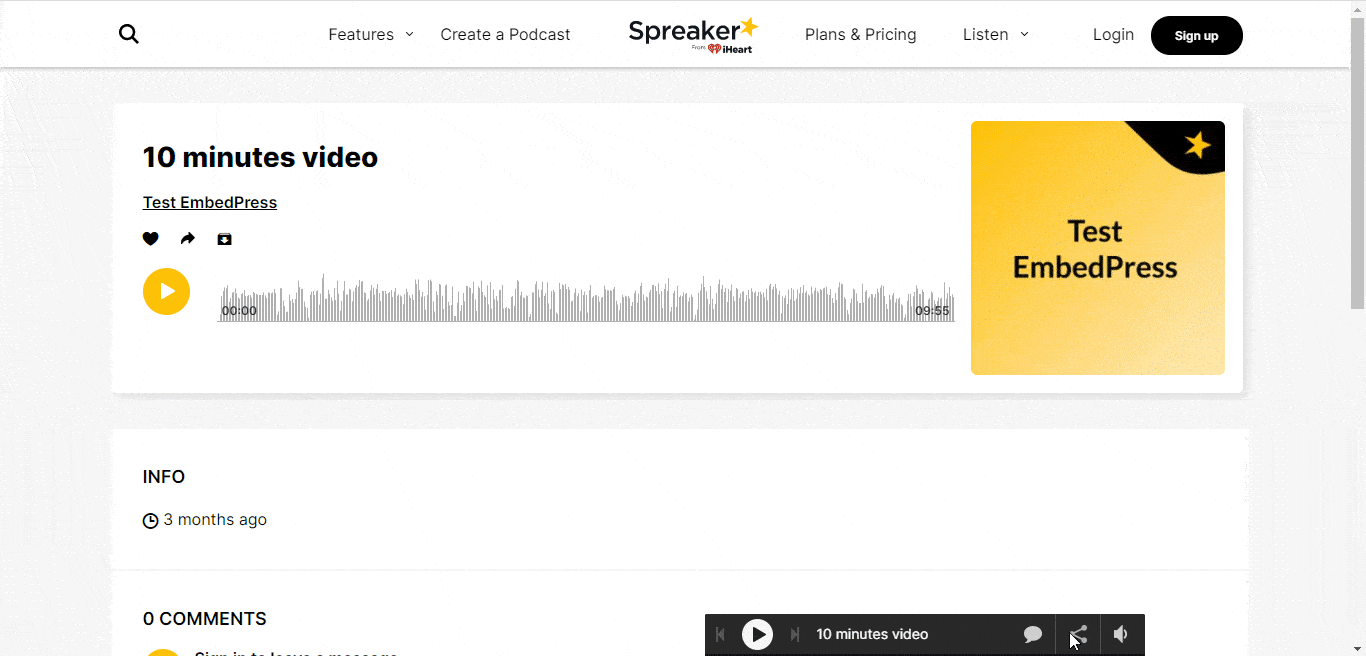 Step 2: Embed The EmbedPress Block In A Single Click
Click on the '+' icon from the Gutenberg editor and select the 'EmbedPress' block. Then click on the block to directly add it to your page.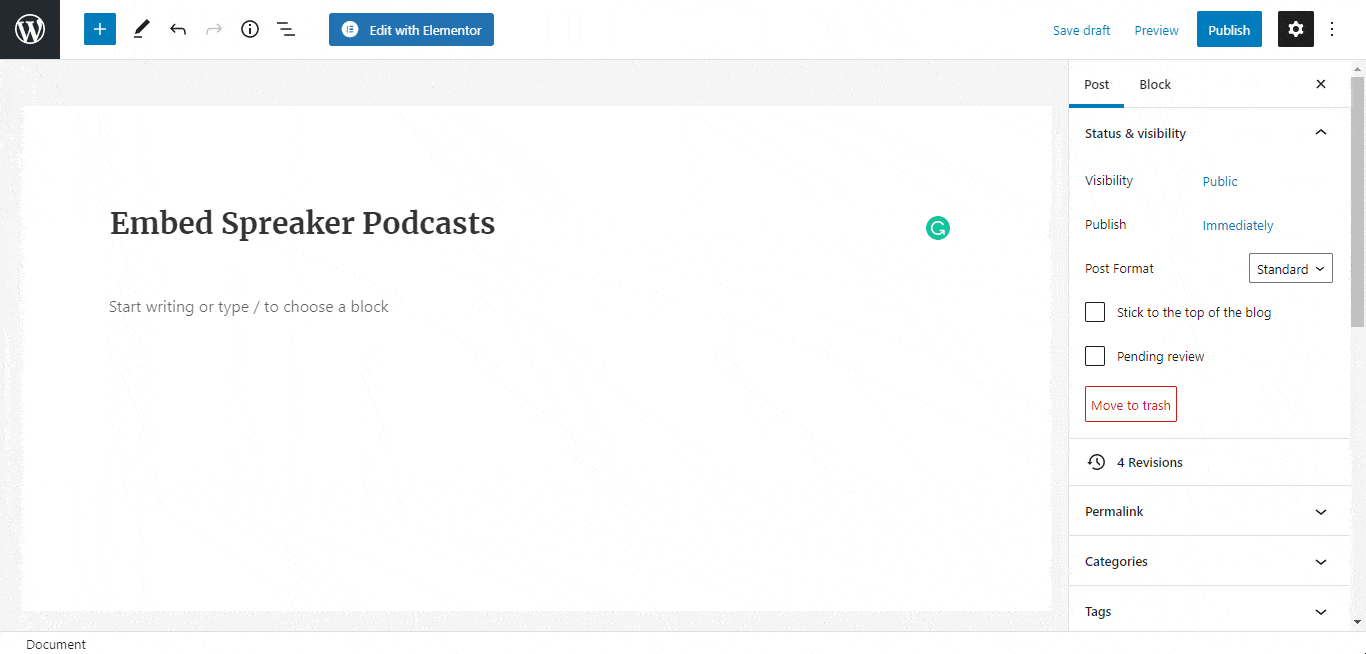 Step 3: Paste The Audio Link Into The Block
Now paste the copied Spreaker podcast URL on the input field and click on the 'Embed' button. And the podcast will automatically be embedded on your WordPress page.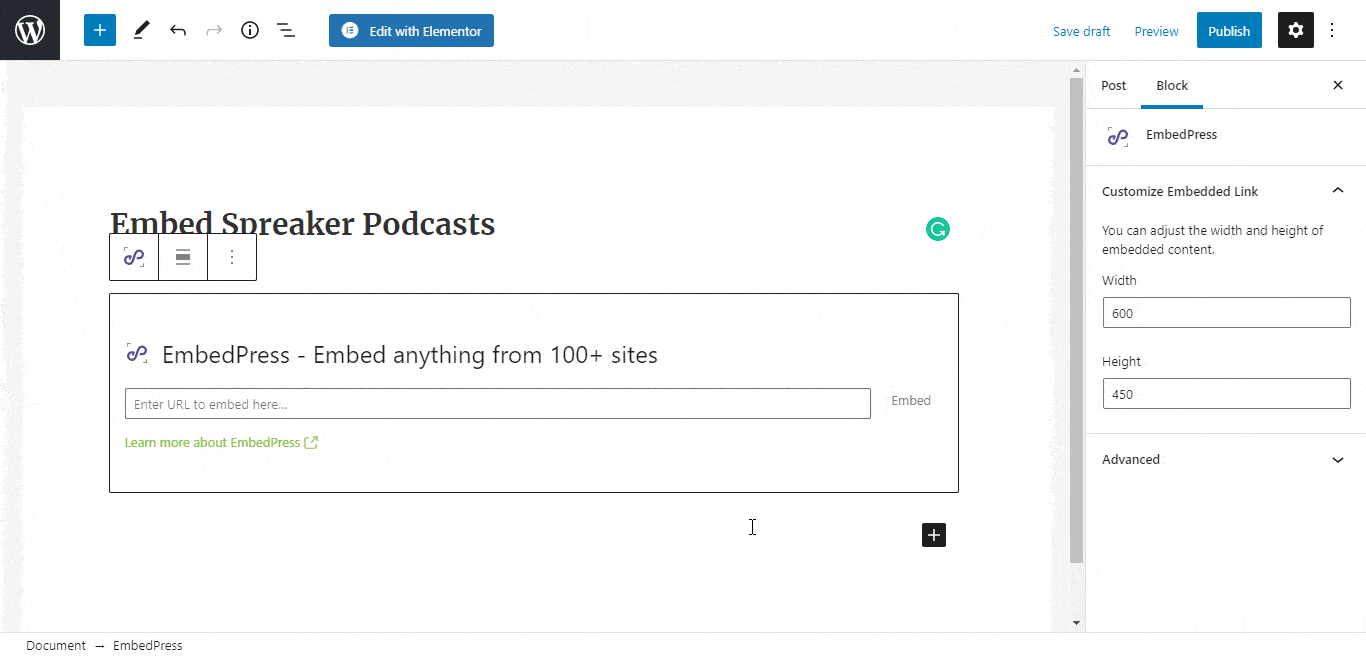 Step 4: Customize Your Embedded Audio
To edit the embed on the Gutenberg editor, click on the EmbedPress block on your Gutenberg editor. Simply click on the block customizer icon. This will open an editing panel on the right side of your Gutenberg editor. From there, you can effortlessly customize the dimensions of the embedded podcast and modify it however you want.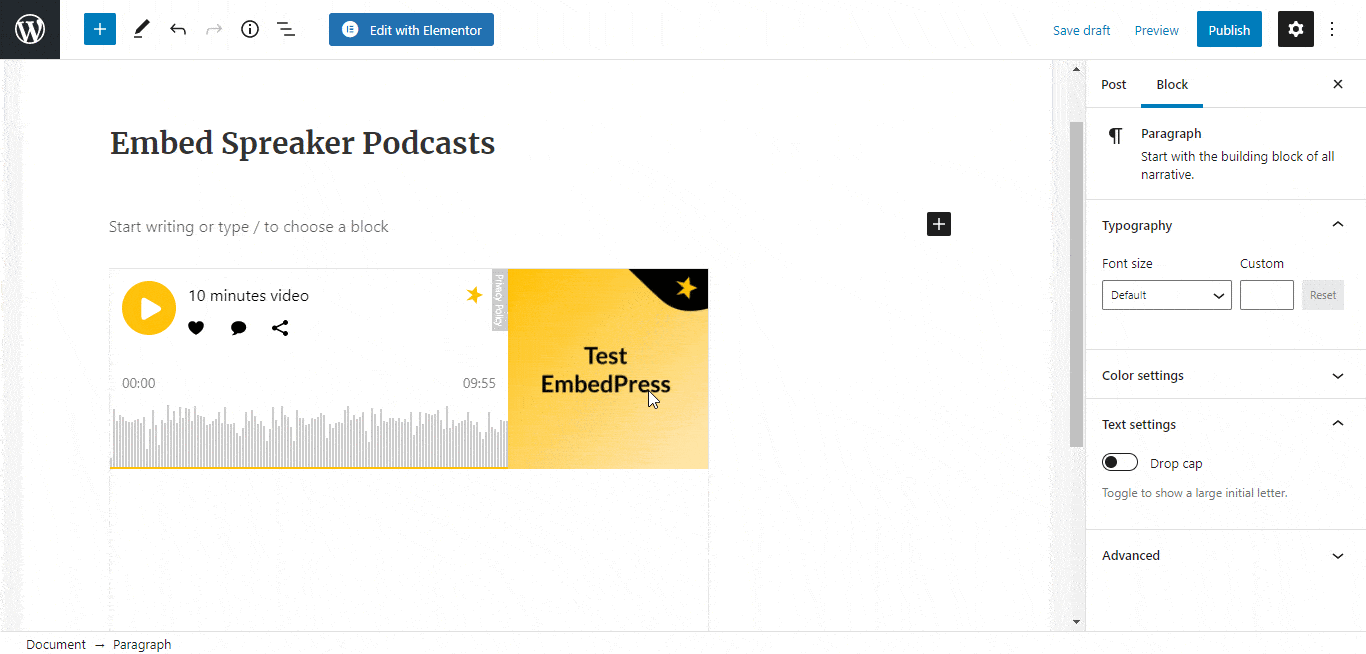 Step 5: Publish Your Podcast Video Content
Once you have completed the customization, simply publish your website content. And the Spreaker podcast will be seamlessly embedded on the published page or post, allowing your users to both see and listen to it.
See It In Action: Embed Audio Files In WordPress (Podcast or Music Blog)
Turbocharge Your Site: Embedding All, From Anywhere, Anytime
To enrich your podcasting or music site with an immersive multimedia experience, it's essential to embed various types of content beyond audio. Fortunately, EmbedPress offers the ultimate solution for all your needs. Whether you want to embed PDF files, YouTube channels, images, or GitHub Gists, this remarkable plugin empowers you to accomplish it all.
With its support for 150+ different sources, you can easily integrate multimedia content from diverse platforms. The best part? It's incredibly user-friendly—all you need to do is copy and paste the URL. Say goodbye to complex processes and welcome the simplicity of this exceptional plugin.
Moreover, EmbedPress offers rich customization opportunities, allowing you to tailor your embedded content to suit your preferences and needs. Joining a thriving community of over 80,000 satisfied users, you'll discover the collective enthusiasm for this plugin.
If you found this blog helpful, we invite you to subscribe to our blogs for more valuable content. Join our Facebook Community as well to connect with like-minded individuals who share similar interests.