Want to add some cool SoundCloud tracks to your WordPress site? If you are a listener, an artist trying to get people to listen to your tracks, or a writer looking to add tunes to content, you would love to add SoundCloud music to your website to make it more appealing. You can easily embed SoundCloud music to your WordPress site with the most useful and easy-to-use EmbedPress tool. This will bring more dynamics to your storytelling and boost user engagement.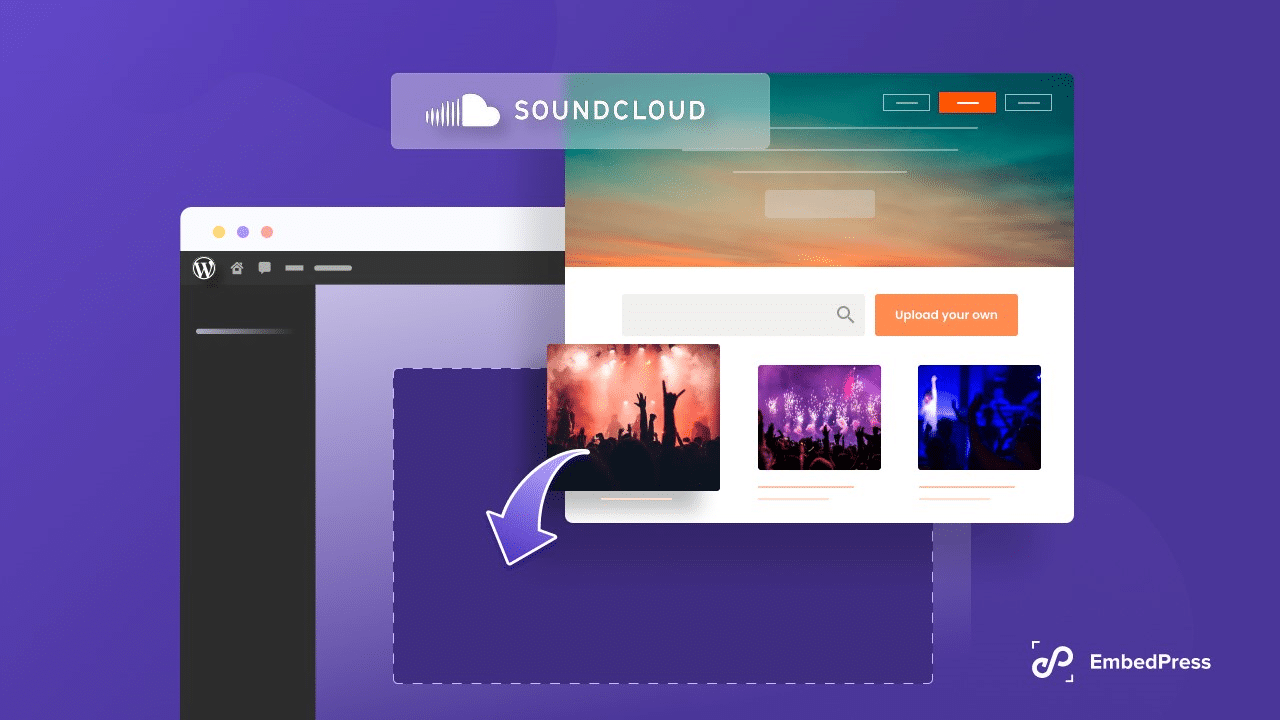 🎺 Understanding The Significance Of SoundCloud's Audio Landscape
SoundCloud serves as a vibrant and inclusive platform for musicians, podcasters, and audio creators, offering a wide range of original sounds across various genres. The global community on SoundCloud benefits from an extensive collection of music that ranges from emerging talents to established artists. So, embedding SoundCloud's audio files on your web pages can offer a dynamic environment for visitors, listeners, and readers of music enthusiasts.
👩‍🎤 A Hub For Music Lovers To Get More Musical
SoundCloud provides an easy platform for promising artists to showcase their talents, enabling them to reach a global audience without the need for a major recording label. Adding this platform to your content can allow visitors to listen to exclusive tracks and add more dynamics to your storytelling.
🎶 Diverse Genres In A Single Location
The platform boasts an extensive catalog of music spanning various genres, including electronic, hip-hop, indie, rock, classical, and more, fostering an inclusive environment for music enthusiasts of all tastes. On top of that, adding SoundCloud tracks to your site will be a bonus for visitors to explore multiple music genres.
🤝 A Community-Driven Ecosystem
SoundCloud's vibrant community encourages collaboration, interaction, and feedback among creators and listeners, fostering a supportive environment for artistic growth and exploration. If you have visitors from the community, they can actively engage with artists, share feedback, and discover hidden gems on your web pages without leaving the website.
📯 Fostering Creativity & Originality
SoundCloud's emphasis on user-generated content promotes a culture of creativity and originality, allowing artists to express themselves authentically. If you are an artist yourself or promoting new creations, it's the simplest approach to influence the broader landscape of contemporary music through your embedded content.
🎵 A Source Of Musical Discovery & Exploration
The intuitive interface and user-friendly design of SoundCloud facilitate seamless music discovery, enabling users to explore an extensive collection of tracks, podcasts, and audio content tailored to their individual preferences and interests. Your website visitors can be potential listeners who can dive into curated playlists, discover emerging talents, and follow their favorite artists, fostering a dynamic ecosystem of musical exploration and fortunate discoveries on your website.
🥁 A Step-By-Step Guide To Embed SoundCloud Music Using EmbedPress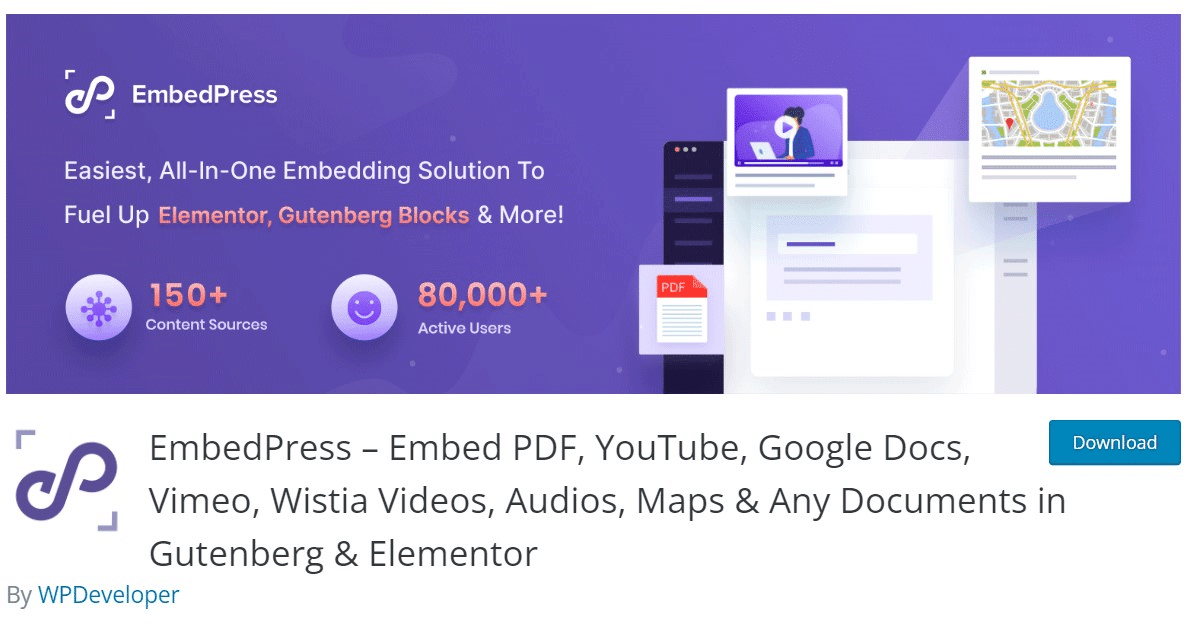 With the help of EmbedPress, you can easily embed SoundCloud music into WordPress using just a URL. In addition to SoundCloud, this plugin allows you to easily embed multimedia content of multiple other types with a single click. Plus, with the required customization possibilities, you to display it elegantly for your website visitors.
This lets you embed content easily into Classic Editor, Gutenberg Block Editor, Elementor, or use EmbedPress shortcodes on other WordPress page builders to supercharge the content of your story. To quickly and easily embed SoundCloud music to your WordPress site without having to write any code, follow the instructions below.
Step 1: Install The EmbedPress Plugin
Begin by installing the EmbedPress plugin. This valuable tool streamlines the process of audio embedding in your WordPress website, eliminating the need for complex embed codes.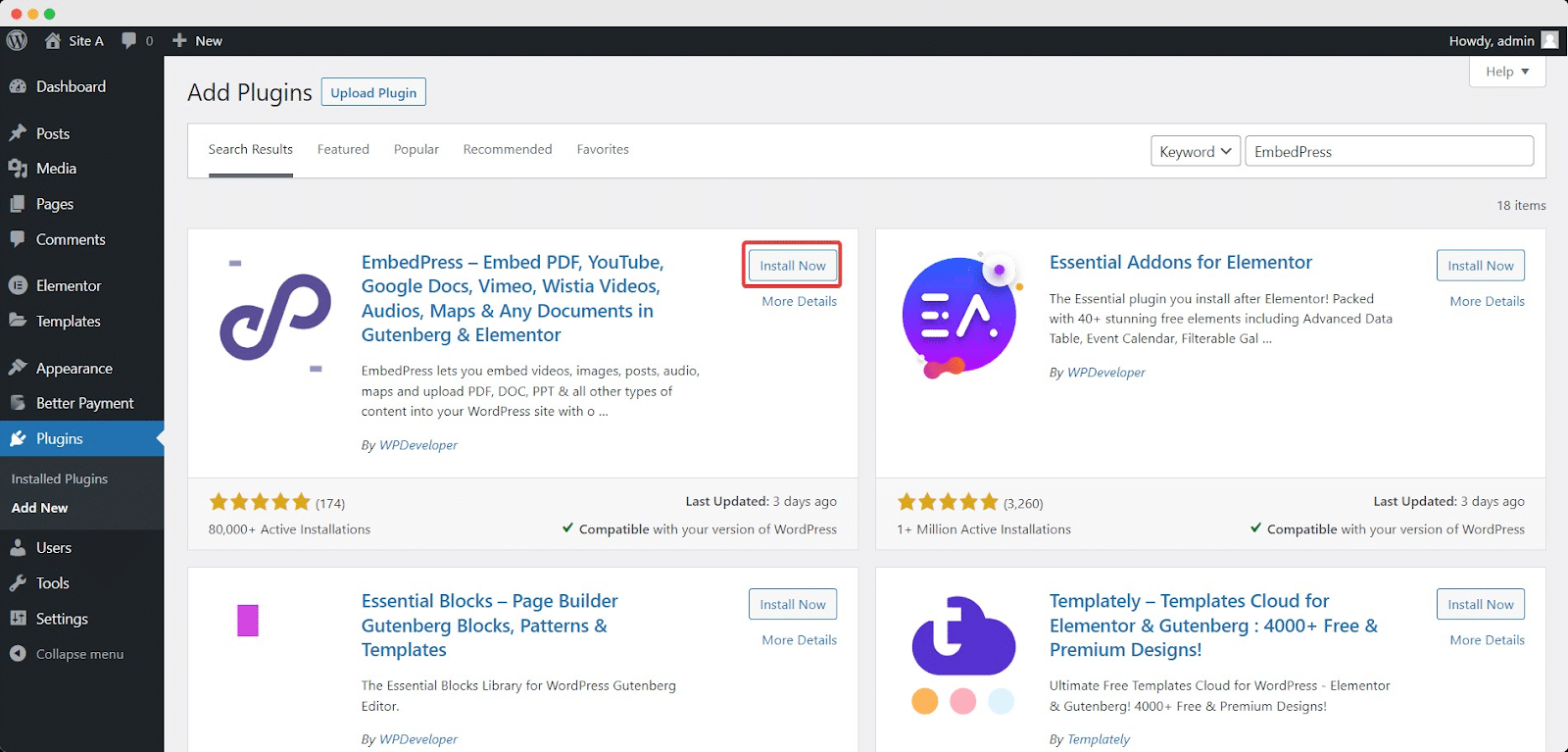 Step 2: Collect The SoundCloud Audio File URL
To embed your desired SoundCloud track, navigate to the SoundCloud website, select your preferred audio file, and copy the URL from the 'Share' option. This URL will serve as the key element for seamlessly embedding your chosen track into your WordPress site.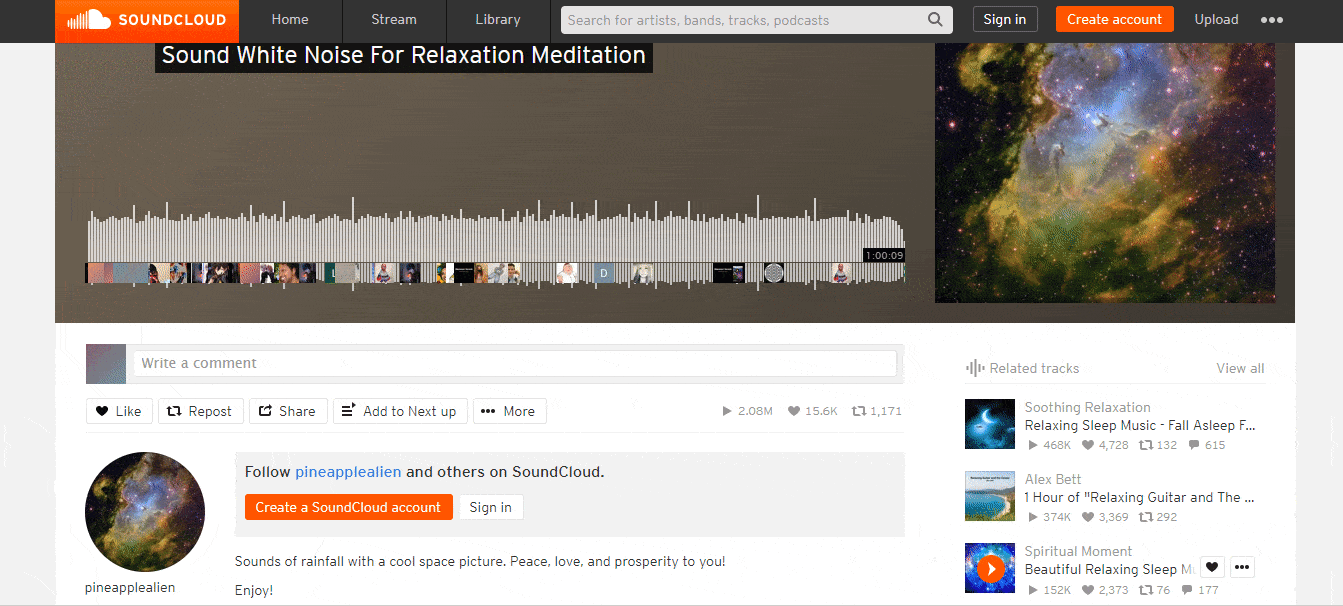 Step 3: Embed & Publish Your SoundCloud Embed
Once you have the SoundCloud URL copied, head to your WordPress dashboard. Depending on your preferred editor, follow these steps:
Embed Using Gutenberg Editor
Use the 'EmbedPress' block in the Gutenberg editor and paste the SoundCloud URL. This will automatically transform the link into an embed, ready to be published on your website.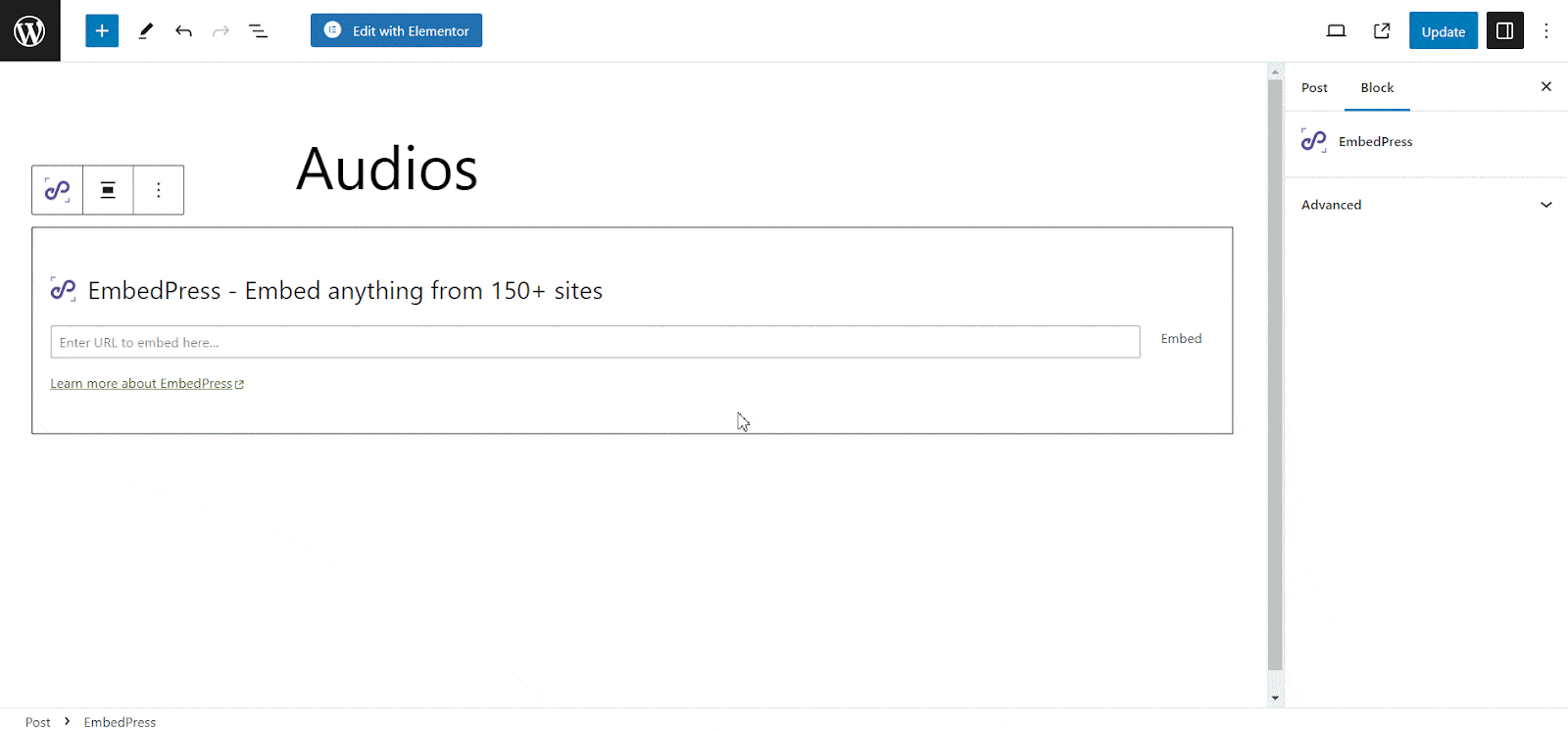 Embed Using Elementor Editor
Drag and drop the 'EmbedPress' widget into the Elementor editor, paste the SoundCloud URL into the 'Content Setting' of the widget, and customize the dimensions and background color to suit your preferences.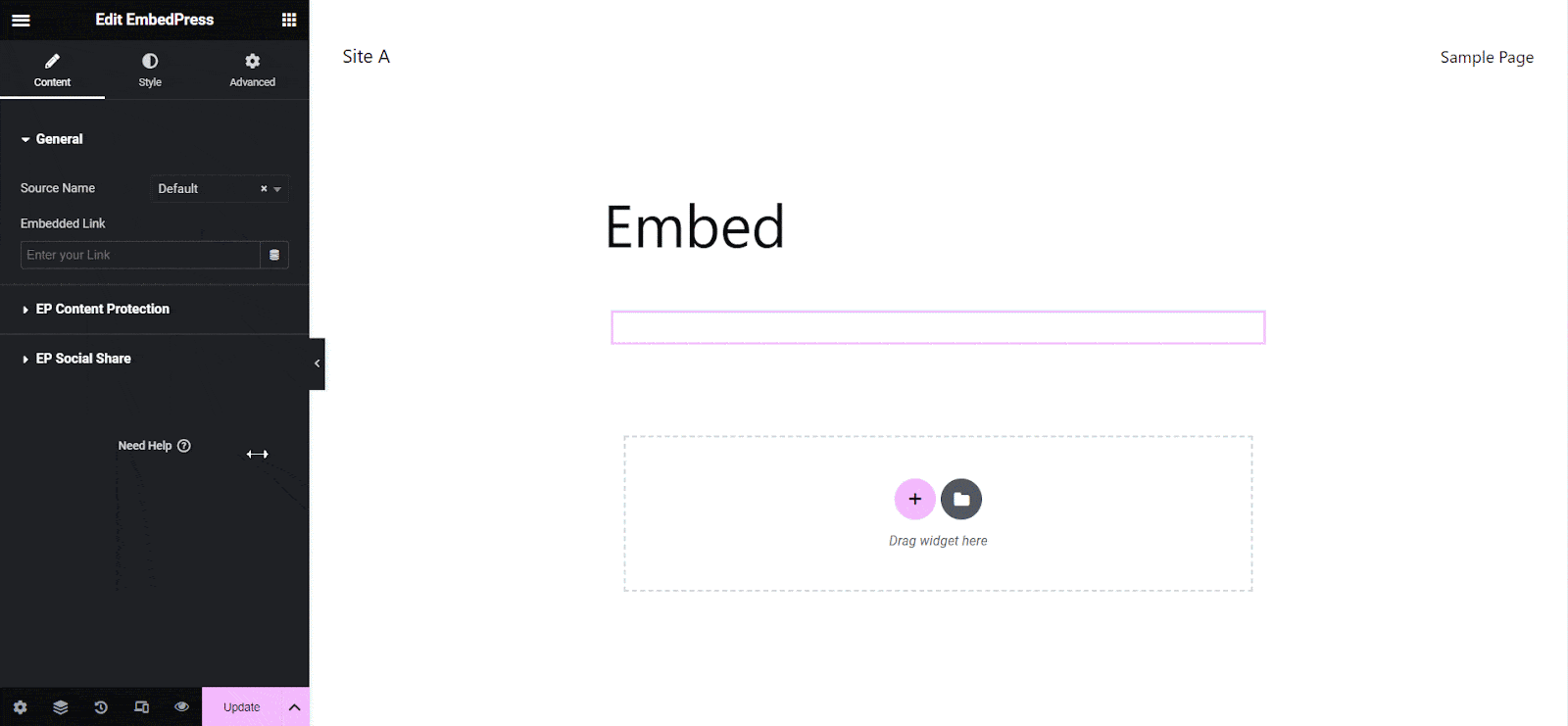 Embed Using The Classic Editor
Simply paste the SoundCloud URL directly into the content area. Watch as the URL seamlessly converts into an embed, allowing you to adjust the width and height for optimal display.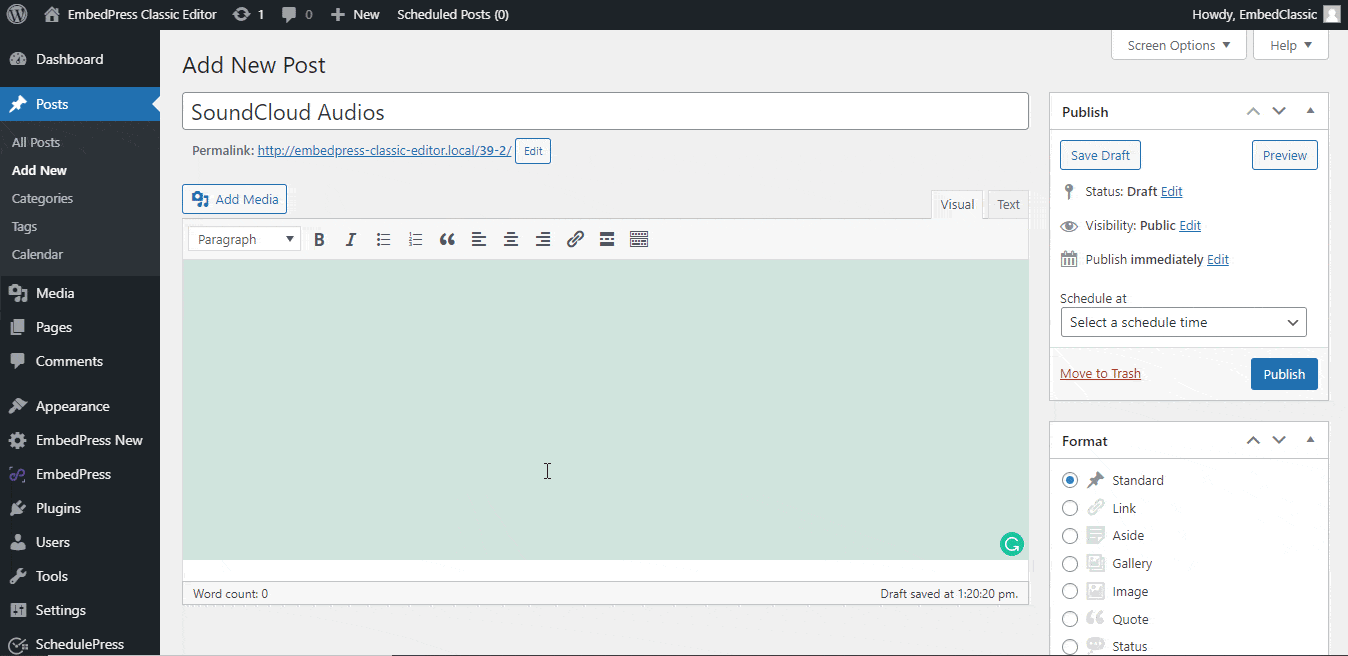 Step 4: Customize & Publish Your SoundCloud Embed
The beauty of EmbedPres plugin lies in its ability to facilitate easy customization of your embedded SoundCloud music. With a simple click on the embedded content, you can explore limitless customization options. These include EP Content Protection, EP Social Shares, and tabs to modify the dimensions and appearance of your embedded tracks effortlessly.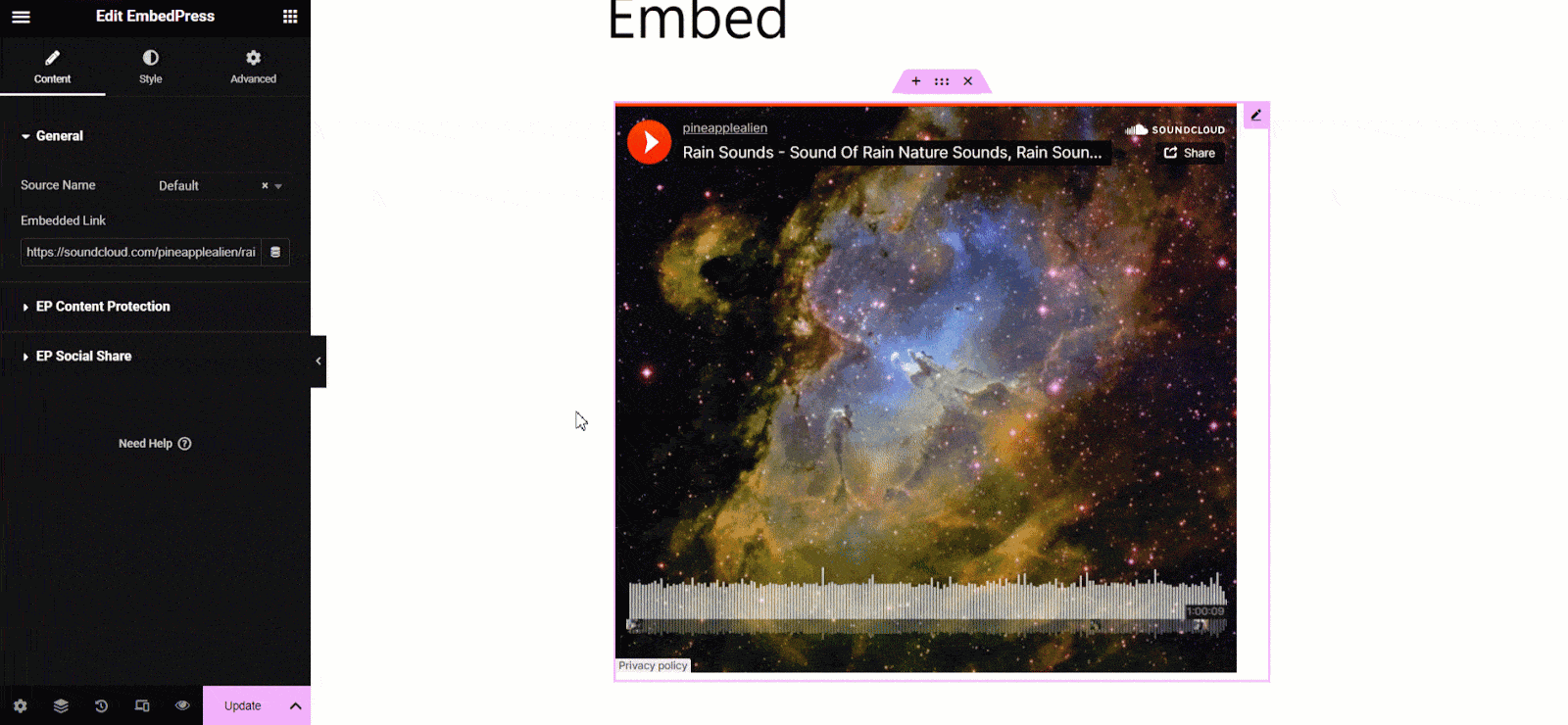 Once you are done customizing your embedded content, publish your post and enjoy peace of mind knowing that your audio embeds will remain fully responsive across all devices. It will provide your audience with a seamless and enjoyable listening experience.
🔊 Make SoundCloud Embeds Effortless With EmbedPress
The versatile features of EmbedPress make it a go-to tool for over 150+ supported sources, including Spotify, ReverbNation, Shoudio, and HuffDuffer. This powerful plugin enables you to seamlessly embed multimedia content into your WordPress site, allowing you to craft a rich and engaging user experience tailored to your specific needs and preferences.
Embed SoundCloud music in your WordPress website today with the dynamic capabilities of EmbedPress, and discover the transformative potential of this platform. If you have found this blog helpful, share your opinion with our Facebook community. You can also subscribe to our blogs for valuable tutorials, guides, knowledge, tips, and the latest WordPress updates.