If you've been following recent eCommerce updates, you might have heard about Gumroad: a complete eCommerce platform that is quickly gaining popularity for enabling artists and creators to sell their digital products online. But just having your products on Gumroad is not enough – you need to be able to reach buyers and the easiest way to do that is to showcase the listed products on your personal websites which get access to large traffic and views. In this article, we'll show you how you can easily embed Gumroad products in WordPress sites to increase sales.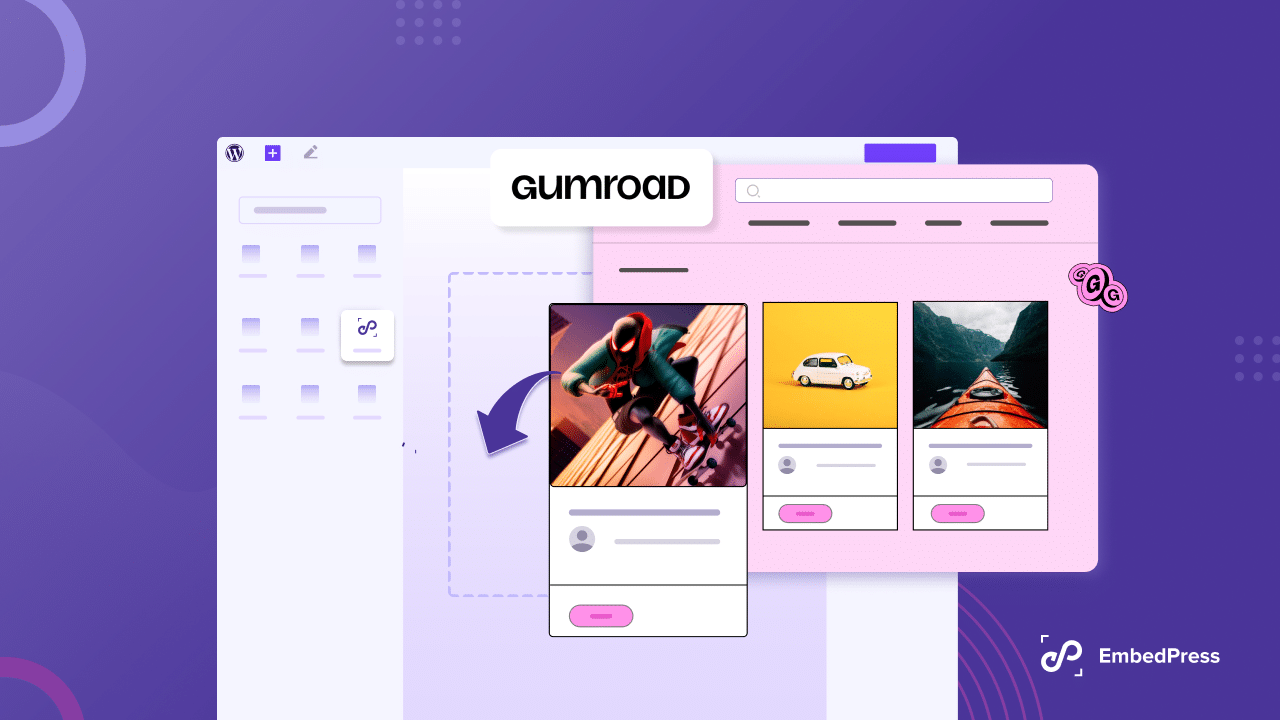 💡 What Is Gumroad & Why It's Talk Of The Town?
Gumroad is a place where almost anyone can sell nearly anything. The process is easy and clear, without the complications of some other popular platforms. According to Fastcompany, the platform's concept originated when Sahil Lavingia, the former Pinterest designer and founder of Gumroad, wanted to sell his lifelike icon. Yet, selling it directly to customers demanded a lot of effort.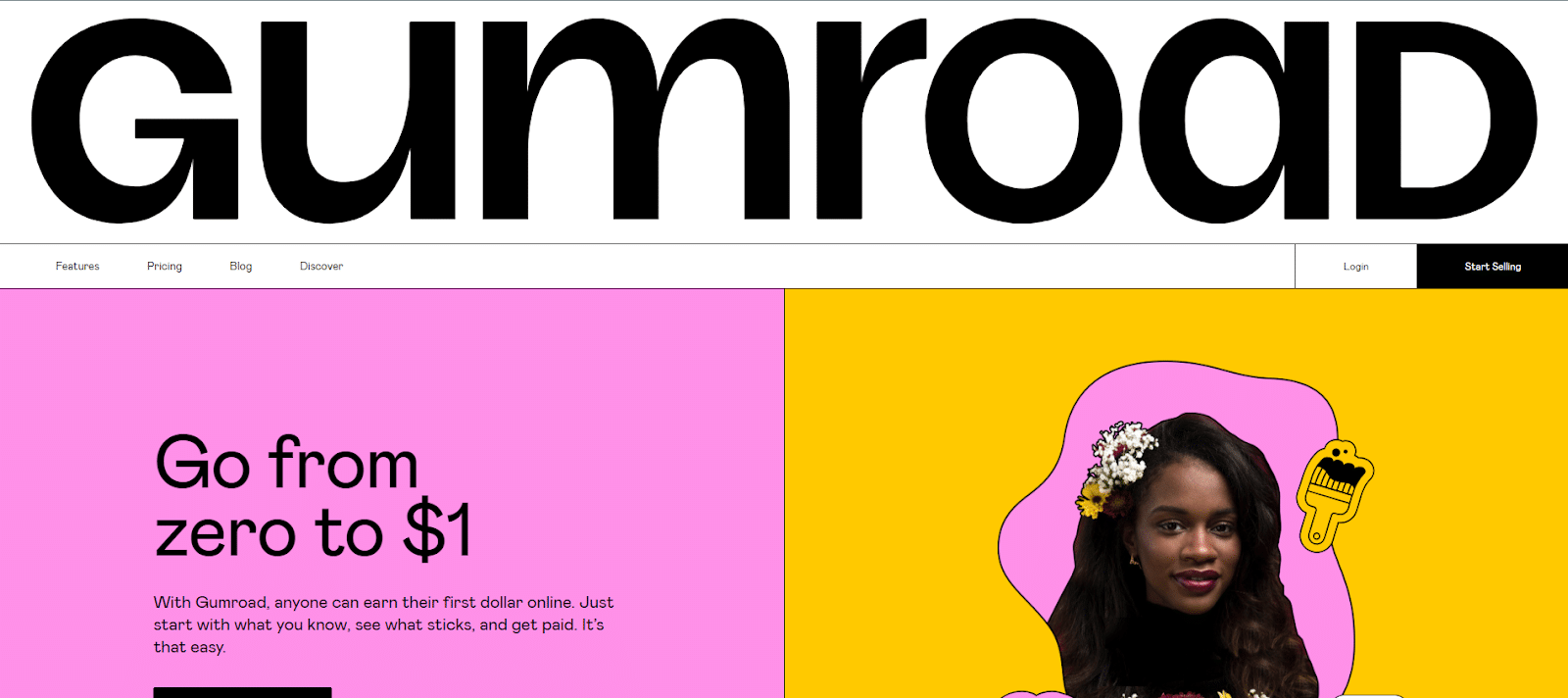 That's why Sahil Lavingia personally crafted the first Gumroad version in just one weekend in 2011. Since then, it has expanded:
✅ Over 46,000 creators are now part of Gumroad, generating a remarkable $142 million in 2020, marking a substantial 94% growth compared to the previous year.
✅ Gumroad's internal study features insights from 102 creators who earned over $100,000 individually, sharing their top advice for budding creators.
✅ With Gumroad products gaining traction, website owners are integrating them into their sites. Notably, WordPress, used by 810 million websites (43% of all internet sites), plays a pivotal role in this trend.
So, it's crucial to understand how to sell Gumroad products on your WordPress website without any single code. But before we dive into that, let's explore the advantages of selling Gumroad products directly from your website.
✍🏻 Advantages Of Selling Gumroad Products Directly Into WordPress Site
WordPress websites are a popular choice for both technical and non-technical individuals seeking simple website creation. Numerous designers' continuous entry of new designs allows for standout website customization. These designs can be effortlessly applied to personalize and enhance your WordPress site's appearance. WordPress websites hold a significant portion, making up 43% of global websites, as reported by W3Techs.
📈 Enhancing eCommerce With WordPress & Woocommerce
WordPress offers the Woocommerce plugin, seamlessly integrating an adaptable and fully functional eCommerce platform within the website. Gumroad, while commendable, presents limitations regarding customization. Customizing Gumroad's appearance often requires developer assistance, limiting personalization options. That's why selling Gumroad products with the WordPress website is easy.
🔐 Unlocking Flexibility Through Integration
Integrating a Gumroad page with WordPress or Woocommerce eliminates coding expertise requirements. Design customization becomes feasible, and products are presented in an intuitive manner. Combining Gumroad and WordPress translates to enhanced design control and user-friendly product presentation. This exemplifies that while Gumroad is valuable, integration with WordPress elevates the user experience.
👨🏻‍💻 Easing Customer Experience
For websites and products hosted on Gumroad, seamless integration is attainable. Visitors can access your Gumroad products directly from your site, avoiding the need to navigate to Gumroad. Clicking a product link guides customers to a Gumroad page for purchase, simplifying the shopping process. Product options, if available, can be conveniently selected by customers on the Gumroad page.
🌟 Introducing EmbedPress New Source: Gumroad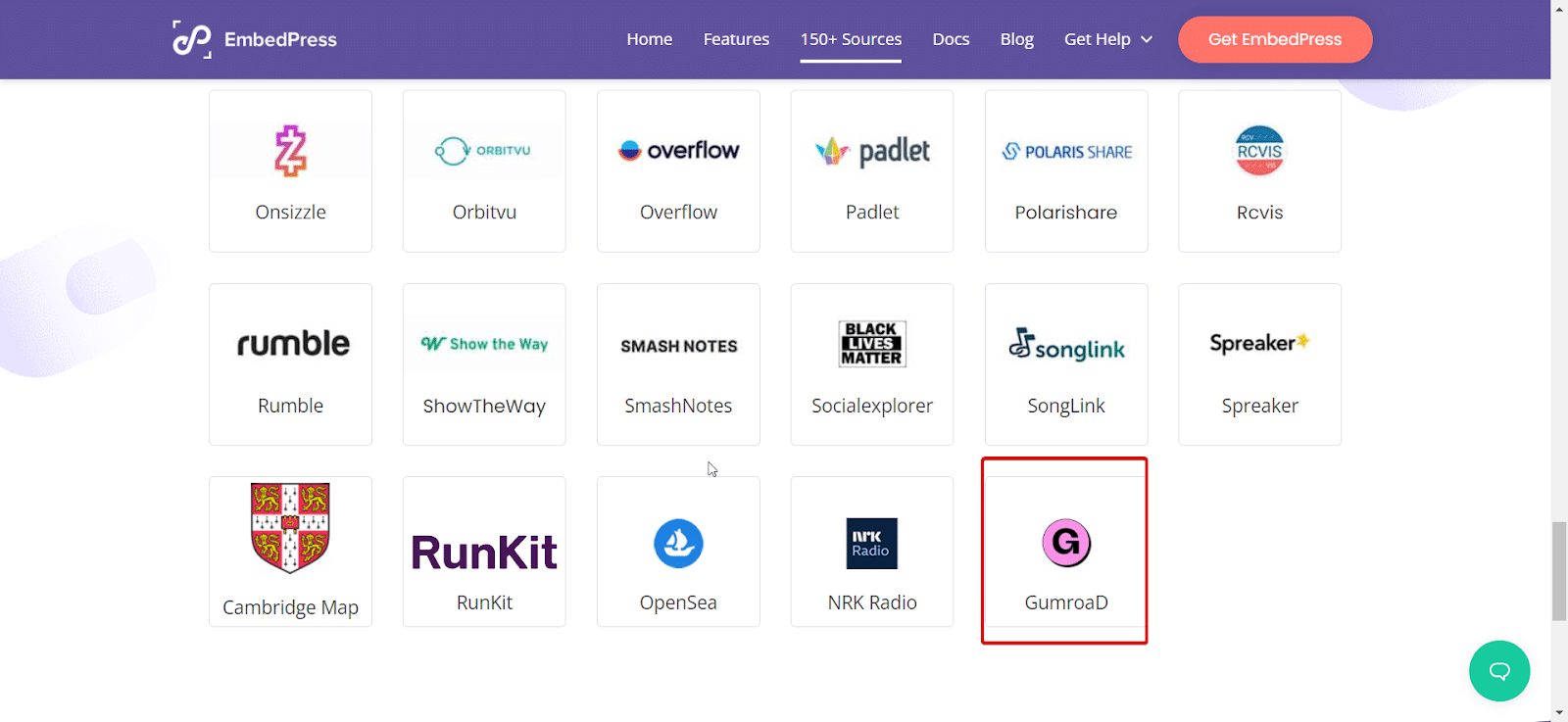 EmbedPress, the best WordPress plugin for embedding across the globe. Its helpful features and flexibility make it easy for users to boost their websites with fantastic content. You can effortlessly add content to your WordPress site with a single click, choosing from a list of over 150+ popular sources. And the good news is that another popular source has been added – Gumroad.
And now with this source in EmbedPress, you can embed Gumroad products directly into your WordPress website to streamline your sales process while maintaining the branding and user experience of your own site. All you need to do is follow a few simple steps & you'll be done & dusted.
🙌🏻 Then vs Now: Make Embedding Gumroad Products Effortless
Previously, embedding Gumroad products – videos, social media posts, and documents into the WordPress website used to be a complex task. Website owners had to navigate through intricate lines of code, often requiring specialized knowledge to ensure proper embedding. For instance, embedding a simple video or document often involves critical code snippets and dealing with compatibility issues across different platforms. This process was time-consuming and possible errors, making content embedding a troublesome task to complete.
However, thanks to EmbedPress, the process of embedding content has undergone a transformative shift. With EmbedPress, embedding various types of content from 150+ sources has become remarkably user-friendly and efficient. Whether it's videos, maps, audio, podcasts, or documents, EmbedPress streamlines the embedding process, empowering website owners to seamlessly integrate diverse content types into their web pages.
👀 A Quick Glance: Embed Gumroad Products In WordPress 🔎
Watch this quick tutorial video, or follow the step-by-step guide given below to embed Gumroad products on your WordPress website using EmbedPress.
🎯 3 Steps Guide: Embed Gumroad Products In WordPress
Embedding Gumroad products in WordPress is like cutting butter with a knife. Obviously, with the help of EmbedPress, zero coding is required. All you have to do is simply copy and paste. Let's follow the below 3 simple steps and sell your Gumroad products through your website.
Step 1: Install & Activate EmbedPress On Your WordPress Site
Make sure you have installed and activated EmbedPress on your WordPress site. It's pretty easy & simple. Follow this documentation to install and activate with ease.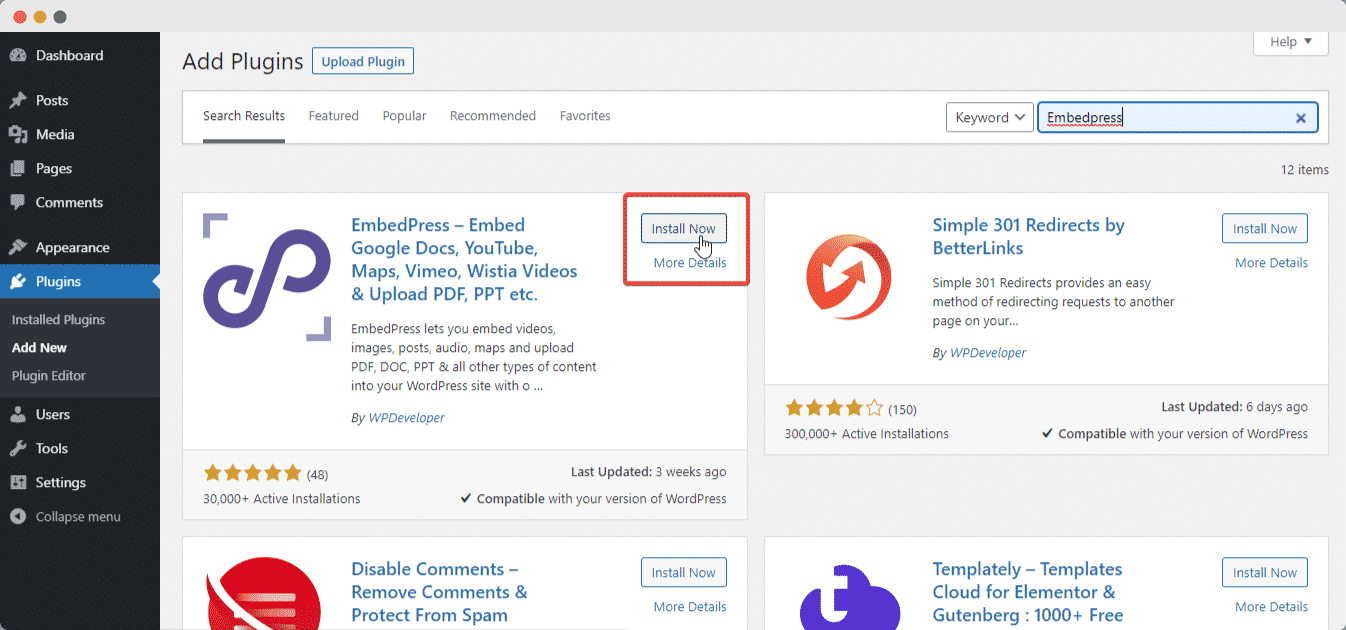 Step 2: Collect The Gumroad Product's URL
To collect the product URL, go to the Gumroad website and select the product you want to embed on your website, and copy the URL.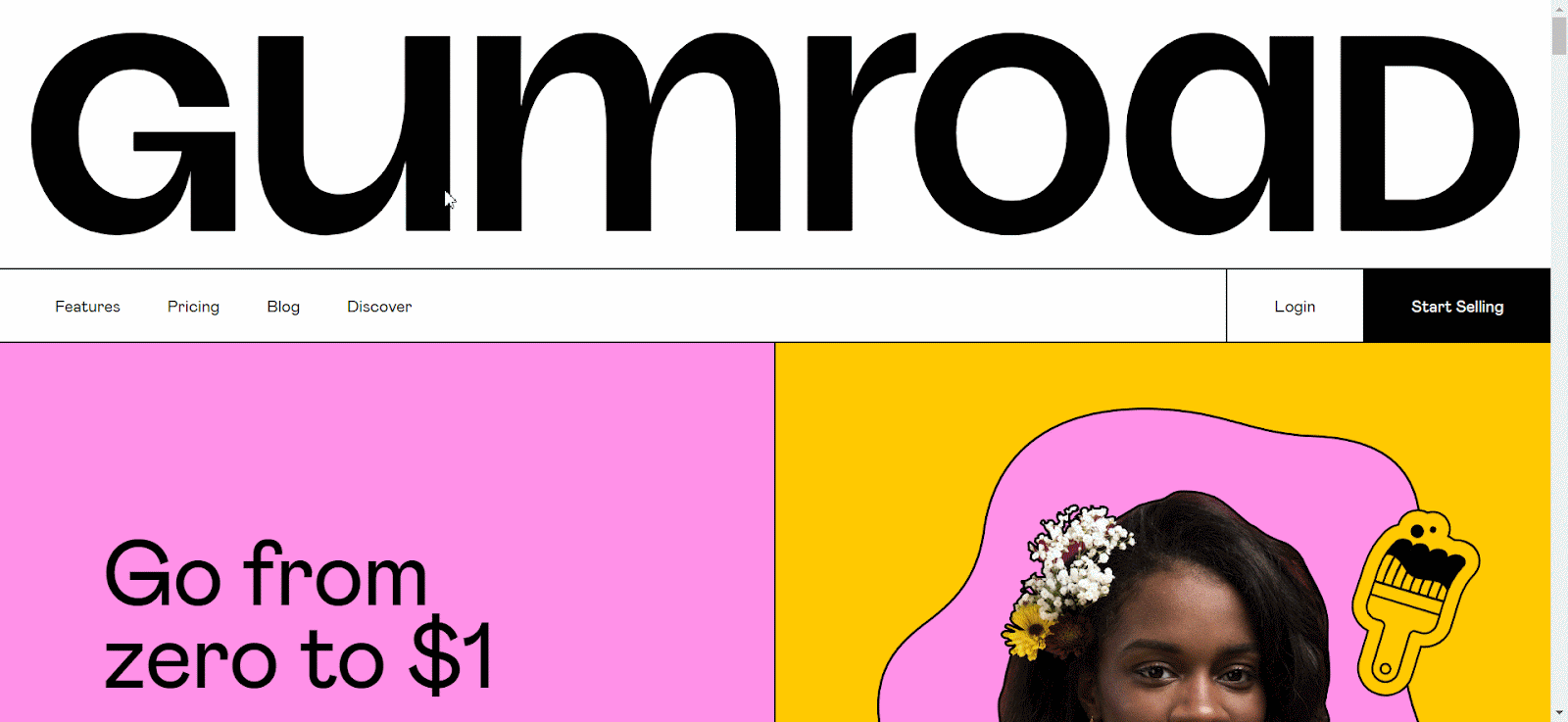 Step 3: Add Gumroad Products In Gutenberg & Customize
Once you've collected the Gumboard product URL, open a page in Gutenberg. Click on the '+' icon and search EmbedPress in the search bar. Click on the 'EmbedPress' block and it will be added to your page.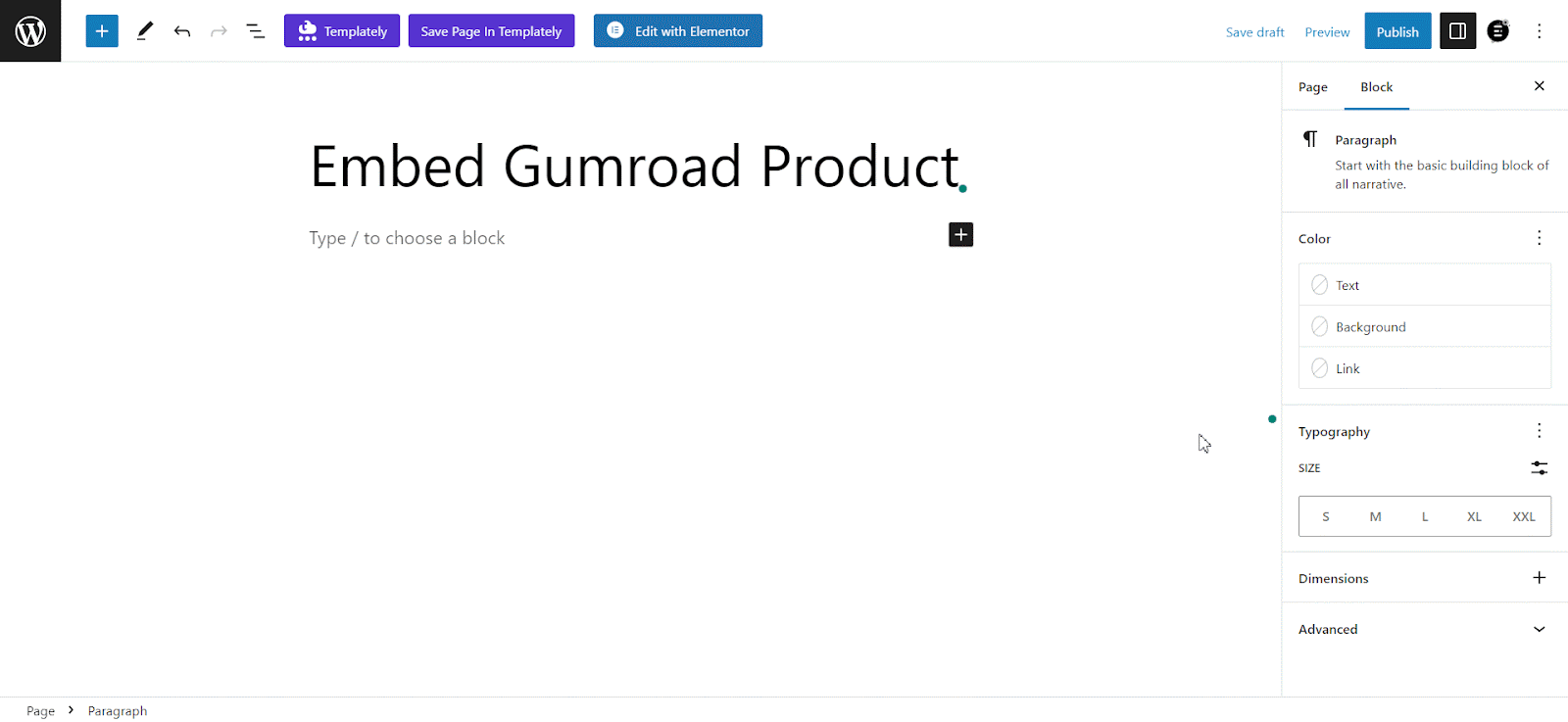 Now, paste the URL you copied in the 'Enter URL' field. Just hit the 'Embed' button and the product will be instantly embedded on your WordPress website.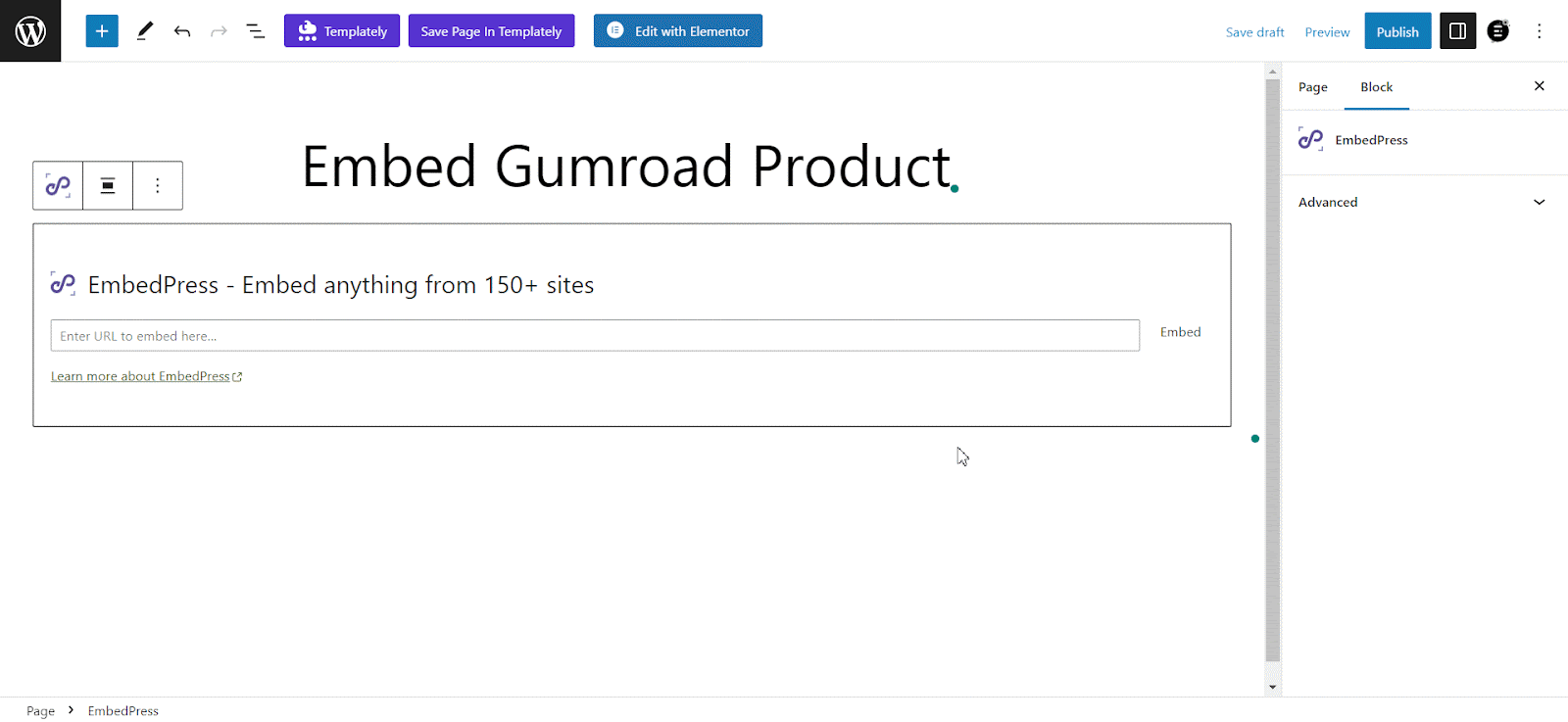 Once you're done with embedding, you can change the 'Height & Width' of the embedded item if needed. And thus, you can easily embed Gumroad products in Gutenberg with WordPress.
What if you're using Elementor or Classic Editor on your WordPress website? No worries, you can easily embed Gumroad products regardless of the page builder/editor you're using. To learn how, follow this documentation & make your Gumroad products embedding on your WordPress site easier than ever.
🚀 Embed Gumroad Products In WordPress & Boost Sales
The connection between Gumroad and WordPress represents a remarkable evolution in the e-commerce landscape. As more artists and creators embrace this integration, we can anticipate a flourishing ecosystem where innovation meets accessibility. Plus, where digital entrepreneurs can bring their unique visions to life while tapping into the immense potential of online sales.
And with the power to seamlessly embed Gumroad products in WordPress using EmbedPress, the journey from creation to the customer is now smoother than ever before- opening doors to growth, engagement, and success.
This blog is to help you to embed Gumroad products on your WordPress website. Did you find it helpful enough? If yes, subscribe to our blogs, and don't forget to join our Facebook community for more information.