2023 brings yet another exciting new achievement for team EmbedPress! Thanks to the support of our beloved, ever-growing community, EmbedPress recently hit 80,000+ active installations. 🥳
This is truly a moment to celebrate, and we are delighted to have so many web creators all over the globe use EmbedPress to enhance their content creation, website experience, and story-telling on WordPress.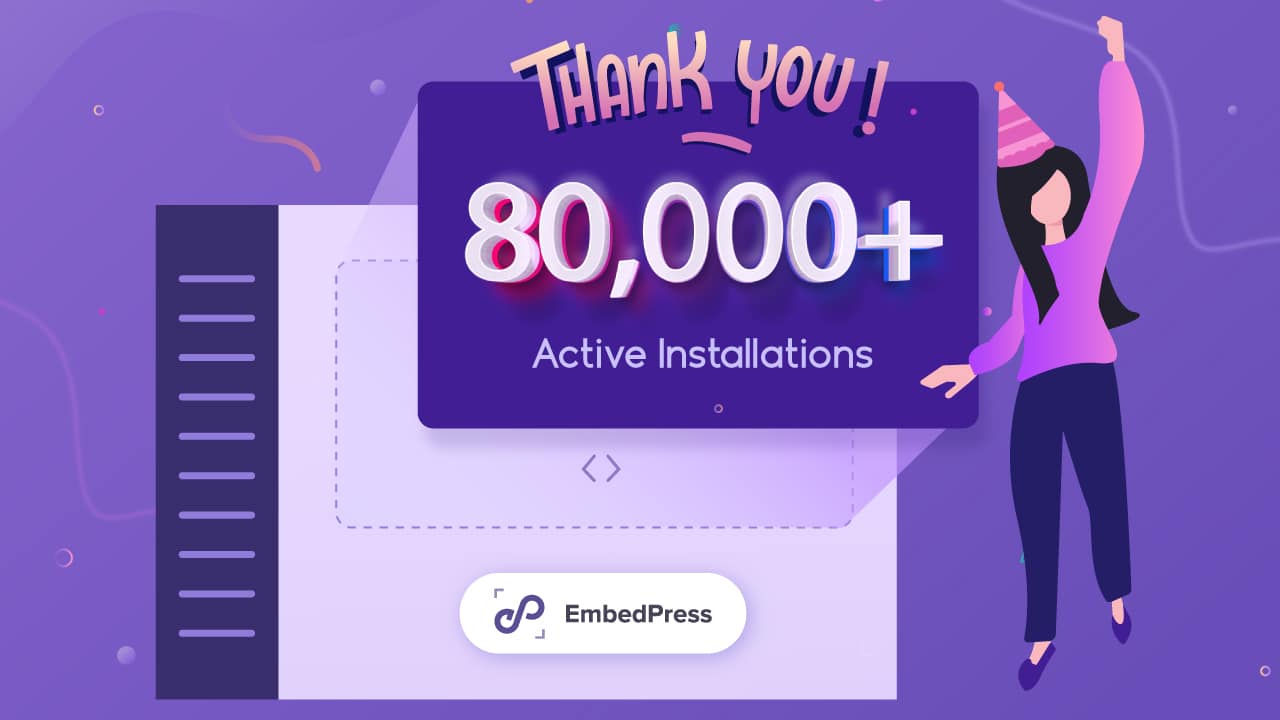 Milestone Unlocked: EmbedPress Hits 80K Active Users! 🥳
EmbedPress started its journey to provide an easy solution for embedding multi-media content from versatile sources, without using codes. Previously, embedding on websites wasn't an easy task. You had to write down the embedding code and then merge it into your website's code file, which was a bit difficult for people who don't have any coding experience. Thus, EmbedPress started gaining trust and popularity among WordPress users.
Without everyone's love and support, it wouldn't have been possible to achieve the milestone of EmbedPress reaching 80k active installations. We express our deepest gratitude to all EmbedPress users and well-wishers, without whom we wouldn't be here. So, thank you for choosing EmbedPress as your embedding solution for WordPress & enhancing your website experience! Without everyone's love and support, it wouldn't be possible to achieve EmbedPress 80k+ installations. We express our gratitude to all EmbedPress users and well-wishers, without whom we wouldn't be here.
Infinite Love From EmbedPress Happy Users
EmbedPress wouldn't have come this far without the continuous support of its users. Other than the advanced features that help to boost engagement, our prompt support heroes play a significant role in securing such immense love for EmbedPress as well. We encourage users to contact us whenever they face any difficulties. And our dedicated support team is there every time to provide guidance which reflects in our user reviews. Let's check out some of the happy customer sayings.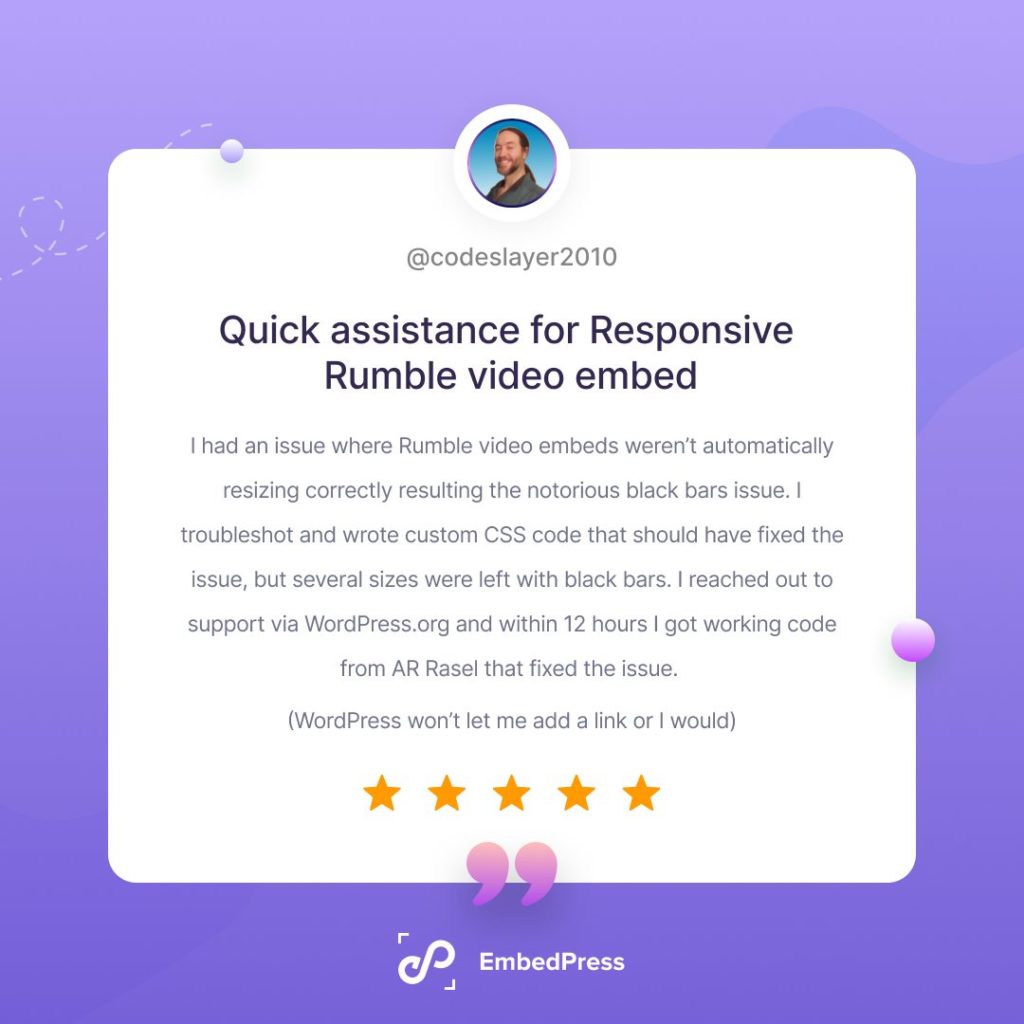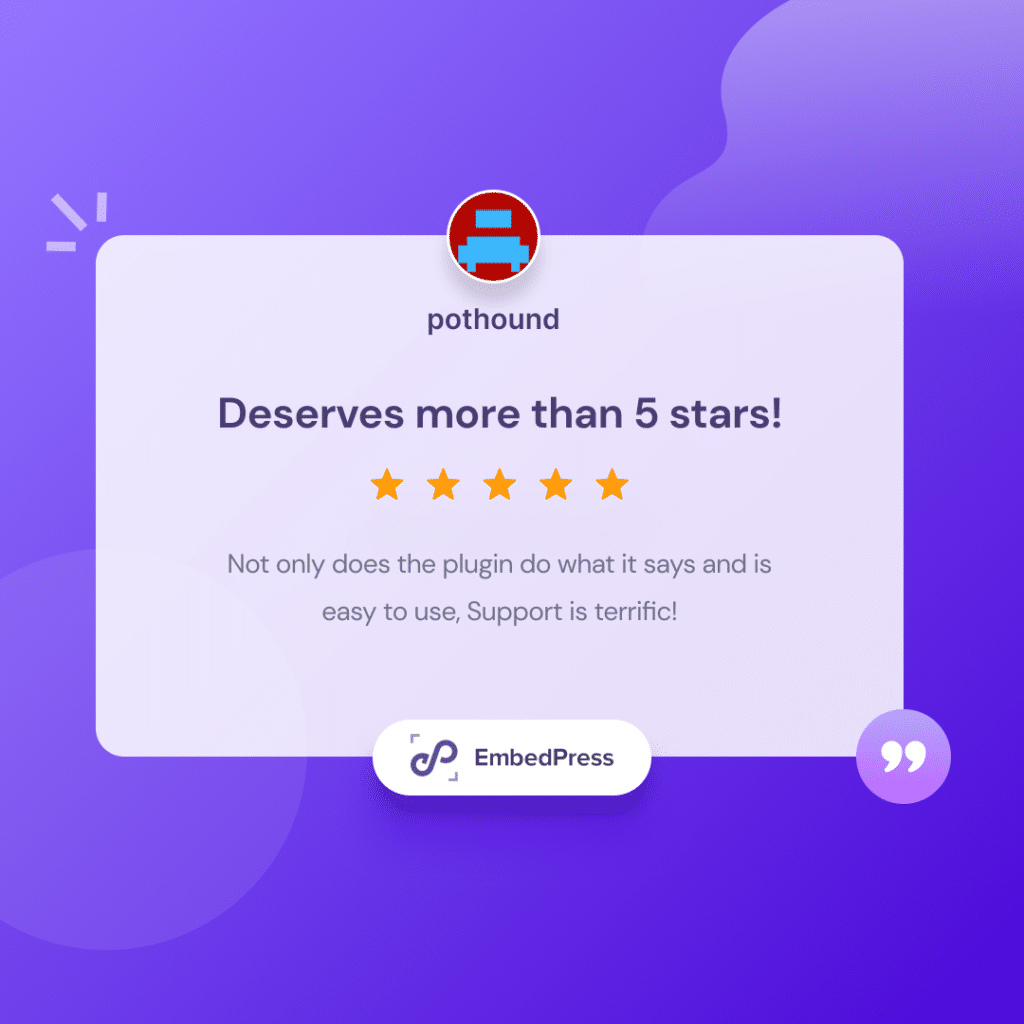 We want to hear from you too! If you know about EmbedPress, or are already using it, then don't forget to say a word about us on this joyous occasion of the EmbedPress 80k active installations celebration. We want to feature your words too!
Your Trusted Friend For Embedding 150+ Sources, Enhancing Website Experience
While solving a simple yet essential problem for WordPress users, keep making EmbedPress one of their trusted companions. No matter whether you run an affiliate site, streaming site, personal portfolio, or simple website, you may need to embed versatile sources to make your website more engaging and reduce bounce rates.
And with one single plugin, EmbedPress, you can easily embed 150+ sources in one click. Regardless of whether other plugins offer solutions for specific needs, such as only embedding YouTube, social media feeds, news portals, and so forth, EmbedPress positions itself as a one-stop embedding solution.
The best part? You can embed any source in EmbedPress with one click. All you have to do is copy the source URL and paste it into the EmbedPress block or widget. Instantly, the source will be available for preview on your website.
Most importantly, Gutenberg, Elementor, Divi, or other editor users can embed 150+ sources easily with EmbedPress without hassle. This is another reason why 80,000 web creators choose to boost engagement and enhance website experience with EmbedPress.
Exclusive Embed Features That Come With EmbedPress
Apart from providing the opportunity to embed 150+ sources, there are more amazing controls that come with EmbedPress to enhance the website experience & boost engagement rates further. Let's take a look at the exclusive features of this outstanding embedding solution.
⚡Global controls for embedded sources iframe width and height.
⚡Global controls for embedded sources iframe width and height.
⚡Custom branding over embedded content.
⚡Add direct share options to embedded sources.
⚡Enable content protections to hide content for specific users.
⚡ Lazy loading option for loading optimizations.
⚡ Specific control panel for YouTube, Wistia, Vimeo, etc.
Check Out Top Publications Featuring EmbedPress
In addition to gaining tremendous credibility among users, EmbedPress has also attracted the attention of top publications and experts within the industry, and we are truly humbled and honored to have been featured by them.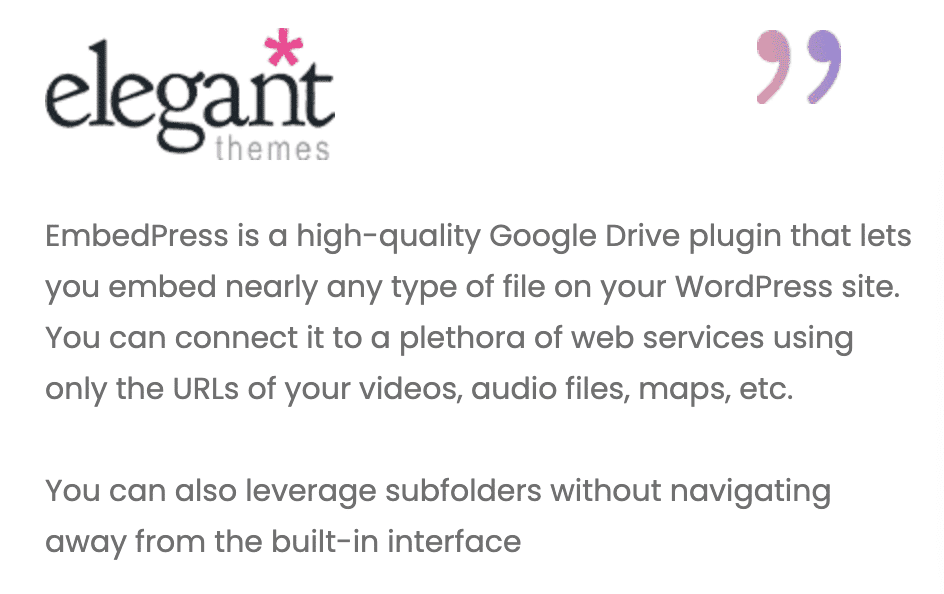 Enhancing Storytelling For 80,000 Web Creators With New Features And Improvements
While we are thrilled that EmbedPress hits 80K active installations this year, we have tons of more exciting new features and improvements in store for our users! In case you missed it, here's what we have been up to recently:
Get Whopping Discount On This Joyful Occasion: Upto 30% OFF
And now it's time to celebrate as EmbedPress hits 80K active installations! As a token of our gratitude, we are offering a whopping discount of up to 30% off on all premium plans. So what are you waiting for? Grab the chance to upgrade to EmbedPress PRO, enjoy all the exclusive embedding features, and boost engagement rates to the maximum

Don't forget subscribe to our blog to keep getting all the amazing updates from EmbedPress in the future.