OpenSea is the world's biggest decentralized peer-to-peer exchange platform for the purchase and sale of non-fungible tokens (NFTs). With the newest release of EmbedPress v3.6.1, you can now embed OpenSea NFT collections with a single click. You can now easily include a wide variety of art, and in-game assets like avatars, metaverse land, community access passes, trading cards, music, and even domain names and boost your creative ideas in many ways.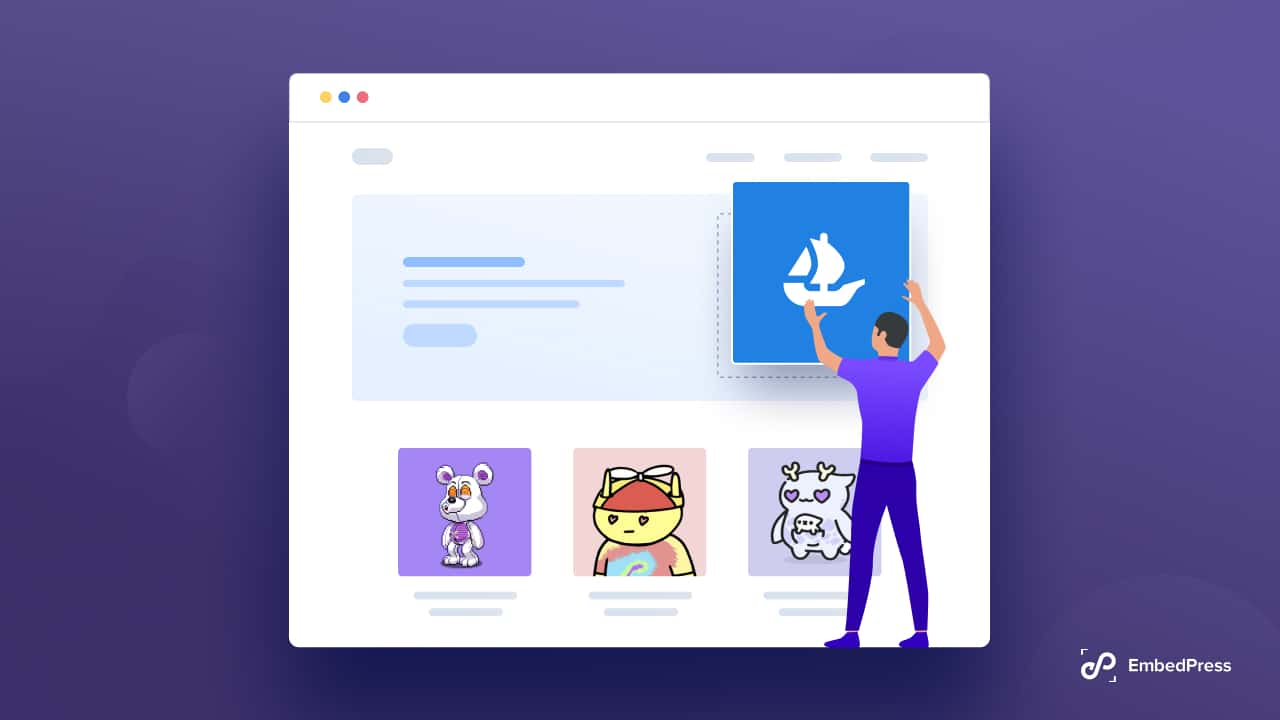 Top Reasons To Embed OpenSea NFT Collections On WordPress?
The majority of individuals use OpenSea to purchase and trade NFTs. This marketplace, however, allows you to do much more than just make purchases.
Effortless NFT Creating & Minting
OpenSea provides tools for minting and listing NFTs, as well as instructions to help users navigate the platform. To begin, you must first establish an NFT collection, after which you can begin uploading your works to the site.
Then, you can give some information about your NFT projects, such as a website and any social media outlets related to it. Then you must "mint" your NFT. This is the process of publishing your NFT to the blockchain in order to make it available for purchase.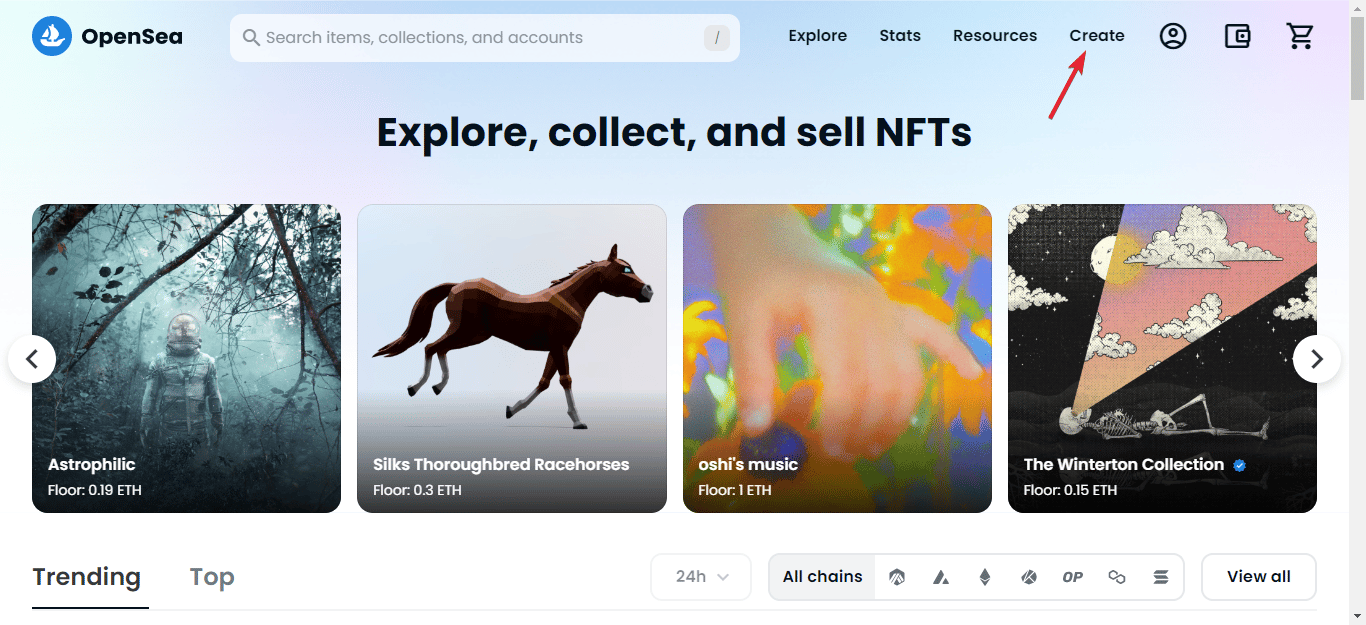 Set Up A Marketplace For Buying & Selling NFTs
Beginners can simply create a collection on OpenSea's platform even if they have no prior expertise in generating NFTs. They merely require a digital asset, such as a piece of art or music, or a document in an acceptable format. They can then follow OpenSea's uploading requirements so that the site can produce the NFT version of the content.
To sell newly produced NFTs, sellers just click the Sell button and provide the listing specifications. The majority employ the tactic of selling lower-priced products as fixed-price or Dutch auction listings, and higher-end items as English auction listings. If your NFT has not yet sold, you can always update or cancel your listing.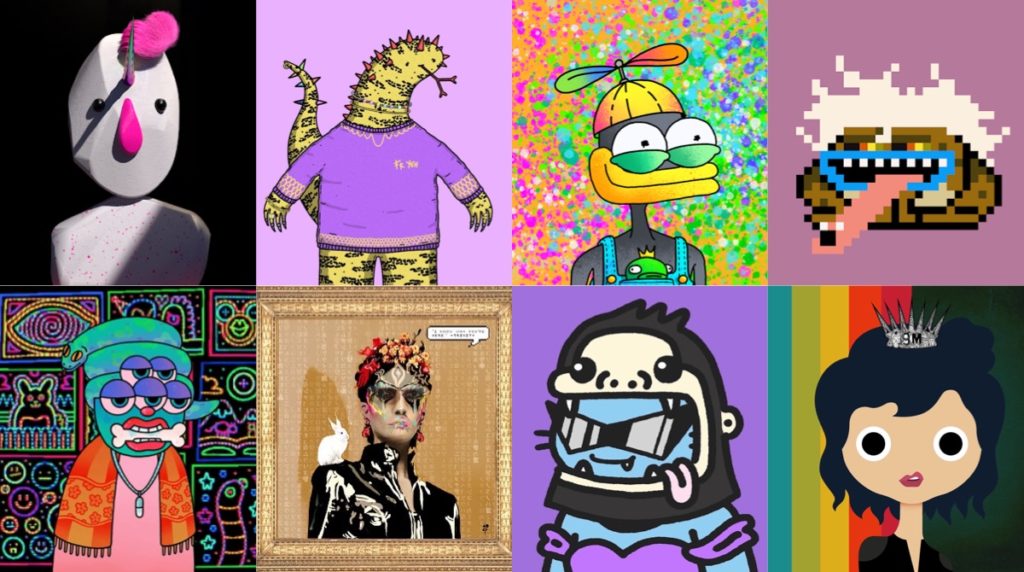 Creators Get The Chance To Give Royalties
One game-changing benefit of OpenSea's blockchain-based marketplace is the ability for artists to earn royalties on their original NFT creations. They can earn not only once from a direct sale or auction of original work, but they can also establish a royalty proportion for any future sales of that NFT.
This functionality is made feasible by both the distinct quality of NFTs and OpenSea's technology, which monitors the whole selling history of each digital object. It's a windfall to artists and other digital producers, allowing them to realize compounding gains from their work that would otherwise be impossible in the digital environment.
How To Embed OpenSea NFT Collections Within 5 Minutes?
With EmbedPress, you can embed OpenSea NFT into WordPress and showcase NFT collections, items, etc, stunningly with just one click. Follow the step-by-step guide to embed NFT collections without any code.
Method 1: One-Click Embed OpenSea In Gutenberg
From your WordPress dashboard, go to 'Pages' → 'Add New' or open the page where you want to embed the OpenSea NFT collections. Click on the '+' icon to add the 'EmbedPress' block.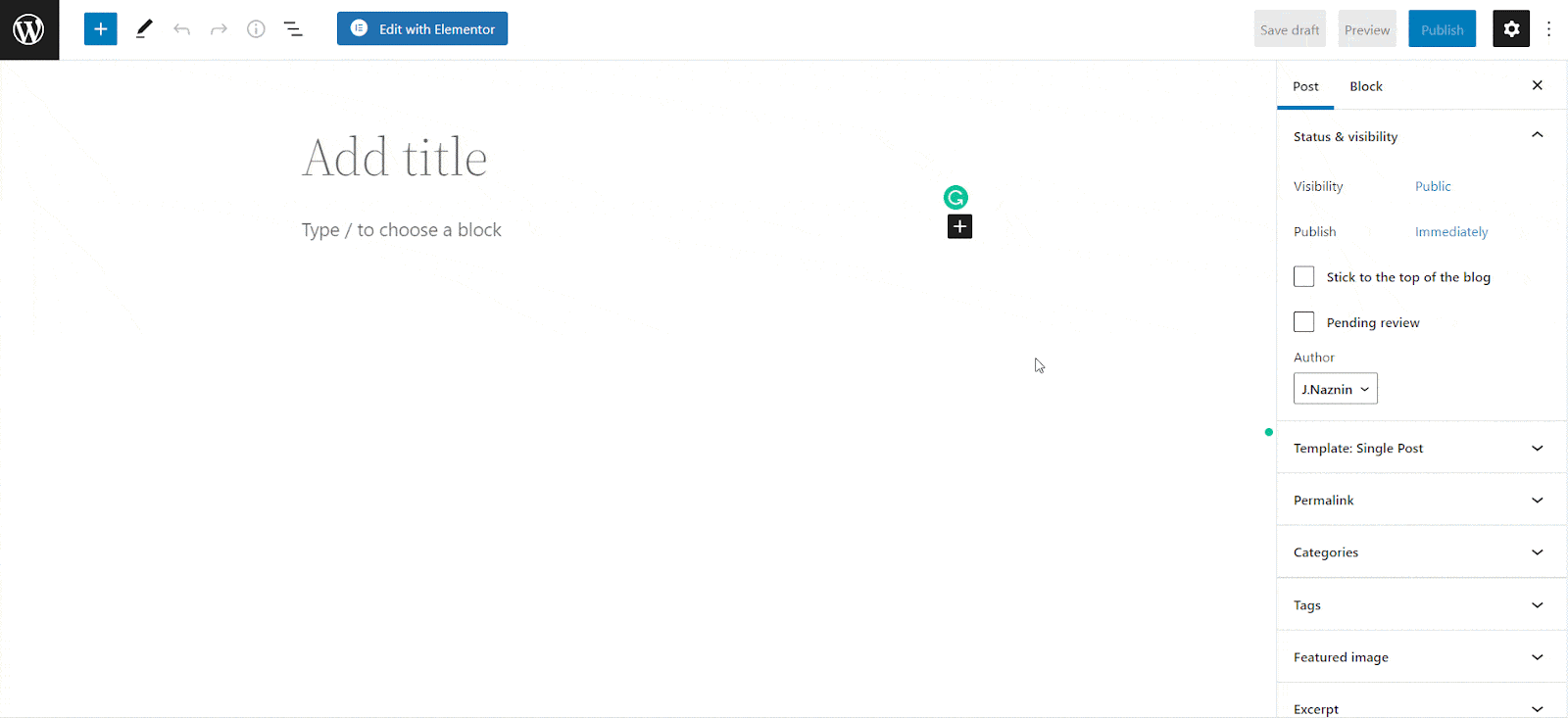 Now paste the copied URL of the OpenSea NFT collections you want to embed in your WordPress website. Click on the 'Embed' button to embed OpenSea NFTs in Gutenberg.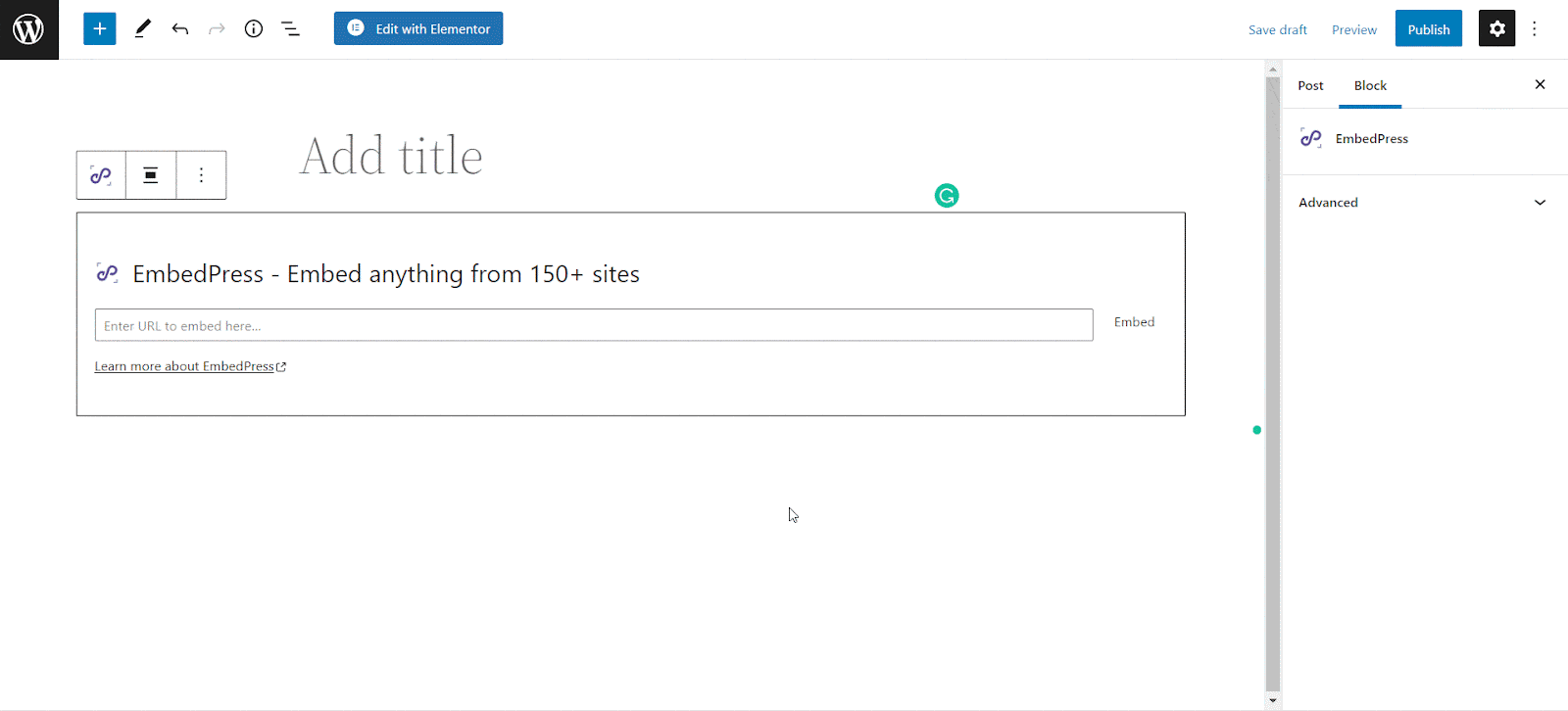 You can embed a single NFT item as well. Just Copy the URL of the single item and paste it into the 'Enter URL' field. The single NFT item will be instantly embedded.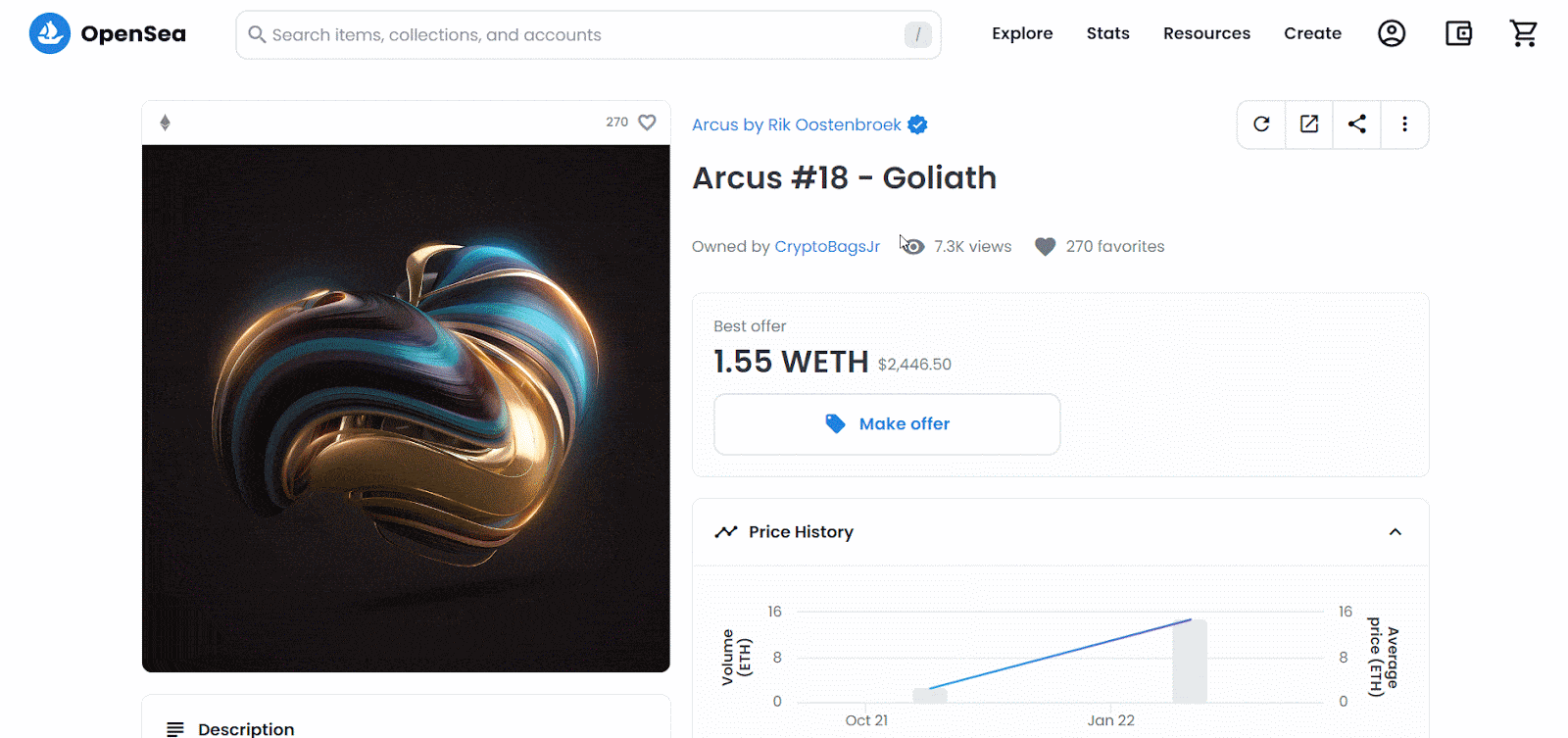 You can change the Preset, Layout of the OpenSea embed and have more advanced customization features. You can control the Thumbnail, Creator, and Title settings as needed. You can also customize the Color & Typography the way it matches your site.
Note: Make sure you have EmbedPress PRO installed & activated on your site for this to unlock all exclusive controls.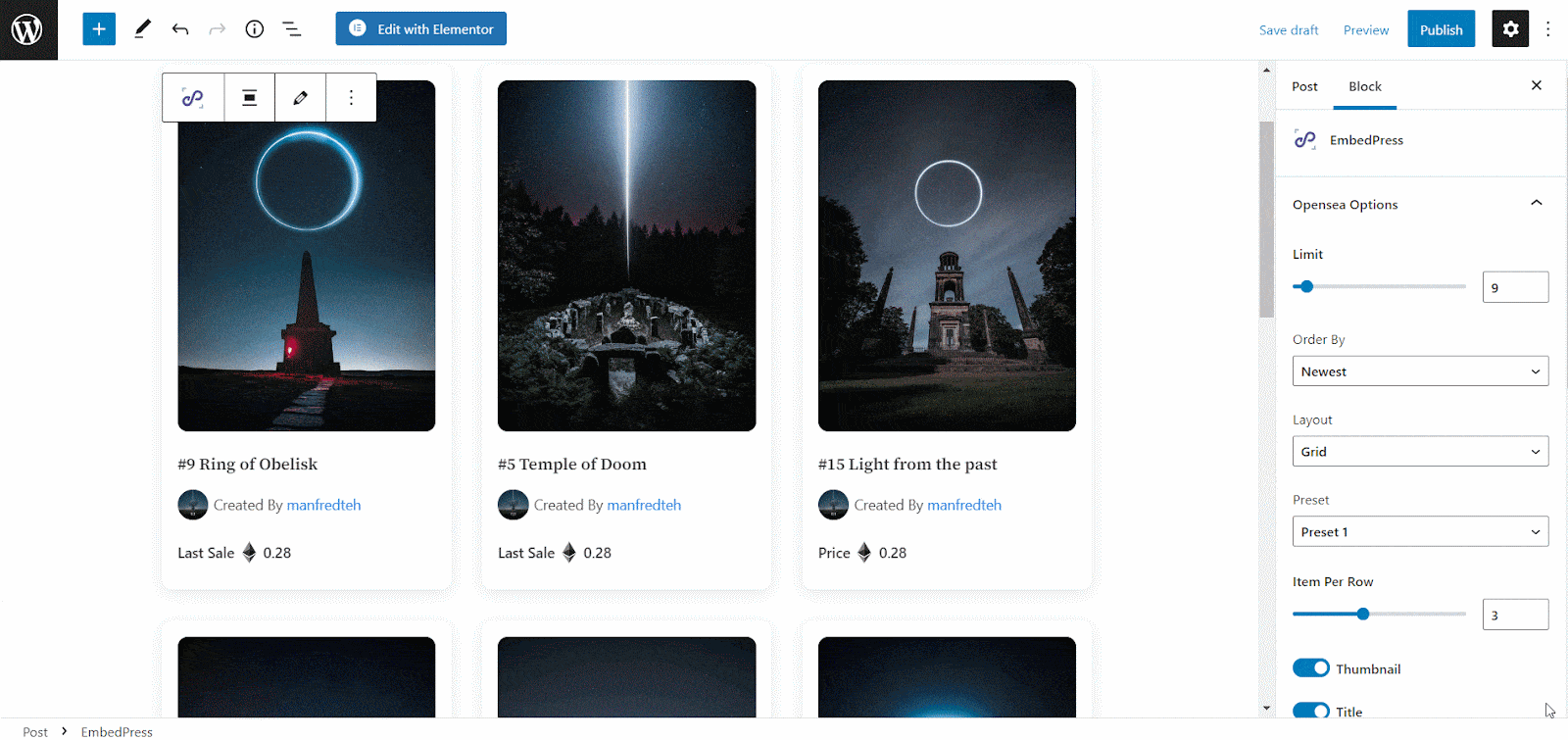 Method 2: Easily Embed OpenSea Collections In Elementor
First, create a new page from your WordPress dashboard by navigating to Pages→ Add New. Then clicking on the blue 'Edit With Elementor' button. Now search for the 'EmbedPress ' and drag & drop it into the editor.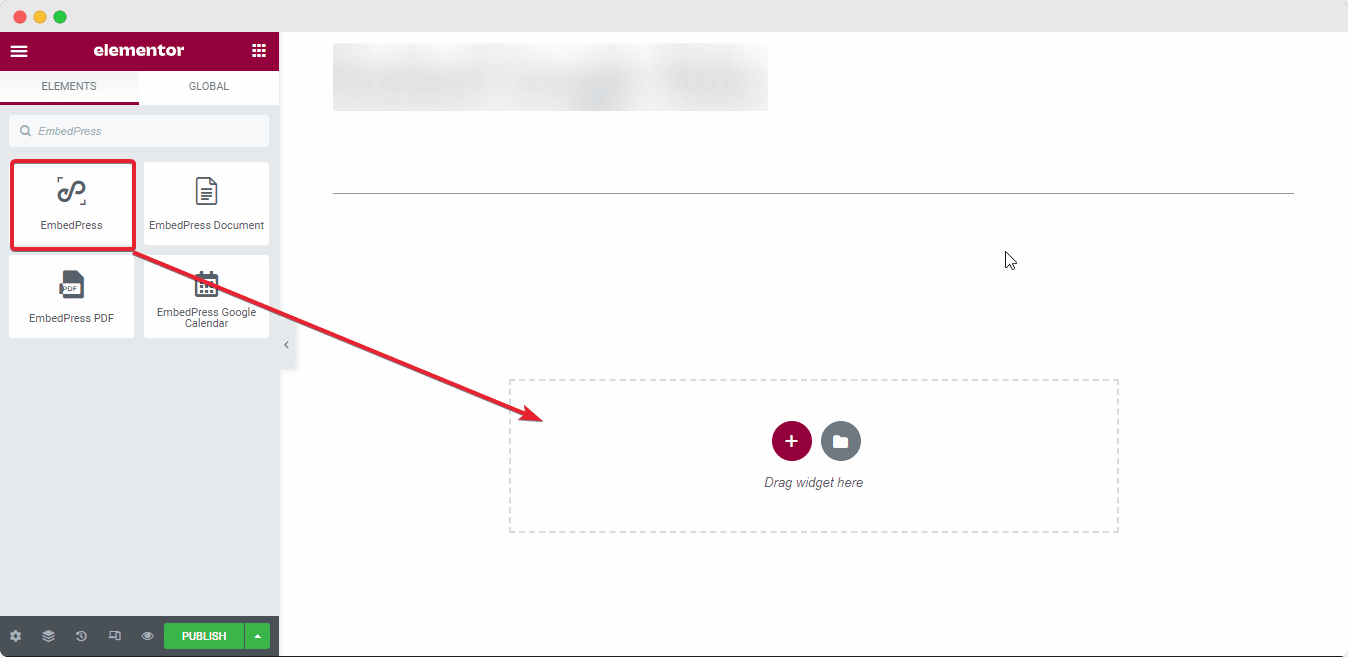 Now click on the 'Content' tab in Elementor editor and paste the URL of your NFT items collections in the 'Embedded Link' section as shown below.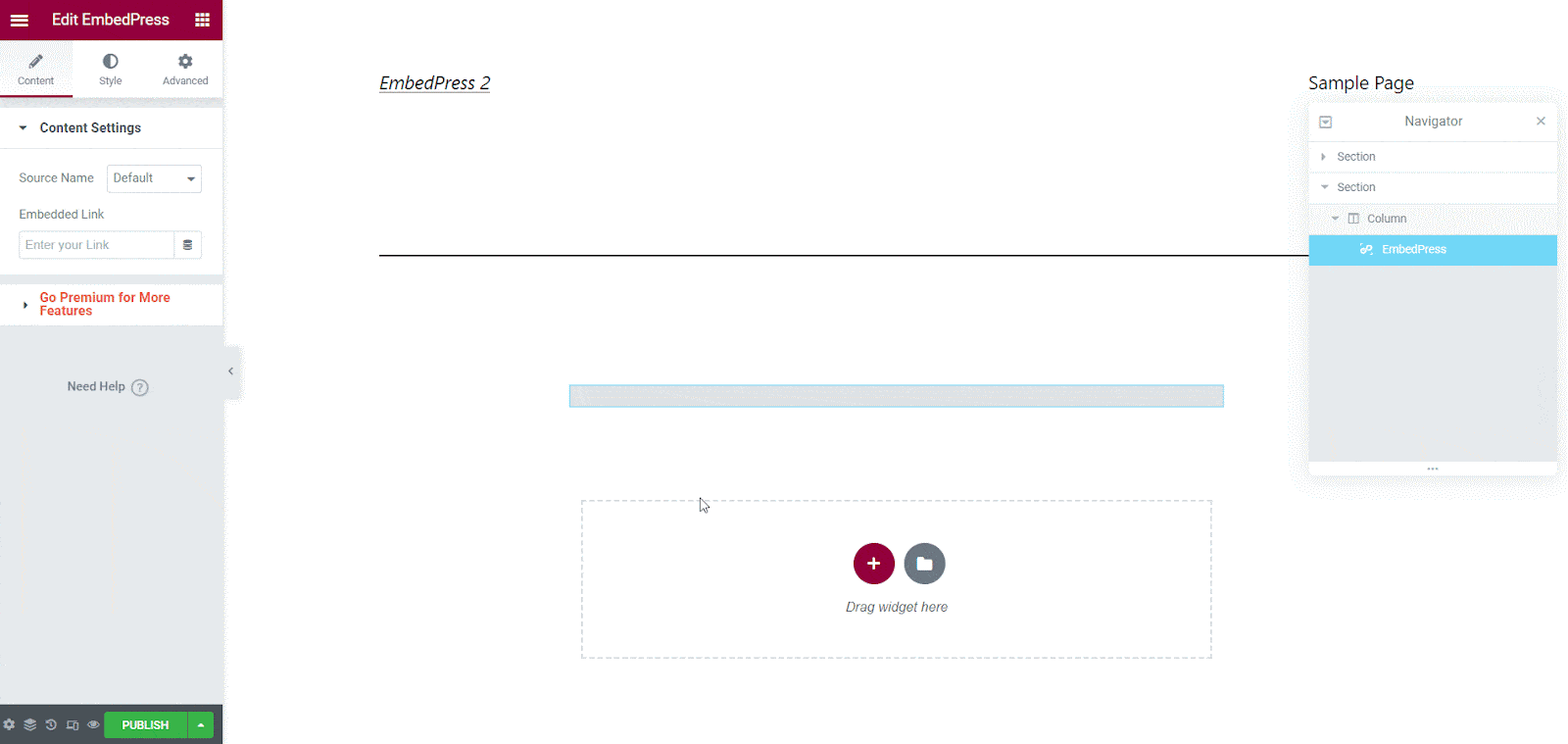 Similarly, by pasting the link of the NFT item in the 'Content Settings' input field. Your newly embedded OpenSea collection will appear instantly in Elementor.
You will have versatile styling options to display the NFT collections stunningly. You can change the Layout, Preset, etc the way you like. To have these advanced customization options, you will need EmbedPress PRO.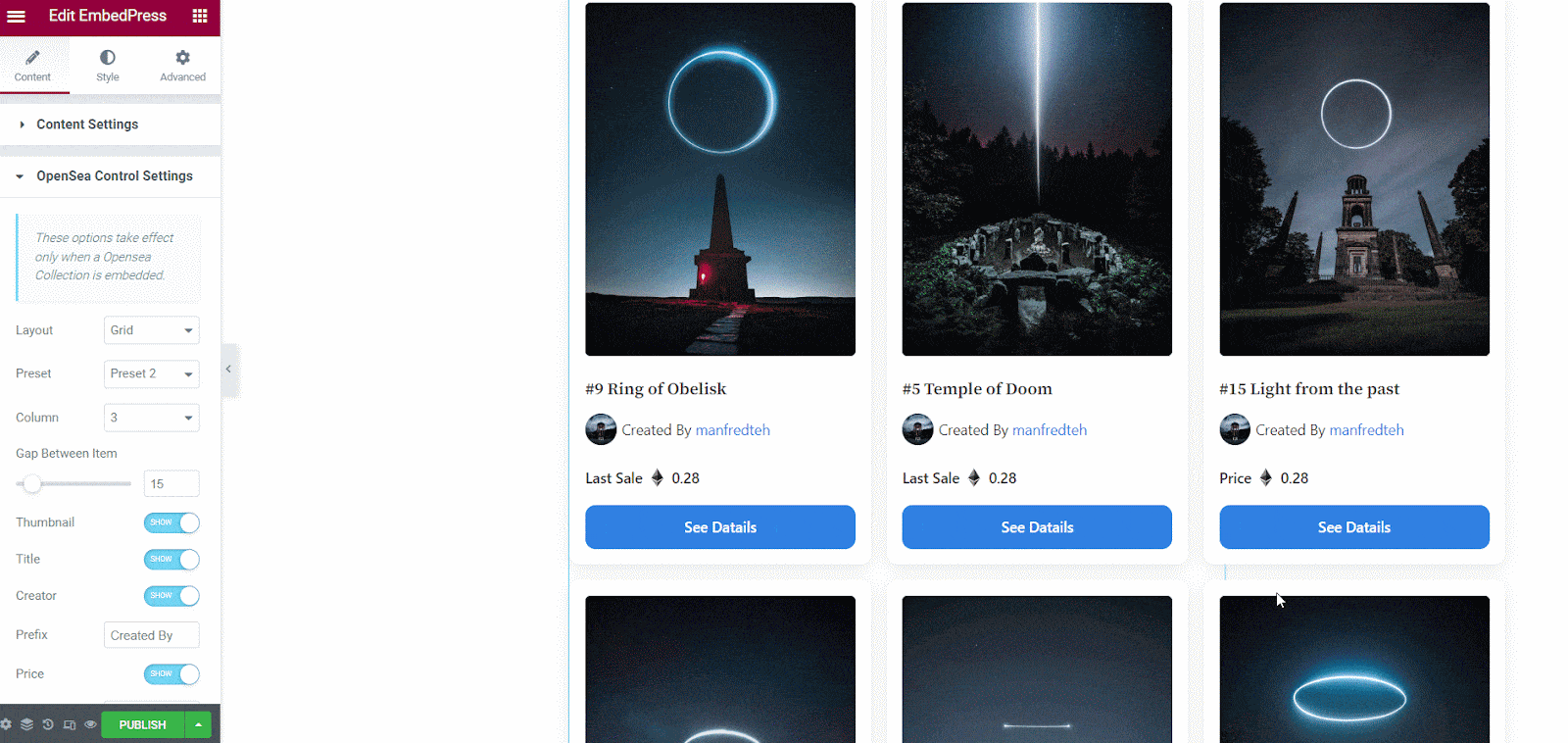 Method 3: Embed OpenSea NFT Collections In Classic Editor
Create a new post or open up your preferred posts or pages on WordPress Classic Editor. Add your OpenSea Collection URL into the content area and then you will see a purple background with a "Loading your embed" message. Within a few moments, your URL will automatically be transformed into an embed of the NFT collections link.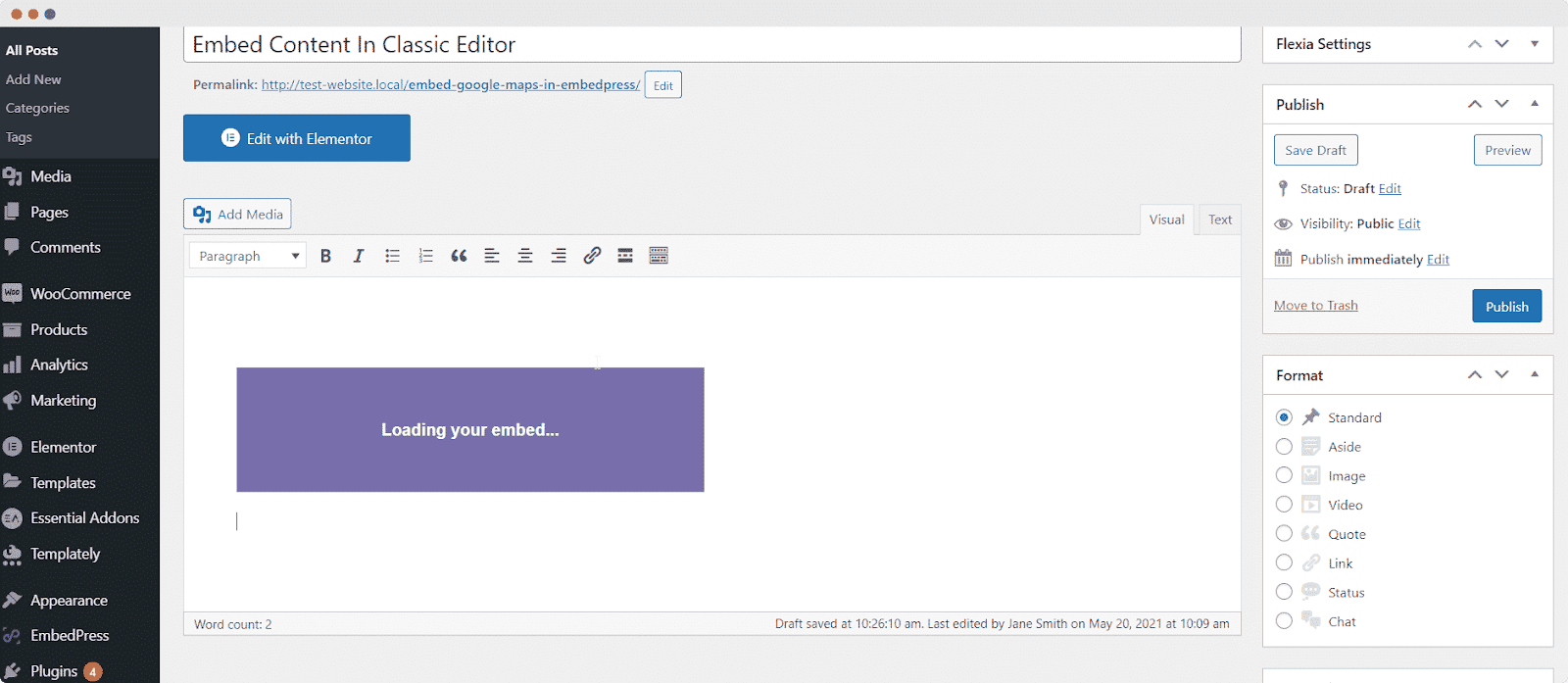 Thus you can easily embed NFT collections or single items using EmbedPress without any code.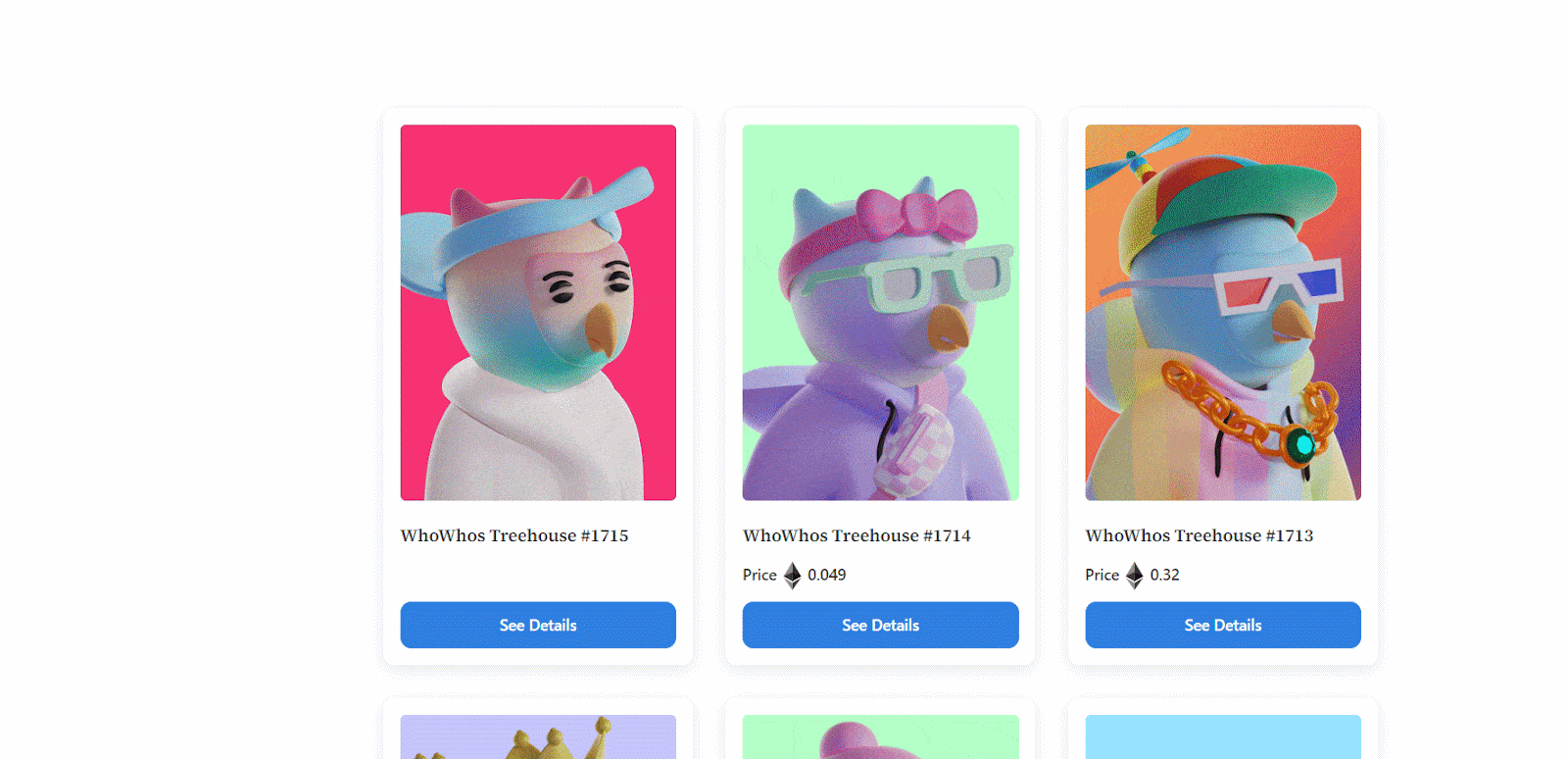 Boost Your NFT Sales Now By Embedding OpenSea NFT Collections
It doesn't matter if you have any experience with NFTs or not, as OpenSea is a platform you can easily use even as an absolute beginner, so there is really no reason not to use it. And with EmbedPress, you can embed your vast collection of NFT without any coding.
If you have liked this blog then share it with your friends. For any similar embedding article, subscribe to our blog page and join our evergreen Facebook community for more exciting updates.