A Discord widget is an interface that connects your website to Discord. When you embed a Discord widget into your website, it shows the channels and whether any user on your server is online as well as an invite link for new users to join. An impressively useful thing to embed on your site, right?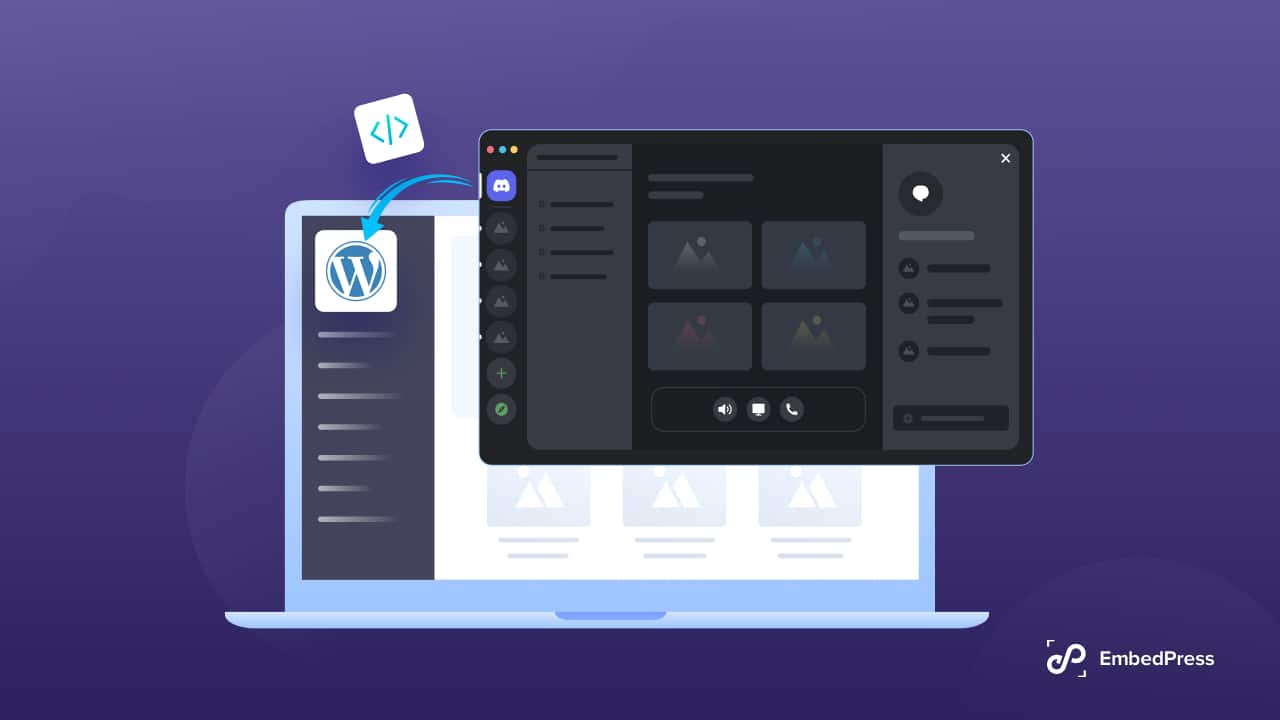 Why Embed Discord Widget Into WordPress Sites?
Discord is a communication platform that lets you communicate with other people over voice, video, and text chat. It has a vast user base of tens of millions of people ages 13+. It is one of the most popular VOIP(Voice Over Internet Protocol) chat apps, especially popular with gamers and streamers to convene, chat, and play together.
People use it to talk and hang out with people in their Discord Community. It offers a sea of features such as voice channels, custom servers, tons of customization opportunities for the UI, and much more. This rich feature package makes Discord a unique and well-rounded communication application.
Discord has always been popular since its inception. It has become a smooth and sleek platform for gamers and streamers to meet up and chat with their friends, even outside of in-game chat. And this specialty gave a quick boost to its popularity.
This is one feature-rich communication tool. One of the most interesting and useful features is the flexibility of embedding its widget on a website. If you have a community and want to display it on your website for promotional purposes, Discord will let you do it effectively and efficiently.
The Discord widget is a plug-and-play widget. You can embed it on your WordPress site and directly display your Discord server via it. The widget makes your WordPress website more interactive and grabs a lot of attention. Discord chatroom or the server makes it easier to engage with people of similar tastes.
Your visitors can join the community using the invitation link provided with the Discord Widget. So this widget will help you to increase the population of your community. Being a part of the community, your users can communicate with each other.
Note that you can not directly send messages to the server from your WordPress site. You can see whether anyone from the community or group is active. By clicking on the Discord button of the widget, you will land in the platform's server chat box that opens in another tab.
Easy Method To Add Discord Widget To WordPress
If you intend to embed a Discord widget into your WordPress website, then the first thing you will need is a Discord account and server for your community which you want to display on your Website. If you don't have these two things, then directly go to the official website of Discord, and there you will find everything you need. It's super easy and won't take much time.
Note that, you have to be the owner of the server or be an admin to be able to add a Discord widget to a WordPress website You also have to have permission to make changes to your website panel. Now get into the embedding of the Discord widget into the WordPress site.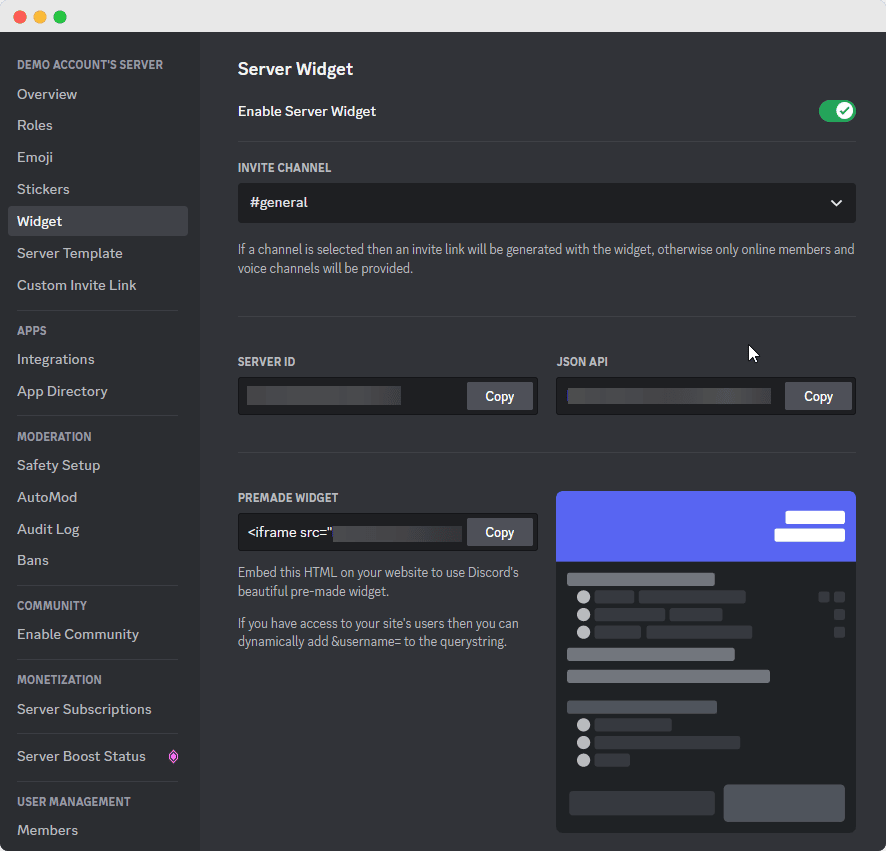 You can easily embed the Discord widget into your WordPress site with a few simple steps. Let's dive into that.
Step 1: Log In To Your Discord Server
Go to the official website of Discord. Then directly log into your account with the proper credentials.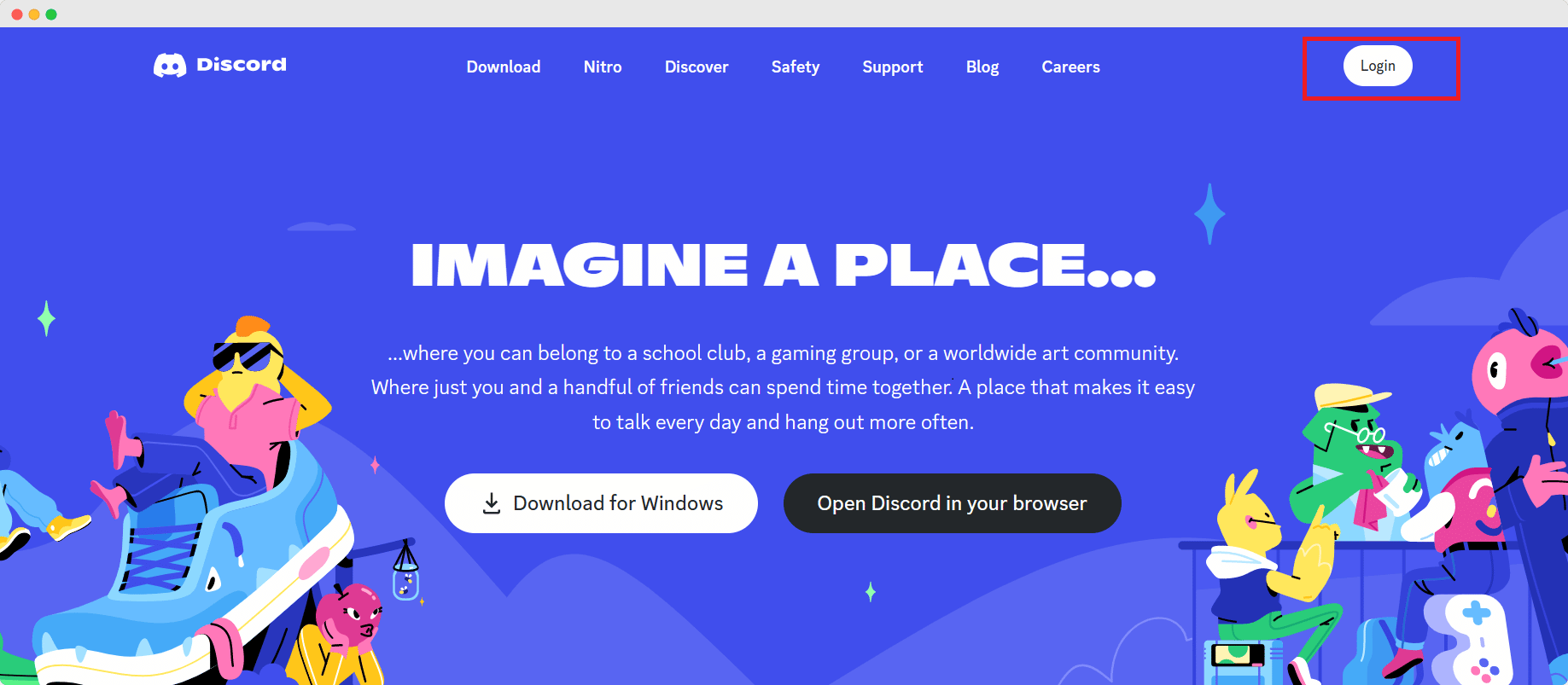 Step 2: Navigate To Server Settings
From the Discord dashboard, select the server (if you have multiple servers in your account) you want to display in your embedded widget. Here, we have created two servers and decided to go with the Demo Account's Server for this guideline. After selecting the server, click the arrow icon on the right side of your server name.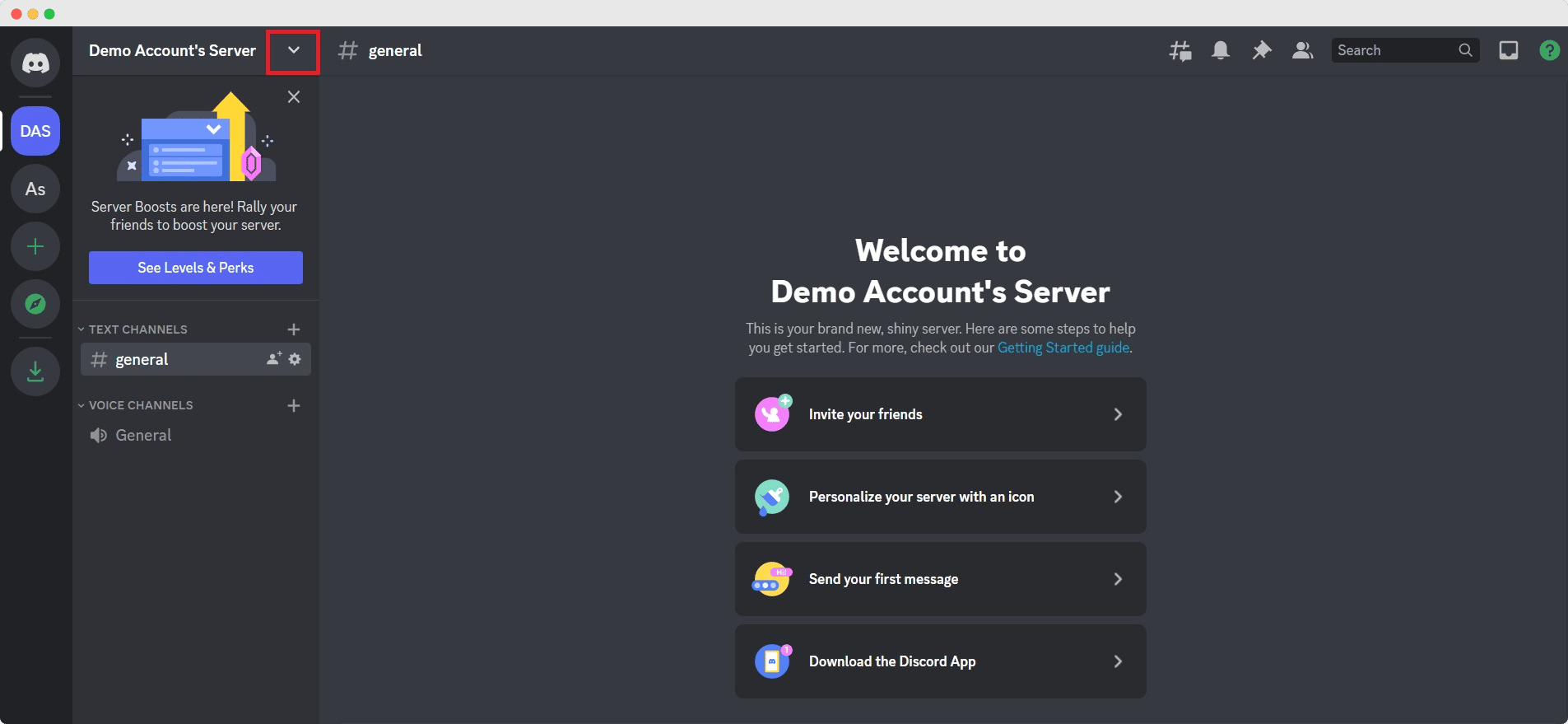 This action will show you a dropdown menu. Select the Server Settings option from the menu, and it will land you on your server's settings page.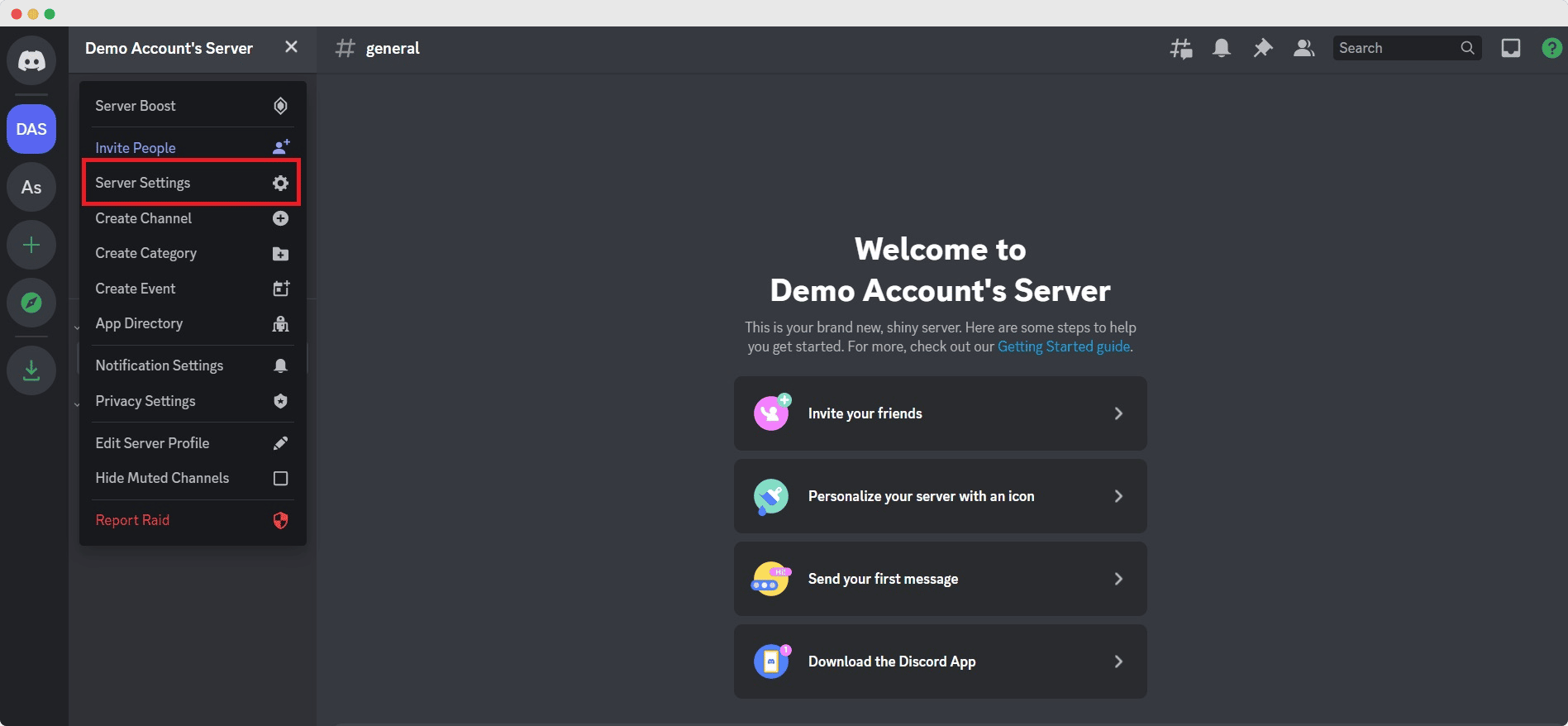 Step 3: Enable The Server Widget
After landing on the server settings page, go to the Widget option from the sidebar. Then the system will open the Server Widget page for you.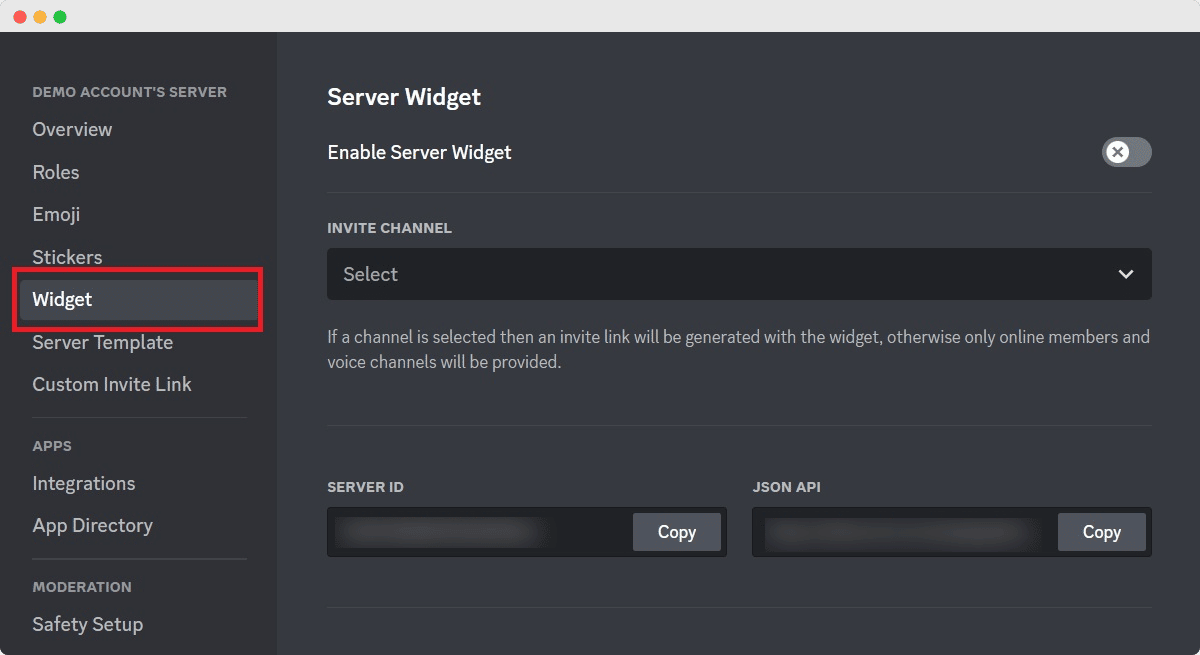 You will find the Enable Server Widget option at the upper section of the page. Just toggle the switch and enable the option.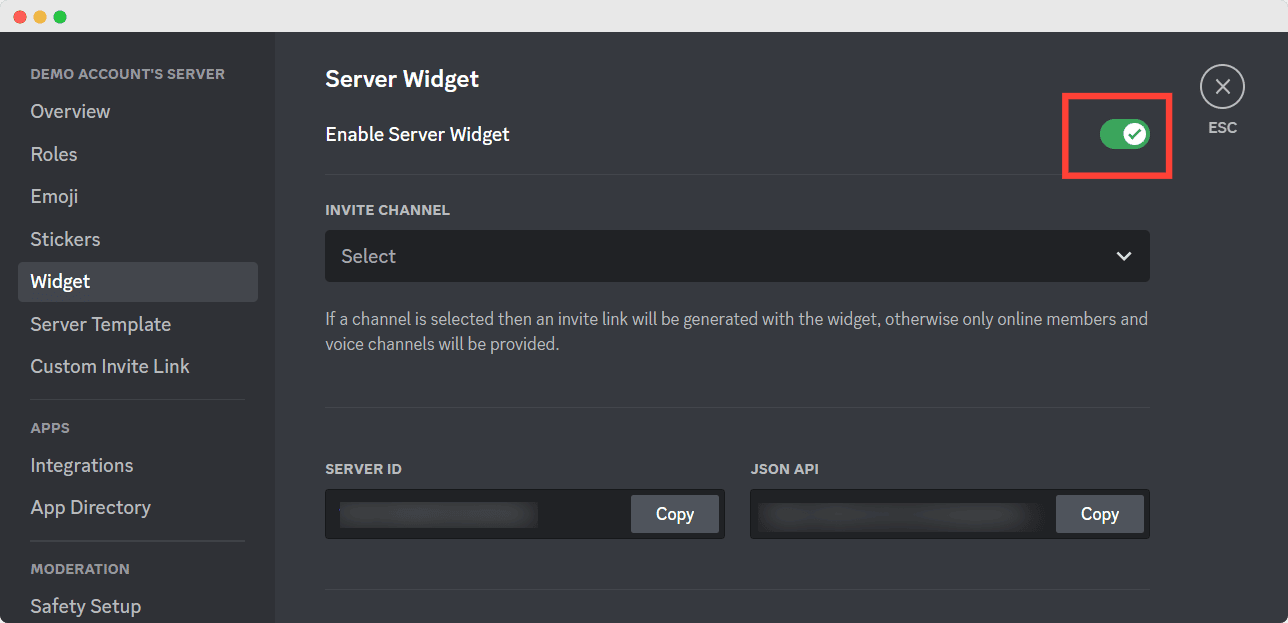 Step 4: Copy The Code Snippet From The Premade Widget
After enabling the server widget, scroll down the page, and at the end of the page, you will find the PREMADE WIDGET section. From there, you will see a Copy button. Click the button, and now you get the iframe code copied. Now, just by pasting it, you can embed the Discord widget into your website.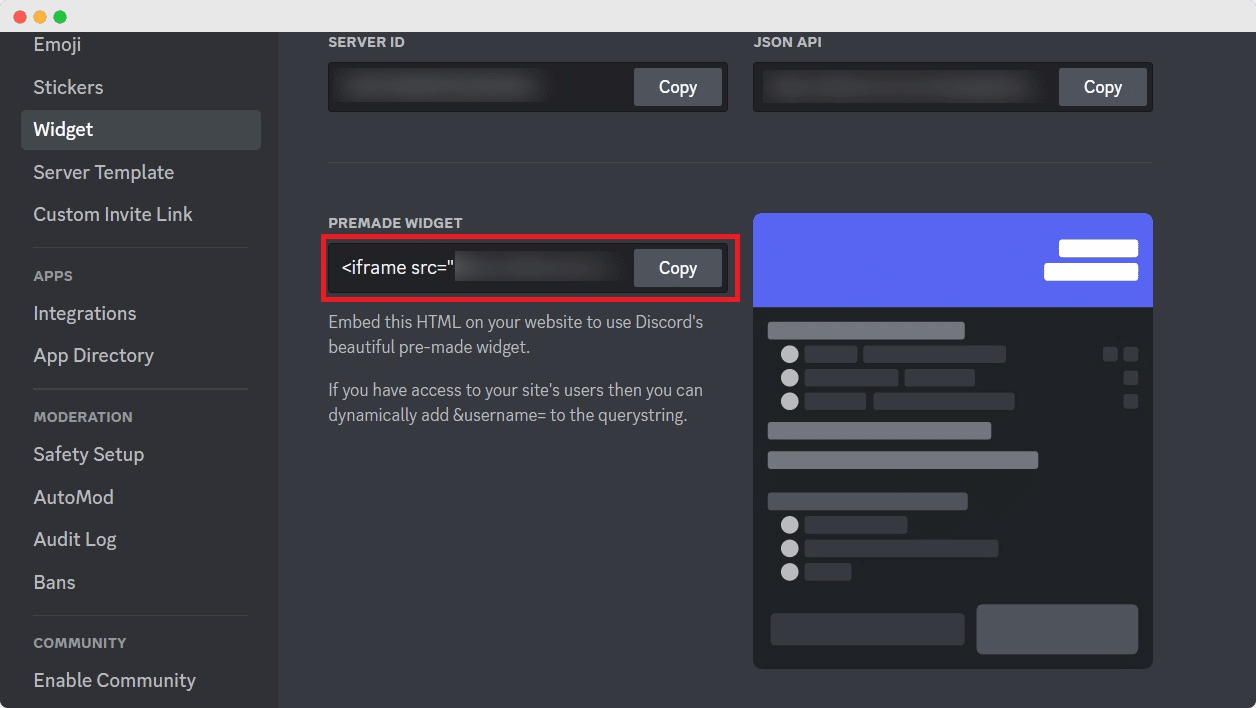 Step 5: Embed The Discord Widget Into Your WordPress Site
Open your WordPress site's admin panel and then navigate to the page or post, where you want to place your Discord Widget. Then take the Custom HTML block wherever you want to display your Discord widget. Then paste the copied code, and you are ready to go!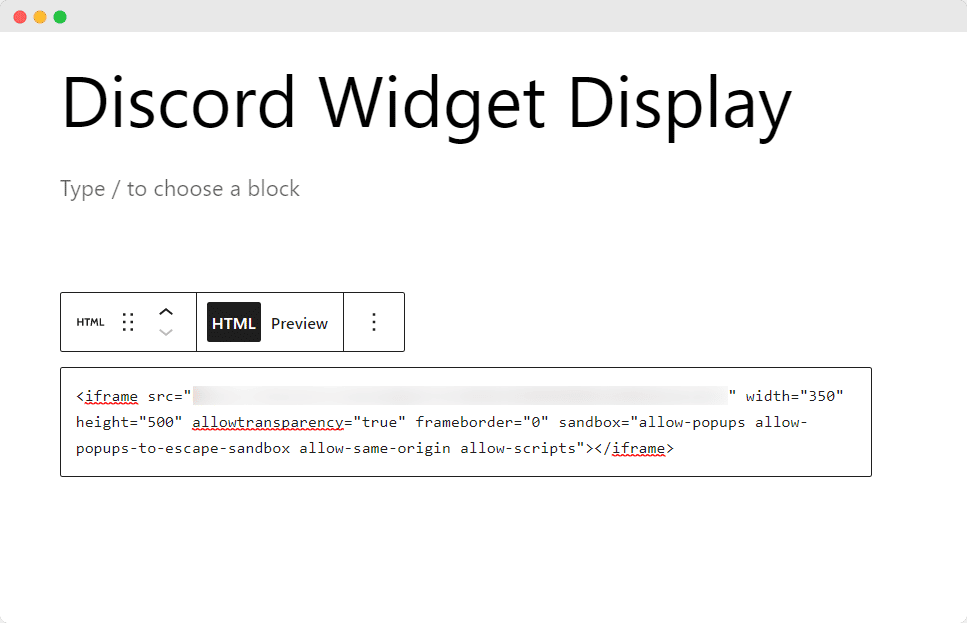 Now that you have embedded the Discord Widget into your WordPress site, open your website and check it. The figure below says how your embedded Discord widget will look on your website. You can embed the widget anywhere on your website, from header to footer to left sidebar to right sidebar.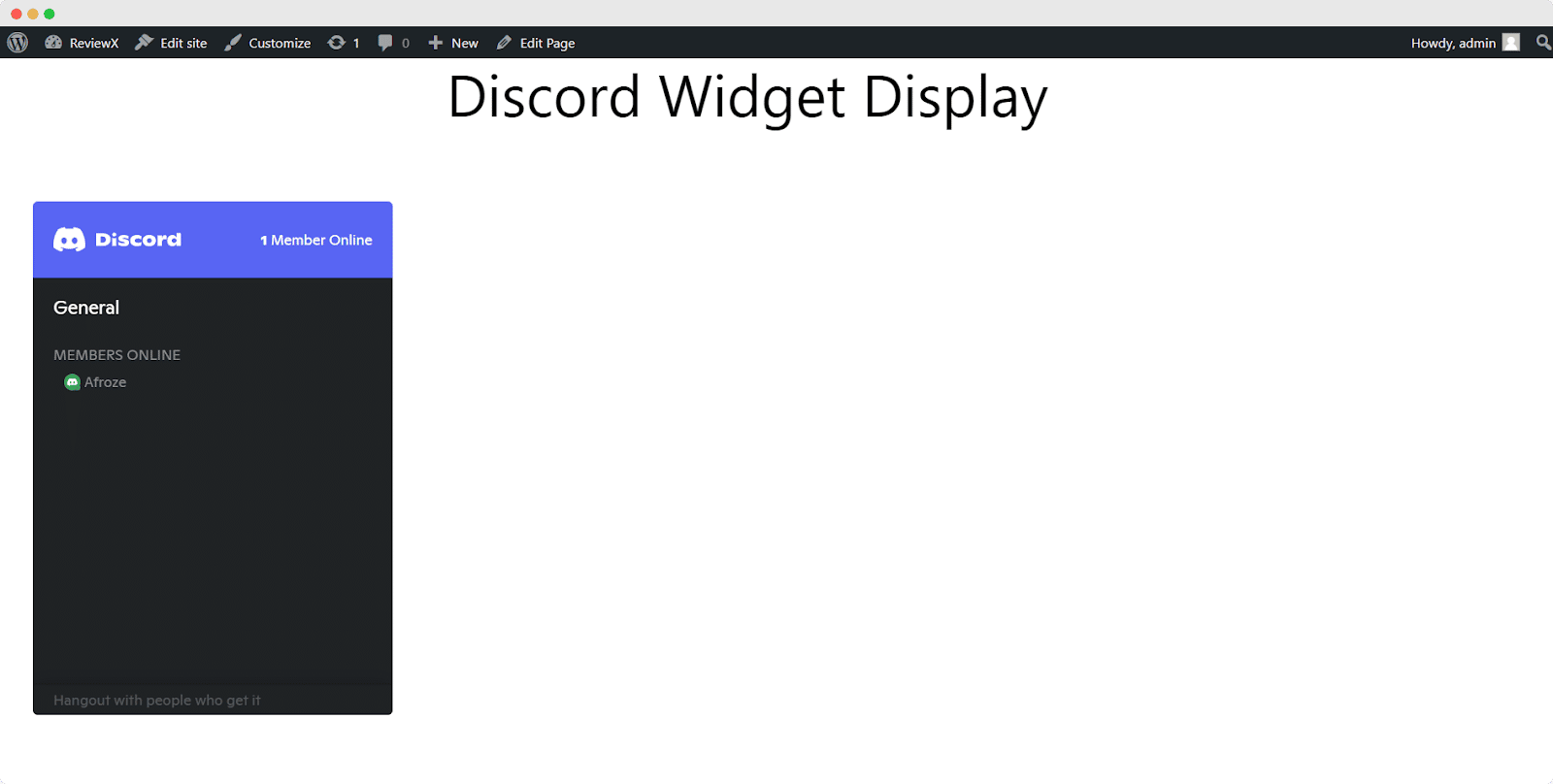 Bonus: Best Discord Plugins For WordPress
There are multiple plugins in the market to gear up your Discord experience with WordPress. Let's talk about some of them.
1. Connect Paid Membership Pro To Discord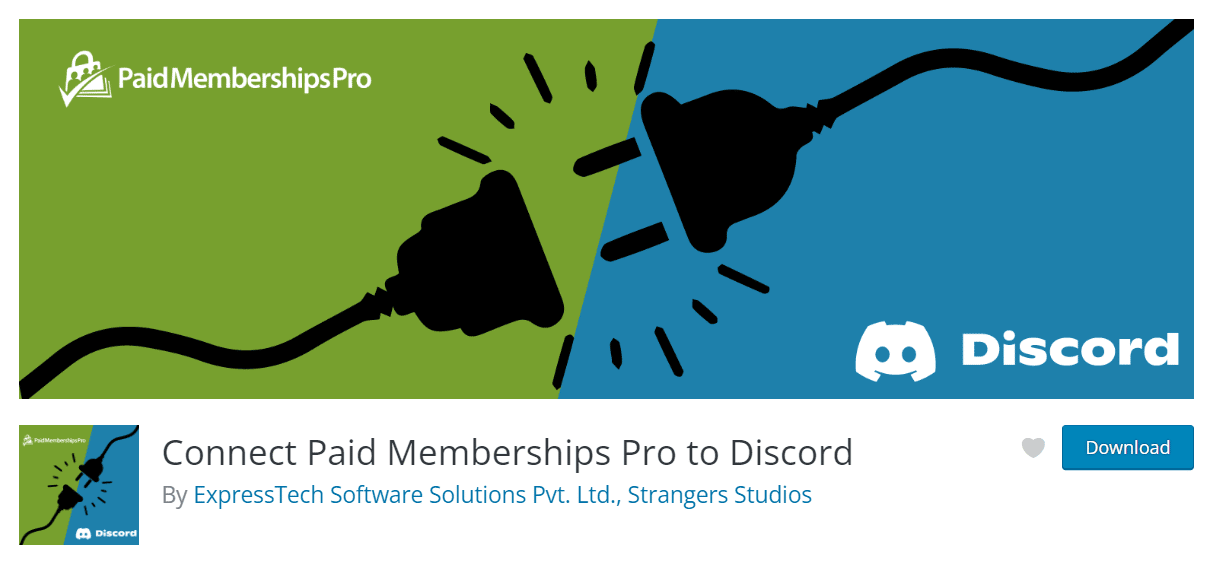 Connect Paid Memberships Pro to Discord Addon is a popular Discord plugin with more than 11,000 downloads and 700+ active installations. This add-on offers you to connect your paid PMPRO (Paid Membership Pro) enabled website to your discord server. It has made it super easy to communicate within your online community.
It has a simple setup and a smooth and sleek user interface to manage user roles within Discord. Now, you can easily connect your Paid Membership Pro members to your online Discord Community. And you can do that along with the server roles assigned to members according to their membership level.
The site admin can decide what default roles will be assigned to all new members as soon as they connect Discord to their membership account. Members' roles update when membership expires or cancels.
It allows you to send a direct message to Discord members when their membership is canceled. You can send a warning message to the members whose membership expiration date is nearing.
This plugin allows displaying connect/disconnect button using a shortcode on any page. Also, by using the shortcode [discord_connect_button] on any page, anyone can join the website discord server. Using some filter, you can hide the connect button. Explore the plugin, and you will be in awe!
2. miniOrange Discord Integration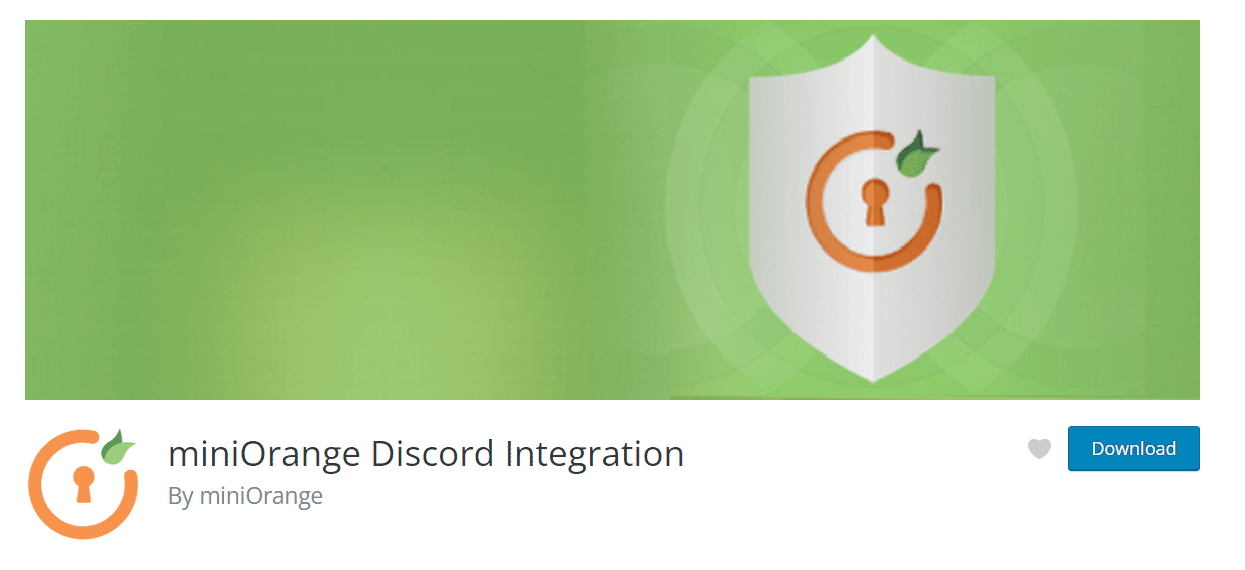 miniOrange Discord Integration allows you to connect the WordPress and Discord server. By doing so, you can maintain members, roles, and subscriptions of the users.
Discord login and integration with WordPress allows you to perform User Restriction and Role Mapping. You can do these for the users who are performing Single Sign-On using a discord user profile on your WordPress site. It will offer you so many customizations too.
It will let you choose custom login buttons from a variety of options. You can also activate the discord login and widgets and display the discord social login icon on your website. It ensures authentic access to your account with authorization protocols such as OAuth. It has many more amazing features. Just explore it and get amazed!
🎉 Fuel Up Your WordPress Site With The Best Embedding Plugin
Aside from embedding the Discord widget, you can embed more fun things such as images, PDF, video content, Google Maps, tables, graphs, charts, and much more to make a stunningly interactive site for your visitors with a WordPress plugin EmbedPress. You are not going to face much trouble doing so.
Copy the media content source link, and paste it to the EmbedPress plugin widget. And it is all done! Furthermore, you will not have to worry about copyright infringement as it directly embeds the contents with its source link. It also provides many more benefits. You can embed things from 150+ sources with EmbedPress. Amazing right?

Ready To Embed Discord Widget Into Your WordPress Site?
This entire blog provides step-by-step guidelines on embedding the Discord widget into your WordPress site. Did you find the blog helpful enough to imply it on your site? And did you find any help from the plugin list?
If yes, quickly subscribe to our blogs to get more tips and tricks, blogs, import notes on popular applications, and much more. Let us know about your experience in the comment section. You can also share your thoughts in our Facebook Community.