Revolutionize the default boring appearance of your embedded videos and audio with advanced custom player controls that comes with EmbedPress v3.8.0! Now, you can enhance your audio and video player experience by personalizing your own embedded video and audio content appearance using the custom player controls from EmbedPress with ease.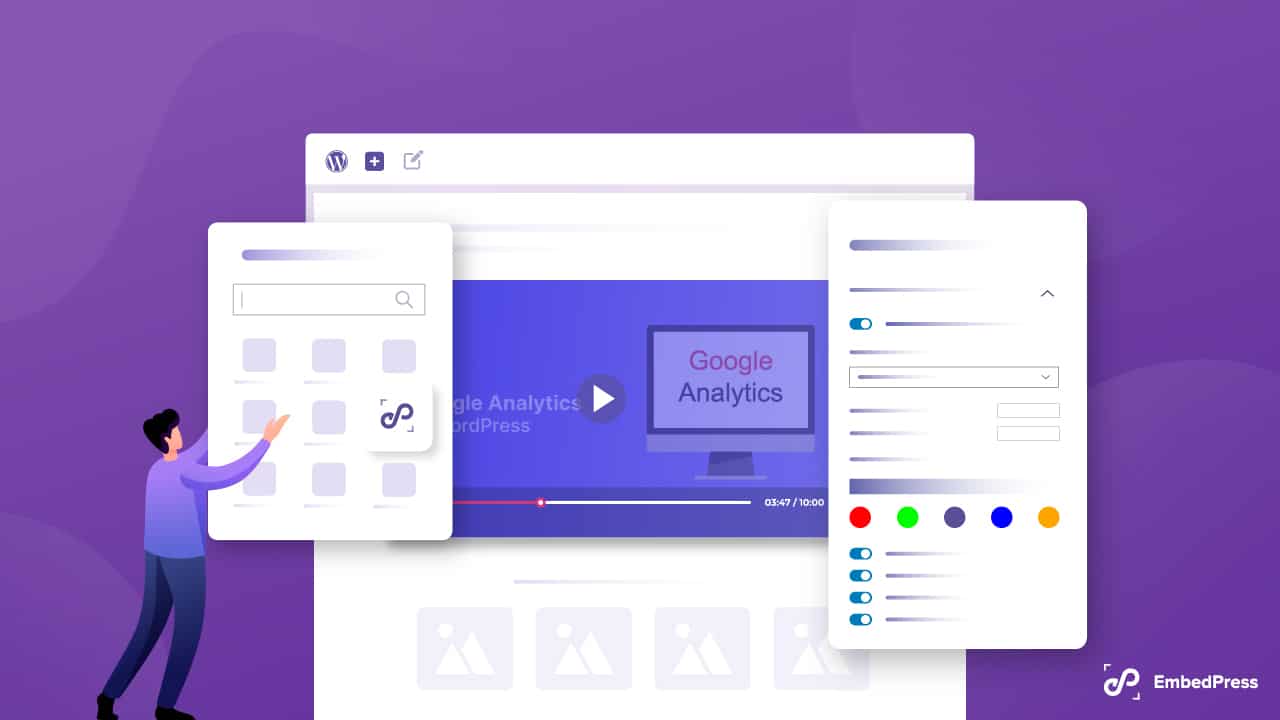 Introducing EmbedPress v3.8.0: Custom Media Player Controls!
With the latest release of EmbedPress v3.8.0, we are thrilled to introduce the highly anticipated feature of custom player controls for both embedded audio and video content.
Gone are the days of relying on the default video player controls that come with embedded videos from various sources. EmbedPress brings you customized video players for platforms like YouTube, Vimeo, and self-hosted videos. Tailor your viewing experience by adding unique control buttons, customizing colors, incorporating thumbnails, enabling sticky video functionality, and more. Take full control and seamlessly integrate your video content with your website's design.
But we didn't stop there. EmbedPress also offers effortless customization for your embedded audio content. You can Personalize your embedded audio with custom buttons, branded colors, download options, and more. Elevate your audio content to new heights, providing a tailored and engaging listening experience.
Well, that's not all; this new version also brings some security enhancements and improvements for protected content to the plate.
Let's have a glance at our latest additions in EmbedPress v3.8:
* Added: Custom Video/Audio player.
* Added: Self-hosted audio/video embedding support.
* Fixed: PHP 8.2 compatibility issues.
* Fixed: Spotify country-restricted videos aren't playing.
* Few minor bug fixes and improvements.
Personalizing Your Embedded Content: Why Custom Player Is Exclusive?
When you add audio or video content directly from the source, it often embeds to your site with default player controls that may not align with your site's vibe and brand theme, which can be unfavorable. That's where custom player controls come in. That's why custom player controls are so important. They allow you to tailor your embedded audio and video player exactly the way you want, adding a personal touch to your viewing or listening experience.
So, why do custom player controls matter? Let's explore the benefits:
Tailored Experience
A custom player enables you to design your own audio or video player interface based on your preferences. You can choose the colors, layout, and design elements that resonate with your personal style or brand. Whether you're embedding audio tracks, video clips, or YouTube videos, a custom player ensures that the playback interface aligns perfectly with your vision.
Enhanced Functionality
Custom player controls go beyond aesthetics. They enhance the functionality of your audio and video player, allowing you to incorporate interactive features like autoplay, auto hide controllers, fullscreen button, restart, rewind, fast forward, tooltip, and more. These features enable your audience to engage with the content in a more immersive and interactive manner.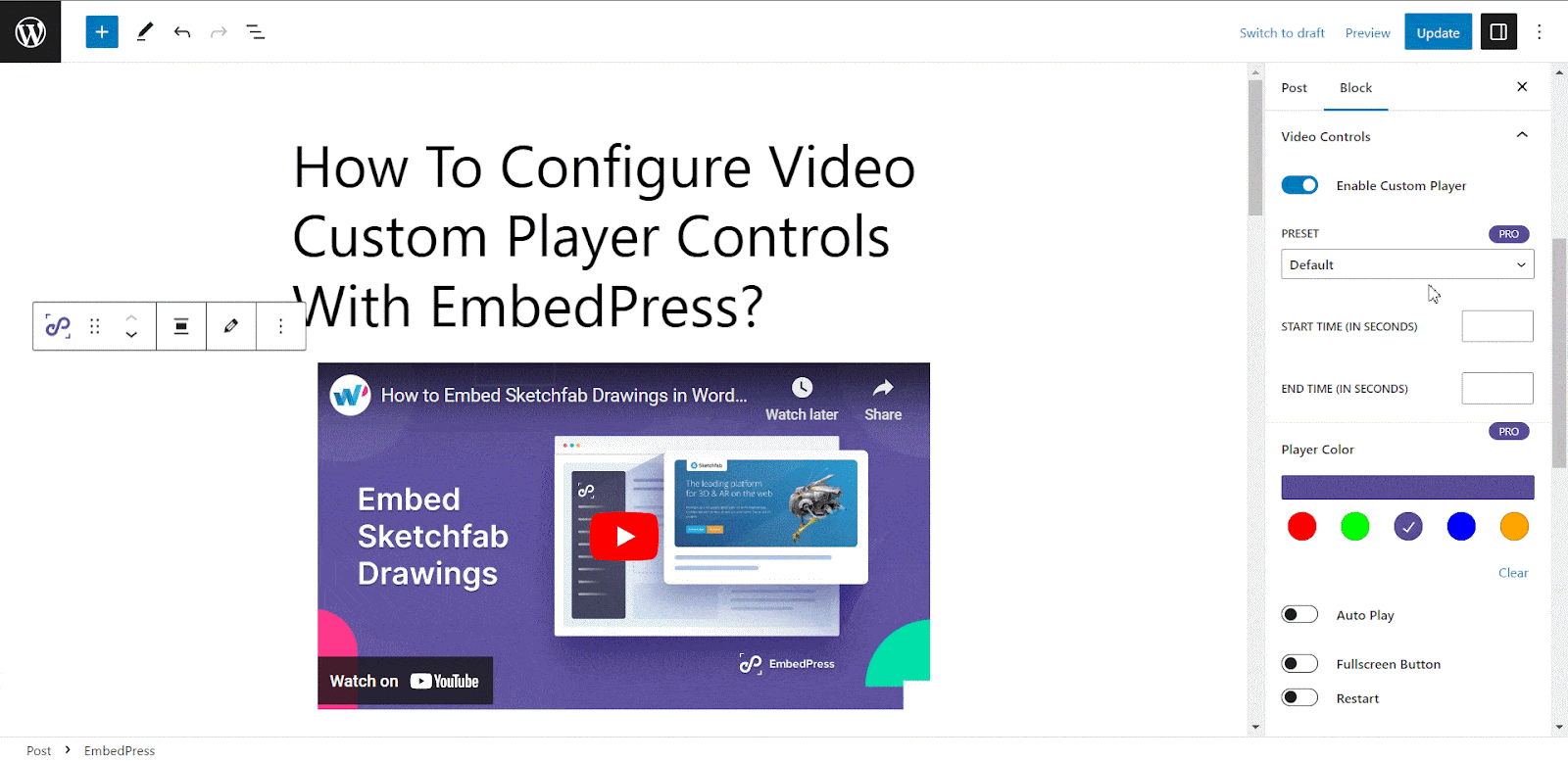 Seamless Branding
If you're using audio or video content to promote your brand or website, a custom player becomes even more essential. By incorporating your brand colors, logos, and visual elements into the player, you create a cohesive and seamless brand experience. It helps to reinforce your brand identity and build a stronger connection with your audience. With embedPress's custom player feature, you can even personalize your videos by adding branded thumbnails, further enhancing the brand image.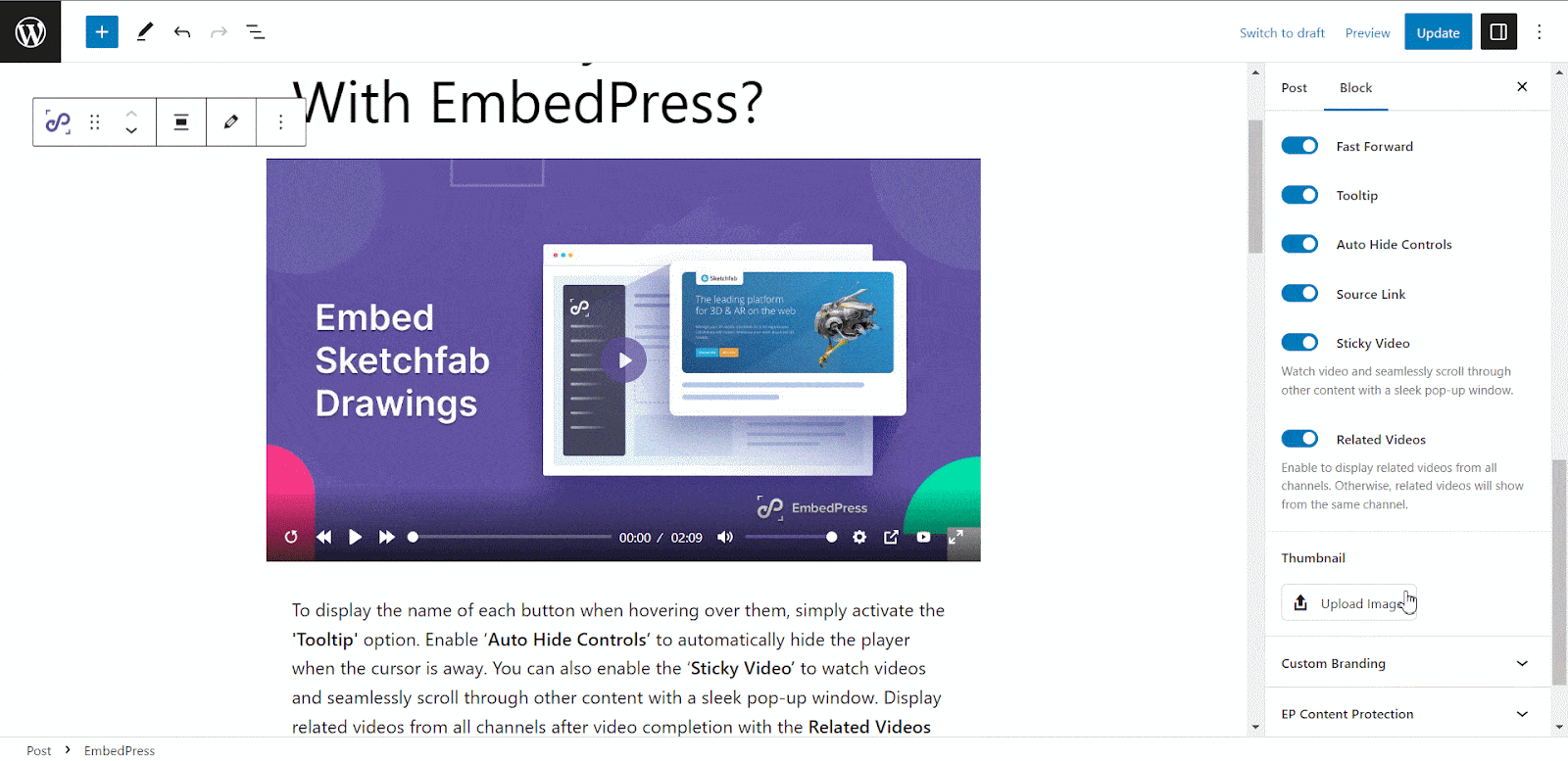 In short custom player controls empower users to personalize their audio and video playback, creating an immersive experience. Whether for personal enjoyment or promotion, embracing these controls enhances the overall viewing or listening experience, making it engaging, enjoyable, and user-friendly.
Let's Check Out How To Customize Embedded Video & Audio Content With EmbedPress Custom Player
Let's find out how we can customize our embedded audio and video content player. Explore the art of captivating users with a branded custom player experience that goes beyond the ordinary.
🎥 Customize Video Appearance With Custom Player In Gutenberg
Configuring your video & audio player controls with EmbedPress is fun! Just follow the guidance below to get personalize your custom video player controls and know the ins and outs of it.
From the 'Video Controls' tab, simply activate the 'Enable Custom Player' option to start personalizing the appearance of your embedded video. From there, you have the flexibility to select from three distinct presets for the layout of your video control player.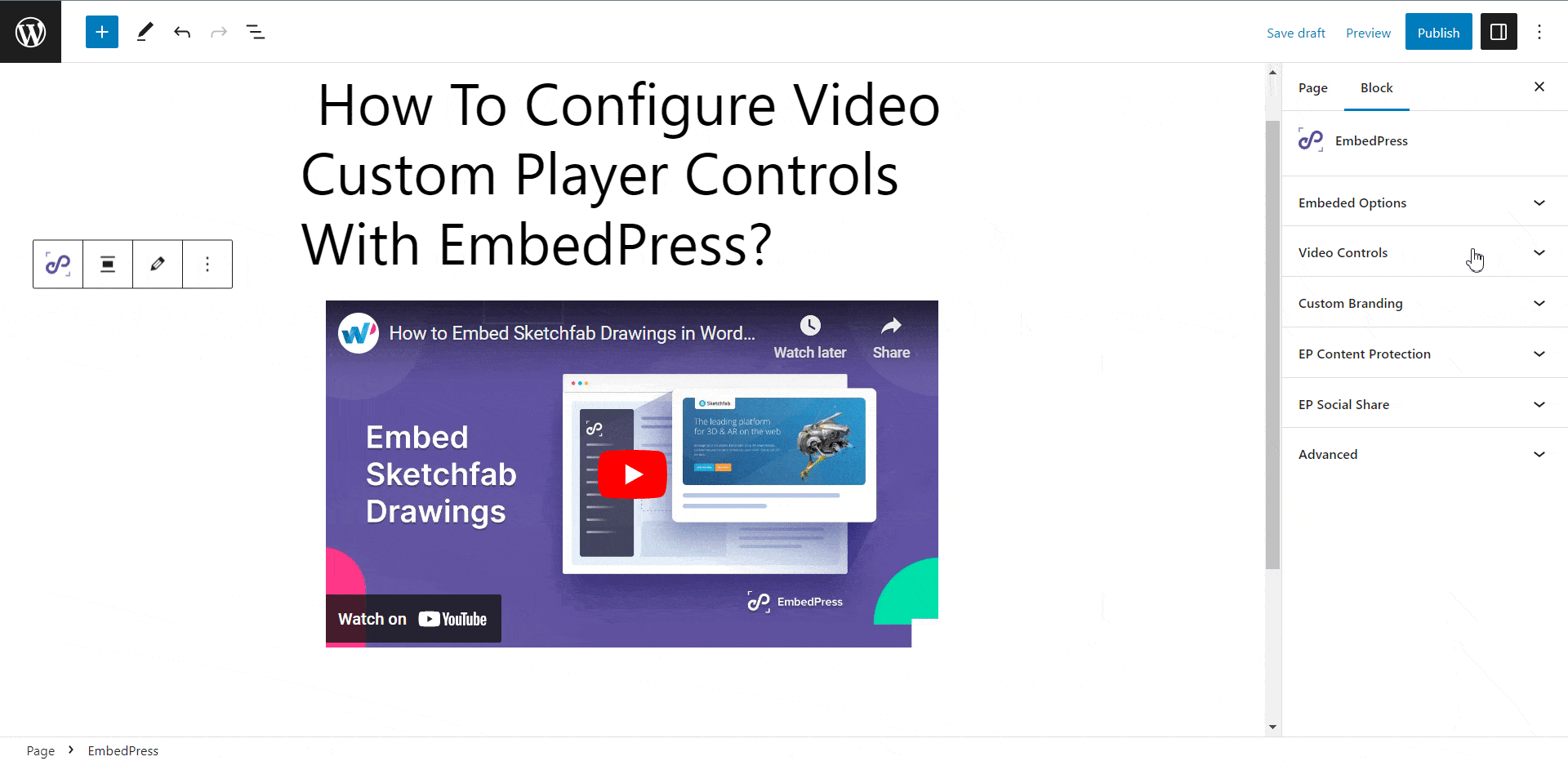 If you want to display a particular segment of the embedded video, you can easily achieve that by specifying the 'START TIME' and 'END TIME'. Alter the color of the video custom player controls using the 'Player Color' option. Moreover, you have the choice to enable the 'Auto Play' option for automatic video playback.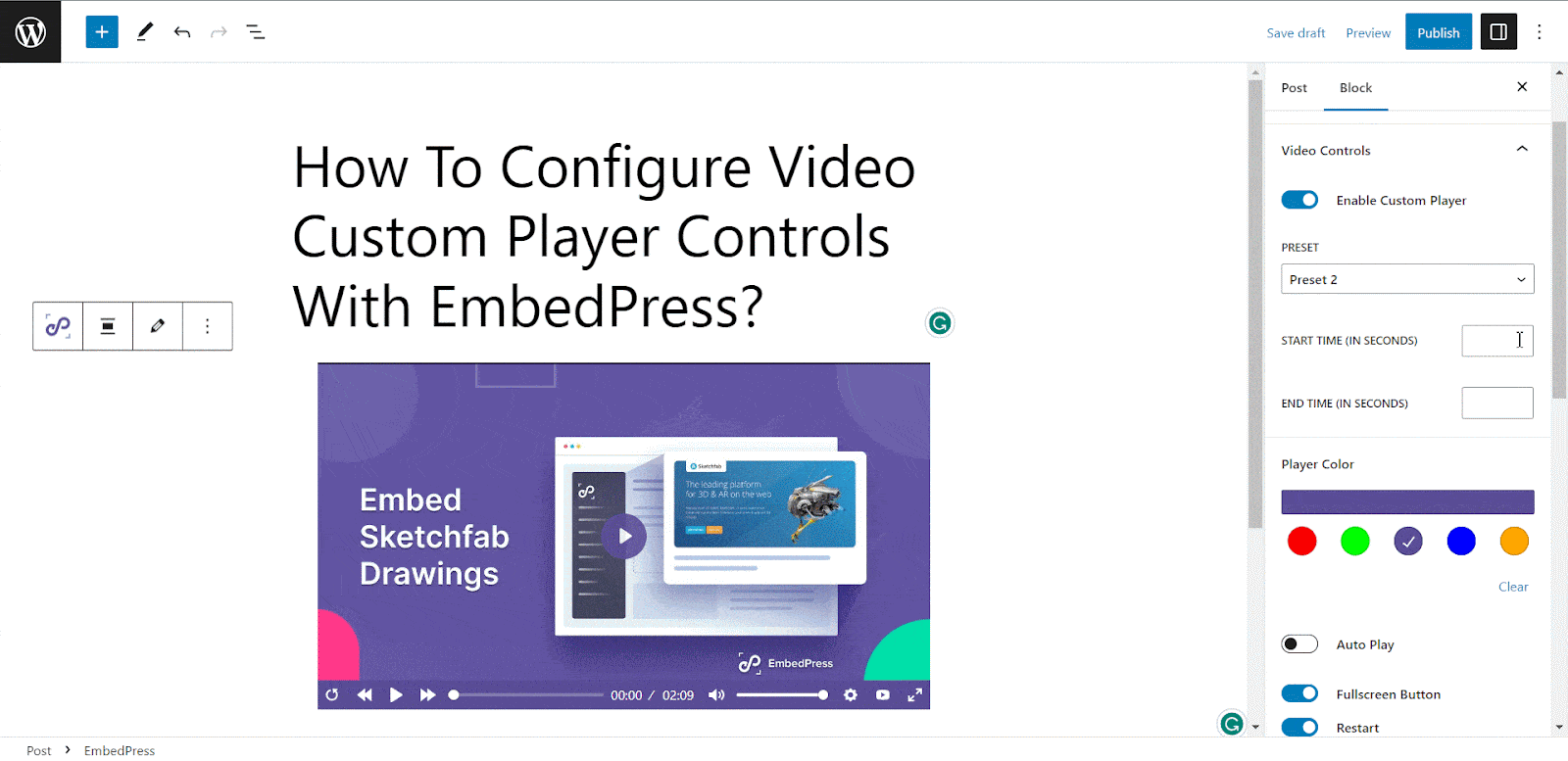 To display button names upon hovering, activate the 'Tooltip' option. To automatically hide the player when the cursor is away, enable the 'Auto Hide Controls' feature. Enhance your viewing experience by enabling the 'Sticky Video' option, allowing you to watch videos and seamlessly scroll through other content using a sleek pop-up window. Additionally, you can choose to display related videos from all channels after video completion using the 'Related Videos' option.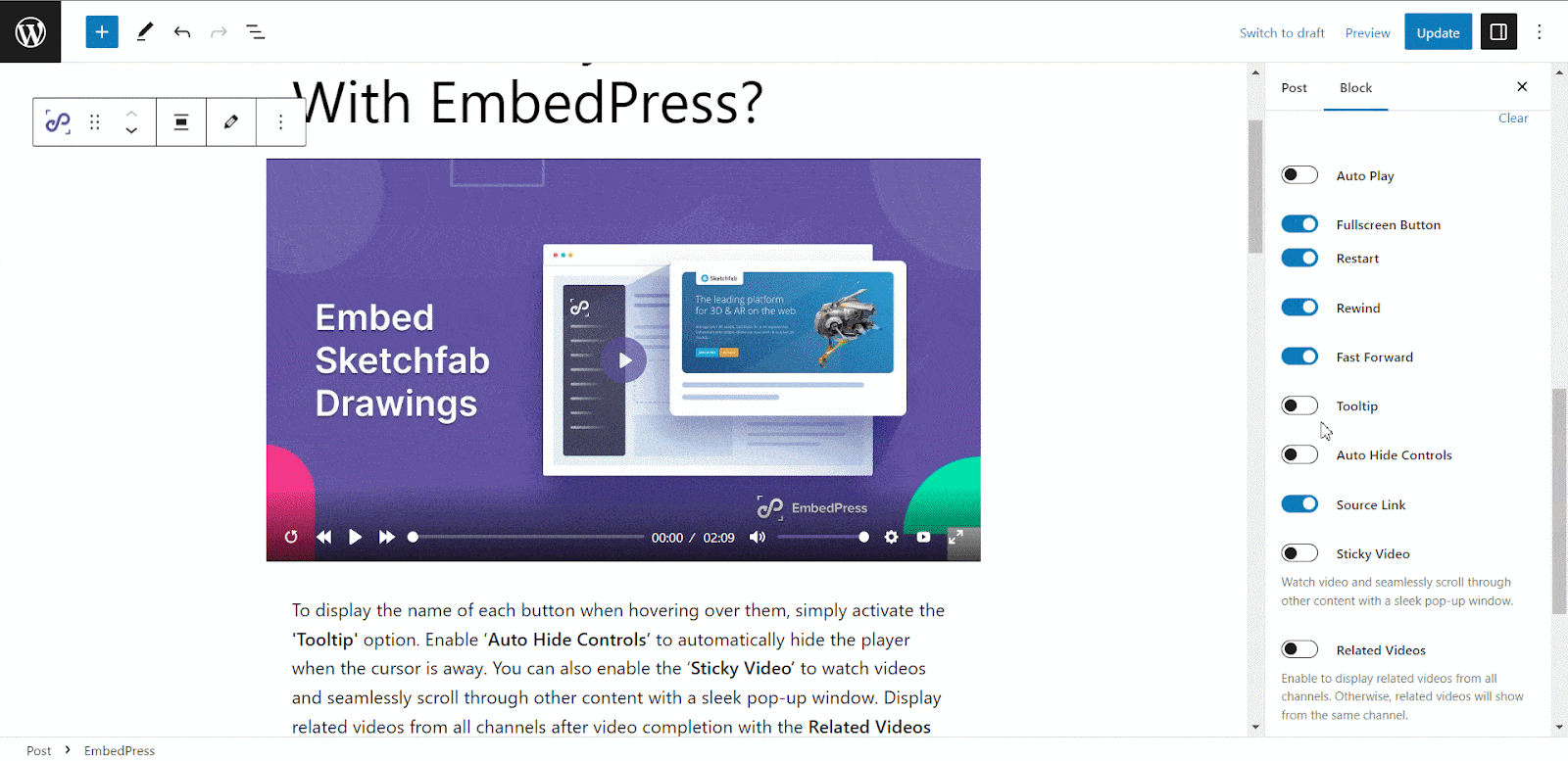 Get Live Experience Of Personalized Video Custom Player
🎙️ Customize Audio Appearance With Custom Player In Gutenberg
Now that you have familiarized yourself with the features of custom video player controls, let's shift our focus to the custom audio player controls offered by EmbedPress. Let's proceed with the following guideline:
Within the 'Audio Controls' tab, activate the 'Enable Custom Player' option to start personalizing the appearance of your embedded audio. Modify the color of your custom player controls using the 'Player Color' option.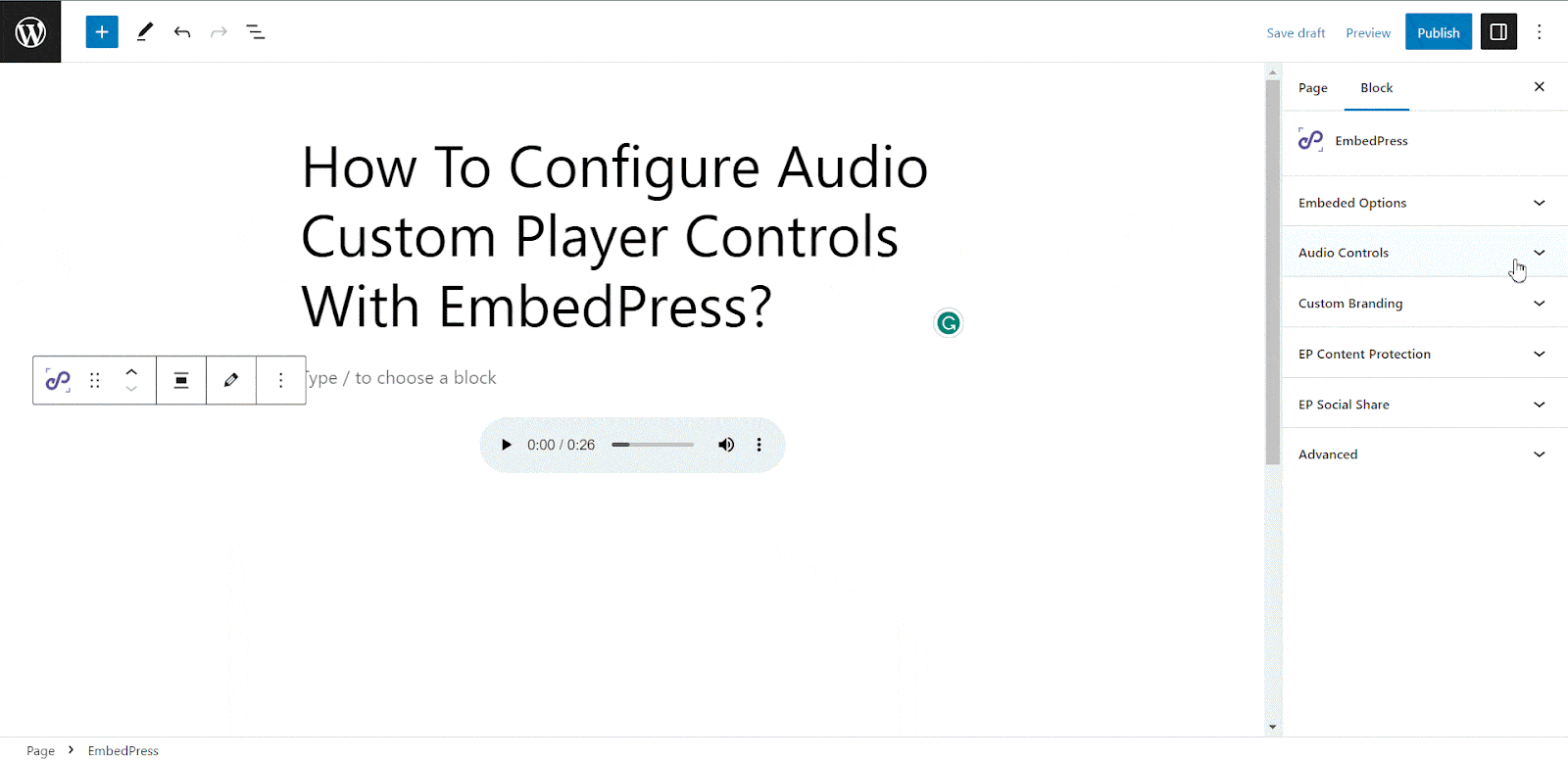 If you wish to add buttons such as 'Restart', 'Rewind', and 'Fast Forward' to your embedded audio, it's as easy as toggling the corresponding options within the control panel.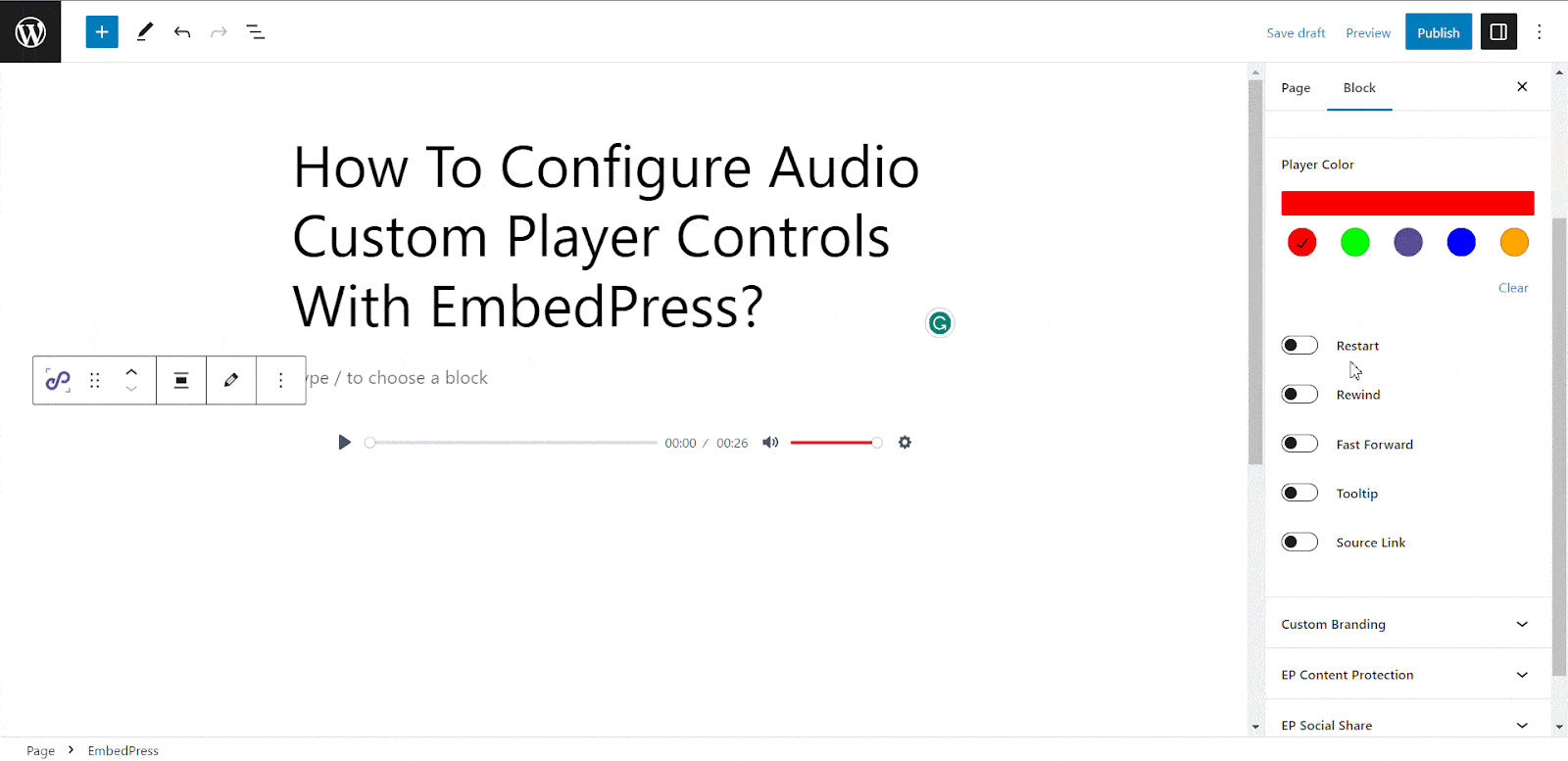 In addition, you have the option to enable the 'Source Link' feature, which adds a download button to the audio custom player control, allowing users to easily download the audio content. Furthermore, activating the 'Tooltip' option will display the name of each button when hovering over them, providing a helpful visual cue.
Get Live Experience Of Personalized Audio Custom Player
Engage with Impact: Personalized Audio & Video Player Controls In WordPress
If you want to supercharge your WordPress site by customizing the embedded audio and video player controls, then update to the latest version of EmbedPress today. Discover how the EmbedPress block or widget can effortlessly elevate engagement on your site. Unlock new possibilities and take control of your media content. Update now and witness the remarkable impact.
Did you find the blog informative and useful? If so, why not subscribe to our blog for regular updates? Additionally, you can join our Facebook Community to connect with people of similar interests.