With the surge in social media users, flexibility to showcase brands, and ease of use, product marketing is going through a dramatic transformation in the modern era. As more than half of the global population is already online, now is the ideal time to embed social feeds into your website using social media plugins.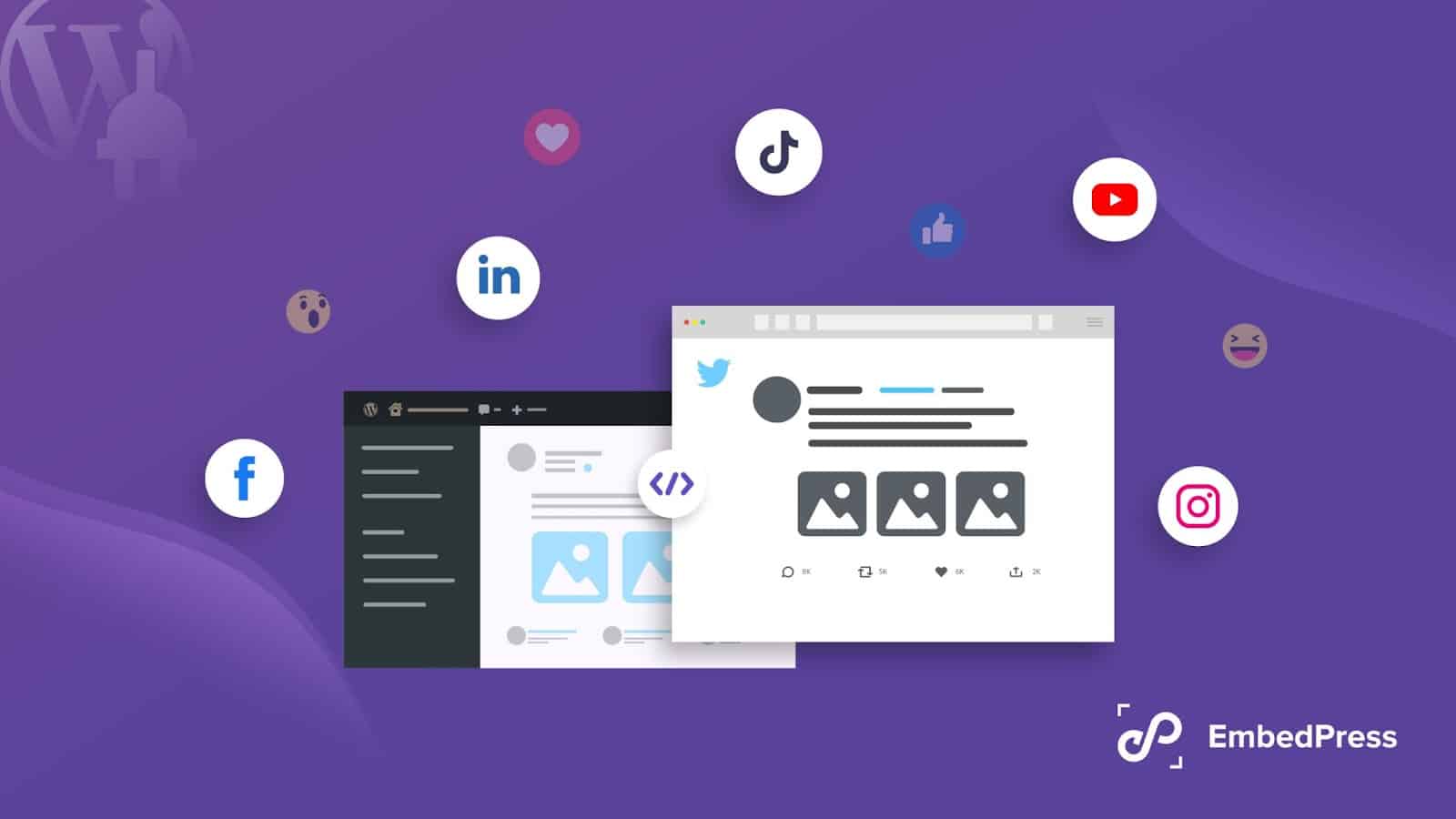 WordPress powers over 40% of the internet's total websites, so several social media aggregators have built WordPress social media plugins to simplify embedding social media on WordPress websites. Based on their features, cost, and overall value, we have selected the top three plugins for you to consider.
🤔 How Does A Social Media Plugin Boost Your Website?
Before diving deep into the best social media plugins for WordPress, we'll look into the reasons why you should use a social media feed plugin for WordPress in the first place. Here are some key takeaways to consider:
👉 Embedding social media networks into your website is a great way to increase your brand's credibility.
👉 A social media share plugin for WordPress makes it easy to display content from popular social networks in real time.
👉 The best social media plugins showcase user-created content and help gain the trust of new website visitors, who can then become customers.
👉 Embedding social media on your website significantly impacts increasing sales and conversions.
👉 Social media feeds include images, videos, and more interactive items. They help keep visitors on the site for longer.
🔌 Three Best Social Media Plugins To Embed Today
Hundreds of social media feed plugins for WordPress are available in the plugin repository. But someone can't test every available plugin and determine the most effective one. However, we took the time and effort to research and make the job easier for you. Check out our pick for the three best social media share plugins:
1. EmbedPress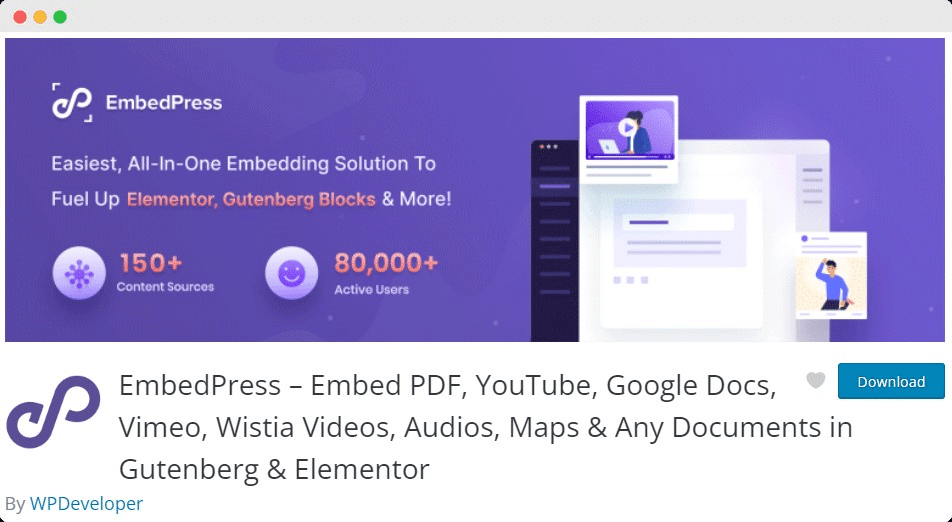 Out of all the plugins available, EmbedPress is the simplest embedding option for WordPress. With this, you can utilize the most innovative approach of embedding content from popular social networks to enrich your website and make it more appealing to your visitors.
EmbedPress recognizes URLs and instantly embeds your content in the desired region of your website. All you have to do is copy and paste the URL/links into your preferred editor to get the embedded content on your site. You don't have to deal with the coding anymore, as it supports WordPress oEmbed.
This powerful plugin lets you embed anything from 150+ content sources, including prominent social media networks like Facebook, Twitter, Youtube, TikTok, and Instagram. This plugin comes free with some premium features. But once you upgrade to PRO, you will have additional features like personalized branding, a private calendar, live streaming, and more.
Key features of EmbedPress:
👉 Easy 1 click embed for 150+ sources, including popular social media
👉 Customize YouTube embeds with advanced features
👉 Embed live streams from popular social media sources
👉 Customize your embeds to make your content dynamic and reflect your brand
👉 Embed content seamlessly on popular page builders, including Gutenberg, Elementor & Classic editor
2. EmbedSocial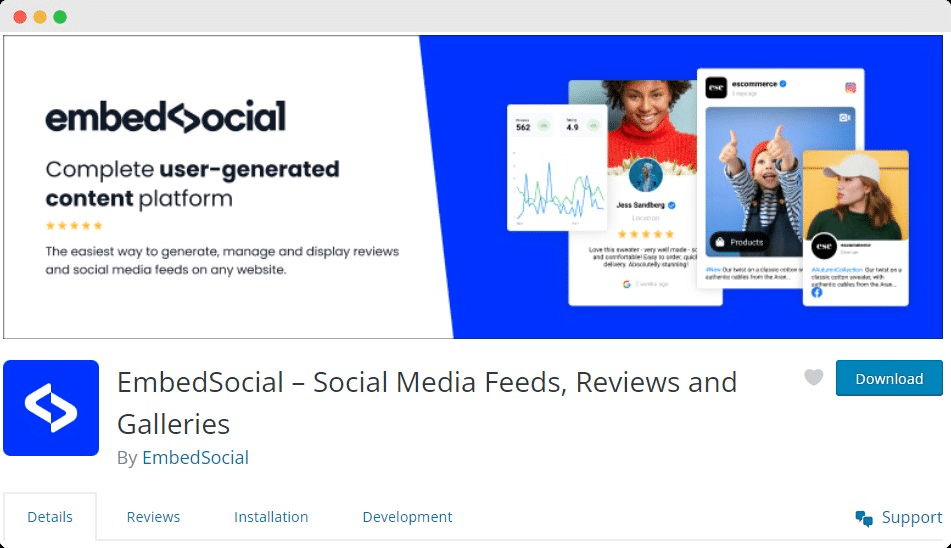 EmbedSocial is one of several excellent free WordPress social media plugins that lets you embed a social media feed on your site, showcasing recent updates from Facebook, Twitter, Instagram, and other networks. Just copy and paste the share code, and your social network content will be live on the site.
The social media plugin has an automated updating function. Whenever someone adds new content to a social networking site that is relevant to your feed, it will immediately appear in your feed. Plus, you can customize the layout to fit the aesthetic of your website by changing the number of images shown on each page, the image width, and more.
On top of that, you can display Google and Yelp reviews in a social media feed using this plugin. However, if you want to embed your Instagram stories, you can do it with the help of EmbedSocial's other social media plugin, EmbedStories.
Key features of EmbedSocial:
👉 Check your business's performance across Google My Business, Facebook, Yelp reviews, and more in a single place.
👉 It's a full-featured WordPress plugin that enables you to embed your Facebook content, along with any other social network feeds, with a single click.
👉 Copy and paste the plugin's code, and your Facebook, Twitter, or Instagram photographs will appear on your site.
3. EmbedPlus: WordPress YouTube Plugin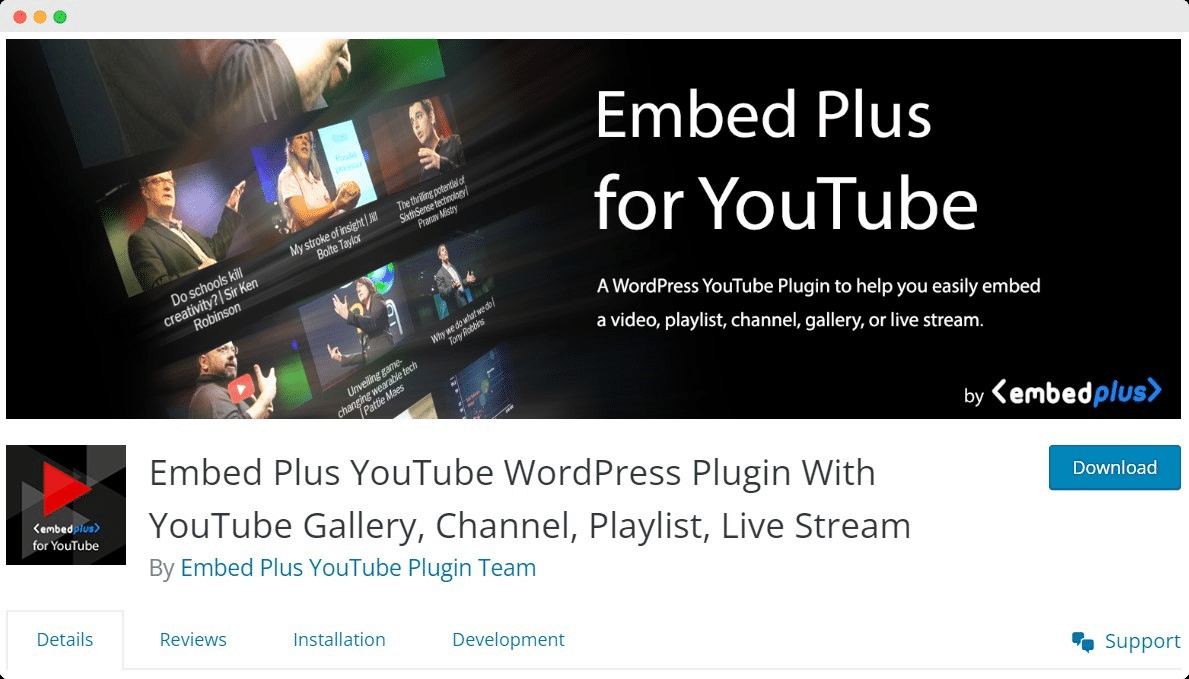 If you need a complete answer to your YouTube embedding problems, look no further than the EmbedPlus Plugin for YouTube. Whether using the visual or text editor, this social media feed plugin for WordPress makes it simple to include video galleries in your posts and pages.
It works with Gutenberg 5.0 and, later, enabling live streaming, customizable playback settings, and a grid layout for video thumbnails. In addition, you can simplify your work even more by inserting shortcodes.
The intuitive interface of EmbedPlus allows you to showcase videos from your preferred YouTube channel or playlist in a variety of ways. In addition, customers will spend more time on your site if you enable continuous play for playlists and channel galleries and disable related videos. The premium edition of the plugin includes caching for WordPress, which will significantly reduce page load times.
Key features of EmbedPlus:
👉 It lets you make thumbnails in a grid-like format for display.
👉 Whether you want to embed with the share code, you have a shortcode embedding option.
👉 Supports the 'No Cookie' policy by Google that enables the option to disable autoplay for movies linked to the one being watched.
👉 Messages of consent that can be tailored to an individual's preferences in accordance with the GDPR.
✅ Choosing A Social Media Embed Plugin: The Know-How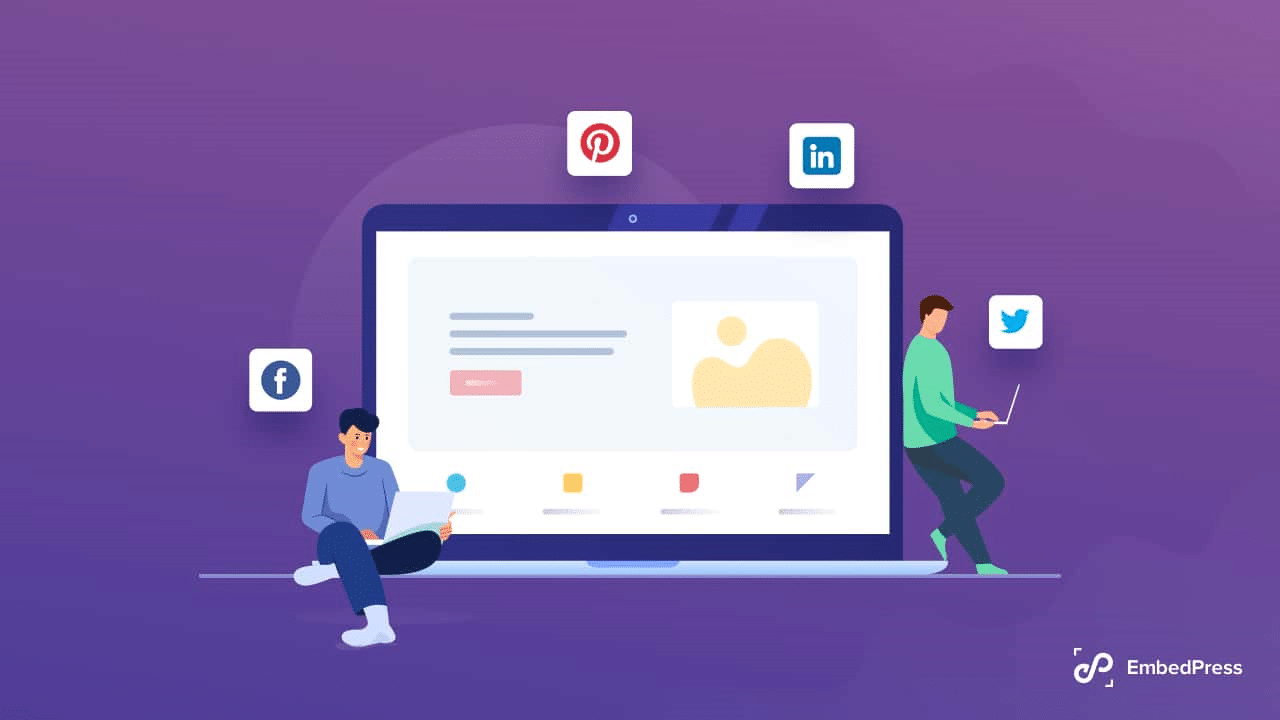 Choosing the right WordPress social media plugin from hundreds of good ones can be challenging. But it's necessary for making the most of your social content on your website. So, how do you pick one? Here are the most critical factors you need to consider:
🎯 Performance For Your Website
These plugins increase your site's usability by embedding social network content. So, these plugins must be lightweight so your website's performance isn't affected. The social networking plugins covered here will improve your site's UX, SEO, and page load times.
🎯 Features You Need
You'll need to decide on the functionality of social media plugins. Each plugin offers various customization options, but which one is ideal for you? Decide whether you need social media embedding functionality only or an ultimate embedding solution. For embedding almost everything, you can go with EmbedPress.
🎯 Multiple Integrations
If you want to promote your business on social media, the social plugin you use should be compatible with the platform on which your company spends the most time connecting with its target audience. Check your social media settings to see whether you want the world to view your Facebook or Instagram profile.
♾️ Enrich Your Website With Social Media Embeds By EmbedPress
Power up your website by attaching embedded content from social media. Use EmbedPress as your ultimate social media plugin for embeds, which comes with the option to embed many more contents from 150+ sources. By doing so, you can take advantage of the power of social media and drive more success for your website. This can significantly benefit businesses, leading to more conversions and sales.
If you have found this blog helpful, share your opinion with our Facebook community. You can subscribe to our blogs for valuable tutorials, guides, knowledge, tips, and the latest updates.