The best way to increase traffic to your website is to add social media feeds. It will also enhance your social media marketing performance. If you have multiple social media accounts on different platforms, you can easily add them to your WordPress to entice more people. Let's explore how you can do it without any hassle.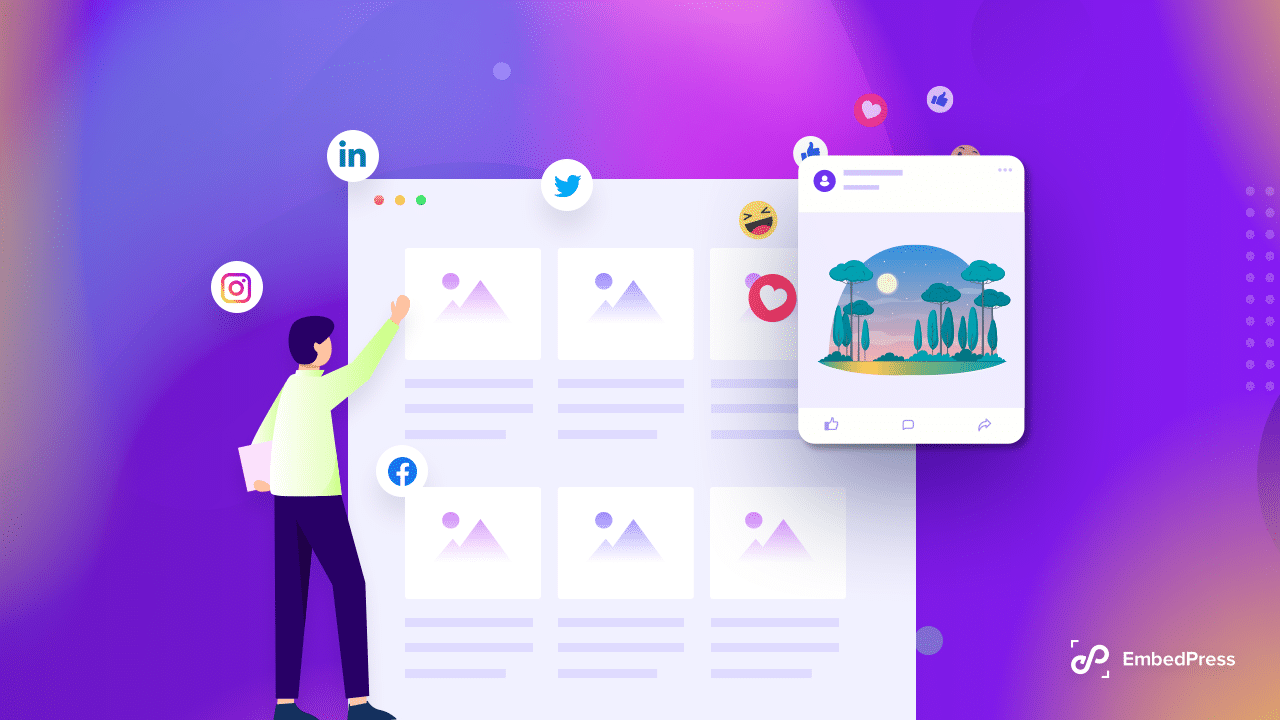 Most marketers seek ways to make their websites appear attractive so that they can convert more visitors. You will find people who are eager to embed their social media feed in their website nowadays as it drives more people from different platforms at once. That's why we are going to introduce you to one of the best WordPress embedding solutions called EmbedPress. Using this WordPress plugin, you will be able to embed any kind of content from 100+ sources easily by following some simple steps. We will now explore how you can add social media feeds to your WordPress website.
How To Add Instagram Feed In Your WordPress Website
No matter if you are using Gutenberg, Classic Editor, or Elementor to build your WordPress, EmbedPress can help you add social media feeds without doing any coding. One of the most popular social media platforms is Instagram and we will now see how to embed Instagram feed in your WordPress website.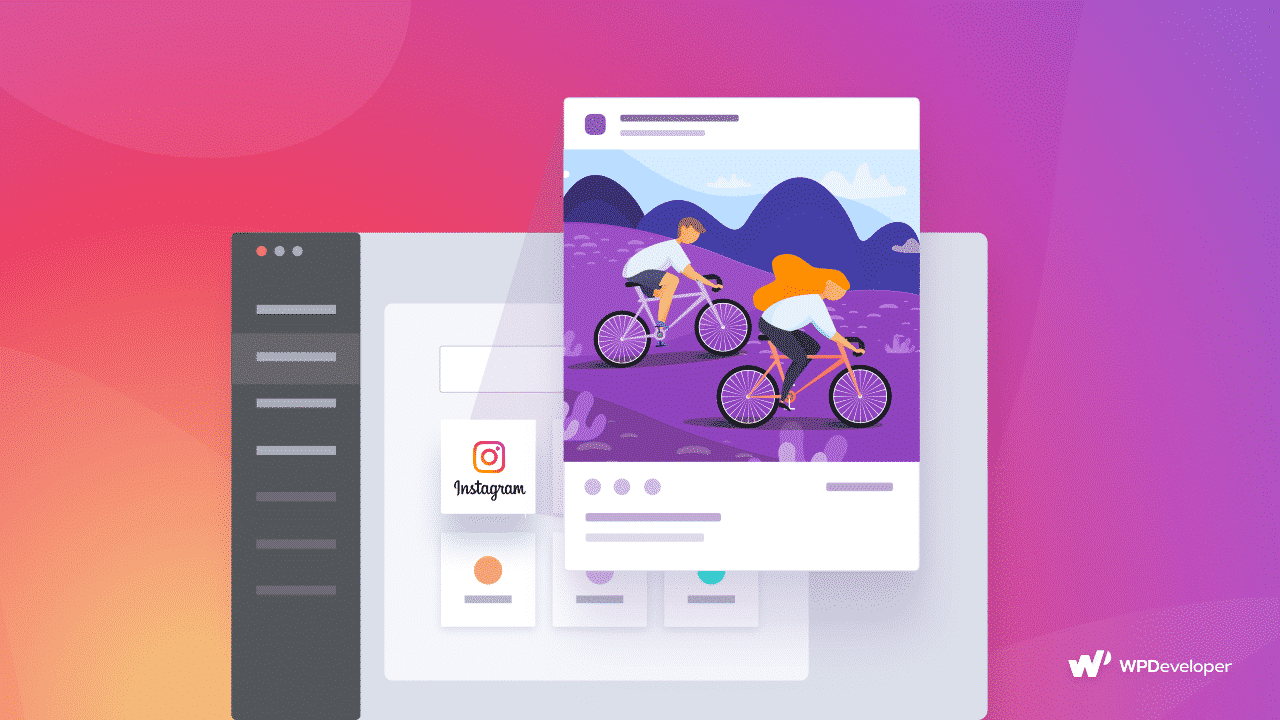 All you need to do is find the most convenient way to display your Instagram feed on your website. It will instantly help you to influence your audience. Instagram is a popular social media platform for both individuals and businesses. With its wonderful graphic content, it aids you in strategic social media marketing. Because of the variety of information, people are more drawn to it and engage with it.
As a result, using an Instagram social media feed to increase site traffic and interaction is a viable option. All you have to do now is figure out the best way to display your Insta feed's fantastic material on your website and persuade your users to browse your entire site without difficulty.
How To Add Tumblr Feed In Your WordPress Website
Automattic currently owns Tumblr, a global microblogging and social sharing platform. Text posts, audio, and video content, GIFs, memes, and much more — the types of content you may produce on Tumblr are virtually limitless. You can also use your imagination to design and decorate your personal blog sites. Embedding interesting Tumblr content into your WordPress website will significantly increase traffic and engagement, propelling your site to high SEO rankings. Let's get started by learning how to quickly and easily embed Tumblr posts in your website without utilizing any coding and simply a URL.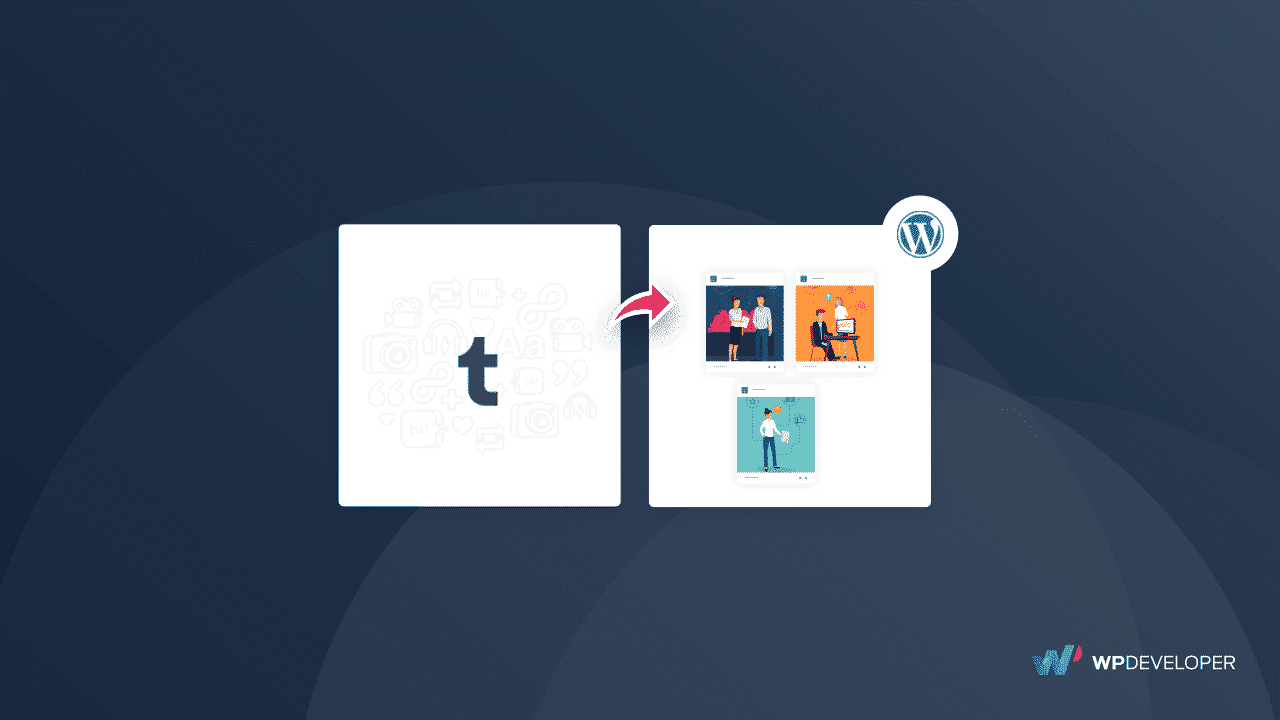 Whether you choose Gutenberg, Elementor, Beaver Builder, or another page builder or editor for your website, EmbedPress has a simple option for you. You must first log in to the microblogging network before you can begin embedding the Tumblr social media feed into your WordPress website. You can easily make your own account and join up using your existing login credentials, however, this is not required and can be avoided if you already have the link to the post you wish to embed.
EmbedPress, as previously said, allows you to embed any material in WordPress using only a URL. As a result, once you've connected to Tumblr, the following step is to collect the post URL of the Tumblr material you wish to embed in your website.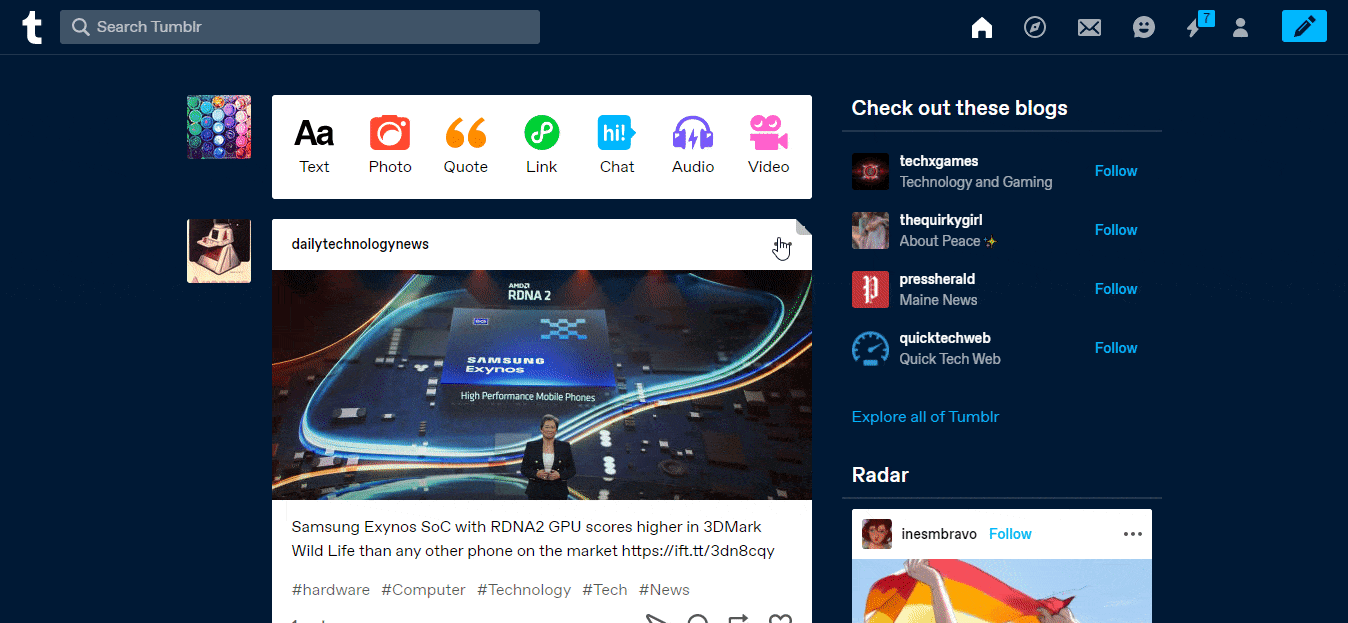 EmbedPress strives to improve your WordPress storytelling by allowing you to easily embed any creative and interactive content. As a result, it includes an EmbedPress block for Gutenberg Block Editor. Using it you can easily embed any content on WordPress with only a few clicks.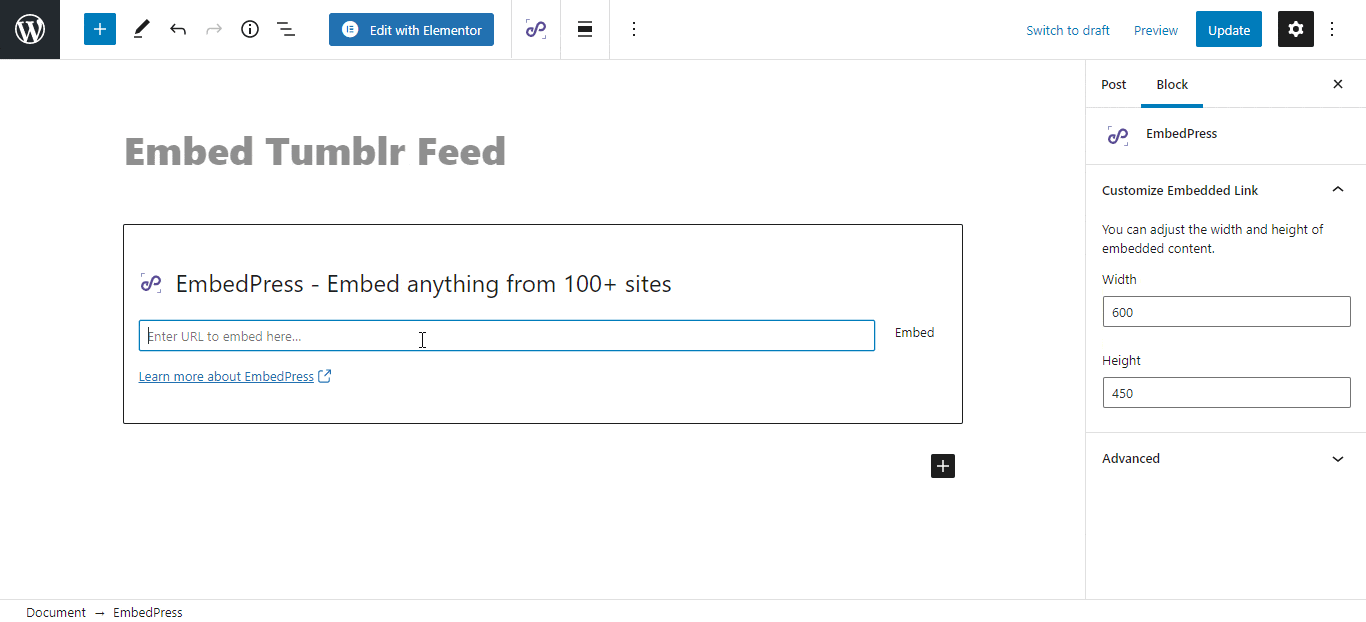 How To Add Social Media Feed Like TikTok To Your WordPress Website
The internet is flooded with TikTok's short video format material. Every major corporation, athlete, and celebrity has a TikTok account, and fans enjoy watching and making their own films. People are now using TikTok to share their thoughts on interesting topics. EmbedPress makes it easier to embed TikTok feeds and add content to WordPress. Without knowing how to code, you can embed from over 100 different sources. EmbedPress makes it simple to embed TikTok videos in WordPress using the Gutenberg editor.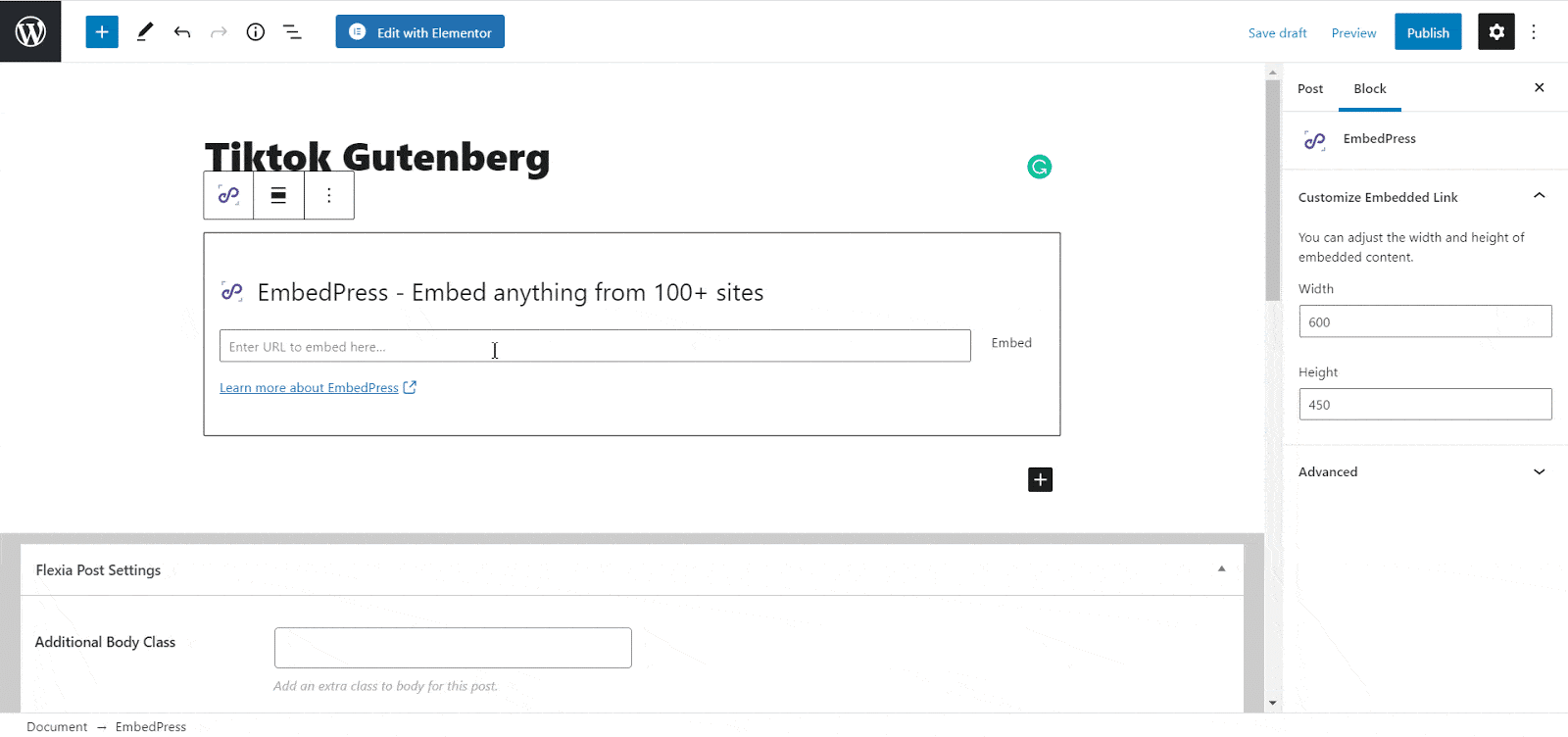 How To Add Facebook Feed In Your WordPress Website
With 2.85 billion users, Facebook is without a doubt the most popular social media platform. If you run an eCommerce site and want to increase interaction, setting up a Facebook page and displaying your social media feed on it will be quite beneficial. Though, by embedding a Facebook social media feed into your WordPress website, you can increase interaction. Adding a Facebook feed to your WordPress website will almost certainly increase user engagement on both Facebook and the website. The challenge now is how to go about doing it. Make sure EmbedPress is activated and installed in your WordPress dashboard. Then use Gutenberg, Elementor, Classic Editor, and shortcodes to incorporate a Facebook feed in your website.
How To Add Twitter Feed To Your WordPress Website
No matter what type of content creator you are, social media interaction is essential for reaching a larger audience. You'll be able to reach a large potential audience for your material because Twitter is one of the most popular social media sites. Let's look at how high levels of Twitter social media feed embedding can benefit you and what you can do to improve your Twitter engagement rates on your website.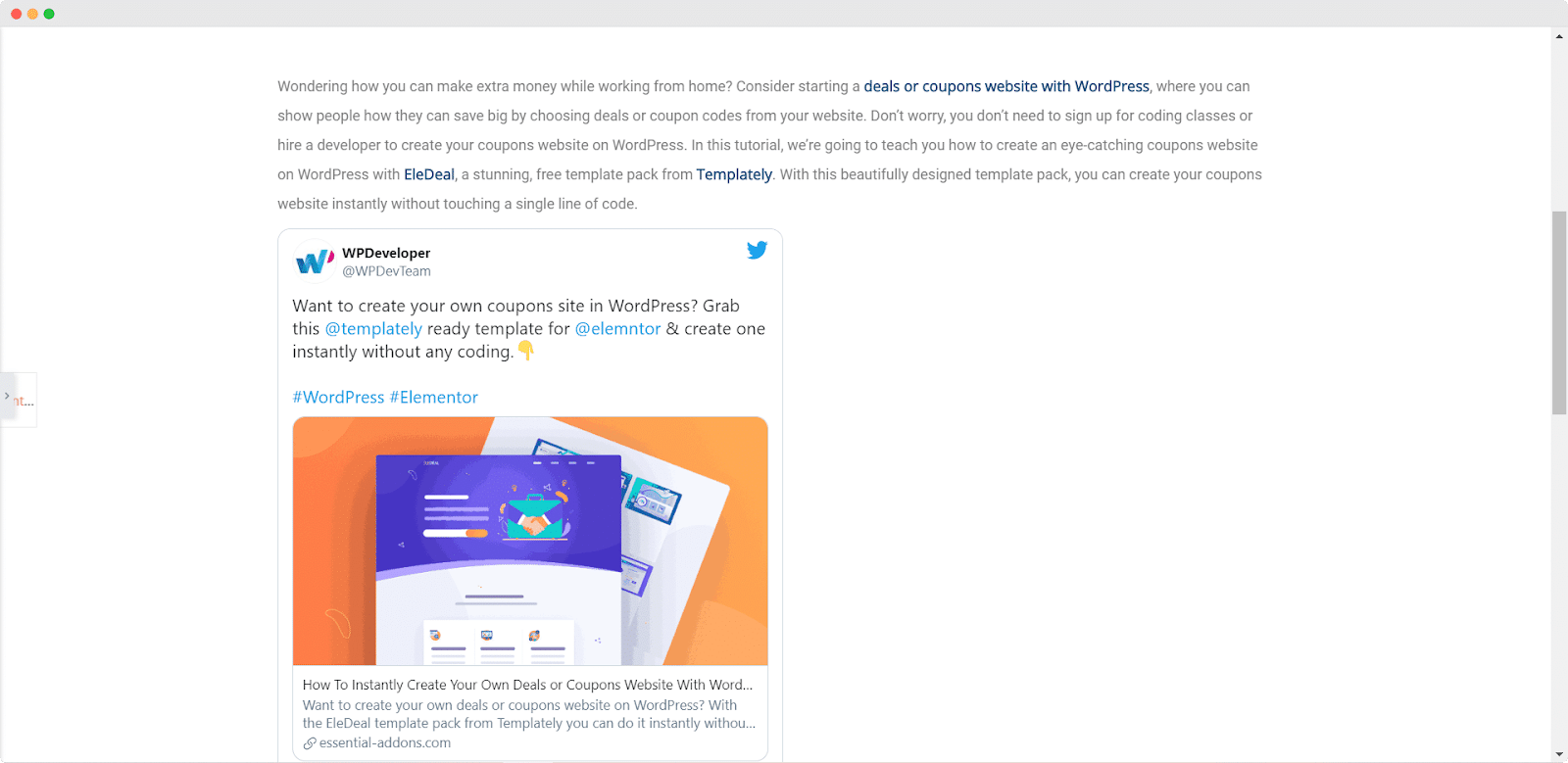 You can also use EmbedPress to display your Twitter feeds on your WordPress website right away by embedding your tweets, collections, and moments. EmbedPress will automatically show your Tweet on your WordPress website if you copy and paste the URL of your tweet into a new post or page.
Add More Social Media Feeds Using EmbedPress
As you already know that EmbedPress can help you to add content from more than 100+ sources and almost all the social media platforms are included in this list. Besides the mentioned platforms, you can also add feeds from LinkedIn, Pinterest, Reddit, and so on. If you think this blog has helped you to find the ultimate solution for adding social media feeds to your WordPress website, then subscribe to our blog and join our community to share your thoughts.