Hello, all Twitchers! Are you planning to add a spike to your followers' graph? If so, a Twitch giveaway would be the best option. We will explore how to run a practical Twitch giveaway and earn tremendous engagement.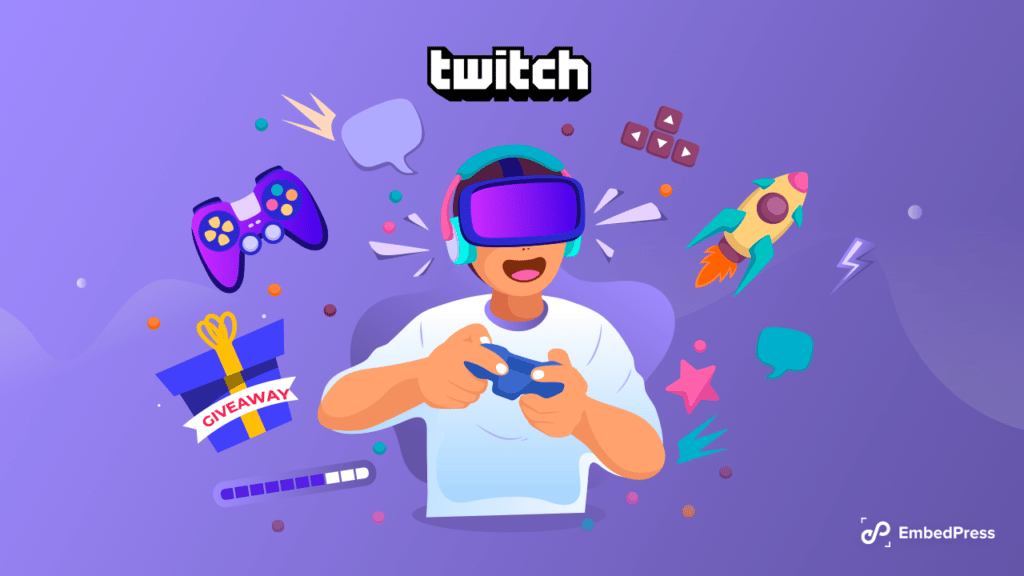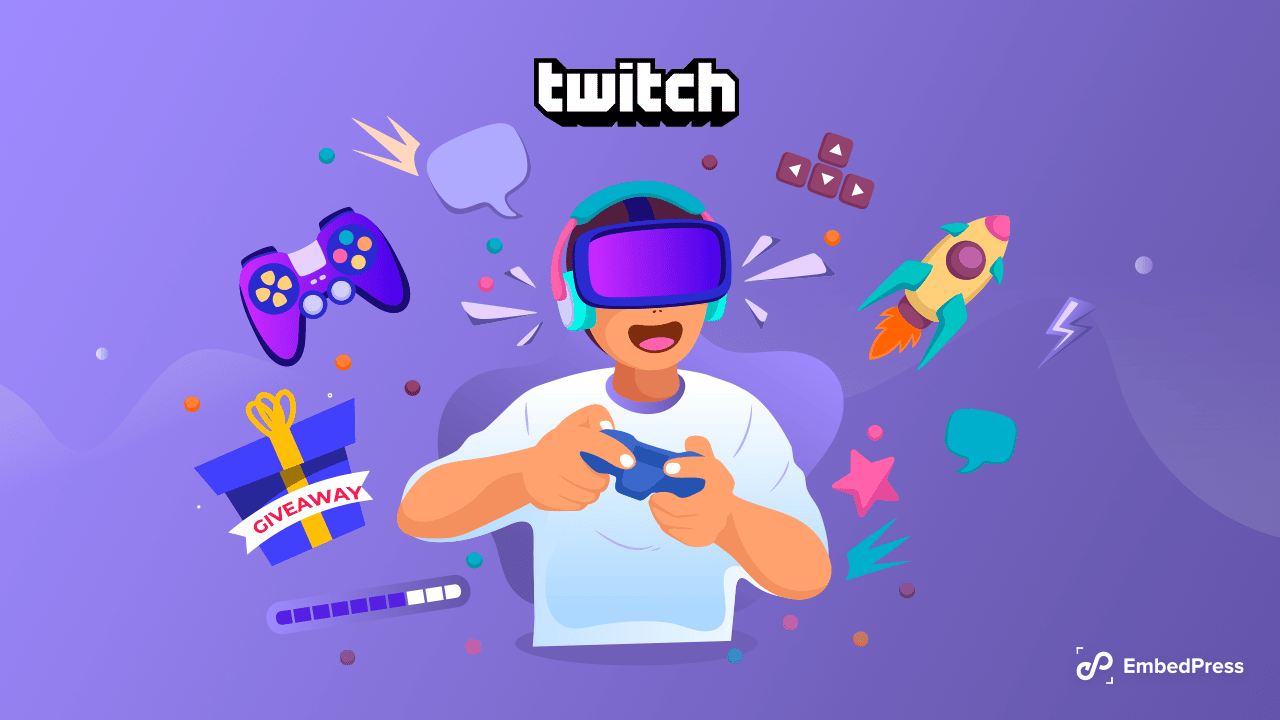 Benefits of Organizing Twitch Giveaway In WordPress
It's important to understand why WordPress stands out among other platforms before going into this tutorial on running a Twitch giveaway. We all know that WordPress is the ultimate website-creating platform that offers a code-less solution. That means, without knowing a single line of code, you can create an entire website in WordPress. It's time to take a look at the benefits you are going to get while running Twitch giveaways through the WordPress website.
Watchers who don't often engage with you may opt to visit your WordPress website in order to enter the giveaway because it is so much more intriguing. This implies that you can boost blog traffic and boost Twitch audience engagement.
In order to entice your Twitch fans to follow you on other social media platforms, you may also provide users with various options to gain extra giveaway entries by pushing them to follow you on Instagram, YouTube, Twitter, join your email list, etc.
5 Things To Consider Before Twitch Giveaway
Giveaways are well-liked since they can expand your audience and grow your fan base. In order to enter your contest, you may then request that people follow you on Twitch. To pursue the goal of your Twitch giveaway, you have to consider these 5 unavoidable things.
Go Through Twitch Guidelines & Rules
The Twitch terms of service allow streamers to advertise freebies and contests. You must, however, abide by local laws, which is difficult because regional and international variations exist in contest regulations.
Key points from Twitch T&C are here:
Make it clear that Twitch has no association with your promotion.
Ensure your giveaway has a zero-cost entry. If any fee is required to enter a competition, it is considered a lottery subject to different laws.
Avoid promoting drug and alcohol treatment and gambling.
Check with your local council for thresholds on your prize values.
It's a good practice to always attach Twitch terms & conditions to the giveaway.
Set A Giveaway Goal
The tone of your campaign will be defined by having specific goals for your Twitch giveaway. It goes without saying that Twitch streamers want more subscribers, viewers, and engagement in general. Nevertheless, this is just the beginning of building your streaming brand.
If you are a little streamer, your giveaway objective could be any of the following:
Sponsorships, Affiliates, Mentoring, Tips, and Digital Commodities
You might include these as examples of income-generating objectives in your targets.
For your first giveaway, we advise that you set no more than two goals and then experiment to see which ones work best and provide the highest return on your investment.
Make Your Prize Enticing
A brand-new Nintendo, which costs hundreds of dollars to give away, is bound to spark conversation. However, since 70% of Twitch viewers are between the ages of 16 and 34, choosing prizes doesn't have to be expensive. Relevance is more significant to this largely youthful gaming group than monetary worth.
The inventive Twitch giveaway ideas listed below will inspire viewers to participate in your competition:
Humble Bundles' games
Amazon, iTunes, Google Play, PSN, and other gift cards, for instance.
Headphones, keyboards, hard drives, graphics cards, and other gaming gear.
In-game money
DLC, or downloadable in-game content
You engage in physical activity.
Visit the server of your fans and make something for them.
If you have a popular channel and a large following, you may donate your time in the form of coaching sessions, lessons, or a virtual beverage. Partnering with businesses that are important to your community is another way to cut costs.
Set Giveaway Entry Methods
Make a list of your giveaway's entry requirements in order of importance. Setting a minimum age is an example of a Twitch standard practice. The participants' locations are an additional crucial factor. You need to consider if you're willing to shell out extra money for international postage for tangible rewards, as you're probably attracting a global audience.
Your Twitch contest objectives should be reflected in your giveaway entry conditions. Generally speaking, when it comes to Twitch growth, streamers seek the same things:
Followers, Views, Impressions, and Chat interaction
If you want to become a Twitch partner, these metrics are essential.
Plan An Super Exciting Winner
Avoid any unethical behavior when making plans for the winning announcement, because it's both wrong and extremely bad for your business. Transparency in your Twitch contest description is therefore crucial in this situation.
Is your contest a random drawing? Or is it a contest where you or your current audience will choose the winner? Don't leave your procedure open to interpretation; clearly communicate it.
Where will you make your announcement next, then?
It only makes sense for a streamer to declare wins during a live feed. This presents you with the ideal chance to draw people to your stream and highlight your neighborhood as they celebrate their winnings.
Step-By-Step Guideline: Organize Twitch Giveaway Through WordPress Website
We have a basic idea of what to do if you are planning to arrange a Twitch giveaway. Now it's time to check out how to create a WordPress website and run a Twitch giveaway. Let's get started.
Step 1: Choose A Suitable WordPress Giveaway Plugin
Well, the first thing you need to run your Twitch giveaway is a powerful WordPress plugin. With the help of the plugin, you can easily set what type of content you want to run, what the qualifying method should be, how the winners will be selected, etc.
If you choose the best giveaway plugin, then you won't have to use any custom coding for custom additions.
Among all the free WordPress giveaway plugins, popular ones are RafflePress, Simple Giveaways, Advanced Coupons, Contests by Rewards Fuel, etc. For tutorial purposes, we are going to choose RafflePress, the most popular giveaway plugin in WordPress. This plugin has 10000+ active users, and with the use of viral giveaways and competitions, they will assist you in expanding your email list, website traffic, and social media following.
Step 2: Configure Your Twitch Giveaway Event
Arranging a Twitch giveaway using RafflePress is like a piece of cake. It is so simple and user-friendly that you can set it up all by yourself. Make sure you have installed and activated RafflePress plugin in your WordPress dashboard.
Then go to the plugin and click on the 'Add New' button. And then get started.
You have to put your giveaway contest name and fill in other details. There are pre-ready templates available. Based on your Twitch giveaway goal, you can choose from there too.
From setting entry constraints to winner selection, you can easily configure everything with RafflePress. Here are the things you have to do one by one:
Add your prize name and optional description and image.
Set the start and end dates.
add your actions, like follow on Twitter, like Facebook page, subscribe to Twitch channel, etc
You are finally prepared to publish. In order to use the shortcode or our giveaway block in a page or post, save your changes, click the Publish tab, and then grab the shortcode.
Check out the detailed documentation for arranging a Twitch giveaway using RafflePress.
Step 3: Select A Stunning WordPress Template For Website
After setting up your giveaway contest, the next thing to do is design a giveaway page for your WordPress site and publish it. While designing your Twitch giveaway page, make sure you are using vibrant designs and eye-catching colors that will instantly grab your contestants' attention.
If you are looking for a codeless solution, then choosing a WordPress template would be the best idea.
Here is the list of catchy looking WordPress templates that you can select for designing your giveaway page:
Step 4: Publish Your Twitch Giveaway Contest
After following the above steps, you are all primed to share your Twitch giveaway content with your audience. Refflepress is used to create the giveaway. Publicize the giveaway page on your WordPress website. That's it. You are all set for your Twitch giveaway.
💡Bonus: Promote Your Twitch Giveaway For Max Engagement
By publishing your Twitch giveaway, not all the work is done. You have to promote it to get the most responses. And just by using a marketing plugin, you can easily promote your Twitch giveaway. You can easily go for NotificationX, the ultimate social proof and FOMO plugin that will boost your engagement.
Create A Stirring Among Twitch Streamers
As already mentioned, arranging Twitch giveaways is the best way to increase your followers and boost your gaming profile. Hopefully, by following these easy steps, you will be able to run a Twitch giveaway all by yourself. If you need further assistance, you can contact us anytime.
Also, don't forget to subscribe to our blog to keep getting these kinds of useful tutorials and guidelines.