The popular embedding solution, EmbedPress, brings you more new features once again to help you enhance your storytelling with unique content. EmbedPress v3.7.3 brings new embed sources for embedding Github codes and NRK radio podcasts. These sources have been considerately added to EmbedPress v3.7.3 in accordance with requests from our customers and research into the most popular platforms.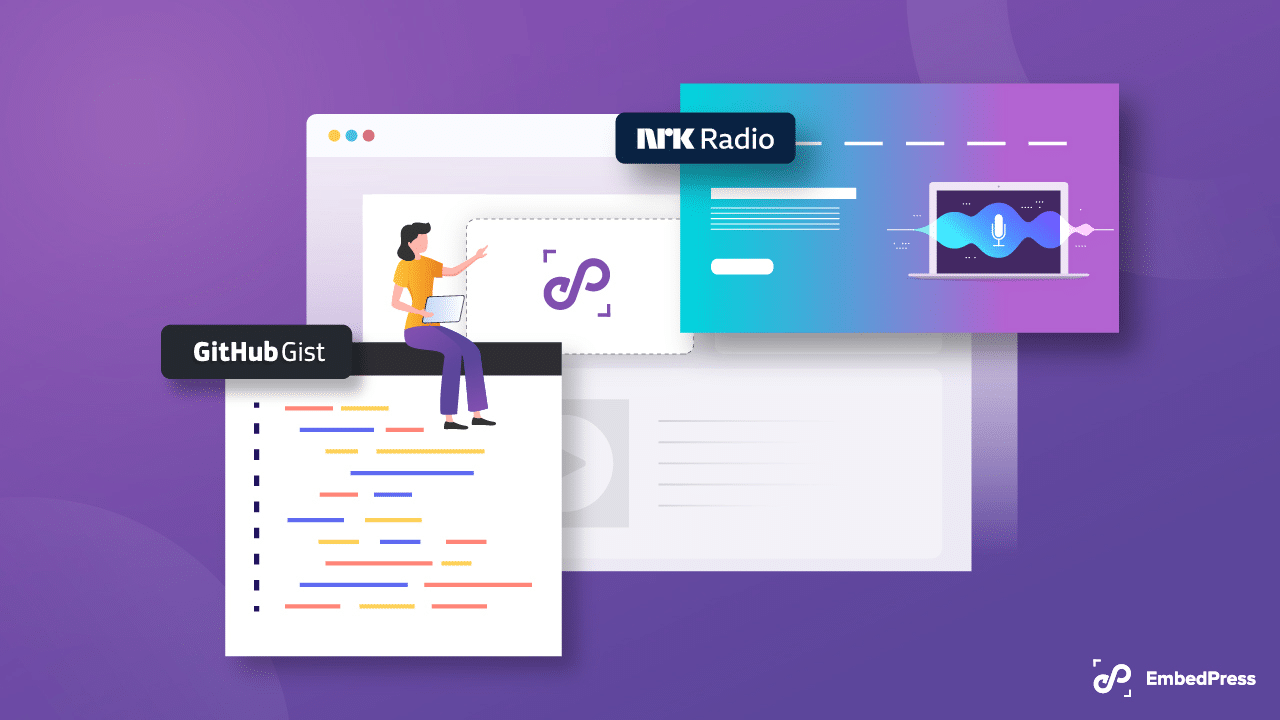 Excited to find out what's new in EmbedPress v3.7.3? Dive into the blog and start reading. 
Introducing EmbedPress v3.7.3: Enhance Your Content With New Podcast Embeds, Improvements And Much More!
Providing 150+ embed sources, EmbedPress is already considered powerful among embedding solutions. Whether you want to embed videos, live streaming, polls, images, or others, you can do it seamlessly with one click. In this new release, EmbedPress v3.7.3 introduces two amazing new sources and some minor improvements for EmbedPress PRO v3.5.2. Let's have a look at the new additions. 
EmbedPress Free v3.7.3
* Added: Github Gist Embedding.
* Added: NRK Radio Embedding.
* Added: ACF support for Elementor dynamic fields.
* Improved: PDF embedding download controls.
* Few minor bug fixes and improvements.
EmbedPress Pro v3.5.2
* Few minor bug fix and improvements.
You will find the detailed changelog here. Want to dive into the details? Then let's get into the introduction to our new features and update details.
Embed Github Gists In WordPress With Just A Few Clicks
A quick disclaimer before we begin, GitHub was supported by EmbedPress from the very beginning, and users were able to embed codes, gist snippets, etc., easily. But these were only available for the Classic editor, with custom shortcodes. Now, a new default editor has been introduced, Gutenberg. Moreover, Elementor is one of the most popular website builders in WordPress.
Now, with EmbedPress v3.7.3, you can easily embed codes directly from GitHub trunks, or you can create a Github gist and embed it in one click. Thus, your site visitors can easily access your GitHub gist; there is no need to manually write down codes on your website. 
Moreover, EmbedPress offers a wide range of customization options for its embedded content. So, you can also customize your gist snippet appearance, use colors, resize iframes, add separate social media share options from the website, and so on.
How To Embed Codes From GitHub Gist Seamlessly?
You have already been introduced to one of the newest editions of EmbedPress, embedding GitHub gists. Now let's have a glance at how you can embed GitHub easily. 
Step 1: First, go to your GitHub profile and create a gist for the code that you want to embed into your website. Then copy the gist URL from there to embed it into your website.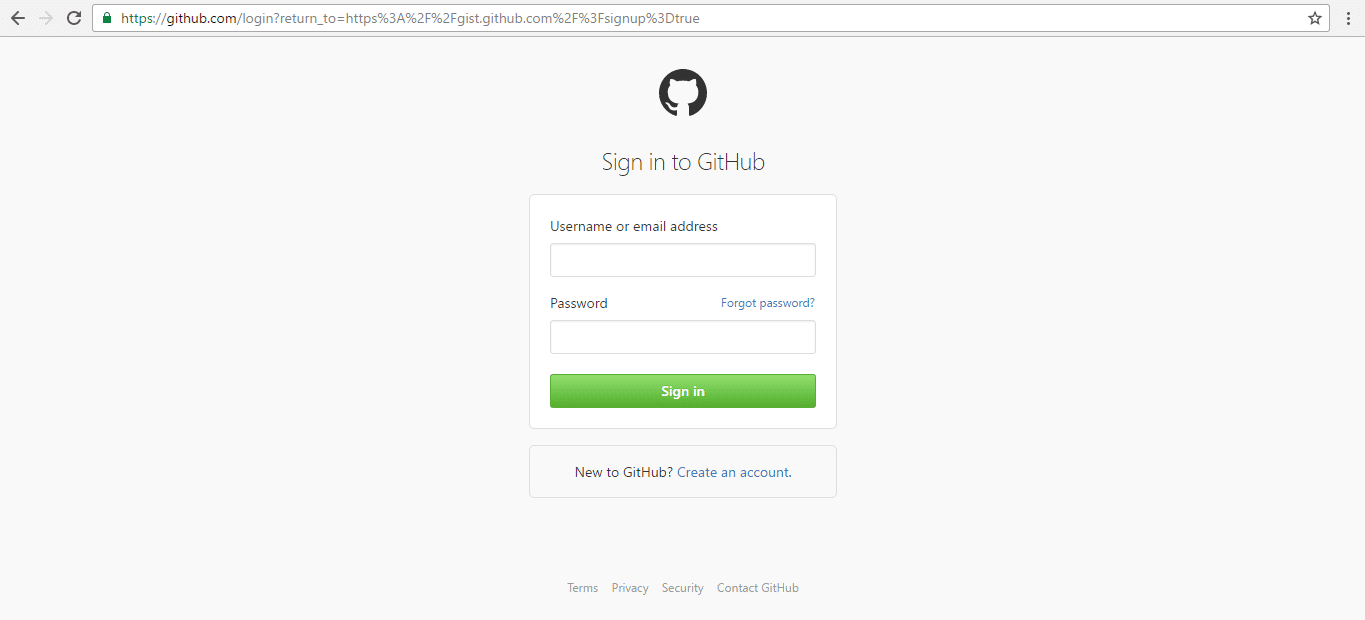 Step 2: Install and activate the EmbedPress plugin on your website. Open a webpage in Gutenberg's editor or Elementor. And search for 'EmbedPress'. Gutenberg users will find the block, and Elementor users will find widgets with the same name. For tutorial purposes, we are going to embed a GitHub gist in Gutenberg. After adding the EmbedPress block, you can embed Github codes.
Step 3: Paste the copied gist URL into the EmbedPress block. And you will instantly see the gist embedded into your website. To align with your website style and theme, you can customize the iframe height, width, colors, etc.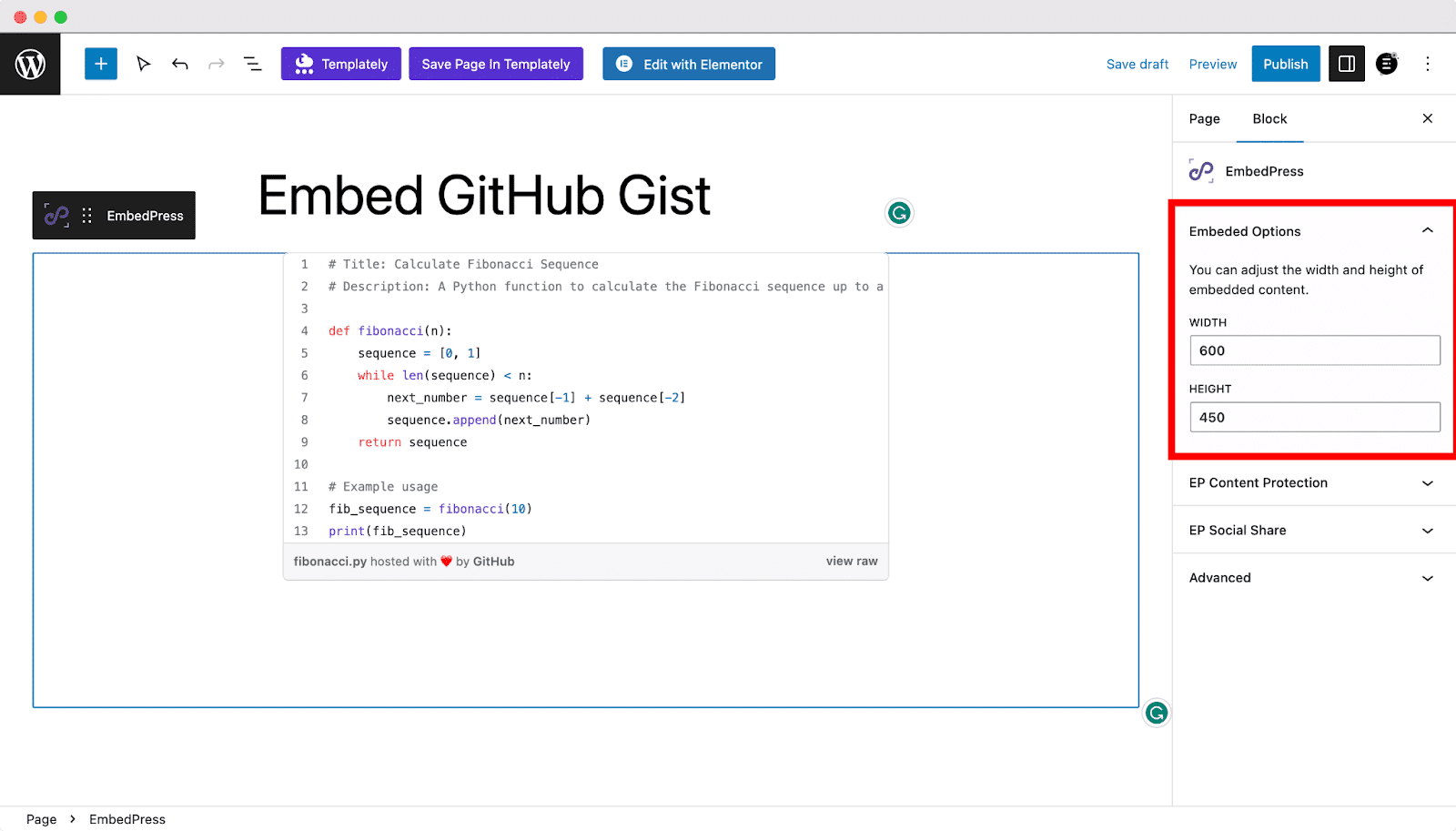 After following the above steps, you are now ready to publish your website with embedded code from GitHub. This is how easily you can embed codes with EmbedPress v3.7.3.
Easily Embed Podcasts With Trending NRK Radio
Another new addition to EmbedPress v2.8 is a popular radio platform, NRK Radio. It was created for a Norwegian audience, but due to its popularity, it is now popular all over the world. And this is being added as an EmbedPress source at the request of one of our devoted customers. 
On NRK Radio, you can listen to your favorite podcasts, list down what's to watch next, follow the artist, mark as a loved one, and so on. And with EmbedPress v3.7.3, you can embed any podcast you want with just one click.  
How To Embed Podcasts Of NRK Radio In WordPress?
It's time to explore how you can embed NRK Radio podcasts into your WordPress website without coding. This time, we are showing the tutorial in Gutenberg editor, so that you can test and embed it easily. 
Step 1: Visit the NRK Radio website. Then copy the shareable URL of the podcast you can embed, and then copy it.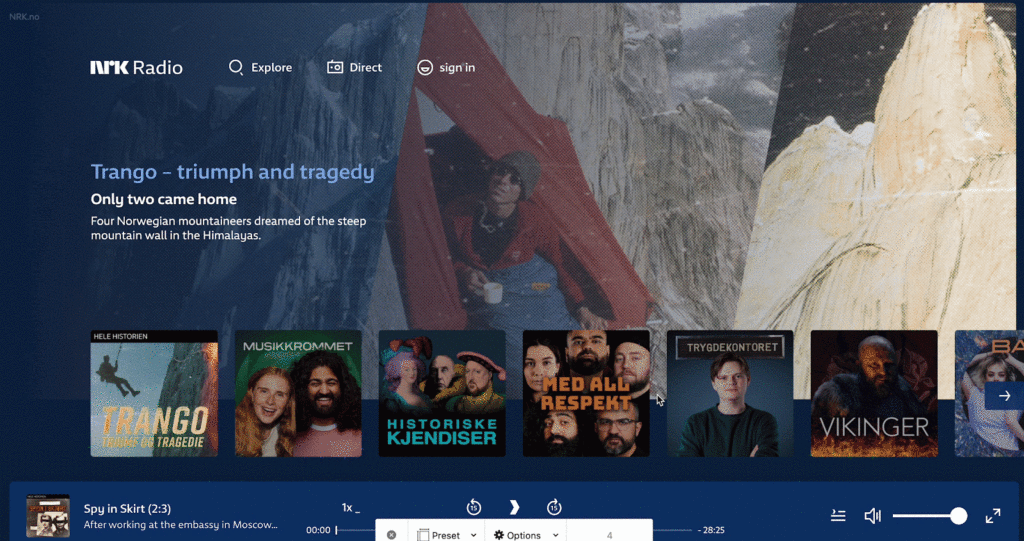 Step 2: Search for 'EmbedPress' block in Gutenberg editor. Once you find it, click on it and add it to your webpage. Then paste the URL in the embedding field. And the podcast will be embedded instantly.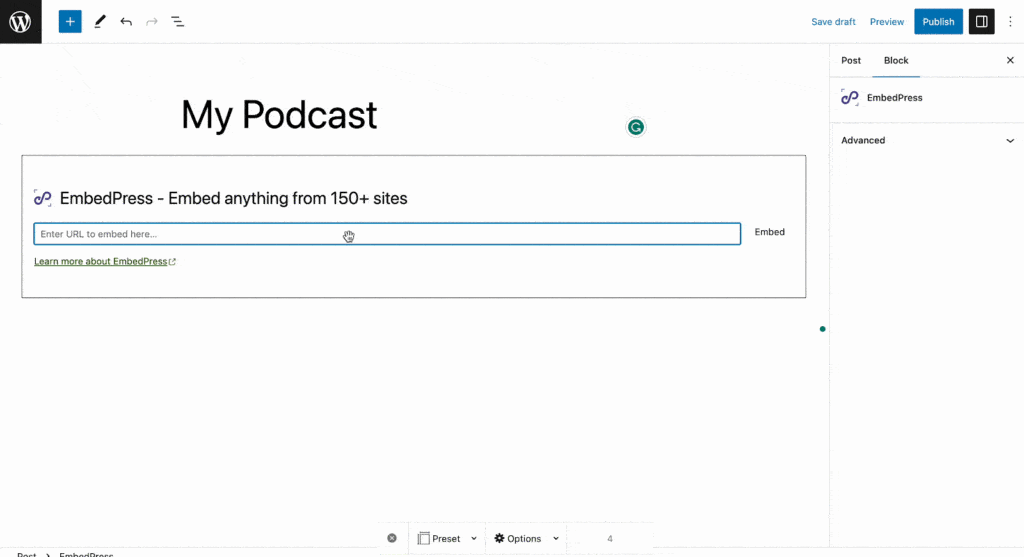 Step 3: Now, you can customize the appearance of your embedded source. Update the content's height, width, alignment, and so on. Thus, it will be adjusted to your website's theme and pattern.
This is how easily you can embed the NRK Radio podcast with one click with EmbedPress.
Engage Your Site Visitors With Newly Added EmbedPress Sources
EmbedPress v3.7.3 is bringing new embed sources and updates for existing integrations. If you want to enjoy these latest features, don't forget to update to the latest EmbedPress version. 
Our vision is to provide all the features our users need to make their websites more engaging than ever. So if you want to embed more versatile sources with EmbedPress, don't hesitate to share your requests with us.
We hope this update is beneficial to you all, and do let us know if you face any issues, our prompt support team is always there for you. Also, subscribe to our blog to keep yourself updated with the latest trends, tips, and features.