Wistia, an outstanding alternative to YouTube, provides marketers and video makers around the globe with advanced tools for maximizing the impact of their video content. Wistia is widely used because it provides valuable analytics and allows users to restrict access to specific content. Leveraging all these advanced features can help you set your videos apart from the competition. And when you embed Wistia videos in your WordPress website, you can skyrocket your site's engagement & conversion!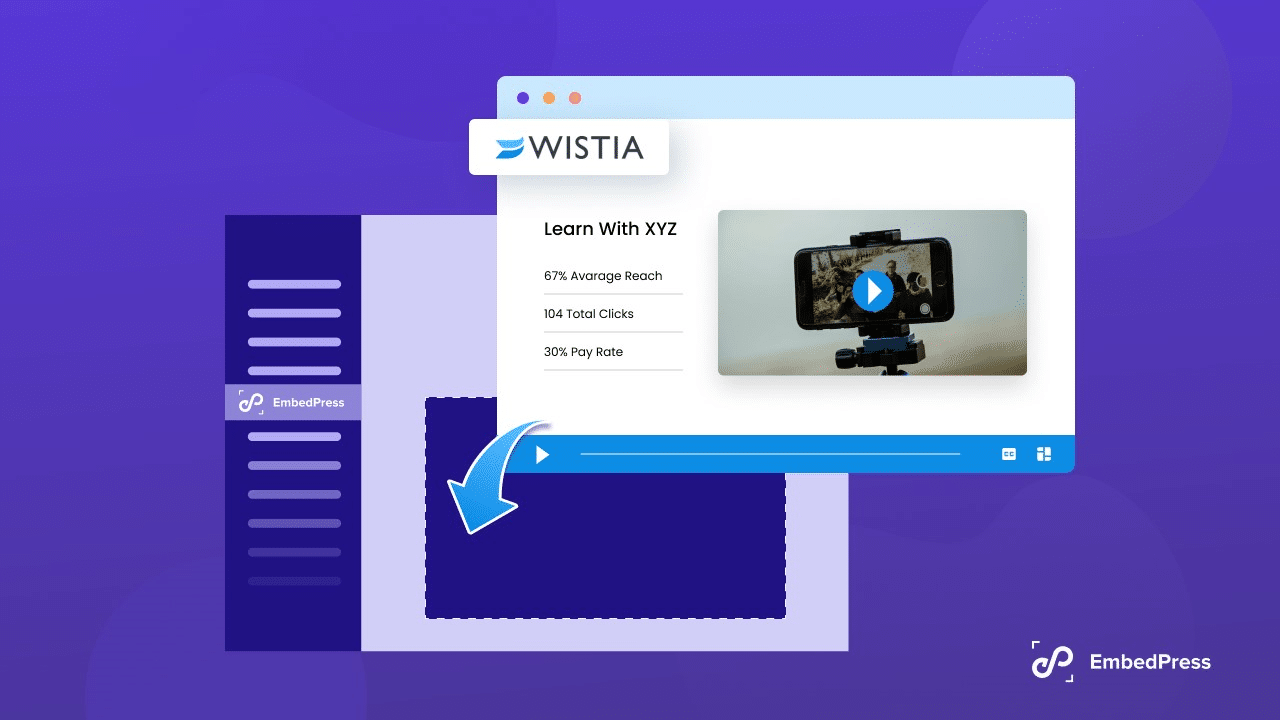 When it comes to using video to increase lead generation, Wistia is one of the best platforms available. Furthermore, in terms of stats, this platform outperforms YouTube, Vimeo, and other similar video publishing services or platforms. Therefore, this article is for you if you want to embed Wistia videos in WordPress websites to increase lead generation and boost user engagement.
💡 How Does Embedding Wistia Videos Benefit Your Business?
If you embed Wistia videos on your WordPress website, it can enhance the user experience and boost engagement. Plus, it can provide insightful data that will help you optimize your content strategy and reach your business objectives in the long run.
On Wistia, online businesses can discover such details as when and where users stop a video, the user's country of origin, the links they clicked on, and much more. Information on the demographics, viewing patterns, and audience interest level are all possible outcomes of these analytics. You can better understand your audience and create content that speaks to them.
Wistia users have the option of creating gated content, which requires visitors to sign up for an email list before proceeding with the video. While every video and account on YouTube has the same player interface, with Wistia, you can change the player's color scheme to fit your brand's aesthetic better.
On top of that, Wistia's video player is adaptive and fits any size screen. This is important for expanding your audience, as it guarantees your videos can be viewed on several platforms, including mobile devices. Plus, the platform has safety measures to prevent third-party embedding or downloading without permission.
📝 Embed Wistia Videos In WordPress With EmbedPress: A Guide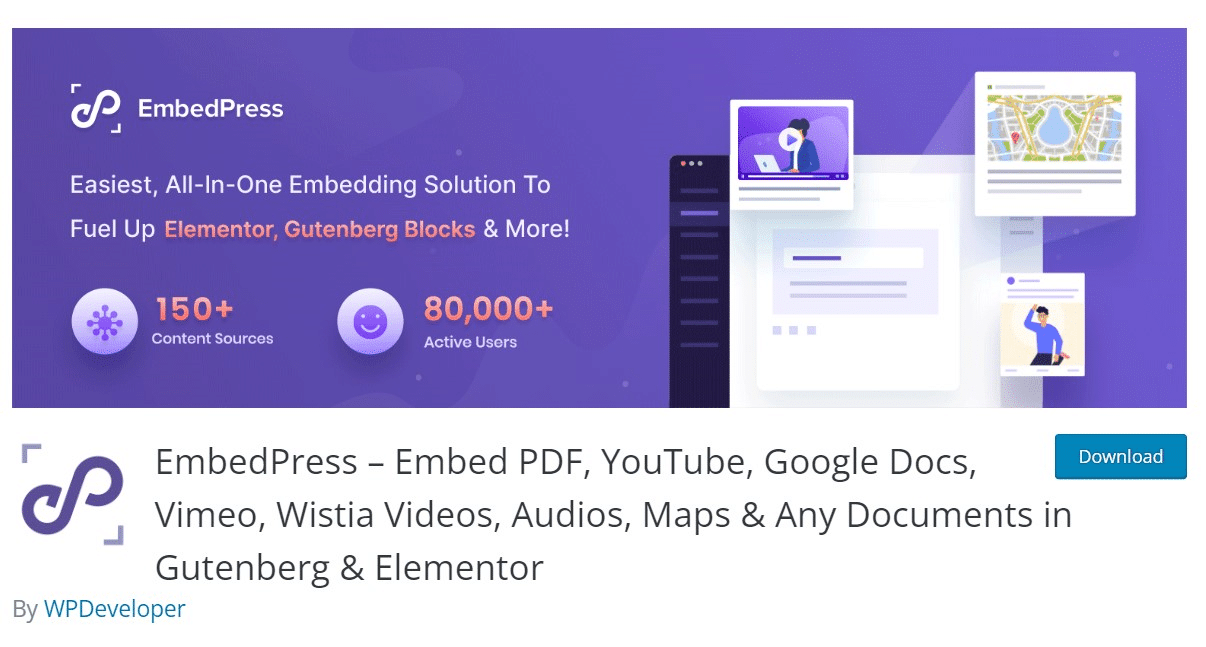 If you want to embed your videos from Wistia on your WordPress site, you are in the right place. We will show you how you can embed videos from Wistia without having to look for the embed code, and in just a few clicks, only the video URL is enough. For that, you will need the EmbedPress plugin, the ultimate embedding solution for WordPress.
This WordPress plugin lets you embed multi-media content from 150+ sources, including videos, images, audio, maps, charts, Google Drive documents, and more. With a single click, you can embed content and customize it to your needs to showcase it beautifully to visitors. Moreover, EmbedPress supports WordPress Classic Editor, Gutenberg Editor, Elementor Website Builder, and other platforms.
Here is how to embed any Wistia video into your WordPress site using the EmbedPress plugin.
Install EmbedPress And Collect Wistia Video URLs
Before getting started with anything to embed Wistia videos in WordPress, you need to collect the URL for the video. To do that, go to your Wistia account and find the video you want to embed. Next, all you have to do is copy the URL of the Wistia video and that's it.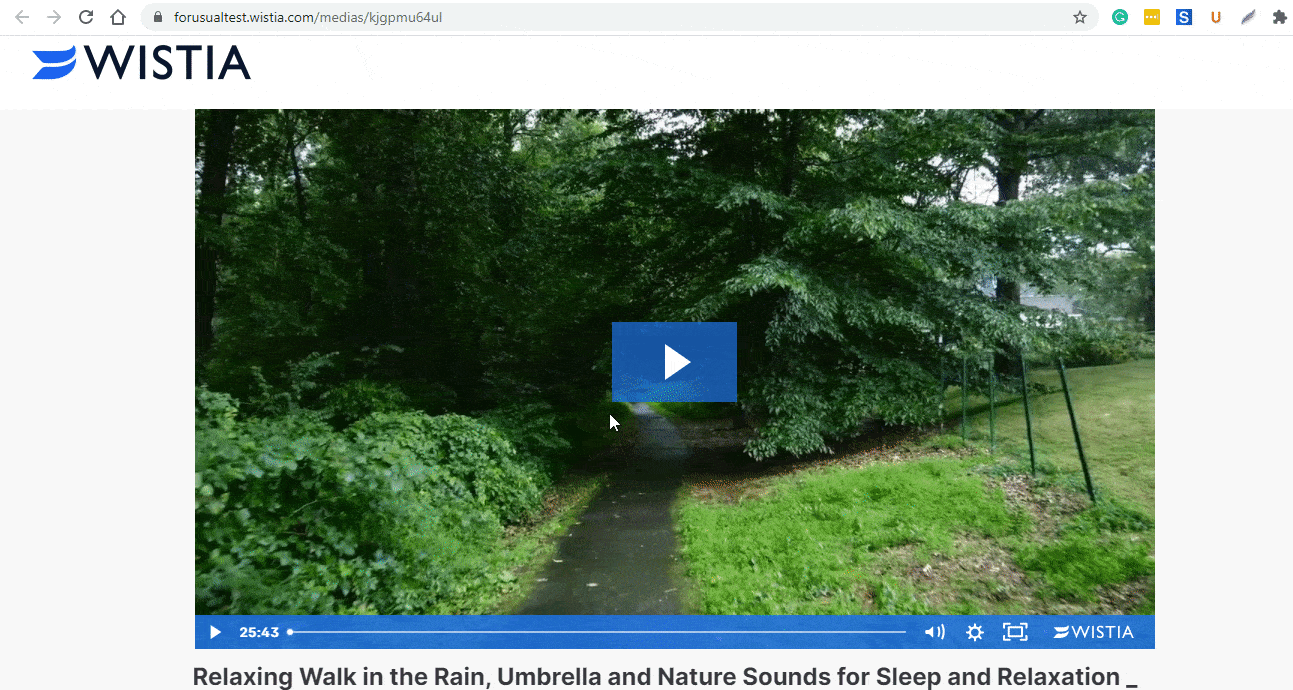 Embed Wistia Videos In Gutenberg
Now that you have the video URL, you can embed it into your WordPress website using your default Gutenberg editor on WordPress. Just add the 'EmbedPress' block on your post content area in the Gutenberg editor and enter the URL into the block as shown below.
Your URL will automatically be transformed into an embed of your Wistia video. Publish your WordPress content, and the video file will be embedded on the published page or post for users to see. While editing your WordPress content, you can also edit your embed, thanks to EmbedPress.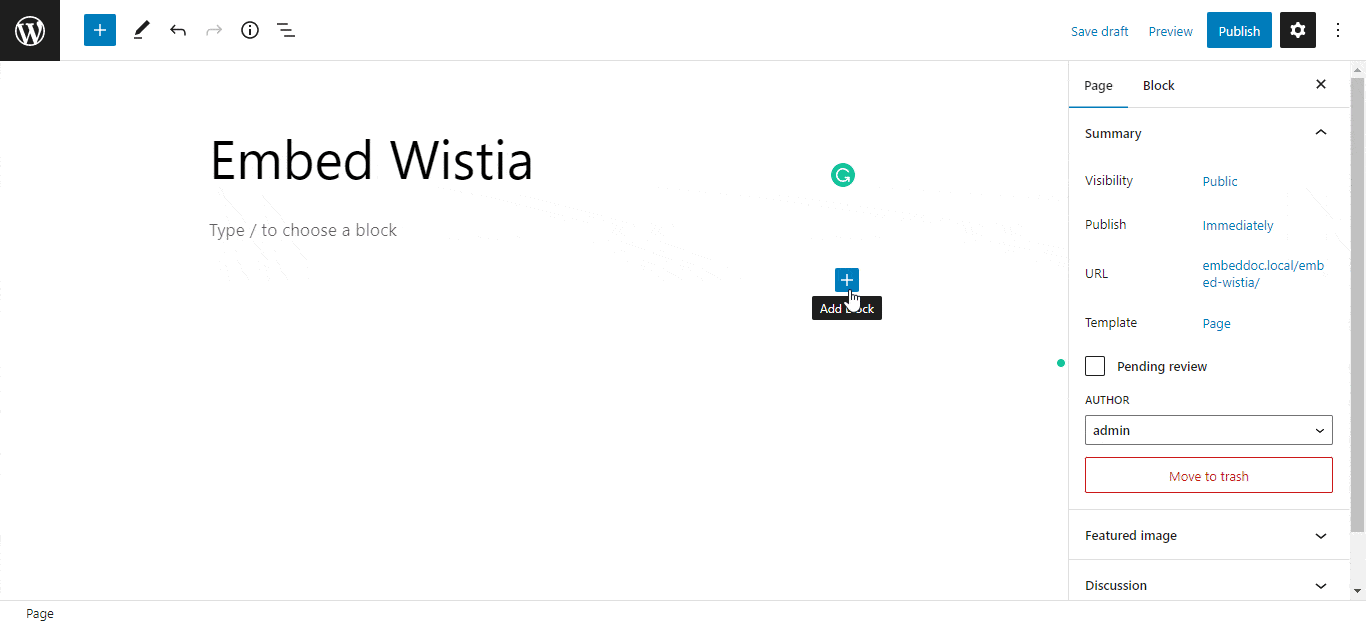 You can change the dimensions of the embedded video file and modify it the way you need it with absolute ease. Also, you can add various color palettes to your Wistia Videos. However, installing and activating EmbedPress PRO will heu enable other advanced features for your embedded Wistia videos such as captions, volume control, and Custom Branding.
Additionally, you can set your video to Starting Second & Scheme Color. You can enable the Fullscreen Button, Small Play Button, and much more. To make your Wistia Videos more exciting, add custom branding without any coding. Add your preferred image to give your video a more vibrant look.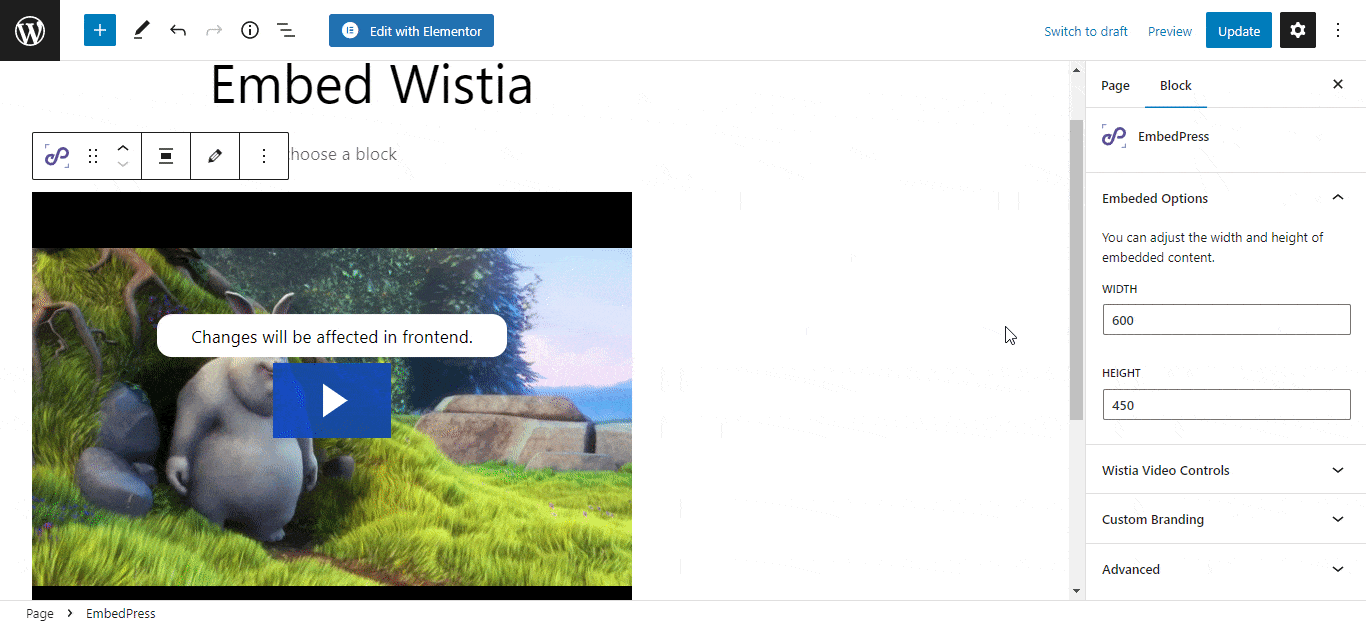 Embed Wistia Videos In Elementor
Prefer working with the Elementor website builder? Drag & drop the 'EmbedPress' widget onto the Elementor editor. Paste the URL onto the 'Content Setting' of the widget from the side panel. You can edit the embedded video on the editor with a few easy steps. Go to the 'Style' tab on the side panel. Change the dimensions, aspect ratios, and background color as necessary.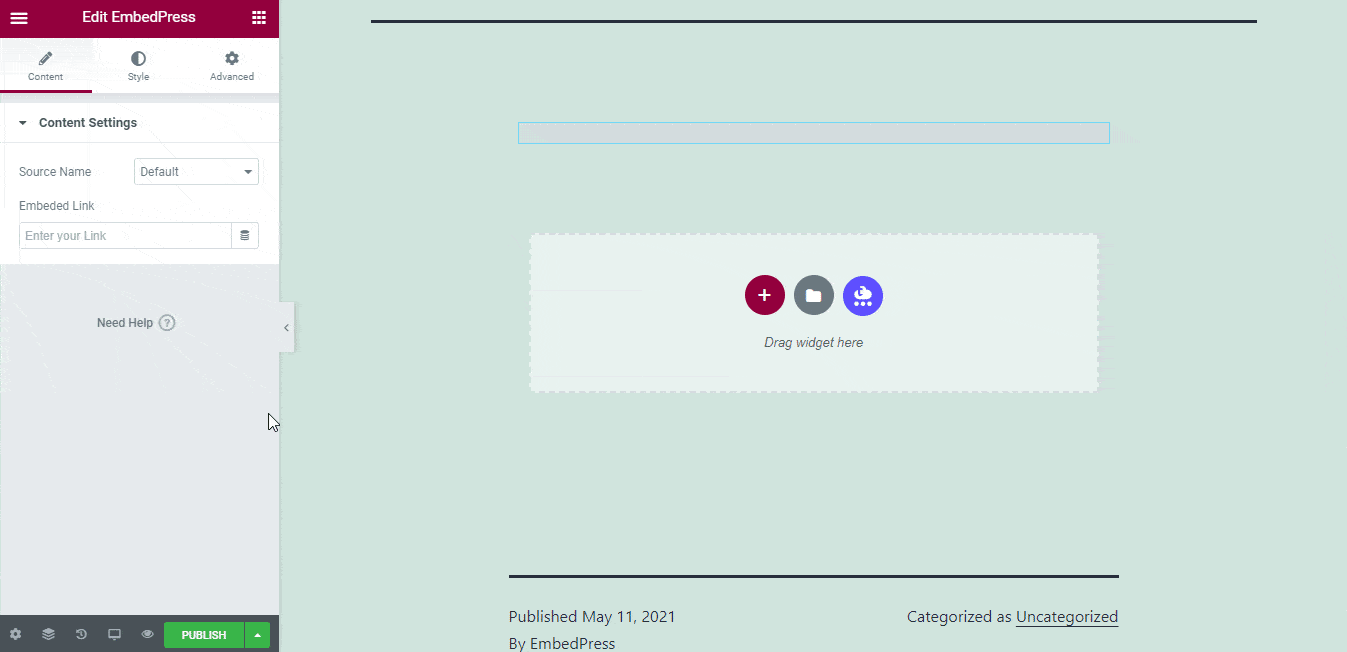 Embed Wistia Videos In Classic Editor
You can effortlessly embed your video onto your Classic Editor with just a click. Paste the URL directly onto the 'content area' of the editor interface. A purple background with a "Loading your embed…" message will appear in the content area for a few seconds. The URL will be automatically converted into an embed of your Wistia video.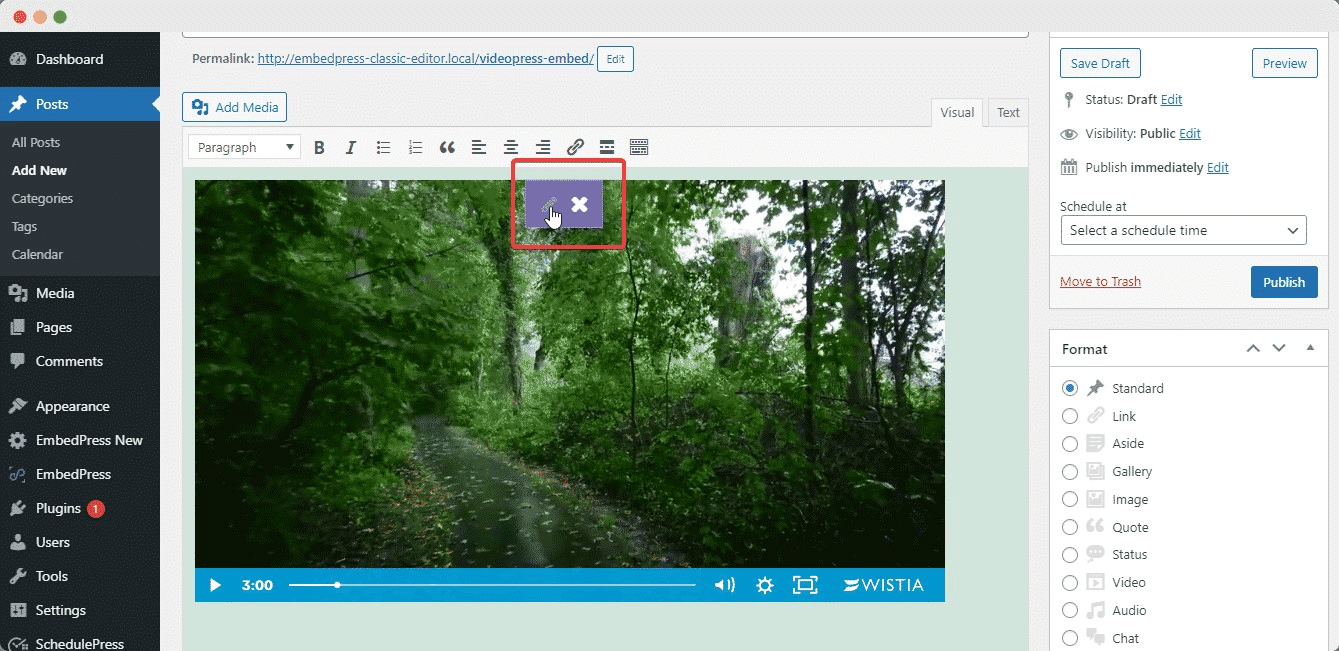 You can also edit the embedded video on your Classic Editor by following a few steps. Move the mouse pointer over the video embed, and a purple button will show up at the top. Click the pencil icon, and a pop-up window will be visible with more options. You can modify your embed URL, plus you can also modify the width and height of the embed.
With these simple steps, you can embed Wistia videos instantly into your WordPress website with EmbedPress using any Gutenberg Editor, Classic Editor, or Elementor Editor.
🎉 Embed Wistia Videos With EmbedPress & Customize For More Engagement
The free version of EmbedPress allows you to embed your videos without changing the player. However, EmbedPress PRO offers a ton of powerful features to improve your videos. If you get the Wistia add-on for EmbedPress, you will be able to use all of those extra features.
If you have found this blog helpful, share your opinion with our Facebook community. You can subscribe to our blogs for valuable tutorials, guides, knowledge, tips, and the latest WordPress updates.