Want to stay on top of your social media marketing game? With algorithms changing all the time, it's crucial to keep up with the latest social media trends and best practices. That's why we've got you covered with updated social media marketing statistics to help you identify gaps and grow your business engagement!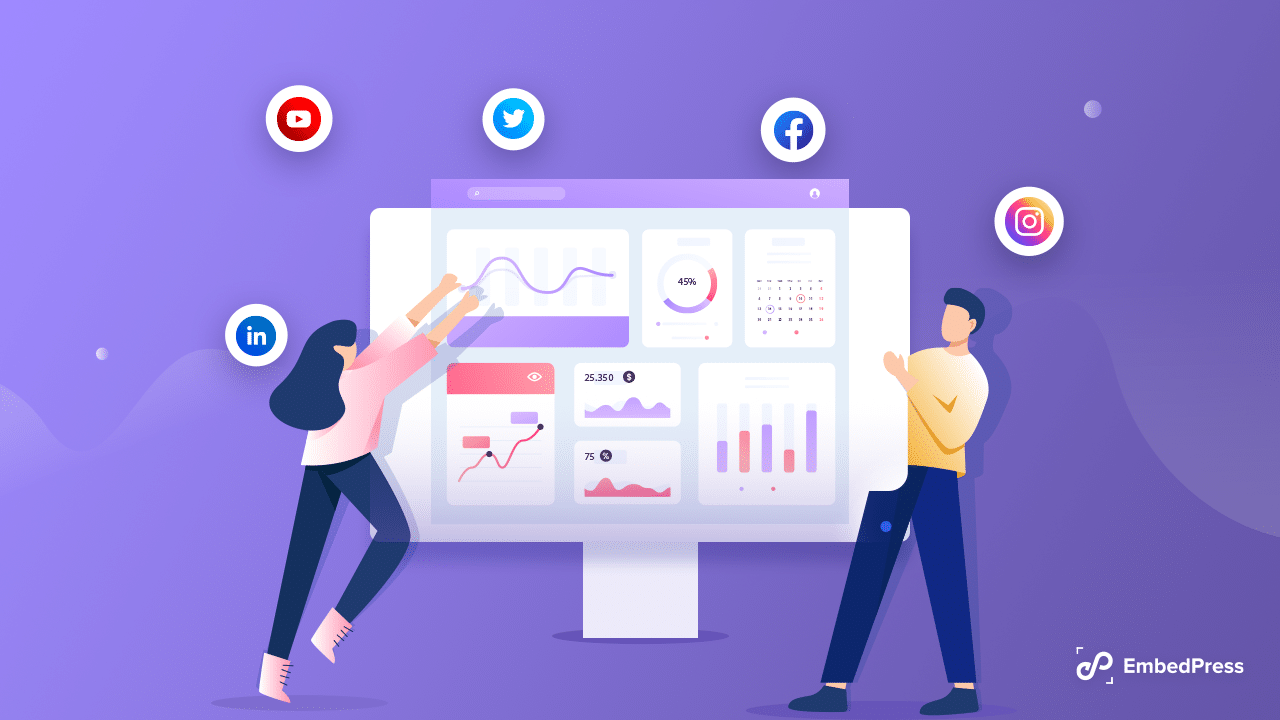 You can leverage this social media data on audience demographics, usage, and behaviors to shape your marketing and social media strategy for the upcoming year. Let's get started!
💡 Why Social Media Marketing Is Important In 2023?
Social media marketing is essential in 2023 because it continues to be one of the most effective ways for businesses to reach and engage with their target audience. With over 4.76 billion active social media users worldwide, it's a powerful platform for brands to increase their business exposure, generate leads, and drive sales.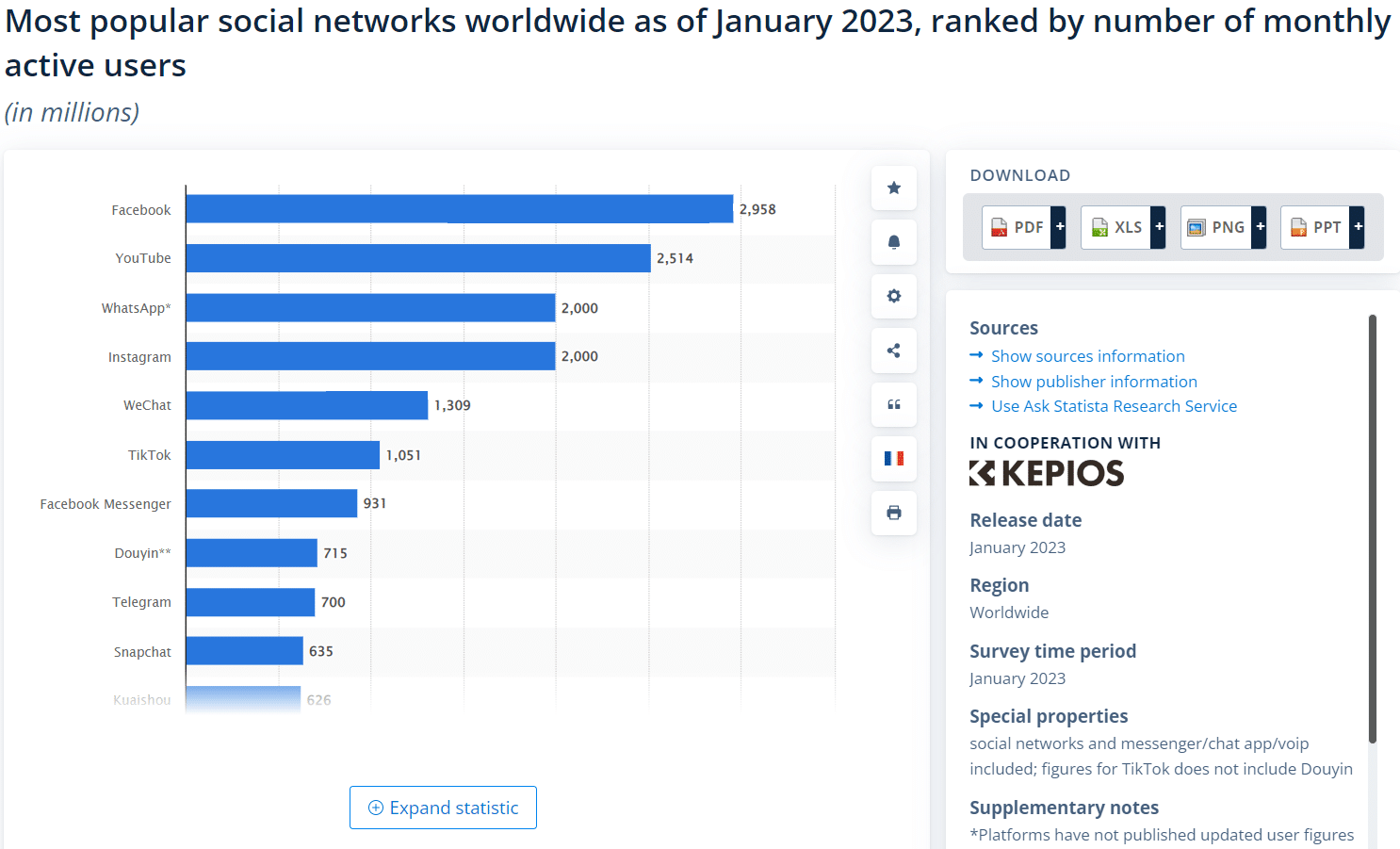 Moreover, social media provides valuable insights into audience behavior and preferences, enabling businesses to create more personalized and targeted marketing campaigns. With the rise of social commerce and influencer marketing, social media has become a significant driver of referral traffic and sales for businesses.
In 2023, social media marketing will be more critical than ever before as the world continues to shift towards digitalization, and consumers increasingly rely on social media for entertainment, information, and shopping. As a result, businesses that invest in social media marketing and adapt to the latest trends and algorithms will have a competitive advantage and stand to gain more significant rewards.
🙌🏻 Social Media Marketing Statistics That Applies To All Platforms
Social media's global impact is enormous, as we stated, with over 4.76 billion users worldwide as of January 2023, accounting for 59.4% of the total population. These users spend an average of 2 hours and 29 minutes on social media per day, and 99% of users access it via mobile devices.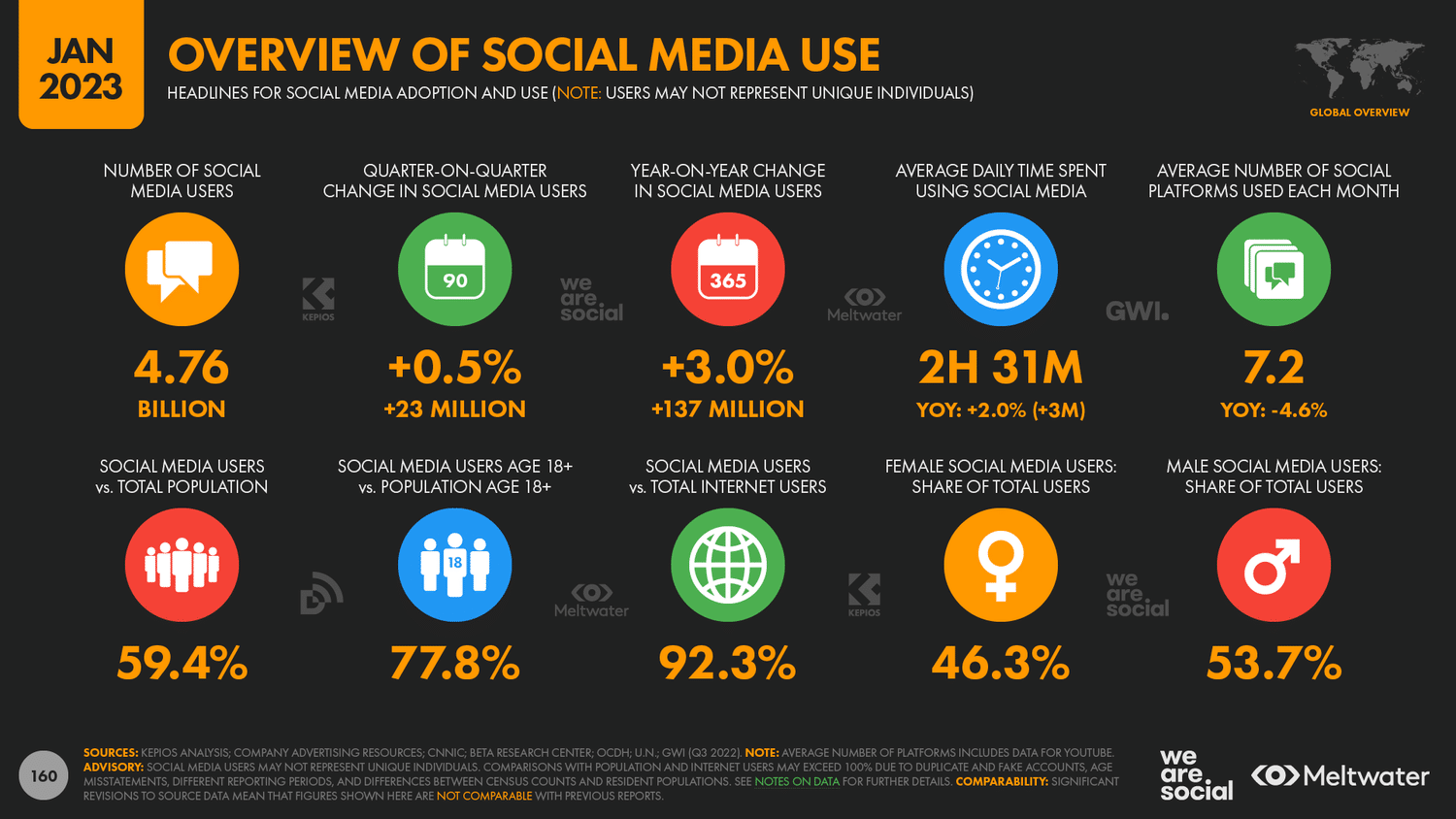 Moreover, 43% of users use social media for work, and 43% use it to research purchases. While the video is still the most popular format, with 90% of users watching it online, vlogs have now surpassed podcasts in popularity.
Despite the increasing number of social media users, people are becoming more conscious about privacy, with 63% saying they feel more confident sharing content on messaging apps.
As we move further into 2023, businesses must adjust their marketing strategies to reach their target audience while maintaining users' comfort levels with their messaging. While TikTok holds the 4th spot for social media platform monthly active users, Facebook, YouTube, and Instagram rank 1st, 2nd, and 3rd, respectively.
Let's dive deeper into the essential 5 social media marketing statistics: Facebook, Instagram, Twitter, YouTube, & TikTok.
🌟 Facebook Social Media Marketing Statistics
Facebook is still the most popular social media platform, with over 2.95 billion monthly active users, making it the first social network to surpass 2.96 billion monthly users. Ads can reach around 1.95 billion of those users, equating to about 32% of everyone over 13 years of age.
In 2021, Facebook's revenue surpassed $100 billion for the first time. However, around 5% of its monthly active users worldwide are fake accounts, and the company disabled over 1.8 billion fake profiles between July to September 2022.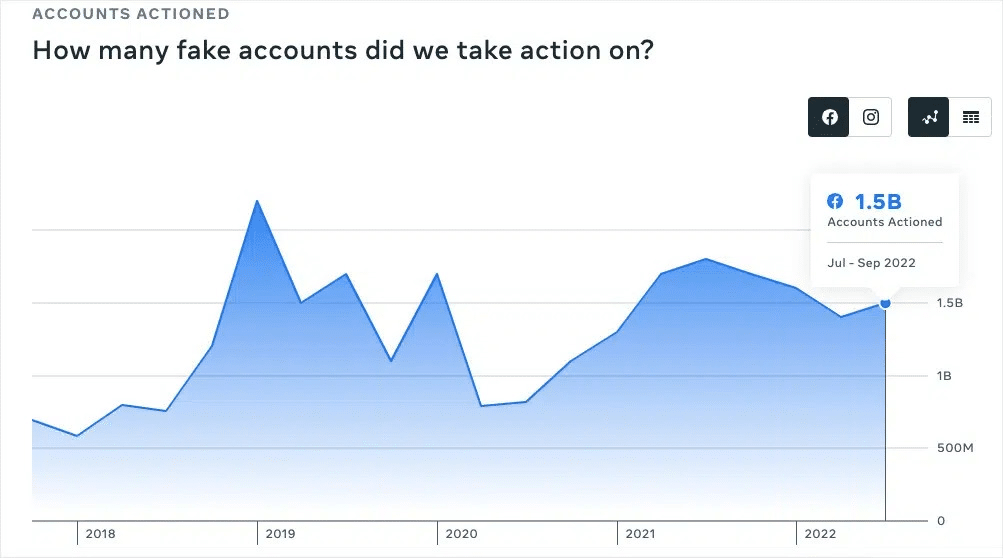 Source: Statista
Here's another stat, a graph from Statista [2019-2023], that shows Facebook's user base is larger (continuously increasing) than other platforms around the globe. And India got the second position.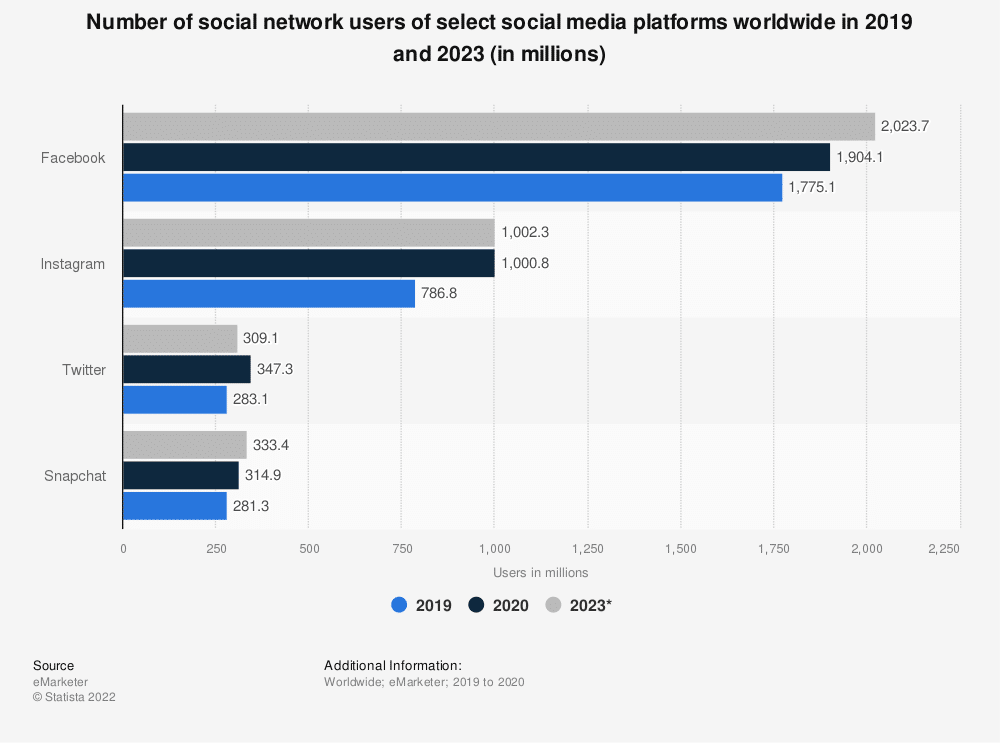 Source: Statista
Facebook has a broad user base across all age ranges:
✅ 86% of users aged between 18-29
✅ 77% aged between 30-49 years old
✅ More than half of the users identify as female
✅ With only 46% identifying themselves as male
In terms of audience size, India leads the way with over 349 million Facebook users. Other countries with over 100 million users each include the United States, Indonesia, and Brazil.
🌟 Social Media Statistics For Instagram
Instagram, with 1.22 billion monthly users, has seen massive growth and is now the 7th most visited website in the world. It's also the second-most downloaded free app in the Apple app store. Generation Z and millennials make up the largest Instagram user base, and
✔️ 17.1% identify as males, aged 18-24
✔️ 16.5% identify as males, aged 25-34
✔️ 13.9% identify as females, aged 25-34
✔️ 13.5% identify as females, aged 18-24
India has the highest number of Instagram users, followed by the United States and Brazil. With 200 million Instagram users visiting at least one business profile each day, it's worth stepping up your Instagram game if you want to reach a younger audience.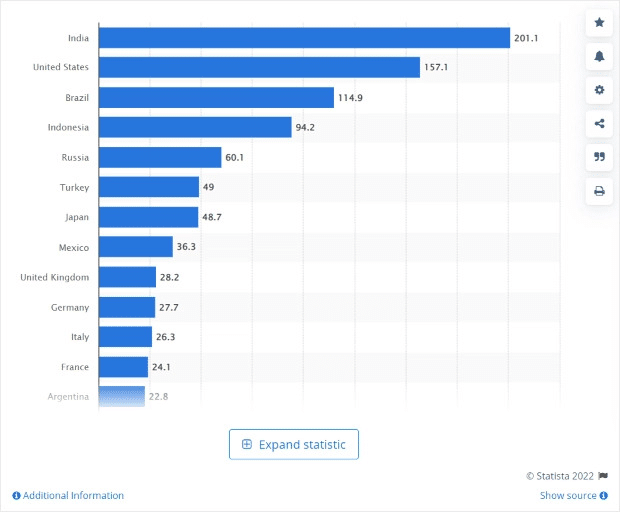 Source: Statista
Instagram is also an excellent platform for shopping:
✅ 11% of social media users in the U.S. use Instagram for shopping
✅ 81% of people use Instagram to research products and services
✅ 130 million Instagram users tap into shopping posts every month
Instagram videos are also popular, with 9 out of 10 users watching them weekly. Instagram reels have surpassed Instagram stories' search popularity, with ads posted on reels potentially reaching up to 675 million users. Therefore, incorporating Instagram reels into your marketing campaigns is essential to dominating Instagram marketing.
🌟 TikTok Social Midea Statistics
TikTok, the #1 most-download Apple store app in the 'entertainment' category, has some impressive numbers worth looking into. The United States, Canada, and the UK rank as the top three countries for downloads, with 165 million installs in the US alone since launch.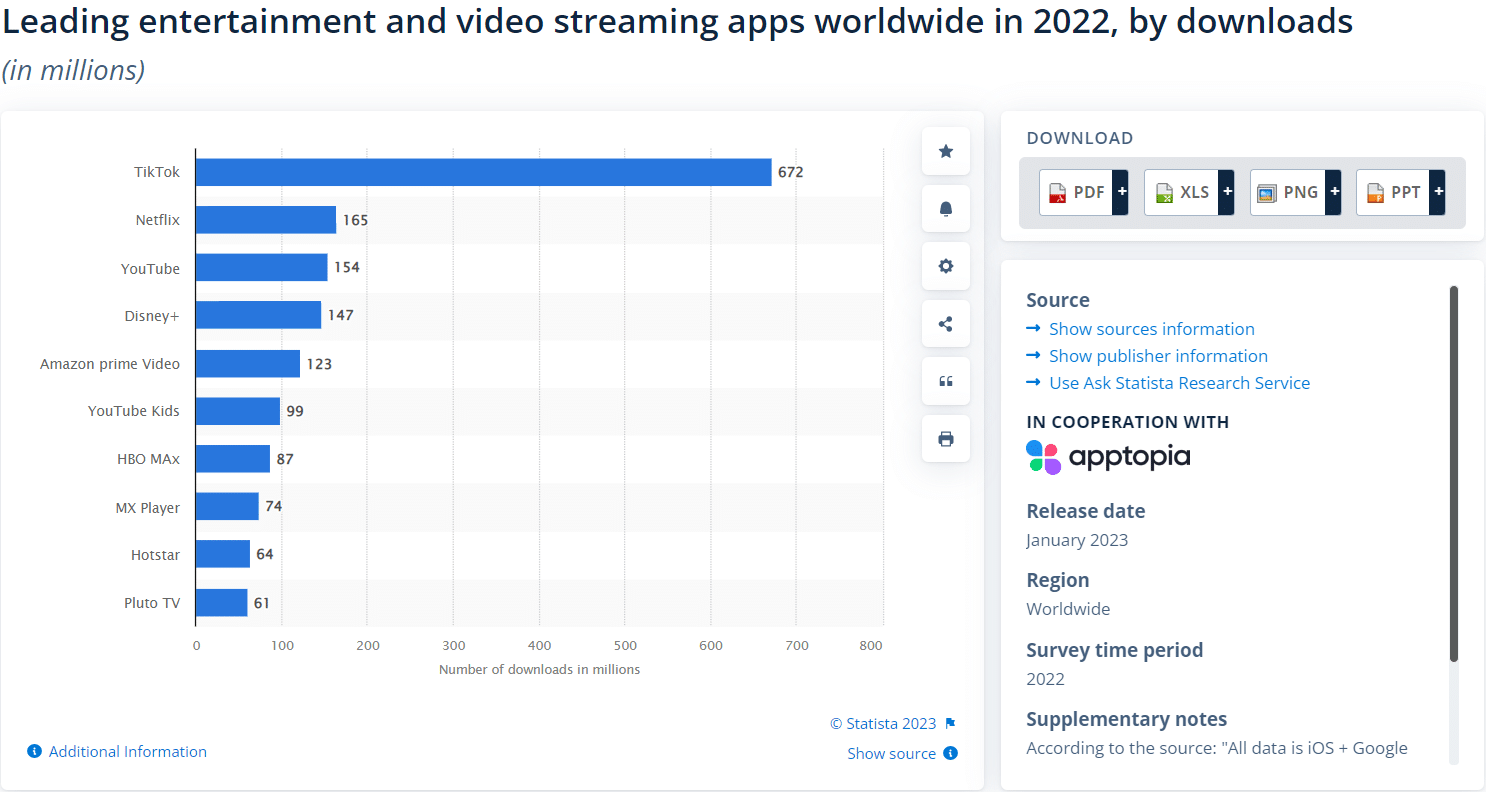 Source: Statista
Do you wonder how many TikTok users there will be in 2023? Well, as of now, TikTok has about 80 million monthly active users in the United States, with 37.3 million of those users belonging to Generation Z. Almost half of this demographic uses TikTok and Instagram for search instead of Google, according to Google's own internal data.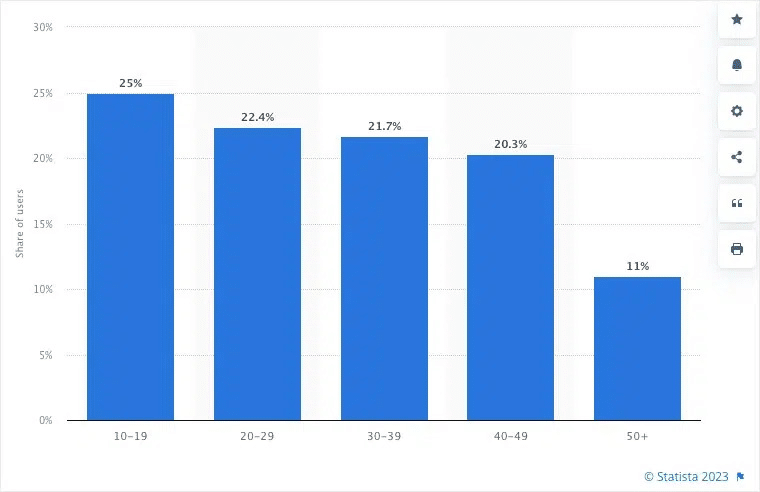 Source: Statista
Do you want to use TikTok for your business? It is worth knowing that TikTok users spend an average of 95 minutes per day on the platform. You can reach a potential audience of 945 million users aged 18 and above when you use TikTok ads, with 53% of those users identifying as females and almost 47% as males.
Finally, it is not surprising that the United States takes the top spot for the country with the largest TikTok advertising audience, as the average person in the US opens the app 8 times a day.
🌟 Twitter Marketing Statistics
While Twitter is often associated with political discussions and cyberbullying, it can still be a rewarding platform for businesses who know how to utilize it. So, let's take a look at some important Twitter statistics.
Is Twitter still popular in 2023? Despite leveling out in recent years, Twitter's user count is expected to exceed 335 million in 2023, making it a popular platform for businesses targeting specific audiences.
When it comes to Twitter demographics, 76.9% of Twitter users are based in the United States, with 44% of U.S. 18 to 24-year-olds using Twitter, making it more popular than Reddit, WhatsApp, and LinkedIn among that age group.
In terms of other demographics, U.S. Twitter users are younger and more educated than the national population, with a median age of 40 and 42% of users holding a college degree.
Twitter is also known for being a politically-oriented platform:
✔️ 36% of U.S. Twitter users identify as Democrats
✔️ 21% of U.S. Twitter users identify as Republicans
✔️ 10% of U.S. female Twitter users tend to tweet about politics
✔️ 71% of American Twitter users use the platform to read news updates
But putting politics aside, Twitter can be an ideal place for businesses to share news and educational content, and it's also a great platform for social media advertising, as 53% of Twitter's audience is more likely to buy new products.
🌟 Social Media Marketing Statistics For YouTube
Let's dive into YouTube, the mother of all video platforms. It has the power to propel your business into the limelight with the rise in the popularity of video content. As the second most-used social media platform worldwide, it's a platform you'll definitely want to add to your marketing strategy.
Is YouTube still growing? Definitely! With over 1.7 billion unique monthly visitors, its user base is still growing year after year. In fact, it has more active users than websites like Instagram, TikTok, Twitter, and Reddit combined, making it still popular worldwide.
It's important to note that 80% of YouTube users come from outside the U.S. If your key demographic is Americans, you'll need to diversify your marketing efforts across a range of different social media platforms. According to YouTube's social media marketing statistics:
✅ 81% of U.S. adults use YouTube (84% of urban adults and 74% of rural adults)
✅ 82% of adult males, and 80% of adult females are using YouTube.
Let's break down the YouTube statistics by country: as of late 2022.
✔️ India has the largest YouTube audience by far, with around 467 million users.
✔️ The US comes in second, with around 247 million viewers.
Competition on YouTube is fierce, with over 500 hours of video added every minute. However, focusing on the below criteria might help you reach your target audience.
✅ Product reviews
✅ How-to videos
✅ Music videos
✅ Wellness videos, and
✅ Live streams
In fact, product review videos have been estimated to receive 50,000 years of watch time in the past two years. Lastly, YouTube Shorts is another type of content your business can tap into to grow your channel. It currently receives 15 billion daily views.
💪🏻 Empower Your Social Media Strategy With Data
By leveraging social media marketing statistics, you can gain insights into the current state of the business world, anticipate future trends, and align your business with your customers' needs.
Utilize these statistics to optimize your social media marketing strategy and effectively engage with your audience. Stay ahead of the game and achieve your business objectives by letting data guide your decisions.
​​Hope you got the insightful data to take your social media marketing statistics to a whole new level. For more valuable tutorials, guides, knowledge, tips, and the latest updates, subscribe to our blogs & join our super-friendly Facebook community.