We are living in the age of digital currency, and the ability to accept payments for WordPress online is crucial for any business's website built on WordPress. Whether you're selling products, offering services, collecting donations, or even running a membership site, having a seamless and secure way of accepting payments online can significantly impact your success.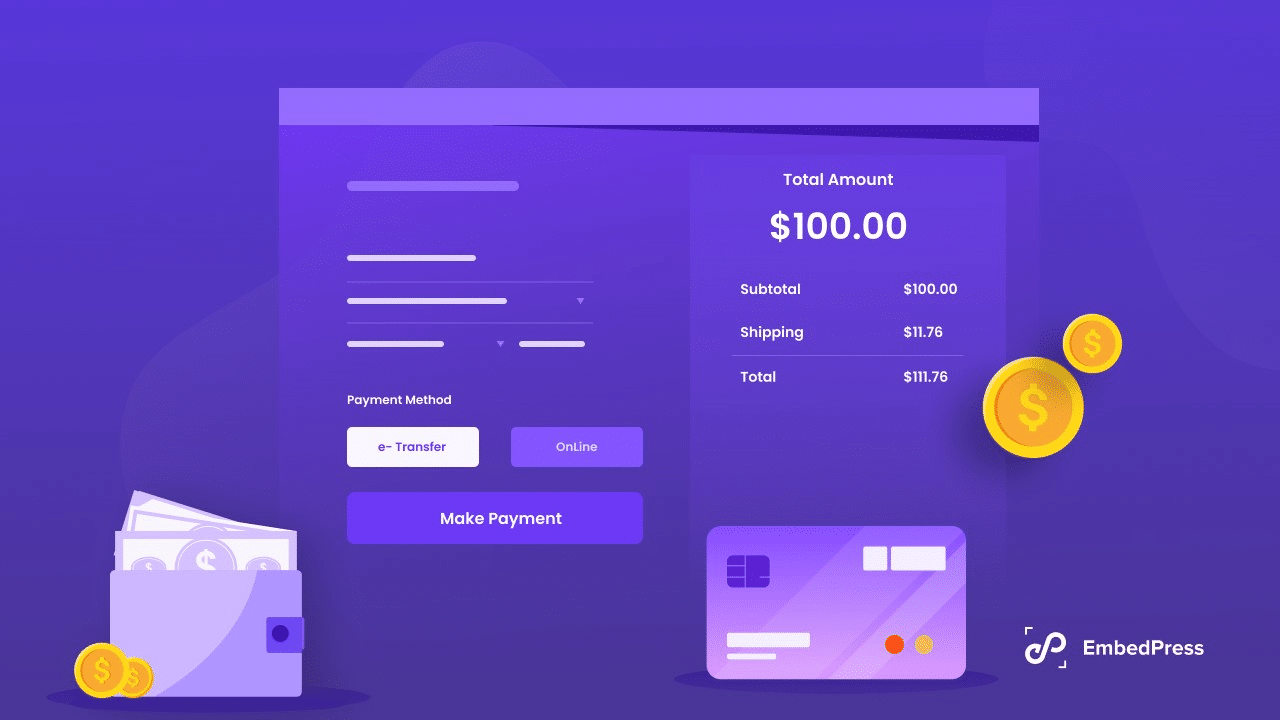 In this blog, we will explore the various methods and tools available to accept payments for WordPress websites, ensuring that you can efficiently monetize your online presence.
💡 Online Payments For WordPress: Understanding The Need
Accepting payments online opens up uncountable opportunities for WordPress website owners. Consider these reasons why every blogger, freelancer, e-commerce business owner, and nonprofit organization needs a safe and reliable way to accept online payments:
🌟 Companies will always be able to make money off of something. Your WordPress site could become a money-making machine if you use a PayPal or Stripe app to accept payments. Customers can purchase products, services, and digital items and pay digitally without hassles.
🌟 It's usual for charities and content creators to get paid for using WordPress. People from all over the world can donate once you set up a secure process.
🌟 Both you and your customers can benefit from online payments on WordPress websites. Streamlining the payment process and reducing human mistakes make it easier to run a business and calculate profit.
🌟 Accepting online payments for WordPress lets you reach a global audience. Prospective buyers or backers can access your website at any time from anywhere in the world. This is how you become a global seller.
🌟 In today's competitive online market, letting customers pay in a variety of ways could give you an edge over competitors and boost the trustworthiness of your business.
🎯 What To Consider Before Accepting Payments In WordPress Websites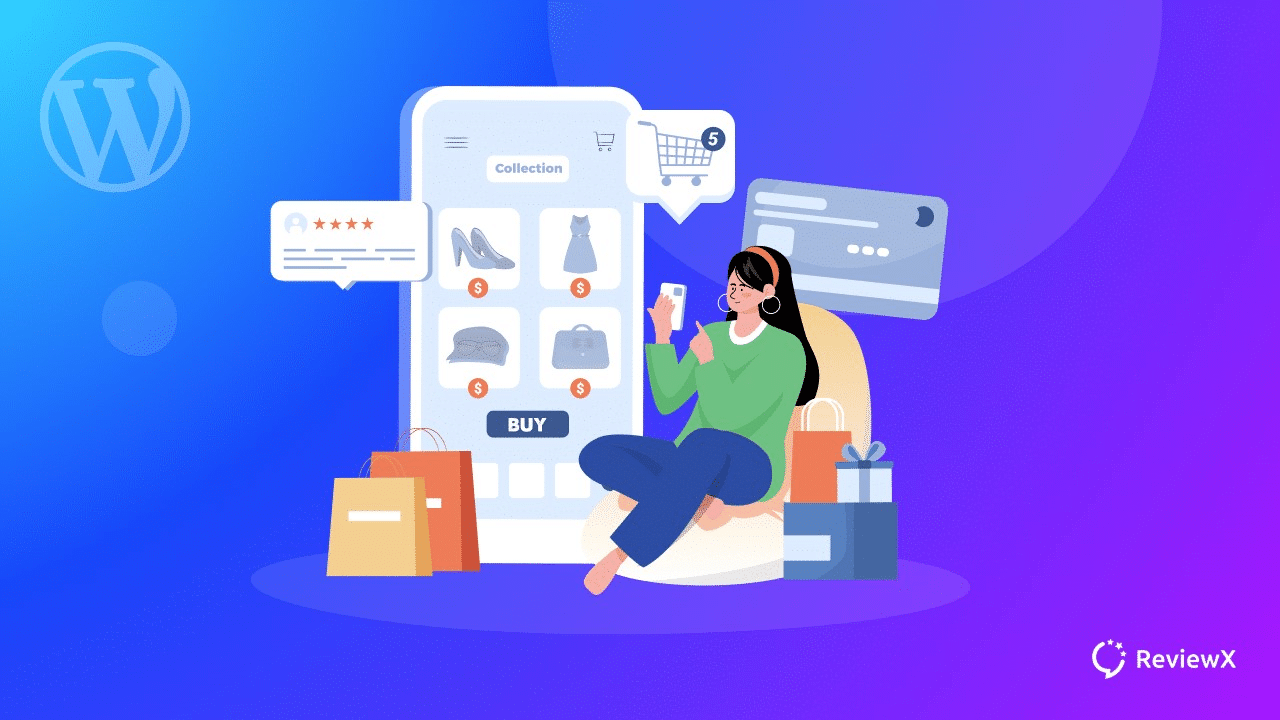 When it comes to paying for digital goods, customers always look for a secure way. At the same time, you need to make sure you receive the payment and your website doesn't get hacked or scammed. This is why, before accepting payments in WordPress, you need to make sure you have the following things done to ensure the security and reliability of your payment processes:
👉 SSL Certificate: SSL (Secure Sockets Layer) certificates protect your data sent between your website and users, so payment information stays private. Your WordPress website must have SSL certificates before you proceed to accept payments.
👉 Website Security: Your WordPress site should be well protected from possible threats. Add security steps like strong passwords and firewall plugins, and update them regularly.
👉 User-Friendly Design: Make sure that the designs and user experiences (UX) of your website are easy to understand and use. The checkout page must be smooth and simple so that the buyers can pay without hassles.
👉 Reliable Hosting: Pick a web host with a good reputation that offers quick hosting, constant uptime, and excellent customer service. Potential buyers will not purchase from a website that is slow or broken.
💰 Choosing The Right Payment Gateway
One way for your customers to pay for their purchases on your website is through a payment gateway. It is crucial to choose the right payment provider that matches your needs. Consider your audience, their locations, use cases, etc., to choose a payment gateway. These are some well-known payment platforms that can be integrated into WordPress:
1. PayPal: One of the most well-known and accepted payment methods in the world is PayPal. It takes multiple payment types, like credit cards, PayPal funds, and more.
2. Stripe: Stripe is known as a platform that is easy for developers to use and has robust security features. It works perfectly with WordPress and lets you pay with a credit card.
3. Authorize.net: Authorize.net is a well-known payment platform that works great for credit card transfers. It has improved scam protection and plenty of ways to make it your own.
4. Square: Square is an excellent option for companies that need to accept payments both online and in person. The layout is easy to use, and the prices are transparent.
5. 2Checkout: This service specializes in international payments and can be used to sell digital goods and contracts. Customers can pay in a number of different ways.
📌 Integrating PayPal For WordPress Payments
PayPal is a versatile payment gateway that can be easily integrated into your WordPress website. To set up PayPal payments, you need to create a PayPal Business account and install a PayPal plugin. Then, customize the payment options, such as currency and payment buttons.
There are multiple plugins available to integrate payments for WordPress into your website and accept PayPal payments. But only some could match your needs. Better Payment, developed by WPDeveloper, is a versatile payment plugin that seamlessly integrates with Elementor, enabling you to accept payments for WordPress through PayPal and Stripe effortlessly.
This means that you can accept credit card payments for WordPress from your website using your PayPal or Stripe accounts. With Better Payment, you can offer your customers a hassle-free payment experience with a single button and deliver them personalized success messages without any coding.
📝 Guide To Setting Up A Paypal Account With Better Payment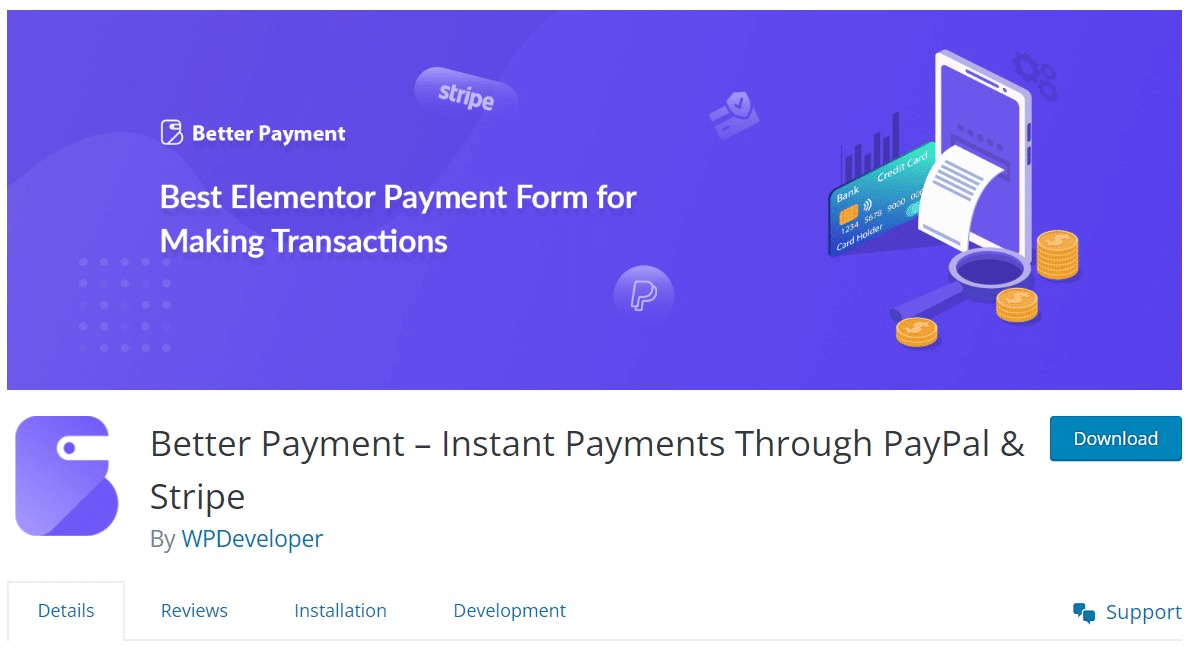 It is an easy process to set up a PayPal account with Better Payment, requiring only a few steps. Let's follow the simple step-by-step guidelines below and carry out smooth transactions. To get started with your PayPal account in Better Payment, ensure you have installed and activated Elementor on your website.
Step 1: Create A PayPal Account
If you do not already have a PayPal account, you need to start by creating a new one. After you have set up your account, save the 'Business Email ID' you used for creating the account for later. You will need this ID to integrate and set up a PayPal account with Better Payment.
Step 2: Integrate PayPal In WordPress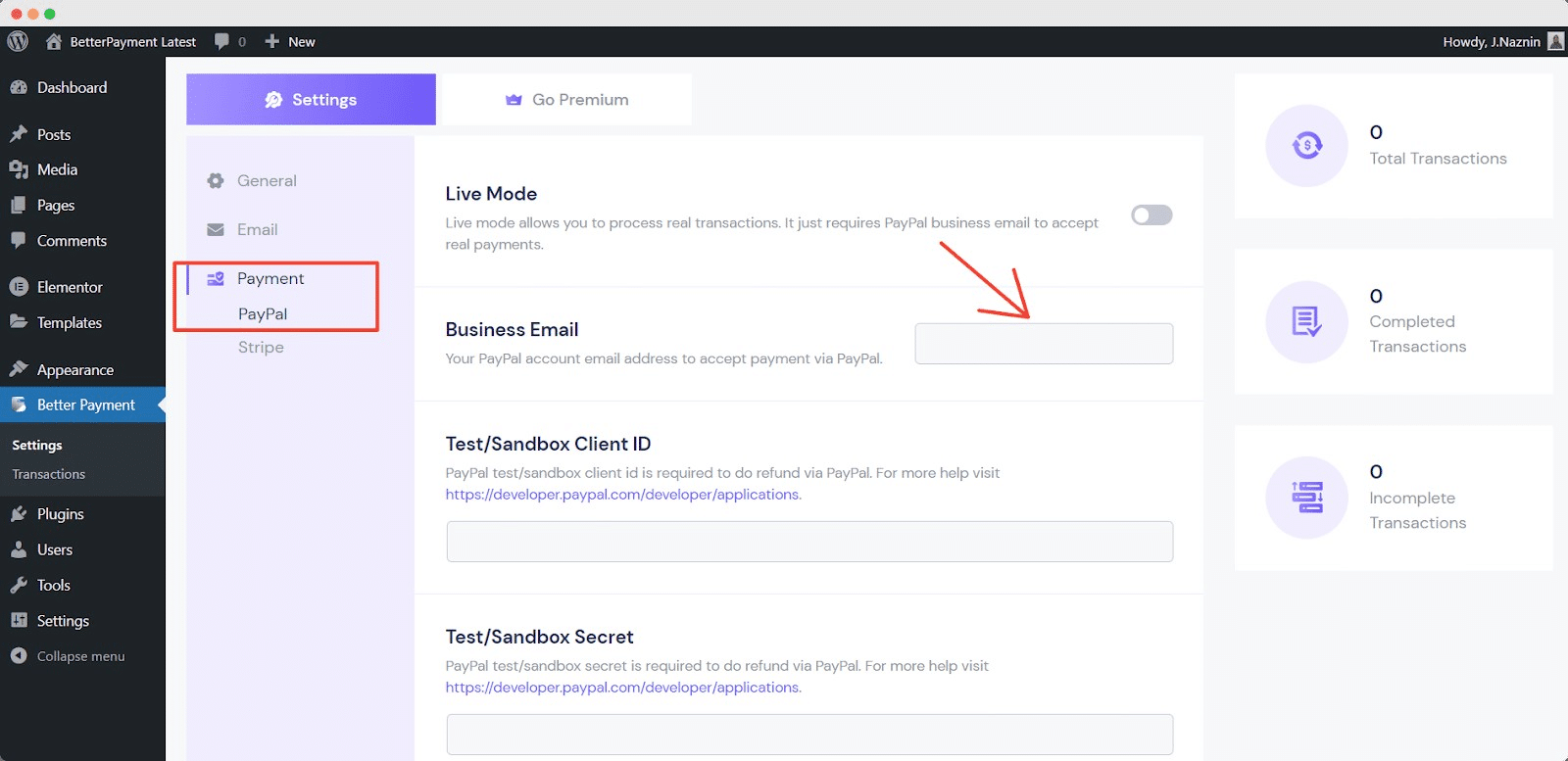 There are two methods to integrate and set up a PayPal account with Better Payment: by direct integration from the WordPress dashboard or by integrating from the Elementor editor panel. You will see an option to configure your PayPal account in Better Payment from the WordPress dashboard. Input the Business Email ID and enable the 'Live Mode' button.
For Elementor editor, open a page and click on the 'Edit with Elementor' button. Drag and drop the 'Better Payment' widget and input the Business Email ID. Once done with the other adjustments, hit the Publish button & you are ready to receive payments for WordPress from the customers. For a detailed guide, follow our documentation on integrating PayPal with Better Payment.
📝 Guide To Setting Up A Stripe Account With Better Payment
You can easily set up a Stripe account with Better Payment to accept instant payments for WordPress and transactions from your customers in just a few simple steps. Let's follow the instructions below to learn how you can set up a Stripe account with Better Payment.
Step 1: Retrieve Your Stripe Keys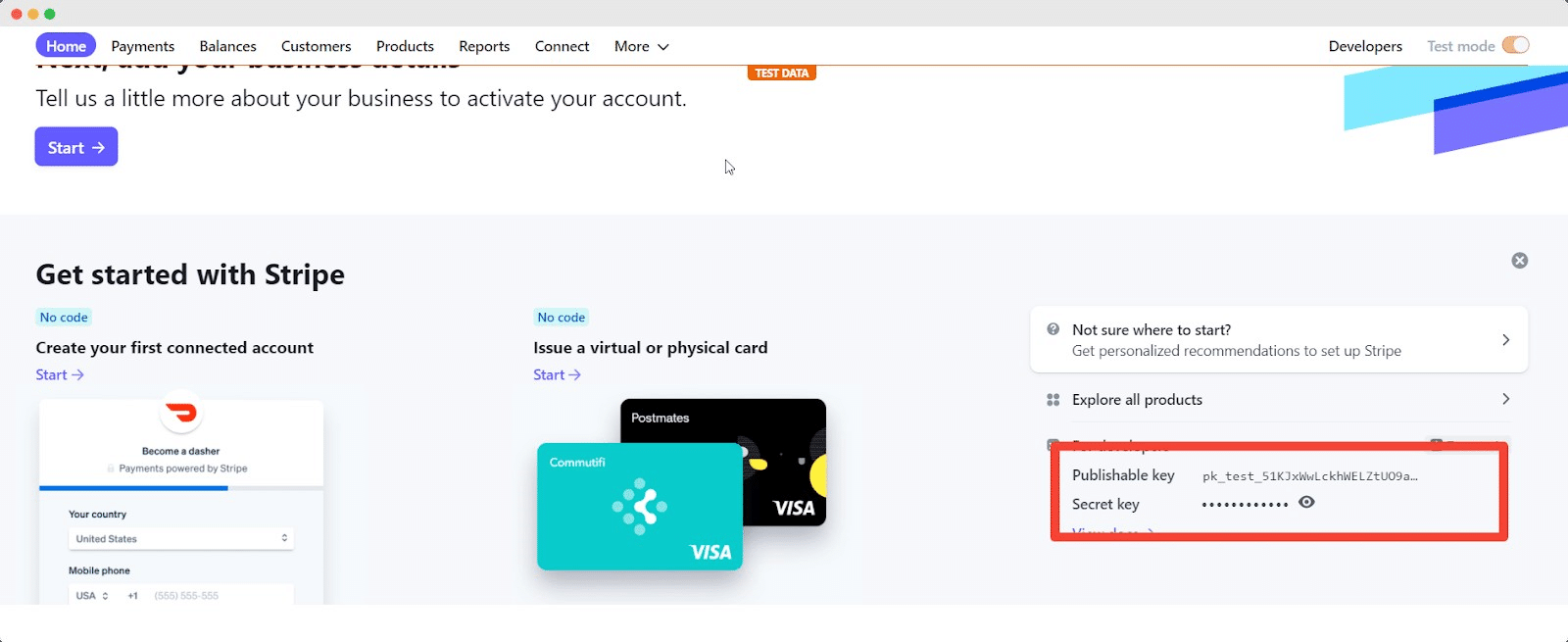 Log into your Stripe account and copy the 'Publishable Key' and a 'Secret Key' from the homepage to connect to the Better Payment plugin. Then, you can set up Stripe with Better Payment using two easy methods.
Step 2: Connect Stripe With Better Payment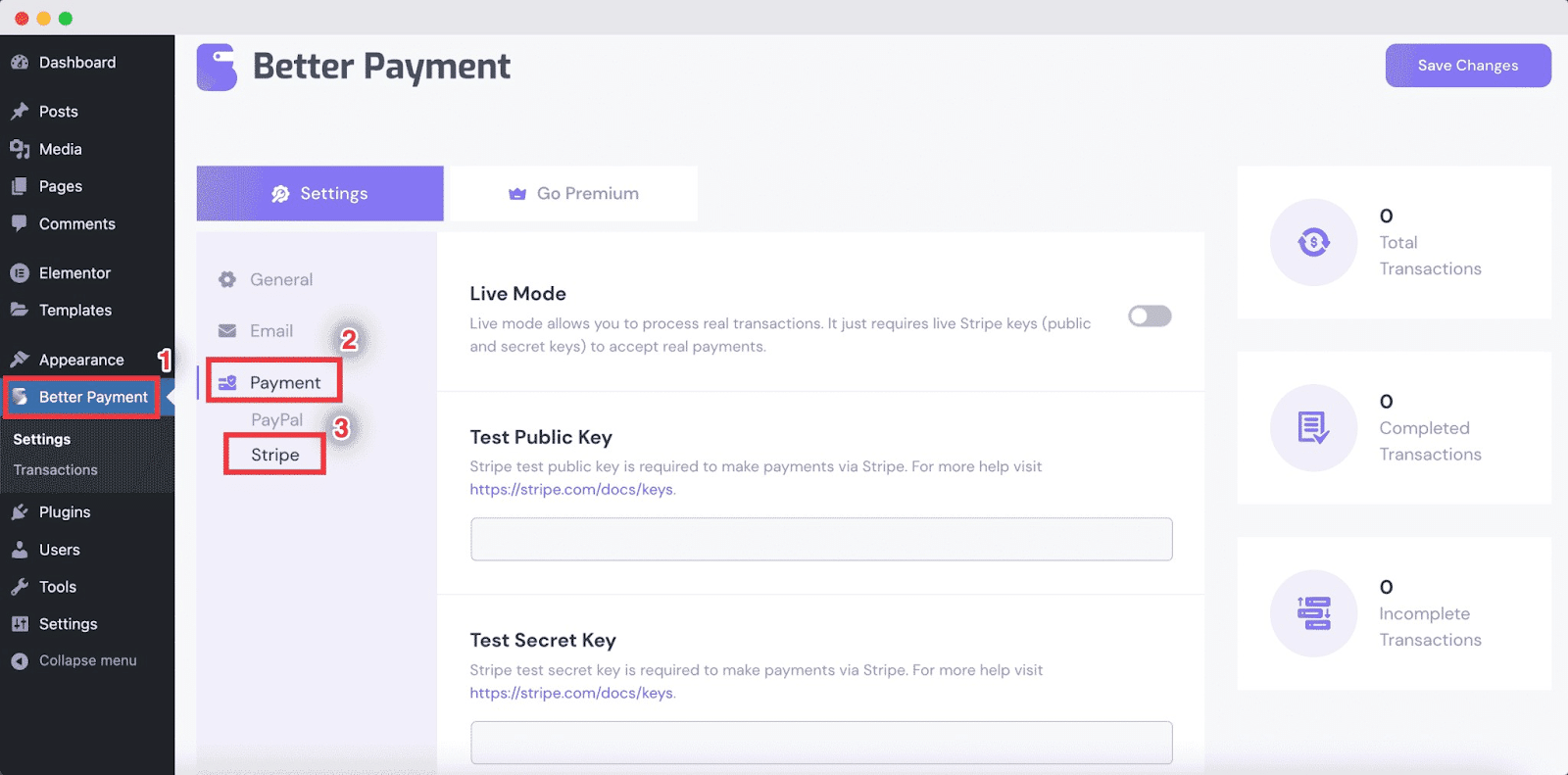 The first method of integrating and setting up your Stripe with the Better Payment plugin is directly from the WordPress dashboard. From the Better Payment settings, click the 'Payment' option and navigate to the 'Stripe' option. To process a transaction on your website, you have to enable the 'Live Mode,' input your 'Publishable key' and 'Secret key,' and save the credentials.
To integrate a Stripe account in Better Payment in Elementor, open any page or post with Elementor. Drag and drop the Better Payment widget into the desired section. Then enable Stripe under the 'Payment Settings' and click on 'Stripe Settings' to apply the 'Public Key' and 'Secret Key' of your Stripe account.
Don't forget to enable the 'Live Mode' for real-time transactions before publishing your page. For a detailed guide, follow our documentation on integrating Stripe with Better Payment.
🎉 Monetize Your Website With Secure Payment System
Your WordPress site can become a solid way to accept payments or funds and reach your online goals if you have the right tools and are dedicated to giving your audience something of value. Paying for WordPress today will give your website more power, and you'll see your online profile grow.
The trust of users is vital to the success of your online payment strategy. So, choose the payment options carefully, and put openness, safety, and an easy-to-use experience at the top of your list. If you have found this blog helpful, share your opinion with our Facebook community. You can subscribe to our blogs for valuable tutorials, guides, knowledge, tips, and the latest updates on WordPress.