Imagine if you could instantly embed Google reviews on your WordPress site and spike the interest of every website visiting potential customers! Adding invaluable user-generated reviews and testimonials from Google with live proof, will not only help you gain the trust of existing or new users but help to add unmatchable social proof and credibility to your business with 100% surety.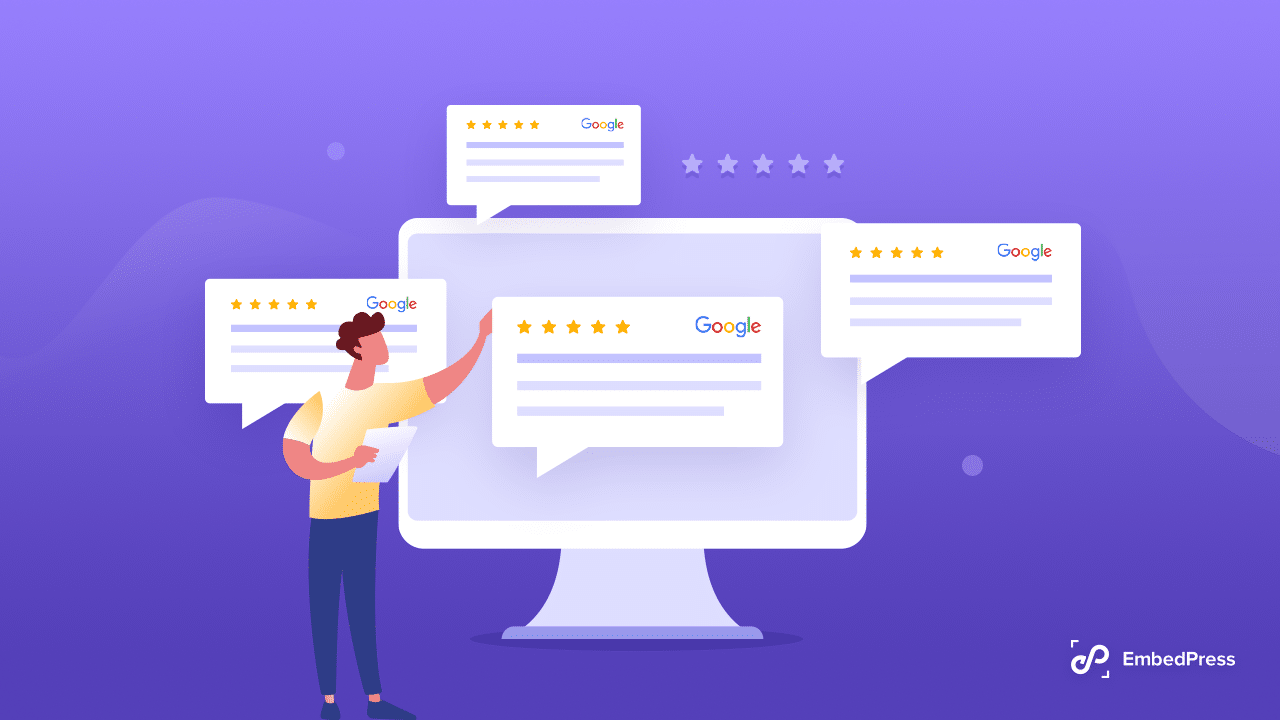 Google Reviews are part of the Google My Business platform. They enable your customers to share their experiences and leave star ratings for your service. These reviews and ratings are public. Displaying positive Google reviews from real users on your website will only help your business (regardless of its type) grow – garner new leads, boost conversion rates, and ultimately increase sales or business in general. 
As mentioned above, it helps to build strong social proof – because these reviews do not just come from the business' own product pages, but from Google itself. And this encourages any onlookers to trust your products more than usual and give them a try.  
However, linking your WordPress website to Google, and embedding the attention-grabbing reviews and ratings can seem a bit difficult. But not to worry, because, in this blog, we will try to make the whole process easy for you. We have researched and come up with a list of the top 3 most ultimate Google Review plugins that you can use to embed the reviews onto your website. So, without further ado, let's dive in further. 
User-generated Google Reviews Are A Gamechanger For Businesses
But before we dive into our list of the top 3 Google Review plugins, let us go over the top 5 reasons showcasing engaging user-generated Google reviews on your website is always beneficial for your business. In fact, it can be a total game-changer in taking your business to newer heights of success in a very quick time.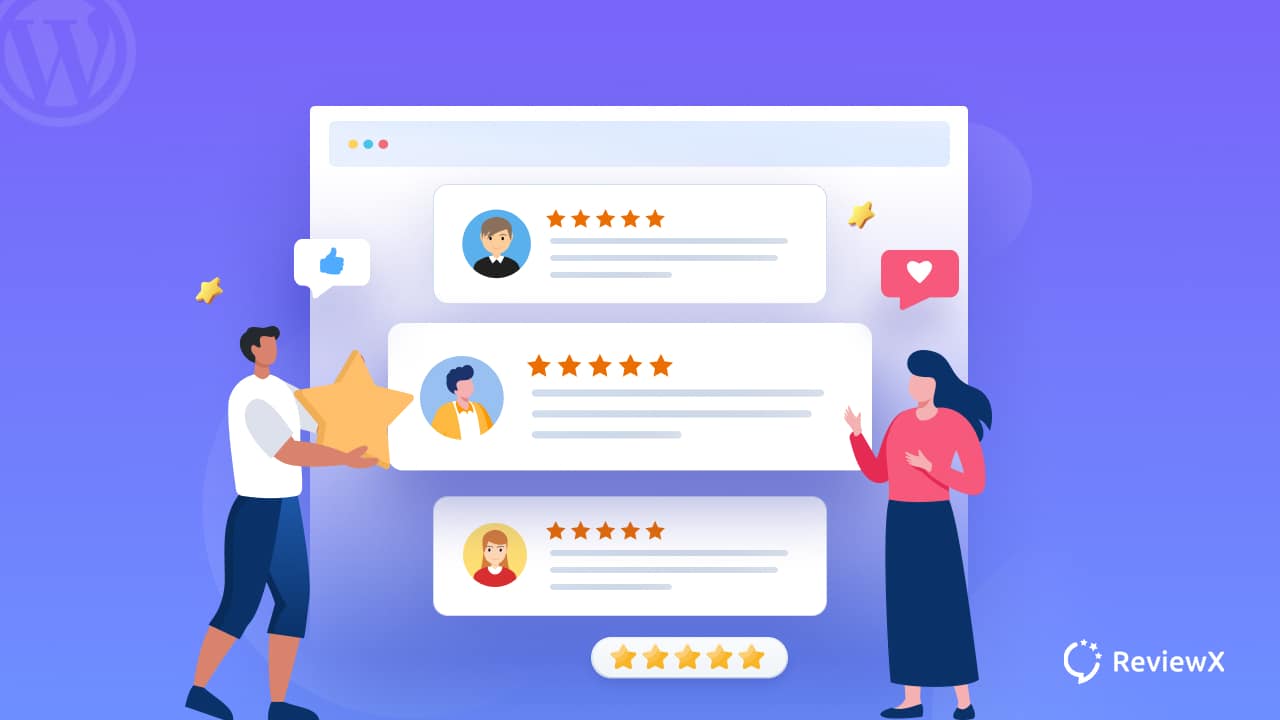 Boost Credibility & Customer Trust:
According to a few surveys, more than 70% of potential customers of a business prefer to go through reviews or ratings created by existing customers before they make a final purchasing decision. And that decision just becomes all the more positive or effective when you embed Google reviews on your website because they get to view authentic opinions and real information from users from all over the world. 
Builds Brand Name & Reputation:
Google reviews give your potential customers a look into what others have experienced with your brand, and how trustworthy your marketing campaigns are. Since the reviews, ratings, and testimonials on Google are by real-time customers from anywhere around the world, it helps in building a reputation and increases your brand credibility. More and more potential customers will be intrigued to know about your products and purchase. 
Improves SEO Scores & Ranking:
Google always prioritizes and ranks business websites with a high number of good reviews, traffic, and consumer dwell time. On your website, Google reviews encourage other consumers to share their experiences, which helps you rank higher in search engine results.
Top 3 Best Plugins To Embed Google Reviews In WordPress Easily
While there are a few methods by which you can embed Google reviews onto your WordPress website, the easiest and quickest means remains using a powerful plugin. And to help you choose the best ones from a sea of such tools, we bring to you our ultimate list of the top 3 best WordPress plugins to embed Google reviews on your website with complete ease.
Add Engaging Feedback With Widget For Google Reviews By RichPlugins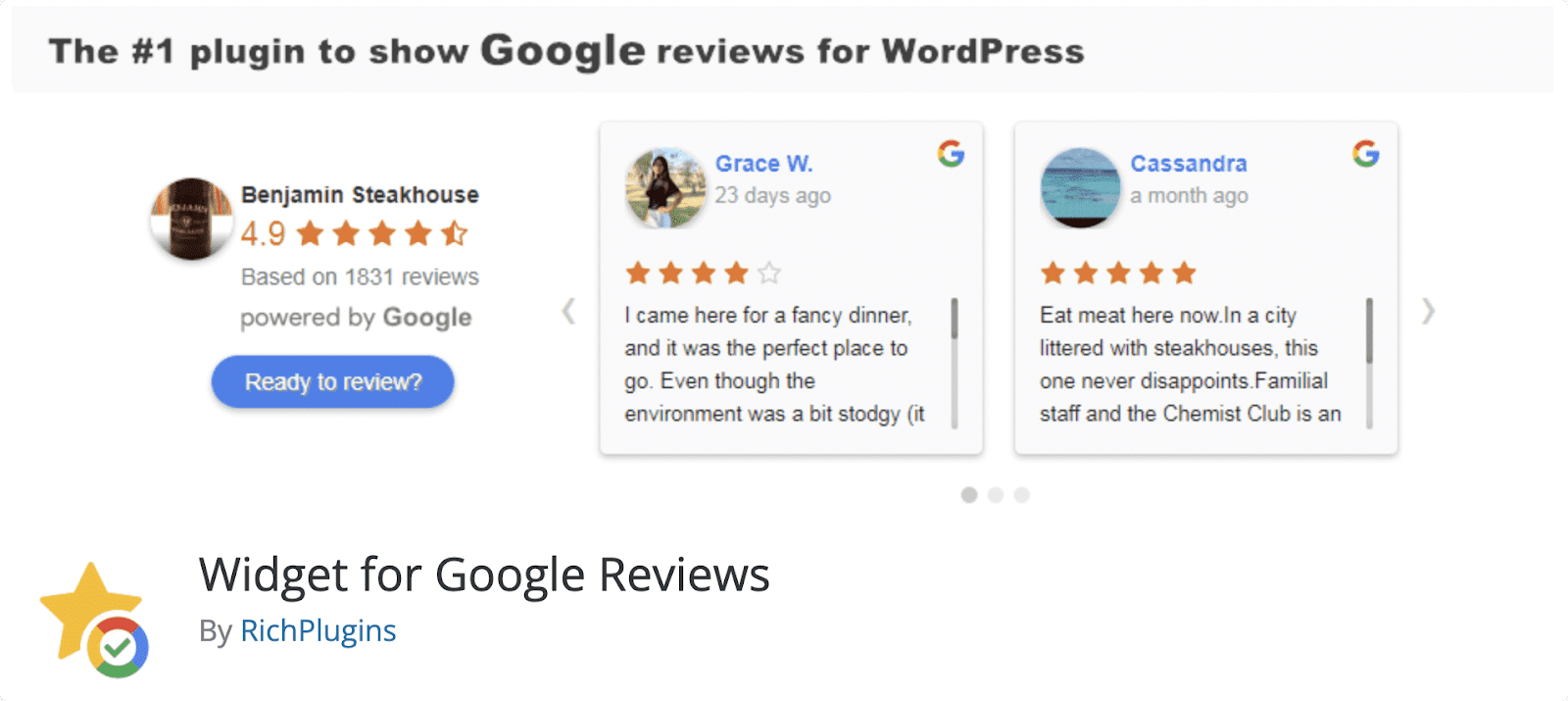 First up, on our list of the best Google Review plugins, we have the highly popular WordPress plugin Widget For Google Reviews by the team RichPlugins, with more than 90 thousand active installations. It's the perfect tool to display stunning, engaging, and authentic Google Business Reviews on your site.
One of its most outstanding features is that it isn't dependent on services like Google to showcase reviews in a widget because it saves the reviews in a WordPress database. This free google reviews WordPress plugin supports shortcodes so that you can manage your reviews quickly. Widget for Google Reviews automatically trims long reviews and adds a "read more" link for a minimal and clean layout for review displays.
You will be able to display your reviews in a sidebar widget on your site. It provides you with multiple, beautifully pre-designed widgets layout and widget styles that you can use to visualize the google reviews and ratings in an effectively stunning way, and gain customers' trust within minutes. And these ready widgets are fully customizable as well, so you can configure and design them to match your business brands with ease. The plugin also prompts users to leave a review with an eye-catching 'Write a review' button.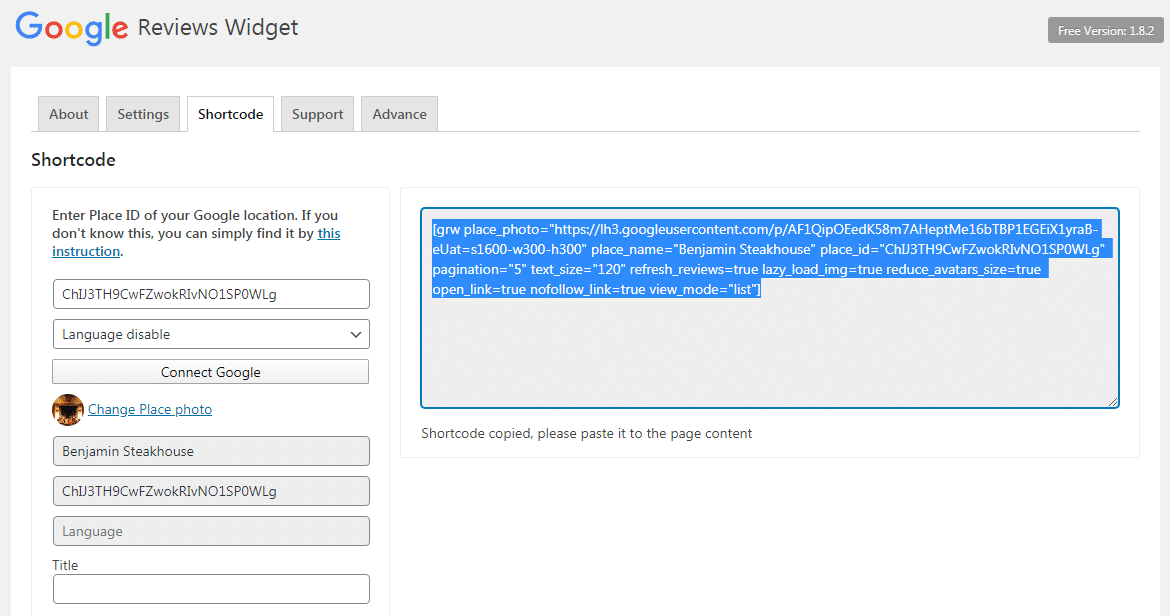 While the free version of the plugin allows you to display up to 10 Google reviews on your site, the Business version of this plugin takes your embedding experience a step higher because displaying all reviews, auto-sync them with Google, supports other platforms like Facebook and Yelp. The Google business reviews plugin has an auto-refresh feature for your reviews. Therefore, they'll get updated immediately after you approve a review. Widget for Google Reviews has a premium or business version that allows you to display all your reviews via Google My Business API.
Use Widgets For Google Reviews By TrustIndex.io For Social Proof

Next up on our list, we have another plugin – Widgets for Google Reviews by TrustIndex.io. And just like the one we have mentioned just a while back, this outstanding plugin enables you to display engaging Google reviews about your business or store with fully responsive, ready widgets. It comes with 40+ widget layouts that you can effortlessly combine with their 25+ premade widget styles for unmatchable results and instantly boost engagement rates. 
This free Google Reviews plugin lets you display upto 10 reviews on your site that can be integrated on your site with shortcodes. The widget also comes with review filtering options to help you only display the reviews and ratings that will truly help your business grow. 
We must also mention that this plugin does not require any help from the search engine, Google, as it saves all the incoming new reviews in its database. In fact, all connected reviews and ratings get automatically updated without any manual interaction. And the reviews can be viewed in a slider that is fully responsive on any device. It is also fully compatible with any page builders such as Gutenberg, Elementor, Page Origin, Beaver Builder, WPBakery, Divi, through the use of shortcodes.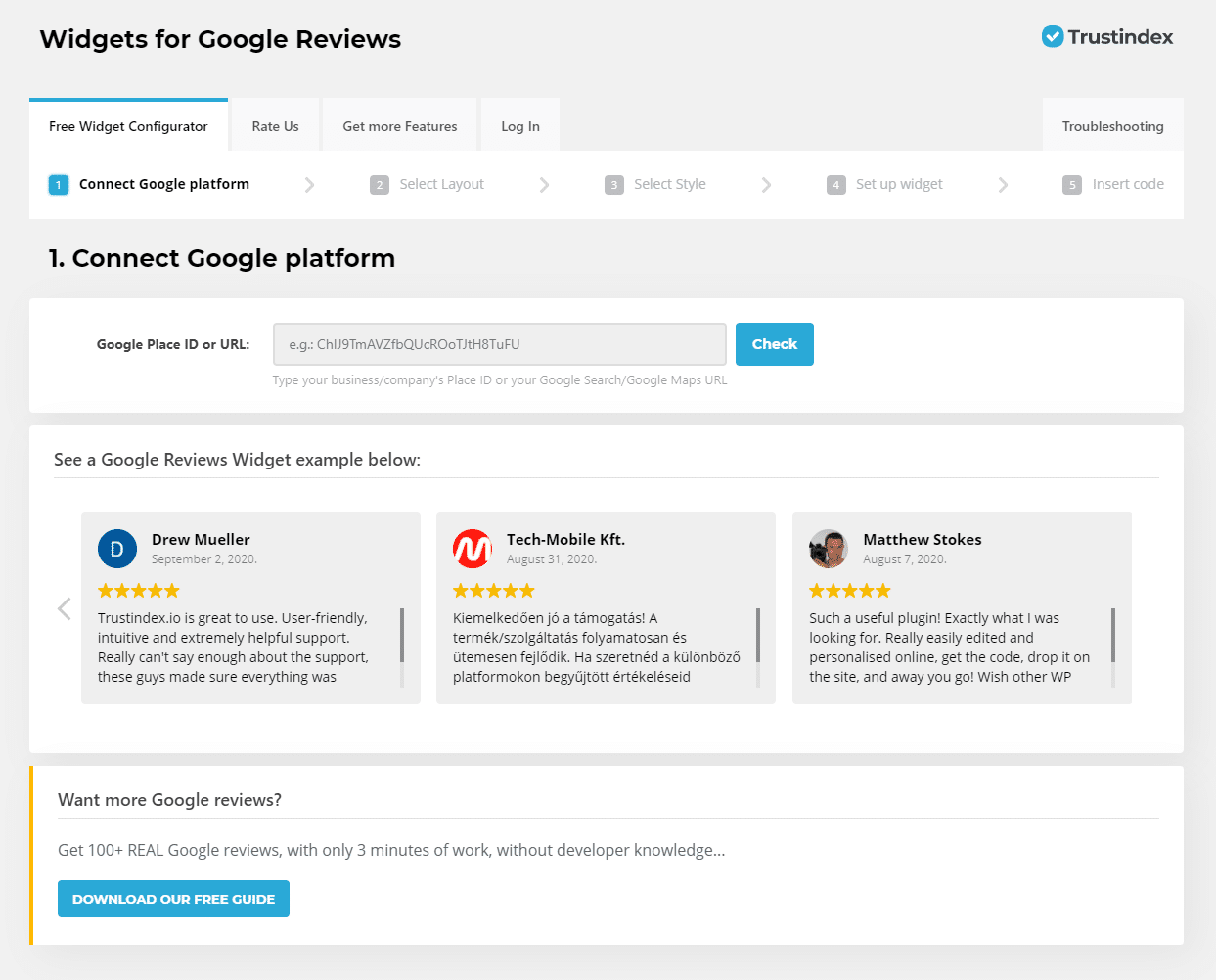 With its professional package, you'll be able to display reviews from many of the top review websites, including Facebook, Yelp, Tripadvisor, and more, while also catering to your demographic. you can cater to your demographic and increase the likelihood of conversion. We must also mention that Widgets for Google Reviews also supports multilingual reviews, so no matter which country your website is based on, this plugin will be suitable for you.
Display Business Reviews With PRO Everest Google Places Reviews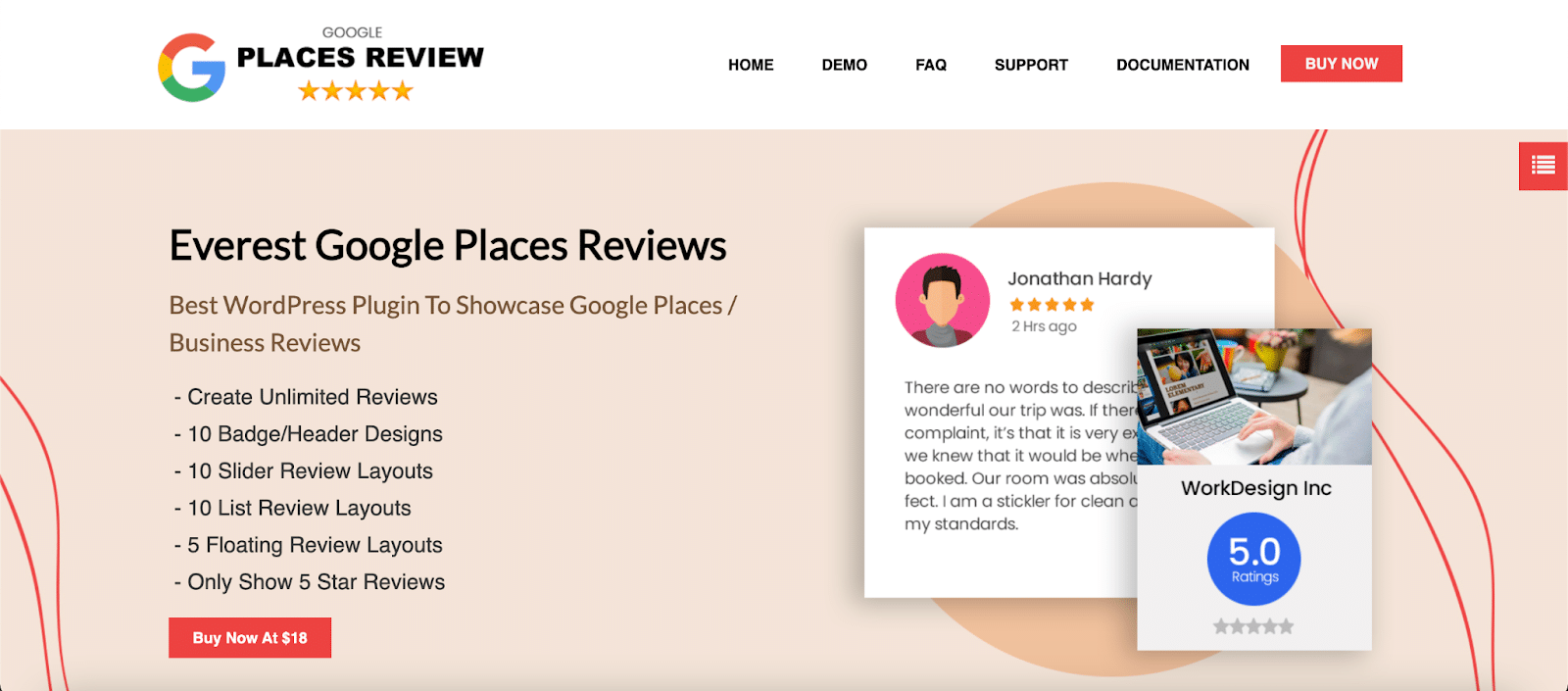 And finally, to end our list, we have Everest Google Places Reviews – the best premium WordPress Google review plugin for any business or store. Just like the 2 other plugins mentioned above, this powerful and premium tool brings more than 5 elegantly crafted review templates – allowing you to display up to 5 Google Reviews. 
It even lets you choose whether you want to display your business Google reviews in multiple formats – sliders or lists, whichever looks good with your company's brand. And if you choose the slider style, you can also change the animation styles however you like. But not just that, you will also get 5 premade floating review off-canvas layouts, and by floating we mean that you can easily and quickly set the position of these Google review layouts. The shortcode and widget-readiness of this plugin make it easy to showcase appealing reviews anywhere on your site.
To improve user experiences, Everest Google Places Review brings you incredible autocomplete functionality. And if you want to grab more attention by displaying 5-star reviews only, all you need to do is click on a checkbox from the plugin's dashboard. You can also set a description limit, so your users have brief and easy-to-read reviews, and comes with fantastic call-to-action buttons, such as the "Rate Us" button which can be extensively customized whenever needed. 
Effortlessly Embed Authentic Google Reviews In WordPress & Boost Credibility
We hope the list we have provided for you in this blog is helpful in your search in finding ways in which you can add and embed authentic, real user-generated Google reviews on your websites. We have provided you with 3 of the best plugins out there to choose from. If you try any of the ways mentioned above, do let us know of your experience by commenting below; we would love to hear from you.
For more useful information, latest news, and updates, subscribe to our blogs. You can also join our ever-growing community on Facebook to meet more WordPress web creators like yourself and learn more.