We're huge fans of Wistia. They call themselves "your friendly neighborhood video platform", and they do a good job of living up to that claim. Wistia is really easy-to-use, and a fun place to host your videos.
Talking of easy, the latest version of EmbedPress is the easiest solution if you want to use Wistia with WordPress.
All you need to do is grab the URL of your Wistia video and drop it into WordPress. The URL will automatically be transformed into a working video embed. More detailed Wistia instructions are here.
The free version of EmbedPress supports Wistia videos flawlessly, but the Wistia add-on for EmbedPress gives you even more features.
The Wistia WordPress add-on for EmbedPress
Wistia offers a ton of powerful features to improve your videos. If you get the Wistia add-on for EmbedPress, you'll be able to use all of those extra features:
Fullscreen Button: This indicates whether the fullscreen button is visible. Viewers can expand your videos to fill their entire screen.
Playbar: This indicates whether the horizontal playbar is visible at the bottom of the video.
Small Play Button: This indicates whether the small play button is visible on the bottom left.
Volume Control: This indicates whether the volume control is visible.
Auto Play: This feature allows you to automatically start playing video after it has loaded.
Volume: You can start the video with a custom volume level. Set values between 0 and 100.
Color: This feature allows to change the color of the video controls. Changing the color helps the videos fit more naturally with your site's design.
Plugin: Resumable: This feature is for users who return to watch a video again. Users will have the option to resume the video where they had been watching. or start again from the beginning.
Plugin: Captions: Indicates whether the captions plugin is active. You will need closed captions on your Wistia video for this work.
Captions Enabled By Default: Indicates whether closed captions are enabled by default.
Plugin: Focus: Indicates whether the Focus plugin is active. This will darken the rest of the screen so viewers can focus on the video.
Plugin: Rewind: Indicates whether the Rewind plugin is active. This allows users to rewind the video.
Rewind time (seconds): The amount of time to rewind, in seconds.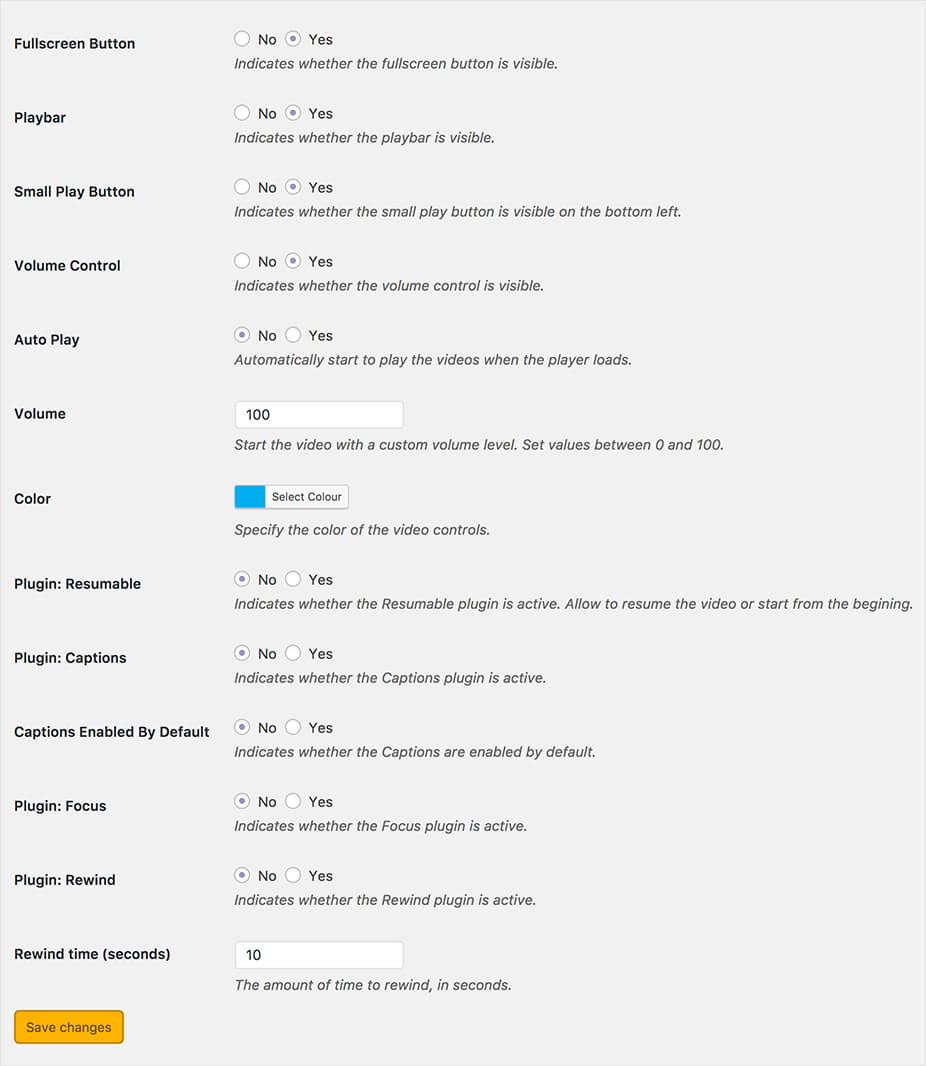 [sc name="ep_wistia"]