Positive feedback from customers posted online can do wonders for your company's reputation. Displaying positive Google reviews on your website can boost your company's credibility and bring in potential customers. If you are a WordPress site owner and want to take advantage of that, you may wonder how to display Google reviews on your website.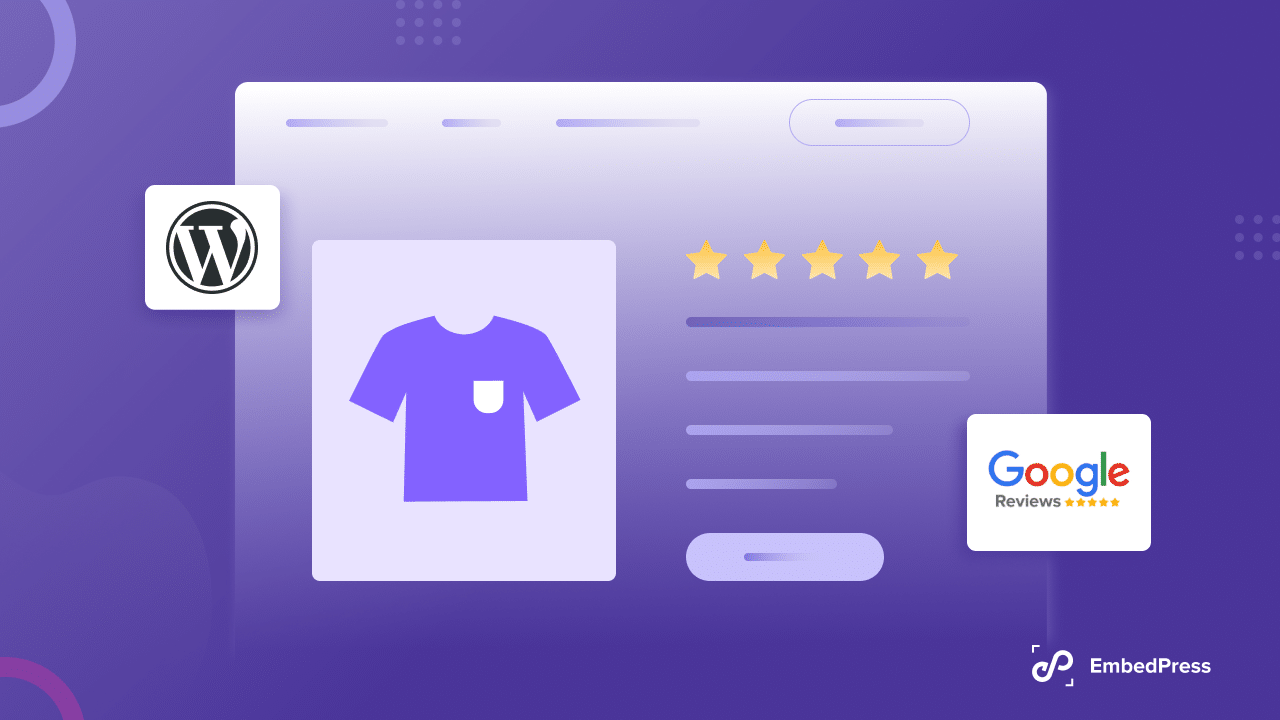 In this post, we'll show you how to easily display Google reviews on your website by following a few simple steps. This will give your website more authority and help you turn website users into potential buyers.
💡 How Displaying Google Reviews Helps Your Website
Displaying Google Reviews on your website can be categorized as user-generated content, with written comments, starred ratings, and sometimes extra information like the reviewer's name and the date of the review. People who have benefited from your products or services can leave positive comments. Wouldn't it be awesome if you could use that to earn the trust of new visitors and boost sales?
There are several good reasons to display Google Reviews on your WordPress site. The following are some key ones.
🌟 Social Proof: Having positive Google reviews may act as social proof, ensuring potential clients that they will have a good experience with your business. When done correctly, this will increase a website's reputation and trustworthiness, which in turn might increase the site's conversion rate.
🌟 Improved Click-Through Rates: More people will visit your site if search results include optimistic star ratings and reviews. Using rich snippets like Google Reviews on your WordPress site can help your products stand out in search engine results and attract more customers.
🌟 Cross-Platform Promotion: Displaying Google Reviews is a great way to promote both your website and Google My Business page, which might lead to more people visiting both.
🌟 Better Customer Insights: If you want to know what people like about your company and what areas need improvement, go no further than the reviews left on Google. Your products, services, and overall consumer experience may all benefit from this data.
🌟 Increased Engagement: Having reviews on your site can increase engagement, keep people on your page for longer, and get them interested in what you have to offer. As a bonus, user-generated content has the potential to get people talking to one another.
🌟 SEO Benefits: Your website's search engine optimization (SEO) will benefit from user-generated content like reviews. Google often favors search results for websites that have new, relevant, and user-generated content. By drawing attention to your company's excellent reputation and geographical location, displaying Google Reviews can boost your local SEO.
🌟 Authenticity: Since Google Reviews are linked to verified user accounts, they are more likely to be accurate. Having these testimonials readily available to site visitors is a great way to build trust and credibility.
🌟 Local Business Visibility: Displaying Google Reviews on your website is a great way to boost your local search rankings and attract more consumers.
🎯 How Can You Display Google Reviews In WordPress?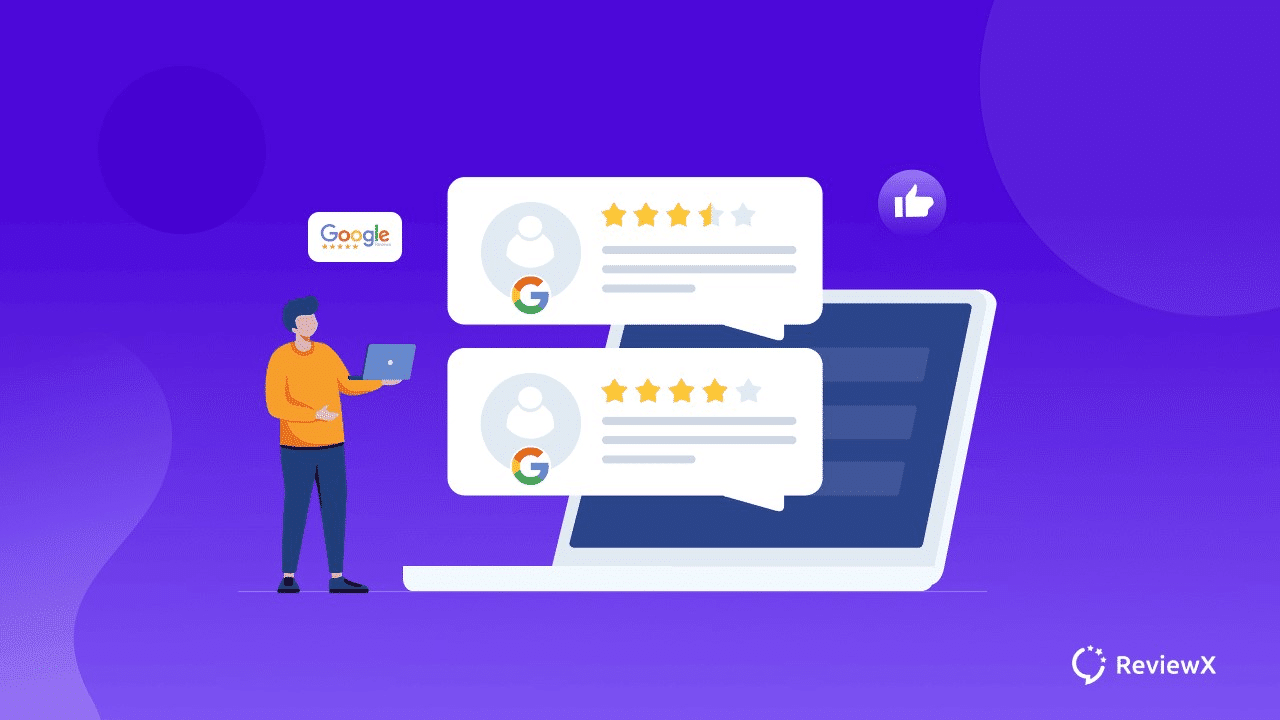 When you display Google reviews in WordPress, users can read feedback from actual customers without leaving your site to visit your GMB page. Customers will be able to make better judgments about your products or services, which may increase user engagement and conversions.
WordPress offers a wide variety of plugins and options for custom code to display Google Reviews. You can easily integrate the reviews into your site with one of the many popular WordPress plugins made specifically for this purpose. However, with NotificationX, you can create stunning review popups and boost your company's credibility with social proof.
NotificationX's sophisticated modifying tools make it possible to add interactivity and beauty to Google Review popups. Plus, the review prompts will have a better look if you display pictures in them. It's pretty effortless to add it to your site, and the alert can be styled and customized to fit in perfectly. Considering all of NotificationX's advanced features, you will hardly find any alternative for showcasing Google Review popups.
📣 Displaying Google Reviews Popups With NotificationX: A Guide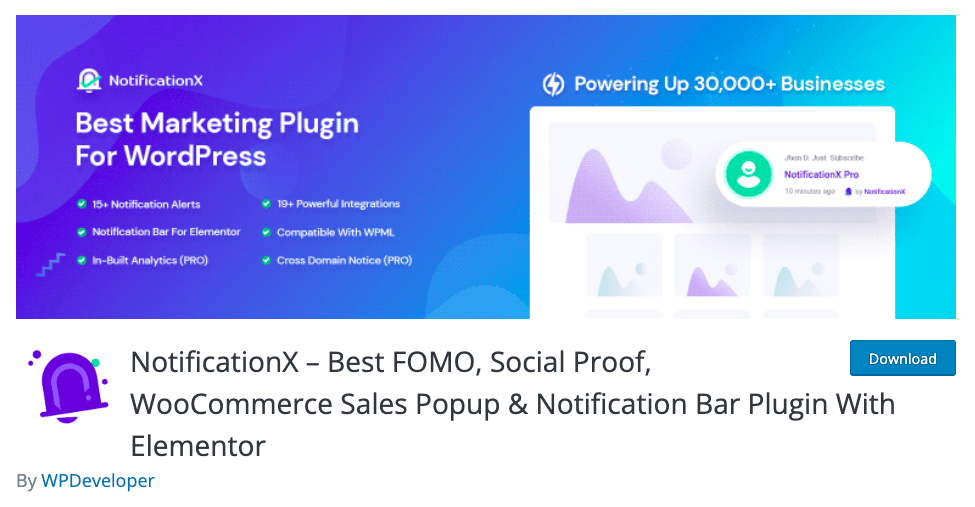 Here are the steps you need to take to effortlessly display Google Reviews alerts on any WordPress site using NotificationX. Make sure you have the API key from Google Console before you begin.
Step 1: Configure NotificationX With API Keys
Google Review popup is a PRO feature of NotificationX. So, after installing and activating the NotificationX Pro plugin on your WordPress website, enable 'Google Reviews' from the 'Settings' tab. Next, you need to validate the API Key that you retrieved from the console. Go to the 'API Integration' page, paste your key, and click validate.
Step 2: Add Google Review Alerts With NotificationX
Now it's time to add the Google review notification alert. Navigate to Notifications → Add New, click on 'Reviews,' and pick 'Google Reviews' as the source. Pick a theme from the 'Design' tab, and then you can change the background color, text, fonts, and more on the 'Advanced' tab.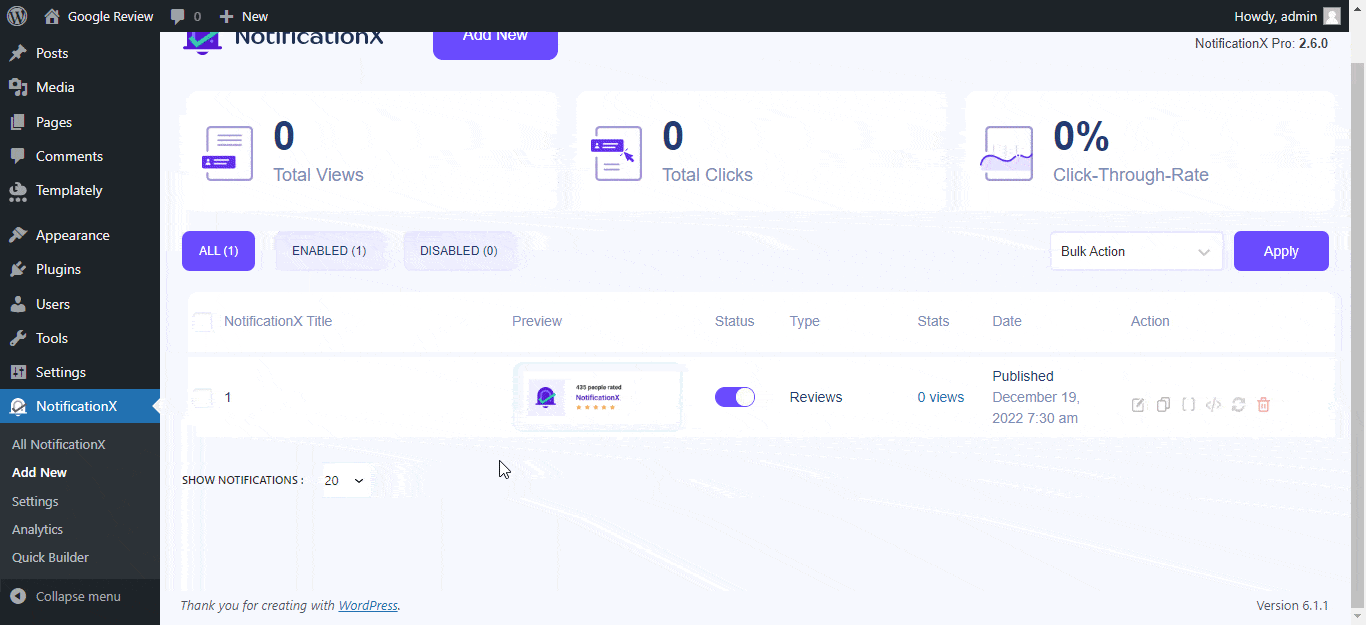 You can customize your review content from the 'Content' tab. Here, choose your review, change the notification template, choose where you want the notification to show, and sort the reviews by 'Most Relevant' or 'Newest.' Also, you have the option to enable 'Advanced Template' if you want to add characteristics to your review.
Step 3: Customize Google Review Display & Publish
After making the essential adjustments, you can customize Google Reviews even further for a more polished appearance. You have the option to upload any image or show the default images under the 'Display' tab.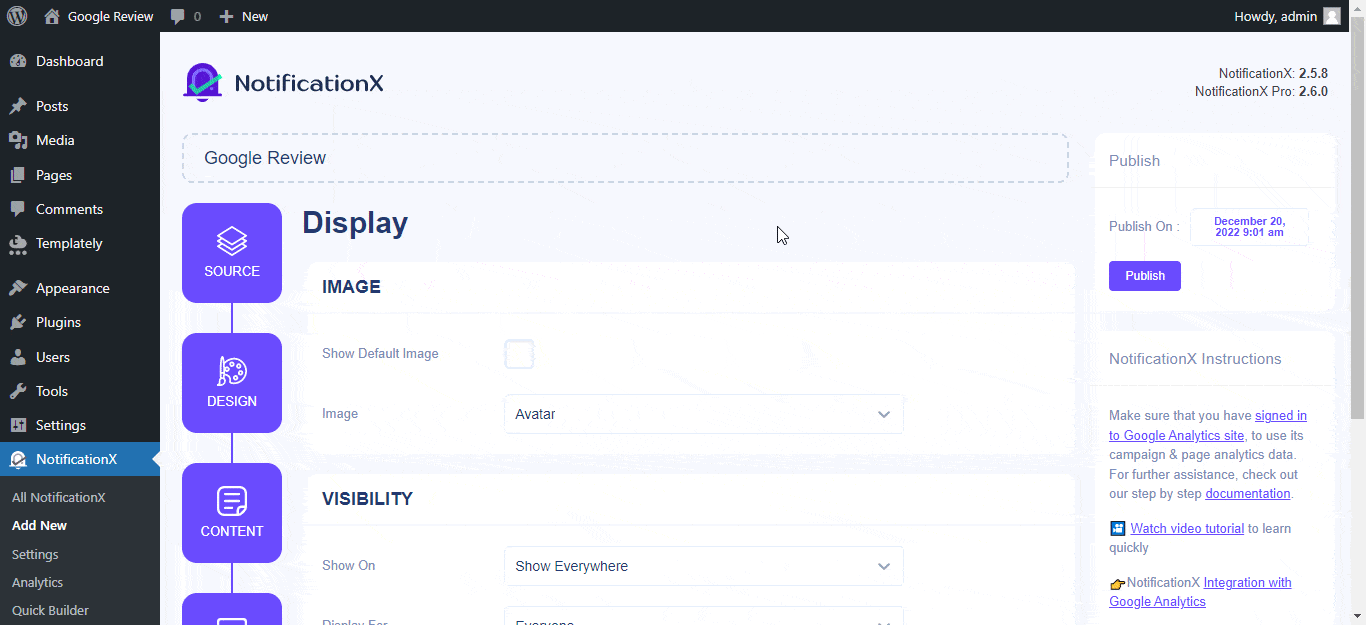 You can set the visibility of the notification as well. Plus, you can customize your Google Review 'Appearance,' 'Queue Management,' 'Timing,' 'Sound Settings,' etc. with ease in the 'Customize' tab.
By following the easy steps mentioned above, you can effortlessly display Google Reviews alerts using NotificationX. For a detailed guide, follow this documentation on this specific feature on the NotificationX documentation page.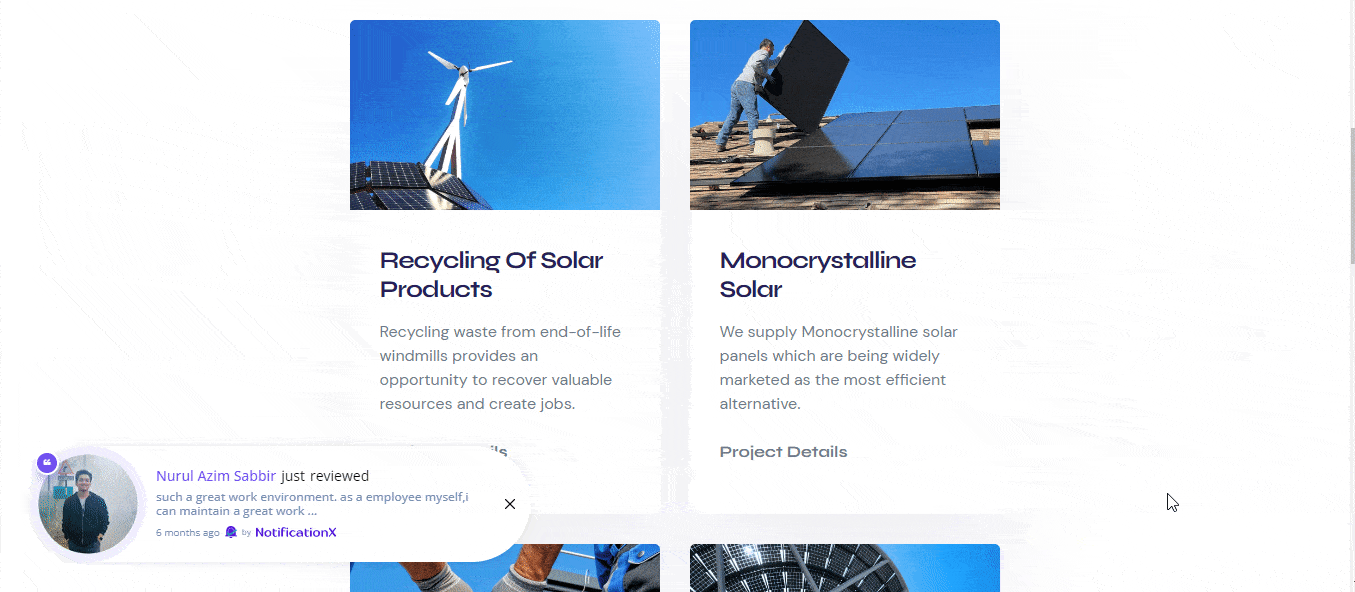 🎉 Show Google Review Popups & Boost Credibility
Customers put great value on feedback from other customers, and positive Google Reviews may increase traffic to your site and purchases. So, if you're looking for a plugin to display eye-catching Google Reviews on your WordPress site, look no further than NotificationX. Instead of just using Google Reviews as an afterthought, why not make them an exciting part of your whole company strategy?
If you have found this blog helpful, share your opinion with our Facebook community. You can subscribe to our blogs for valuable tutorials, guides, knowledge, tips, and the latest updates.