Wonder how eye-catching your website will look if you can easily create or embed tables on WordPress website. If you can display informative data attractively with tables it will also help you to build credibility as well. Now the prime concern is how to add tables to a WordPress website. Presenting the in-depth article to help you out creating tables on WordPress in a minute. Let's get started.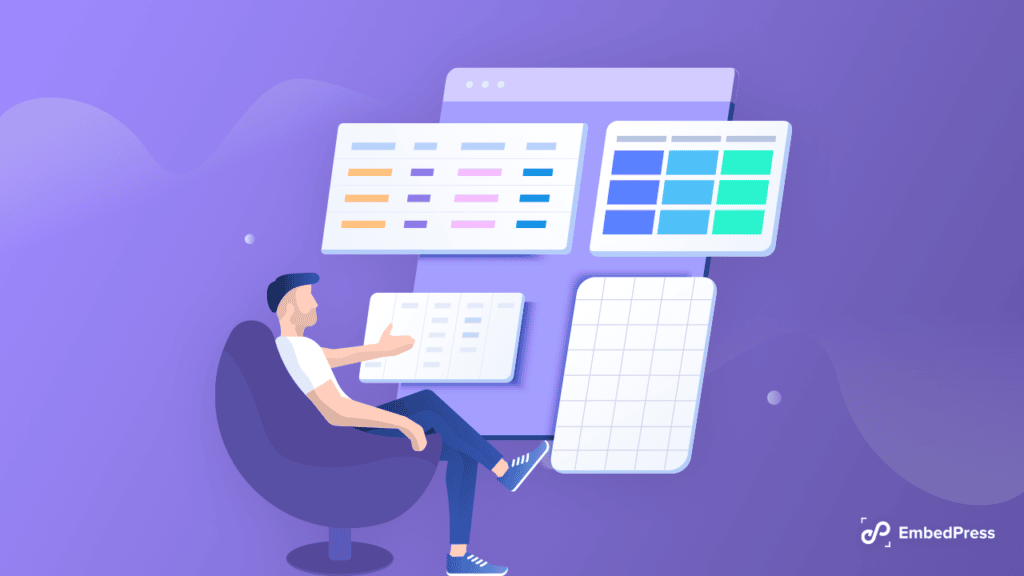 4 Ultimate Ways To Display Table On WordPress Websites
If you know the suitable way to create or embed tables on WordPress, then you can do it within a minute. We know that some of us are familiar with custom coding, and the rest of us are not comfortable with coding. Depending on everyone's experience level, we have listed the 4 ultimate ways to create or embed tables on WordPress. Let's dive in.
Default Way: Add Table In Gutenberg Block Editor
Back then, while Classic Editor was the default editor, it was completely impossible to create or embed tables on WordPress websites. Thanks to the Gutenberg block editor! Now we have the default table block, which can help you display various data interactively. Let's check out how you can do it with Gutenberg.
Step 1: Open a new page in the Gutenberg editor. Then click on the '+' icon and search for 'Table' block. The table will be added instantly. Now add the Column and Row count. Then the table will be previewed like below.
Step 2: Now manually add all your information one by one. Gutenberg offer's wide range of customization. You can easily add header label, footer label, change colors, background color, etc. Typography, font sizes, etc. can be easily updated as well.
This is how easily you can create or embed tables on WordPress websites with the default Table block of Gutenberg.
No Coding Way: Create Tables Without Plugins
Let's start by talking about how to create or embed tables without using plugins. Without a plugin for producing tables, there are a few ways to install tables in WordPress. However, we'll only take into account two: creating tables using a generator and via a Google sheet or doc.
1. Embed Table From Google Sheet Using EmbedPress
Google Sheets is one of the credible tools for creating tables. Nevertheless, no matter how stylish and interactive a table you create, you can't bring it exactly like that to your WordPress website. To solve this issue, you can do one thing: embed tables directly from Google Sheets using EmbedPress. This plugin is one of the popular plugins with 70,000+ active users. You can embed almost 150+ sources including EmbedPress with this plugin. Without a single line of code, you can easily embed tables on WordPress with the help of EmbedPress.
Check out the whole tutorial here:
2. Display Tables Directly Using Google Docs
Another way to embed tables on WordPress is using Google Docs. Google Docs is a super-friendly tool to create content and tables. You can easily create stunning tables in Google Docs. Then copy and paste the table into your WordPress editor. That's it. Your WordPress website will display the table immediately. The only limitation is that you can't create complexly designed tables with Google Docs.
Coding Way: Use Table Generators To Create WordPress Tables
WordPress tables are fundamentally made of HTML, which when combined with CSS styling will result in a visually pleasing table. But not everyone has strong coding skills. Online table generators can be helpful in this situation. They operate in the following manner: after you design and build a table there, the HTML code for the table is generated. The produced table can then be copied and pasted onto your WordPress website.
The creation of responsive tables that work effectively on all screen sizes is one step some online table generators take. With the two methods shown above, to create and embed tables in WordPress articles works fairly well. The issue is that you can't use sophisticated functions and they can only do so much. Even worse, if you're not very tech-savvy, you can experience technical difficulties when using them.
Easy Way: Create Tables With Best Table Plugin
Using plugins is the simplest method for creating and embedding tables on WordPress. You don't even need to understand how HTML codes function to use plugins. In addition to making it simple to insert or embed tables, plugins typically include countless customization choices. Regardless of the WordPress themes they are used on, they function fairly well.
Here Are 5 Best Table Plugins For WordPress
Among thousands of plugins, which plugin is the best to create or embed tables on WordPress? Then here is the answer. Check out the top 5 WordPress table plugins that are certain to produce excellent outcomes.
1. Ninja Tables For Creating Tables
Beautiful responsive table design has never been easy. And there was even more disagreement on customizing those. Therefore, you are in the proper place if you are looking for a WordPress table builder plugin for your website. You can create or embed tables with Ninja Tables in under a minute. It will demonstrate the simplest method for creating various types of WordPress tables. without creating a single line of code, and within minutes!
2. TablePress For Creating WordPress Tables
TablePress is one of the best free WordPress table-generating plugins for beginners. There are 3,000 good evaluations and 800,000 active installations as evidence that the plugin is useful.
The fact that this plugin allows for a ton of customization is one of its finest aspects. You can include media files, links, and photos. Additionally, you may modify the table's structure, alter its background color, and even import tables directly from Google Docs. The plugin includes features that, among other things, enable responsive tables, row and column filtering, and more.
3. Data Tables Generator by Supsystic
Supsystic table plugin is the way to go if you run an online store and are seeking for a table solution to design your pricing chart and catalog. The best part is that using this plugin to its full potential won't cost you a penny. Pagination, simple sorting, search, and many more of the plugin's sophisticated capabilities might be of interest to you.
You may make highly responsive tables with as many columns and rows as you like using this plugin. Additionally, the plugin includes an editor function that enables you to construct visually appealing tables for your audience.
4. Visualizer Table Creating Plugin
With the help of the free plugin Visualizer, adding tables to WordPress is simple and code-free. Instead, you'll maintain and build your tables using an Excel-like interface. At Themeisle, we actually utilize Visualizer to make tables and charts. You can look at the samples in this comparison of the best WordPress table plugins to see it in action. Take note of how you may sort the entire table by clicking on the columns.
5. Essential Addons For Elementor
Essential Blocks is a robust plugin with 80+ widgets and 1 Million+ happy users. Here you will find two stunning widgets to create or embed tables: Data Table & Advanced Table. Using these widgets you can create from the simplest to advanced ones easily. No coding is needed to create or embed tables with the help of this plugin.
That's all for today. All the popular ways to create or embed tables on WordPress websites are mentioned above. Explore all the ways and choose the suitable one for your website. If you face any difficulties, feel free to communicate with us. Also, subscribe to our blog for getting more of these kinds of tips & tricks.