Looking for ways to boost the search engine rankings of your site's multilingual pages?
By creating a multilingual sitemap in WordPress sites, search engines like Google, Bing, and others will be able to index the site's content more easily. Plus, to get more international traffic on your WordPress site, having a multilingual sitemap is a must. Let's look at how to create a multilingual sitemap in WordPress in this article.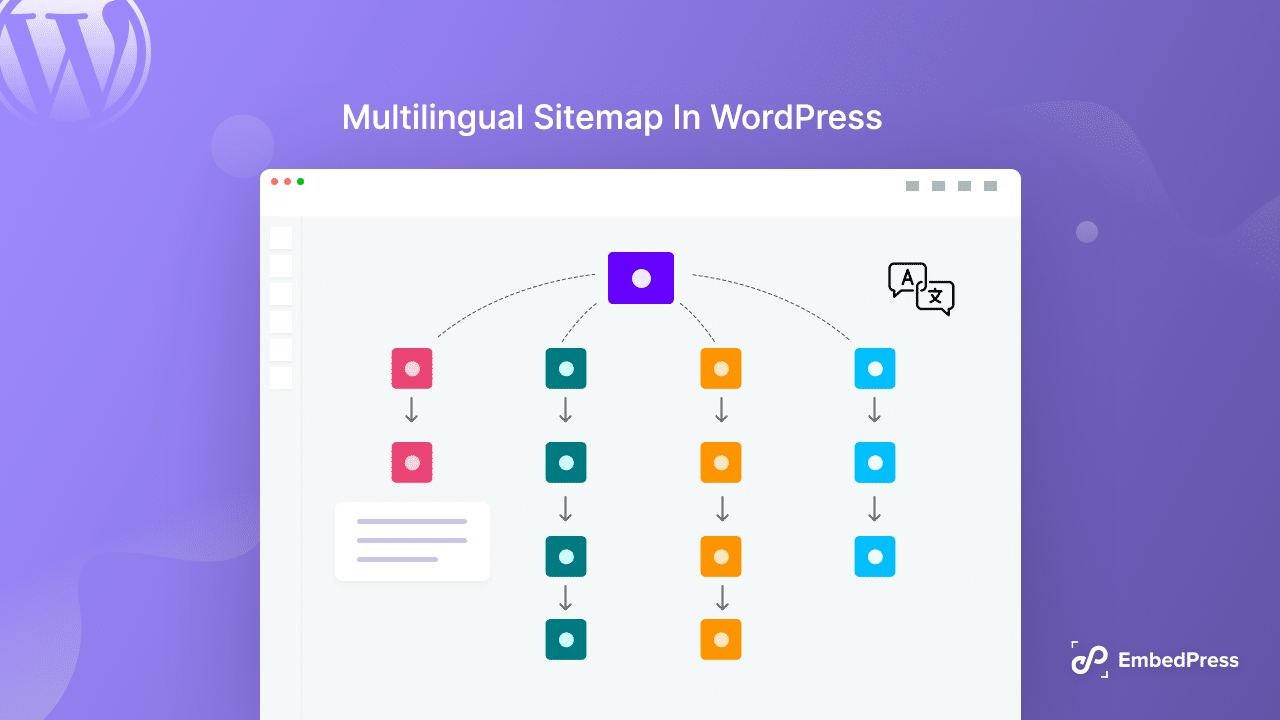 💡 Understanding The Basics Of Multilingual Sitemaps
A sitemap is an XML file that helps Google crawl your website. If you create a sitemap, Google will be able to discover all of the content on your website and optimize the crawling of your site.
When it comes to multilingual sitemaps, things can get a little tricky. Besides creating content for each language on your site, you must tell Google how the languages relate.
Using an example, you might say "This is the English version of [Page A]" and "This is the Spanish version of [Page A]." This way, Google will know that the page is the same (rather than two completely different pages).
🏆 Benefits Of A Multilingual Sitemap In WordPress
There are tons of benefits to having a multilingual sitemap in WordPress sites. From reaching a broader audience to establishing your brand image and value globally, all you can ensure by having a multilingual sitemap. Let's show you some benefits with the statistics below.
Reach A Larger Audience
The first benefit of a multilingual website is that you will be able to engage a much wider audience. In a world where only 25% of internet users are native English speakers, it's high time to cater to the other 75% and be sensitive to their needs.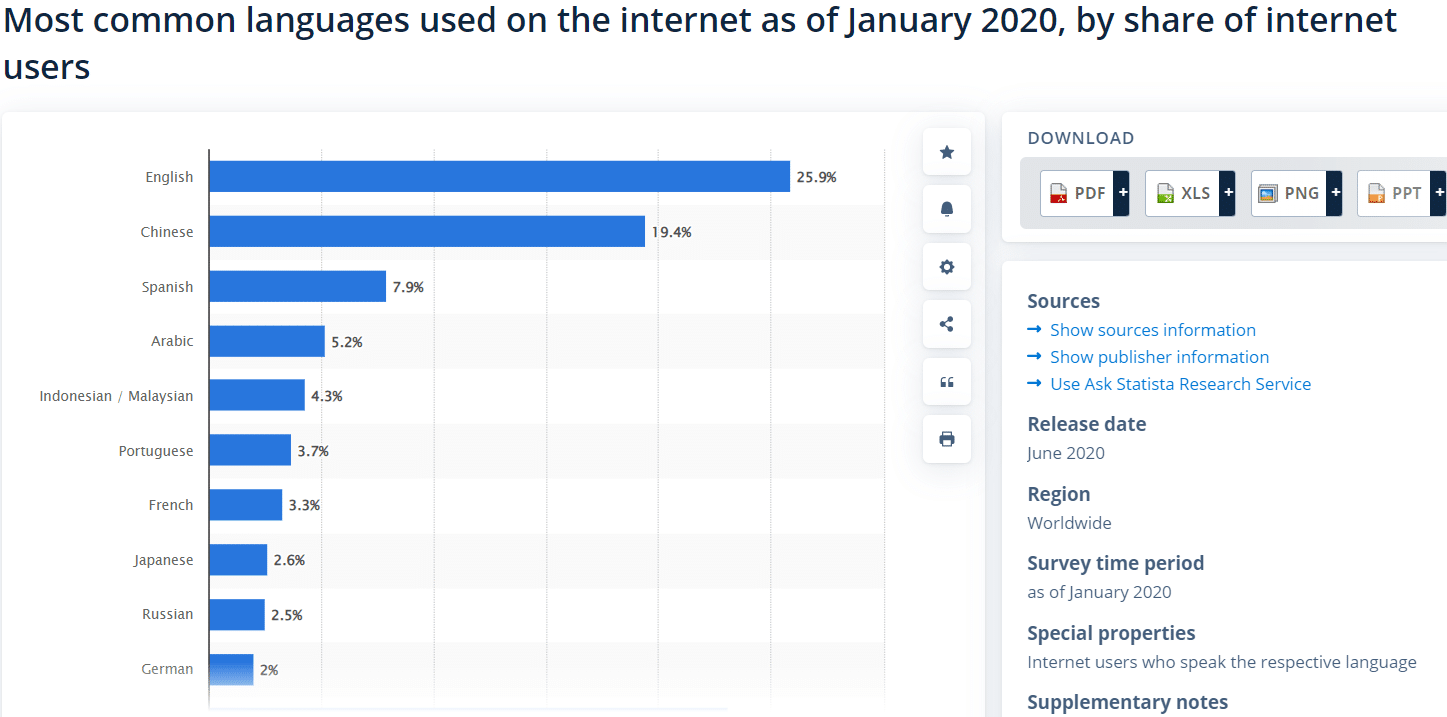 Source: Statista
With multiple language options, you'll reach a wide range of customer segments that had previously been out of reach, thus improving sales and profits for your business.
Reduce Bounce & Increase Conversion Rates
Consumers spend 72.1% of their time on websites in languages they are fluent in, according to the CSA's "What Can't Read Won't Buy" study. Multilingual sites make it less likely that foreign visitors to your site will immediately exit if they discover that the site isn't available in their native language. 
When you go multilingual, you are likely to experience a reduction in bounce rates, which will inversely affect your conversion rates – which will increase due to consumers feeling confident they understand all the steps in the purchasing process.
Establish A Competitive Advantage
With economic precarity on the rise, businesses must differentiate themselves now more than ever before to gain an advantage over their competitors.
Having a multi-lingual website will enhance your cross-border e-commerce sales, which will be vital as retail shifts more towards e-commerce.
Improve Brand Image
A multilingual site, let's face it, is the talk of the town nowadays since businesses have to impress customers with whatever they can. To speed up your WordPress multilingual site, you need to optimize your images too.
By providing your website content in multiple languages, you are making your website more accessible to all readers, and that enhances your brand image. All of these things reflect highly in the eyes of your customers, who will associate your business with professionalism and quality.
🖥️ Step-By-Step Guide: How To Create A Multilingual Sitemap In WordPress
New websites are automatically created with an XML sitemap by WordPress. Adding wp-sitemap.xml to the domain shows the default XML sitemap in WordPress.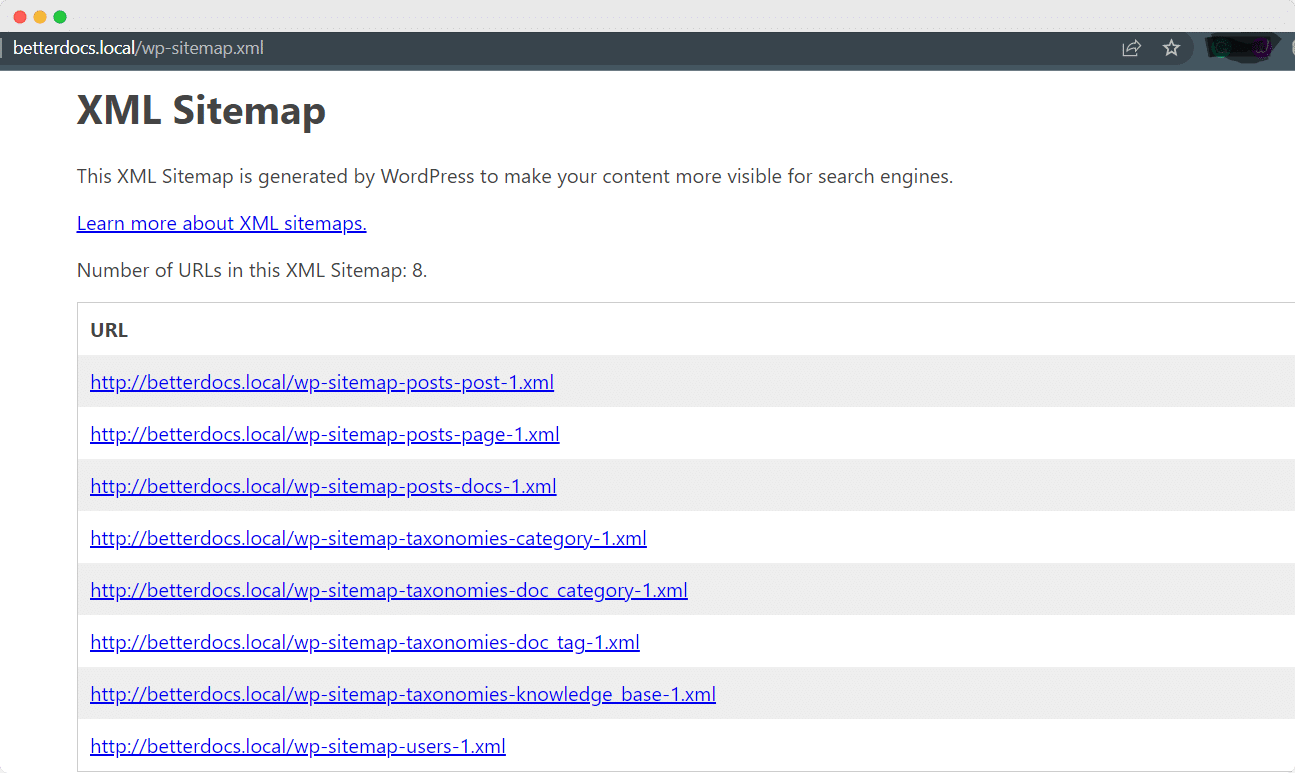 It is, however, a fairly limited feature and does not provide a great deal of flexibility. In the sitemap, you can not choose what content to include or exclude.
Using the All in One SEO (AIOSEO) plugin for WordPress is the best way to create an XML sitemap. You can optimize your site for search engines with this plugin, and it's the best WordPress SEO plugin.
A sitemap is automatically created for a multilingual site and can include specific pages or website sections depending on your preferences. Let's get started with the step-by-step guide.
Step 1: Install & Activate The Plugin
First things first, login to your WordPress dashboard and navigate to Plugins → Add New. Search the plugin on the resulting page search box, placed in the right corner. And click on Install and Activate accordingly.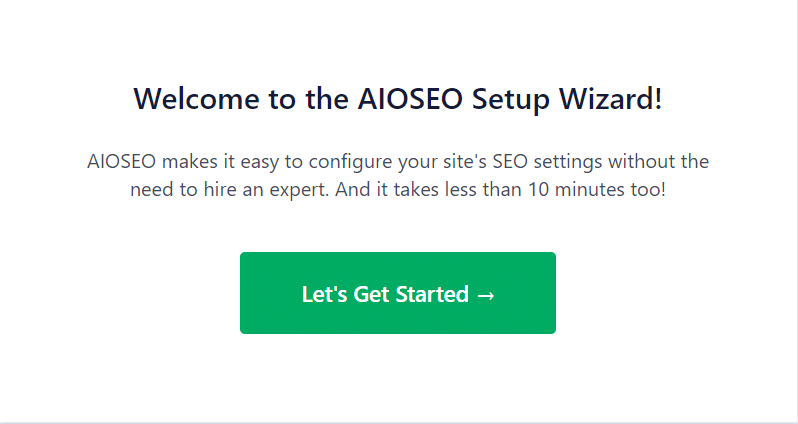 Once the activation is complete, click on Let's Get Started. Configure all the settings as you want. If you do anything wrong or make mistakes, no worries; you can change these settings later on as well.
Step 2: Enable/Disable Sitemap In WordPress
Once you complete the plugin setup, log in to your WordPress dashboard and navigate to All in One SEO → Sitemaps. Make sure to enable Enable Sitemap toggle. Once you do this, the plugin will automatically create a sitemap for your multilingual WordPress site.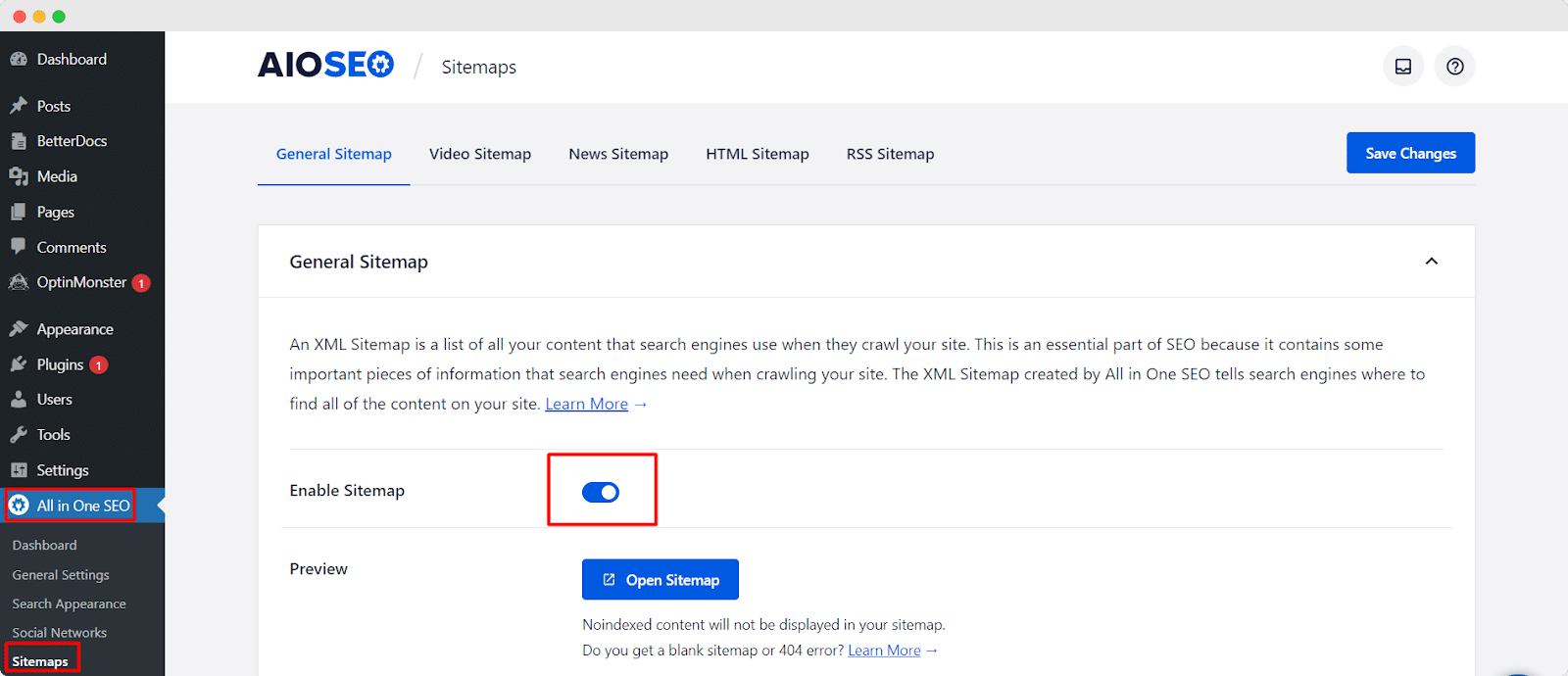 To preview your sitemap, click on Open Sitemap. Upon clicking, you'll see all your sitemaps list on the resulting page.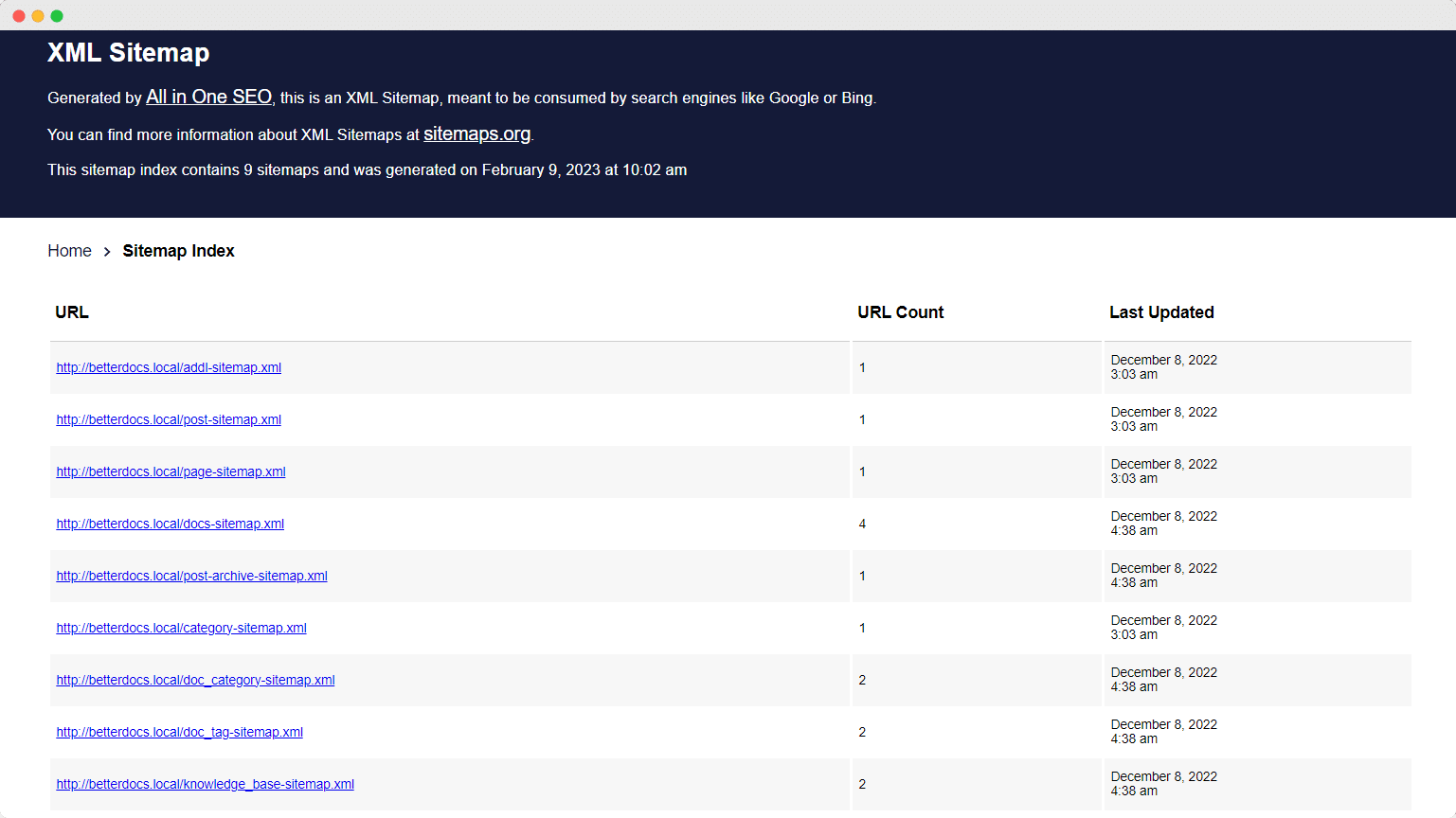 Please note that if you're using WPML to create multilingual sites, then AIOSEO will automatically serve sitemaps across different languages.
For instance, your sitemap URL will be like /nl/sitemap.xml, /de/sitemap.xml, or /fr/sitemap.xml.
⚙️ Additional Settings: Multilingual Sitemap In WordPress
There are many other additional settings available for you to customize the sitemap as you want. For example, include all post types and taxonomies to the sitemap, add more pages to your sitemap, and exclude posts, pages, and specific terms from your WordPress sitemaps.
To do so, navigate AIOSEO Sitemaps settings, and scroll down to see more options to customize your multilingual sitemaps in WordPress.
1. Sitemap Index, Post Type, Taxonomies
This plugin automatically includes all post types and taxonomies in the sitemap. Additionally, author sitemaps and date archives are available.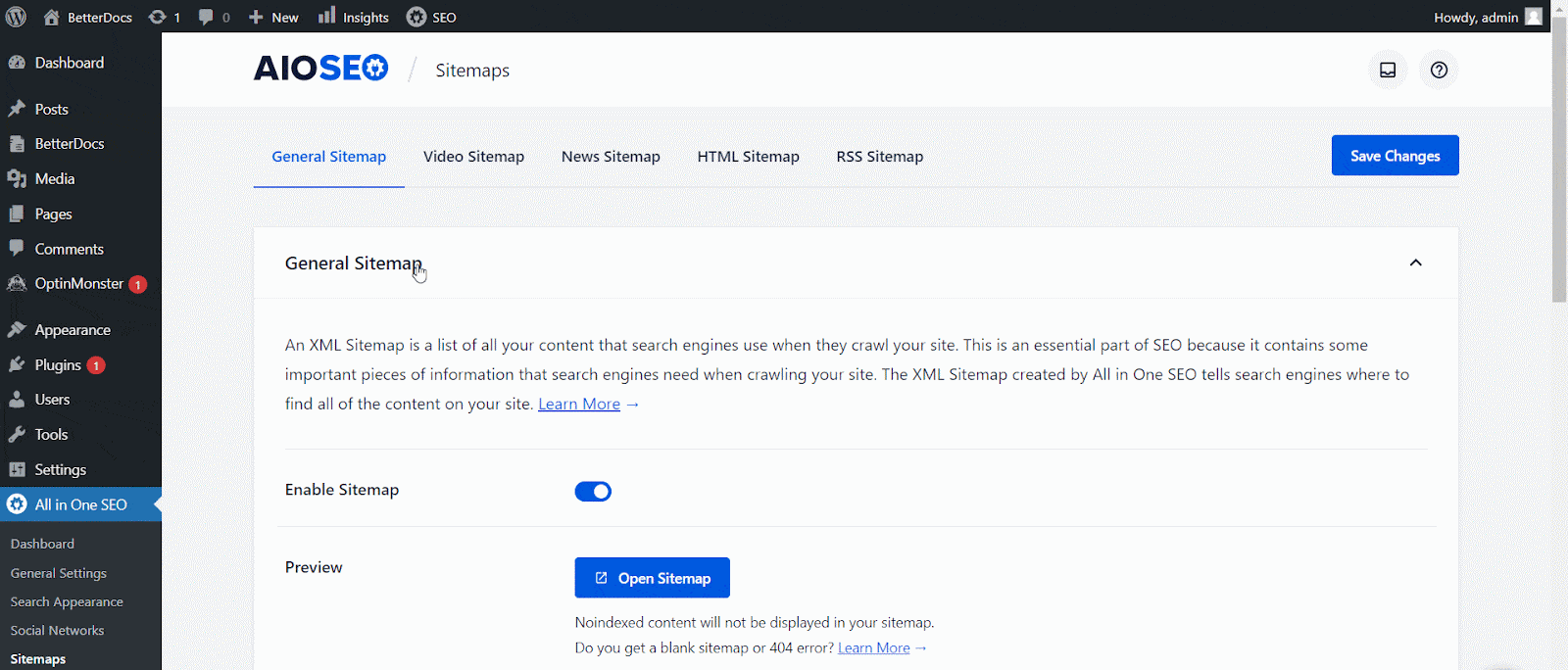 If you choose not to check the 'Post Types' and 'Taxonomies' options, you will be able to view more options.
Say, for instance, that you are publishing translated content, which is a custom post type. To exclude other post types from your sitemap, you can simply check that option.
2. Translate Pillar Content/Evergreen Content To Another Language
The best part? It is possible to add more pages from your multilingual website to the sitemap. Consider translating an evergreen article or pillar article into another language. Use AIOSEO to add the page URL to the sitemap and make your content easier to find for search engines.
To do so, scroll down a bit and click on the "Additional Page" toggle and enable the option. Following that, choose the priority and frequency after adding the page URL.
3. Exclude Posts, Pages & Specific Terms From Sitemap
AIOSEO allows you to exclude specific terms, posts, and pages from your WordPress sitemap.
If you don't want your sitemap to contain multilingual posts and pages, you can add them. Translations of the contact us or terms of service pages can be made available in other languages.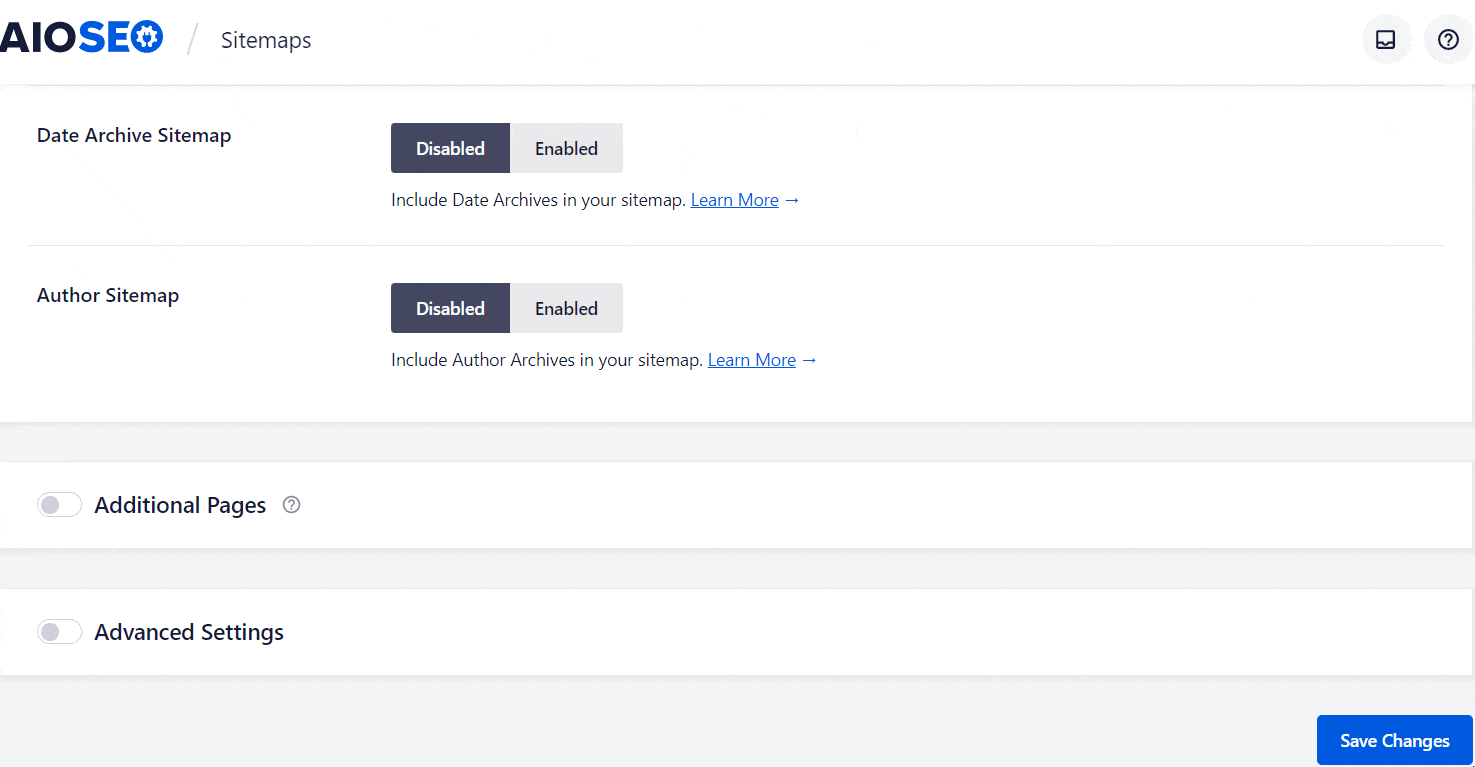 Firstly, you must enable 'Advanced Settings'. In the 'Exclude Posts/Pages' and 'Exclude Terms' fields, enter the URLs and terms you wish to exclude.
🎁 Bonus: Submit Your Multilingual Sitemap In WordPress To Google
Since you've created the multilingual sitemap in WordPress, you can now submit it to search engines (e.g., Google). Not only Google, but also you can submit your sitemap to search engines like Bing, Yahoo, and DuckDuckGo.
A free tool from Google that gives you access to search results metrics for your website is Google Search Console. With it, you can discover which search terms people use to find your website, as well as fix any errors that can prevent your site from appearing on Google.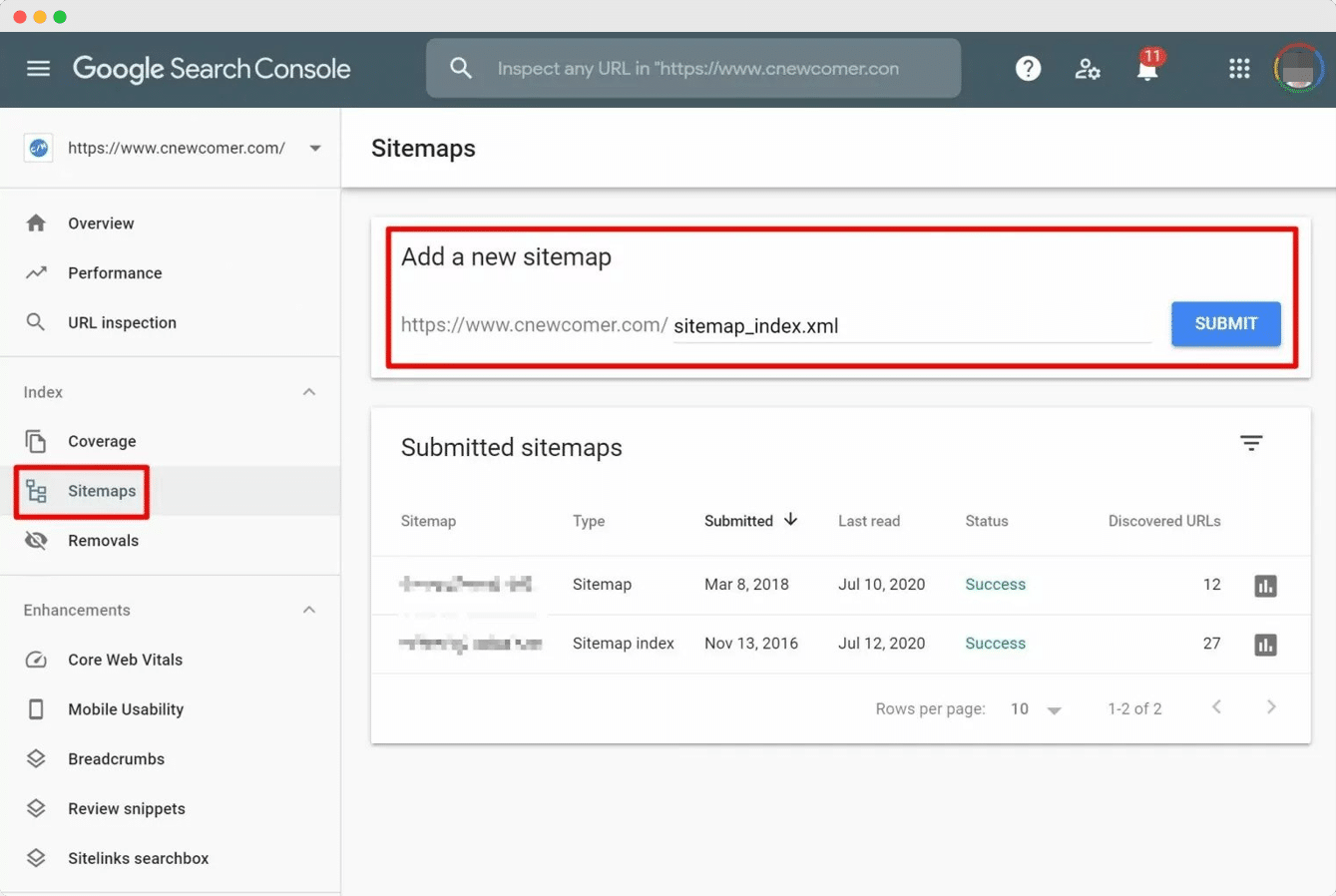 Source: Translatepress.com
Google is able to discover new content faster when you submit WordPress multilingual sitemap to its Search Console.
By logging into your account, you can simply access the 'Sitemaps' option from the left-hand menu. You can add a multilingual sitemap by clicking the 'Add a new sitemap' button under the 'Add new sitemap' option.
🎯 Create & Submit Your Multilingual Sitemap In WordPress Today!
AISEO makes it easy to create a multilingual sitemap in WordPress that follows Google's exact formatting recommendations. The best part is that you can create your sitemap automatically as soon as your site has been translated.
Hoping that you've found the guide helpful! Do you still have questions about multilingual sitemaps? Let us know in the comments below. Besides, you can subscribe to our blogs and join our Facebook Community to get the latest news, tips, and tricks.