An enriched portfolio can set you apart from others no matter whether you are a job applicant or you just want to show your skills and competence to everyone. Having a portfolio website will help you reach out more to people all over the world. If you have your own publications and you want to embed publications on your portfolio, we are right here to guide you.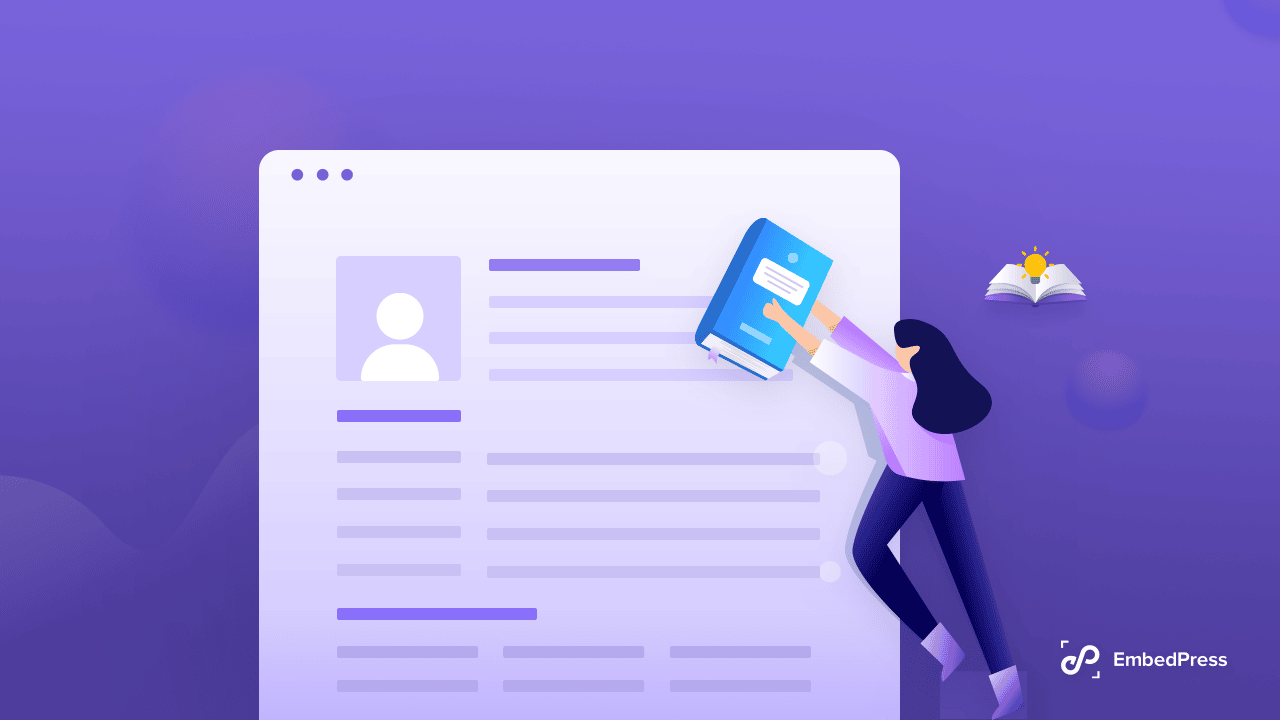 Before you embed publications on your portfolio, there are some important matters that you can't ignore. Having a portfolio website can help you reach more people and to create a portfolio website, you must keep in mind the following tips.
Tips To Create A Stunning Portfolio Website
Portfolios are useful for freelancers, consultants, and business owners who need to show potential clients examples of their work. A portfolio website allows you to display your work, connect with clients, and generate new revenue. So making your portfolio appealing is important and having a dedicated portfolio website can help you increase your reach more. Before learning how to embed publications on your portfolio, let's check out how you can make your portfolio impactful.
👉 Make The Portfolio Look Professional
Your portfolio website must reflect your professionalism. The color and design your choose for your portfolio must be soothing yet appealing. You should highlight the information, images, and everything in an organized way and it must be neat. You can display a slideshow, image gallery or any captivating clips that show your work.
👉 Be Specific And Occupationally Focused
Whatever you show in your portfolio website must be occupationally focused. You need to keep in mind that a portfolio website is different from a personal website. You can show anything you wish on your personal website but while creating a portfolio website you need to be careful that you don't provide any unnecessary information. Rather you must include things that show your professional skills.
👉 Provide Information With Clarity & Evidence
While creating a portfolio website, you must provide information with necessary evidence so that viewers don't doubt your qualifications and credibility. If the visitors don't find you trustworthy enough, it will create a negative impression among them.
In your portfolio, you can add your resume or CV, educational qualifications, reference letters, awards, testimonials, publications, or anything that enhances your credibility and proves your competence and worth. If you want to showcase the publications that you think should be on your portfolio, you can easily embed that on your website. Follow the step-by-step guideline to easily embed publications in your portfolio.
How To Embed Publications On Your Portfolio?
There are many ways to show publications on your portfolio and using an embedding solution is the quickest way to do so. For the tutorial purpose here, we are going to use EmbedPress– an all-in-one WordPress embedding solution to fuel up your website. Follow the step-by-step guideline to easily embed publications on your portfolio.
Step 1: Install & Activate EmbedPress
Installing EmbedPress on your WordPress website takes only a little time. Simply head over to your WordPress dashboard and look for the 'EmbedPress' plugin. Then click the 'Install' button and then 'Activate'.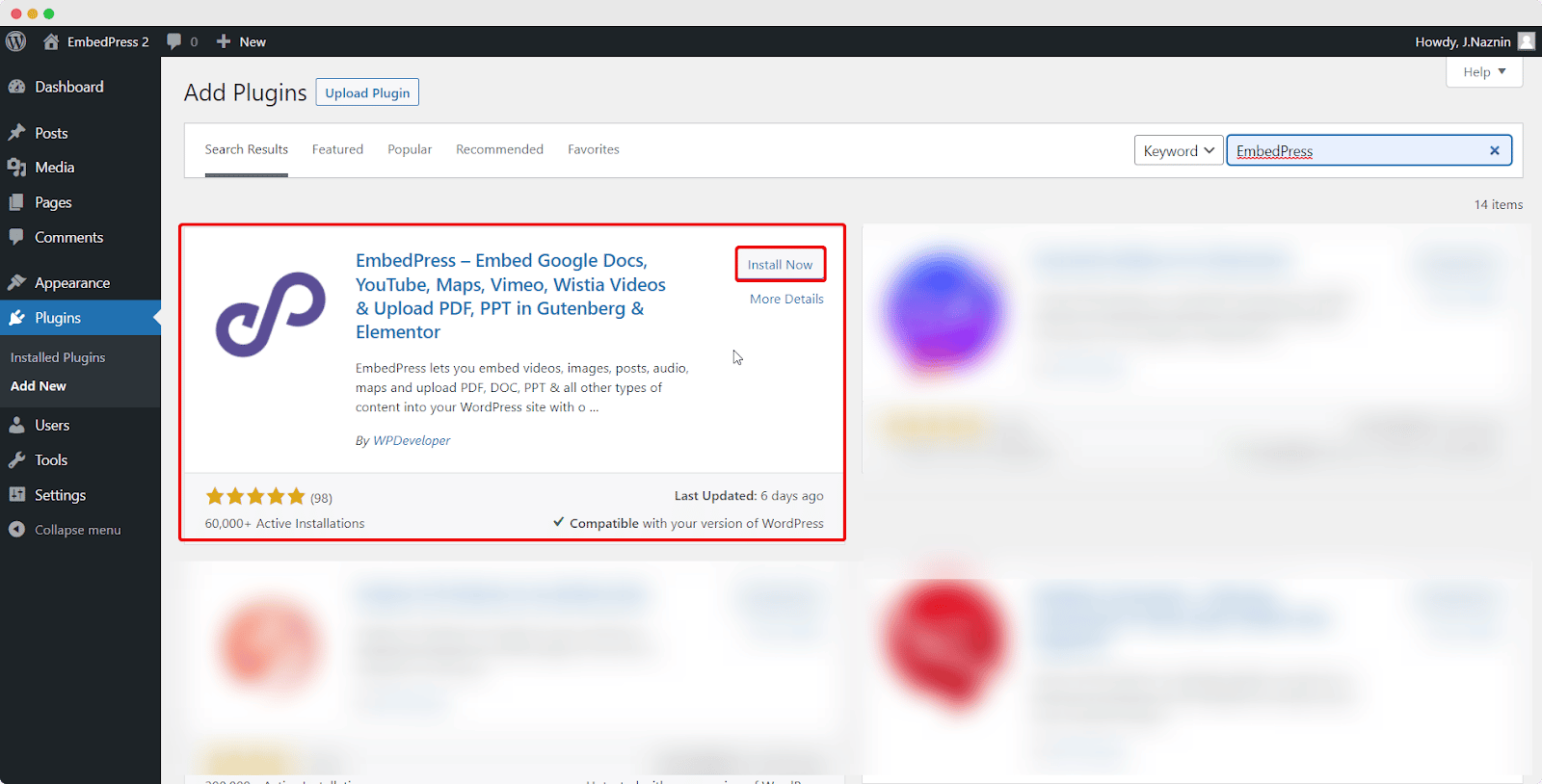 Step 2: Insert An EmbedPress Block
In the Gutenberg editor, click on the '+' symbol on your post content area and search PDF from the search bar. You may also use the '+' button at the top of the page to add the EmbedPress PDF block.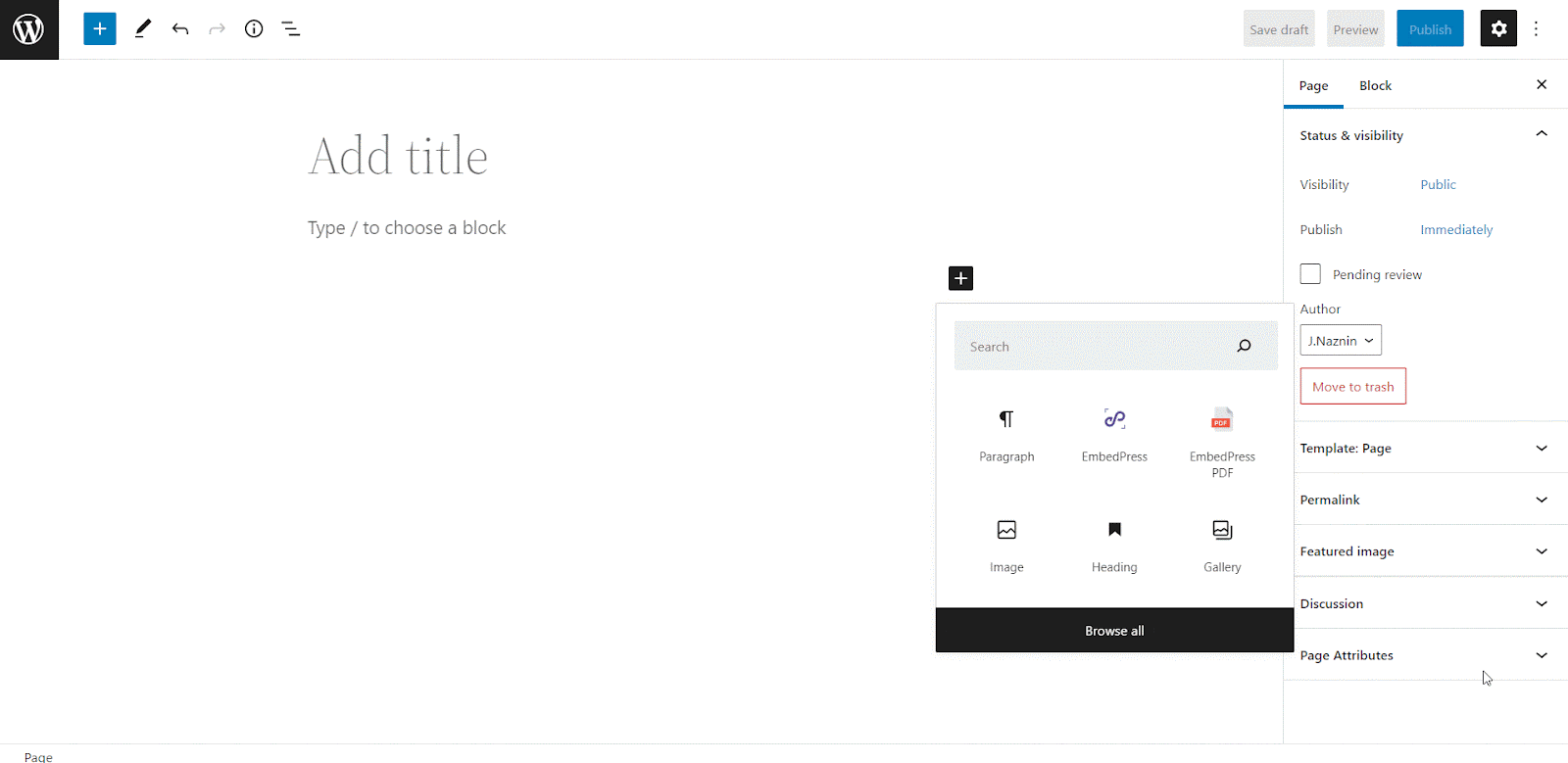 Step 3: Embed The PDF Of Your Publication
Click on Media Library and upload the pdf you want to embed. Once you are done, click on the Select button and the publication will be automatically embedded on your portfolio site.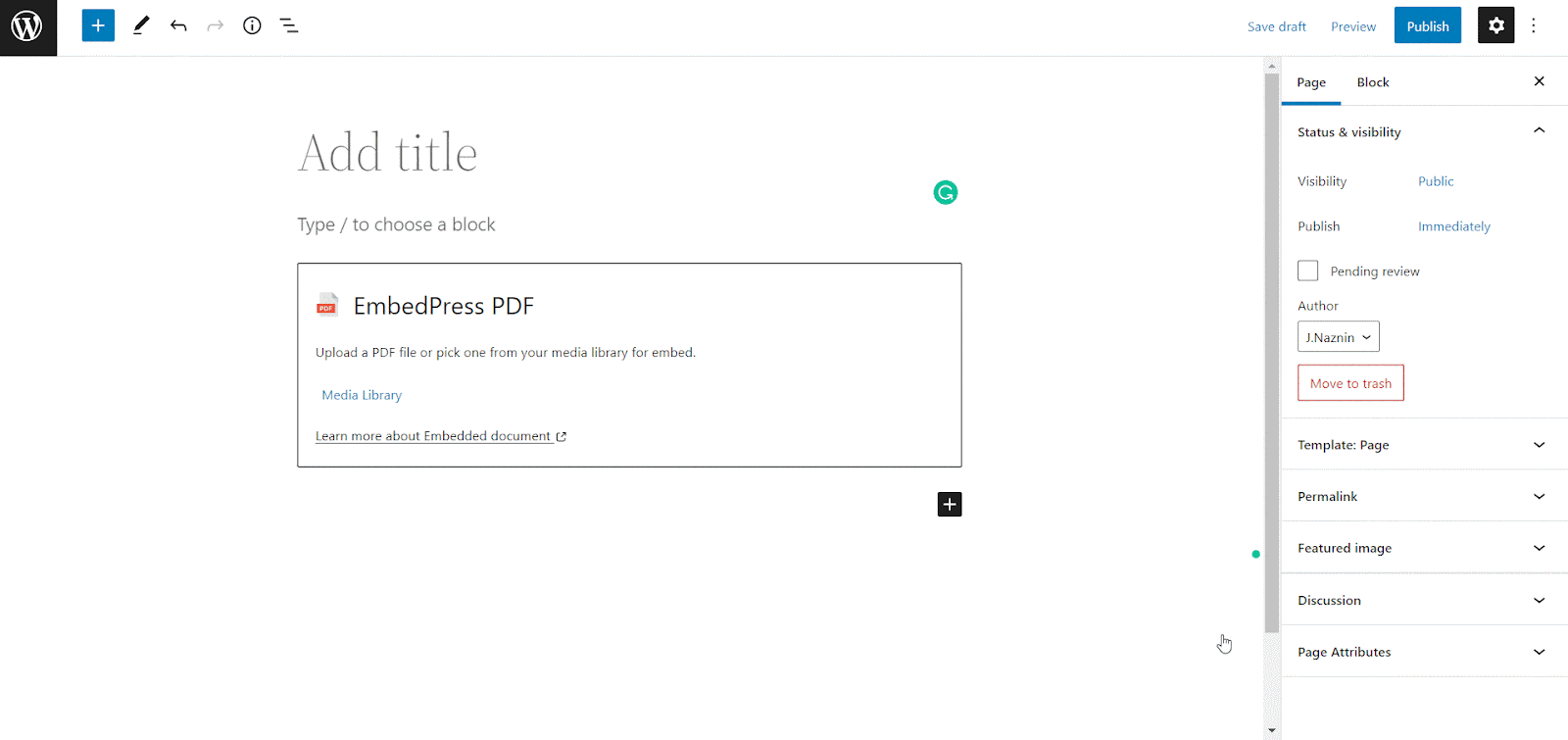 Thus, using EmbedPress, you can add any publications to your portfolio without any coding and make it more enriched. No matter whether you are a Gutenberg, Elementor, or Classic Editor user, EmbedPress can be your ultimate embedding solution to add engaging content to your website.
Bonus: Top 5 Stunning Ready Portfolio Templates
Growing a website's audience takes time and effort. If you want to create a dedicated portfolio website, you can use ready website templates to easily create a stunning portfolio website. Here are 5 stunning ready templates for creating a portfolio.
1. Smith Consulting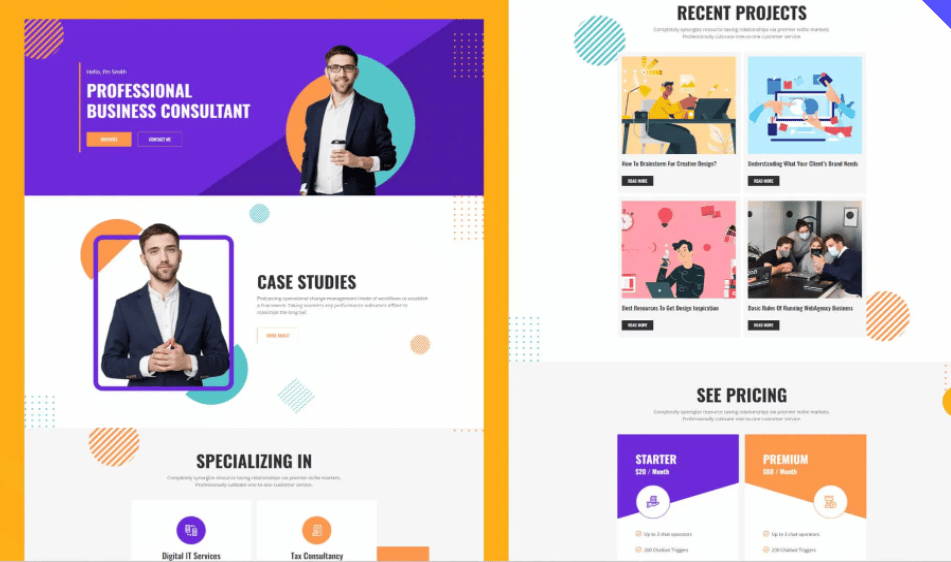 Smith Consulting is a template pack for Gutenberg and Essential Blocks and has a sleek, trendy, and modern design. This is a fully customizable template pack. It is designed specifically for business consultants, business mentors, business advisers, business agencies, financial consultants, and anybody else working in this industry.
You can create a full-fledged portfolio website with this impressive template pack that comes up with 8 ready-to-use attractive page designs. So without any coding, you can design your own portfolio website and show your work to the whole world.
2. Technophile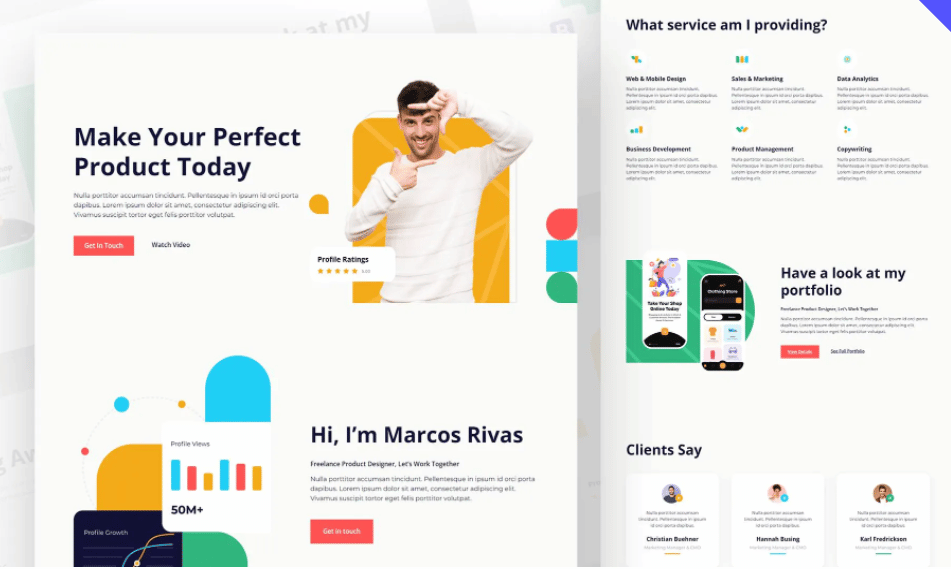 The next stunning portfolio website template that we are going to mention is Technophile– another beautiful template pack from Templately. Technophile is a modern, fashionable and modern template that is highly responsive. It is designed specifically to create portfolios for IT freelancers, web developers, UI/UX designers, and anyone related to similar industries.
The Technophile template pack is totally customizable, allowing you to create your own personalized portfolio website from the bottom up and it requires no coding. Your web development experience will be much smoother with faster loading of pages.
3. CVTemple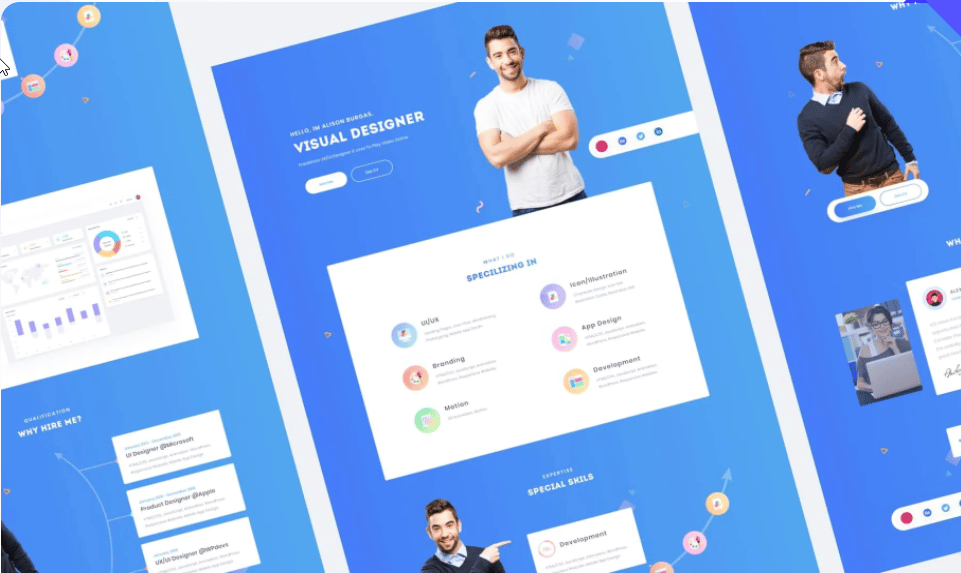 CVTemple is another beautifully designed template pack that is compatible with WordPress, Elementor, and Gutenberg. With its clean, modern, and responsive style, CVTemple comes with a power pack to showcase your CV, portfolio, or resume on the web.
Technologists, freelancers, designers, developers, programmers, photographers, consultants, instructors, and other professionals can use this template pack to create portfolios without any coding. It has 6 ready to use page templates for a complete website.
4. Mellafex
If you are a beauty blogger or related to the beauty industry and want to create an eye-catching portfolio, Mellafex is for you. Mellafex is a premium template pack from Templately with a beautiful design. This WordPress template pack is created specifically for makeup artists, beauty salons, makeover studios, hairdressers, beauty gurus, fashion stylists, beauty influencers, and anyone involved in the beauty sector.
This magnificent template set was made using Gutenberg and Essential Blocks. As a result, Mellafex is a fully responsive template pack that you can customize as you want without having to know how to code, and it comes with four ready-to-use pages
5. EleFolio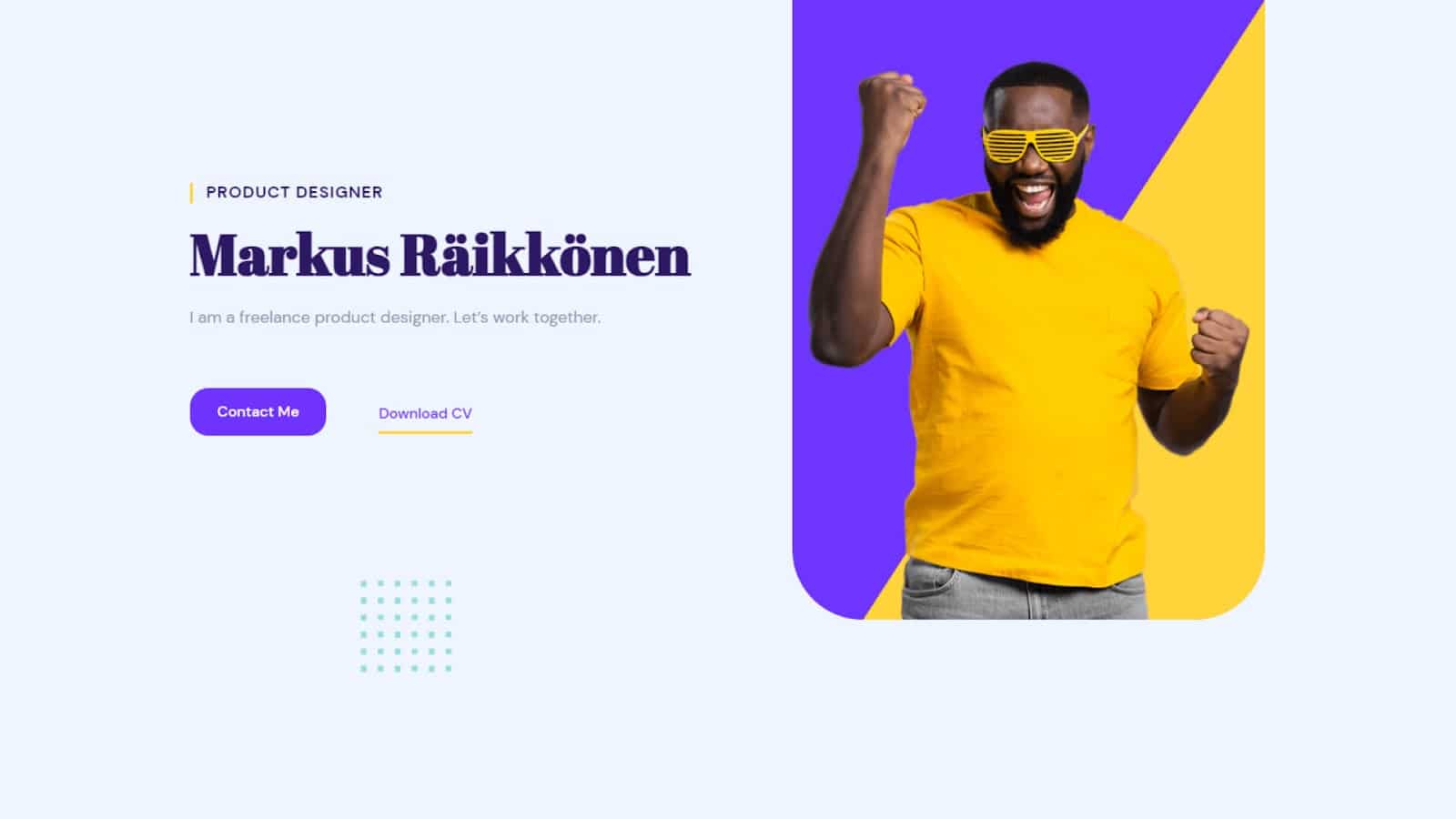 Lastly, we have EleFolio which is a beautifully designed WordPress template pack built specifically for those of you who want to construct a fantastic portfolio website. This customizable and eye-catching template pack is ideal for anyone who wants to showcase and promote their product designs, app development, web design, music, photography, art studio companies, creative agencies, and more in their portfolios.
EleFolio is made with Gutenberg and Essential Block. It is fully responsive and can be easily customized using the block editor's features without requiring any additional coding knowledge. Elefolio includes six appealing pre-made and ready-to-use attractive landing pages.
Create Stunning Portfolio And Captivate Visitors Right Away
Portfolios are a great way to demonstrate yourself in front of your visitors and audience. It can help you in a number of ways to grow your career and business as well. So if you want others to know about your skill, competence, expertise, and credibility, you can consider creating portfolios and with ready templates, this can be much easier for you.
Loved using the blog? Share your thoughts in the Facebook Community and please subscribe to our blogs for all our latest news and updates.